Enjoy a Saturday on the Charles River at the Run of the Charles Canoe and Kayak Race, held in Boston every April. (Check our Boston Event Calendar for April for the exact date and time.)
Whether you're watching the race as a spectator or on the water among the 1,500 paddlers, you'll find plenty of excitement at New England's largest flat-bottomed boat race.
Although Run of the Charles provides a lot of fun and a great excuse to spend a beautiful (usually) April day outdoors on the water, it also highlights how water quality improvements and clean-up efforts during the past few decades have transformed the formerly-filthy Charles into a gorgeous city recreation area.
Run of the Charles is sponsored by the Charles River Watershed Association (CRWA), a driving force behind the transformation effort, along with thousands of volunteers and advocacy groups.
Top photo: Outdoor dining on Newbury Street in Boston during June
Run of the Charles Race Course
Races begin in a variety of locations in Dedham, Newton, and Brighton, depending on their length, and all of them finish next to the Artesani Playground in Brighton.
Both kayak and canoe races include 6, 9, 19, and 24 mile options.
If you're considering participating, you can choose from 8 entry categories based on age, gender, and skill level. All skill levels, from beginner to expert, are welcome.
Because Run of the Charles takes place in April, all paddlers must wear life jackets, which are required by Massachusetts law until May 15 when water temperatures finally begin to warm up.
Best Location to Watch the Run of the Charles
The best place to watch the races is near the finish line in Artesani/Herter Park on Soldiers Field Road in Brighton, roughly a quarter of a mile from Harvard Stadium in Allston.
This is also where the Finish Line Festival takes place, featuring live music, raffles, and vendors.
Want to Stay Nearby? Hotels near Run of the Charles
The Day Before Run of the Charles: Earth Day Clean-Up!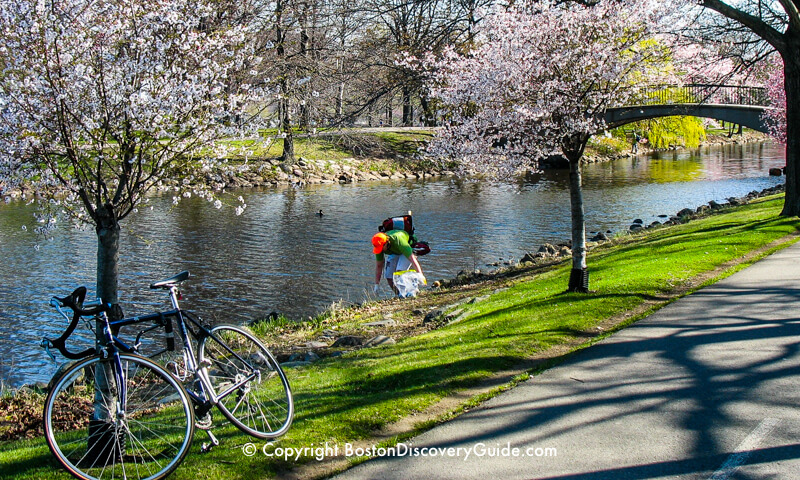 In addition to sponsoring the Run of the Charles, CRWA also sponsors Earth Day Charles River Cleanup on the Saturday morning before Run of the Charles, which is Earth Day (see our April Events Calendar to confirm date and time).
Each year over 3,000 volunteers gather on the banks of the Charles River (if you're in Boston, you'll see them along the Esplanade) and pick up literally tons of trash. The Charles River cleanup effort has been nationally recognized for the large number of volunteers who contribute their efforts.
Looking at the Charles River now, it's hard to realize this is the same place memorialized in The Standells' 1966 hit about Boston, "Dirty Water."
But just change "dirty" to "sparkling" in the refrain, and the words still ring true:
"Well, I love that sparkling water . . . Oh, oh, Boston, you're my home!"
Thank you, CRWA and volunteers!
Fun Sightseeing Tours of Boston
More: Sightseeing Tours | Tours for Teens | Kids & Family Tours
More Ways to See Boston
More Boston Events Each Month
January | February | March | April | May | June | July | August | September | October | November | December | Year at a Glance