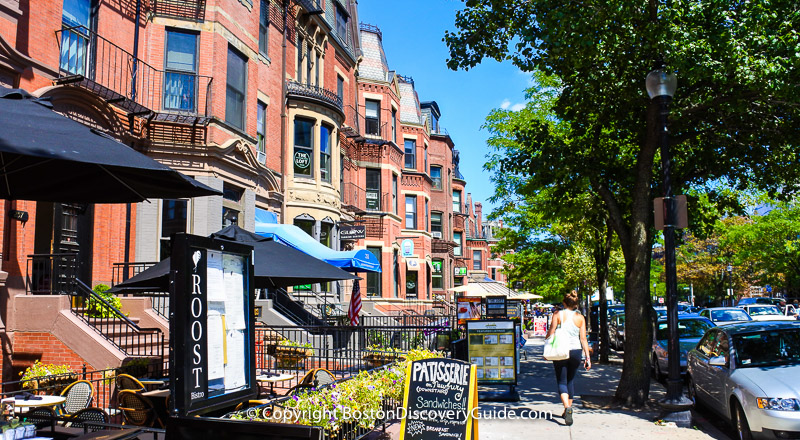 Boston has so many top attractions that you'll run out of time before you run out of things to do and see.
First visit? Start with Boston's top 10 attractions.
Take a walk through history on the Freedom Trail, view the city from above at the Skywalk Observatory, and see Fenway Park up close during a Red Sox game or concert.
Want to see more?
Explore the city's historic neighborhoods, top seafood restaurants, world-class museums, and the waterfront.
See marine life close-up on a whale-watching cruise, take a selfie at the Make Way for Ducklings statues, and spend a couple of hours browsing in an art gallery in the South End.
Leave some time for relaxing - maybe on a nearby beach, on the Esplanade Boston's huge July 4th fireworks show, or on a leisurely Swan Boat ride in the Victorian-era Public Garden.
Take a look at everything the city offers . . .
---
Spectacular Views
Find the best places to see panoramic views of Boston!
Boston's Waterfront
Water surrounds Boston on 3 sides, and you'll find lots of ways to enjoy it, whether you go for a cruise, explore the Harbor Islands just minutes from Downtown, or soak up some sun on a city beach.
Top Family Attractions
Boston offers so many fun activities, attractions, and things to do for families!
Save on Attractions
You'll find plenty of easy ways to save in Boston, so check them out! Why spend more if you don't have to?
Outdoor Fun
Boston offers 4 glorious seasons - and each one gives you appealing reasons to go outside and embrace seasonal activities.
Shopping
Love to shop? From designer boutiques to discount outlets, you'll find everything you want in Boston! And be sure to take advantage of paying no sales tax on clothing under $175!
Boston Hotels: Where to Stay
***y-boston-yotels-guide-general-links.shtml***

How to Save on Boston Hotels
Check out all our tips on how to find discounts, deals, and promo codes for Boston hotels. Whether you're looking for bargain accommodations or want to pay less for luxury, we'll show you How to Save on Hotels in Boston.
More about how to save on Boston hotels