Wondering what to do and see during your Boston visit?
Boston offers so many attractions and things to do and experience that you'll have a hard time fitting them into just one trip.
So where should you start?
We've organized the possibilities by topic to make your planning easier:
So take a look at our guide to Boston's attractions.
Whether you're interested in history, sports, museums and culture, parades and festivals, shopping, holiday celebrations, family activities, or outdoor fun, there's something for everyone!
Top photo: Paul Revere's house, built in 1680 - an attraction on the Freedom Trail in Boston's North End, (c) Boston Discovery Guide
Boston Discovery Guide is a reader-supported publication. When you buy through our links, we may earn a commission at no additional cost for you. Learn more
---
Boston's Top Attractions - Don't Miss These!
Especially if you're planning your first visit, you'll probably want to see at least a few of the main attractions that give Boston its unique character.
Here's where to start:
Freedom Trail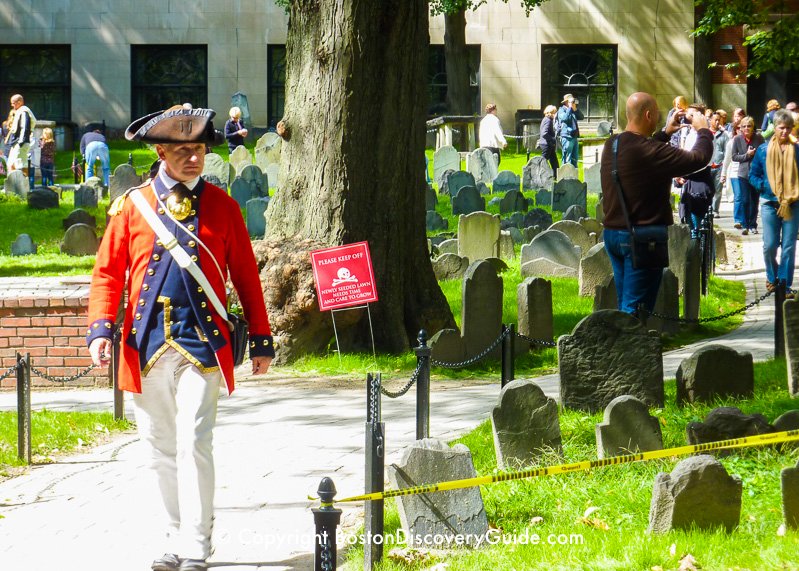 Boston's Freedom Trail, marked by a red line, leads you past 16 or 17 (depending on how you count) of the country's most famous and important historic monuments, buildings, graveyards, and even a ship.
Find out more about how to explore on your own or with a tour guide.
---
Whale Watching Cruises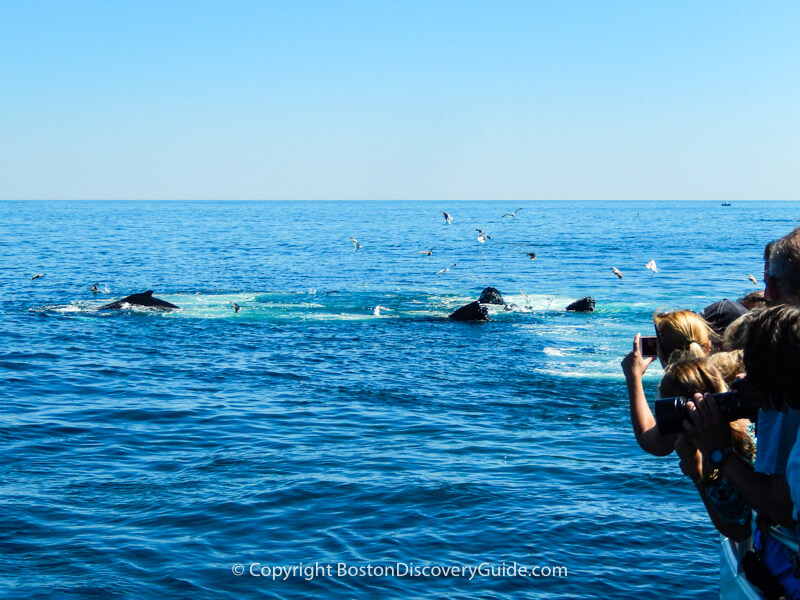 Going on a whale-watching cruise to a nearby marine sanctuary could be one of the most memorable parts of your Boston visit.
Find out more about how to go on a whale-watching cruise, and all the exciting marine life you may encounter.
---
Fenway Park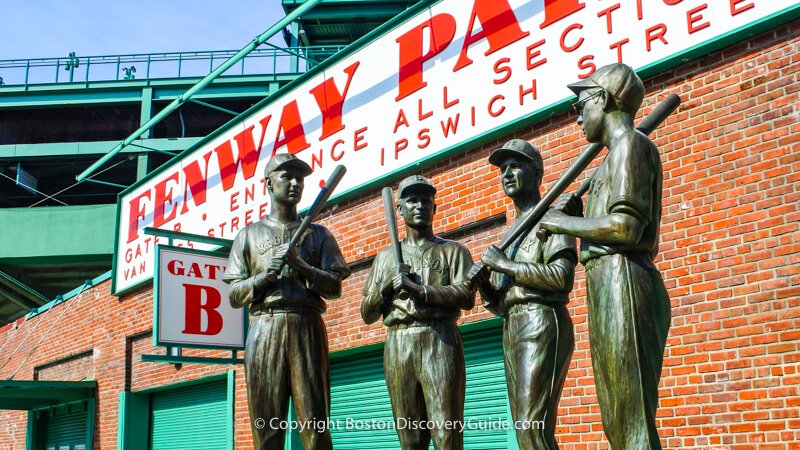 If you want to experience the spirit of Boston, head to a Red Sox game at the historic and slightly quirky Fenway Park. Whether the Sox are winning or losing, the fans go wild.
Find out how to visit and get tickets for a Red Sox game
---
More Favorite Boston Attractions
---
---
Find out about Boston's Top 10 Attractions
---
Fun Ways to See Boston's Top Attractions
Experience Boston's top attractions with an expert local guide:
---
Famous Boston Celebrations, Parades, Festivals
These gala festivities, parades, and celebrations bring together Bostonians as well as visitors from all around the world:
---
Find out more about Boston's 50+ annual parades, festivals, & celebrations
---
Only-In-Boston Events
Boston's Patriot Day reenactments in April, the Duckling Day Parade in May, and North End Feasts and Festivals from late June through early September are "only-in-Boston" attractions and experiences - so if you're visiting the city during these periods, don't miss them!
---
More Boston Attractions to See & Experience
Culture & Entertainment
These gala festivities, parades, and celebrations bring together Bostonians as well as visitors from all around the world:
---
---
Historic Boston
These gala festivities, parades, and celebrations bring together Bostonians as well as visitors from all around the world:
---
---
Boston's Waterfront
These gala festivities, parades, and celebrations bring together Bostonians as well as visitors from all around the world:
---
---
Outdoor Boston Attractions for All Seasons
If you're planning a trip to Boston, you may be wondering: when is the best time of the year to visit if you want to spend time outdoors?
Spring, summer, and fall offer lots of options: in addition to all the attractions already mentioned above, you can walk around and enjoy spectacular flowers in bloom all spring, watch the dragon boat races and tour private gardens during June, ride a bike or run along the Charles River Loop or another popular running path almost year-round, go for long walks during peak foliage season during the fall.
Winter can be a little tougher, especially if you're not used to cold weather, but here's what you need to do: Embrace the cold!
Here are some of Boston's best outdoor winter attractions and activities for cold weather:
---
---
Parks
Boston's parks are more than just green spaces with leafy trees and lovely flowers.
They are where you'll find free summer movies, concerts, statues, monuments and memorials, public art, summer theater, playgrounds, snack vendors, Swan Boats, popup markets, beer gardens, carousels, tennis courts, splash pools, bike and running paths, waterfront access - and lots more fun attractions.
Here are three of the most popular parks:
Discover more of Boston's most popular parks
Explore Boston's less-known "hidden" parks
Find out about the Harbor Islands - Boston's huge marine park
---
Top Boston Attractions for Families
Did you know that Boston is one of the top U.S. cities for family vacations? Whether you're traveling with children or teens, you'll find so many family-friendly attractions for everyone to enjoy!
---
Harvard, MIT, & Other Colleges & Universities
With 50+ colleges and universities including world-famous Harvard and MIT, Boston attracts around 350,000 students during the academic year.
If you have teenagers, book an informative student-led campus tour of Harvard University to see its famous buildings and landmarks, and get an informative and entertaining view of Harvard culture and student life.
You can also join a similar student-led tour of nearby MIT.
See our complete guide to Boston colleges and universities
Find Out More about Campus Tours!
---
More Boston Attractions: Shopping Destinations
For a lot of Boston visitors (and locals), our unique shopping venues are a top attraction. From our city shopping malls with upscale stores and fantastic restaurants to super-discounted Wrentham Village Outlets, you'll find lots of wonderful and irresistible items.
But for a unique, only-in-Boston shopping experience, start with these destinations:
More about Boston shopping destinations
---
Boston's Dining & Pub Scene
Historic restaurants and taverns, top sports bars, wine bars, hundreds of unique chef-owned bistros, fresh local lobster and other seafood, the North End's authentic Italian restaurants, Irish pubs, Asian cuisine in Chinatown - these are just a few of the memorable places that make Boston's lively dining scene a top attraction.
Here's where to start exploring all of Boston's fantastic places to eat and drink:
---
---
One Day in Boston: 6 Suggestions & Itineraries
1. Want to maximize your time and see as much as possible while enjoying some local cuisine?
Explore Boston's historic North End on this Italian Food tour, savor lobster, chowder, baked beans, and Boston Cream Pie on this Classical Bits of Boston with Option Beer Tasting tour, and follow in the footsteps of Paul Revere and Samuel Adams on the Historic Taverns Tour (which, by the way, will qualify you to brag to your friends about how much Revolutionary War history you soaked up during your trip).
2. Or get a hop on, hop off sightseeing trolley ticket to tour Boston's attractions, and jump off whenever you please to explore sites at your own pace.
3. Take a walk along the Freedom Trail to experience top historic sites while also soaking up the ambiance of several legendary neighborhoods.
Along the way, stop by the New England Aquarium on the Boston Harbor waterfront, admire work by local artisans at SoWa Open Market on the Greenway, and treat yourself to canolli and cappuccino at a North End bakery - or even better, join a Boston food tour.
4. See Fenway Park up close at a Red Sox game or on a behind-the-scenes tour, enjoy a Broadway show in the Theatre District, and take a selfie at the Make Way for Ducklings statues in Victorian-era Public Garden.
Still have a little free time? Take a bike tour along the Charles River.
5. Explore the city's world-class museums, designer boutiques along Newbury Street, and art galleries in the South End or Fort Point.
6. See marine life close-up on a whale-watching cruise, get a panoramic view Boston's top attractions while on a Duck Tour, and immerse yourself in the beauty of brilliant fall foliage.
Photo credits: Royale, Ben Stas, CC BY 2.0; House of Blues, Michael Schwarz, CC BY 2.0; coastal fall foliage, istock.com/Hummingbird Art; Mt Snow, Jessica Shi, istock.com/grafvision
---
More Articles about Boston Attractions
---
Fun Ways to See Boston
---