Spectacular July 4th fireworks over Boston Common wiill light up the sky for in-person spectators and those watching the live broadcast of this beloved annual event.
The free Boston Pops Independence Day concert returns to Boston at the Hatch Shell as special guests join the beloved orchestra with a rousing celebration of the 4th. The concert will also be live-streamed for everyone who can't see it in person.
Although the special guest lineup for the 2022 Pops July 4th concert has not yet been announced for 2022, you can take a look at the stars from last year's performance to get an idea of what to expect this year:
Mavis Staples, the legendary Queen of Soul, R&B, and Gospel, as well as a civil rights activist and actress
Jon Batiste, Academy Award winner for Best Original Score for the Pixar film Soul, Grammy nominee, and bandleader of The Late Show with Stephen Colbert
The Six-String Soldiers of the U.S. Army Field Band and members of the U.S. Air Force Band's Singing Sergeants
Alix Steel, Romaine Bostick, Janet Wu, and Joe Shortsleeve from Bloomberg TV and Radio will host the show
The concert will also feature all the quintessential favorites favorites that make this annual concert so special: "The Star Spangled Banner" and "Stars and Stripes Forever," along with other pieces. And, in keeping with tradition, the Boston Pops ends the musical portion of the show with their signature resounding performance of Tchaikovsky's "1812 Overture," complete with live cannons and bells.
If you're traveling to Boston for this national patriotic holiday, plan for a memorable evening watching the free Fireworks Spectacular over the Charles River after the concert.
Both the concert and the fireworks are a part of Boston's big Harborfest festival which takes place each year during early July. Harborfest may also host its own 15-minute fireworks show over the Harbor on July 3 - still to be confirmed for 2022.
Why does Boston have such a large Independence Day celebration? This is where the fight for American liberty began, and July 4th is a very special occasion here.
From our Patriots Day holiday in April to the Freedom Trail through the city to reenactors dressed in Colonial attire, Boston commemorates its revolutionary heritage all year, but around July 4th, celebratory pride escalates to such a degree that you'll see patriotism on steroids. Don't miss this exciting experience!
Boston Insider Tip: Book in Advance
If you're visiting Boston for this special holiday, please know that the closest hotels near the fireworks book up early and prices for remaining rooms soar as high as the fireworks closer to the date - so don't wait to make your reservations!
Photo credit: July 4th fireworks over Boston Harbor, photographed from near MIT by Sayamindu Dasgupta
---
Boston Pops July 4th Concerts & Fireworks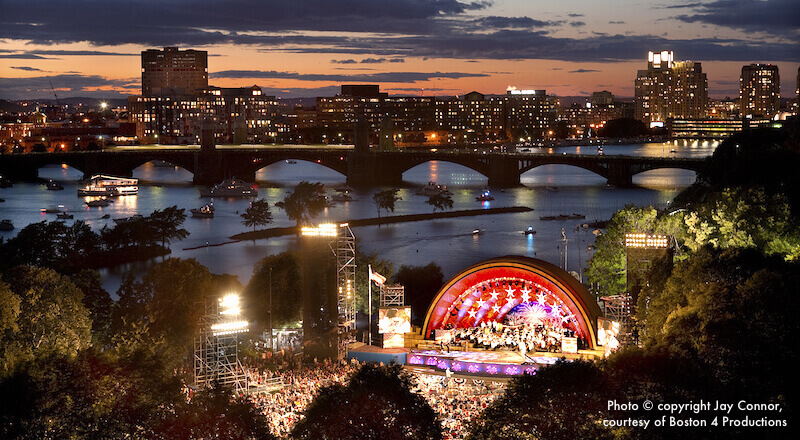 The Boston Pops Fireworks Spectacular, America's best Independence Day celebration, takes place on July 4th on the Charles River across from the historic Hatch Shell on the Esplanade.
Concerts in the historic Hatch Shell on both July 3rd and 4th, and feature Conductor Keith Lockhart and the Boston Pops Esplanade Orchestra.
The concert on July 4th is part of a fabulous show which normally includes a fighter jet military flyover, a terrific lineup of special guests, and half an hour of fireworks at the end.
The music is terrific, and then comes the finale - Tchaikovsky's explosive 1812 Overture, ending with dramatic drumrolls and real cannon fire, while church bells ring throughout the city on the 4th.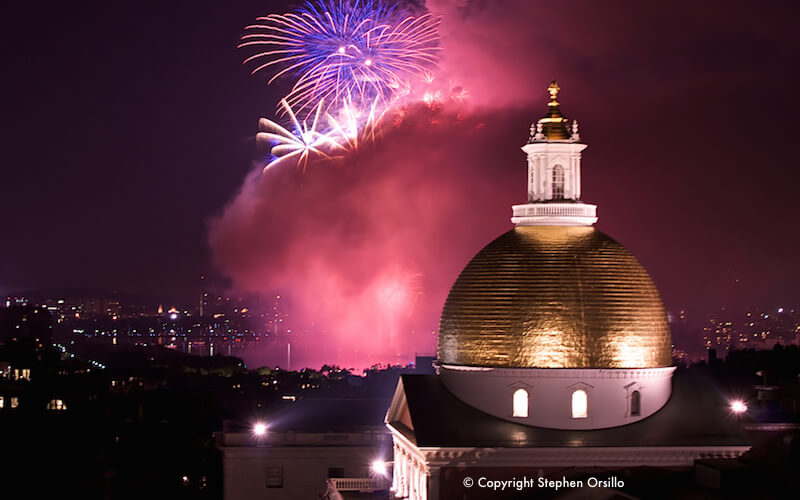 Boston Fireworks Spectacular & Pops Concert Schedule
Thursday, July 4 (Concert & Fireworks)
Please note: For now, these schedules are tentative, and will be confirmed closer to the dates.
8pm - Boston Pops Fireworks Spectacular and Bloomberg/WBZ-TV local broadcast begins
8pm - Boston Pops Concert (in Tanglewood) and show begin with the National Anthem
10:30pm (approximately) - Soon after the concert ends, the Boston fireworks begin to be launched from a barge on the Charles River. The show lasts about 30 minutes and concludes at 11pm.
With thousands of fireworks being set off, you can see why everyone calls the show "spectacular"!
Find yourself a comfortable spot on either the Boston or Cambridge side of the Esplanade, and enjoy this special patriotic event.
The skies light up with dazzling pyrotechnics reaching as high as 1,500* feet.
Depending on where you stay, you might even be able to watch the fireworks from your hotel room or roof deck.
Television, Mobile, Live Stream, & Radio Broadcasts
Can't attend Boston's July 4th concert and fireworks in person? Join millions of folks across the country in watching or listening to the festivities through one of these options (all to be confirmed for this year):
Television - Bloomberg Television or listen to it on Bloomberg radio (106.1 FM, 1330 AM, 1450 AM, and 92.9-HD2 in Boston and Newburyport; also on SiriusXM satellite subscription radio on Channel 119)
Live Streaming - Bloomberg.com, Boston.com, BostonGlobe.com, and BostonPopsJuly4th.org
Mobile - Get the Bloomberg Radio app at https://www.bloombergapps.com
https://www.bloombergapps.com/ - Listen on Bloomberg's stations in 106.1 FM,1330 AM, 1450 AM, 92.9-HD2 (Boston and Newburyport), 99.1 WPLM-FM (Plymouth, MA and Boston's South Shore, Southeastern Massachusetts, Cape Cod, and portions of northern Rhode Island), and SiriusXM channel 119 (national)
Note: All times are ET (Eastern Timezone), and all dates/times are subject to change (which does occasionally happen for weather-related reasons - Boston's July thunderstorms can be fierce!)
More to Do on July 4th: Boston Cruises
---
July 4th Fireworks Cruises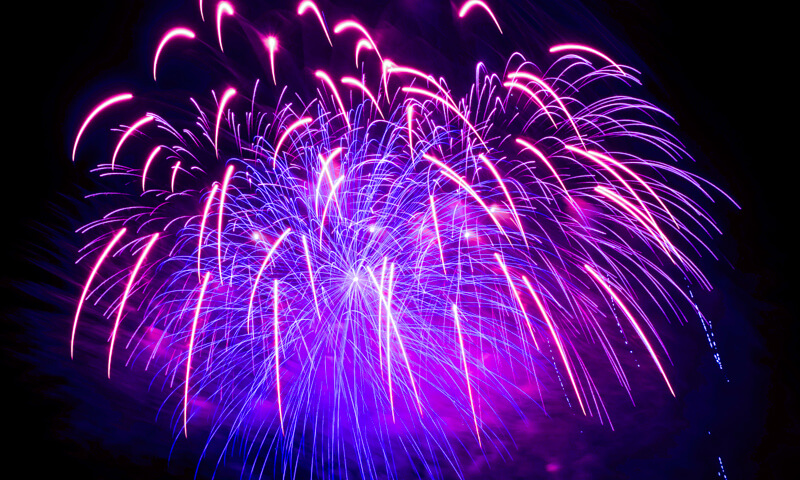 ---
Hotels near July 4th Fireworks
---
Best Place to Watch the July 4th Fireworks on Boston Common
The best places to watch this year's fireworks over Boston Common should be from Boston Common itself, surrounding streets (Beacon, Arlington, Boylston, Tremont, and Park), and from the mid-to-upper floors of surrounding buildings in Beacon Hill, Back Bay, the Theatre District, and Downtown Boston.
However, even though no official announcement has been made about the exact launch location on the Common, a local news source has quoted an unnamed City of Boston official as saying that the entire Common may be blocked off from the public for safety reasons.
If that statement is correct, viewing sites will be the streets, other nearby areas such as the Public Garden and even Comm Ave Mall, and any building or other location with unobstructed views of the sky over the Common. Hopefully an official announcement will come soon.
---
How Early Should You Arrive for the July 4th Fireworks?
On a typical July 4th in Boston, over a million people gather for the Pops Concert and the Fireworks show. Scoring free admission to the concert involves standing in pre-dawn lines on the Esplanade, and staking out a prime spot along the Charles River to view the fireworks means arriving by early-to mid-afternoon.

Bottom line: No one knows how many spectators will turn up to watch the fireworks this year, so it's also impossible to know either the level of competition for good viewing spots or how early you should arrive to get one.
And will Boston Common will be closed or open to the public for viewing the fireworks? That's also unknown.
So for now, make a plan - but stay flexible.
Views of the fireworks from streets surrounding the Common should be fine, assuming that everyone can pack into the available space.
But if you prefer watching while lounging on the grass and want to get a good spot, try this strategy: Pack a picnic dinner, beverages, and a blanket. Make your best guess about when the Public Garden, Comm Ave Mall, and other viewing spots will begin to get crowded, and arrive an hour or so earlier. Relax, enjoy the afternoon and evening - and finally the fireworks!
One caveat: During normal years, you don't have to worry about how much you're drinking because plenty of portable toilets get put into place along the river and on the Common a few days before the 4th. Hopefully port-a-potties will arrive this year - but no announcements confirming this have been made yet.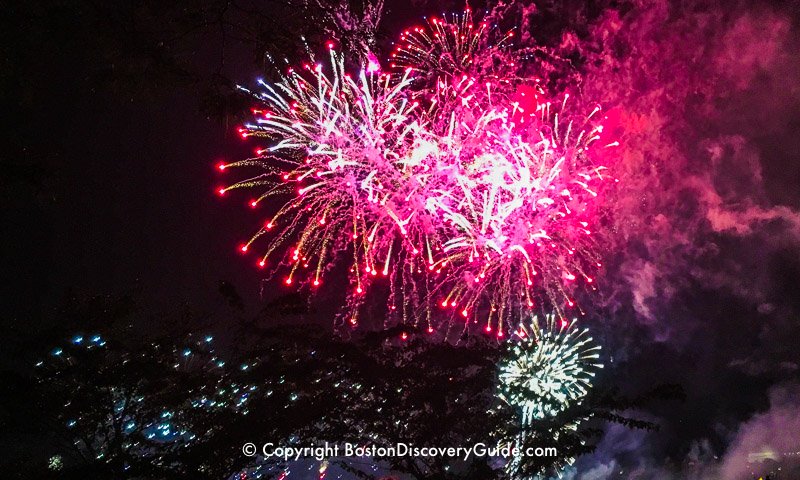 ---
Will the Fireworks be Visible from Cambridge, Castle Island, and Other Locations?
During a typical year when Boston's fireworks shoot up high in the sky over the river and make a huge display, you can find excellent viewing spots from many Boston and Cambridge locations as long as you're not behind a tall building.
One reason for launching them from barges in the river is that the water provides a certain margin of safety. On previous occasions when fireworks have been launched over Boston Common, such as for the New Year's Eve family fireworks show at 8pm, they do not go up very high.
But since there's been no announcement with any specific details, the height of the fireworks or the potential viewing range is still unknown.
Will Food and Beverages Be Available for Purchase?
Normally, you'll see lots of concession stands selling food, non-alcoholic drinks, and souvenirs such as t-shirts in public spaces such as the Common and the Esplanade on July 4th.
The Commonwealth of Massachusetts controls food and beverage concessions, and the City of Boston regulates merchandise concession prices, so they are usually fairly reasonable. Vendors donate all merchandise profits to help fund the concert and fireworks event.
Boston Hotels with Outdoor Swimming Pools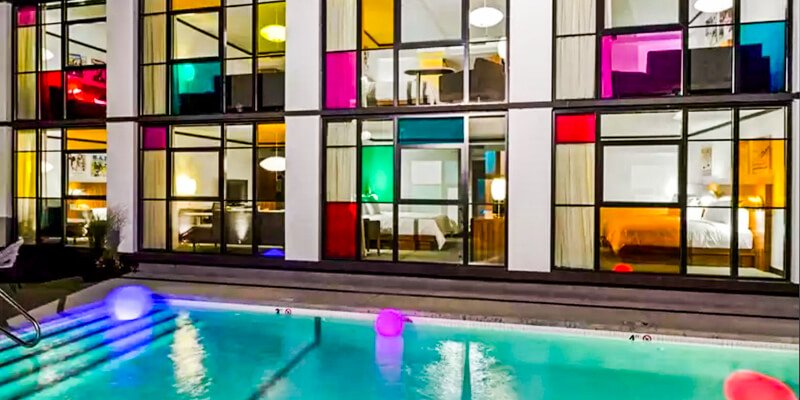 Find more Boston hotels with outdoor swimming pools
Best Boston Hotels with Fireworks Views
To be updated for 2022 - please check back soon!
If you're staying in a Boston hotel for July 4th, keep in mind that several offer spectacular views - although you need to request a room with a river view on a higher floor when making your reservations, and confirm the view. Public spaces in many of these hotels may also offer terrific views.
Essentials: Boston Hotels for Watching Fireworks
Boston hotels with views of the fireworks: Click the hotel name to check for best rates. To be sure of getting a room with a view, be sure to call the hotel directly to check availability.
Boston hotels within easy walking distance to spots to view the fireworks:
More about Boston and Cambridge hotels for viewing the July 4th fireworks
When else can you see fireworks in Boston? If you miss the fireworks on July 4th, visit Boston for New Year's Eve and enjoy fireworks as part of the First Night Boston celebration.
---
Will Rain - Or Thunderstorms - Stop the Fireworks?
Light rain isn't an issue, but yes, thunderstorms can pose a problem for the concert and fireworks.
In the event of lightening or strong wind, personnel must be evacuated from the barges in the river where the fireworks are launched, and lightening could pose a danger for the crowds of spectators along the riverbanks as well.
In regard to the possibility of a last-minute cancellation of the show due to weather conditions, a spokesperson for Boston 4th Productions, coordinator for the show, has been quoted as saying, "We will consult with our weather forecasters and a team of public safety officials before any decision is made.. . . . As always, the main thing is public safety. We are not going to endanger the public."
As anyone from Boston or elsewhere in New England knows, our July weather can be tricky...cloudless blue skies one moment can morph into a dramatic thunderstorm the next.
---
Boston Insider Tip: What Happens When a Severe Storm Strikes on July 4th
Fortunately, severe storms do not often happen at the right time to disrupt the concert or fireworks.
However, strong lightening near the Esplanade did in fact cause an interruption in the Pops concert several years ago. Following safety protocol, many spectators and orchestra members evacuated to the Storrow Drive tunnels (closed to vehicular traffic earlier in the day) for safety. Next, a drenching downpour sent most other spectators scrambling for shelter until the rain stopped. In this particular case, the fireworks began more or less on time - and were more spectacular than ever.
Worst case (which recently happened) when bad weather is predicted in advance ... the July 4th celebration may be moved up to the 3rd.
Postponing the event to July 5th is much less likely, as most performers have other commitments and can't reschedule.
---
Public Transportation: Getting to the Concerts and Fireworks
Please note: The MBTA has not yet announced services and policies for this year event. Most of the information below is from two years ago and is likely to change. We will update it as soon as announcements are made about this year.
The best way to get to the Pops concert and Boston fireworks show is by public transportation and walking, as parking is very limited in the area and crowds will be dense.
Public transportation (subway, buses, trolleys, trains, commuter rail) will be free after 9:30pm on July 4th. Transportation services will operate on a Saturday or Sunday schedule for most of the day, although subways will start rush-hour service at 2pm. Bicycles will be prohibited on all subway lines throughout July 4th, and on inbound commuter-rail trains from 10am-6am, and on outbound trains after 4pm on July 4th.
More people than cars will fill the streets, making driving even more difficult than usual. Many streets near the Esplanade including Memorial Drive and Storrow Drive are closed to traffic, and those that remain open will be gridlocked after the fireworks end.
Closest T stations for Boston fireworks:
Boston - Green Line/Arlington or Boylston; Red Line/Park Street
Also, no viewing will be allowed from the Mass Ave Bridge.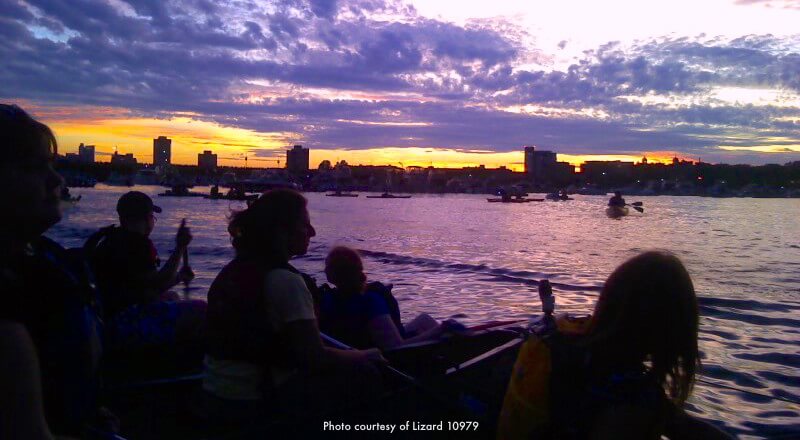 ---
Enjoying the Concert and Fireworks at Home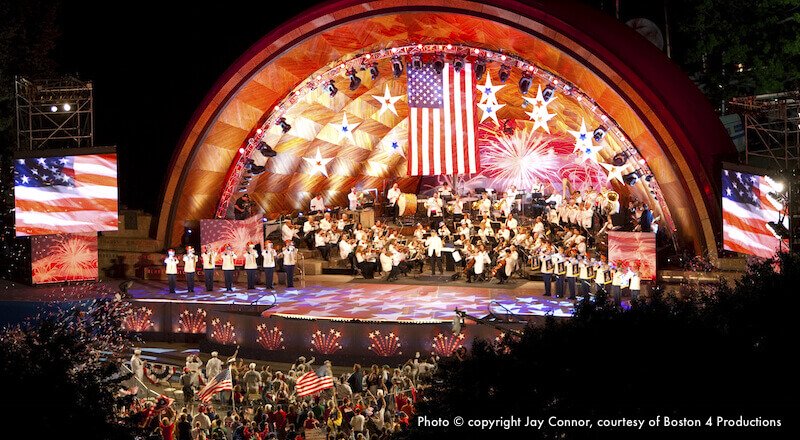 Can't come to the concert in person? You can see the Boston Pops Fireworks Spectacular broadcast on Bloomberg Television, or listen to it on Bloomberg's flagship Boston station at 1200 AM / 94.5 FM HD2. It will also be streamed live on Bloomberg.com and on the Bloomberg mobile app.
Business/financial news and information publisher Bloomberg (founded by Boston native Michael Bloomberg) is a major sponsor, along with Boston-based asset manager Eaton Vance, and also the event's media sponsor.
---
More to Do in Boston in July
---
More Articles Related to July 4th in Boston
---
More Cool Ways to Experience Boston History