Dazzling July 4th fireworks over Boston's Charles River light up the sky for half a million spectators watching this beloved annual event.
If you're traveling to Boston for this national patriotic holiday, get ready for a memorable evening at the free Boston Pops concert and Fireworks Spectacular located on the Esplanade along the banks of the Charles. Both are part of the city's multi-day Harborfest, the biggest Independence Day celebration in the country.
The guest lineup for the concert hasn't been announced yet for 2019 - but to give you a flavor of what to expect, stars last year included headliner Rachel Platten, plus two Grammy award winners: singer-songwriter (and MacArthur Grant recipient) Rhiannon Giddens and the Indigo Girls featuring singer-songwriters Amy Ray and Emily Saliers.
Why does Boston have such a large Independence Day celebration? This is where the fight for American liberty began. July 4th is a very special occasion here.
From our Patriots Day holiday in April to the Freedom Trail through the city to reenactors dressed in Colonial attire, Boston commemorates its revolutionary heritage all year, but around July 4th, celebratory pride escalates to such a degree that you'll see patriotism on steroids. Don't miss this experience!
Top photo credit: July 4th fireworks over Boston Harbor, photographed from near MIT by Sayamindu Dasgupta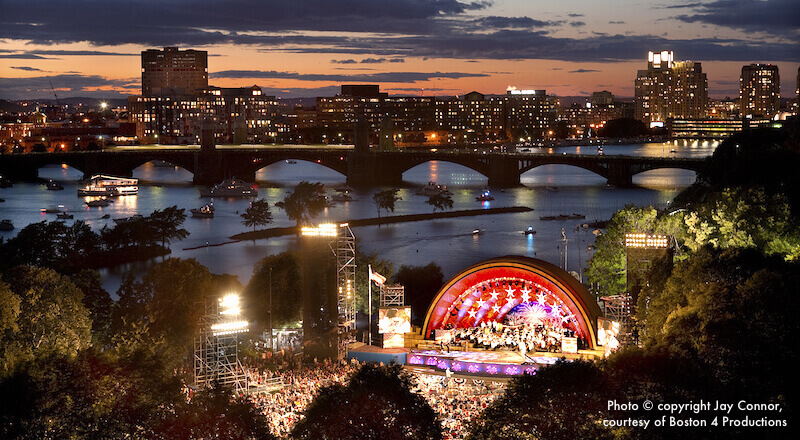 Boston Pops July 4th 2019 Concerts & Fireworks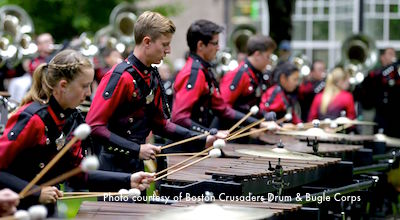 The Boston Pops Fireworks Spectacular, America's best Independence Day celebration, takes place on July 3rd and 4th on the Esplanade next to the Charles River.
Concerts in the historic Hatch Shell on both days feature Conductor Keith Lockhart and the Boston Pops Esplanade Orchestra.
The concert on July 4th is part of a fabulous show including a fighter jet military flyover and a terrific lineup of special guests and finishing with fireworks. On the 3rd, only the concert takes place.
Special concert performers on the 3rd and 4th include Andy Grammer, Melissa Etheridge, Leslie Odom Jr, and Brian Stokes Mitchell. (to be updated for 2019)
The music is terrific, and then comes the finale - Tchaikovsky's explosive 1812 Overture, ending with dramatic drumrolls and real cannon fire, while church bells ring throughout the city.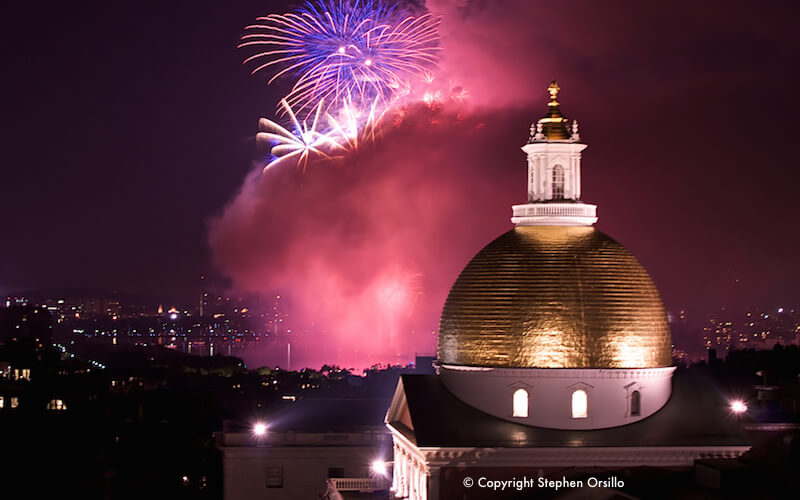 Boston Fireworks Spectacular & Pops Concert Schedule
Wednesday, July 3 (Concert only; no fireworks, no radio or television coverage)
8pm - Concert starts
10pm - Concert ends
Thursday, July 4 (Concert & fireworks)
8pm - Boston Pops Fireworks Spectacular and WBZ-TV local broadcast begins
8pm - Boston Pops Concert and show begins with the National Anthem.
10:30pm - Soon after the concert ends, the Boston fireworks begin to be launched from 7 barges in the middle of the Charles River. The show concludes at 11pm.
With 10,000 fireworks being set off, you can see why everyone calls the show "spectacular"!
Find yourself a comfortable spot on either side of the river, and enjoy this special Boston patriotic event.
The skies light up with dazzling pyrotechnics reaching as high as 1,500 feet.
Depending on where you stay, you might even be able to watch the fireworks from your hotel room or roof deck.
If you're at home, you can watch the show on the 4th on Bloomberg TV or listen to it on Bloomberg radio (1200 AM in Boston; also on SiriusXM satellite subscription radio on Channel 119.)
Note: All times are ET (Eastern Timezone), and all dates/times are subject to change (which does sometimes happen for weather-related reasons - July thunderstorms here can be fierce!)
Hotels near July 4th Fireworks & Pops Concert