Home > Boston Concerts >
Free Hatch Shell Events
Concerts, Movies, & Festivals on Boston's Esplanade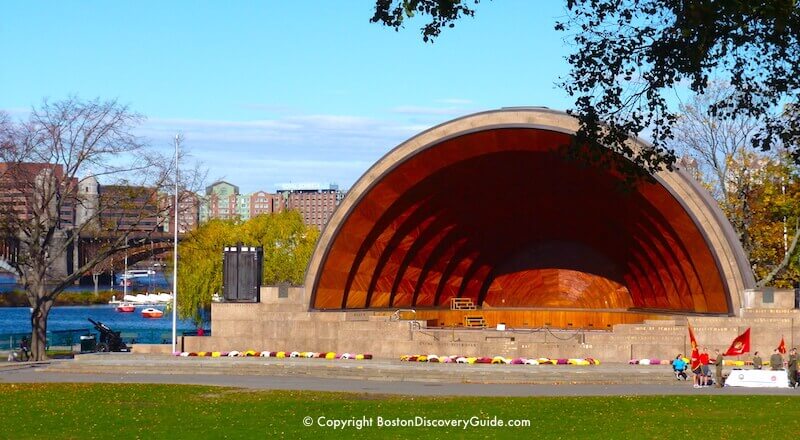 Hatch Shell on the Boston Esplanade next to the Charles River
You may already be familiar with the biggest free Hatch Shell event - the spectacular Boston Pops Independence Day Concert followed by fireworks held every year on July 4th.
But you may not know about all other free concerts ranging from pop to classical, family-friendly movies, shows, festivals, and celebrations on Boston's most unique outdoor performance stage on the Esplanade overlooking the Charles River.
If you're visiting Boston between April and October when most Hatch Shell events take place, you'll find interesting activities scheduled every weekend and also on week nights.
Except for the July 4th Pops concert and fireworks, these events don't necessarily get much publicity - but they're lots of fun, and an easy way to experience "real" Boston culture.
Complete Guide to Hatch Shell Events Schedule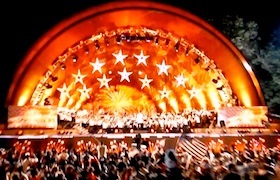 Here is Boston Discovery's Guide to Top Hatch Shell Events, Concerts, Movies, and Festivals:
- EarthFest celebrates the Earth, the beauty of the Esplanade, and the coming of summer, with families and friends gathering at the Hatch Shell to enjoy concerts by mostly local groups, environmental exhibits, and kids activities. Takes place on a Saturday in May. Date & more info
- Free jazz performances by award-winning local high school jazz groups. Starts at noon on a Sunday in May. Date & more info
- Free Friday Flicks Movie Series - Bring a blanket and perhaps a picnic, and get ready to enjoy family-friendly movies under the stars - a truly magical Boston summer experience! Movies begin at sundown. Friday nights in June, July, August. Schedule & more info
- Independence Day Boston Pops Concerts - On July 3 and July 4, the Boston Pops present their famous Independence Day Concerts with Tchaikovsky's exciting 1812 Overture complete with cannon fire as the finale. Spectacular fireworks over the Charles River follow the July 4th concert. Schedule & more info
- Landmarks Festival at the Hatch Shell - The renowned Boston Landmarks Orchestra conducted by Christopher Wilkins presents mostly classical music with special guests such as the Boston Lyric Opera and Longwood Symphony Orchestra. Wednesday nights during July & August. Schedule & more info
- India Day Celebration - Come join this huge celebration in honor of India's independence day from British rule, with free performances on the Hatch Shell stage, plus delicious Indian food to purchase provided by Boston's top Indian restaurants. Takes place on a Sunday in mid-August. Date & more info
Hatch Shell Photo Gallery

Photo captions, from left to right:
1) Hatch Shell during Fourth of July Boston Pops Concert
2) Army cannon stationed next to Hatch Shell
3) This photo shows the Hatch Shell's beautiful inlaid wood interior
4) Close-up photo of composers' names across the front of the Hatch Shell
5) July 4th fireworks light up the Hatch Shell
Hotels near the Hatch Shell
Walk to the Hatch Shell from these nearby Boston hotels in Back Bay, Beacon Hill, and the West End.
Hatch Shell Essentials: What You Need to Know
Hatch Shell's "real" name: Edward A. Hatch Memorial Shell
Reason for existence: Built in 1928 to shelter the Boston Pops Orchestra during their outdoor concerts
First Pops conductor to conduct here: Arthur Fiedler, who used it for the July 4, 1929 Independence Day Concert
Became permanent: 1941, when the art deco-style structure you see today was built
Hatch Shell dimensions: 40 feet high and 110 feet wide (160 feet if you include the stairs at the base)
Most striking details: The inlaid wood lining the interior, and the names of composers written in bronze across the front
Most unusual feature: The U.S. Army Cannon next to the Hatch Shell, used in the 1812 Overture at the end of the Boston Pops Fourth of July concerts
Bonus Boston scavenger hunt question: Find a statue of the conductor of the first concert at the Hatch Shell Find the answer
How to Get to the Hatch Shell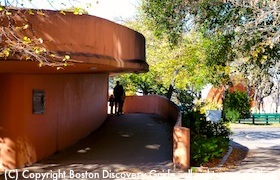 The Hatch Shell's location on the Boston Esplanade means you must cross the 6-lane Storrow Drive in order to get to it. Fortunately, footbridges over the highway allow you to do this safely.
The two closest footbridges include:
- Arthur Fiedler Footbridge (shown in photo, with Hatch Shell at far right) across from Back Bay - Go to the corner of Beacon and Arlington Streets next to the Public Garden, cross Beacon Street, continue slightly to your left (you'll see a street sign for Mugar Way), and walk toward the river. Savor the expansive views as you walk across the dramatically curving footbridge over Storrow Drive. Closest T station: Green Line/Arlington
- Charles Street Footbridge across from Beacon Hill - Go to the corner of Charles Street and Cambridge Street, and you'll easily see the footbridge. Closest T station: Red Line/Charles-MGH
Boston Insider Tips: Attending a Hatch Shell Performance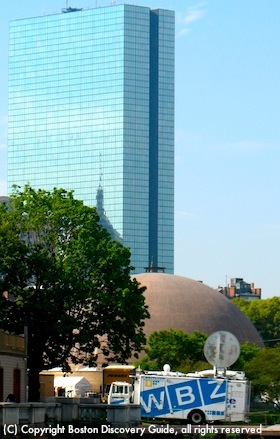 Tip #1: There's nothing more wonderful than attending an evening performance at the Hatch Shell, partly because you'll enjoy cool breezes from the river. But count on temperatures at least 10 degrees cooler than in the city - so bring a sweater or light jacket.
Tip #2: During the day, there's not much shade - so put on sunscreen and bring a water bottle.
Tip #3: Seating is on "the Oval," the grassy lawn in front of the stage. Bring a blanket or low folding chairs for comfortable seating.
Tip #4: Bring a picnic if you want - but remember that alcohol is not allowed on the Esplanade.
Tip #5: The Hatch Shell keeps the performers dry (usually) - but you're unsheltered. If the weather looks at all iffy, bring an umbrella!





Boston Discovery Guide > Boston Concerts > Hatch Shell