Visiting Boston on a rainy day?
Don't think you have to stay inside!
This self-guided walking tour for rainy weather lets you explore one of the oldest part of the city, settled almost 400 years ago by the Puritans.
You'll see several Freedom Trail sites and other historic places, but almost more important on a rainy day, you will find numerous places along the way where you can shop, eat, and stay dry if the rain gets heavier.
The entire route covers only about three-quarters of a mile, although you can make it longer if you detour to explore interesting areas along the way.
As you can see from the photos on this page, fall is a wonderful time to take this walk because of all the beautiful foliage along the route - and despite the rain, it still looks beautiful.
However, you will enjoy this walk just as much during any other season - or anytime you want to combine sightseeing with shopping and perhaps a snack or meal.
Top photo: Walking across Boston Common in the rain
Boston Discovery Guide is a reader-supported publication. When you buy through our links, we may earn a commission at no additional cost for you. Learn more
---
1. Begin your Walk on Boston Common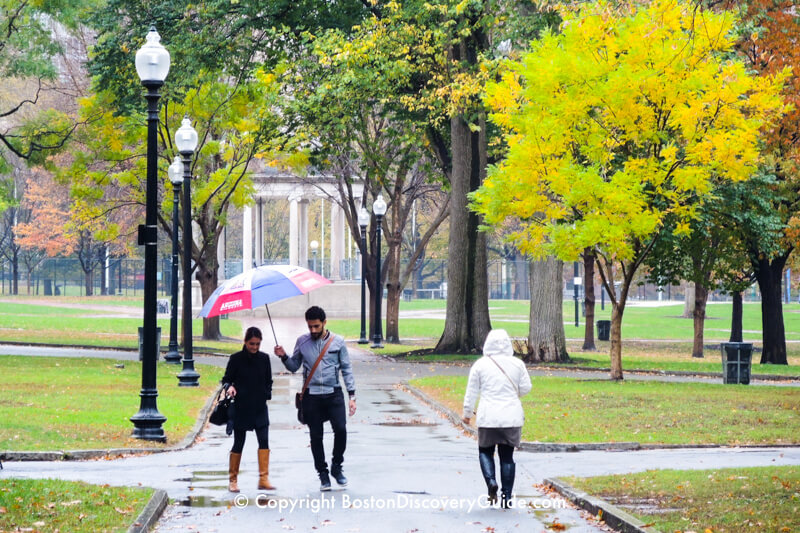 Start your walk at Boston Common.
From any point on the Common, walk toward Tremont Street, where you'll see the Tourist Information Center located across from the intersection of Tremont and West Streets.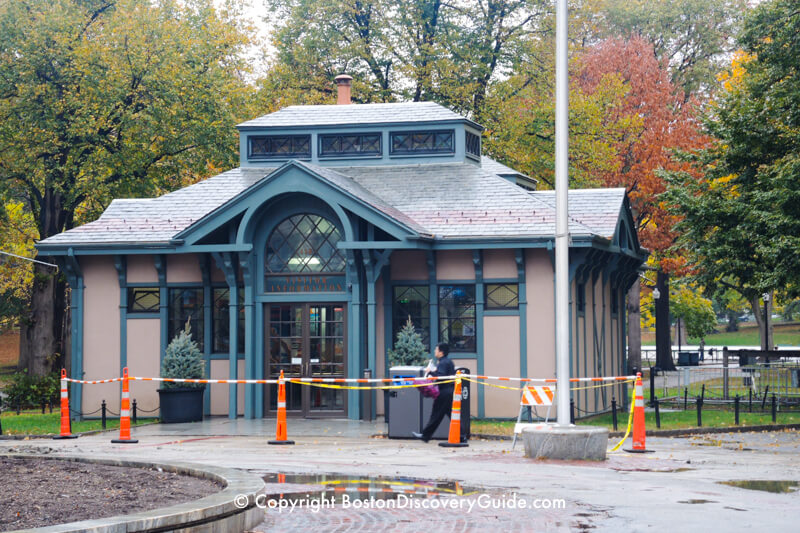 Now that you are at the Tourist Center, you will follow Boston's famous Freedom Trail, marked by a red stripe
Now that you are at the Tourist Center, you will follow Boston's famous Freedom Trail, marked by a red stripe, for a few blocks.
To your left, you'll see the golden-domed Massachusetts State House on top of a small hill.
The State House is located at the edge of Beacon Hill, one of the city's oldest neighborhoods and now the wealthiest.
On a less-rainy day, you might want to explore Beacon Hill's charming cobblestone streets, admire the opulent mansions, and walk along the path of the Black Heritage Trail where the Underground Railroad once sheltered runaway slaves.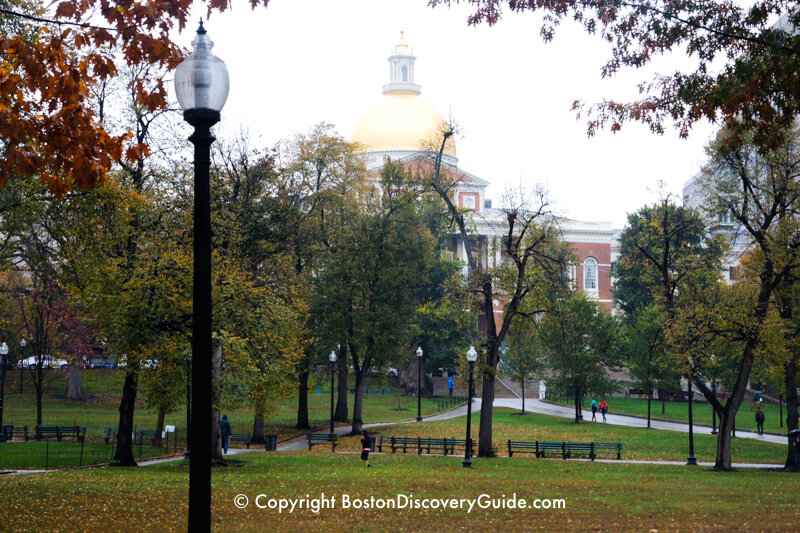 Today, you can decide whether you want to admire the State House from afar, or go in for a visit. Admission to this Freedom Trail site is free, and it is filled with art, magnificent architectural details, and historical artifacts including two state icons: the Sacred Cod and Holy Mackerel.
More about touring the Massachusetts State House
More Ways to See Boston
2. Walking Along the Freedom Trail
For the next few blocks of this walk, you'll be exploring one of the most interesting sections of the Freedom Trail.
Walk up Tremont Street along the Freedom Trail's red stripe. Ahead of you, you'll see the white spire of Park Street Church at the corner of Park and Tremont Streets.
But as you go up the street, pause long enough to notice Tremont Temple on the right - it is the building with the beautiful blue spiral design on the peaked front gable. This building dates back to 1896, and replaces three others destroyed by fire in 1852, 1879, and 1893. The first building on the site, built in 1827, first housed a popular theater.
The Free Baptist Society, organized in 1839 to combat slavery, converted the building to a temple in 1842-43, and held the first integrated church services in the country here.
Abraham Lincoln gave a rousing speech here in 1848, and it was also the site of the first reading in Boston of the Emancipation Proclamation of 1863.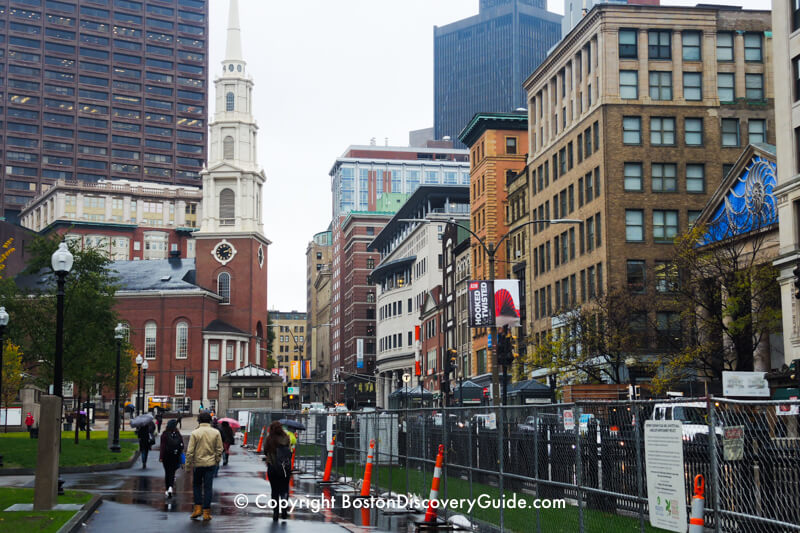 Park Street Church dates back to 1809, and also played a significant role in social justice and the abolition of slavery in the U.S. during the 19th century. Famous abolitionist William Lloyd Garrison made his first public anti-slavery speech here on July 4, 1829.
The area in front of the church was once known as "Brimstone Corner" - either because of the gunpowder stored in the church during the War of 1812, or the fiery sermons delivered by the Congregational ministers.
You can go inside Park Street Church, a Freedom Trail site, unless a service is underway (although of course you are also welcome to attend the service).
More about the Park Street Church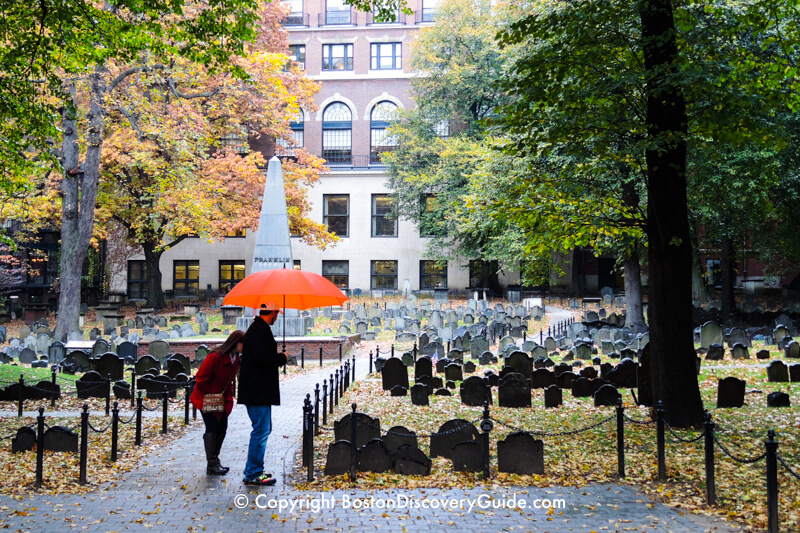 Continue walking up Tremont Street, and just behind Park Street Church you'll see Granary Burying Ground, the third oldest graveyard in Boston. A light rain adds to its ambiance.
Many famous heroes of the American Revolution are buried in this historic graveyard, including those killed in the Boston Massacre.
Walk through the Egyptian Revival-style gates added in 1840, and explore. You'll see signs to help you find graves of the most famous occupants.
More about Granary Burying Ground
---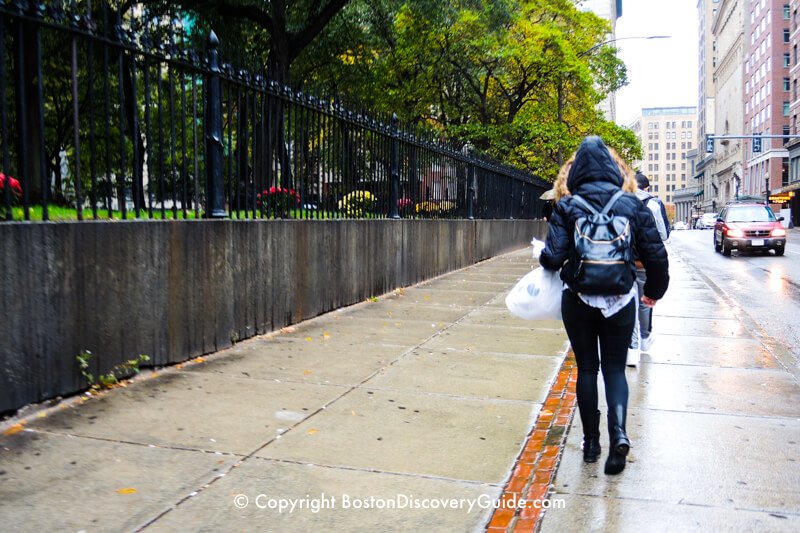 When you leave Granary Burying Ground, turn left onto Tremont Street and follow the Freedom Trail's red line.
Just before you reach the corner of School Street, you'll see Omni Parker House, one of Boston's magnificently restored grand hotels.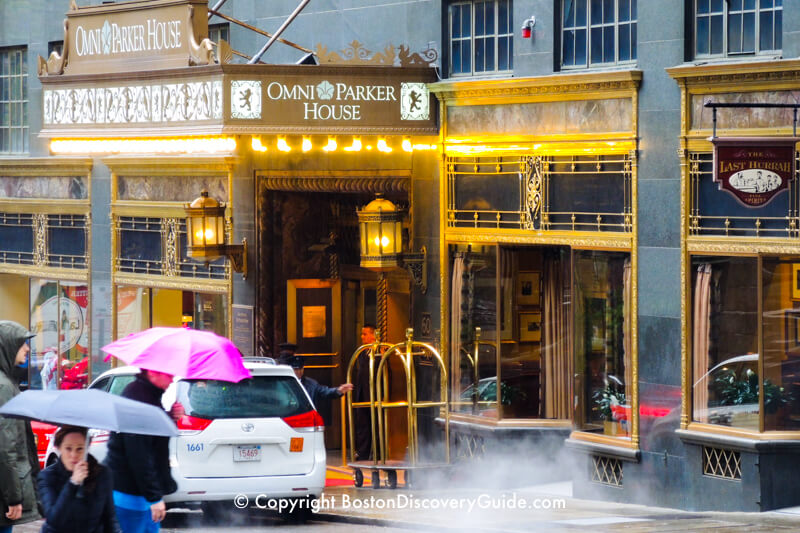 Parker House has welcomed many famous and infamous guests such as Charles Dickens and John Wilkes Booth throughout its existence - it is the oldest continuously operating hotel in the United States. Although the building you see before you dates back only to 1927, the original was built in 1856.
However, the hotel's lasting fame comes from three culinary creations: Parker House rolls, Boston Scrod (ie, fancy thick-cut filets of cod), and Boston Cream Pie.
If you are at all hungry at this point in your walk, don't pass up this chance to sample Boston's mouth-watering dessert, which is really a cake with creamy vanilla filling and topped with chocolate ganache, rather than a pie. It's also the perfect excuse to go inside and see a bit of the hotel's gorgeous interior.
You can enjoy Boston Cream Pie in several locations in the hotel - so head to Parker's Bar, a lovely wood-paneled room unless you want a full meal in the elegant restaurant.
More about the Omni Parker Hotel
Whether you walk continue walking or stop in for pie, be sure look up to notice the Omni Parker Hotel's beautiful design, slate and copper roofs, and the corner clock.
In fact, you can see plenty of wonderful architectural details along this route, but many are above ground level - so don't forget to look up to spot them.
Two more Freedom Trail sites, Kings Chapel and King's Chapel Burying Ground, are on the other side of Tremont Street, just beyond School Street.
Both are interesting - so if you want, detour over to see them, and then return to the corner of Tremont and School Streets.
More Nearby Hotels
This walk through historic Boston is even more fun when you're staying nearby in one of these top hotels along the route:
---
3. Freedom Trail and Other Sites along School Street
Although the red line of the Freedom Trail can be hard to see in some areas, there is no missing it at the Tremont Street/School Street intersection.


Follow the Freedom Trail down School Street. You are now in one of Boston's oldest sections, where layers of history trace back to the days of the Puritans who settled here in the 1630s.
Almost immediately on your left, you will see a gorgeous gray stone building in French Second Empire style. This is Boston's Old City Hall, built in 1865 and occupied by nearly 3 dozen mayors until the current City Hall opened a few blocks away in 1969.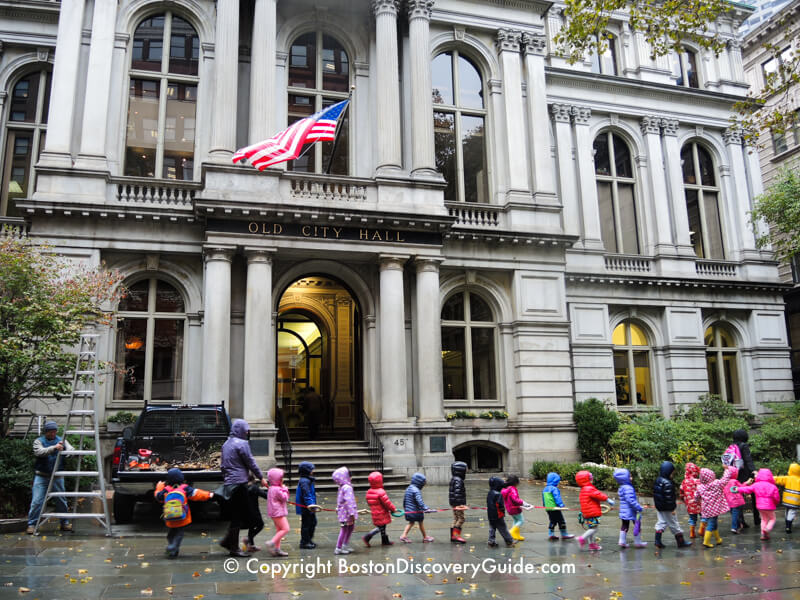 Before 1865, an older City Hall occupied this site, and even earlier, between 1704 and 1748, Boston Latin School - the first public school in the U.S. and since it still exists in the Fenway neighborhood, also the oldest one - held classes on this site.
Explore the grounds a bit, and take time to notice the statue of Benjamin Franklin, which dates back to 1856. As it was the first public statue of a person in Boston, it attracted large crowds when it was installed.
Look down at the sidewalk in front of Old City Hall, and you'll see a rather elaborate memorial to Boston Latin School.
Benjamin Franklin attended Boston Latin School for a couple of years until his dad could no longer pay tuition (back in those days, "public" did not mean free) and he had to drop out at the age of 10.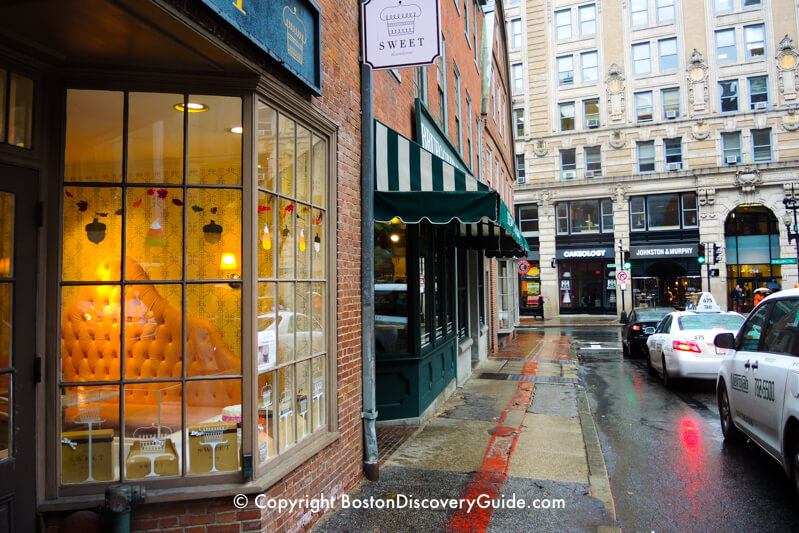 As you continue down School Street, you can easily walk right by two of the oldest 18th century brick buildings still in existence in Boston without even noticing them unless you happen to crave a bagel or a burrito.
The first one that you'll pass, now a Brueggers Bagel Bakery, dates back to 1722, while one at the corner, a Chipotle Mexican Grill restaurant and also a Freedom Trail, Literary Trail, and Women's Heritage Trail site, is the Old Corner Bookstore, built in 1712.
The Old Corner Bookstore originally housed an apothecary shop with a residence above. Throughout most of the 1800s and part of the 1900s, a series of publishers and booksellers occupied the space, attracting literary luminaries such as Ralph Waldo Emerson, Nathaniel Hawthorne, Charles Dickens, Oliver Wendell Holmes, and Henry Wadsworth Longfellow - when they weren't hanging out up the street at Parker House.
Going even farther back, the site now occupied by the Old Corner Bookstore was the home of charismatic Puritan and religious leader Anne Hutchinson from 1634 to 1638. Because she promoted a doctrine that questioned the authority of the Puritan ministers, the ministers excommunicated and banned her, along with her children and supporters, from Massachusetts Bay Colony.
With encouragement from another religious exile, Roger Williams, who had already founded Providence in what would become the much more tolerant Colony of Rhode Island and Providence Plantations, Hutchinson and her supporters fled south and established the settlement of Portsmouth.
If you explored the Massachusetts State House earlier on this walk, you may have noticed a statue of Anne Hutchinson and her daughter Susanna on the lawn. Hutchinson and Williams are considered key figures in the development of religious freedom in the Colonies.


Cross Washington Street at the corner, and turn left. Within just a few feet, you'll see Spring Lane (more like a narrow alley) and Water Street. These are two of the city's oldest streets. Walk down either of them, and you'll be following in the footsteps of the Puritan founders of Boston.
In about half a block, look across the street and you'll see Pi Alley at the entrance to a parking garage.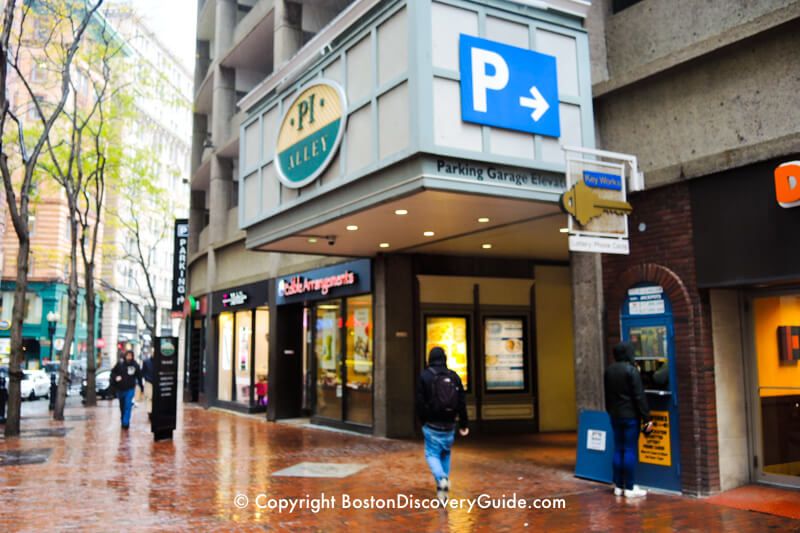 Pi Alley - alternately called "Pie Alley" - contains a couple of small shops and eateries, including Viga, where you can get delicious Italian pizza and calzone. However, this small lane probably dates back to Colonial times.
The "Pi/Pie Alley" names evolved toward the end of the 19th century and describe a scene no longer visible. At that time, the many newspaper printing shops lining alley off Washington Street caused it to be called "Newspaper Row."
Small cafes serving meat pies, as popular then as pizza is today, filled the alley. Some even listed "Cat Pie" on their menus - perhaps as a joke. Bell in Hand Tavern, founded in 1795, was here as well (you can now visit it a couple of blocks away at 45 Union Street).
In their haste to eat and drink, printers and typesetters sometimes dropped loose type or "pi" from their pockets. Over time, so much pi filled the alley that it began to be called "Pi Alley" - a play on words.
Keep walking up Washington Street, and you'll soon find several interesting small shops on your right.
At this point, you have a decision to make: you can either continue walking north along Washington Street for more two blocks and reach Faneuil Hall Marketplace, where you can easily spend the rest of your day shopping and dining - or you can turn around and walk back to the School Street intersection to continue this walk.
Need Rain Boots or a Cheap Umbrella?
You'll enjoy walking in the rain a more if you stay dry.
Need an umbrella or water-proof boots or shoes? You can buy what you need, usually at bargain prices, in Downtown Crossing along Washington Street, one block from Boston Common. Try these stores:
DSW - 385 Washington St, Downtown Crossing, 617-556-0052 - Usually has a big selection of rain boots and umbrellas at cheap prices
Eddie Bauer Outlet - 500 Washington St, Downtown Crossing, 617-423-4722 - More boots and umbrellas
More Ways to Tour Boston
See the best of historic and modern Boston on these fun tours:
---
4. Historic and Freedom Trail sites along Washington Street
Assuming you turn back, you'll see the Boston Irish Famine Memorial across from the Old Corner Bookstore.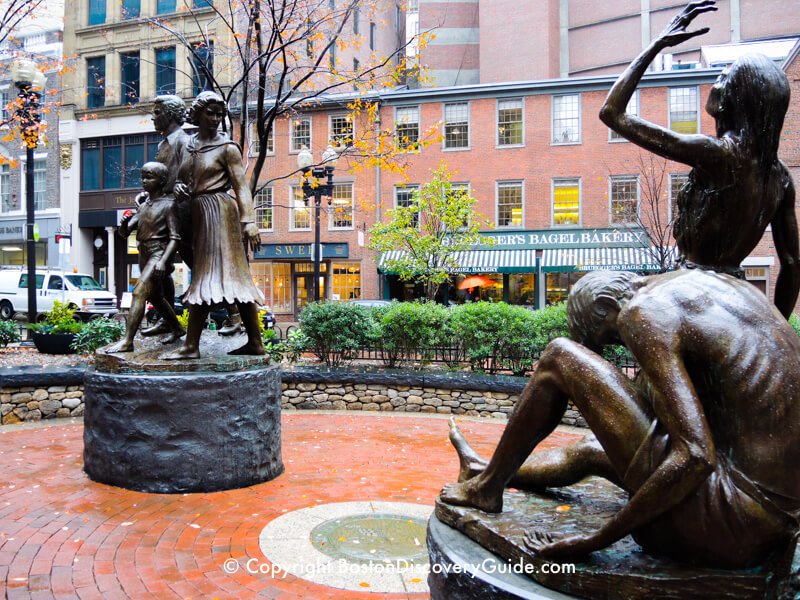 Created in 1998, the Irish Famine Memorial marks the 150th anniversary of the severe potato crop failure responsible for the deaths from starvation of about one-eighth of the Irish population, mostly in rural areas. During the years of the famine, more than 1.5 million Irish fled to the United States, with many settling in Boston.
The two groups of figures represented by the statues are meant to represent social disparities and economic inequities in Ireland which led to parts of the population suffering more than others.
However, you might also see the healthy happy figures as reflecting the Irish immigrants in Boston who overcame initial discrimination, worked hard, and prospered due to opportunities in America.
Diagonally across Washington Street from the Irish Famine Memorial is one of the most historic sites along the Freedom Trail: Old South Meeting House.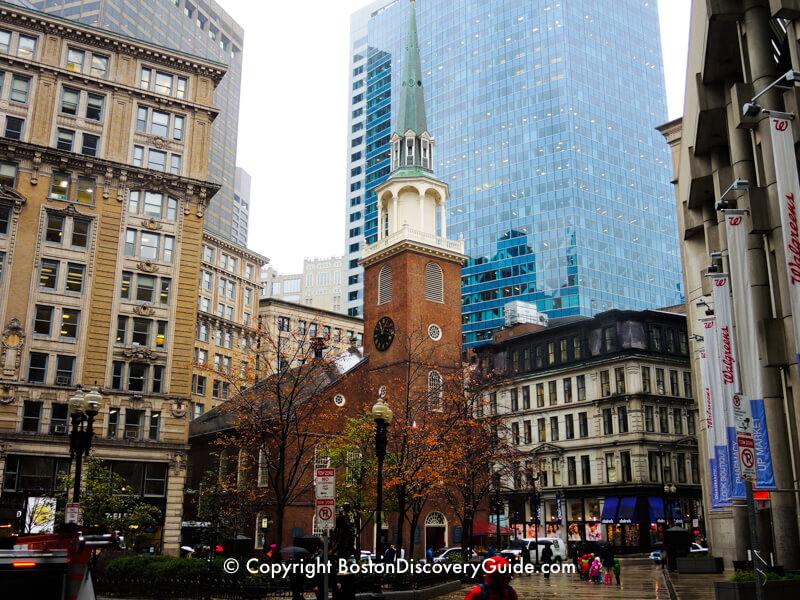 From our 21st century perspective, it is hard to imagine the enormous role the Old South Meeting House played in Colonial Boston.
First serving as a place of worship after a group of dissenting Puritans broke off from another congregation, Old South by the early 1770s provided the stage for numerous gatherings where the Sons of Liberty advocated revolution and independence from England.
Today, Old South is a Freedom Trail site best known as the spot where a secret code phrase was shouted to trigger the raid known as the Boston Tea Party. More about the Tea Party
The Old South Meeting House is now the site of an interesting history museum with interactive exhibits and some of the actual tea thrown into the Harbor on the night of the Tea Party.
If you have time, take a break from the walk and go inside. There is a small entrance fee. You can also use a valid GoBoston card, if you have one, to get free admission.
---
5. Downtown Crossing - Shopping, Construction, & the Theatre District
As soon as you pass Old South Meeting House, the mostly pedestrian-only shopping district known as Downtown Crossing begins.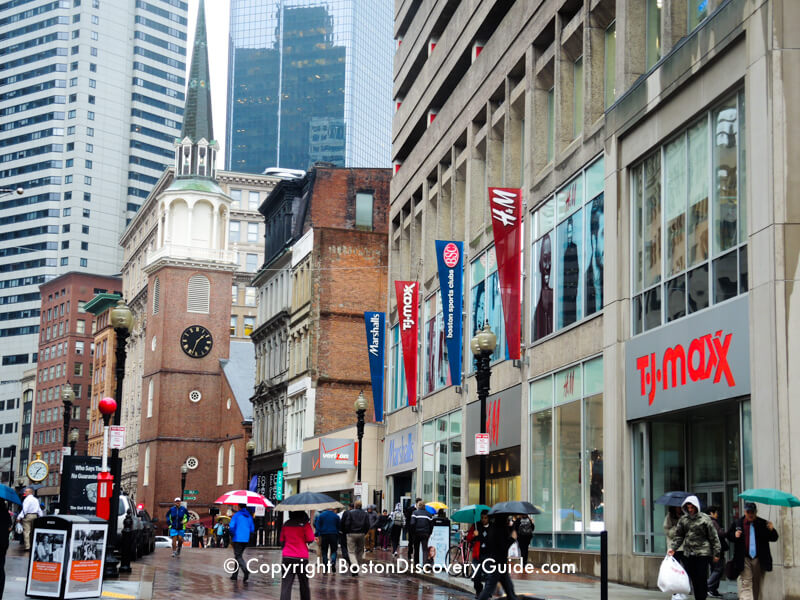 This area has an interesting mixture of big-box fashion discounters, a huge Macy's department store, and many eclectic independently owned shops and boutiques.
However, one of the most famous emporiums along this section of Downtown Crossing, the Boston Jewelers Exchange Building, is easy to miss if you don't happen to be searching for it - but just look for the large gold clock.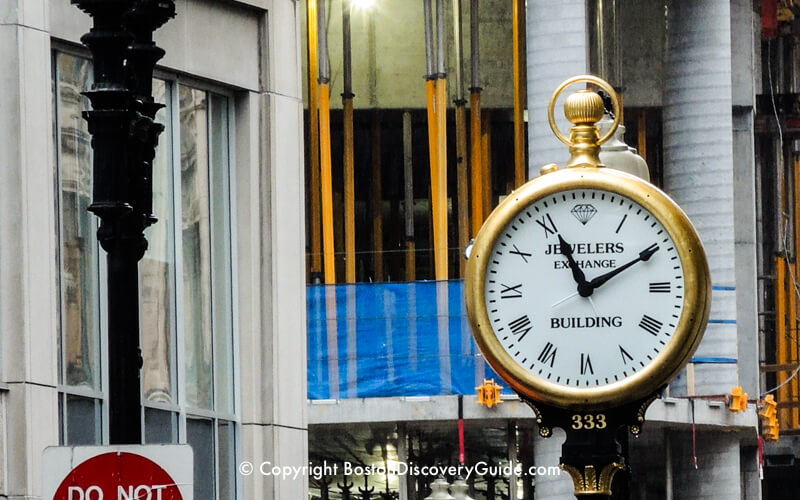 Looking at the Jewelers Exchange 1922 art deco building from the outside, you might not guess that inside, you'll find over 150 independent retail and wholesale jewelers, artisans, and manufacturers. Many have been here since the 1940s.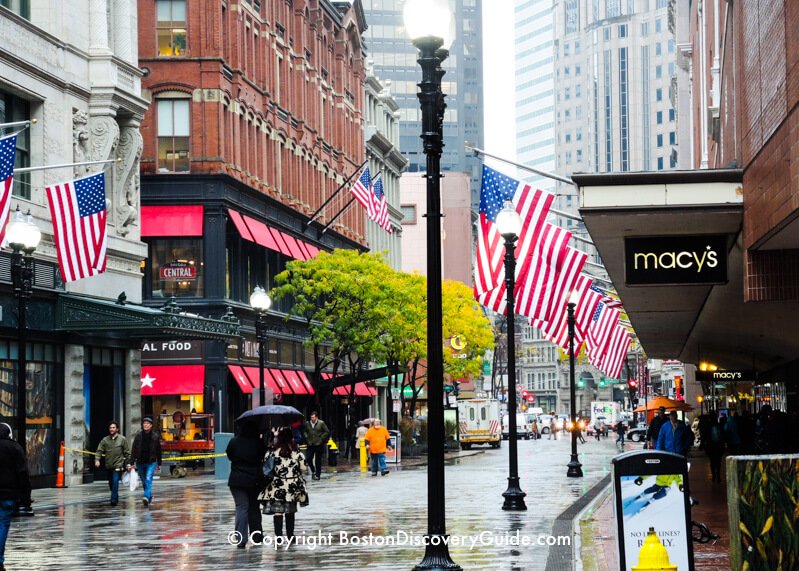 Massive change has transformed Downtown Crossing in recent years, filling it with luxury condos, inviting outdoor seating plazas, and upscale coffee/wine bars and restaurants, uniting it with the Theatre District.
As you continue walking past Macy's, suddenly part of Boston's Theatre District comes into view.
Two downtown-based higher education institutions, Suffolk University and Emerson College, share this area with the theaters, so you'll see lots of students with laptops in the upscale coffee emporiums.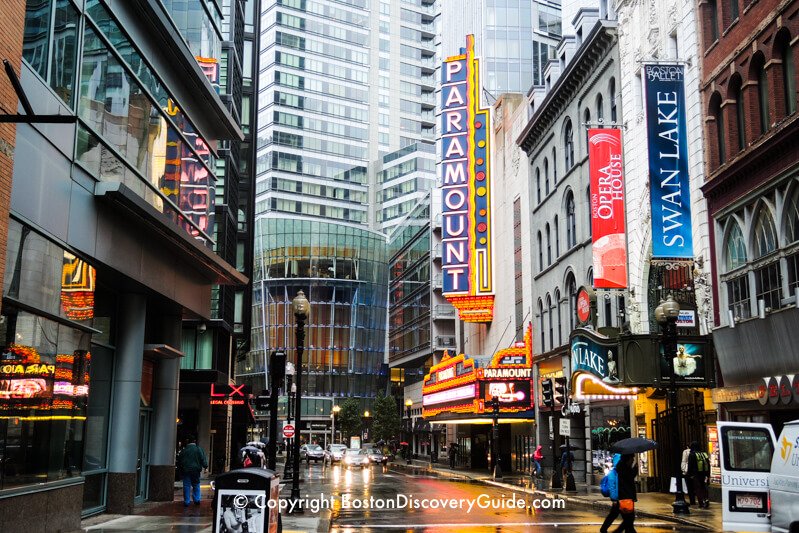 You could walk further and explore the theaters, peering inside to admire their opulent lobbies, and then continue to walk a block or two farther until you reach Chinatown, where tantalizing aromas from dozens of Asian restaurants beckon you in for a meal.
But if rain is still falling, you may want to head back to Boston Common - only a block a way.
So turn right onto West Street, home to the Brattle Book Shop.
When the weather is good, hundreds of books are on display in the mural-lined parking lot next to the store. Nothing is pleasanter than browsing for awhile on a warm August afternoon.
But on a rainy day, go inside where you can quickly become lost in the three floors of used and rare books.
The shop has occupied several Boston locations since its founding in 1825, and specializes in antiquarian books, first editions, maps, postcards, and other treasures. If you are looking for a unique gift, head to the "Boston" section, which usually has interesting long-out-of-print books about the city and its history.
At the end of West Street, cross Tremont Street and you'll be back on Boston Common, where this walk ends where it began.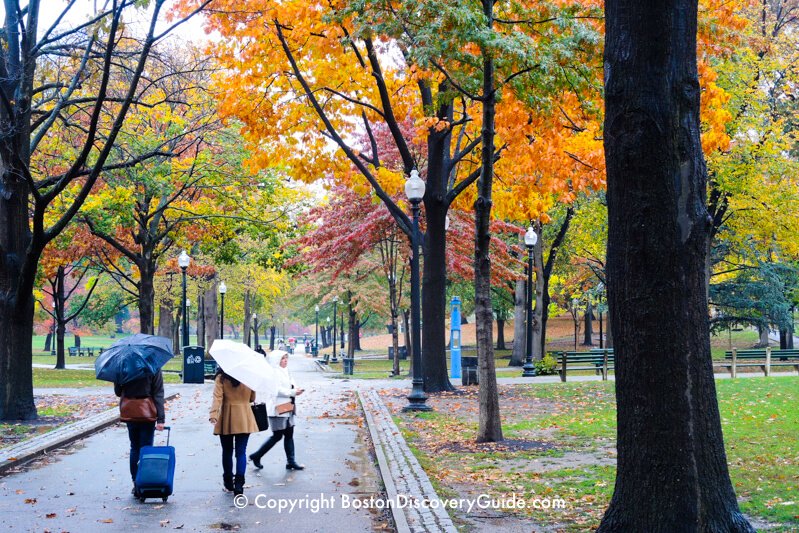 ---
More Articles about Other Seasonal Ways to Explore Boston
More Fun Ways to See Boston
You'll experience Boston from a different perspective on these scenic Boston Harbor cruises: