Visiting Boston on a rainy day?
Don't think you have to stay inside!
This self-guided walking tour for rainy weather lets you explore one of the oldest part of the city, settled almost 400 years ago by the Puritans.
You'll see several Freedom Trail sites and other historic places, but almost more important on a rainy day, you will find numerous places along the way where you can shop, eat, and stay dry if the rain gets heavier.
The entire route covers only about three-quarters of a mile, although you can make it longer if you detour to explore interesting areas along the way.
As you can see from the photos on this page, fall is a wonderful time to take this walk because of all the beautiful foliage along the route - and despite the rain, it still looks beautiful.
However, you will enjoy this walk just as much during any other season - or anytime you want to combine sightseeing with shopping and perhaps a snack or meal.
Top photo: Walking across Boston Common in the rain
1. Begin your walk on Boston Common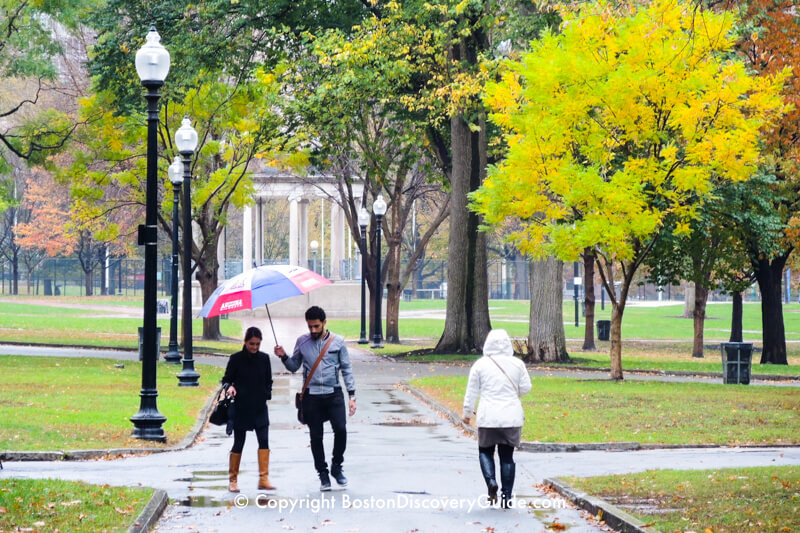 Start your walk at Boston Common.
From any point on the Common, walk toward Tremont Street, where you'll see the Tourist Information Center located across from the intersection of Tremont and West Streets.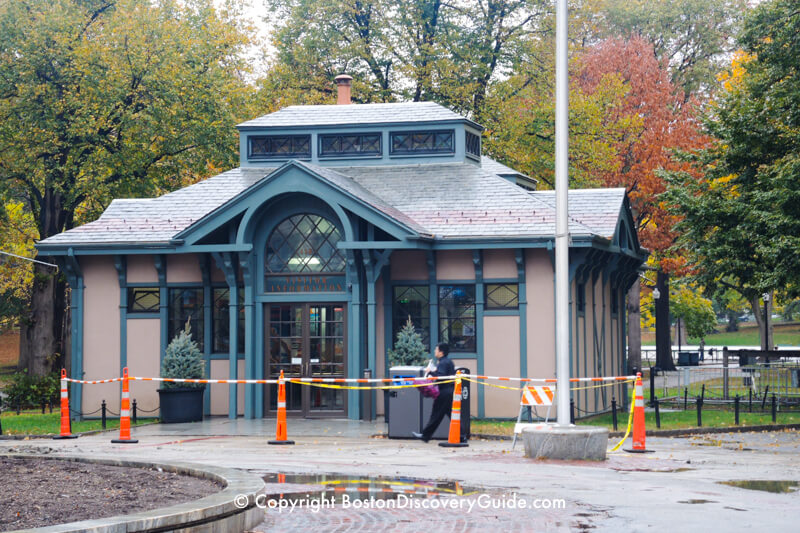 Now that you are at the Tourist Center, you will follow Boston's famous Freedom Trail, marked by a red stripe
Now that you are at the Tourist Center, you will follow Boston's famous Freedom Trail, marked by a red stripe, for a few blocks.
To your left, you'll see the golden-domed Massachusetts State House on top of a small hill.
The State House is located at the edge of Beacon Hill, one of the city's oldest neighborhoods and now the wealthiest.
On a less-rainy day, you might want to explore Beacon Hill's charming cobblestone streets, admire the opulent mansions, and walk along the path of the Black Heritage Trail where the Underground Railroad once sheltered runaway slaves.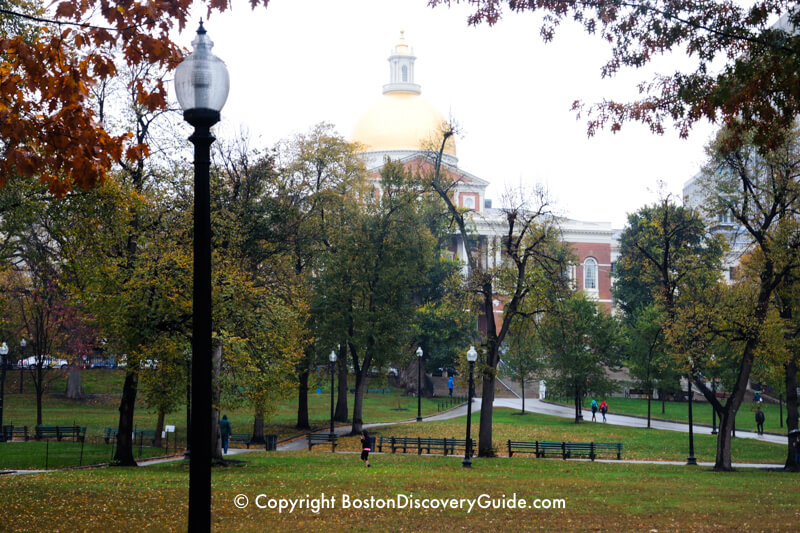 Today, you can decide whether you want to admire the State House from afar, or go in for a visit. Admission to this Freedom Trail site is free, and it is filled with art, magnificent architectural details, and historical artifacts including two state icons: the Sacred Cod and Holy Mackerel.
More about touring the Massachusetts State House
More Ways to See Boston
2. Walking Along the Freedom Trail
For the next few blocks of this walk, you'll be exploring one of the most interesting sections of the Freedom Trail.
Walk up Tremont Street along the Freedom Trail's red stripe. Ahead of you, you'll see the white spire of Park Street Church at the corner of Park and Tremont Streets.
But as you go up the street, pause long enough to notice Tremont Temple on the right - it is the building with the beautiful blue spiral design on the peaked front gable. This building dates back to 1896, and replaces three others destroyed by fire in 1852, 1879, and 1893. The first building on the site, built in 1827, first housed a popular theater.
The Free Baptist Society, organized in 1839 to combat slavery, converted the building to a temple in 1842-43, and held the first integrated church services in the country here.
Abraham Lincoln gave a rousing speech here in 1848, and it was also the site of the first reading in Boston of the Emancipation Proclamation of 1863.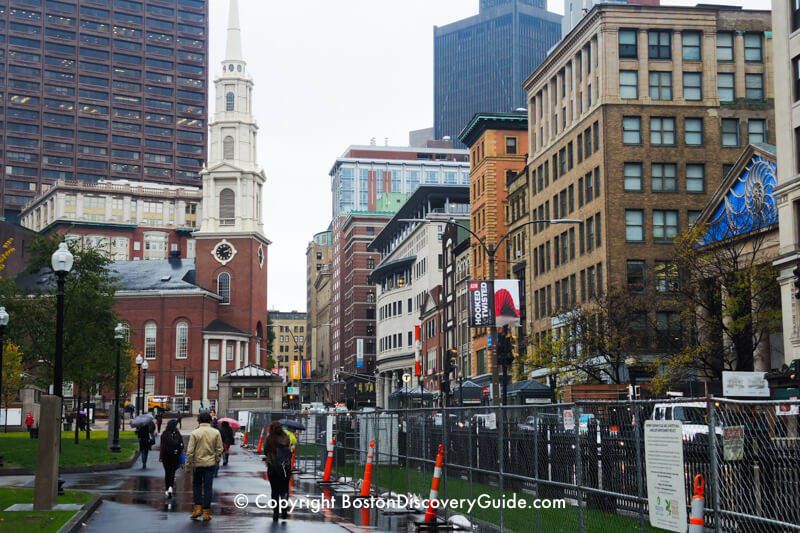 Park Street Church dates back to 1809, and also played a significant role in social justice and the abolition of slavery in the U.S. during the 19th century. Famous abolitionist William Lloyd Garrison made his first public anti-slavery speech here on July 4, 1829.
The area in front of the church was once known as "Brimstone Corner" - either because of the gunpowder stored in the church during the War of 1812, or the fiery sermons delivered by the Congregational ministers.
You can go inside Park Street Church, a Freedom Trail site, unless a service is underway (although of course you are also welcome to attend the service).
More about the Park Street Church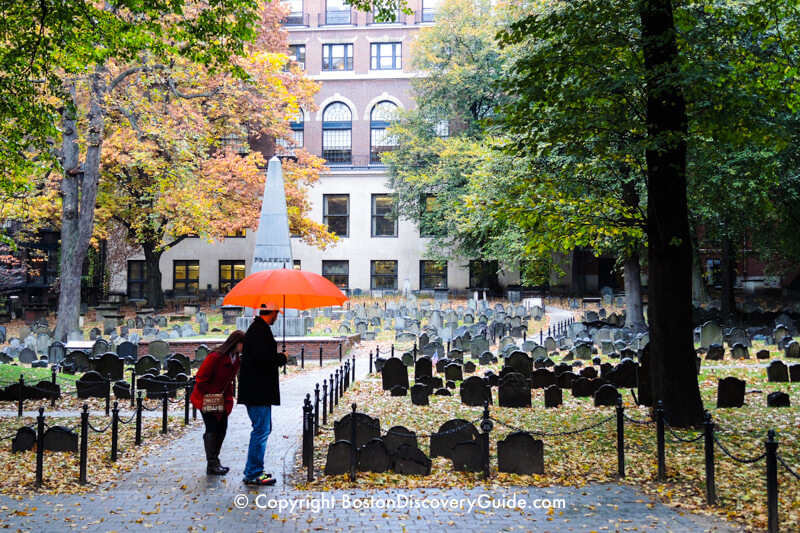 Continue walking up Tremont Street, and just behind Park Street Church you'll see Granary Burying Ground, the third oldest graveyard in Boston. A light rain adds to its ambiance.
Many famous heroes of the American Revolution are buried in this historic graveyard, including those killed in the Boston Massacre.
Walk through the Egyptian Revival-style gates added in 1840, and explore. You'll see signs to help you find graves of the most famous occupants.
More about Granary Burying Ground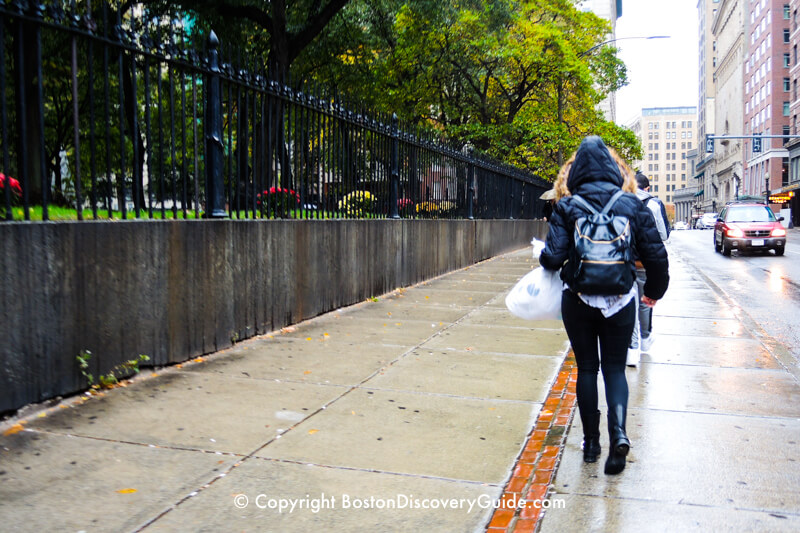 When you leave Granary Burying Ground, turn left onto Tremont Street and follow the Freedom Trail's red line.
Just before you reach the corner of School Street, you'll see Omni Parker House, one of Boston's magnificently restored grand hotels.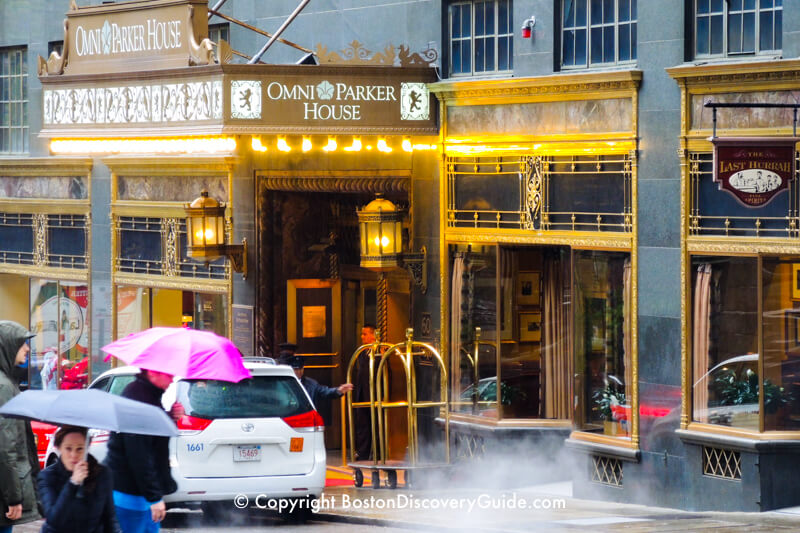 Parker House has welcomed many famous and infamous guests such as Charles Dickens and John Wilkes Booth throughout its existence - it is the oldest continuously operating hotel in the United States. Although the building you see before you dates back only to 1927, the original was built in 1856.
However, the hotel's lasting fame comes from three culinary creations: Parker House rolls, Boston Scrod (ie, fancy thick-cut filets of cod), and Boston Cream Pie.
If you are at all hungry at this point in your walk, don't pass up this chance to sample Boston's mouth-watering dessert, which is really a cake with creamy vanilla filling and topped with chocolate ganache, rather than a pie. It's also the perfect excuse to go inside and see a bit of the hotel's gorgeous interior.
You can enjoy Boston Cream Pie in several locations in the hotel - so head to Parker's Bar, a lovely wood-paneled room unless you want a full meal in the elegant restaurant.
More about the Omni Parker Hotel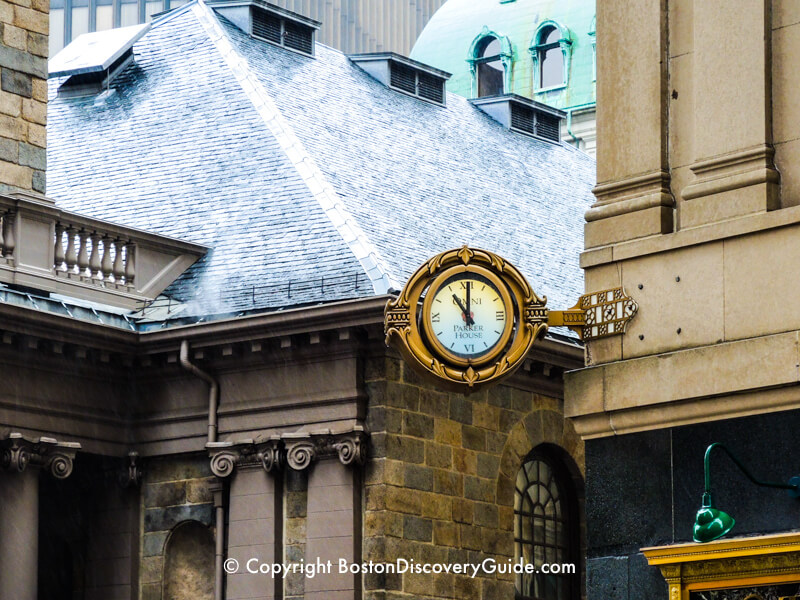 Whether you walk continue walking or stop in for pie, be sure look up to notice the Omni Parker Hotel's beautiful design, slate and copper roofs, and the corner clock.
In fact, you can see plenty of wonderful architectural details along this route, but many are above ground level - so don't forget to look up to spot them.
Two more Freedom Trail sites, Kings Chapel and King's Chapel Burying Ground, are on the other side of Tremont Street, just beyond School Street.
Both are interesting - so if you want, detour over to see them, and then return to the corner of Tremont and School Streets.