The Massachusetts State House on Boston's Freedom Trail, completed in 1798 not long after the American Revolution, embodies the ideals of freedom and self-governance that fueled the war.
It is also filled with art, magnificent architectural details, legendary cultural artifacts called the Sacred Cod and Holy Mackerel - and is well worth taking the time to explore during your Boston visit.
Two famous Revolutionary War heroes, Paul Revere and Massachusetts State Governor Samuel Adams, laid its cornerstone on July 4, 1795 when construction began.
Both men envisioned this neo-Palladium style building on top of Boston's Beacon Hill as a temple to democracy.
Although you can see the huge golden dome and white Doric columns of the State House from many other places in the city and even from the Charles River and Cambridge, you may find the best viewing location to be across Beacon Street on Boston Common, especially if you want to take photographs.
Top Photo: Massachusetts State House on Boston's Beacon Hill, (c) Boston Discovery Guide
Boston Discovery Guide is a reader-supported publication. When you buy through our links, we may earn a commission at no additional cost for you. Learn more
---
The Bulfinch Legacy
Native son Charles Bulfinch designed the Massachusetts State House after returning from an inspirational tour of Europe.
Bulfinch was only in his twenties when he designed the State House - his first major building.
Later, he went on to become one of America's most famous architects after designing many other Boston buildings as well as the U.S. Capitol Building in Washington D.C.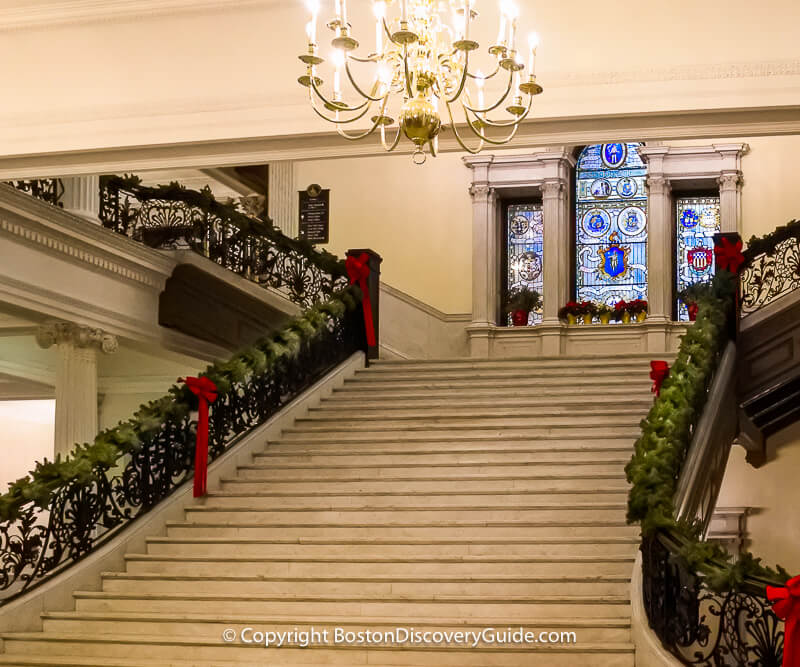 While traveling in Europe, Bulfinch fell in love with the work of Andrea Palladio, a late-Renaissance Italian architect, as well as the Neo-Classical style then popular in Europe.
You can see many of these these design elements - symmetry, Doric columns, arched Palladian windows and doorways - in the State House.
Through the years, the State House has been expanded significantly and the interior has been almost totally redone, but the famous Bulfinch Front remains unchanged.
The State House is the oldest building on Beacon Hill, and despite being actively used by the Massachusetts state government, it contains many museum-quality treasures inside and out.
---
Free Massachusetts State House Tours
The best way to see the State House's treasures, learn a bit about Massachusetts traditions and political rivalries by hearing about the famous Cod and Mackerel, and even get some insights into the development of American democracy is to go on one of the free guided tours offered almost every Monday through Friday by the State House.
The tours last for approximately 40 minutes, and are available in eight languages. To go on a tour, you need to make advance reservations by calling 617-727-3676.
You can also find a lot of information about the tours as well as the State House itself on their website - click State House Tours in the menu, or use the website "search" function.
You are also welcome to explore the State House on your own. Almost all areas are open and accessible to the public.
You will find free building maps and other brochures at the State House Tours and Information Desk. Look for signs pointing you toward it after you pass through the building's security check point.
---
More Freedom Trail Tours
---
Details and Directions for the Massachusetts State House
Open: Weekdays excluding holidays and weekends, from 8:45am - 5pm.
Cost: Free
Location: Beacon Hill, across from Boston Common at the corner of Beacon and Park Streets
Getting there the fun way: Hop On Hop Off Trolleys stop almost directly in front of the State House
Closest T station: Red and Green Lines/Park Street
Parking: If you must drive into the city, park under the Common in the Boston Common Parking Garage
---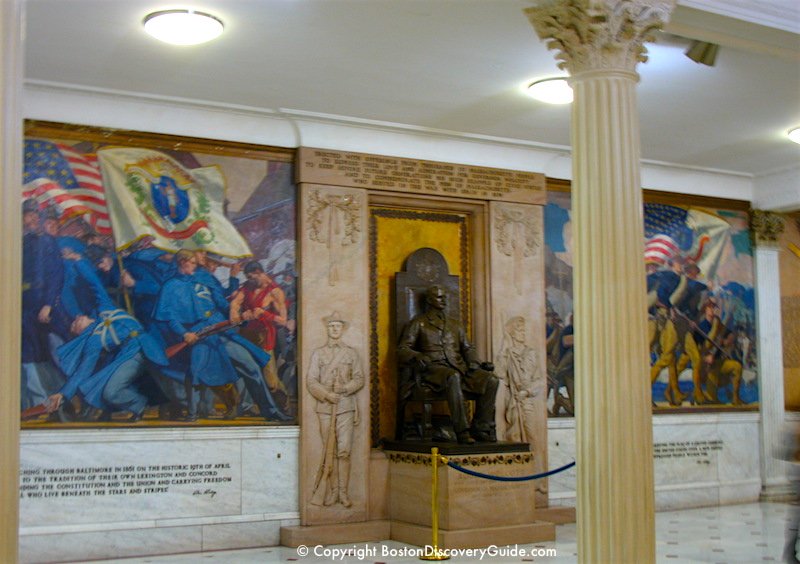 ---
Where to Stay near the Massachusetts State House
Experience Boston's famous historic Beacon Hill neighborhood up close: Stay in one of these wonderful Beacon Hill hotels, such as luxury boutique Fifteen Beacon: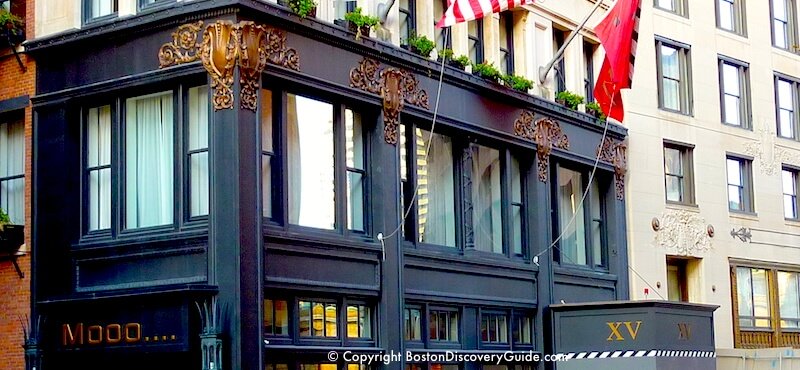 More top hotels in and near Beacon Hill:
Check out more hotels in and near Beacon Hill
---
4 Must-See Massachusetts State House Treasures
Inside the State House, you'll find treasures - sculptures, art, architectural details, historical artifacts - virtually everywhere that you look.
Here are five must-see attractions:
1. Hall of Flags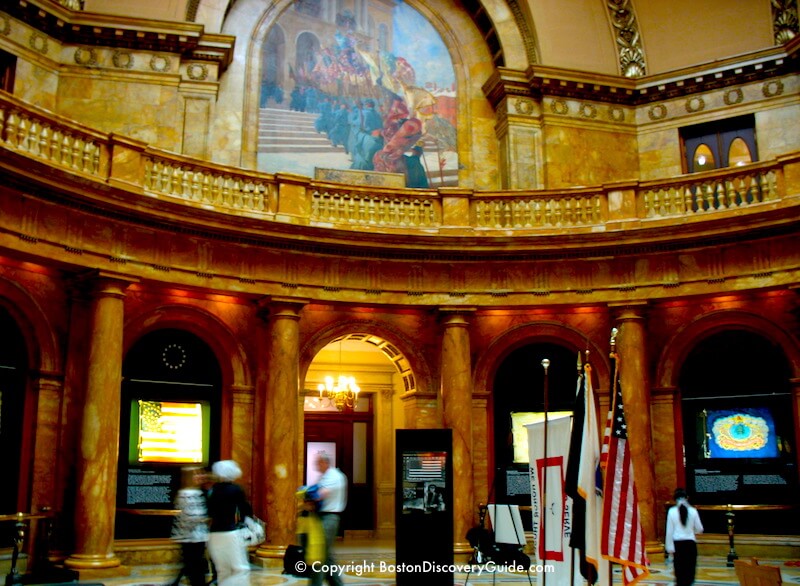 The magnificent Italian marble Hall of Flags honors Massachusetts soldiers.
The Hall contains a collection of over 400 flags began in 1865 when Massachusetts regiments returning from the Civil War brought back flags given them by the Governor when they departed - a tradition that has continued through every war to the present time.
Look closely, and you can see that transparent images, not the real flags, grace the walls. The real ones have been stored in environmentally controlled condition since 1987 due to preservation concerns.
Gaze up at the magnificent stained glass skylight, and you'll see seals of all the original thirteen colonies of the United States, with the Massachusetts state seal in the middle. Save some time to look at all the enormous murals around the walls.
2. The Great Hall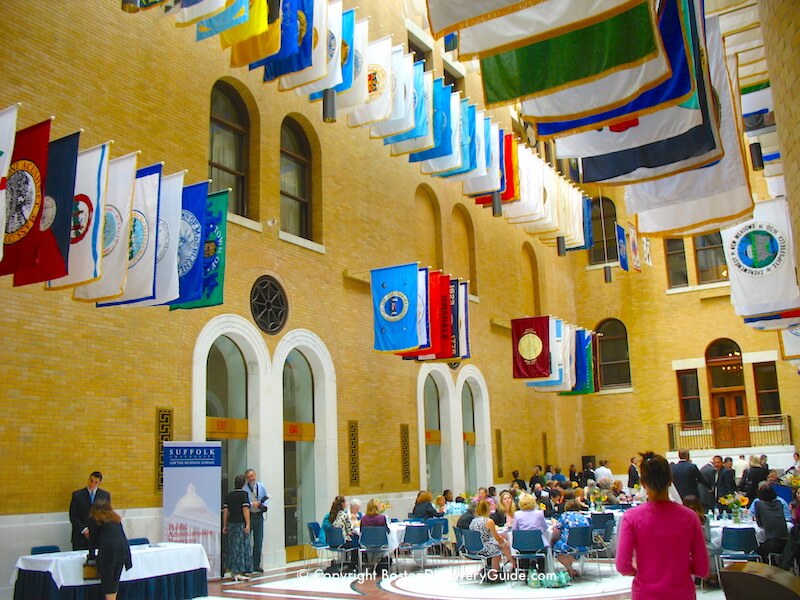 The Great Hall, a late-20th century addition to the State House, is used for official state functions and receptions and is especially notable for all the town flags on display.
A glass dome infuses the space with light.
3. Doric Hall
Ten enormous Greek columns dominate this magnificent reception area.
Placed around the perimeters of the room, you'll see lots of busts of lots of American heroes, a huge and rather wonderful portrait of Abraham Lincoln, and statues of George Washington and others.
Kids especially love the cannons captured in the War of 1812.
4. House of Representatives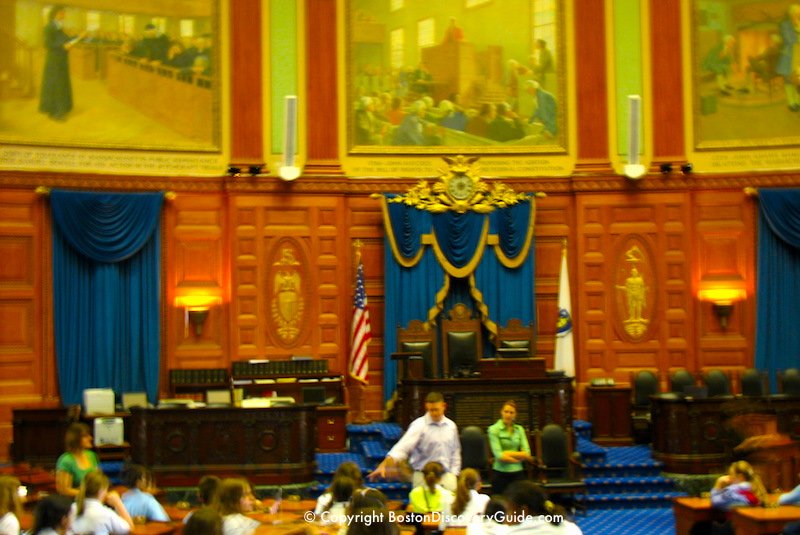 You'll find the House and Senate Chambers on the third floor. You'll see lots of interesting statues, paintings, busts, and emblems in both of these rooms - as well as legislators if the government is in session. Sit in the visitors galleries and watch the action.
And if you're sitting in the Visitors Gallery in the House . . . be sure to look up and see the most famous of all Massachusetts State House sights: the Sacred Cod.
5. The Sacred Cod and the Holy Mackerel
The 5 foot long pine carving of a cod fish is the most visited item in the State House. You can see it hanging over theVisitor's Gallery.
Why is the Sacred Cod so famous in Boston?
In the past, the cod fishery to the state's survival and success - a fact that every elected representative needed to remember.
In 1640, local fishermen landed 300,000 cod - the colony's biggest cash crop. Early settlers wrote in their journals about cod clustering in the bay so thickly that you could almost walk across the water on them.
A carved cod has hung in Massachusetts State Houses since the early 1700s. A fire destroyed the first fish in 1747, so a second cod took its place - but disappeared when the British occupied Boston between 1768-1776.
Jonathan Rowe, a Patriot and merchant whose name lives on in Rowes Wharf, donated Cod Number 3 in 1784 to remind legislators of "the importance of the Cod Fishery to the welfare of this Commonwealth."
But, perils to the Sacred Cod continued. In 1933, Harvard Lampoon staff staged a "cod-napping": they pretended to be tourists, clipped the fish off the wall with wirecutters, and smuggling it out in a big flower box.
For two days, the city was in an uproar. Legislators claimed that they could not legislate without their cod. After a slow-speed chase, Harvard University police finally recovered the fish.
Not to be outdone by the House, the Massachusetts Senate has its own fish - a brass fish known as the "Holy Mackerel."
The Holy Mackerel is safely embedded in the Senate's chandelier where it rests, to date, undisturbed. If you visit, see if you can spot it!
---
Where to Eat near the State House
Charles Street in Beacon Hill- Walk 2-3 blocks into Beacon Hill from Beacon Street, and you'll spot plenty of casual bistros and bakery/cafes. Head to the Paramount (44 Charles Street) for casual American fare, Tatte Bakery/Cafe (70 Charles Street) for outrageously delicious pastries and other casual fare, Toscano (47 Charles Street) to splurge on a wonderful Italian dinner
Grotto (37 Bowdoin Street) - Superb contemporary Italian cuisine in a creatively decorated, almost subterranean spot - Dinner nightly, Lunch Mondays - Fridays
Beacon Street along the Freedom Trail (toward King's Chapel) - You'll spot several small bistros, including Scollay Square (21a Beacon Street) for pub fare, Zen (21b Beacon Street) for Japanese grilled food and sushi, and Emmet's Irish Pub (6 Beacon Street) for pub fare with an Irish twist and live traditional Irish music sessions on weekend afternoons (3pm-6pm) - all three places are very good; for something much fancier, head to renowned steakhouse Mooo at the Fifteen Beacon Hotel (15 Beacon Street)
---
Treasures on the State House Lawn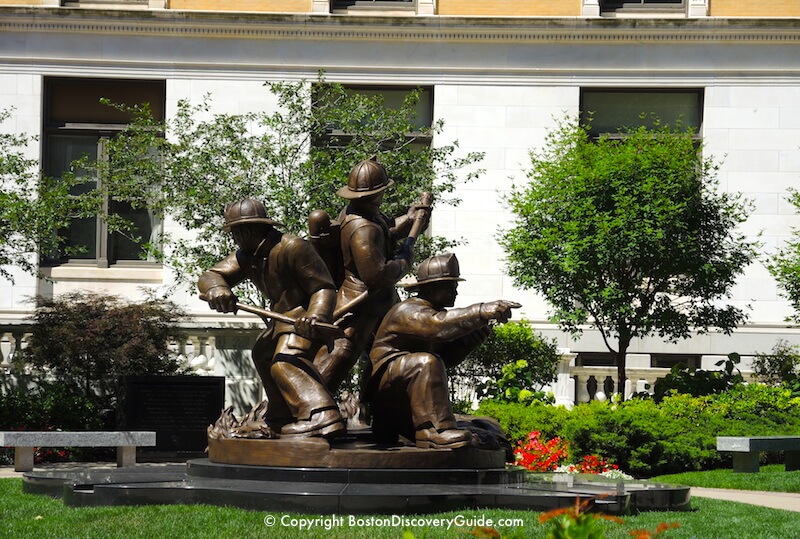 Wander around the State House grounds, and you'll see dozens of statues, plaques, and monuments honoring those who have made Massachusetts and the nation stronger.
Many provide great starting points for talking about tolerance, leadership, sacrifice, and religious freedom.
You can see Anne Hutchinson, banned from Massachusetts Bay Colony in 1638 for heresy after she questioned the authority of the Puritan ministers and suggested that women's souls had the same value as men's souls.
You will also see Mary Dyer, hanged on Boston Common for being a Quaker. Although early Puritans fled England to escape persecution for their religious beliefs, the experience did not make them tolerant.
Look for a youthful John Fitzgerald Kennedy, Boston native and 35th President of the United States.
---
More Fun Ways to See Boston near the Freedom Trail
---
Boston Freedom Trail Sites
Boston Common | Massachusetts State House | Park Street Church | Granary Burying Ground | King's Chapel | King's Chapel Burying Ground | Benjamin Franklin Statue | Old Corner Bookstore | Old South Meeting House | Old State House | Boston Massacre Memorial | Faneuil Hall | Old North Church | Paul Revere's House | Copp's Hill Burying Ground | Bunker Hill Monument | USS Constitution
---
More Articles about Boston's Freedom Trail