Boston airport hotels offering "stay and fly" packages can be a sweet deal.
Surprisingly, they're a "best kept secret" about how to save money on Boston airport parking.
If you're planning to drive to Logan for a flight and have checked out the cost of Logan Airport parking, you know how high the parking rates can be.
If you're planning to be away for a week or more, parking fees can add up to more than the cost of your plane ticket.
And depending on where you live, taking a cab can cost even more.
Top photo: Flight descending at Boston's Logan International Airport, (c) Boston Discovery Guide
Boston Discovery Guide is a reader-supported publication. When you buy through our links, we may earn a commission at no additional cost for you. Learn more
---
How Stay and Fly Packages Can Save You Money
A smart alternative is to spend a night before your flight at one of the Boston airport hotels with special "stay and fly" packages.
These relatively cheap Boston Logan stay and fly hotels are located close to the airport and offer up to 14 days free parking while you're away - plus they'll provide you with free shuttle service to the airport.
Terms vary a bit among the hotels, so you'll need to check the details carefully. However, if this option works for you, you can save a lot of money.
Particularly if you have an early morning flight, staying in a Boston airport hotel the night before can mean a stress-free departure.
Here are several Boston airport hotels with attractive Stay and Fly packages for you to check out.
Some offers may be seasonal - so check directly with your chosen hotel to confirm the details based on your dates.
---
Avid Hotel at Boston Logan Airport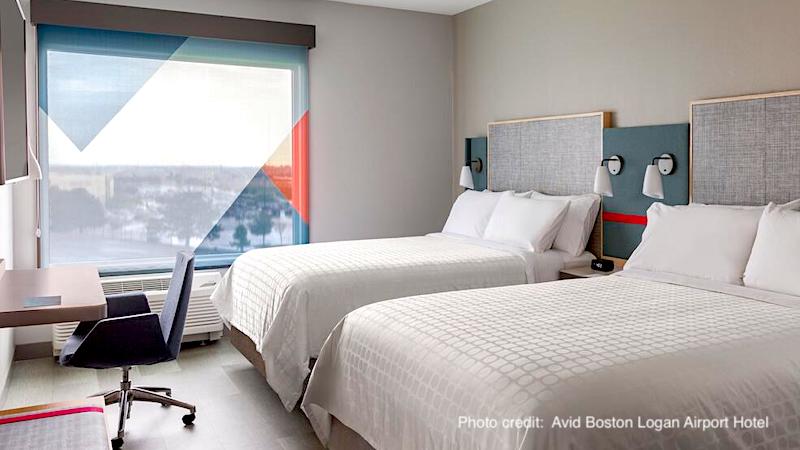 405 American Legion Highway, Revere
Avid Hotel Boston Logan Airport located in Revere just a few miles from Logan Airport terminals, features 104 guestrooms with cheery modern decor near Boston Logan International Airport.
With comfortable beds, free grab-and-go breakfast, and a free shuttle to the airport, the hotel's accommodations are designed for business and leisure travelers who need a night's stay before or after a flight at very affordable rates.
Arriving by car? Check out the hotel's "park and leave" option.
Find more park & fly hotels near Logan International Airport
---
Marriott Courtyard Boston Logan Airport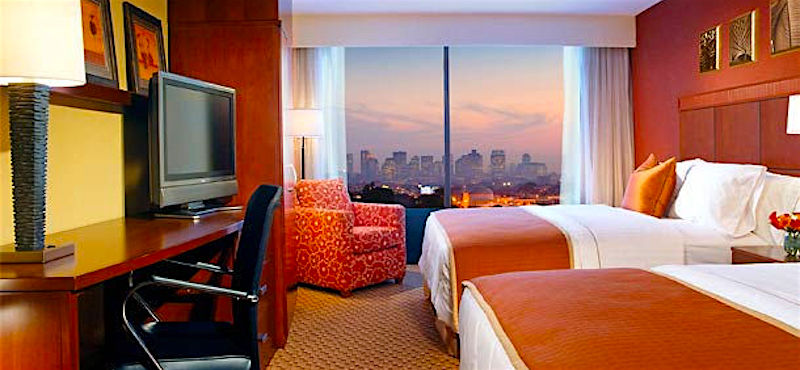 Located just a mile from Logan, the Marriott Courtyard Boston Logan Airport Hotel offers "Park Stay Fly" packages that provides up to 7 days of free parking at the hotel.
If you need additional nights, you can purchase them for a reasonable amount per night - much cheaper than the rates for Logan Airport parking.
You need to book the hotel's special package in order to get this Boston hotel deal. Although the package rate may be a bit higher than the regular room rate, you'll still save money - potentially, a lot of money. Use promotional code TFB when booking online.
The Marriott Courtyard Boston Logan Airport Hotel offers free 24-hour shuttle service to your terminal.
---
Embassy Suites Boston - Logan Airport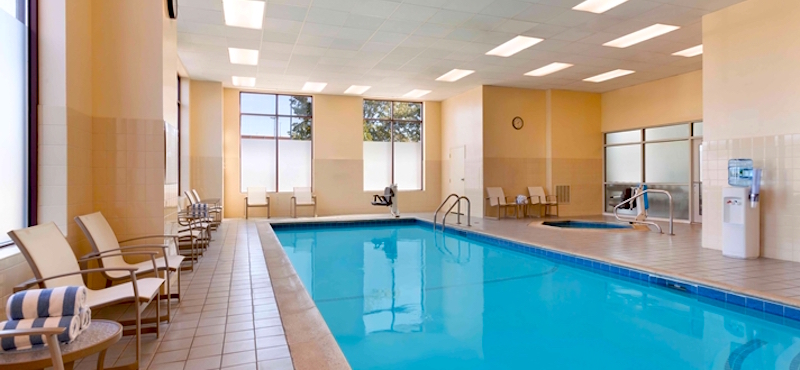 Enjoy a suite and up to 7 or 14 days free parking when you choose one of the Embassy Suites Boston Logan Airport's special "Stay and Fly" packages.
The all-suite hotel provides complementary shuttle service to all terminals and the subway's nearby Blue Line station.
As a bonus, you can relax in the hotel's swimming pool before your flight.
---
Four Points by Sheraton - Logan Airport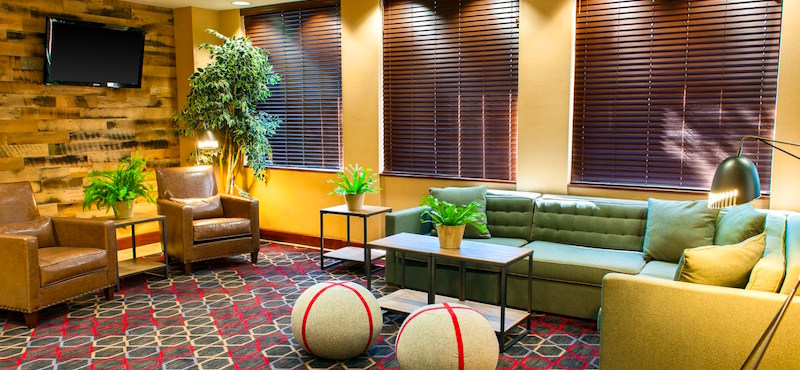 To get the special Stay and Fly package at this relatively new Four Points Hotel by Sheraton 4 miles north of Logan, you need to book one of the Sheraton Boston's hotel packages.
You can choose up to 10 or up to 14 days of free parking, based on your room rate. A free shuttle service will take you to and from Logan Airport.
The package rates are a bit higher than the Logan Airport Sheraton's regular rates, but you'll quickly save enough to make up for the difference.
This is one of the best Boston hotel deals around. Use rate plan LPARK to book this offer online, or call the Sheraton directly at 866-716-8133 and mention the offer.
You can enjoy the hotel's swimming pool, and also find lots of shopping centers and restaurants nearby, if you have time to spare before your flight.
---
More Options for Boston Airport Hotels
These Stay and Fly hotels are also a great option if you have a late flight into Logan and want a good night's sleep before heading to a destination outside of the city.
Not only are they convenient to the airport, rental cars, and nearby highways, but they are also less expensive than downtown hotels.
Find even more Stay and Fly hotel deals near the airport
Another convenient choice is to stay right at the airport. Check out Boston Logan Airport hotel options.
---
Things to Do in Boston during Your Stay
---
Boston Logan Airport Hotel Map
Enter your travel dates to see hotels available rooms and get accurate rates.
---
More Boston hotels: All Boston Hotels - Newest Hotels - Deals & Discounts - Theatre District Hotels - Boston Marathon - Hotels with Fireplaces - Seaport/CruisePort Hotels - New Year's Eve Packages - Inexpensive Hotels - Discount Hotels - Back Bay Hotels - Hotels near Fireworks - Hotels with Outdoor Pools - Faneuil Market Hotels - Valentine's Day Packages - Downtown Boston - Park & Fly - Airport Hotels - Waterfront - Seaport - Historic Downtown - Suburban Hotels - Fenway Park Hotels - TD Garden Hotels - Gillette Stadium Hotels - Financial District
---
More Articles about Boston Hotels
---
Need a Boston Hotel or Apartment?
Use this handy map from Booking.com to find the perfect place to stay. Just enter your dates to find what's available, see the best rates, and make your reservations.