Boston Thanksgiving Dinner 2019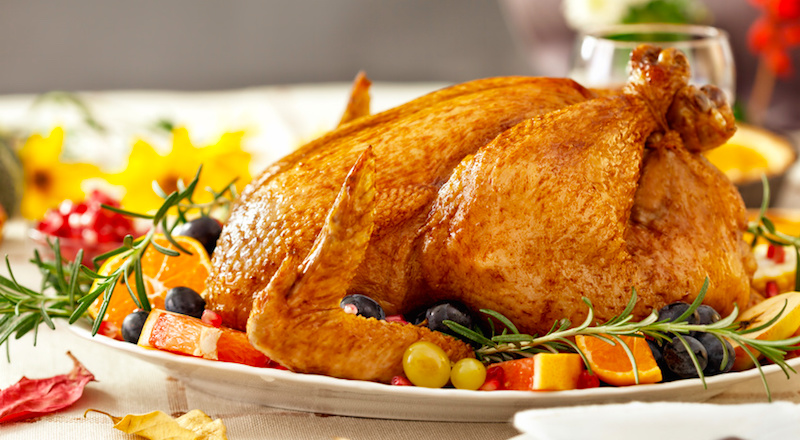 Boston Thanksgiving dinner restaurant menus range from traditional to innovative, but sumptuous feasts rule the day.
Thanksgiving 2019 Date: Thursday, November 28
If you are visiting Boston and plan to enjoy Thanksgiving dinner in one of our wonderful restaurants, keep in mind that many Boston families have a long tradition of dining out on this day.
Therefore, be sure to make your reservations EARLY!
If you are staying at one of the many Boston hotels serving Thanksgiving dinner, check for special packages including dinner and perhaps other goodies such as tickets or discounts.
Additionally, many other Boston restaurants serve Thanksgiving dinner, offering everything from fancy sit-down dinners to more lavish Thanksgiving buffets.
You will typically find that most Thanksgiving menus are prix-fixe, meaning that you will pay a set price, with perhaps a lower rate offered for children.
Some restaurants offer wine pairings as an option - very often, a great deal.
Please note: Cost and menu information can change without notice, so confirm details when you make your dinner reservation. If you have any dietary concerns, discuss those when you make your reservation. Also, the fixed prices below do not include alcoholic beverages, taxes, or gratuities.
Find out about more Thanksgiving weekend events
Boston Hotels Serving Thanksgiving Dinner
NOTE: All menus and prices to be confirmed for 2019
Thanksgiving Dinner at Bar Bouloud - Mandarin Oriental Hotel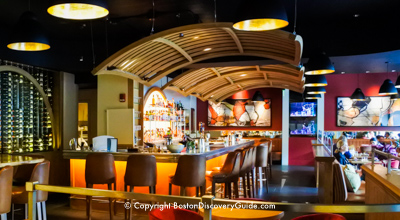 Bar Bouloud combines New England fare with French flavors for a wonderful prix-fixe 3-course Thanksgiving feast from 12 noon-8pm ($98 adults, $49 children) at the Mandarin Oriental Boston.
Appetizers include pâté en croûte with venison, chestnuts, and huckleberries, endive salad, and other tasty options.
For your main course, choose from roasted heritage turkey with sourdough sage stuffing, sweet potato gnocchi with chestnuts and black trumpet mushrooms, seared Bay of Fundy salmon, and braised short rib - all with seasonal sides.
Desserts include gourmet versions of pumpkin pie, warm chocolate fondant, and apple tarte tatin.
Location: 776 Boylston Street, Back Bay | Dinner reservations: https://www.barboulud.com/boston/thanksgiving | Stay: Mandarin Oriental Boston Reviews, Rates, & Reservations
---
Thanksgiving Brunch & Dinner at Boston Harbor Hotel's Meritage, Atlantic Room, and Rowes Wharf Sea Grille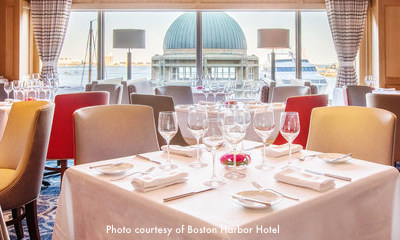 Boston Harbor Hotel offers Thanksgiving brunch and dinner in 3 different venues and at 4 different price points.
For Thanksgiving Day Brunch, choose the "Feast" in the Atlantic Room accompanied by a jazz quartet from 10:30am-3:30pm, $110 adults, $50 children or Brunch at Rowes Wharf Sea Grill from 10am-2pm, $65 adults, $30 children (regular Breakfast also available in Wharf Sea Grill from 7am -10am, $30 adults, $14 children).
For Thanksgiving dinner, BHH offers a special 4-course prix-fixe experience at Meritage from 4pm-9pm, $125 per adult or $195 with wine pairing - the specialty of internationally-renowned Chef Daniel Bruce. Or, you can choose the $65 per adult, $30 children prix-fixe Thanksgiving dinner at Rowes Wharf Sea Grille from 3pm-10pm.
(Note - for all options, "children" means age 12 and under.)
Location: 70 Rowes Wharf, Downtown Waterfront | Dinner reservations: www.bhh.com/dining for menus and reservations | Stay: Hotel Rates & Reservations
---
Precinct Kitchen + Bar at Loews Boston Hotel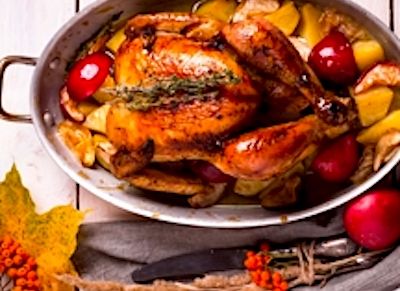 Precinct Kitchen + Bar serves a special Thanksgiving dinner from 12 noon to 7pm ($72 per adult, $25/children 12 and under) in its sophisticated dining space at Loews Boston Hotel, former home to the the Boston Police headquarters.
Buffet-style appetizers include traditional favorites such as a smoked seafood and raw bar, local cheeses and charcuterie, salads, and lobster bisque soup.
Dinner will be served to you at your table. You can choose from rosemary-roasted turkey with sage stuffing, mojo-marinated and glazed ham, herb crusted cod, or oven roasted prime rib, all with special garnishes, and accompanied by traditional side dishes.
An assortment of individual holiday pastries and desserts will complete this wonderful meal.
Location: 154 Berkeley Street, Back Bay, Boston | Reservations: 617-532-3827 | Stay: Rates & Reservations
---
Bostonian Boston Hotel's North 26 - Thanksgiving Prix-Fixe & A La Carte Dinners
On Thanksgiving Day, North 26 offers two wonderful Thanksgiving options: a 3-course prix-fixe menu ($58 per adult, $51 with Military ID, and $19 for children 15 and under, all plus tax) with traditional and creative choices from 12 noon - 6pm, or the same choices froma a la carte Thanksgiving menu from 6pm - 10pm. (If you want 3 courses, the prix-fixe menu is probably the better deal.)
Main choices include heirloom turkey with apple-sage stuffing, grilled Bay of Fundy salmon filet with crispy polenta, grilled Angus sirloin steak, shellfish risotto, and pumpkin-sage ravioli, all with seasonal accompaniments.
You'll also have plenty of choices among starters and desserts . . . for example, pumpkin bisque with roasted chestnuts and nutmeg creme fraiche, Maine crab cakes, pecan pie, and local favorite Boston cream pie with chocolate sauce.
Location: 26 North Street, Historic Downtown Boston | Dinner reservations: 617-557-3640 | Hotel reservations: Reviews and Rates
---
Beacon Hill Bistro at Beacon Hill Hotel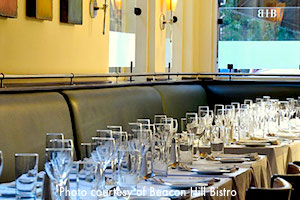 Even though Beacon Hill Bistro is part of Beacon Hill Hotel, it enjoys national fame for its cuisine while remaining a neighborhood favorite - quite a feat to pull off!
On offer is a delicious 3-course prix-fixe family-style Thanksgiving feast. Enjoy a traditional roasted turkey or acorn squash stuffed with wild rice, cranberries, and pecans, plus favorite sides such as stuffing, haricot vert, cranberry dressing (fancy housemade, or the classic canned favorite) and baked sweet potatoes, followed by yummy desserts. 1pm - 10pm ($63 per person; optional wine pairing additional). Location: 25 Charles Street, Beacon Hill. Dinner reservations: 617-723-7575. Hotel reservations: Reviews and Rates (look for the Thanksgiving package)
---
Boston Thanksgiving Brunch at Seaport Hotel's Aura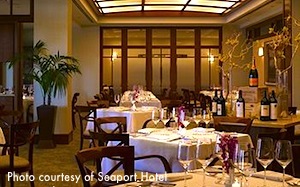 The Seaport Hotel offers a wonderful Thanksgiving brunch buffet with a huge number of wonderful choices - everything from Eggs Benedict to a huge raw bar to roast turkey breast with cornbread stuffing and cranberry sauce to sirloin with Madeira mushroom sauce - plus all the traditional accompaniments.
An array of specialty pies and cakes as well as a fabulous chocolate fountain rounds out the feast - there's a lot to love here!
The Lance Houston Jazz Quartet provides live entertainment.
11am - 4pm ($85 adults, $25 kids 5-12, free for children 4 and under). Location: One Seaport Lane, South Boston Waterfront ; Dinner reservations: 617-385-4304. Hotel: Check rates and make reservations
---
Langham Hotel - Thanksgiving Day Brunch at Cafe Fleuri - and Thanksgiving Dinner in Bond Restaurant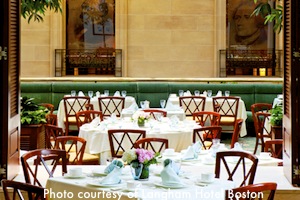 At the elegant Langham Hotel, you can choose from two wonderful options this year.
Enjoy a lavish Thanksgiving Day brunch at Cafe Fleuri ($110 per adult, $55 for children 5-12, 4 and under complimentary) at 11am, 11:30am, 12 noon, 1:30pm, 2pm, 3:45pm and 4pm (617-451-1900 for reservations).
Cafe Fleuri is know for its lavish Thanksgiving buffet offering a wide range of traditional and innovative Thanksgiving specialties at the Thanksgiving, Carvery, and Seafood buffet stations. You'll enjoy live music with your mealand entertainment for the whole family.
Or enjoy a four-course Thanksgiving turkey dinner with traditional dishes and local classics in Bond Restaurant/Lounge ($75 per person, $55 per child under 12) served from 5pm-10pm.
Location: 250 Franklin St, Boston's Financial District | Reservations: 617-451-1900. Hotel Reservations: Reviews and Rates
---
Thanksgiving Dinner Buffet at Taj Boston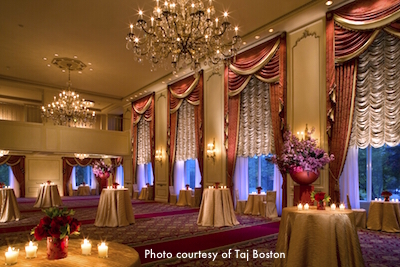 Taj Boston's lavish Thanksgiving prix-fixe brunch menu presents you with a wonderful array of mouth-watering options for a memorable dinner served in its super-elegant Grand Ballroom overlooking the Public Garden.
You can choose traditional roast turkey, sugar-glazed ham, a raw bar, cheese and charcuterie, soups, salads, and mouth-watering desserts. As a special treat this year, you can enjoy a children's puppet show before your meal at 11:45 or 2:30.
Staying at the Taj is the perfect way to jump-start your holiday shopping on nearby Newbury Street on Friday . . . or just enjoy a relaxing, stress-free holiday weekend. Seatings: 11:00, 11:30am, 2:00pm, 2:30pm ($135 per adult, $55/children 3-10, 2 and under complimentary) | Location: 15 Arlington Street, Back Bay, Boston | Reservations: 617-598-5255 | Stay: Hotel rates & reservations
---
Fairmont Copley Plaza Thanksgiving Dinner at Oak Long Bar + Kitchen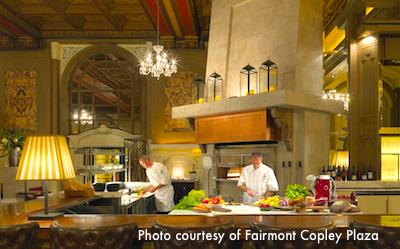 Fairmont Copley Plaza's prix-fixe Thanksgiving menu ($65 per person) will be served family-style from 12 noon to 9pm in its acclaimed Oak Long Bar + Kitchen, where the regular menu will also be available.
After a first course of lobster bisque, market salad, and hearth-baked bread, you choose two main entrees for the table. Choices include roasted turkey, New England pot roast, and olive-oil poached salmon, all with traditional accompaniments such as dressing, gravy, cranberry sauce, and veggies. Select pumpkin cheesecake or apple pie for dessert.
After dinner, enjoy a stroll around Copley Square!
Location: 138 St. James Ave, Back Bay, Boston | Reservations: 617-267-5300 | Stay: Hotel rates & reservations
---
Parker's Restaurant Thanksgiving Buffet at Omni Parker House Hotel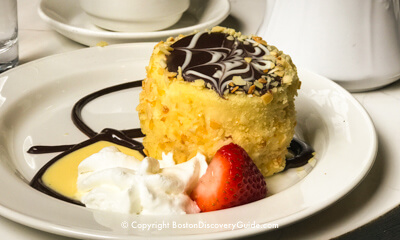 Parker's Restaurant, original creator of Parker House rolls and Boston cream pie, offers two options this year.
A lavish Thanksgiving Buffet with seatings is offered from 11:30am-2:30pm. ($79 per adult; $35 per child 6-12; complimentary for children 5 and under).
Creative starters, plus entree choices of roasted heritage turkey with herb stuffing, glazed ham, pepper-crusted sirloin, pan-seared salmon, and cavatelli with sausage and veggies - plus plenty of traditional accompaniments. End your feast with Boston cream pie, pecan pie, or other desserts.
A slightly more streamlined Thanksgiving Dinner is available with seatings from 5:30pm to 10pm. ($65 per adult; $30 per child 12 and under). Main courses are the same, but fewer choices of starters, accompaniments, and desserts.
Location: 60 School Street, Historic Downtown Boston | Reservations (required): 617-725-1600 | Stay: Hotel rates & reservations
Boston Restaurants Serving Thanksgiving Dinner
Boston Thanksgiving Dinner at 75 Chestnut , 75 Liberty Wharf & Hampshire House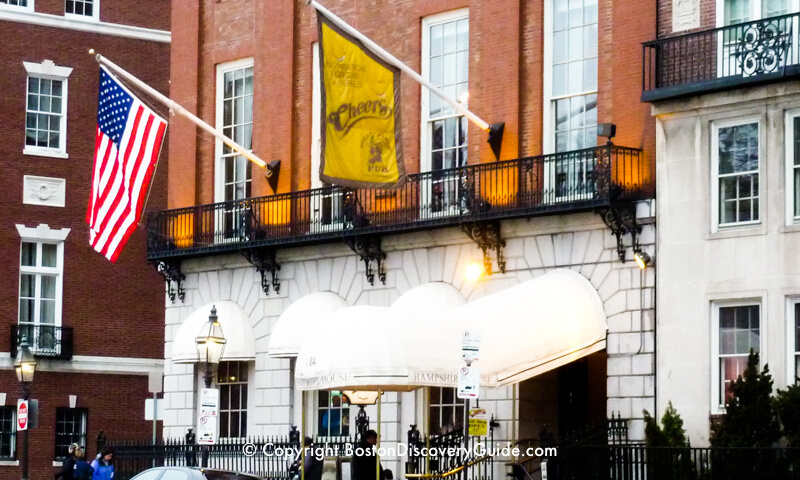 Whether you choose to dine on Thanksgiving at 75 Chestnut, a delightfully cosy slightly-off-the-beaten path neighborhood spot in Boston's Beacon Hill, glittering 75 on Liberty Wharf in Seaport, or special occasion-only Hampshire House located in a Beacon Hill mansion upstairs from the original Cheers, you'll enjoy an elegant 3-course meal superbly prepared.
The special prix-fixe menu includes your choice of a first course, a main course, and a traditional dessert. 
You'll start with pumpkin bisque topped with roasted pecans and chevre, or an autumn salad. Next comes the oven-roasted turkey - traditional enough until you taste the fabulous walnut stuffing, giblet gravy, and cranberry orange sauce. Garlic mashed potatoes, butternut squash puree, and string beans with julienned veggies round out the main course. Alternately, you could choose the char-grilled Atlantic salmon filet, or filet mignon, both accompanied by several mouth-watering sides.
Finish with your choice of desserts - apple and cranberry crumble tart, pumpkin pie with whipped cream, pumpkin cinnamon cheese cake, and a pecan triangle.
Not included in the fixed price per person, but a worthy add-on: a special Pumpkin Martini.
11:30am - 6:30pm ($75 per person). 75 Liberty: 75 Chestnut Street, Beacon Hill; http://75chestnut.com; 75 Liberty Wharf: 220 Northern Ave, South Boston Waterfront, 75onlibertywharf.com; Hampshire House: 84 Beacon Street, Beacon Hill; www.hampshirehouse.com
Find out more about Beacon Hill and other South Boston Waterfront restaurants
---
Deuxave's Thanksgiving Dinner
Deuxave Chef/Owner Christopher Coombs presents a traditional Thanksgiving feast with modern French touches showcasing local ingredients in a special 3-course holiday meal. Deuxave is known for its beautiful food presentations and elegant dining room.
Choose your first course from dishes such as spiced heirloom pumpkin soup with Scituate lobster, chestnuts, and pancetta; pavé of duck comfit with frisée and roasted mushrooms. Main course selections feature traditional turkey with cornbread sausage stuffing, "turducken" with turkey breast, duck rillettes, and chicken boudin, slow-roasted salmon, and braised beef short ribs, all with complementary sides. For dessert, choose pecan pie with butternut squash puree; apple tatin with buttermilk ice cream, or classic s'mores.
Noon - 8pm ($89 plus $40 for optional wine pairing per person).
Location: 371 Commonwealth Ave. Dinner reservations: 617-517-5915
---
The Merchant - Choose Prix-Fixe or a la Carte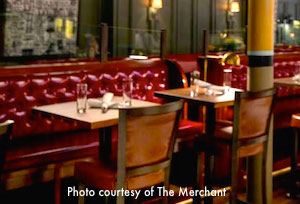 American brasserie The Merchant (60 Franklin Street in Downtown Crossing) lets you choose from a prix-fixe 3 course Thanksgiving menu.
You'll start with your appetizer choice, and then feast on roast turkey dinner with traditional accompaniments, and plenty of other options such as roasted delicata squash, grilled sea trout, and steak-frites. Finish your a memorable holiday dinner with bourbon pecan pie with salted caramel sauce, or chocolate and cherry bread pudding with spiced pumpkin ice cream and orange brulee sauce.
12 noon - 8pm ($55 per person for the prix-fixe). Dinner reservations: 617-482-6060
Return to Top - Boston Thanksgiving Dinner
---
Beat Brew Hall, Cambridge - A Taste of Country Thanksgiving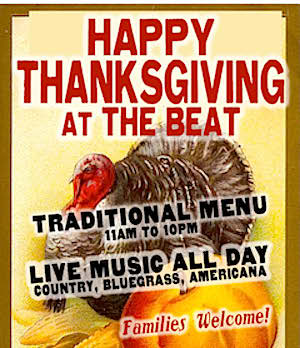 Beat Brew Hall (formerly known as Beat Brasserie) combines down-home food favorites, tasty libations, and live country, Americana, and bluegrass music all day long for a "Taste of Country" Thanksgiving dinner ($55/person, with an a la carte menu for kids 10 and under with dinners in the $15-$20 range) served from 11am to 9pm, with music continuing until 10pm. If you're looking for something a little different, but still traditional, for Thanksgiving this year, look no farther.
The menu features several main dishes - roast organic turkey, prime rib, shrimp and grits, venison loin, and a grain bowl bowl (vegan or salmon) with traditional veggie sides, plus starters ranging from butternut squash soup to ahi tuna tartare. Desserts include pecan pie, apple pie, and cherry pie.
Location: 13 Brattle Street, Cambridge.
Reservations strongly recommended: www.beatbrewhall.com
---
Bistro du Midi's Provençal & Traditional Thanksgiving
Indulge in a special Traditional and Provençal Thanksgiving feast overlooking Boston's Public Garden when you dine at Bistro du Midi, which is offering a 3-course prix-fixe menu ($75 adults, $32 children 12 and younger) from 1pm-7:30pm. You can also add an optional foie gras course and side dishes.
Choose a first course such as heirloom squash soup with toasted coconut or yellowfin tuna tartare, a main course such as roasted turkey with pumpkin brioche stuffing and seasonal veggies or heart of ribeye with sauce bordelaise, and delicious desserts such as chocolate ganache and maple mousse with ginger cake.
Location:  272 Boylston Street.  Reservations:  617-426-7878
---
Legal Seafood Thanksgiving Dinner
Legal Seafood offers both traditional roast turkey or slow-roasted turkey breast with a special sausage stuffing and sides for Thanksgiving dinner ($25 per person, $9 for children 12 and under) - but perhaps even better, you can also opt for stuffed lobster - or any of their other regular delicious offerings. 12 noon - 8pm in most Boston locations - check when you make reservations.
Boston and Cambridge locations and reservations:
- Legal Harborside, floors 1 and 2 ( (prix-fixe menu only on floor 2): 270 Northern Ave, South Boston Waterfront, 617-477-2900
- Legal Crossing: 558 Washington Street, Downtown Crossing, 617-692-8888 (prix-fixe menu only; check with Legal for details)
- Long Wharf: 255 State Street, Downtown Waterfront, 617-742-5300
- Park Square: 26 Park Plaza, Park Square, Boston, 617-426-4444
- Charles Square: 20 University Road at the Charles Hotel, Harvard Square, Cambridge, 617-491-9400
- Kendall Square, 5 Cambridge Center, Kendall Square, Cambridge, 617-864-3400
---
Top of the Hub Thanksgiving Dinner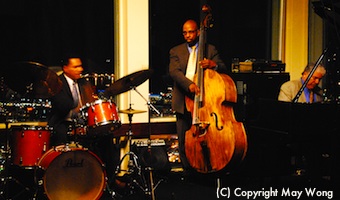 Panoramic Boston views from the 52nd floor of Prudential Center provide a sensational backdrop for Top of the Hub's Thanksgiving dinner.
The 4-course prix-fixe menu offers four entree selections, including traditional roasted turkey, ciabatta bread stuffing, mashed potatoes, baked yams, harvest vegetables, and cranberry relish - but the Georges Bank swordfish, slow-braised lamb shank, and and cranberry, walnut, and goat cheese ravioli sound equally tempting. Other courses include your choice of an appetizer, a salad, and your choice of dessert.
11am - 8pm, with live jazz from 4pm - 8pm ($75 adult, $25 children under 12) - Skywalk admission included. Location: 52nd floor, Prudential Tower, 800 Boylston Street; Back Bay.
Dinner reservations: 617-536-1775 More about Top of the Hub
Photo courtesy of May Wong
---
L'Espalier Thanksgiving Dinner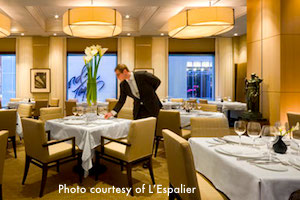 In keeping with L'Espalier's usual fine cuisine, the special 4-course Thanksgiving feast (plus ambrosia salad as an amuse bouche) will be a meal to remember forever.
For your first course, choose from sweet potato bisque with Jonah crab, warm pear salad with walnuts, grapes and lobster, and trio of quinoa with greens and salt-roasted beets.
Second course choices include scallops St Jacques, grilled quail, mushroom risotto, and apple-mushroom tart with foie gras mousse. Main course options include turkey with traditional stuffing, roasted beef tenderloin, and honey baked ham. along with superb choices for all other courses, all with special gourmet flourishes.
At $115 per person with a couple of extra-charge options involving foie gras and truffles, this meal is actually a bargain; optional wine pairings will add to your pleasure.
Owned by Chef Frank McClelland, L'Espalier is the only independent restaurant in New England to receive Five Diamonds from AAA.
1pm - 8pm. Location: 774 Boylston St, Back Bay. Dinner reservations: 617-262-3023
---
Boston Thanksgiving Musical Celebration at The Beehive
Thanksgiving dinner at The Beehive offers lots of a prix-fixe 3-course traditional Thanksgiving dinner and live music all day.
Choose from first courses such as lobster chowder, kale tabbouleh salad, and beef short ribs. For your main course, choose from roasted organic turkey with country stuffing, New York strip roast with mashed potatoes, grilled wild King salmon, and a vegetarian-vegan Thanksgiving plate. Dessert selections include bourbon pecan pie, pumpkin pie, and apple pie.
The Kids Menu choices include a turkey dinner, pasta with butter and parmesan, and crispy chicken dinosaurs and fries.
Hours: 11am-10pm. $59 per person, and $19 for kids 10 and under. Location: 541 Tremont Street, South End. Dinner reservations: 617-423-0069
---
No Reservations for Thanksgiving Dinner?!?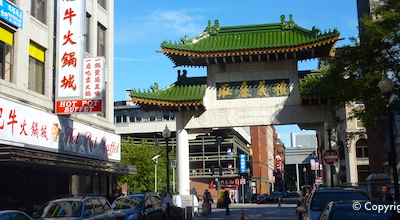 Maybe you simply forgot to make Thanksgiving reservations . . . or you didn't realize frozen turkeys must be thawed days in advance . . . or you popped your beautiful bird into the oven but accidentally hit "clean" instead of "bake" (note to self: no more wine while cooking).
Or maybe you simply loathe turkey. Or rebel at the thought of cooking all day on a "holiday." Or you just want a change of scenery...one that doesn't involve anything "traditional."
You can still have a fabulous, easy meal. Head to Boston's Chinatown, the area of Downtown more or less bordered by Hudson Street/Surface road to the east, Downtown Crossing to the north, Washington Street to the west, and Kneeland Street to the south.
Basically, you can pick any of the Chinese, Taiwanese, Vietnamese, or other Asian restaurants in the neighborhood and celebrate Thanksgiving with a delicious non-turkey meal. Order from the extensive menus - or order off-menu by simply asking the waiter, "What's good, what's fresh today?" to try the chef's choice.
More ideas at Boston's Dim Sum Restaurants