Boston Thanksgiving dinner restaurant menus range from traditional to innovative, but sumptuous feasts rule the day.
Thanksgiving 2021 Date: Thursday, November 25
As with almost everything else this year, the ongoing Covid pandemic has taken a toll on Boston's restaurants. Some long-time favorites for Thanksgiving dinner will not be open at all, while others are offering only pickup dinners. The good news is while a few places offer carryout/pickup dinners every year, a much larger number are doing so this year, so you will have more choices than normal for enjoying a relaxing and tasty dinner at home cooked by someone else. You'll find a couple of options for outdoor and private indoor dining as well.
If you are visiting Boston and plan to enjoy Thanksgiving dinner in one of our restaurants, keep in mind that many Boston families have a long tradition of dining out on this day, and with fewer places offering indoor dining, there may be more competition than usual for a table.
Therefore, be sure to make your reservations EARLY!
If you are staying at one of the Boston hotels serving Thanksgiving dinner, check for special packages including dinner and perhaps other goodies such as tickets or discounts.
Some restaurants offer wine pairings as an option - very often, a great deal.
Please note: Cost and menu information can change without notice, so confirm details when you make your dinner reservation. If you have any dietary concerns, discuss those when you make your reservation. Also, the fixed prices below do not include alcoholic beverages, taxes, or gratuities.
Find out about more Thanksgiving weekend events
---
Boston Hotels Offering Thanksgiving Dinner
Thanksgiving Dinner at Peregrine - Whitney Hotel
Peregrine offers two interesting options this year: a fully prepared and traditionally-inspired Thanksgiving dinner with turkey sides, and a pumpkin pie to pick up ($55 per person), and a cook-your-own Thanksgiving kit (serves 4-6 with leftovers, $250) with some items fully prepared and others ready to cook. Personalize your dinner by choosing add-ons: perhaps a "land and sea board" with bluefish paté, Jamon Serrano, and a specially chosen cheese, or, the spinach and artichoke dip, or a chocolate tahini pie.
Location: 170 Charles Street, Beacon Hill | See Menu & Order: website | Stay: Whitney Hotel reservations
---
Miel Brasserie at InterContinental Boston
Miel Brasserie at the InterContinental gives you two Thankgiving choices this year: Dinner in the restaurant from 12 noon - 6pm ($65 adults, $35 children under 12), and a Take Away option to be picked up between 12 noon and 5pm ($425; serves 8-10 people).
The onsite dinner includes your choice of a first course, a main entree (options include maple-glazed turkey breast with a buttermilk cranberry stuffing and other traditional sides, wild mushroom ravioli accompanied by fall veggies, or maple pecan crusted salmon with roasted beets, pears, and kale salad), and your choice of apple pie with caramel gelato or pumpkin pie with vanilla gelato.
The Take Away dinner features a pecan roased butternut squash soup, roasted sweet potatoe salad, maple glazed turkey breast with gravy and traditional (including roasted chestnuts and candied hazlenuts), and pumpkin pie.
Location: 510 Atlantic Ave, Downtown Waterfront | Menus | Dinner reservations: 617-217-5151 or through OpenTable | Stay: InterContinental Boston Rates & Reservations
---
Thanksgiving Brunch & Dinner at Boston Harbor Hotel
Boston Harbor Hotel offers two interesting Thanksgiving dining options this year: a private dining experience for groups from 5 to 24 guests featuring a mouth-watering traditional dinner ($115 adults, $50 children 12 or younger; menu) plus special guestroom rates if you're staying at the hotel, or a Thanksgiving at Home version ($395 for 6-8 guests; menu).
The private dining option offers Chef Bruce's special selections of wines from California, Oregon, and Washington in support of the regions impacted by the recent forest fires.
Location: 70 Rowes Wharf, Downtown Waterfront | Dinner reservations: https://www.bhh.com/events/thanksgiving-brunch | Stay: Hotel Rates & Reservations
---
Precinct Kitchen + Bar at Loews Boston Hotel
Precinct Kitchen + Bar serves a special Thanksgiving dinner from 12 noon to 7pm ($75 per adult, $30/children 10 and under) in its sophisticated dining space at Loews Boston Hotel, former home to the the Boston Police headquarters.
Buffet-style appetizers include traditional favorites such as a smoked salmon and raw bar, seared ahi tuna, local cheeses and charcuterie, nuts locally sourced from Q's Nuts in Somerville, salads, and New England clam chowder.
Dinner will be served to you at your table. You can choose from roasted turkey with bread stuffing, maple glazed ham, roasted salmon, or char-grilled striploin, all with special garnishes, and accompanied by traditional side dishes.
An assortment of individual holiday pastries and desserts will complete this wonderful meal.
Location: 154 Berkeley Street, Back Bay, Boston | Reservations: 617-532-3827 or online: http://www.precinctkitchenandbar.com/precinct-kitchen-bar-reservations.html | Stay: Rates & Reservations
---
Bostonian Boston Hotel's North 26 - Thanksgiving Prix-Fixe & To-Go Dinners
On Thanksgiving Day, North 26 offers two wonderful Thanksgiving choices: a 3-course prix-fixe menu ($65 per adult, and $29 for children 15 and under, all plus tax), and a Thanksgiving to Go carryout option.
Main choices include roast turkey breast and confit of leg with chestnut-cornbread stuffing, slow-cooked salmon with lemon crust and Swiss chard, beef tenderloin, and gnocci with mushroom bolognese sauce.
You'll also have plenty of choices among first courses and desserts . . . for example, pumpkin soup, duck confit, local oysters, pumpkin pie, pecan pie, and local favorite Boston cream pie with chocolate sauce.
The children's menu features traditional Thanksgiving choices and kids' favorites such as mac and cheese.
Thanksgiving to Go options feature a traditional dinner for 4-6 adults for $225 or for 7-10 adults for $400.
Location: 26 North Street, Historic Downtown Boston | Dinner reservations: 617-557-3640 | Hotel reservations: Reviews and Rates
---
Oak Long Bar + Hotel at the Fairmont Copley Plaza Hotel
Enjoy a delicious 3-course prix-fixe Thanksgiving dinner featuring a first course of lobster bisque, green salad, and rosemary bread with honey butter, main course choices of roast turkey, New England pot roast, and prosciutto wrapped monkfish (choose 2 for the table), all with traditional sides along with pan gravy and brioche stuffing, and for dessert, pumpkin whoopie pie and apple pie with vanilla gelato.
12 noon-9pm ($65 per person; optional wine pairing additional).
Location: 138 St James Ave, Back Bay. Dinner reservations: 617-585-7222. Hotel reservations: Reviews and Rates
---
Boston Thanksgiving at Scampo at The Liberty Hotel
Scampo, headed by famous Boston Chef Lydia Shire at the Liberty Hotel, serves up a special Thanksgiving feast. For your starter, choose from purple cauliflower soup, bay scallops with butternut squash risotto, or mozzarella with prosciutto, quince, and pecans (all come with a green salad). For your main course, choose from roast turkey with all the trimmings, cod with lobster succotash, red pepper aioli, and sauteed spinach, or a grilled veal porterhouse with spinich gnoccheti and sherried mushrooms. And for dssert, there's bourbon pecan pie with ice cream, a "chef's whim" cookie plate, and apple brie crostata with vanilla ice cream.
11am - 4pm ($70 adults, $30 kids under 12). Location: Liberty Hotel, West End; Dinner reservations: 617-536-2100. Hotel: Check rates and make reservations
---
Thanksgiving Dinner at Outlook Kitchen at the Envoy
Outlook Kitchen's tasty Thanksgiving prix-fixe menu hits the spot with traditional fare with a modern twist.
For your first course, choose sunchoke soup or pear and pistachio salad with mixed greens. The main course is a traditional roast turkey with all the fixings including sage stuffing, sweet potato hash with marshmallows and crispy onions, garlic mashed potatoes, hard cider cranberry sauce, and gravy. For dessert, you'll enjoy chai spiced apple crumble with your choice of local gelatos or sorbets. Outlook Kitchen's regular a la carte menu is also available.
Hours: 12 noon - 6pm, ($55 per person) | Location: 70 Sleeper Street, Seaport/Fort Point, Boston | Reservations: 617-338-3030 | Stay: Hotel rates & reservations
---
Parker's Restaurant Thanksgiving Buffet at Omni Parker House Hotel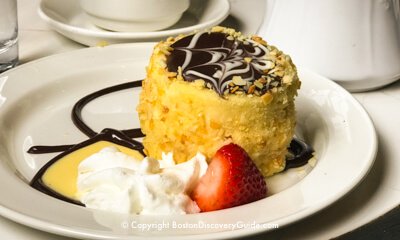 Parker's Restaurant, original creator of Parker House rolls and Boston cream pie, is currently closed - but please check back for 2021
Location: 60 School Street, Historic Downtown Boston | Reservations (required): 617-305-1898 | Stay: Hotel rates & reservations
---
More Fun for Foodies: Boston Harbor Lunch & Dinner Cruises
---
Other Boston Restaurants Serving Thanksgiving Dinner
Boston Thanksgiving Dinner at 75 Chestnut, 75 on Liberty Wharf, & Hampshire House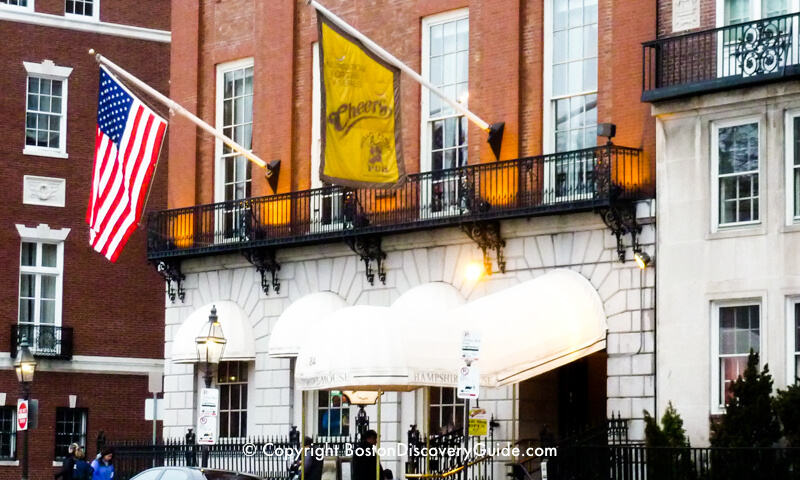 Whether you choose to dine on Thanksgiving at 75 Chestnut, a delightfully cosy slightly-off-the-beaten path neighborhood spot in Boston's Beacon Hill, glittering 75 on Liberty Wharf in Seaport, special occasion-only Hampshire House located in a Beacon Hill mansion upstairs from the original Cheers, or order your meal to-go and enjoy at home, you'll savor an elegant 3-course meal superbly prepared.
The special prix-fixe menu includes your choice of a first course, a main course, and a traditional dessert. 
You'll start with pumpkin bisque topped with roasted pecans and chevre, or an autumn salad. Next comes the oven-roasted turkey with all the traditional sides. Alternately, you could choose the char-grilled Atlantic salmon filet, filet mignon, or pumpkin ravioli, all accompanied by several mouth-watering sides.
Finish with your Thanksgiving dessert sampler- apple cranberry tart, pumpkin pie with whipped cream, pumpkin cinnamon cheese cake, and a pecan triangle.
Not included in the fixed price per person, but a worthy add-on: a special Pumpkin Martini or Fall Cocktail.
11:30am - 8:30pm ($75 per person). 75 Liberty: 75 Chestnut Street, Beacon Hill; http://75chestnut.com; 75 Liberty Wharf: 220 Northern Ave, South Boston Waterfront, 75onlibertywharf.com; Hampshire House: 84 Beacon Street, Beacon Hill; www.hampshirehouse.com
Find out more about Beacon Hill and other South Boston Waterfront restaurants
---
Deuxave's Thanksgiving Dinner
Deuxave Chef/Owner Christopher Coombs presents a traditional Thanksgiving feast with modern French touches showcasing local ingredients in a special 3-course holiday meal. Deuxave is known for its beautiful food presentations and elegant dining room. Patio and indoor socially-distanced tables are available.
Choose your first course from dishes such as spiced heirloom pumpkin soup with Scituate lobster, chestnuts, and pancetta; pavé of duck comfit, and roasted beets with chevre. Main course selections feature traditional turkey with cornbread sausage stuffing, "turducken" with turkey breast, braised bone-in short ribs, and slow-roasted salmon, all with complementary sides. For dessert, choose bourbon pecan pie, apple tatin with rum raisin ice cream, or pumpkin cheesecake.
Noon - 8pm ($99 plus $50 for optional wine pairing per person).
Location: 371 Commonwealth Ave | Menu | Dinner reservations: 617-517-5915
---
Thanksgiving Dinner at Davio's Northern Italian Steakhouse
Indulge in traditional Thanksgiving feast at Davios, which is offering a prix-fixe menu ($75 adults, $23 children under 12) plus desserts ($12) from 11am-8pm - or their regular menu.
The Thanksgiving dinner menu includes free-range organic Vermont turkey and all the traditional sides, and pie options include apple with vanilla ice cream, pumpkin with whippd crème fraiche, and pecan with wild turkey creme anglaise and sweet cream.
Location:  75 Arlington Street | menu |  Reservations:  617-357-4810
---
Boston Thanksgiving Musical Celebration at The Beehive
Thanksgiving dinner at The Beehive offers two choices a prix-fixe 3-course traditional Thanksgiving dinner ($76/adults, $25 10 and under; live music is suspended due to the Covid pandemic) and a "Your Place" heat and serve option ($275, serves 4).
For dining at the restaurant, choose from first courses such as lobster bisque, white bean and sesame dip, waldorf salad, and salt and pepper chicken wings. For your main course, choose from roasted free range turkey with gravy, slow-roasted beef brisket, baked salmon, and roasted cauliflower and butternut squash - plus wild mushroom stuffing, veggies, and cranberry sauce. Dessert selections include chocolate pumpkin brownies and cranberry panna cotta.
The Take Home menu includes three appetizers, the choice of an entree (turkey, beef brisket, or baked salmon), all sides, and chocolate chip cookies for dessert
Hours: 11am-10pm | menus | Location: 541 Tremont Street, South End | Dinner reservations: 617-423-0069
---
Fun Food & Beverage Boston Tours
---
No Reservations for Thanksgiving Dinner?!?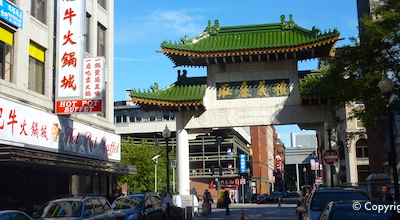 Maybe you simply forgot to make Thanksgiving reservations . . . or you didn't realize frozen turkeys must be thawed days in advance . . . or you popped your beautiful bird into the oven but accidentally hit "clean" instead of "bake" (oops - shouldn't savor too much wine while cooking).
Or maybe you simply loathe turkey. Or rebel at the thought of cooking all day on a "holiday," not to speak of having to clean the oven afterward. Or you just want a change of scenery...one that doesn't involve anything "traditional."
You can still have a fabulous, easy meal. Head to Boston's Chinatown, the area of Downtown more or less bordered by Hudson Street/Surface road to the east, Downtown Crossing to the north, Washington Street to the west, and Kneeland Street to the south.
Basically, you can pick any of the Chinese, Taiwanese, Vietnamese, or other Asian restaurants in the neighborhood and celebrate Thanksgiving with a delicious non-turkey meal. Order from the extensive menus - or order off-menu by simply asking the waiter, "What's good, what's fresh today?" to try the chef's choice.
More ideas at Boston's Dim Sum Restaurants
---
Find Your Favorite Boston Restaurant
Favorite Boston Restaurants & Pubs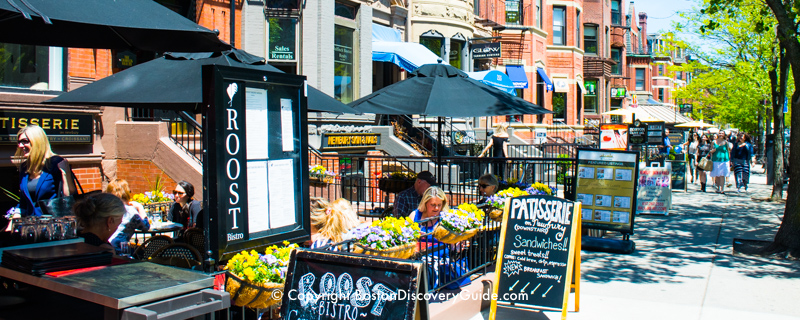 Guide to North End Italian & Seafood Dining
---
Need a Hotel for Your Thanksgiving Visit?
Enter your dates to see available hotels, rates, and reviews:
More about how to save on Boston hotels
---