Get ready to enjoy Boston Events for November 2022!
Soak up the last few weeks of gorgeous fall foliage in Boston while enjoying the Boston Comedy Festival, opening days of ice skating on Boston Common's Frog Pond, Black Friday sales, Veterans Day parades, and the season's first performances of The Nutcracker at our stunning Opera House.
Sports fans love Boston during November because we have three top teams to watch and cheer: the Celtics, the Bruins, and New England Patriots, with plenty of local games scheduled throughout the month.
By the second half of the month, you'll see holiday tree lighting ceremonies taking place all over the city, lighting up the night.
If your Boston plans put you here at the end of November, be sure to make restaurant reservations for a special Thanksgiving dinner.
Boston's theaters offer an exciting line up of Broadway hits and toward the end of the month, Christmas favorites.
Performances of holiday favorite The Nutcracker begin on the Friday after Thanksgiving - so get your tickets now because the best seats go fast.
Find out about more Thanksgiving Weekend events.
Official November 2022 holidays in Boston :
Top photo: Crimson leaves on cherry trees along Boston's Esplanade overlooking the Charles River - early November
---
Boston Theater & Shows for November 2022

Schedules & Tickets
Enter DISCOVERY 10 to save 10% on TicketLiquidator & TicketNetwork tickets
Check out all shows for November
More Boston Theater District Shows
---
Top Hotels near Boston's Theatre District
Enjoy your Boston performance or show experience to the fullest when you stay in one of the nearby Theatre District hotels, such as the hip and glamorous Revere Hotel: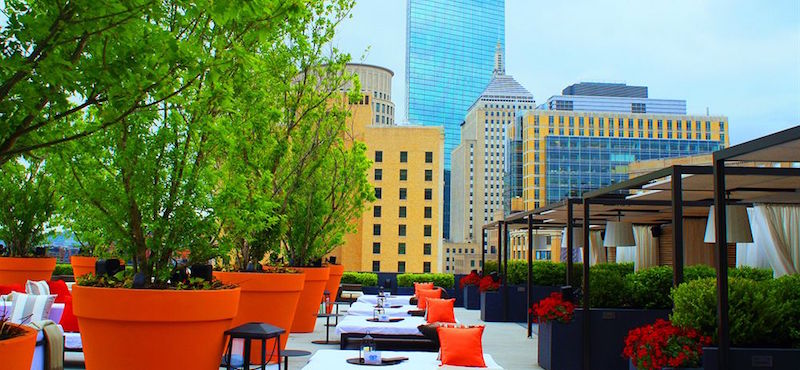 More top Theatre District hotels:
Check out more hotels in Boston's Theatre District
---
Special Holiday Cruises on the Northern Lights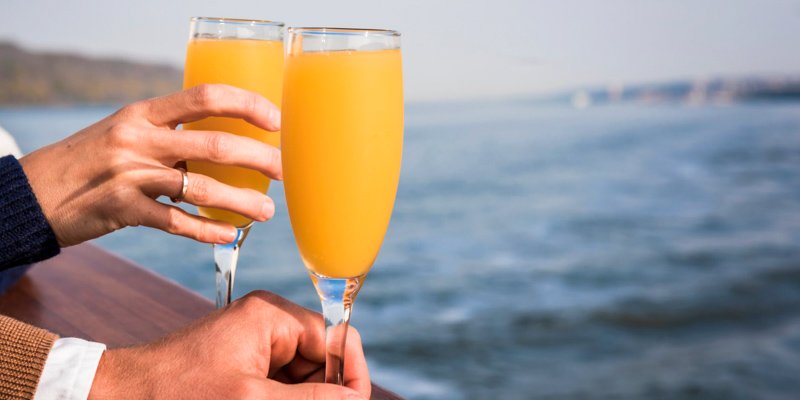 Celebrate the holidays while relaxing and sightseeing on the festively decorated Yacht Northern Lights on these special cruises around Boston Harbor:
---
The Nutcracker Ballet at the Opera House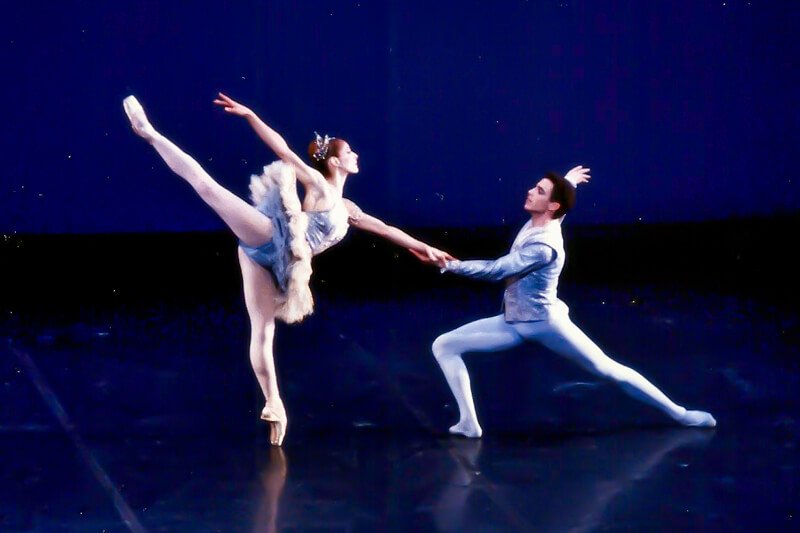 Attending a performance of The Nutcracker is a holiday tradition in Boston, and for good reason.
Enjoy the magic as Clara, the Sugar Plum Fairy, and all the other dancers twirl around the stage as Tchaikovsky's music soars in Boston's gorgeous Opera House. As you walk out of Boston's Opera House after the show ends, you may even see snowflakes softly falling.
Enter DISCOVERY 10 to save 10% on TicketLiquidator & TicketNetwork tickets
See schedules and tickets for Nutcracker performances in Boston
Tickets for the most popular dates such as weekends and around Christmas can be hard to get, and they're expensive.
Try these strategies:
Where: Opera House, 539 Washington Street
Closest T station: Gr
---
een Line/Boylston
More Boston Theatre District Hotels
More hotels in Boston's Theatre District
---
Veterans Day Parade & Events in Boston
Parade: Saturday, November 6, 12 noon
A bigger-than-ever grand Veterans Day Parade marching through downtown Boston to Government Center, exciting Veterans Day sales, a military history Harbor Island cruise to Fort Warren, and special restaurant deals for veterans are just a few of the special events happening in Boston on Veterans Day.
Find out more about what to do on Veterans Day in Boston
---
Thanksgiving Day - Where to Enjoy a Delicious Dinner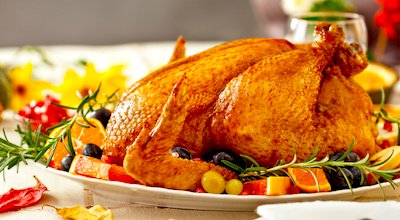 Thanksgiving is celebrated on Thursday, November 25.
Enjoy a stress-free Thanksgiving by making reservations . . . let someone else do the cooking!
Some of Boston's top restaurants serve special once-a-year Thanksgiving dinners where you can enjoy a memorable meal, ranging from formal traditional dinners to more casual buffets.
To be sure of getting a table, you must make reservations.
Find out more about Boston restaurants serving Thanksgiving dinner
Black Friday sales on travel to Boston (or anywhere else)
Need a Hotel for Your Thanksgiving Visit?
Enter your travel dates to see available hotels, rates, and reviews:
More about how to save on Boston hotels
---
Fun Boston Tours for November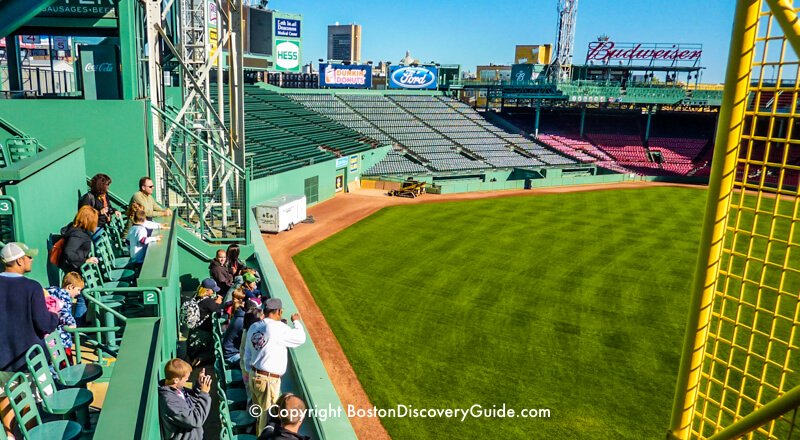 More: Best Tours for Cold Weather | Sightseeing Tours | Tours for Teens | Kids & Family Tours
---
More Fun Boston Tours
---
New England Patriots at Gillette Stadium - November 2022
Two New England Patriots home games take place at Gillette Stadium during November - including a game against the Tennessee Titans on Thanksgiving Weekend.
Get your tickets now, and get ready to join in the fun at Gillette!
Enter DISCOVERY 10 to save 10% on TicketLiquidator & TicketNetwork tickets
Where: Gillette Stadium
Getting there: The Patriot Train - plus more ways to get to Gillette from Boston
Where to stay: Hotels near Gillette Stadium
Tickets: Check for great prices, great seats, and sometimes discounts
---
More Tours & Cruises to see Fall Foliage in Boston . . . and Beyond
---
Boston Concerts & Shows - November 2022

Top November Concerts in Boston
Enter DISCOVERY 10 to save 10% on TicketLiquidator & TicketNetwork tickets
Schedules & Tickets
More Concerts & Shows for November
Boston Concerts & Shows throughout the Year
---
Bruins @ TD Garden - November 2022 Schedule & Tickets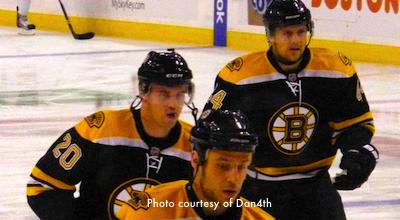 Get your Boston Bruins tickets for November home games, and head over to TD Garden for some fast action on the ice.
The Garden's convenient location next to North Station and close to Faneuil Marketplace makes it super-easy to reach on the T, Boston's subway, or on the Commuter Rail into North Station.
Don't miss the chance to see Boston's famous hockey team, winner of 6 Stanley Cup championships!
Enter DISCOVERY 10 to save 10% on TicketLiquidator & TicketNetwork tickets
Find Bruins schedule & tickets for November home games at the Garden
Find Bruins schedule & tickets for all home games
More about the venue: TD Garden schedule, directions, best ticket prices
Photo courtesy of Dan4th
---
Hotels near TD Garden
If you're coming to an event at the Garden, spend the night or the weekend in a nearby hotel, such as the comfortable Wyndham (that's the Wyndham's outdoor swimming pool in the photo):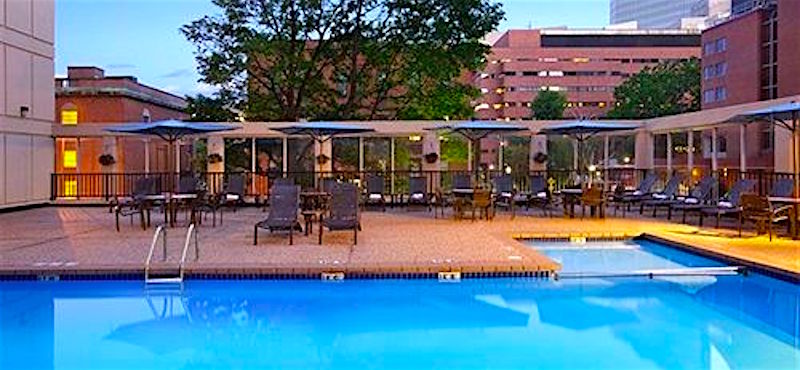 More top hotels near TD Garden:
Check out more hotels near TD Garden
---
Celtics Basketball at TD Garden - November Schedule & Tickets 2022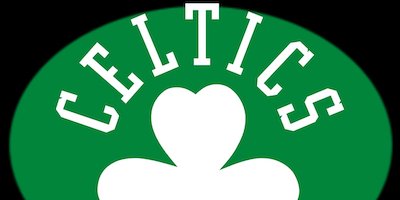 Get your Boston Celtics tickets for November home games, and head over to TD Garden for some fast action on the court.
The Garden's convenient location next to North Station and close to Faneuil Marketplace makes it super-easy to get to.
Get ready for plenty of action at the net from Boston's champion basketball team.
Enter DISCOVERY 10 to save 10% on TicketLiquidator & TicketNetwork tickets
Where: TD Garden
Nearest public transportation: Green Line/Orange Line or Commuter Rail to North Station, next to the Garden
Where to stay: Hotels near TD Garden
---
Snowport: Winter Holiday Market in Boston's Seaport - 2022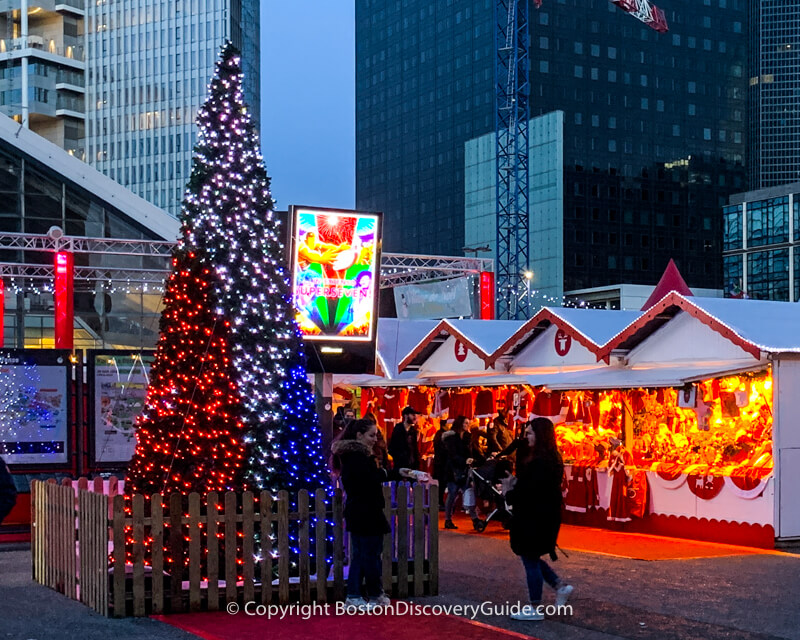 Seaport's popular European-style Winter Holiday Market at Snowport returns from November 19 through January 2 to light up the holiday season with shopping, fun activities, food, and beverages.
The market will feature 100+ small businesses selling art, jewelry, home goods, apparel, and other gifts and crafts, plus seasonal treats such as hot chocolate, freshly-made waffles, craft beer, and more. In addition, there will be lots of fun activities and events - check back later for the details.
Combine your trip to the market with a fantastic meal at a Seaport or Fort Point restaurant for a perfect day.
Dates/Hours: November 19 - January 2 | Free admission | 21 Dry Dock Ave in Boston's Seaport District | Closest T station: Silver Line SL1 / Silver Line Way
---
Special Christmas Tree Arrives from Nova Scotia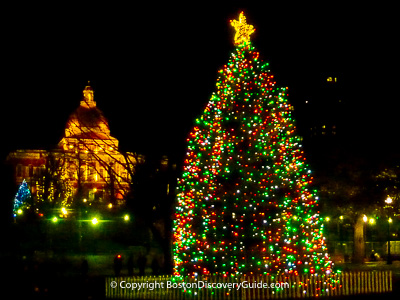 A very special Christmas tree is expected to arrive at Boston Common on Thursday, November 17 - probably at around 11am. (The exact arrival time and date are always subject to last-minute changes based on weather, travel time.)
Look for this special tree near the Visitors Information Center at 139 Tremont Street. By tradition, it is always the first tree on the Common to be lit - check Boston Christmas Tree Lighting Ceremonies for the exact time and date.
Although Boston fills up with displays of beautiful Christmas trees throughout November and December, this tree is special because it symbolizes the close friendship between Nova Scotia and Boston.
Citizens of Nova Scotia send a huge, beautiful tree to the people of Boston every year in remembrance of Boston's help after the horrific explosion of a munitions ship in Halifax Harbor on December 6, 1917 killed almost 2,000 people and injured another 9,000. Within 24 hours of the disaster, a train loaded with supplies and emergency personnel from Boston arrived in Nova Scotia - the first outside help to reach the disaster scene, and the last to leave.
This year's special tree is a 60-year old, 48 foot white spruce from Orangedale, Cape Breton in Nova Scotia, and will arrive by container ship rather than the usual tractor trailer. The tree will display almost 7,000 multi-colored lights and will light up on Thursday, December as part of the city's big Tree Lighting Ceremony. The LED star at the top measures four feet in height, and is hoisted in place by a crane.
---
126th Boston Marathon 2022 Registration Now Open
Registration for the 2022 Boston Marathon is now open, and athletes meeting the qualifying requirements can register now through Friday, November 12, 5pm ET. For information about registration, see the Boston Athletic Association website's registration page.
Once you register (and get accepted), here's a list of convenient hotels near the Marathon route at all price ranges if you're coming from outside of Boston.
---
Holiday Tree Lighting Ceremonies in Boston in November 2022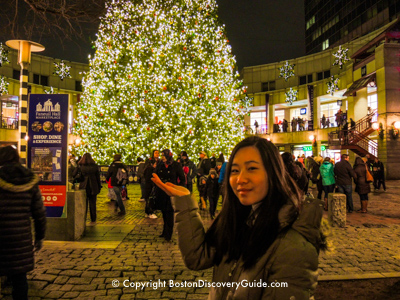 Christmas tree lighting ceremonies in Boston during November and December signal the "official" start of the holiday season.
These festive occasions are fun to attend and the lights are spectacular!
Find the complete schedule with dates and times for the exciting Holiday Lighting Ceremonies taking place in November and December
More about where to see special holiday decorations in Boston
---
Blink! at Faneuil Hall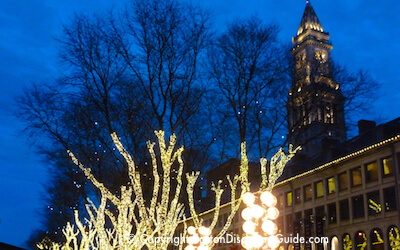 Faneuil Hall Marketplace puts up its giant lighted Christmas tree on November 18 this year.
Blink! features a spectacular new light show this year with over 350,000 (yes, that's a third of a MILLION) low-energy LED lights and recorded Boston Symphony Orchestra's Holiday Pops music.
Blink!'s 7-minute sound and light show takes place daily from 4:30pm-10 pm between November 26 and January 1. The Marketplace also features carolers, local musicians, dancers, bell ringers, touring Broadway show companies, and other performers throughout the holiday season.
Check the exact dates and times for Blink!
---
Where to Stay Near Faneuil Marketplace