Get ready to enjoy Boston Events for November 2023!
Soak up the last few weeks of gorgeous fall foliage in Boston while enjoying the Boston Comedy Festival, opening days of ice skating on Boston Common's Frog Pond, Black Friday sales, Veterans Day parades, and the season's first performances of The Nutcracker at our stunning Opera House.
Sports fans love Boston during November because we have three top teams to watch and cheer: the Celtics, the Bruins, and New England Patriots, with plenty of local games scheduled throughout the month.
By the second half of the month, you'll see holiday tree lighting ceremonies taking place all over the city, lighting up the night.
If your Boston plans put you here at the end of November, be sure to make restaurant reservations for a special Thanksgiving dinner.
Boston's theaters offer an exciting line up of Broadway hits and toward the end of the month, Christmas favorites.
Performances of holiday favorite The Nutcracker begin on the Friday after Thanksgiving - so get your tickets now because the best seats go fast.
Find out about more Thanksgiving Weekend events.
Official November 2023 holidays in Boston :
Veteran's Day - Thursday, November 11 (Veteran's Day is always observed on November 11, regardless of which day of the week it falls on, but the Veterans Day Parade this year will be on Saturday, November 5th)
Thanksgiving Day - Thursday, November 23 (Thanksgiving is always celebrated on the fourth Thursday of November)
Election Day, Tuesday, November 7 (not an official holiday, but some public buildings such as schools may be closed)
Top photo: Outdoor dining along Newbury Street in Boston's Back Bay neighborhood, (c) Boston Discovery Guide
Boston Discovery Guide is a reader-supported publication. When you buy through our links, we may earn a commission at no additional cost for you. Learn more
---
Boston Theater & Shows for November 2023

Schedules & Tickets
Enter DISCOVERY10 to save 10% on TicketLiquidator & TicketNetwork tickets. Good through 12/31/24.
Boston theater during November includes top Broadway hit shows . Toward the end of the month, look for Christmas classics such as The Nutcracker and Rudolph, the Red-Nosed Reindeer:
Check out all shows for November
More Boston Theater District Shows
---
Top Hotels near Boston's Theatre District
Enjoy your Boston performance or show experience to the fullest when you stay in one of the nearby Theatre District hotels, such as the hip and glamorous Revere Hotel: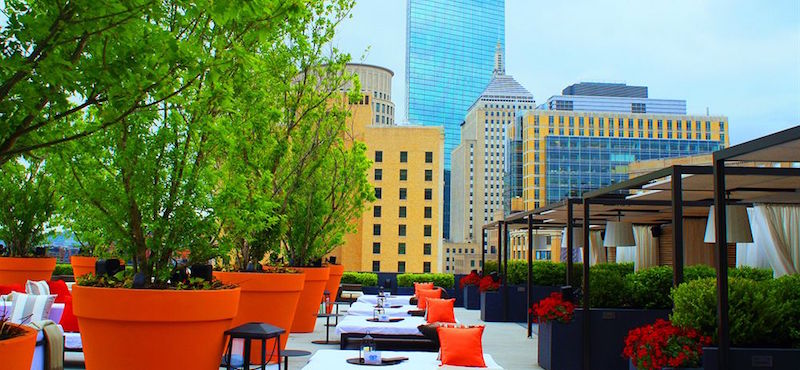 More top Theatre District hotels:
Check out more hotels in Boston's Theatre District
---
Fall Foliage Boston Harbor Cruises on the Northern Lights during Early November 2023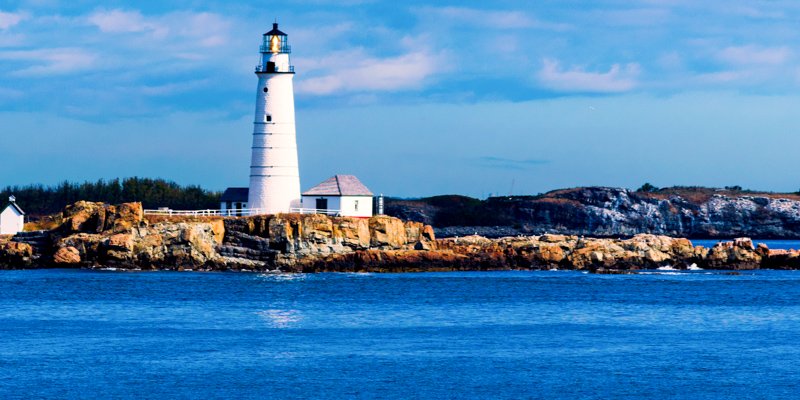 Combine a scenic fall foliage cruise around Boston Harbor with a delicious brunch or lunch on the elegant Yacht Northern Lights throughout this month and early November.
---
Special Holiday Cruises on the Northern Lights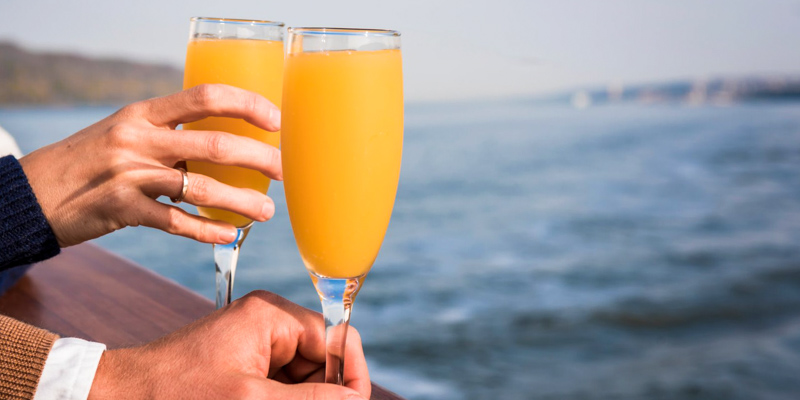 Celebrate the holidays while relaxing and sightseeing on the festively decorated Yacht Manhattan on these special cruises around Boston Harbor:
---
The Nutcracker Ballet at the Opera House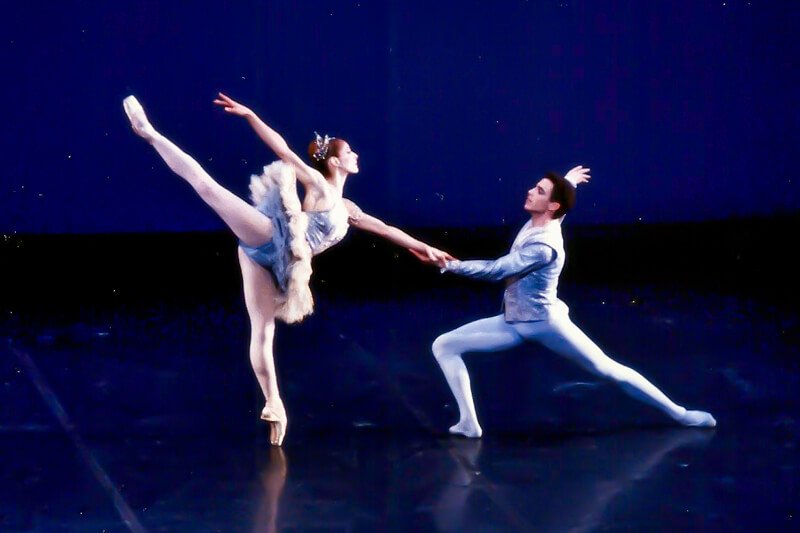 Attending a performance of The Nutcracker is a holiday tradition in Boston, and for good reason.
Enjoy the magic as Clara, the Sugar Plum Fairy, and all the other dancers twirl around the stage as Tchaikovsky's music soars in Boston's gorgeous Opera House. As you walk out of Boston's Opera House after the show ends, you may even see snowflakes softly falling.
Enter DISCOVERY10 to save 10% on TicketLiquidator & TicketNetwork tickets. Good through 12/31/24.
See schedules and tickets for Nutcracker performances in Boston
Tickets for the most popular dates such as weekends and around Christmas can be hard to get, and they're expensive.
Try these strategies:
Where: Opera House, 539 Washington Street
Closest T station: Green Line/Boylston
More Boston Theatre District Hotels
More hotels in Boston's Theatre District
---
Veterans Day Parade & Events in Boston 2023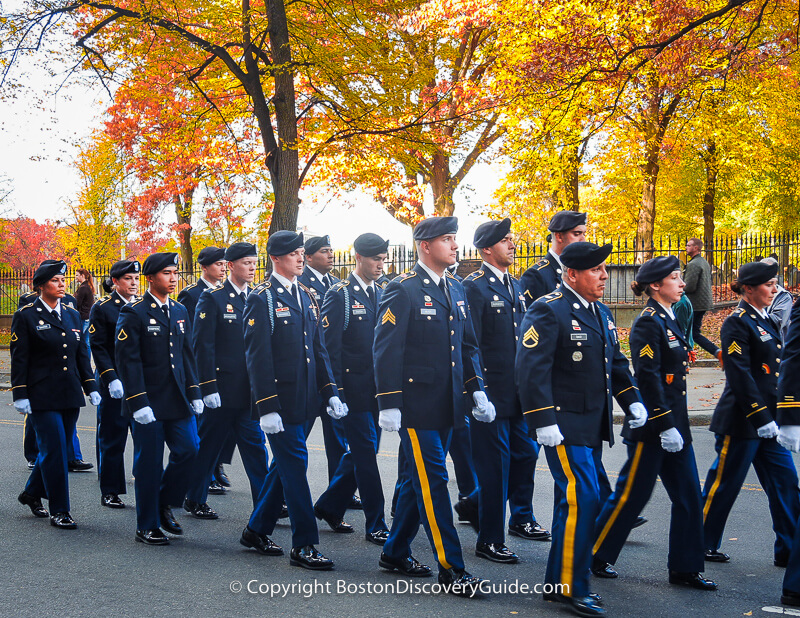 Boston's Veterans Day Parade will be bigger and better than ever this year, with the West Point Marching Band, a lot of other new groups, and an assortment of military units, high school ROTC groups, honorary militias, marching bands, and veterans' organizations.
The parade kicks off at 12 noon on Saturday, November 4 in front of the Boston Public Library (700 Boylston Street) across from Copley Square, marches down Boylston Street to Boston Common, turns left on Tremont, and continues until it reaches its end point at City Hall Plaza.
Other Veterans Day events include a special Harbor Island cruise for Veterans, big Veterans Day sales at local stores, special restaurant deals for veterans, plus other special events happening in Boston on Veterans Day.
Find out more about the parade and other Veterans Day events in Boston
---
Thanksgiving Day - Where to Enjoy a Delicious Dinner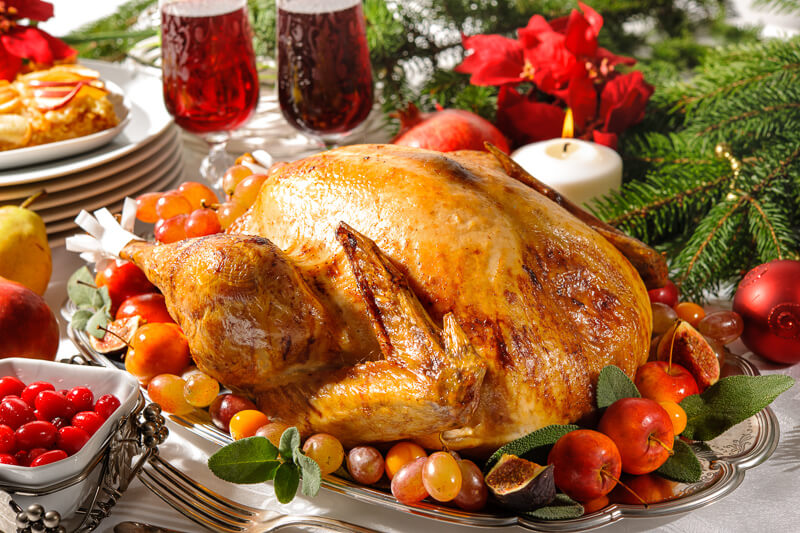 Thanksgiving is celebrated this year on Thursday, November 23.
Enjoy a stress-free Thanksgiving by making reservations . . . let someone else do the cooking!
Some of Boston's top restaurants serve special once-a-year Thanksgiving dinners where you can enjoy a memorable meal, ranging from formal traditional dinners to more casual buffets.
To be sure of getting a table, you must make reservations.
Find out more about Boston restaurants serving Thanksgiving dinner
Black Friday sales on travel to Boston (or anywhere else)
Need a Hotel for Your Thanksgiving Visit?
Enter your travel dates to see available hotels, rates, and reviews:
More about how to save on Boston hotels
---
Fun Boston Tours for November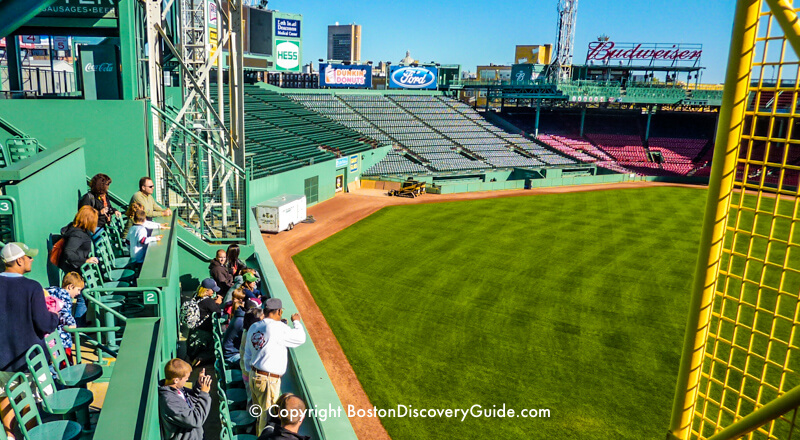 More: Best Tours for Cold Weather | Sightseeing Tours | Tours for Teens | Kids & Family Tours
---
Ice Skating Rink Opens in Fenway
The Rink, the ice skating rink located between at 401 Park between Time Out Market and Trillium Fenway opens for the season on Saturday, November 11 (to be confirmed) .
Adults can skate for $10, while college students (with ID), seniors and kits under the age of 12 pay just $6. Skate rentals cost $6.
The Rink is open from 3pm-9pm Monday - Friday, 11am-10pm on Saturday, and 11am-9pm on Sunday. (to be confirmed)
---
More Fun Boston Tours
---
New England Patriots at Gillette Stadium - November 2023
Two New England Patriots home games take place at Gillette Stadium during November - including a game against the Tennessee Titans on Thanksgiving Weekend.
Get your tickets now, and get ready to join in the fun at Gillette!
Enter DISCOVERY10 to save 10% on TicketLiquidator & TicketNetwork tickets. Good through 12/31/24.
Where: Gillette Stadium
Getting there: The Patriot Train - plus more ways to get to Gillette from Boston
Where to stay: Hotels near Gillette Stadium
Tickets: Check for great prices, great seats, and sometimes discounts
---
More Tours and Cruises to see Fall Foliage in Boston and Beyond
---
Boston Concerts & Shows - November 2023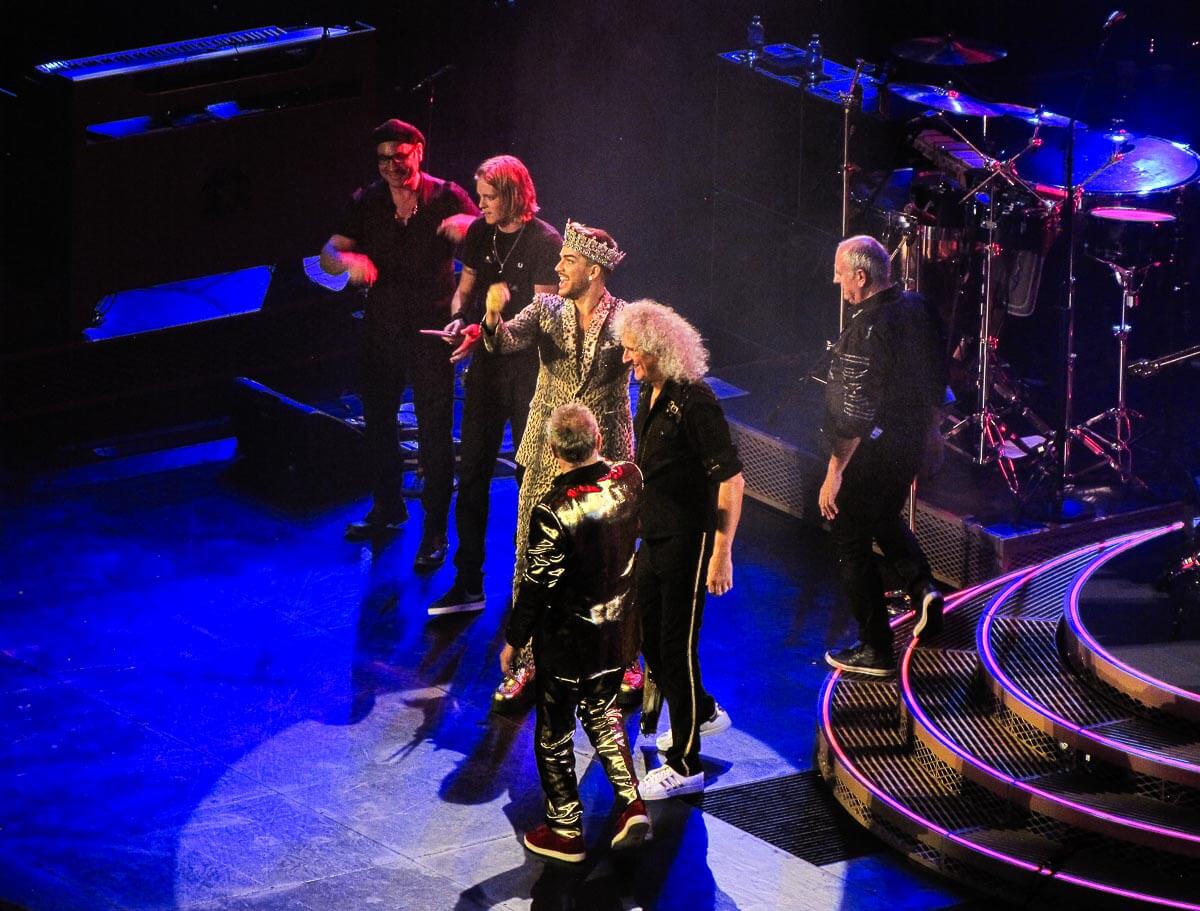 Top November Concerts in Boston
Top concerts in Boston in November 2024 include The Nutcracker Suite. Get your tickets now:
Enter DISCOVERY10 to save 10% on TicketLiquidator & TicketNetwork tickets. Good through 12/31/24.
Schedules & Tickets
More Concerts & Shows for November
Boston Concerts & Shows throughout the Year
---
Bruins @ TD Garden - November 2023 Schedule & Tickets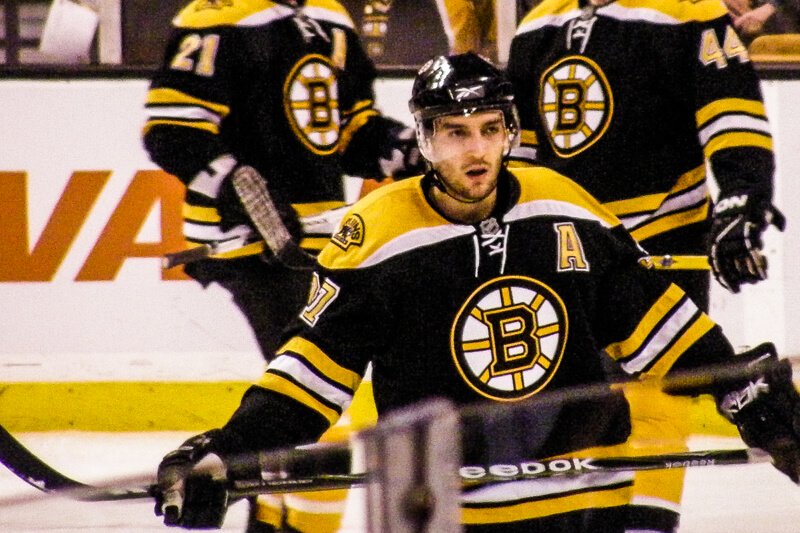 Get your Boston Bruins tickets for November home games, and head over to TD Garden for some fast action on the ice.
The Garden's convenient location next to North Station and close to Faneuil Marketplace makes it super-easy to reach on the T, Boston's subway, or on the Commuter Rail into North Station.
Don't miss the chance to see Boston's famous hockey team, winner of 6 Stanley Cup championships!
Enter DISCOVERY10 to save 10% on TicketLiquidator & TicketNetwork tickets. Good through 12/31/24.
Find Bruins schedule & tickets for November home games at the Garden
Find Bruins schedule & tickets for all home games
More about the venue: TD Garden schedule, directions, best ticket prices
Photo courtesy of Dan4th
---
Hotels near TD Garden
Coming to an event at the Garden? Consider spending the night or the weekend at one of these top nearby hotels:
Check out more hotels near TD Garden
---
Celtics Basketball at TD Garden - November Schedule & Tickets 2023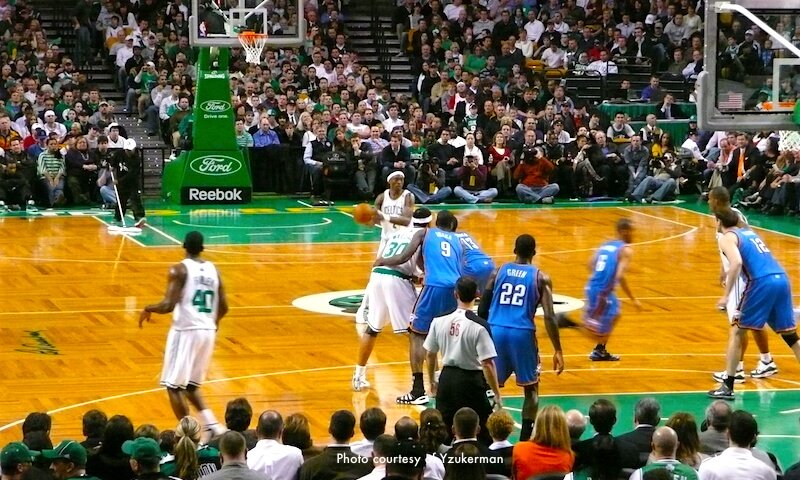 Get your Boston Celtics tickets for November home games, and head over to TD Garden for some fast action on the court.
The Garden's convenient location next to North Station and close to Faneuil Marketplace makes it super-easy to get to.
Get ready for plenty of action at the net from Boston's champion basketball team.
Enter DISCOVERY10 to save 10% on TicketLiquidator & TicketNetwork tickets. Good through 12/31/24.
Where: TD Garden
Nearest public transportation: Green Line/Orange Line or Commuter Rail to North Station, next to the Garden
Where to stay: Hotels near TD Garden
---
Chef's Table Food & Wine Pairing Events at Bonde 2023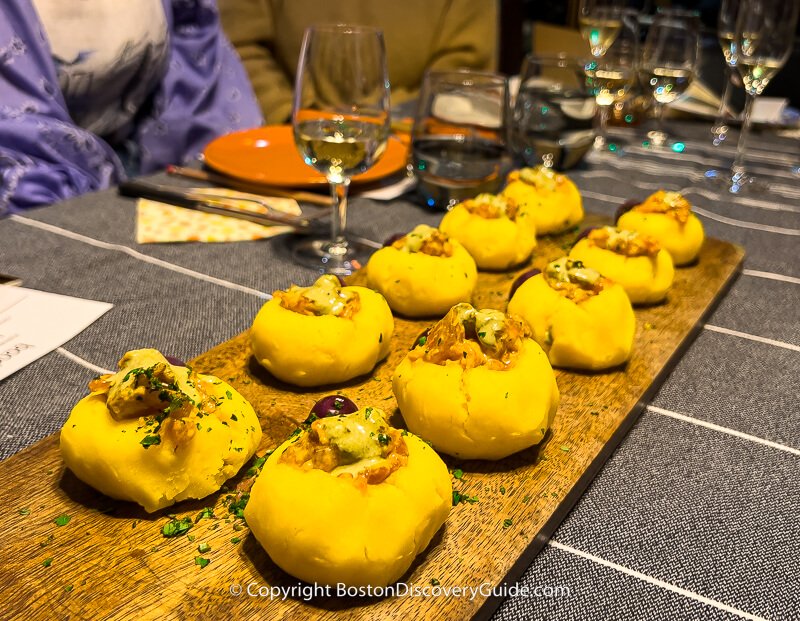 Get ready to savor superb small-production American wines paired with local cuisine at Bonde Fine Wines in Harvard Square.
Owner/sommelier Bertil Jean-Chronberg teams up with chefs at some of the area's best restaurants to present weekly wine and food pairings.
In November, pairings include a wide range of toods and cuisines, including fried chicken, candy (!), and Thanksving favorites.
Each week has a different theme, so check listings on the Bonde website to find out what's on.
Location: 54 Church Street, Harvard Square, Cambridge
Time: Wednesday evenings, 7pm-9pm
Cost: Usually around $89; sessions limited to 8 participants; reservations required
More about where to find wine tastings in Boston
---
Snowport: Winter Holiday Market in Boston's Seaport 2023
Seaport's popular European-style Winter Holiday Market at Snowport returns from November 10 through December 31 to light up the holiday season with shopping, fun activities, food, and beverages.
The market features 100+ small businesses selling art, jewelry, home goods, apparel, and other gifts and crafts, plus seasonal treats such as hot chocolate, freshly-made cider donuts, craft beer, and more.
In addition, you can watch and take part in lots of fun activities and events such as snow-less hurling.
Admission: Free
Getting there: 21 Dry Dock Ave in Boston's Seaport District | Closest T station: Silver Line SL1 / Courthouse
---
Special Christmas Tree Arrives from Nova Scotia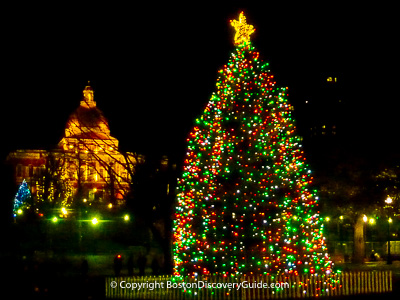 A very special Christmas tree is expected to arrive at Boston Common on Tuesday, November 21 (to be confirmed) - probably at around 11am. (The exact arrival time and date are always subject to last-minute changes based on weather, travel time.)
Look for this year's tree near the Visitors Information Center at 139 Tremont Street. By tradition, it is always the first tree on the Common to be lit - check Boston Christmas Tree Lighting Ceremonies for the exact time and date.
Although Boston fills up with displays of beautiful Christmas trees throughout November and December, this tree is especially meaningful because it symbolizes the close friendship between Nova Scotia, Canada, and Boston.
Citizens of Nova Scotia send a huge, beautiful tree to the people of Boston every year in remembrance of Boston's help after the horrific explosion of a munitions ship in Halifax Harbor on December 6, 1917 killed almost 2,000 people and injured another 9,000. Within 24 hours of the disaster, a train loaded with supplies and emergency personnel from Boston arrived in Nova Scotia - the first outside help to reach the disaster scene, and the last to leave.
This year's special tree is a 45 foot white spruce from Christmas Island, Cape Breton in Nova Scotia, and will arrive by tractor trailer. The tree will display almost 7,000 multi-colored lights and will light up as part of the city's big Tree Lighting Ceremony (check here for the exact date/time). The LED star at the top measures four feet in height, and is hoisted in place by a crane.
---
Holiday Tree Lighting Ceremonies in Boston in November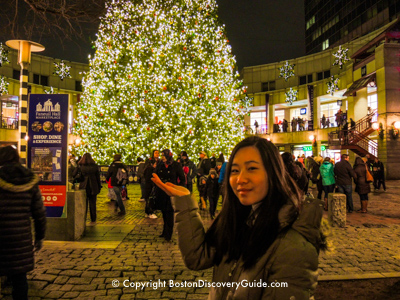 Christmas tree lighting ceremonies in Boston during November and December signal the "official" start of the holiday season.
These festive occasions are fun to attend and the lights are spectacular!
Find the complete schedule with dates and times for the exciting Holiday Lighting Ceremonies taking place in November and December
More about where to see special holiday decorations in Boston
---
Where to Stay Near Faneuil Marketplace
Want to stay near superb shopping, TD Garden, the New England Aquarium, the Waterfront, the Freedom Trail, and many more attractions near Boston's historic Downtown and Waterfront?

Check out these top hotels near Faneuil Hall Marketplace
---
Fenway Open Studios Weekend Celebration 2023
Fenway artists open their studios at 30 Ipswich Street in the Fenway neighborhood to the public on November 4 and 5 from 11am - 5pm.
Don't miss this fantastic chance to meet the artists, view their original art, and perhaps discover and purchase a piece you can't resist directly from the creator.
Admission to Fenway Open Studios is free - but if possible, please bring a non-perishable food item for their annual food drive, which this year will benefit the Lifeboat Boston food pantry.
---
Museum of Fine Arts - Annual School Sale
Over 4,000 art fans, collectors, and shoppers attend the School of the Museum of Fine Arts' annual sale each year to snap up the fabulous creations by faculty, students, and alums. Thousands of paintings, photographs, prints, sculpture, new media, and more! Sales benefit the artists as well as student scholarships at the School of the Museum of Fine Arts.
When: November 4 (10am-8pm), and November 5 and 6 (10am - 5pm both days). (to be confirmed)
Where: School of the Museum of Fine Arts, 230 Fenway
Closest T station: Green Line E/Museum
For more information: 617-627-0053
Admission: Free
---
Save Big $$$s on Boston Museums and More Top Attractions
Find out how a Boston Discount Card gives you free entrance to museums and lots of other attractions every day while your card is valid - plus you get to go straight to the head of the line.
---
Boston Hotels Special Packages for November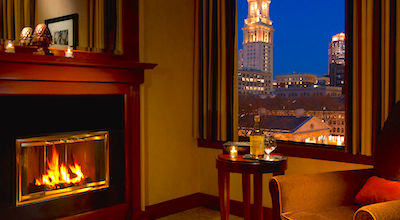 Check out these attractive November specials at top Boston hotels. Click on Check Rates to find best rates - we also give you the hotel's phone number in case you need to call to get the package.
Suite Savings at the Bostonian (617-523-3600) - Save 25% off suite accommodations, a $25 food and beverage credit, and a VIP welcome amenity ; special terms may apply. Check reviews and book
Retail Therapy Shopping Package at the Colonnade (1-800-962-3030) - Just in time for holiday shopping - Includes discount booklet for over 500 stores in the Shops at Prudential Center and Copley Place Mall, overnight accommodations for 2, and overnight parking. Check rates and book
Pay rates equal to your birthday year at Boston Sheraton Hotel (886-716-8134) - Stay the first night at the regular rate starting at $199 and pay a 2nd and 3rd night rate equal to your birth year. Born in 1958? Pay $58 for those nights. Use promo code NBR when you book. Check reviews and book now
---
Black Friday - Shopping Bargains, Sales, Discounts!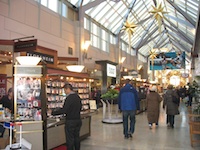 When: Friday, November 24 - as early as midnight in some places
In preparation: Take a nap right after Thanksgiving dinner, pack a turkey sandwich, start early, and keep your sense of humor!
If you're visiting Boston during the Thanksgiving holidays, indulge in "Black Friday" bargain-hunting - if you dare! The mad scramble to scoop up huge bargains is not for the faint of heart.
Find Black Friday sales on Boston travel
Where should you go? Try these Black Friday suggestions:
- Assembly Row Outlets vs Wrentham Premium Outlets - Both outlets offer big savings - but stores differ, so see our comparisons
- Newbury Street boutiques and Boylston Street "big box" stores - Look for biggest savings on high end designers
- Quincy Market/Faneuil Hall Marketplace - Big chain stores and unique Boston shops - savings are usually good here
- Cambridgeside Galleria (huge Best Buy, big Macys, lots of markdowns)
- Prudential Center - Middle of Boston's Back Bay neighborhood - Saks, Lord & Taylor - sales on lots of favorite brands
- Wrentham Premium Outlets (Get there super early - sure to be mobbed but savings can be huge)
- Natick Mall - Biggest shopping mall in Boston - you'll see sale signs everywhere
More recommendations for holiday shopping in Boston
---
Ice Skating Begins at Frog Pond
Frog Pond in Boston Common opens for ice skating on November 19 at 10am (to be confirmed), with free admission through 4pm (all other fees such as for skate rental apply).
Be sure to stop by the Lily Pad Cafe snack bar, overseen by the talented chefs from 75 Chestnut and Hampshire House, where you'll enjoy some of the best hot chocolate, Belgium waffles, and cookies in the city.
For more information or weather-related updates, call 617-635-2120.
Closest T station: Green and Red Line/Park
Park: Boston Common Garage

More about ice skating on Boston's Frog Pond
Stay near Boston Common & Enjoy Ice Skating on Frog Pond
---
Museum of Science Exhibits - 2023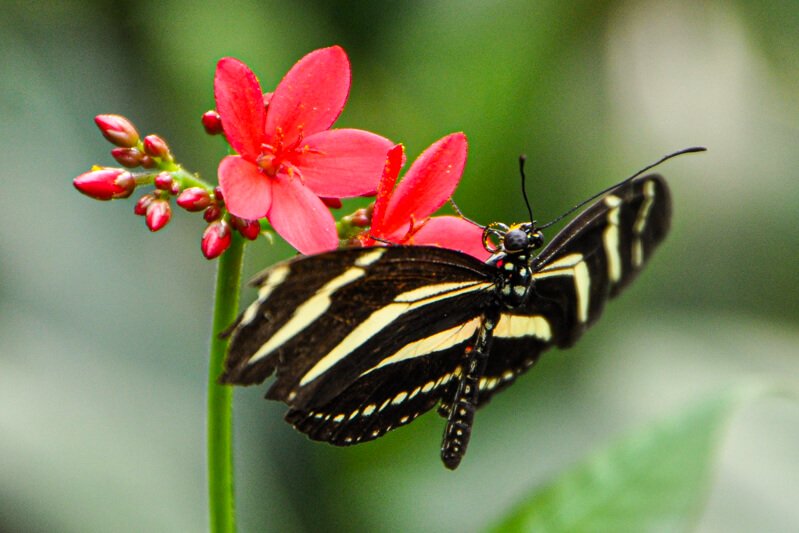 Special Exhibits
New England Climate Stories - Meet fascinating New England animals
All Aboard! Trains at Science Park - Visit miniature landscapes with fantasic model trains - through January 16
Gaia - View our planet in a new way through UK artist Luke Jerram's artwork with NASA images of Earth's surface
Mental Health: Mind Matters - Get insights into understanding mental health through this interactive exhibit
With fascinating permanent exhibits for all ages, there's always something to see, do, and learn. Here are just a few of the most popular: Engineering Design Workshop, Colossal Fossil: Triceratops Cliff, Cosmic Light, Dinosaurs, Arctic Adventure, Hall of Human Life, Live Animal Care Center, Mathematica, Exploring AI, Natural Mysteries, New England Habitats, Project Vaccine.
Where: Boston's Museum of Science
When: Daily, 9am-5pm; open until 9pm on Fridays
Admission: $29 general museum admission ($24 for kids; children under 3 free). Get free museum admission when you have a GoBoston Discount card or Boston CityPASS card.
Imax Theater and Planetarium: Additional fees apply
---
Not Sure about Boston Neighborhood Locations?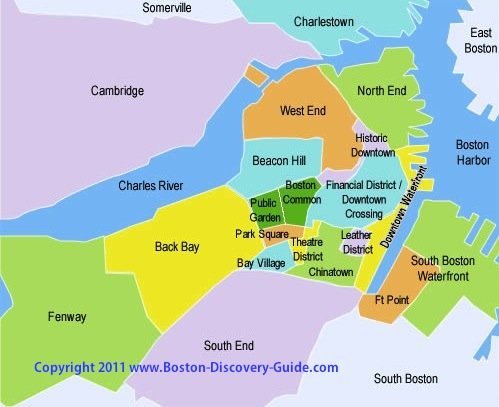 This neighborhood map should help you get oriented. You can find a list of top attractions in each neighborhood here.
Need a more details? Here are our favorite free and low-cost Boston maps.
---
2 Easy Ways to Save BIG in Boston on Tours, Cruises, Admissions
Best way to save in Boston. Save up to 50% when you take a Boston Harbor cruise or Duck Boat tour, visit Plimouth Plantation, the New England Aquarium, Museum of Science, Museum of Fine Arts, Fenway Park Tour, and more. Compare to find out which one is best for you.
---
Holiday Decoration Displays in Boston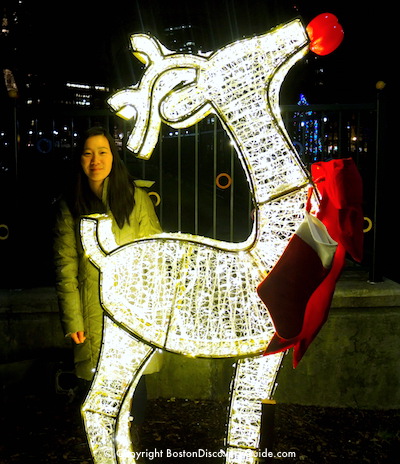 Festive holiday events take place throughout the last 3 weeks of November as dazzling holiday decorations get put into place, such as these giant golden balls, part of an expansive display in Prudential's South Garden.
Find out when tree lighting ceremonies happen and watch the lights go on.
In addition to Prudential Center, other good places in Boston to see Christmas decorations go up - or see the festive effects once they're in place include:
- Faneuil Hall Marketplace (be sure to check out the spectacular holiday tree and Blink!)
- Boston Common when the special Christmas tree arrives from Nova Scotia
- Christopher Columbus Park Trellis in the North End
- Macy's Holiday Tree Lighting on Summer Street in Downtown Crossing
- Charles Street in Beacon Hill
- Copley Square in Back Bay
- Boston Common, after the Holiday Lighting Ceremony
---
Plimouth Plantation Tours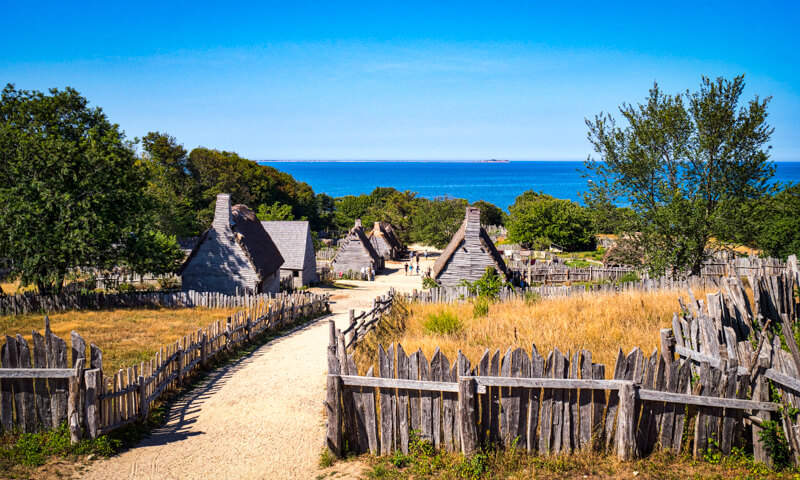 Visit the site of the first Thanksgiving by making a day trip to where the Pilgrims first landed and settled back in 1620: Plymouth MA, just south of Boston, where you can see the Pilgrim Monument, go on board a reproduction of the Mayflower ship that brought the Pilgrims to the New World, and explore Plimouth Plantation, an amazingly authentic re-creation of the Pilgrim's first settlement where you can interact with actors playing the role of each of the 17th century settlers and members of the Wampanoag Nation who helped them survive.
Most convenient way to visit: Join this special Plimouth Plantation tour - you'll be picked up at one of 5 convenient spots, and will get to visit Plimouth Plantation, Mayflower II, and explore the waterfront. Includes pick-up, transportation, admission.
---
Thanksgiving Parade and Celebration in Plymouth
One of the top Boston events in November is Thanksgiving, and to get a full flavor, head south of the city to Plymouth to join this huge 3-day Thanksgiving Celebration along the harbor and waterfront.
The centerpiece is the Thanksgiving Day Parade, kicking off at 10am on Saturday, November 19. The parade lasts about 2 hours.
The parade begins at the historic waterfront. Costumed reenactors playing the roles of Pilgrims bring this period in our history to life during a food festival, music festival, and entertainment.
What makes this parade special are the beautifully decorated floats (such as a Mayflower float), drum and bugle corps, vintage cars, and reenactments from all periods of American history, beginning with the Pilgrim era in the 17th century and continuing through the 21st.
Where: Plymouth, MA - Kicks off at Plymouth Rock, continues around Water Street to Court Street and ends at Benny's
Get there by train: MBTA Rail Kingston/Plymouth
Where to stay: Best Plymouth Hotels
More Parade and Festival information: Website

Photo courtesy of USA Thanksgiving, the event planner
---
New England Revolution in Finals at Gillette Stadium - 2023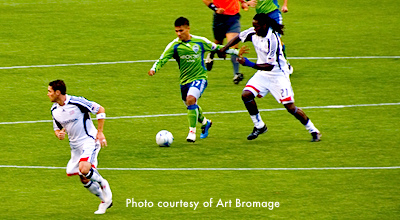 Watch our local soccer team, the New England Revolution, play in the Finals at Gillette Stadium at Gillette Stadium.
Find New England Revolution's Game Schedule & Tickets
Getting there: Gillette Stadium from Boston
More at Gillette: See all events at Gillette Stadium
---
Jewish Film Festival
When: November 1 - 12
Where: Brattle Theatre in Cambridge, West Newton Cinema, Somerville Theatre, Museum of Fine Arts, Coolidge Corner Theatre in Brookline, and other theaters throughout the Greater Boston metro area
More information: Website
Enjoy the best new international and American independent films exploring the Jewish experience and presenting films with themes about Jewish culture, heritage, and history. Traditional, experimental, documentaries, and animated formats.
---
8. Boston Tuba Christmas Concert at The Steps in Downtown Crossing
To enjoy one of Boston's most unique holiday concerts, head over to "The Steps" at Downtown Crossing on Saturday, November 25 at 2pm, when 200 tuba players will delight the crowd when they perform their annual free Holiday Concert of Christmas classics in front of the Marketplace's huge Christmas tree.
Never heard so many tubas in concert before? Then you should definitely attend - this is an awesome concert!
Closest T station: Red Line/Downtown Crossing
---
Boston International Antiquarian Book Fair
When: November 16-18 (General public portion (to be confirmed) )
Where: TBD
Closest T station: N/A
For more information: website
General public entrance fee: $TBD for Friday night preview; free on Saturday and Sunday
Whether you're a serious collector of old books, want to shop for a few holiday gifts, or just like to read, the huge Boston International Antiquarian Book Fair is a must-visit. With over 150 dealers from the U.S. and Europe, the fair attracts visitors from around the world. In addition to the rare, collectible, and antiquarian books on exhibit and for sale, you'll also find manuscripts, autographs, maps, atlases, modern first editions, and fine and decorative prints. Do you think you already own a treasure? Bring your own books, maps, and ephemera and get a free appraisal.
If you're coming from out of town, hotels near the Hynes include the Back Bay Hilton, the Mandarin Oriental Boston, the Colonnade, the Charlesmark, the Sheraton Boston, and the Lenox.
---
More Fun Ways to See Boston
---
Looking Ahead to Winter Events in Boston
---
Questions & Answers about Visiting Boston in November
Visiting Boston in November - Travel Tips for a First-Time Boston Visitor
I am planning a 4-day stay in Boston in mid-November - I am traveling by myself, no car, and staying in . . .
---
More to Do in Boston in November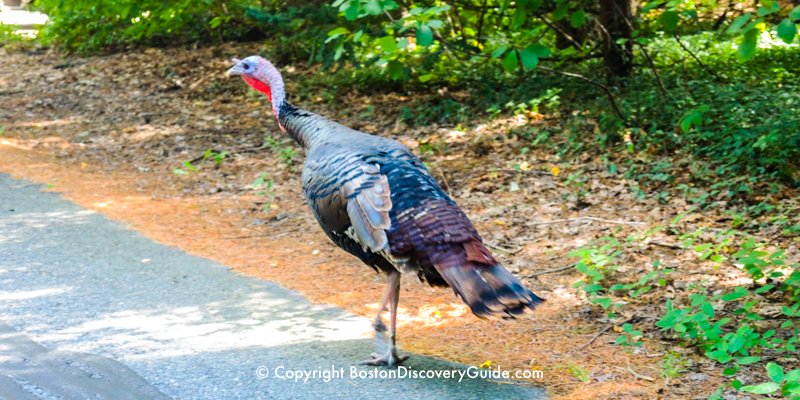 ---
---
More Fun Ways to See Boston
---
Need a Boston Hotel or Apartment?
Use this handy map from Booking.com to find the perfect place to stay. Just enter your dates to find what's available, see the best rates, and make your reservations.