Prudential Center in Boston's swanky Back Bay neighborhood features a carefully curated mix of 75+ upscale stores, boutiques, restaurants, and entertainment in an indoor shopping mall under immense glass skylights and domes.
With Boston's famous Newbury Street right around the corner and even higher-end Copley Place just a stroll through a skywalk away, Back Bay abounds with appealing opportunities for shoppers seeking designer labels, luxury goods,
So how does Prudential Center compete, aside from its appealing retail stores? Why should you visit?
Let's start with Eataly - the fantastic Italian marketplace bursting with restaurants, bistros, bars, take-away dinners, and high quality imported specialty pastas and other goodies from Italy - a destination within a destination.
But there's a lot more to love at Pru Center, as we call it in Boston. Take a look at our five compelling reasons why you'll want to come here for shopping, dining, entertainment, and more, including a couple of the city's most popular family activities.
Top photo: Huntington Ave entrance to Prudential Center
Boston Discovery Guide is a reader-supported publication. When you buy through our links, we may earn a commission at no additional cost for you. Learn more
---
Why You'll Love Visiting Prudential Center: 5 Top Reasons
1. The Right Mix of Stores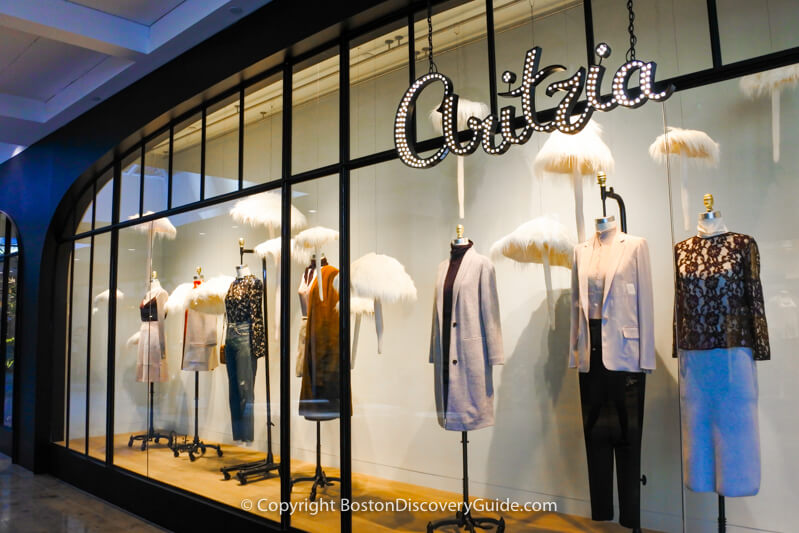 Lord & Taylor and Saks Fifth Avenue anchor Prudential Center and offer boutique-like collections of coveted American and International designer labels, with a particular emphasis on women's fashion. While Lord & Taylor is somewhat more affordable, Saks targets high-end luxury designers. To see the full spectrum of possibilities, you'll want to visit both stores.
Other clothing stores range from popular brands found in most suburban malls to specialty boutiques. Look for Kate Spade, Bonobos, Aritzia, Madewell, Canada Goose, Hammer Made, Johnny Was, Polo Ralph Lauren, Sam Edelman, Vineyard Vines, LOFT, and Club Monoco for women's and men's clothing, accessories, and shoes.
Head to Janie & Jack and locally-owned Magic Beans for the cutest baby, toddler, and little kid wear, toys, strollers, and gear.
Lululemon Athletic and Olympia Sports provide plenty of choices for athletic wear and gear, and if you need a reason to use it, stop by Peloton and Flywheel/FlyBarre.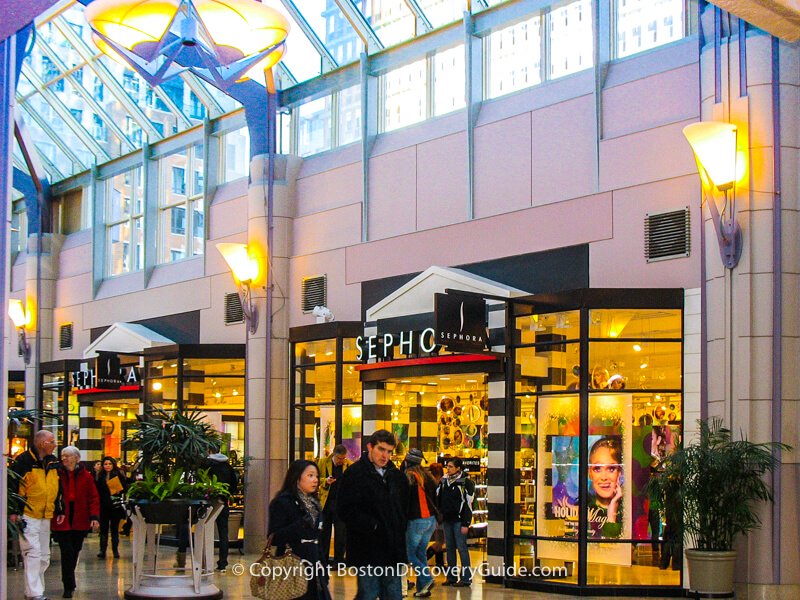 You'll also find excellent shops for gifts, linens, and personal items in various price ranges, including The Body Shop, L'Occitane, Sephora, MAC Cosmetics, and Swarovski.
Shinola offers an assortment of awesome watches, bicycles, leather goods, and journals, all American-made. Best of Boston features logo merchandise for all our local pro teams (this is where to buy your Red Sox and Celtics jerseys, Boston Bruins hoodies, and New England Patriots caps), as well as other gift and souvenir items.
Need a treat for yourself? Head over to Frette and stock up on the same luxury Italian linens featured at the Mandarin Hotel, also in the complex.
A huge Microsoft store, a well-stocked Barnes & Noble, and several places specializing in glasses (Warby Parker, Oakley, Sunglass Hut, Oliver Peoples) round out the offerings.
Tesla Showroom at Prudential Center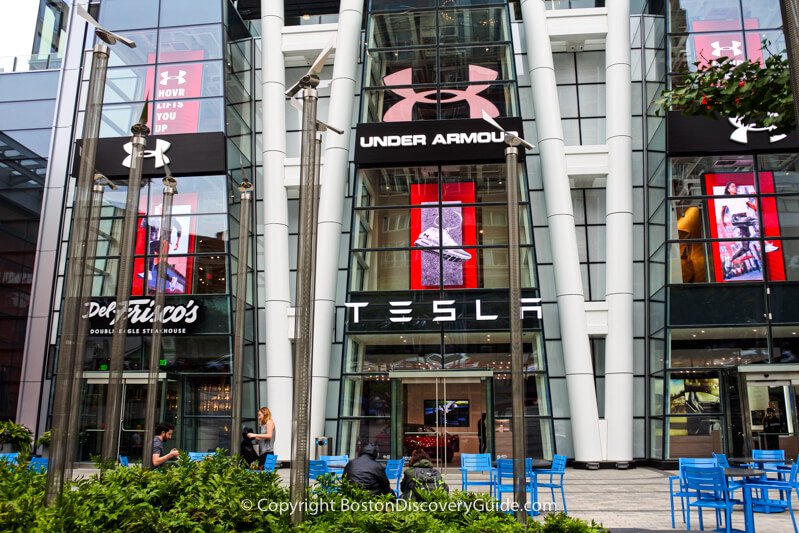 Tesla acts as almost a third anchor for Prudential Center, with a spectacular showroom facing onto Boylston Street.
Stop by, especially if you're search for the perfect gift for someone special. Or for yourself.
Prudential Center Carts & Kiosks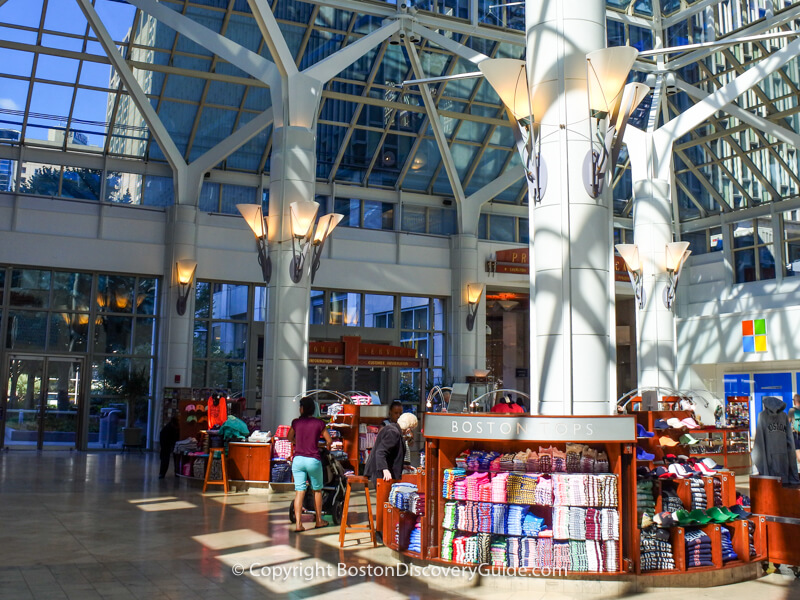 Part of what makes Pru Center special are its carts and kiosks, many of which feature unique handcrafted items. The mix of vendors varies all the time, so there's always something new to see.
Each cart or kiosk typically specializes in just one thing - artisan-crafted jewelry, gorgeous Russian art collectibles, Cross pens, exquisite hair ornaments, Boston logo clothing, scarves, original art. Prices are generally reasonable, especially for the quality. Perfect for 1-stop holiday shopping!
More Shopping near Prudential Center
If you can't find what you want at Prudential Center, walk through the skyway (clearly marked with signs) to Copley Place - or head over to Newbury Street, just one block away.
---
2. Dining & Food at Prudential Center: Eataly & More!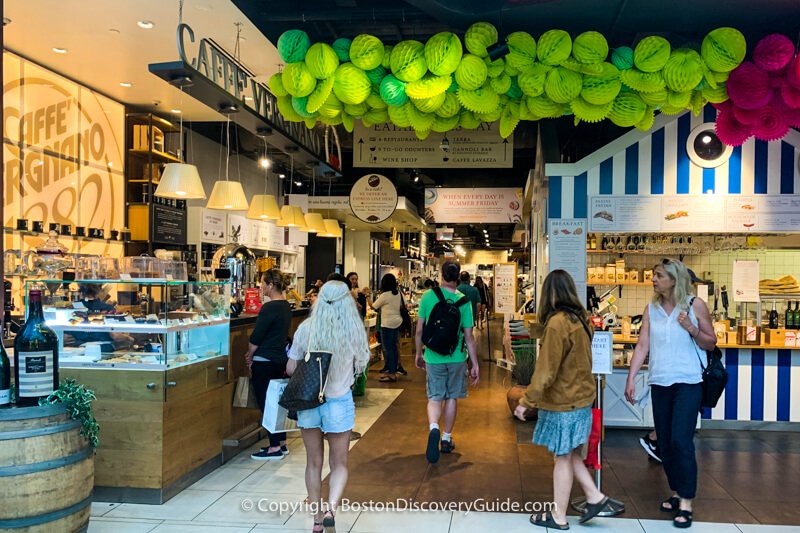 Eataly is the star of Prudential Center dining, and a magnet for everyone who loves Italian food and wine.
You can eat at any of the food hall's four full-service restaurants, numerous cafes, and coffee bars, or buy premium imported and local fresh and dried New England pastas, meats, cheese, seafood, and other high-quality Italian products. Do not miss the chocolates, biscottis, and pastries!
Eataly's wine shop offers more than 1,200 bottles, and has knowledgeable staff on hand to answer your questions.
There's also a houseware section (Italian products, of course), a book store, and a cooking school where you choose from almost-daily classes.
Eataly covers 3 floors, and roughly an acre of space.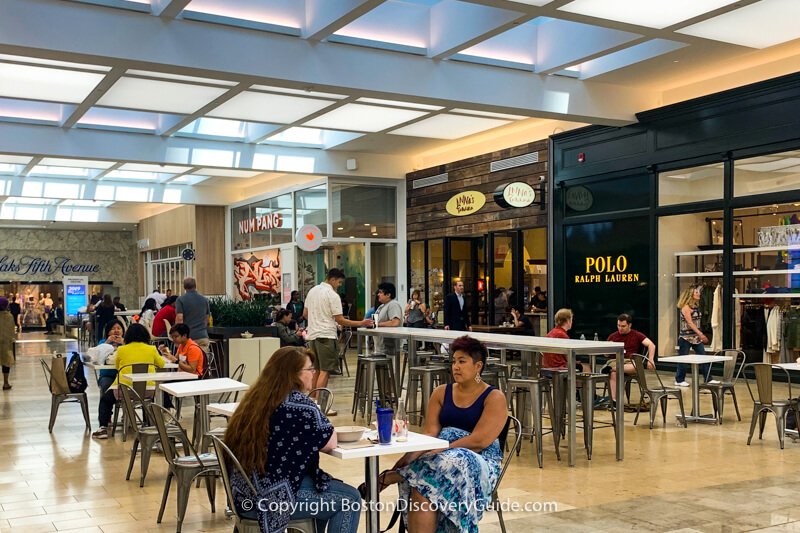 In addition, Prudential Center offers a variety of other dining and beverage options.
For full meals, look for Wagamama, Eddie V's Seafood, Sweetgreen, Anna's Taqueria, Cheesecake Factory, Dig, Del Frisco's, Num Pang, and Earl's Kitchen.
More casual options include Ben & Jerry's, Starbucks, Godiva Chocolates, Dunkin' Donuts, and Nespresso.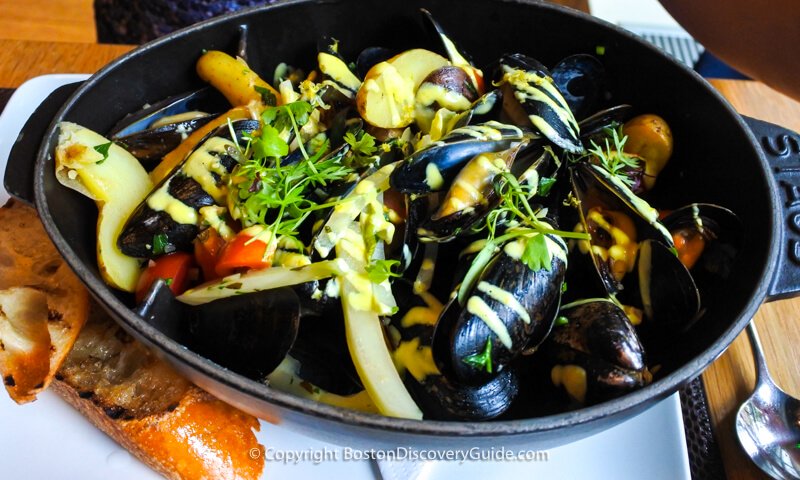 For fantastic French bistro food, head over to famed Chef Daniel Boulud's Bar Boulud in the Mandarin Hotel.
3. Convenient Back Bay Location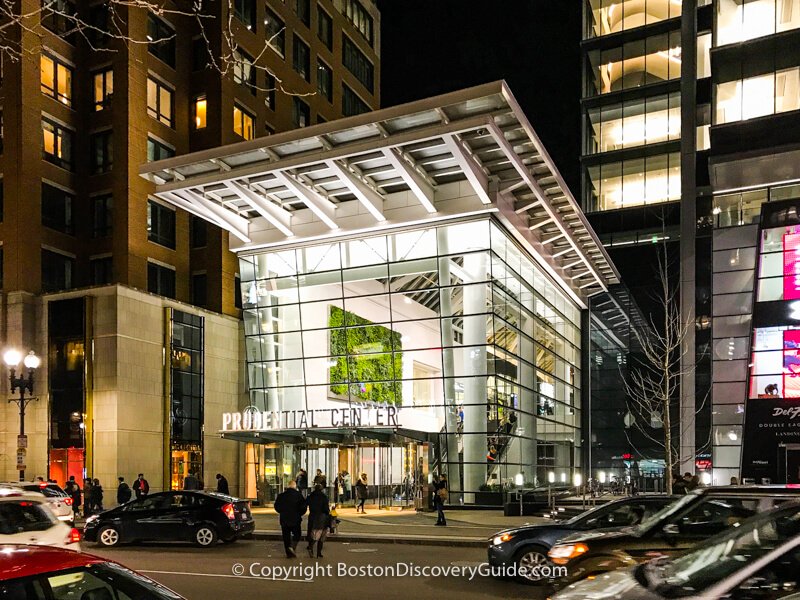 Of course Prudential Center's selection of popular and high-end retailers, unique boutiques, and excellent restaurants draws crowds of enthusiastic shoppers - but let's face it, being located right in the heart of Back Bay also helps.
You cannot beat the convenience. With the Green Line/E Prudential subway station located next to the Huntington Ave entrance and the city's largest parking garage (3,800 spaces!) underground, getting there couldn't be easier - unless you're on foot.
Direct access from Pru Center to the Sheraton Boston Hotel (technically through the Hynes Convention Center) and the Mandarin Oriental Hotel as well as close proximity to most other Back Bay hotels means you'll never have to carry overflowing shopping bags too far if you're staying in this part of the city.
The shopping arcade occupies the floor just above street level, perched between Boylston Street and Huntington Avenue. Enter from either street and ride up the escalator under soaring skylights.
---
4. Fun Events at Prudential Center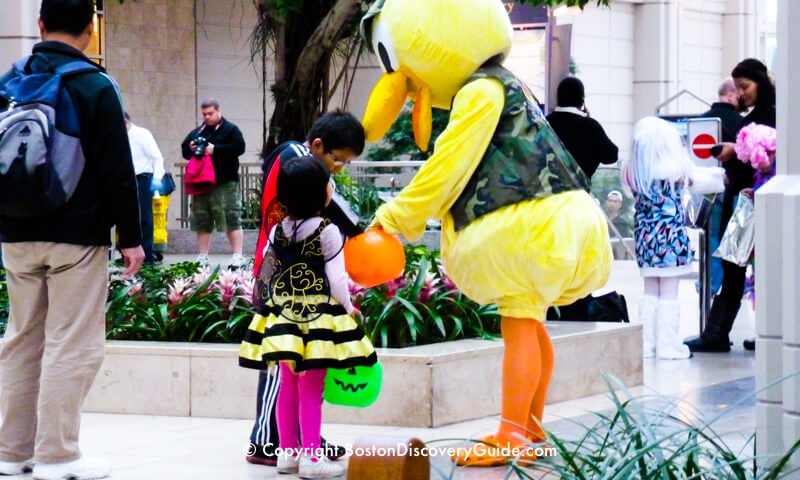 Prudential Center hosts a variety of free events and entertainment throughout the year. Here are some of the most popular:
---
5. Indoor Gardens & Outdoor Plazas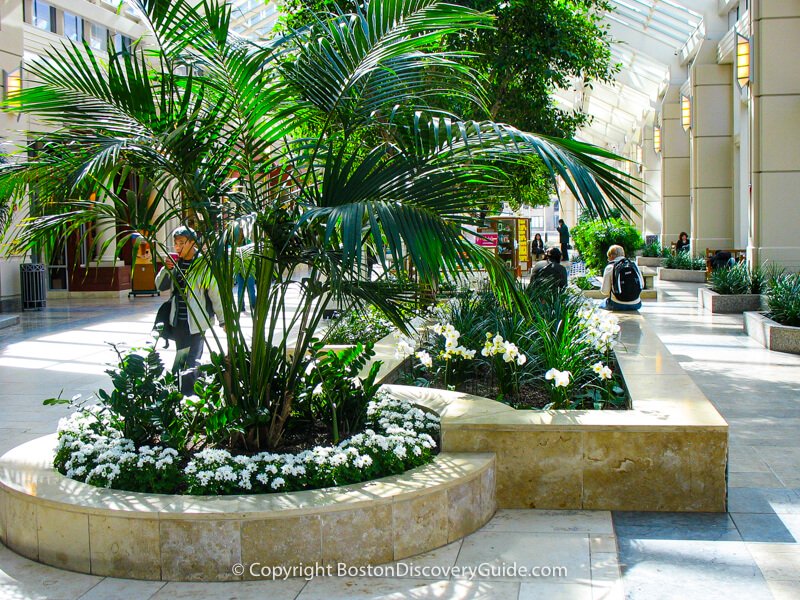 Considering that 51 floors of the Prudential Building tower over the shopping arcade, an amazing amount of natural light streams through the immense glass skylights and domes, creating the perfect environment for plants - and for you to enjoy.
Indoor gardens filled with a changing assortment of plants and trees punctuate the long hall next to South Garden, a lush outdoor park-like space which is actually a rooftop garden covering of another part of the Pru Center complex. South Garden features a waterfall, fountains, and colorful plantings throughout much of the year.
Skywalk Obsersatory
The Skywalk Observatory at the top of the Prudential Building offers spectacular 360 degree views of Boston - but is currently closed for renovations. It is expected to reopen in 2023.
---
Where to Stay: Hotels near Prudential Center
If you plan to shop a lot during your Boston visit, check out the Back Bay hotels next to Pru Center - some of Boston's best, and close to Newbury Street shopping as well!
Boston hotels closest Prudential Center include:
---
More Places to Shop in Boston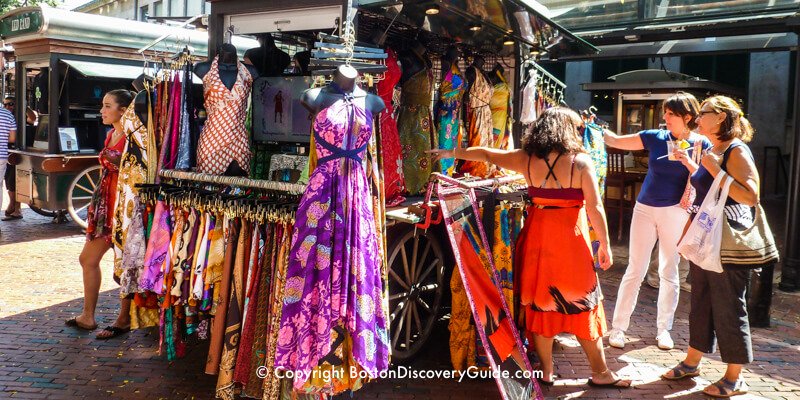 ---
Getting to Prudential Center: Map & Directions
Prudential Center Location & Entrances
There are a variety of entrances to Prudential Center, located in Boston's Back Bay neighborhood, including two main entrances:
Main Entrance: 800 Boylston Street
Main Entrance: 100 Huntington Ave
Skybridge Entrance from Copley Place Mall
Direct entrances from Hynes Convention Center and Sheraton Boston Hotel
Avalon Entrance on Exeter Street to Lord & Taylor
Direct entrances by elevator from the underground Prudential Center Parking Garage
Parking at Prudential Center Garage
You can park for a fee in Prudential Center's immense underground parking garage.
Parking is pricey - UNLESS you get your parking ticket validated with a $10 or higher purchase at any Pru Center store, restaurant, cart, or kiosk - so bring your ticket with you and give it to your sales associate after you make your purchase. Special events and Red Sox parking rates are also a sweet deal.
Validated rates at Prudential Center Garage are $15 for up to 4 hours, $20 for 4-5 hours - but for 5 hours or more, regular daily rates apply.
Regular rates at Prudential Center Garage are $13 for up to 1 hour, $22 for 1-1.5 hour, $32 1.5-2 hours, and a whopping $44 for 2-24 hours.
Special event rates, evening and weekend events only, at Symphony Hall, Berklee, Huntington Theatre, Jordan Hall (enter after 2pm M-F or after 7am weekends, and exit by 3am) - $18
Red Sox Parking (this is a fantastic deal; Fenway Park is only about a 10-12 minute walk from the garage) - Night and weekend games only: Enter after 2pm M-F and after 7am on weekends, and exit by 3am. You can get this $18 rate at the Concierge Desk off Center Court, at the garage office on the P2 level upon presenting your ticket stub, or by scanning your same-day ticket stub at the exit machine as you leave the garage. But, if the game is postponed, there's no Red Sox discount - so if the game gets canceled after you've parked, buy something for $10 or more at Pru Center to get the shopping discount. Also, please note: This discount is only for Red Sox games - NOT Fenway Park concerts or other non-Red Sox events.
Parking Alert: While the garage's 3,800 spaces provide ample parking throughout most of the year, the holiday shopping period from Black Friday (the day after Thanksgiving) through New Year's Eve is an exception. The garage fills up quickly during this period, so your best strategy is to arrive early - or wait until an hour or two before closing. Otherwise, you run the risk of seeing the dreaded "Garage Full" sign.
More information about parking and how to get the discount rates: website
---
Why Shopping in Massachusetts is a Bargain
If you are visiting Boston from many other American states, Canada, or overseas, you will benefit from a "hidden" savings, especially when you shop for clothes: no sales tax on clothing items under $175. Massachusetts sales tax on non-clothing items and clothing costing $175 or more is only 6.25%.
If you are visiting from a country with a high VAT or even from another American state where clothing is taxed or the sales tax rate is high, you can enjoy significant tax savings when you shop here.
---
More Articles about Shopping in Boston
---
Need a Boston Hotel or Apartment?
Use this handy map from Booking.com to find the perfect place to stay. Just enter your dates to find what's available, see the best rates, and make your reservations.