Winter in Boston means skiing - and snowboarding, and other fun outdoor sports.
Massachusetts ski areas near Boston and beyond provide plenty of downhill skiing, snowboarding, snow tubing, and cross country trails.
So choose your experience - your choices range from local slopes and trails to top-end luxury ski resorts.
Our Guide to Massachusetts skiing areas will help you find the best slopes, resorts, and ski vacation packages to get the most from this favorite winter sport.
Article Contents:
As you'll probably notice, we include a couple of ski areas in Southern New Hampshire - so close to Boston that they're almost local.
For slopes beyond Massachusetts and Southern New Hampshire, check out our complete Guide to New England ski areas.
In addition to photos, drive times, distances from Boston, we include details about what you'll find on the mountains to help you decide which one ski area fits your needs the best.
Top photo: Cross country skiing on a Massachusetts trail - Photo credit: istock.com/Murdo
Boston Discovery Guide is a reader-supported publication. When you buy through our links, we may earn a commission at no additional cost for you. Learn more
---
Massachusetts Ski Areas Closest to Boston
Nashoba Valley Ski Area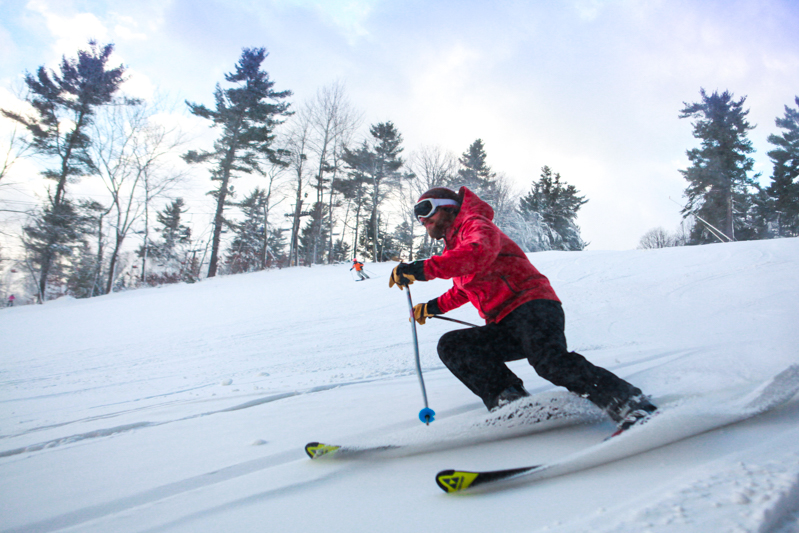 Although Nashoba Valley Ski Area isn't as fancy or as big as many of the New England ski resorts in New Hampshire, Vermont, and Maine, it has grown during the past few years yet still retains its comfortable, relaxed atmosphere while providing excellent skiing near Boston.
With 16 trails ranging from beginner to expert and 8 lifts, Nashoba offers snow tubing, racing, and snowboarding in addition to down-hill skiing. Equipment rentals and lessons (individual and group) are available. Open from mid-to-late November to mid-March, depending on the weather.
Favorite things about Nashoba:
Only 45 minutes from Boston; one of the easiest-to-reach Massachusetts ski areas (dash over at the end of the day for some night skiing)
2 terrain parks
Lift lines are usually fairly short, and trails are well-groomed
Good place to take lessons; lessons are usually easy to arrange at the last minute
Rates for lifts and rentals are a little pricey - but hey, you're only 45 minutes from the city!
Comfortable lodge; good burgers and fries
Where to stay - and get a Stay and Ski (or Tube) package
Of course, you really don't have to stay anywhere if you're coming from Boston. But why not maximize your time on the slopes - especially since Stay and Ski (or Tube and Stay) packages are available from two hotels in nearby (2 miles away) Westford.
Packages include a couple of ski lift (or snow tube) tickets, plus regular hotel amenities - including indoor swimming pools. Rates for these ski and stay packages usually save you lots of money.
Prices vary so if you want to make sure you're getting a good deal, check for the lowest discount rates through Trip Advisor, and then call the hotel directly to check package rates with the tickets.
Nashoba Address: 79 Powers Road, Westford, MA - or just follow the many signs saying "Nashoba Valley Ski Area"
More information: 978-962-3033; Nashoba website
Weston Ski Track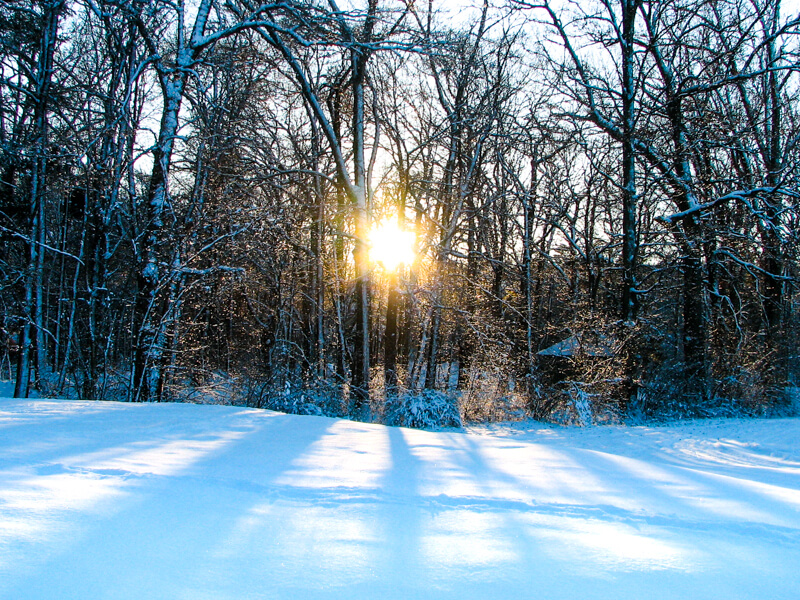 Located at the MDC Leo Martin Golf Course in Weston, the Westin Ski Track provides trails, equipment, and lessons for cross-country skiing and snow-shoeing just 30 minutes west of Boston. 15 kilometer course on mostly level ground.
What's great about Weston Ski Track
Snowmaking equipment!!! (for 2 kilometers of the trail)
Cross-country skiing, skate skiing, and snowshoeing lessons
Affordable rental and access rates
Night skiing
Wide range of lessons; very focused on beginning skiers, fitness, and enjoyment of the outdoors
Very close to Boston!
Address: 198 Park Road, Weston, MA
More information about this Massachusetts ski area: 978-962-3033; Weston Ski Track website: http://www.skiboston.com
Great Brook Ski Touring Center
Located in the Great Brook Farm State Park in Carlisle just 25 miles west of downtown Boston, Great Brook Ski Touring Center offers cross-country skiing. Open between December 1 - March 20 (when the weather cooperates), the 10 miles of machine-groomed trails provide various levels of challenge, although most are almost flat and perfect for beginners.
What you'll love about skiing here:
Beautiful scenery as you ski past farmland, forests, streams, and ponds
Very affordable fees and equipment rentals (plus you can rent snowshoes if you don't want to ski)
Skiing by lantern light on Tuesday and Thursday evenings - try this when the moon is full for an especially memorable experience
Hot chocolate and snacks by the wood stove in the rustic lodge
If you have your own equipment, you can use the Park's ungroomed trails for free (you can also walk or ride a horse on the ungroomed trails)
Address: 1018 Lowell Street, Carlisle, MA
More information about this Massachusetts ski area: 978-369-7486; Great Brook website
Blue Hills Ski Area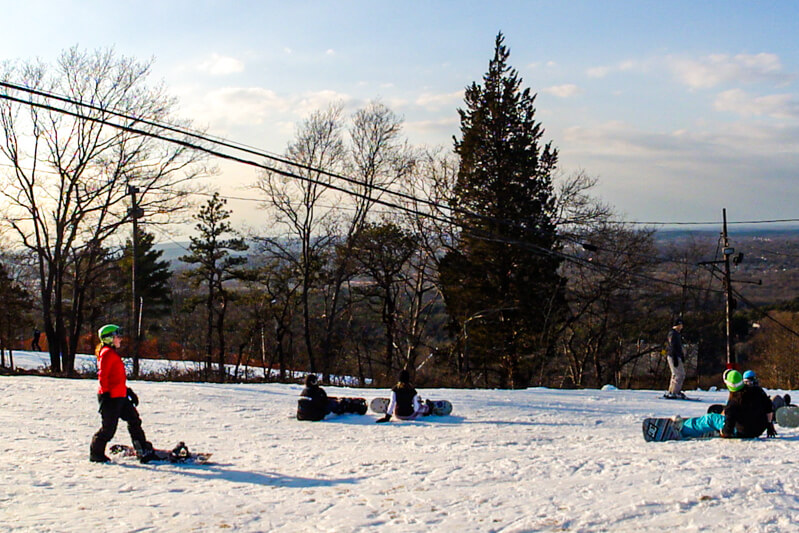 The Blue Hills Ski Area is part of the Blue Hills Reservation, owned by the Department of Conservation and Recreation (DCR) of the Commonwealth of Massachusetts. A number of companies have leased and managed the resort through the years, with mixed results. The present company has made some good improvements, and there's now a lot to love at Blue Hills.
This Massachusetts ski area covers about 60 acres, with about 80% snowmaking coverage. There's a vertical drop of 309 feet, 9 trails, and 4 lifts. About half the area is lighted at night.
What you'll like:
About 30 minutes south of Boston
Reasonable rates for lift tickets, rentals, and lessons
Lessons for skiing and snowboarding
Family-oriented
Relaxed; good place to learn
Lovely views
Address: 4001 Washington Street, Canton, MA
More information: 781-828-5070; Blue Hills website
Gateway Hills Snow Park
Newly opened, Gateway Hills Snow Park is a progression terrain park open to skiers and snowboarders. Its location just across the New Hampshire border in Nashua makes it fast and easy to reach from Boston.
So even though Gatewill Hills not in Massachusetts, it's a good choice to consider when you want a close, convenient location.
With small-to-midsize features and beginner terrain, Gateway Hills is perfect for beginnning skiers and snowboarders, and welcomes people of all ages and abilities.
What you'll like:
100% snow-making coverage
250-foot magic carpet
Boxes, rails, and jumps
Professional instruction in skiing and snowboarding for all ages
Relaxed; good place to learn
Affordable park passes, lessons, and rentals
Address: 310 Innovative Way, Nashua, NH
More information: 1-603-821-9168; Gateway Hills website
New England Ski Resorts for Day Trips & Long Weekends
The two New England ski resorts closest to Boston - one in Massachusetts, one in Southern New Hampshire - are only about 90 minutes away.
You can easily drive there and back from Boston in a day - but they also make great weekend destinations. Even better, you can get to both without a car, thanks to transportation arrangements made by the resorts.
"Resorts" may not be quite the correct word . . . although both of these Massachusetts ski areas offer nearby lodging, the focus is on comfortable rather than fancy - but they're perfect if your focus is on the slopes rather than spa treatments.
Wachusett Mountain
At slightly over 2,000 feet tall and with a vertical drop of 1,000 feet, Wachusett is the highest mountain in Massachusetts east of the Connecticut River - even though "Wachusett" means "Great Hill" in Algonquin. 
Wachusett has 110 ski-able acres and 25 trails, divided fairly evenly between Beginner, Intermediate, and Expert.
Snowboarding is big here also.
Massive snowmaking capabilities mean even when there's no snow in Boston, there's plenty on the mountain.
Wachusett is the only Massachusetts ski area near Boston with its own lodging, making it a true ski resort.
An easy 90-minute drive west from Boston brings you to Wachusett Mountain - and the Ski Train from North Station (see below) gets you there even faster.
What you'll like:
Long season - open from the Friday after Thanksgiving through (normally) early April
Large, full-service ski and snowboard school for all ages plus extensive children's programs; lessons give you a great deal because they provide instruction, equipment, and a lift ticket
Resort events, including an annual Polar Express Celebration in mid-December, a huge New Year's Eve party with entertainment and fireworks, and the Nature Vally NASTAR Open in January
Large lodge, multiple dining and drinking options
You can take the Ski Train from Boston (i.e., the commuter rail from North Station to Fitchburg, where on Saturdays and Sundays, a special shuttle will take you to and from Wachusett.
Address: 499 Mountain Road, Princeton, MA
More information: 978-464-2300; Wachusett Mountain website
Pats Peak
Just 90 minutes north of Boston near the small Southern New Hampshire village of Henniker, Pats Peak boasts some of the longest and steepest pitches in Southern New Hampshire.
With 22 trails and slopes, 10 lifts, a summit elevation of 1,400 feet, a vertical drop of 710 feet, and 100% snowmaking all season, you'll find lots of good skiing here.
What you'll like:
Night skiing on 100% of the mountain starting in late December - only beginner run in the state open day and night!
Snow tubing on weekends, holidays, and school vacation weeks
Lots of ski and snowboard instructors for all ages
Homemade food in the cafeteria and pub food in the pub
Affordable lodging nearby at Henniker Motel (check for ski and stay packages)
Bus service from Boston on Saturdays - find details on their website: www.patspeak.com
Address: 686 Flanders Road, Henniker, NH
More information: 1-888-728-7732; Pats Peak website
Luxury Ski Resort Options in the Berkshires
If you're looking for luxury ski resorts in Massachusetts, the Berkshire mountains are where you'll find them - along with many affordable options as well.
Berkshires ski resorts attract more visitors from New York and western Massachusetts rather than Boston, which is 2 1/2 - 3 hours away. Bostonians tend to go north to New England ski resorts in New Hampshire and Maine, many of which are closer.
However, you'll find terrific ski slopes in the Berkshires along with a lot of beautiful scenery, great restaurants, quaint villages, and cultural offerings such as museums, galleries, and performing arts.
Here are 2 of the biggest and best known of these Western Massachusetts ski areas:
Jiminy Peak - Hancock
A true luxury ski resort and the largest in Southern New England, with excellent ski slopes and deluxe lodgings all in one spot.
Jiminy Peak is located in the village of Hancock, nestled in the northern Berkshires where you'll experience stunning views and the sense of being in another world. This corner of the Berkshires is known for its rich cultural offerings, and is popular throughout the year.
With an elevation of 2,380 feet, a vertical rise of 1,150 feet, 170 acres, 45 trails, and 9 lifts, Jiminy Peak is a skier's paradise. Add to this an average annual snowfall of 100 inches, almost 100% snowmaking coverage, and a run of almost 2 miles, and you can see why you might want to head west from Boston.
Jiminy Peak offers all the services and amenities that you'd expect in a luxury ski resort - all levels of lessons, a children's programs, several terrain parks for snowboarding, and lots of special touches such as occasional fireworks.
Jiminy Peak address: 37 Corey Road, Hancock, MA
More information: 413-738-5500
Where to stay:
Vacation Village Resorts at Berkshires, Hancock - High-end resort near Jiminy Peak, with indoor and outdoor swimming, tennis, a spa. Designed for year-round enjoyment, in addition to being a popular Massachusetts ski area.
Bentley Brook Resort in Hancock - Owned by the Wyndham Hotel Group, Bentley Brook Resort is located at the foot of Jiminy Peak Mountain ski slopes, only 200 feet from the chair lifts taking you up the mountain to ski. Deluxe accommodations range from studios to 2-bedroom suites.
Butternut Basin
At 110 skiable acres, Butternut is big . . . and with 22 downhill ski trails, 12 lifts, and a 5-lane tubing center, you'll find plenty to enjoy. Extensive snow-making equipment ensures that you'll have plenty of white stuff to ski on.
Butternut features a large professional ski school, designed to get everyone to at least an intermediate level quickly.
Located in picturesque Great Barrington, Butternut is close to several relatively economical places to stay and dine. When you're not on the slopes, you can explore local museums, shops, galleries, and theater.
At many of the reasonably-priced lodgings near Butternut, you'll also be given a discount voucher to apply toward your lift tickets.
Address: 380 State Road, Route 23, Great Barrington, MA
More information about this Western Massachusetts ski area: 413-528-2000; www.skibutternut.com
Find the best deals on Great Barrington hotels near Butternut Basin, plus reviews from other travelers
---
Wyndhurst Resort Spa and Club - Lenox
This 4-diamond Berkshires luxury resort is best known for golf, its extensive spa services, and the sweeping vistas offered by its spectacular estate setting.
By comparison, Cranwell's winter cross-country skiing, ice skating, and snowshoeing falls into the "hidden secrets" category.
But if you're looking for a romantic weekend where you can combine gourmet dining with some exercise and serious pampering, this is where you'll want to make reservations. In addition to the skiing, you can also enjoy the luxurious glass-walled indoor swimming pool.
As for the skiing . . . you can take lessons, and rent equipment or bring your own. If you're staying at the hotel, admission to the rink is free.
For downhill skiing, head over to nearby Jiminy Peak or Butternut.
What you'll like here:
Everything . . . there's a lot to love here!
Location: Lenox, MA
Rates: Find out more about Wyndhurst Resort Spa & Club
---
More to See & Do in Boston
Fun Winter Activities in Boston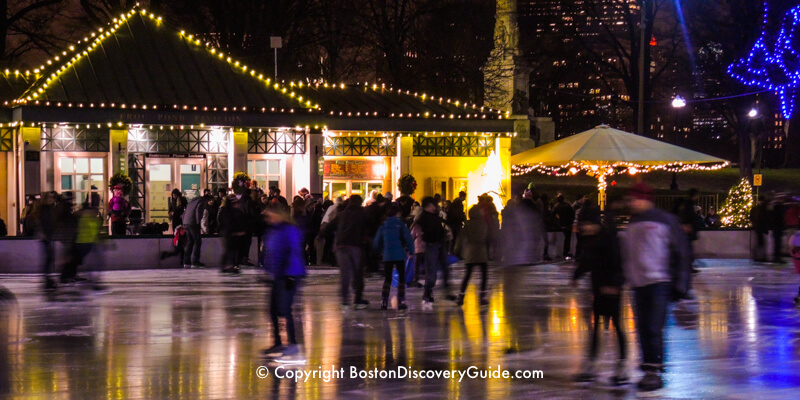 Explore Boston the fun way on these interesting city tours:
---
More Articles about Skiing near Boston