First Night Boston welcomes 2022 with a huge New Year's Eve celebration and fireworks - the city's biggest New Year's Eve party!
First Night festivities include bedtime-friendly (for those with young children) fireworks over Boston Common at 7pm, spectacular fireworks over Boston Harbor launched across from the North End Waterfront and Seaport at midnight, a dramatic pyrotechnic show at midnight in Copley Square, a huge People's Procession parade down Boylston Street, lots of family-friendly activities, live musical performances, and spectacular ice sculptures by renowned artists.
Over 1 million revelers typically turn out for Boston's signature New Year's Eve event.
First Night Boston is the oldest New Year's Eve event of this type in the U.S., and is celebrating its 42nd anniversary this year. It's fun, alcohol-free, and designed to entertain the whole family. It has inspired dozens of similar events across the country.
First Night has been part of what makes our city special since 1976, and continues to be the top Boston New Year's Eve celebration.
Plan to be among them for Boston's First Night gala!
Find out about other New Year's Eve Events in Boston
Find out about New Year's Eve parties in Boston
First Night Boston Events & Activities: What to Expect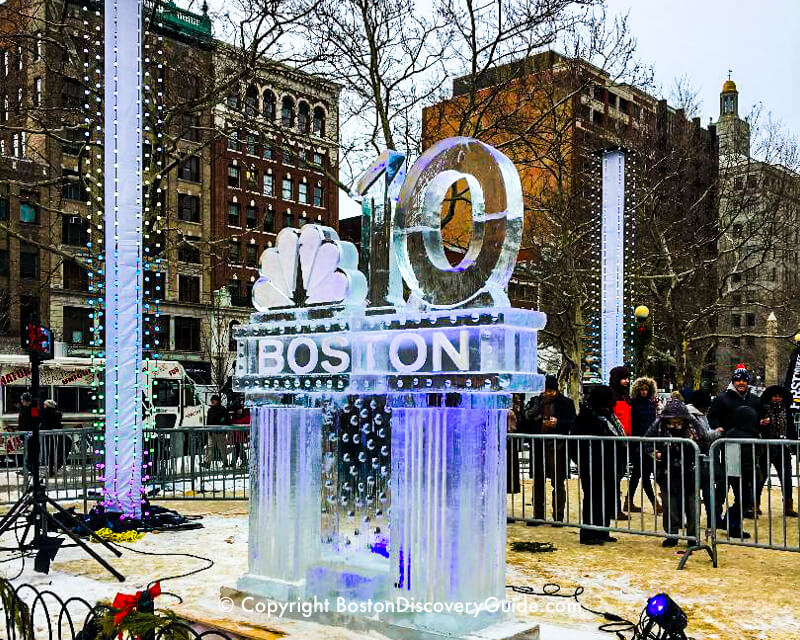 Official First Night 2021 entertainment, ice sculptures, and other special attractions will take place in Copley Square, Boston Common, and Boston Harbor.
Festivities include:
Family-friendly activities and arts performances at Copley Square locations such as the Boston Public Library (both buildings), Copley Place Mall, and Copley Square starting at 12 noon and concluding with the Family Fireworks on Boston common
A special Jubilee Day concert by the Handel & Haydn Society in Trinity Church at 1pm
Organ concerts at Old South Church at 3pm and First Church of Christ Scientist at 4pm; "Pipes and Pops" concerts at Old South at 6pm and 8pm
Additional arts and music performances in Copley Square throughout the afternoon and non-stop through the evening until midnight
Ice sculptures this year feature famous monuments from around the world in Copley Square. Look for more sculptures at Boston Public Library, other sites in Back Bay (Four Seasons Hotel at 200 Boylston, Newsfeed Cafe/WGBH at the corner of Exeter and Boylston, and more), and at Frog Pond in Boston Common
An Ice Sculpture Stroll and other New Year's Eve activities take place along Harborwalk near the Waterfront - more information
A spectacular People's Procession down Boylston Street from Copley Square to the Common starting at 6pm
Free figure skating show on the Frog Pond ice rink on Boston Common, 5:30pm-7pm (please note - the rink closes at 4pm for public skating in order to set up for the show, and it remains closed after the show - so do your skating earlier in the day!)
Family Fireworks at Boston Common at 7pm
Countdown to Midnight with pyrotecnics and a light show in Copley Square at midnight
Midnight Fireworks Show over Boston Harbor across from the North End and Seaport welcome the New Year!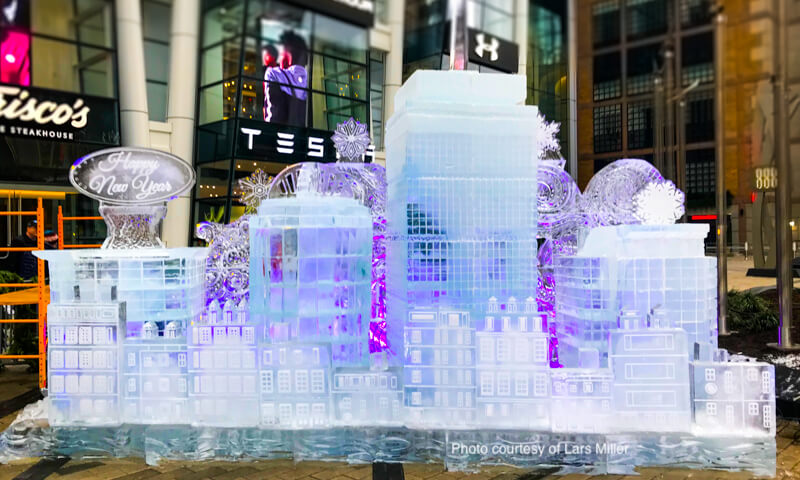 ---
Essentials: First Night Boston
When: New Year's Eve, December 31st, from 12 noon to just past midnight
Where: Copley Square (and indoor locations such as Boston Public Library near Copley), Boston Common, Boston Harbor
Cost: All official First Night entertainment and special attractions are free
Boston hotels for New Year's Eve
- More about Boston New Year's Eve hotel discounts, special packages, and deals
Public Transportation for First Night: MBTA provides an extended subway and commuter rail schedule for First Night until 2am. Find more information about subway, rail, and bus service on New Year's Eve here
Parking: Parking bans will be in effect in some areas. Taking the T, Boston's subway, is best. If you do drive, you can find fee-based parking near Copley Square in Prudential Center, Copley Place Garage, and 200 Clarendon Street Garage.
Road closures: Several streets in the vicinity of Copley Square will be closed on Dec 31 and Jan 1, and Boylston Street (parade route) will be closed on Dec 31 from 5:30pm-7:30pm.
First Night Buttons: If you remember these from earlier years, good news: they're no longer needed. All First Night Boston events are now free.
---
More about First Night Ice Sculptures
Giant ice sculptures by renowned ice artists are a signature event of First Night and draw huge crowds of spectators.
Look for the huge sculptures at Copley Square, Back Bay, and Frog Pond in Boston Common.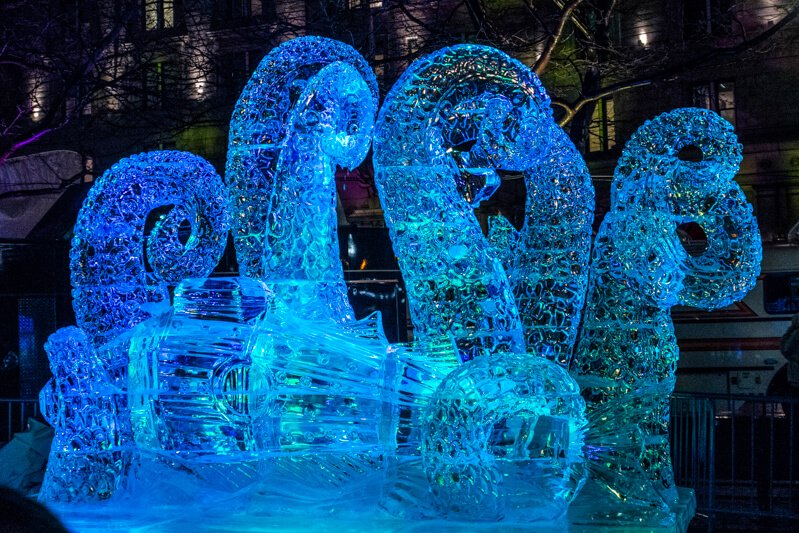 If you've never see ice sculptures taking shape before, you owe it to yourself to head over to Copley Square and watch these magicians at work.
Each finished sculpture weighs 30-45 tons, so you can imagine the massive blocks of ice required for making them. Sculpturing chunks of ice this huge is not a dainty process - ice artists use chain saws to carve their elaborate works of art.
The best time to watch the ice artists carve the sculptures is usually in the morning of New Year's Eve, December 31st.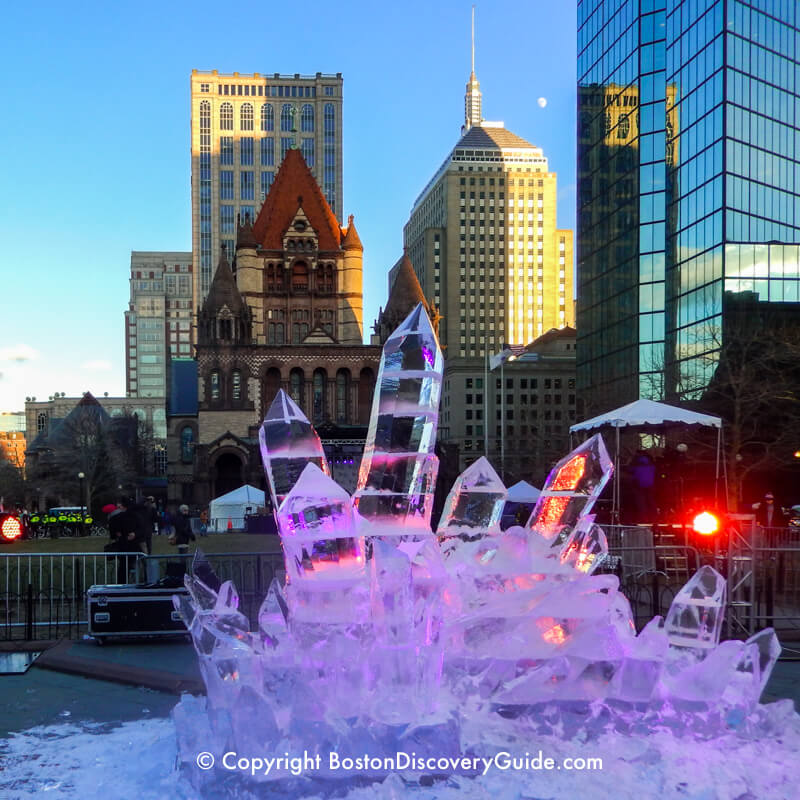 The artists start as early as 9am - sometimes even earlier if the temperature is abnormally warm. If the weather is going to be reliably cold, some sculptors may start working a few days in advance. Sculptures usually are finished by noon on the 31st.
The huge ice sculptures look spectacular after dark on New Year's Eve when they're lit by brilliant colored lights.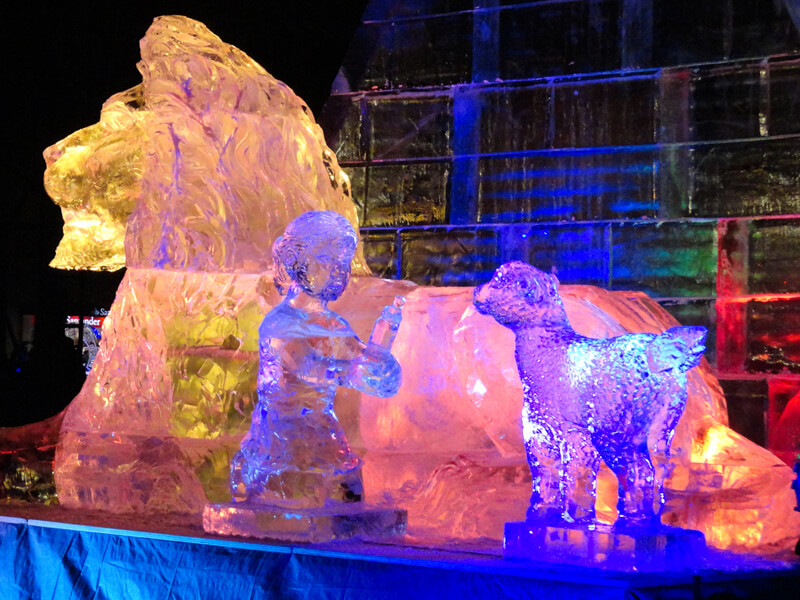 ---
First Night Family Events and Fireworks
First Night Boston offers numerous family oriented events from 12 noon to 4pm in the Copley Square area, as well as early-evening fireworks at 7pm on Boston Common.
You'll find plenty of children's events throughout the afternoon hours. Puppets, acrobats, face painting, arts and crafts, music, jugglers, story tellers, crafts, and performers provide family-friendly entertainment.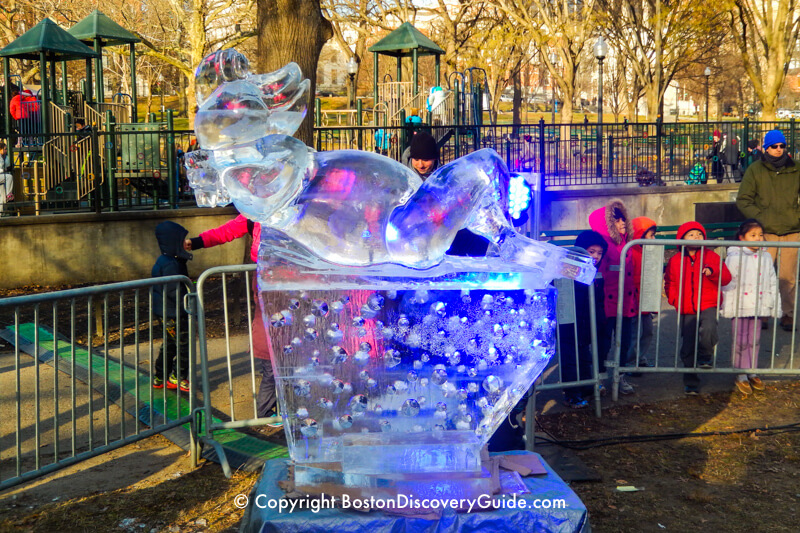 The sparkling lights on about 80 trees on the Common and in the Public Garden add to the festive spirit.
At 7pm, 12 minutes of Boston Family Fireworks launch from the Common's ballfield. The best place to watch the fireworks is from the sloping hill across from the field, but you can also get a decent view from most other parts of the Common.
If you have young children, the early hour lets you celebrate the New Year with them - and get everyone to bed at a reasonable hour.
If you have older kids or teens, head back to Copley Square after the fireworks and enjoy the live music and other activities from 6pm - midnight.
New Year's Eve Fireworks on Boston Harbor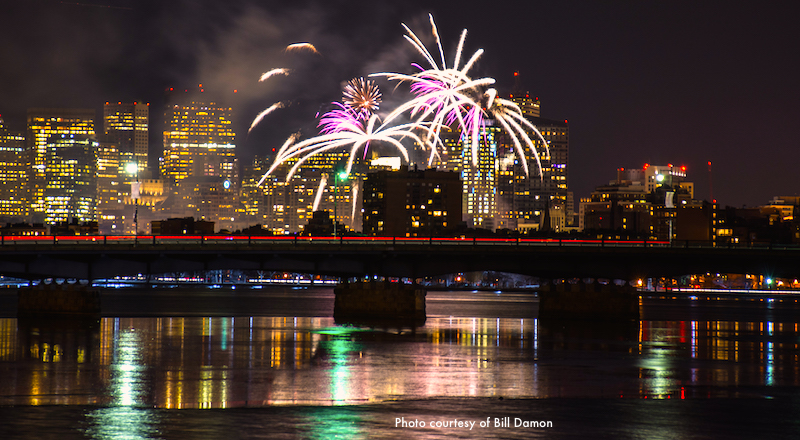 Head over to the waterfront to ring in the New Year by watching fireworks over Boston Harbor at midnight.
The best place to watch? Any spot along the waterfront overlooking Boston Harbor, such as the North End (including Christopher Columbus Park), the Downtown Waterfront, South Boston Waterfront, East Boston, Charlestown, Castle Island.
Another fun way to watch (or to celebrate New Year's Day:
New Year's Eve Cruise - Say goodbye to 2021 and welcome 2022 on this festive Boston Harbor cruise with music and gourmet appetizers; purchase the beverage of your choice onboard - or pre-order a bottle of Moet & Chandon when you book - Book now
New Year's Day Brunch Cruise - Welcome the New Year with a tasty hot 3-course brunch on this relaxing sightseeing tour around Boston Harbor - Book now
The fireworks display is sponsored by Friends of Christopher Columbus Park, the organization that is also responsible for the gorgeous lighted trellis and all the many activities that take place in this gorgeous waterfront park - the gateway to Boston's North End!
---
Countdown to Midnight on New Year's Eve - Where to Watch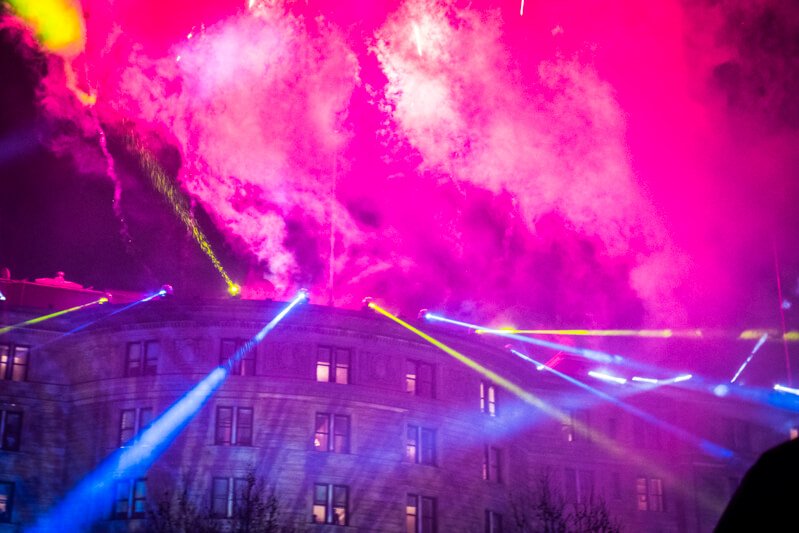 At just before 12am, Countdown to Midnight begins at Copley Square. When the clock strikes 12, a fabulous pyrotechnics display and light show over Copley Square welcomes the first day of the New Year.
The best place to watch will be in Copley Square - or, if you want to stay warm, from your room at a hotel room overlooking the Square.
The two hotels with the best direct views are the luxurious Fairmont Copley Plaza and the affordable Charlesmark Hotel. If you want a room overlooking Copley Square, be sure to confirm availability directly with the hotel.
---
First Night (& First Day) on the Waterfront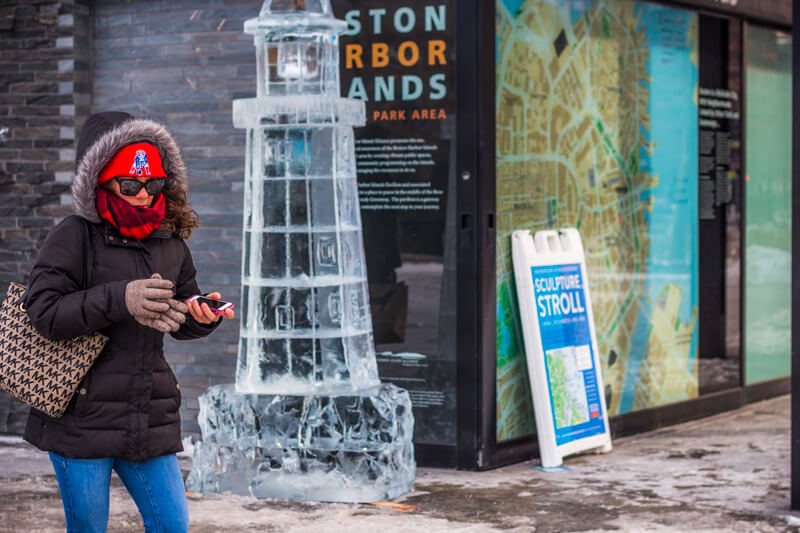 In addition to the Midnight Fireworks on Boston Harbor, an Ice Sculpture Scroll with 19 locations plus lots more mostly free fun First Night activities take place along the North End, Downtown, and Seaport Waterfronts on New Year's Eve and New Year's Day.
---
Q & A about First Night: You ask, we'll answer . . .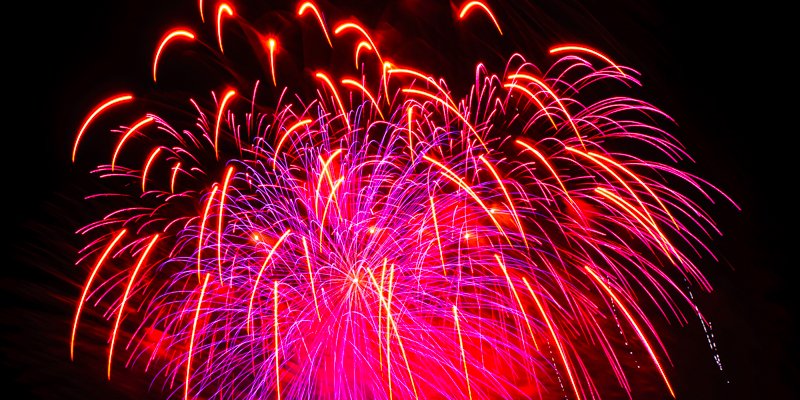 Where to have dinner near the 7pm First Night Fireworks?
Folks I know are going to Chinatown for dinner and then to First Night fireworks on Boston Common at 7 pm. I'm vegetarian and they're not.
Where would you recommend . . . see our recommendations about vegetarian and vegan places to dine in Chinatown and near Copley Square
---
More Things to Do in Boston
---
More to Do in Boston in December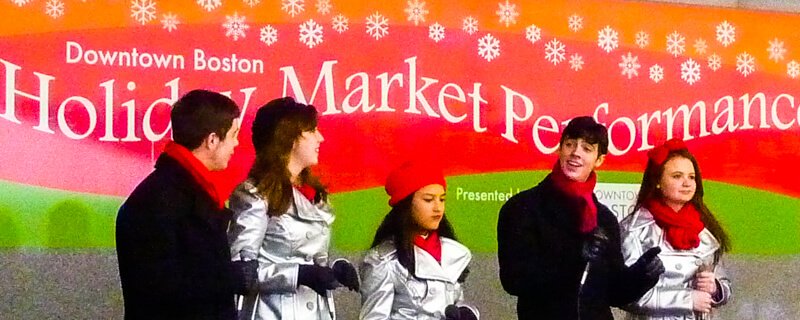 Check Out More Top Boston Events Each Month
January | February | March | April | May | June | July | August | September | October | November | December | Year at a Glance
---
More Articles about New Year's Eve in Boston
---
Need a Boston Hotel or Apartment?
Use this handy map from Booking.com to find the perfect place to stay. Just enter your dates to find what's available, see the best rates, and make your reservations.