Are you looking for interesting things to do in Boston in December?
There's a lot to do this month - holiday shows in the theaters, lots of sports events with the Bruins, Patriots, and Celtics in play, winter holiday markets, holiday cruises around Boston Harbor, fantastic lights and decorations everywhere, and ice skating and skiing nearby to help you work off all the calories from yummy holiday food - plus much more!
Christmas and Hanukkah themes dominate Boston theater and holiday concerts on the cultural calendar this month, and our sports teams play almost every day.
December days are short and sometimes cold - but festive lights sparkle across the city, winter activities move into high gear, and Boston holiday shoppers fill the streets and stores.
If your Boston travel plans include New Year's Eve, be sure to join the family-friendly gala First Night celebrations in Boston Common and Copley Square, where as many as 1 million people turn out for this popular end-of-December event.
Wondering what to pack? December weather ranges from balmy to rather cold, and can be unpredictable. Your best bet is to bring a warm jacket, hat, and gloves, plus a sweater or two to layer. And boots are always a good idea this month.
Need more suggestions about what to do in Boston in December? Check the December Events Calendar.
10 Top Things to Do in Boston in December
1. Watch the City Light Up
Boston's holiday season officially begins at the annual holiday lighting ceremony on Boston Common, when Boston's mayor flips a switch setting the city's magnificent Christmas tree and 80+ other trees ablaze with sparkling lights.
The Christmas tree, an annual gift from the citizens of Nova Scotia since 1961, commemorates help given by Boston citizens after a devastating 1917 explosion of a munitions ship in Halifax Harbor killed over 2,000 people.
The tree-lighting ceremony usually occurs at the beginning of the month. Check the Holiday Tree Lighting Ceremonies Schedule for details about the Boston Common festivities as well as all the others.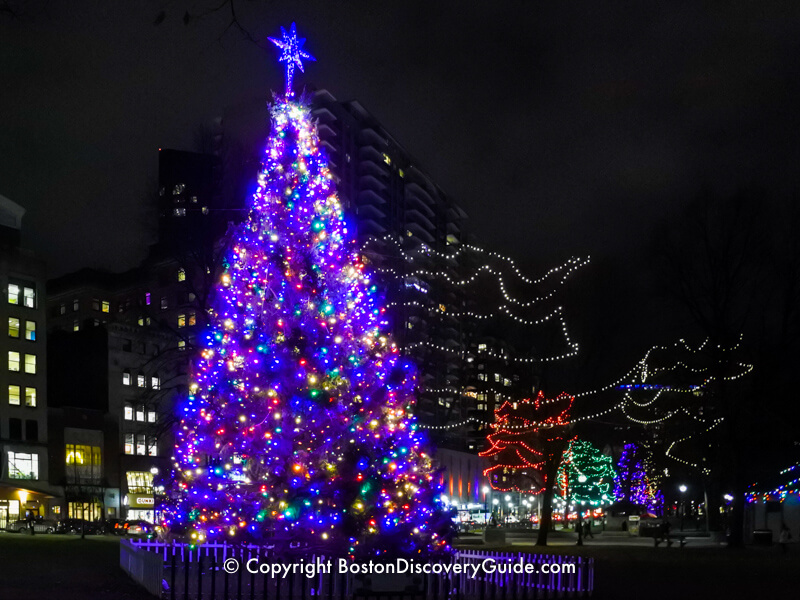 2. Frigid Outside? Or Sleeting? You Need Foul Weather Plans
December weather in Boston can be unpredictable - and occasionally rather nasty.
When a nor'easter blows and sleet slices through the air sideways, you'll want a warm, entertaining refuge - such as a show, concert, or a heated tour.
Here's a quick overview of popular choices:
December Shows & Concerts in Boston
Three spectacular holiday shows are especially popular during December: Holiday Pops, The Nutcracker, and Disney on Ice, although of course there's a lot more going on if you need more choices.
Use these discount codes to save a few dollars on tickets:
TicketLiquidator Discount Code - Enter TLFALL to get $10 off orders of $250+
TicketNetwork Discount Code - Enter TNTIX to get $10 off orders of $300+

Boston Ballet's The Nutcracker Schedule & Tickets
More Nutcracker Dates & Tickets
Holiday Pops Schedule & Tickets
More Holiday Pops Dates & Tickets
Disney on Ice Schedule & Tickets
More Disney on Ice Performances & Tickets
Boston Concerts during December
See All December Concerts in Boston
December Sports Events at TD Garden
Watch the Boston Celtics and Bruins and the Harlem Globetrotters at Boston's premier entertainment venue, TD Garden, conveniently located right in the center of the city:
TicketLiquidator Discount Code - Enter TLFALL to get $10 off orders of $250+
TicketNetwork Discount Code - Enter TNTIX to get $10 off orders of $300+

Toasty Warm Ways to Tour Boston
With these exciting trolley tours, bus tours, and indoor destinations, you get to see the best of the city while staying warm and dry!
Two Easy Ways to Save BIG in Boston
Find out more about Boston discount cards, and how they let you save big on top attractions.
3. Take a Special Holiday Cruise around Boston Harbor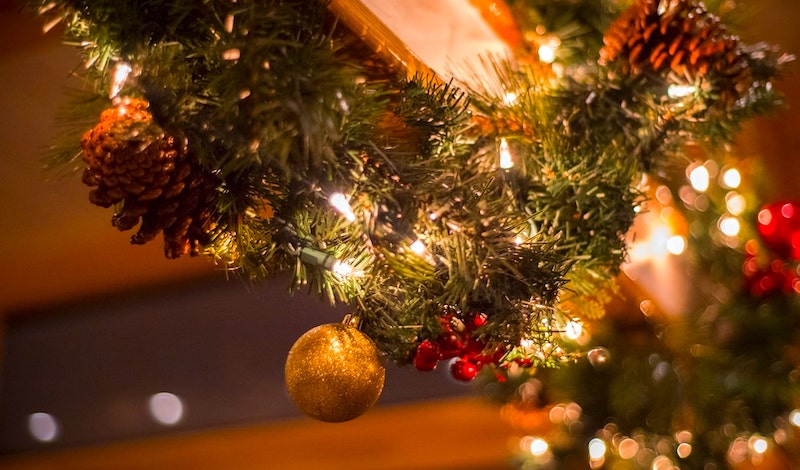 These special holiday cruises take place aboard the Northern Lights, a fully-enclosed 1920s-style luxury New England yacht, where you'll sit back, relax, and get into the spirit of the season while enjoying incomparable city skyline views as you cruise around Boston Harbor:
Celebrate the holidays while relaxing and sightseeing on the elegant yacht Northern Lights, lavishly decorated for the holidays, on these special cruises around Boston Harbor:
With the New Year coming up soon, the Northern Lights also offers special New Year's Eve and New Year's Day cruises around Boston Harbor:
- New Year's Eve Cruise with live music, dancing, hors d'oeuvres, & more
- New Year's Day Brunch aboard Northern Lights
4. Twirl Around the Ice
If you want to feel like you're bringing a Currier & Ives print to life, head to the seasonal ice rink at Frog Pond on Boston Common in late afternoon, rent some ice skates, and twirl around the ice skating rink.
The holiday lights covering the surrounding trees sparkle overhead, and in the background you'll see even more lights gleaming in the stately mansions of Beacon Hill. A "life is good!" feeling will sweep over you.
Find out about ice skating rinks in Boston & Cambridge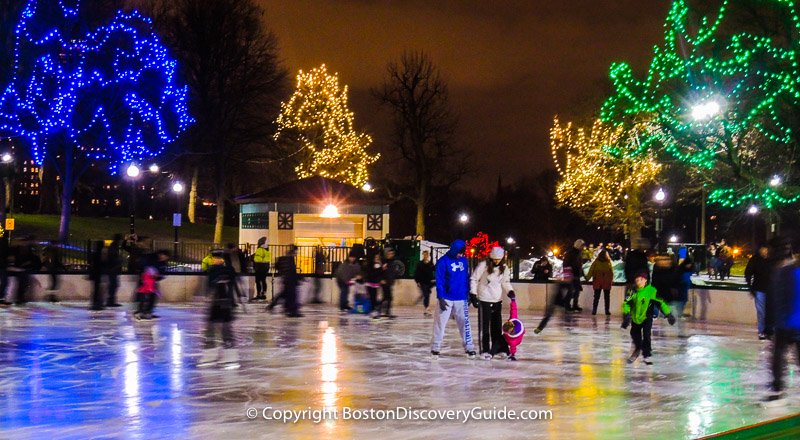 5. Ski Down Some Nearby Slopes - or Frolic in the Snow in Boston!
If ice skating on Frog Pond has whetted your appetite for more winter sports, check out some of the ski slopes and cross country trails at Massachusetts ski areas near Boston. Within 45 - 60 minutes, you can be hitting the trails.
If you're lucky enough to be in Boston during or after a December snowfall, you don't have to leave the city to have fun in the snow. Spend some time walking around enjoying the magic sparkle of sunshine on the snow during the day, and the glitter of holiday lights reflecting on the white blanket at night.
One of most exhilarating things to do in Boston in December with kids (or for that matter, grown-ups) is to make a snowman. Head to Boston Common or the Rose Kennedy Greenway, where you'll find open expanses with plenty of snow. Sledding is even possible on Boston Common!
6. Sip Hot Mulled Wine, Enjoy Art, and Shop at SoWa Boston's Winter Holiday Market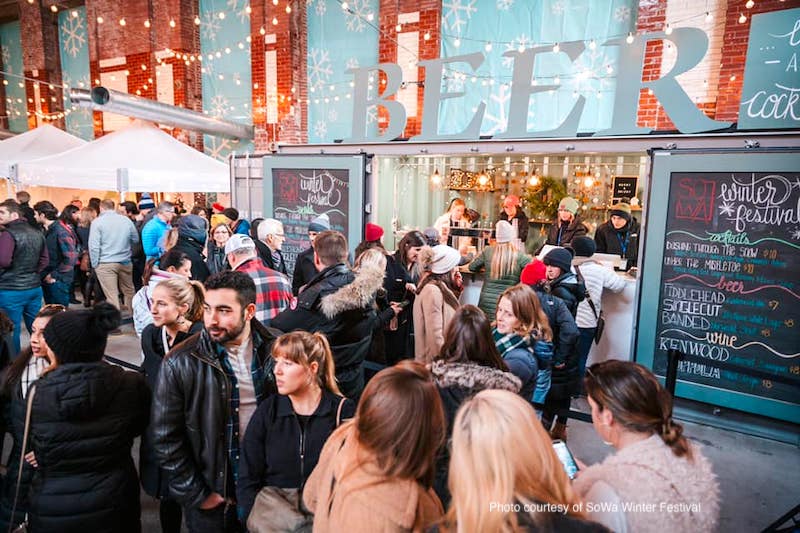 Enjoy hot mulled wine, Bailey's hot cocoa, and plenty of other good things to sip and nibble on while you explore SoWa's festive winter shopping village - it's the biggest Holiday Market in Boston this year!
You'll get to see live ice sculpting, holiday workshops, 130+ vendors, galleries, artist studios, and boutiques - plus it's the perfect way to get all your holiday shopping done in one place at this family-friendly event.
Sowa's Holiday Market usually takes place on the first Friday, Saturday, and Sunday in December - but check the Boston Events Calendar for December for exact dates.
7. Shop, Shop, Shop!
Without a doubt, shopping is one of the top things to do in Boston in December!
Stores sparkle with holiday lights and colorful decorations, and everyone is in a festive spirit.
Lots of pre-Christmas and after-Christmas discounts add to the thrill of the hunt.
Faneuil Hall / Quincy Market (check out the gorgeous Christmas tree!), Prudential Center, and Newbury Street look especially spectacular, but you'll also find wonderful boutiques everywhere - the North End, the South End, Downtown Crossing, Beacon Hill, Seaport, and Harvard Square in Cambridge.
Find more tips on holiday shopping in Boston.
---
8. Cheer for your Favorite Team!
Boston Bruins and Boston Celtics fans can find plenty of action right in the city at easy-to-reach TD Garden, with games almost every day:
More Bruins and Celtics Games & Tickets: December | All Months
TicketLiquidator Discount Code - Enter TLFALL to get $10 off orders of $250+
TicketNetwork Discount Code - Enter TNTIX to get $10 off orders of $300+

New England Patriots fans can head down to Gillette Stadium:
More Patriots Games & Tickets: All Months
TicketLiquidator Discount Code - Enter TLFALL to get $10 off orders of $250+
TicketNetwork Discount Code - Enter TNTIX to get $10 off orders of $300+

Tips for getting to Gillette Stadium from Boston
9. Celebrate Christmas in Boston
If you're spending Christmas in Boston, you'll quickly discover why this is the most magical season of the year.
Christmas trees sparkle all over the city, and you'll see fabulous decorations everywhere you look. Carolers sing on street corners. Ice skaters twirl around all the local ice rinks, and if we're lucky enough to get snow this month, kids sled down the hills on Boston Common.
But that's just the beginning . . . find out more about why Christmas in Boston is special.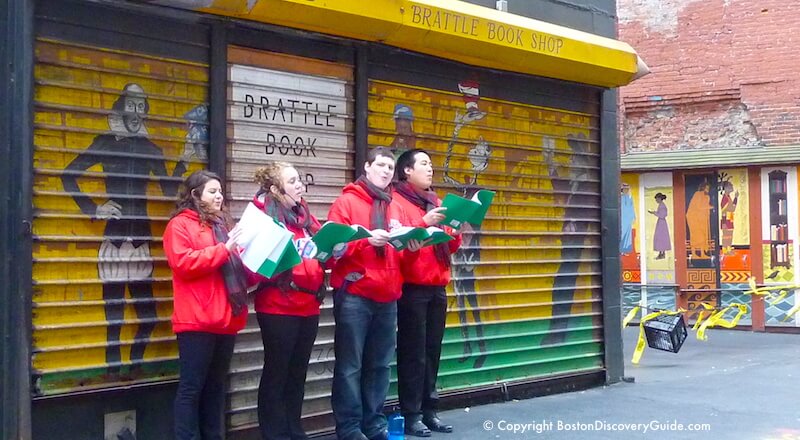 Discount Tickets for Holiday Events
Save BIG on half-price & discount Christmas event tickets from Goldstar
2 Easy Ways to Save BIG in Boston
Find out more about Boston discount cards, and how they give you big savings on top attractions.
10. Reward Yourself
After all that shopping (or ice skating), you need to reward yourself! Head to one of Boston's many wonderful restaurants for a memorable meal ... or to one of our historic taverns for some holiday cheer.
To avoid calorie overload during the holiday season, try one of the fabulous Boston seafood restaurants. Or opt for a warming hot pot meal or sushi in one of Chinatown's trendy restaurants.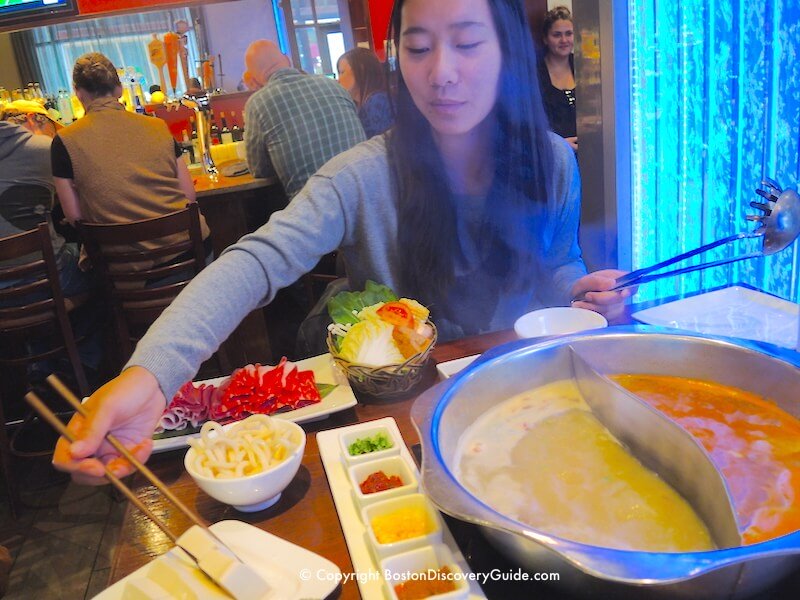 11. Celebrate and Welcome the New Year - at First Night 2019
Bring the year to a spectacular close and celebrate the New Year at First Night Boston, a huge city-wide New Year Eve event. Entertainers, food, performances, fireworks, the Grand Procession - First Night Boston has it all! The million or so Boston residents and visitors who participate will tell you it's their favorite thing to do in Boston in December!
Check out New Years Eve hotel specials . . . or the best Boston hotels with cozy fireplaces.
Celebrate with a New Year's Eve or New Year's Day cruise around Boston Harbor:
Check the Boston Event Calendar for December for details - and put First Night on your calendar now!
Find New Year's Eve Parties in Boston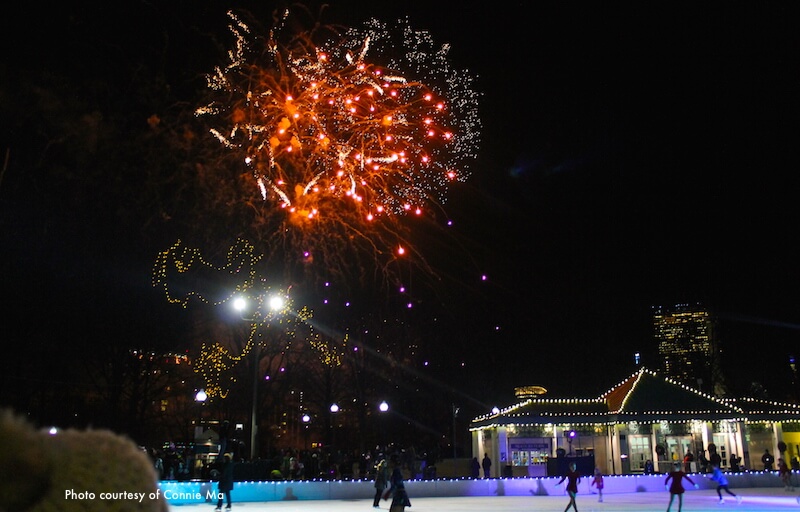 ---
Find a Hotel for Your Boston Visit
Enter your dates to see available hotels and rates:
More about how to save on Boston hotels
Questions & Answers about Christmas in Boston
Romantic Things to Do in Boston during the Christmas Holidays
Hello!  My name is Shelly. I moved to Massachusetts about a year ago but I don't know much about the state. My boyfriend of three years lives in Florida and he is coming to visit for the Christmas holidays . . . More
More Fun Ways to See Boston
More to Do in Boston in December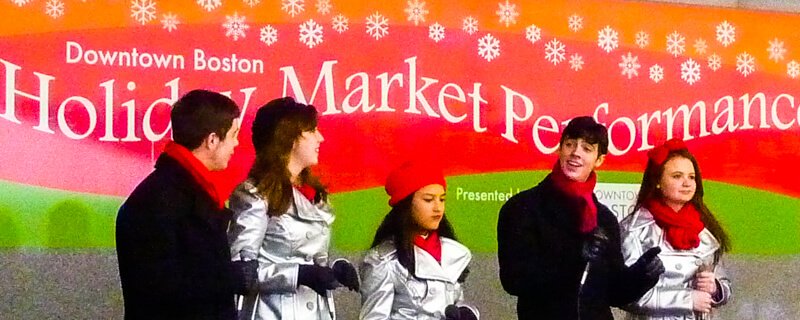 ---
Save with Discount Tickets
Save BIG on half-price & discount tickets from Goldstar
Find more discount Christmas events
---
Check Out More Top Boston Events Each Month
January | February | March | April | May | June | July | August | September | October | November | December | Year at a Glance