Boston beaches provide wonderful escapes from the city without the need to actually leave it - but they fall into the "hidden secrets" category because Cape Cod beaches, Nantucket, and Martha's Vineyard are so much better known.
True, these Boston beaches may not rival the justly-famous beaches on Cape Cod, Martha's Vineyard, or Nantucket, nor are they as beautiful as Crane's Beach in Ipswich, the rugged beaches in Gloucester, or ocean-front beaches in nearby New Hampshire, Maine, or Rhode Island.
However, if you want a place to swim, feel sand between your toes, and relax while soaking up some sun without leaving the city, you'll find a lot to love at these convenient city beaches.
Plus, they offer something that those more famous beaches do not: you can get to them easily and quickly from Boston. Hop on the "T" (Boston's subway), bus, or ferry, and you'll be lying on a blanket on the sand in well under an hour
Here's a roundup of the best, what they offer, and how to reach them on public transportation from Boston.
Revere Beach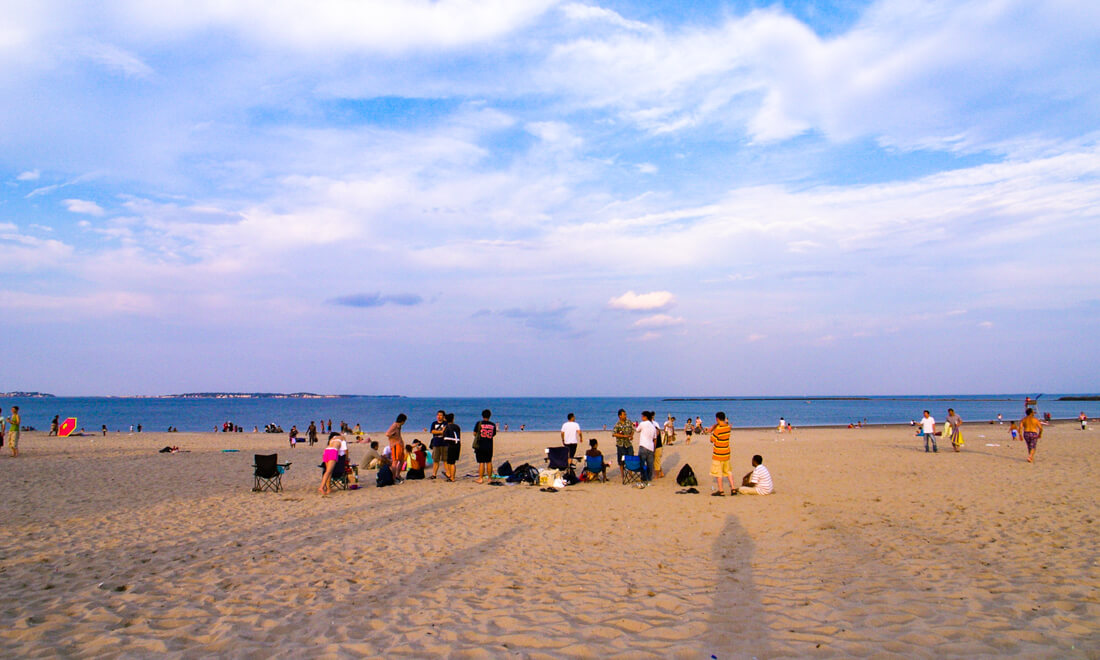 Two mile-long Revere Beach, north of Boston but easily accessible by T, looks east across the Atlantic Ocean and attracts as many as 100,000 visitors on warm summer days.
Established in 1896, Revere Beach also has the distinction of being the oldest public beach in the United States.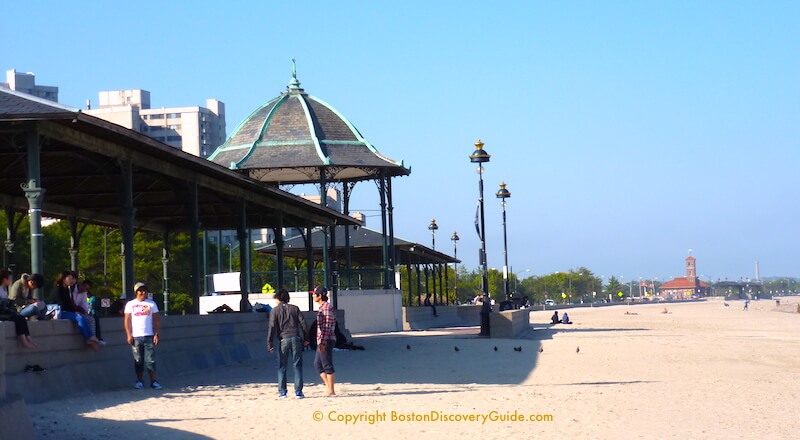 A public bathhouse, Victorian-style pavilions, and plenty of food vendors across the street add to the lively ambiance. Lifeguards are on duty from late June through Labor Day.
If you enjoy crowds and occasional music from radios, Revere Beach can be a blast on the weekends.
If you prefer to avoid big crowds, go early in the morning or after 6:00 in the evening, and avoid the weekends. You'll have the beach to yourself except for a few dog walkers and photographers. Enjoy the spectacular views!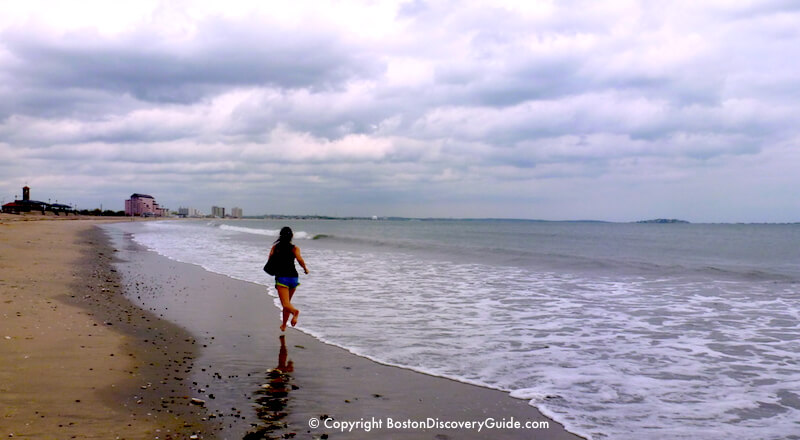 For several days every July, the New England Sand Sculpting Festival brings visitors from all over the world to watch master sand sculptors turn their individual allotments of 10 tons of sand into elaborate although ephemeral pieces of art as they compete for thousands in prize money.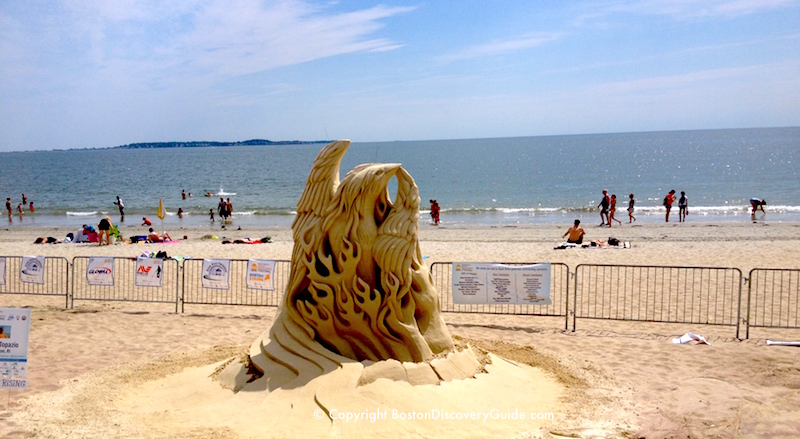 Boston Insider's Tip
For the best beach food, walk across the street to Kelly's Roast Beef (410 Revere Beach Blvd, near Wonderland Station) for a lobster roll or fried clam plate.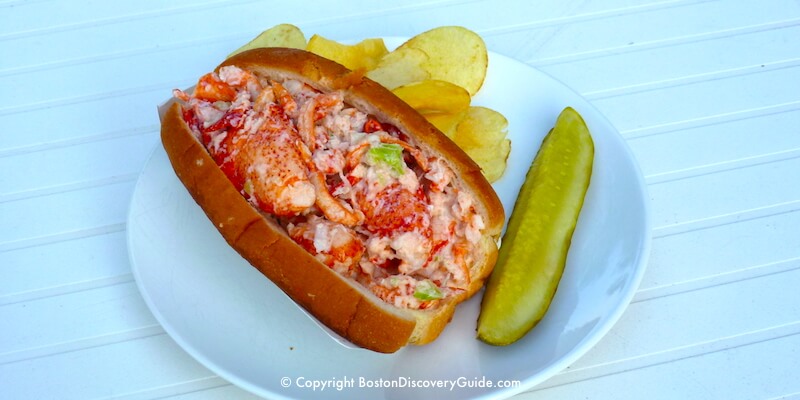 South Boston Beaches
Four South Boston beaches look out onto Dorchester Bay, and since they form a continuous stretch, you don't really need to know where one ends and another begins. This is a gorgeous area, just a few miles from the city, with great views of the Harbor Islands.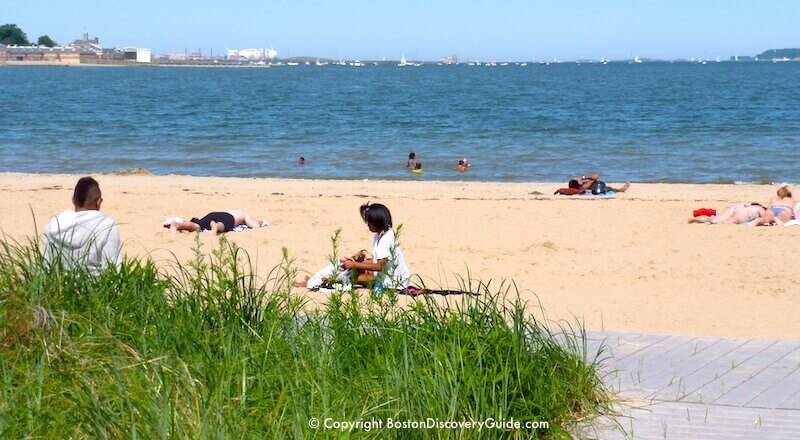 The L Street Beach, M Street Beach and Carson Beach adjoin each other south of Pleasure Bay Beach, making up the longest uninterrupted stretch of beach in the Boston area - about 3 miles. Lots of family-friendly amenities including a huge bathhouse make this a popular place in the summer.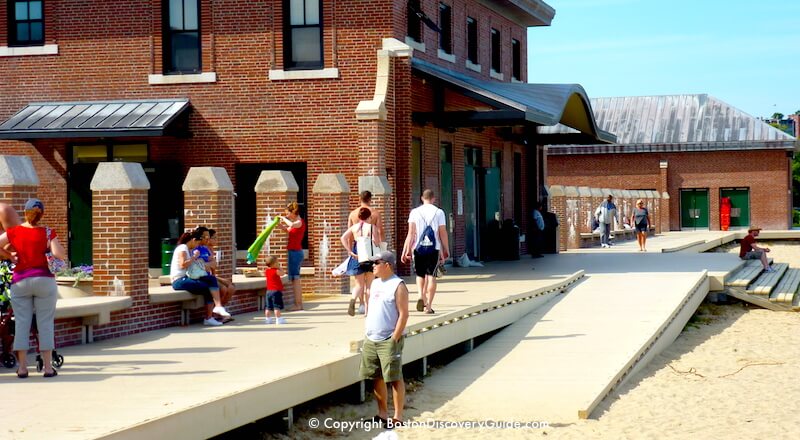 In the winter, the L Street Beach is where you'll find the annual January 1st swim by the "L Street Brownies," a group of local residents who plunge into the icy waters to raise money for charities.
Getting there by T: To get to Carson Beach, take the Red Line to JFK/UMass, and walk along the waterfront north to the beach in about 10 - 15 minutes. To get to the L and M Street Beaches and Castle Island, take the Red Line to Broadway Station and then the Number 9 bus to City Point; beaches are just a short walk to the east. Alternately, you can walk (about 15 minutes) from the Broadway Station, or catch the #9 bus at Back Bay Station.
Parking: If you drive, you'll find ample free parking near the beach most of the time; sunny weekend days - much tougher. July 4th, forget it!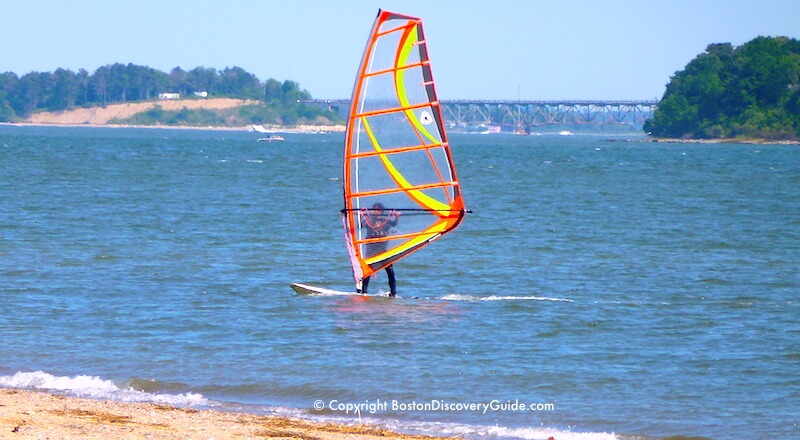 Castle Island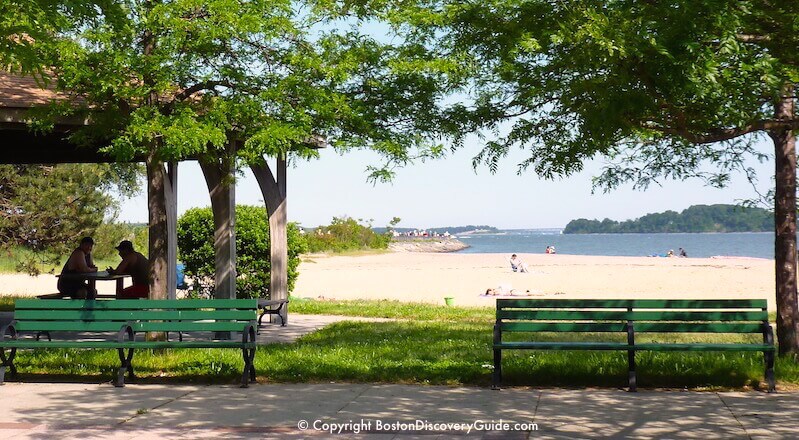 Once an actual island, but now connected to the mainland after a strait was filled in 1891, Castle Island anchors Pleasure Bay Beach and is home to historic Fort Independence.
Castle Island also provides a perfect spot for watching the USS Constitution make her annual July 4th turn-around cruise and give a 21-gun salute to independence.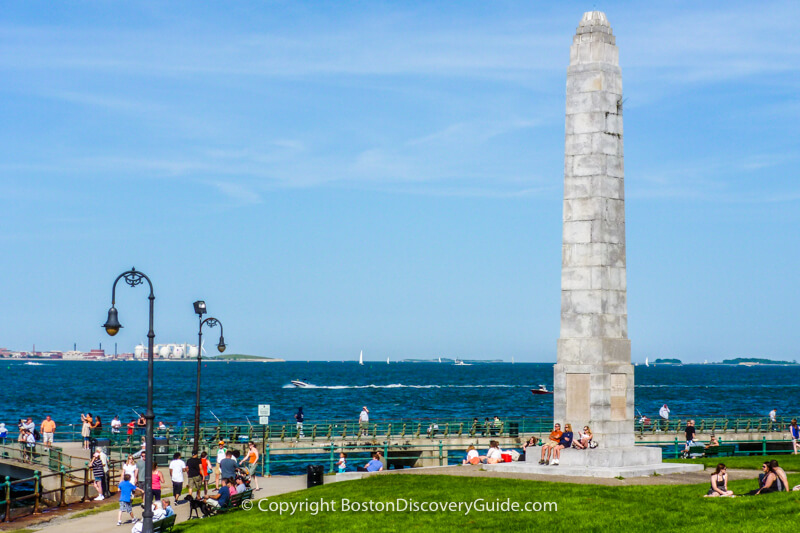 Castle Island is a gorgeous place, plus even on those days when heat and humidity soak the rest of the city, you'll always find a cool breeze here.
Boston Insider Tip: Be sure to stop by Sully's for a snack!
Dorchester Beaches
Savin Hill Beach and Malibu Beach were two of the most popular Boston beaches until the 1960s, when they suffered from lack of maintenance. Fortunately, re-sanding, nice landscaping, and other upgrades in recent years have restored their former glory.
Both of these beaches offer protected swimming areas. Savin Hill Beach also has nearby ball fields and toddler playgrounds. Malibu Beach has a bathhouse. The two beaches are located next to each other, so don't worry about where one ends and the other begins.
Both beaches have lifeguards on duty during the summer.
Getting to both beaches by T: Take the Red Line to Savin Hill. Walk toward your right on Savin Hill Avenue, and turn right onto Denny Street. You'll see the beaches at the end of the street.
Constitution Beach in East Boston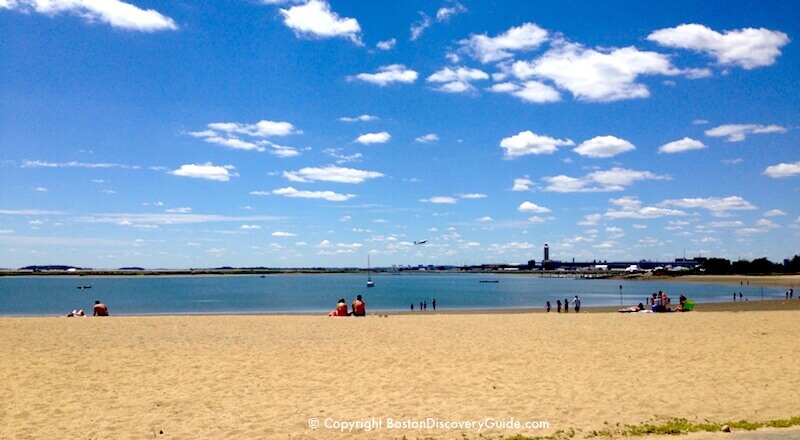 Located between Logan Airport and tracks for the T's Blue Line, Constitution Beach gets plenty of noise from passing planes and subway trains. In addition, it's only about half a mile long and a favorite local spot, so it also can get crowded.
You definitely won't be imagining that you're on a secluded desert island. But if you're stuck at the airport for a few hours between flights on a sunny summer day, Constitution Beach's location near Logan suddenly becomes an asset.
Moreover, the beach has benefited from some nice upgrades during recent years - a new bathhouse, a big playground and picnic area, tennis and handball courts, sun shelters, and even foot showers. Lifeguards stay on duty throughout the summer season.
<
Getting there by T: Take the Blue Line T to Orient Heights station. Walk a short distance down Bennington Street to the beach.
Esplanade "Beaches"
In addition to Boston's beaches and Harbor Islands, you'll find plenty more waterfront to explore.
The Esplanade is the long, linear park that runs along the Boston side of the Charles River.
Most famous as the site for the Boston Pops Concert and Fireworks Spectacular to celebrate Independence Day, the Esplanade attracts visitors year round, especially on the 18 mile bike and jogging path. There are canals with picturesque bridges, and even a lagoon.
Does the Esplanade really have beaches? Well . . . kind of.
Wooden docks extending at intervals from the Esplanade are as good (almost, except for the lack of sand) as any real beach when the sun is warm and you want a quiet place to enjoy splendid views of the water.
Although the Esplanade "beach" is lovely in summer, it is also a popular spot in early spring and late fall, when you probably wouldn't seek out a real beach.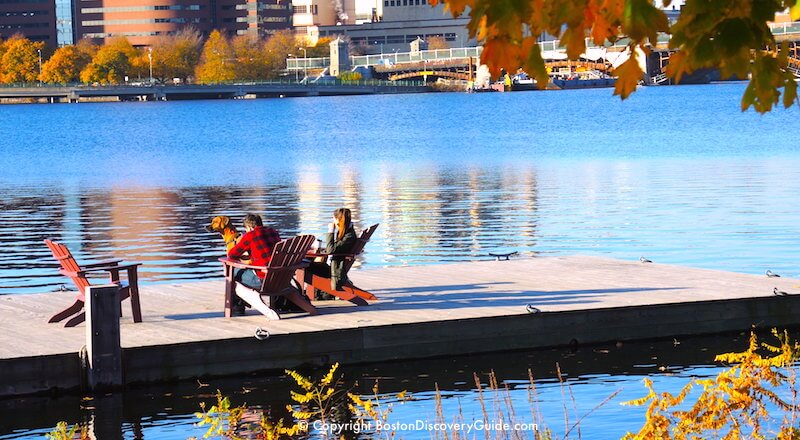 Getting to the Esplanade by T: Take the Red Line to the Charles / MGH station. Exit the station on the left side, and cross carefully over Cambridge Street and then Charles Street. You'll see a pedestrian footbridge over Storrow Drive. Alternately, take the Green Line to the Arlington Station. Walk north on Arlington Street to the Arthur Fiedler footbridge across Storrow Drive.
The Boston Waterfront: Harborwalk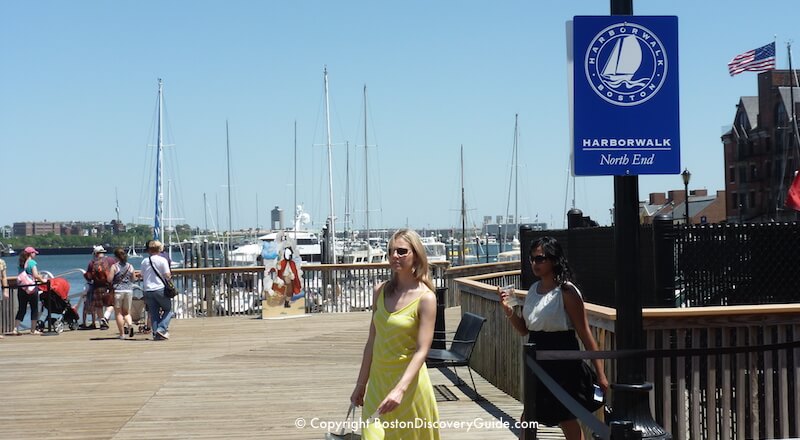 Harborwalk is a series of existing and planned paths winding along 47 miles of coastal waterfront through a number of Boston neighborhoods, including Downtown, the North End, South Boston, Dorchester, East Boston, and Charlestown. Think of it as Boston's most skinniest linear park, providing lovely views of the waterfront along the way.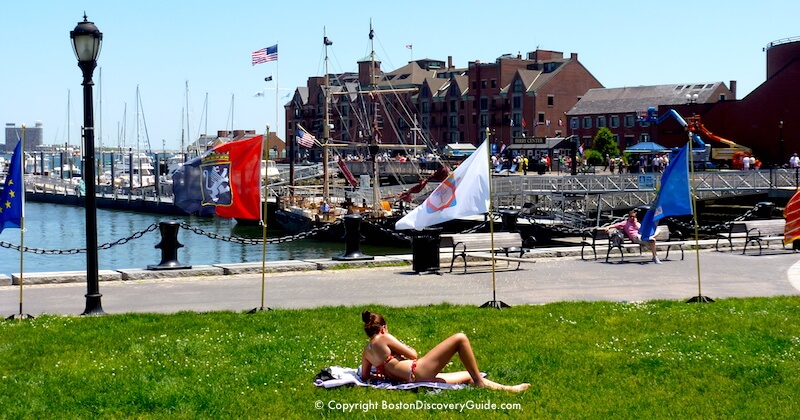 Most stretches of Harborwalk in city neighborhoods offer amenities - benches, viewing platforms, even pavilions. Like the Esplanade "beaches," you won't find swaths of sand where land meets water - but you will find plenty of places to enjoy being outside.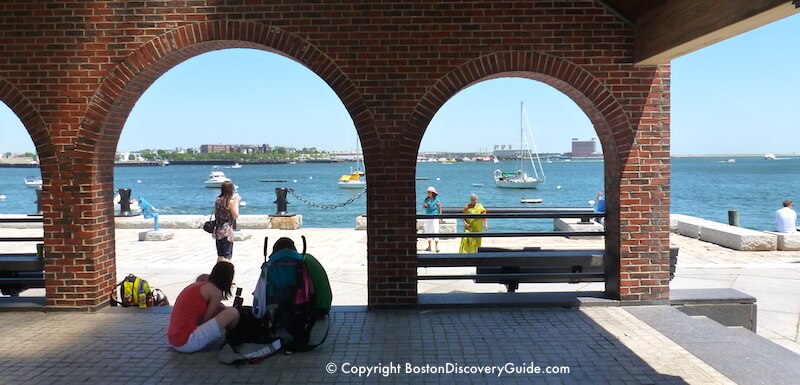 To access Harborwalk from the North End, Boston's Downtown Waterfront, or the South Boston Waterfront, simply walk toward the water.
You're sure to spot the blue Harborwalk signs. You can walk along the water in most areas now, although in a few places you still have to make small detours. Think of it as an adventure!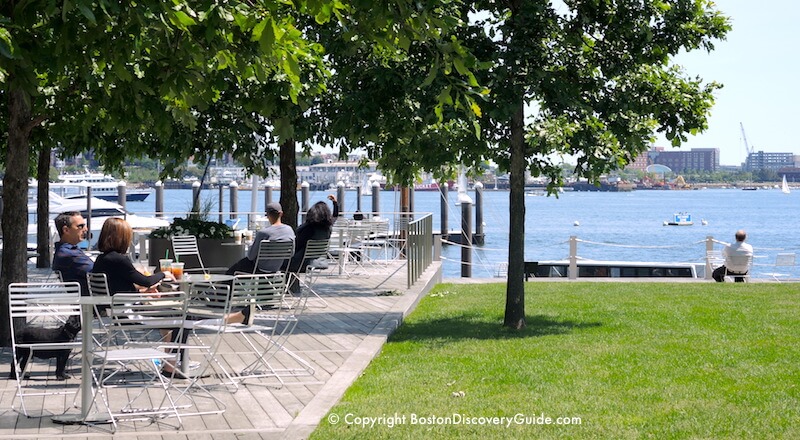 Best Beaches near Boston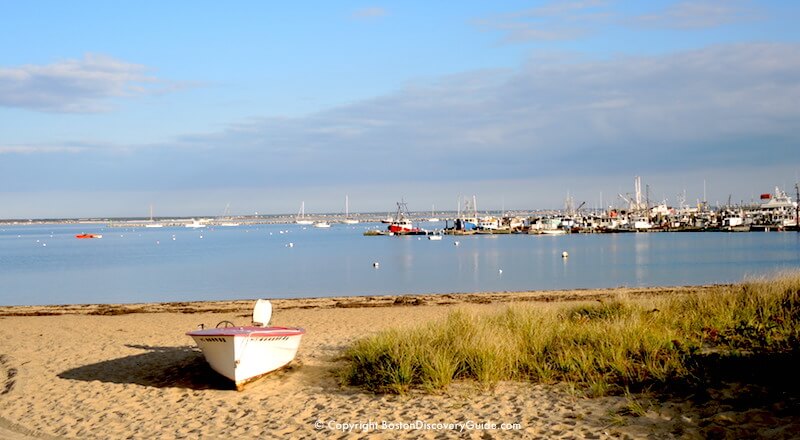 Boston beaches provide perfect getaways for day trips.
But when Bostonians want a real beach holiday, we don't normally head to Boston beaches - we travel to nearby Cape Cod.
If you're visiting Boston, consider making a side trip to the Cape to enjoy some of New England's best beaches.
The Cape, a large hook-shaped peninsula just south of Boston, boasts almost 660 miles of coastline. With around 60 public beaches, the Cape offers you plenty of gorgeous spots to enjoy the water. Plus, you'll also find lots of nice hotels and resorts, excellent restaurants, and other activities.
Driving to the Cape can be really slow due to the traffic. But there's an easier, faster option: board the seasonal Provincetown Fast Ferry right at Long Wharf, relax with a frosty drink, and you'll be there in 90 minutes. And to get to the Vineyard and Nantucket, you have to take a ferry.
Find out about tickets and schedules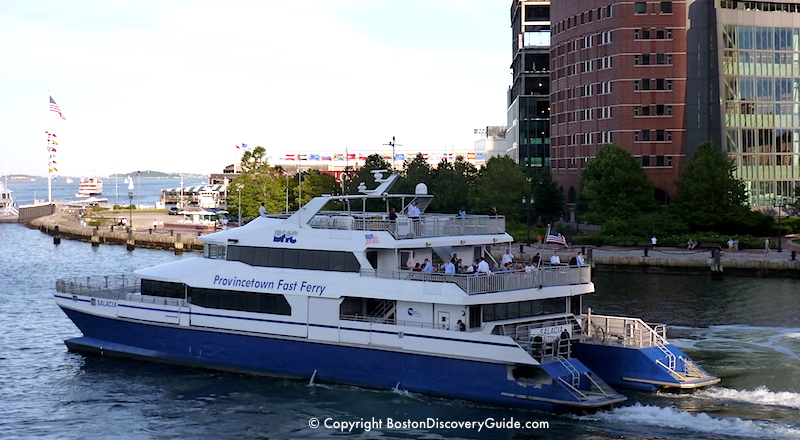 When you take the Fast Ferry to the Cape, you can spend a day enjoying the beautiful beaches and sand dunes - or stay for the weekend or longer.
Another option is to join a seasonal guided Cape Cod tour. These special day-long tours give you a relaxing way to explore more of this beautiful area. You'll depart from Boston on a luxury tour bus to the Cape, visit the JFK Memorial in Hyannisport, and then board a special narrated sightseeing cruise. The tour also gives you plenty of time to explore small villages along the shore. More about this tour and cruise
More Boston Cruises
Want an Almost-Beach in the City? Try a Roof Top Pool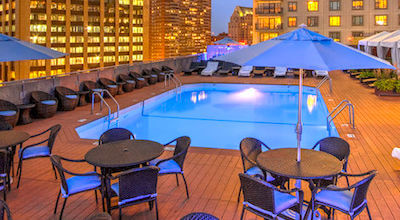 Boston's only roof top pool crowns the Colonnade Hotel on Huntington Ave in Back Bay. Secure a chair under an umbrella, stretch out on one of the comfy recliners, or paddle around in the pool itself.
You're not actually at the beach of course - but close your eyes and imagine that you are.
Hotel guests get to use the pool for free, but here's an "Insider's tip": non-guests can also use it during the week for $50/day, or $25 for a half day starting at 3pm. The pool opens on Memorial Day for the all-too-short summer season.
More Boston Hotels with Outdoor Pools
Save with Discount Tickets
Save BIG on half-price & discount tickets from Goldstar
How to Save on Boston Hotels
Check out all our tips on how to find discounts, deals, and promo codes for Boston hotels. Whether you're looking for bargain accommodations or want to pay less for luxury, we'll show you How to Save on Hotels in Boston.
More about how to save on Boston hotels
---