Getting around Boston on public transportation saves you time, stress, and money.
If you're planning to visit the city, you'll like how cheap and convenient getting around here can be - if you leave your car at home.
Boston's most popular public transportation options include the subway (usually called the "T"), bus, commuter rail, water taxis, and ferries, all under the management/regulatory umbrella of the Massachusetts Bay Transportation Authority (MBTA).
If you're here just for a visit, you're most likely to use the T and water taxis, plus several other ways of getting around: rental cars, land taxis, Boston's bike-share program ("Hubway"), city tour trolleys, and of course the easiest and cheapest of all: walking.
Boston's compact size means you can walk to most tourist, cultural, and entertainment destinations in less time than retrieving your car from a hotel parking lot would require - not to speak of the hassle of navigating through Boston traffic and then finding and paying dearly for parking near your destination!
Article Contents: What You'll Find
Top Photo: The T's Red Line crossing the Longfellow Bridge over the Charles River from Boston to Cambridge
Boston Discovery Guide is a reader-supported publication. When you buy through our links, we may earn a commission at no additional cost for you. Learn more
---
How to Get Around Boston on Public Transportation
Boston's Subway - The "T"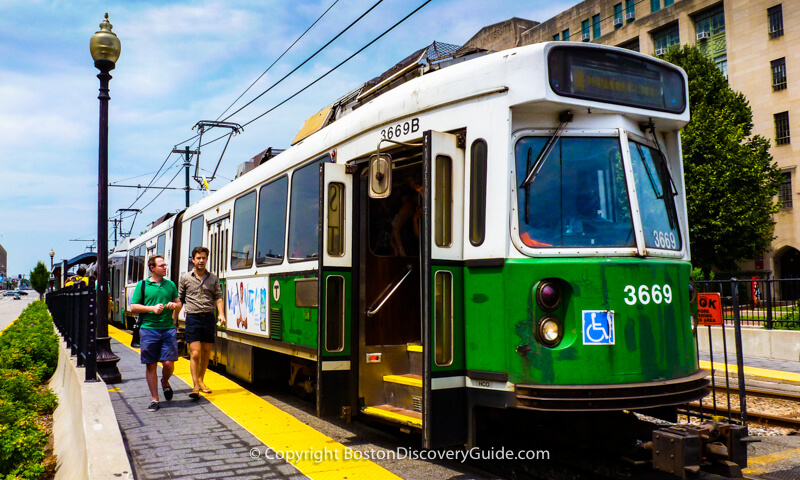 You easily reach almost all of the city's biggest attractions by T (Boston's subway). Except for walking, the T is the cheapest and easiest way to get around.
Find a subway map, how to get the cheapest fares, and everything else you need to know - and be sure to check out the affordable Visitors Weekly Pass,which gives you a great deal, depending on how much you plan to use it.
---
Boston's Water Taxis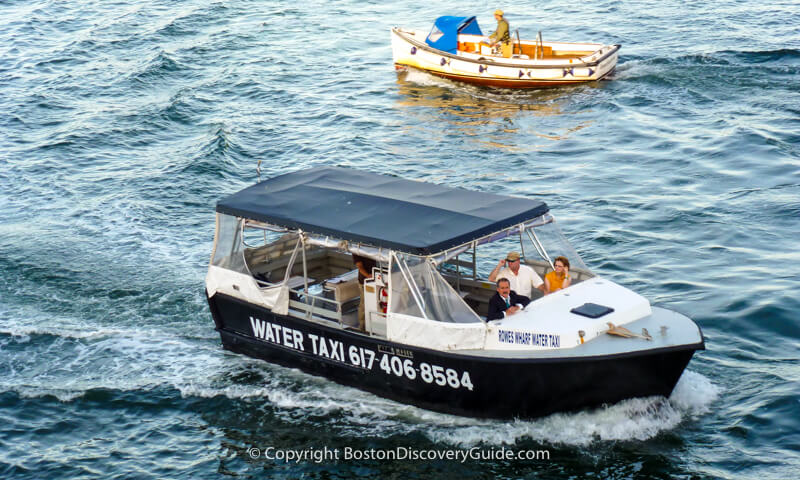 What's the fastest way to get from one point to the other along Boston's Harbor? Water taxi!
Whether you're going from Logan Airport to the Financial District or CruisePort, TD Garden/North Station to the South Boston Waterfront, or any other points near the water, a water taxi lets you avoid Boston's infamous traffic snarls and enjoy relaxing views along the way.
---
Silver Line to/from Logan Airport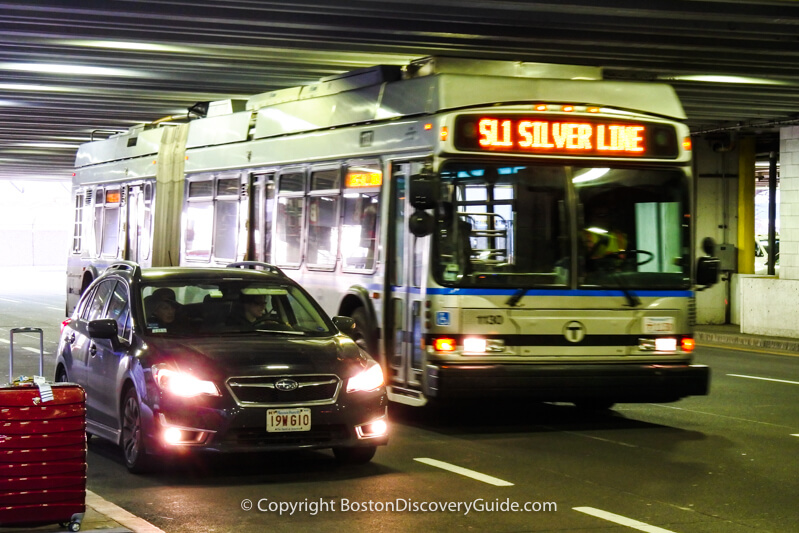 What are the best ways to get to Logan Airport using public transportation?
Find out about the Silver Line & more options
---
Boston's Bike Share Program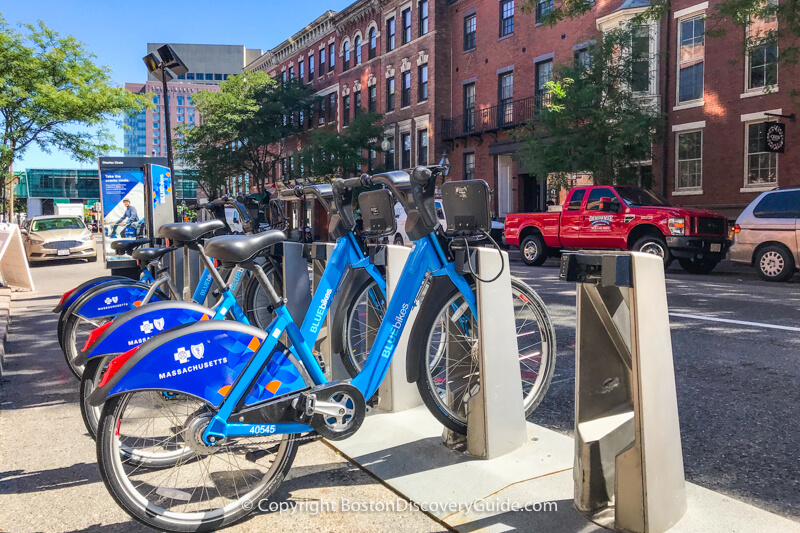 Boston's BLUEbikes bike-share program (previously called Hubway) operates during warm months and gives you a convenient way to get around Boston, Brookline, Cambridge, Everett, and Somerville.
Bring your own helmut!
---
More Ways to Get Around Boston
If you're visiting Boston and looking for convenient ways to get around the city to see popular tourist attractions, or you're here on a cruise layover and are looking for shore excursions, consider these popular options:
Hop On / Hop Off Tour Trolleys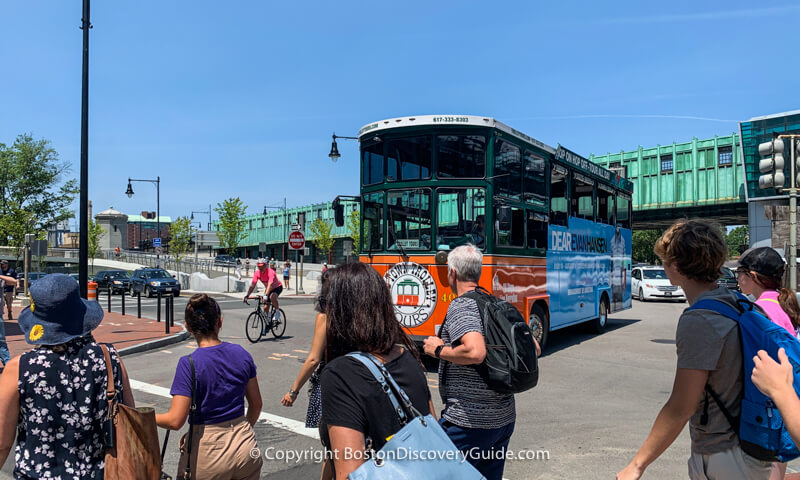 Want to combine a sightseeing tour with the chance to explore on your own?
Boston's Hop On Hop Off trolleys give you a narrated tour as you ride past all the top attractions - plus you can get off, explore as long as you want, and get back on whenever you want. 
Find out more about the Hop On Hop Off trolleys
Get your Hop On Hop Off trolley tickets now!
---
Bus to Wrentham Village Outlets - Currently Not Available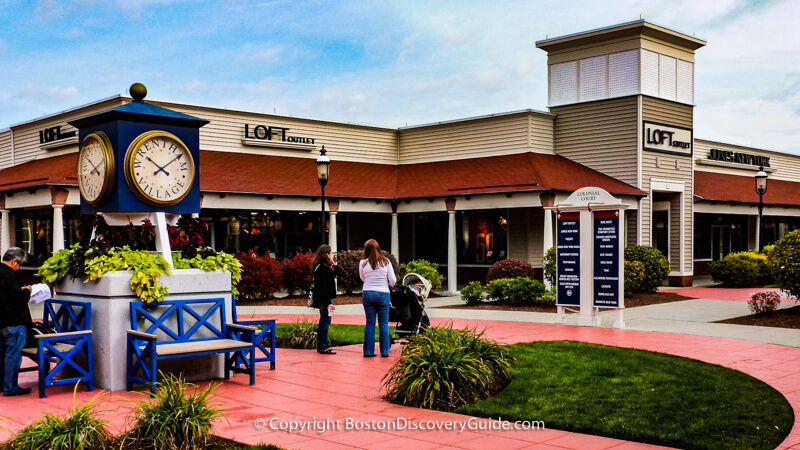 Want to save a ton of money at Boston's biggest designer outlet shopping mall?
Although Wrentham Village is not in Boston - it's actually 40 miles to the south - you actually have several good choices for getting there, including the commuter train, a daily express bus, and a cheap rental car option for the day.
Once you see the standard discounts from about 25% to 70% off the retail price and even more exciting savings during sales, you'll be glad you made the trip!
More about Wrentham Village Outlets
Book your round trip express bus ticket to Wrentham Village
---
Getting Out of Boston
Fast Ferry to Provincetown
Convenient and frequent ferry service from Boston to Provincetown puts this beautiful art-filled village at the tip of Cape Cod within easy reach.
Board the ferry - actually, a high-speed catamaran - on the Boston waterfront, watch the Boston skyline grow smaller behind you, and 90 minutes later, you'll be stepping onto the dock Provincetown.
Find out more about the ferry to Provincetown
---
The Patriot Train

Do you have tickets to a New England Patriots game and need to get from Boston to Gillette Stadium in Foxborough?
Find out how to take the Patriot Train when the Patriots have home games at Gillette . . . plus other options for getting to the stadium when the train isn't running.
---
Boston - NYC Bus Service
Need to travel between Boston and New York City?
What's the fastest, cheapest, and most convenient way to make this trip?
Bus companies offer cheap rates (when you book in advance) and service options for this popular route, but other transport can be just as affordable, so check out Amtrak / Acela as well as cheap flights to New York's airports.
Check out our roundup with pros and cons for each option
---
Boston Maps
Finding your way around Boston can be confusing without a map.
GPS tells you where to turn, but a map shows you the big picture. And in a city like Boston where only one neighborhood (Back Bay) features relatively straight streets, a map helps you orient.
But don't worry about how much a good map will cost you - some of the best Boston maps are free. 
Find out where to get the best free maps of Boston
Fun Ways to Explore Boston
Getting Around Boston on Foot: Walking Tours of Boston
The easiest form of transportation around Boston is on foot.
If you're visiting the city, here are some fun guide-led and self-guided walking tours for you to try:
Guide-Led Walking Tours
Self-Guided Walking Tours
Try these self-guided walking tours:
Getting Around Boston by Car: Driving & Parking
Driving in Boston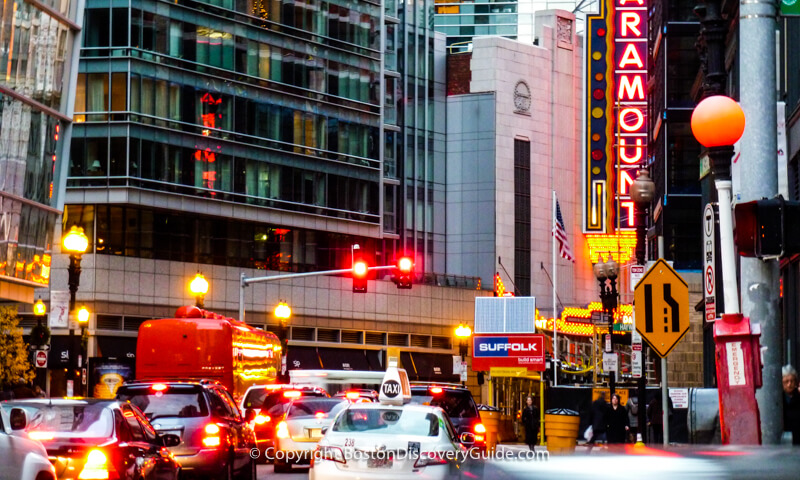 What is driving in Boston like? Should you try it?
Our streets are narrow and winding, directions can be confusing, and Boston traffic congestion is not for the faint-hearted.
So if you have a choice about taking public transportation or driving, save yourself some grief:  don't drive! 
But if you have to, read our 14 essential tips fordriving and surviving in Boston.
Boston Car Rentals
Despite the difficulties of driving in Boston, there are times when you need to have a car, even just few a few hours or a couple of days.
If that is your situation, here are your best parking options:
Where to Park Your Car in Boston
Finding an affordable place to park in Boston is never easy. Here's what you need to know:
RV Parking near Boston
We get numerous questions about parking RVs in Boston. Here are some of the questions, along with our answers:
---
CruisePort Visitors
Transportation between Logan Airport & CruisePort
Need transportation between Logan International Airport in East Boston and Boston's Raymond B. Flynn (Black Falcon) Cruise Terminal?
---
Boston Shore Excursions from CruisePort
Want to explore Boston when your cruise ship stops at our Cruise Terminal for a Port of Call visit?
For the ultimate convenience, choose a shore excursion tour designed specifically for cruise ship visitors. They pick you up close to the CruisePort, and are designed to make sure you're back in plenty of time to re-board your ship before departure. Book them directly online, and you'll usually save money compared with making reservations through your cruise ship or travel agent.
Alternately, you can easily explore on your own. Boston's Cruise Terminal is in the city's trendiest waterfront neighborhood, and just a short walk from other top attractions such as the Freedom Trail.
---
Where to Store Your Luggage in Boston
Have a Boston layover for just a few hours or a day, and want to sightsee without your luggage? 
Finding luggage storage can be tricky - but here are the best storage options, depending on your location:
---
Questions & Answers about Boston Transportation
---
More to See & Do in Boston
---
---
Need a Boston Hotel or Apartment?
Use this handy map from Booking.com to find the perfect place to stay. Just enter your dates to find what's available, see the best rates, and make your reservations.
---
More to See & Do in Boston