Need luggage storage in Boston near Logan Airport so that you can sightsee during a layover?
Some airports offer storage lockers to provide a secure option for storing your bags short-term while you explore the city.
But unfortunately, you won't find any luggage storage at Logan Airport.
However, you can choose from three other reasonably convenient options:
1. Rowes Wharf Water Taxi Terminal
2. South Station - Package Express or Amtrak
3. Frequent Traveler Hotel
In this article, we describe pros, cons, and restrictions for each option so you can determine the best fit with your sightseeing plans.
But first, just to make sure you've reached the right information . . . this article is for travelers arriving at Boston Logan Airport.
If you're arriving at the Flynn (Black Falcon) Cruise Terminal, you can find information about luggage lockers near Boston's CruisePort here.
Top photo: Water taxi pulling into Rowes Wharf, where passengers can store their luggage in the locked baggage room, (c) Boston Discovery Guide
Boston Discovery Guide is a reader-supported publication. When you buy through our links, we may earn a commission at no additional cost for you. Learn more
---
Arriving at Boston Logan Airport: Short-Term Luggage Storage Options
1. Water Taxi Option for Luggage Storage in Boston
A fast, scenic way to get from Logan Airport to Downtown Boston is by water taxi - and one of them, Rowes Wharf Water Taxi, offers their passengers free Boston luggage storage in a locked room at their Rowes Wharf office, making this an excellent choice.
Once you get off your flight and collect your luggage, take the free airport shuttle bus - it's the Massport Route 66 bus and goes to all terminals - to the water taxi dock.
Several water taxi companies provide service, but only Rowes Wharf provides free storage - so make sure you get onto a Rowes Wharf water taxi. Rowes Wharf Water Taxi offers you a special airport package for $20 - they'll pick you up at the airport, take you to their wharf in downtown Boston and store your luggage for the day, and then take you back to the airport.
Contact information : 617-406-8584 (pickup), 617-261-6620 (questions), www.roweswharfwatertransport.com
Rowes Wharf is located next to the Boston Harbor Hotel, adjacent to the Greenway and across from the Financial District. Historic Downtown Boston, where you'll find a number of Freedom Trail sites, historic taverns, and Faneuil Hall Marketplace, is only a few blocks away and perfect for sightseeing.
And don't forget, there's no need to pay full admission for your sightseeing adventures - compare Boston discount cards to find out how you can save on attractions, cruises, and events.
2. South Station Luggage Storage Options
Another convenient spot where you'll find luggage storage is at South Station.
There are actually 3 choices here: Greyhound Package Express, located on Level 5 (parking) of the bus terminal at South Station (700 Atlantic Ave), Teddy Ballgames, located at the top of the escalator in the waiting room, and Amtrak Baggage Room (if you have a valid Amtrak ticket). You can find more details about each of these luggage storage options here.
South Station is one of Boston's major train/subway terminals, and is near the Financial District, Chinatown, and the South Boston Waterfront.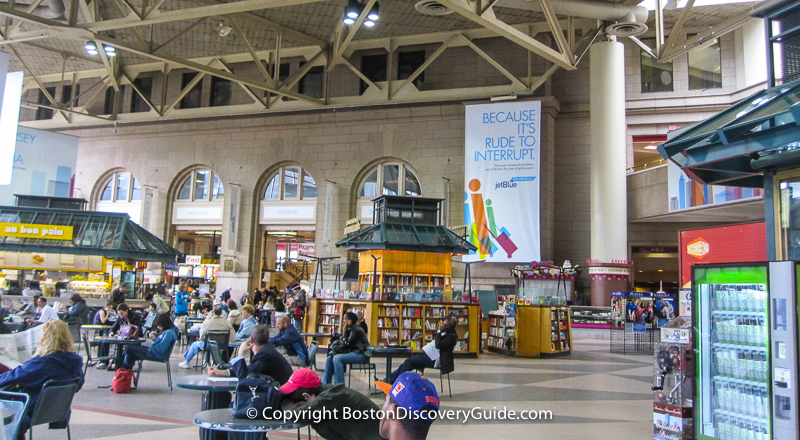 3. Frequent Traveler Luggage Storage Option
If you have frequent traveler status with any of the large hotel chains located in Boston or even right at the airport, call the hotel directly and see if they will store your bags for you for a few hours. Storage will probably be complimentary - but you may want to tip generously to show your appreciation.
Here are links to Boston hotels in several popular areas if you decide to explore this option:
Luggage Stored? Fun Ways to Tour Boston
More fun ways to see the city:
More Fun Things to Do and See in Boston
Need a Hotel for Before or After Your Cruise?
Use this hotel map from Booking.com to find out what's available. Want to see the lowest rates? Just enter your dates, and you'll see the rates.
More about how to save on Boston hotels
Questions & Answers about Luggage Storage in Boston
Luggage Storage near Logan Airport during a Layover
Are there lockers at Boston Logan airport to store luggage while you take in some of the sights while waiting for your flight? Or, is there a car rental . . . More
Check out more Boston Travel Questions & Answers
More Articles about Boston Concerts & Entertainment