Gillette Stadium, located in Foxboro about 33 miles south of Downtown Boston, is home to the New England Patriots football team and the New England Revolution soccer team.
Gillette Stadium is also where you'll also see top Boston summer concerts featuring Taylor Swift, Bon Jovi, and other big stars.
Unlike Boston's other two sports arenas, Fenway Park and TD Garden, Gillette Stadium is located outside of the city in a huge sports-oriented entertainment complex/shopping mall called Patriot Place.
Restaurants, bars, stores, the Showcase Cinema and Showcase Live performance center, and even a museum and on-site hotels share space at Patriot Place with the stadium.
With seating for almost 67,000, over 500 concession sale points, a terrific sound and video system with over 2,000 sound points, 1,500 monitors, two huge HD video boards, Gillette Stadium gives you a superior sports and entertainment experience.
However, there is a downside when you're trying to get tickets: all Patriots home games have sold out since the stadium opened in 2002, so once you know which events you want to attend, you need to move fast to get your preferred seats.
Top photo: Gillette Stadium, (c) Boston Discovery Guide
---
Games & Concerts at Gillette Stadium
Enter DISCOVERY 10 to save 10% on TicketLiquidator & TicketNetwork tickets
See the full schedule for Gillette Stadium games & concerts
---
Where to Get Gillette Stadium Tickets
If you're visiting Boston, the easiest way to get great seats for the game you want to see is to order online before you leave home. Just choose your game, pick your seats, and click.
Enter DISCOVERY 10 to save 10% on TicketLiquidator & TicketNetwork tickets
TicketNetwork - Huge selection of seats for games, playoffs, concerts
TicketLiquidator - Best seats, great prices for games & concerts
AceTickets - All sports, concerts, events - 200% guarantee
---
Where to Stay Near Gillette Stadium
Going to Gillette Stadium for a game or concert or to Patriot Place for shopping? Stay in a convenient nearby hotel, such as the spectacular Renaissance Boston at Patriot Place: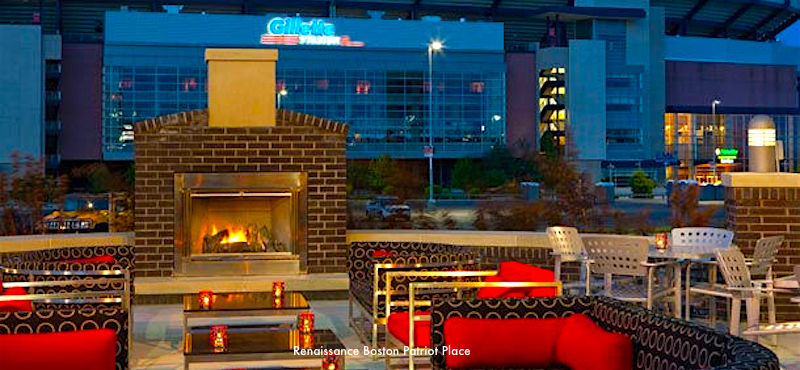 More comfortable hotels near Gillette Stadium:
Check out more hotels near Gillette Stadium
---
Discount Tickets for Gillette Stadium
Groupon can be the most reliable source for Gillette Stadium event discounts - include (sometimes) the Patriots, the Revolution, and concerts:
Check Groupon for Gillette Stadium discounts
In addition, you can get ticket discounts when you buy from TicketLiquidator and TicketNetwork:
Enter DISCOVERY 10 to save 10% on TicketLiquidator & TicketNetwork tickets
---
Gillette Stadium Tailgate Parties
The first thing you need to know: Gillette Stadium tailgate parties begin EARLY on game days.
How early? Well, for an evening game, it's not unusual to see the parking lots full of fans hauling out their cooking gear by 10am -11am.
Although you'll see ordinary tailgate fare such as chili, Boston sports fans pride themselves on cooking up regional New England specialties like lobster, big pots of clam chowder, corn on the cob, grilled steaks, and much more.
If the mouth-watering aromas inspire you to have your own tailgate party, you'll need to bring your own cooking device. For the most flexibility, consider a camping outdoor oven and stove combo. Portable grills and 2-burner stoves are also good options, especially if you're planning simpler fare - although you may want to combine them with a portable coffee maker.
Now, you're all set. Throw some steaks and lobsters into your cooler, and you'll have the fixings for a tailgate feast while you wait for the Patriots or Revolution to kick off.
You'll never have to salivate over other fans' feasts again!
---
Gillette Stadium Seating Maps
Gillette Stadium's official seating capacity is 68,829, which includes 5,876 club seats and 89 luxurious suites.
Seat arrangements vary based on the type of event. For example, here is the seat map for New England Patriots home games, courtesy of TicketLiquidator.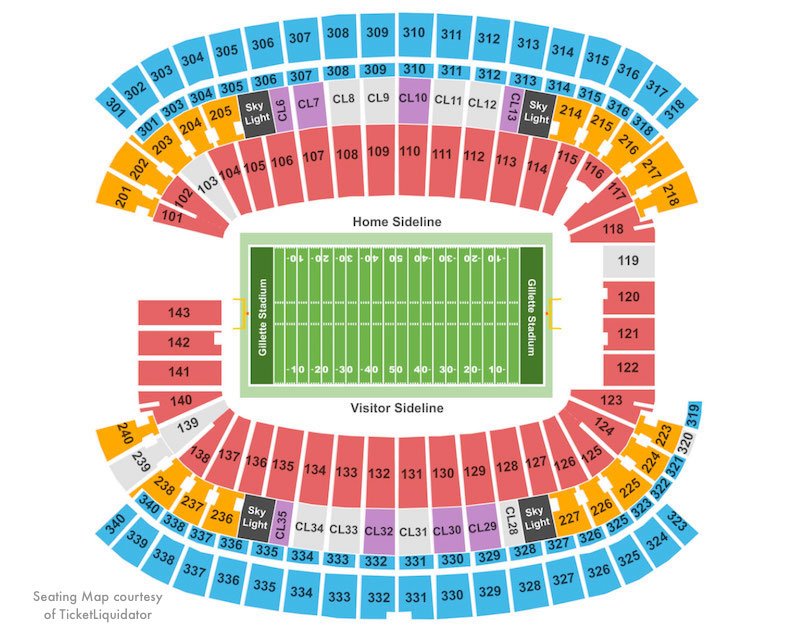 Gillette Stadium Facts &Trivia
Up until 2006, Gillette Stadium was called CMGI Stadium. Bankruptcy forced CMGI to sell naming rights to Gillette. Gillette is now owned by Procter & Gamble - but the stadium continues to carry the Gillette name for branding purposes.
Although the playing surface at Gillette Stadium used to be grass, it has been synthetic turf ever since a heavy rainstorm in 2006 caused the grass surface to severely deteriorate midway through a game, which the Patriots lost to the Jets.
Prior to moving to Gillette Stadium in 2002, the Patriots played for 30 seasons at Foxboro Stadium, infamous for not passing a "flush" test (yes, that's what it sounds like - all the stadium's toilets were flushed at once as part of a crowd-readiness test, and the results were not good). Fortunately, the state-of-the-art Gillette Stadium does not share that problem.
Gillette Stadium covers 17.3 acres, or 1.9 million square feet. Construction required removing 90,000 cubic yards of basted bedrock.
The blue steel forming Gillette's structure weighs 16,000 tons.
Each seat at Gillette is angled to focus exactly toward midfield, thus providing optimum sight lines.
On a typical game day, fans eat more than one ton of Italian sausage and almost 200 gallons of clam chowder. Those numbers do not include the sausage and chowder consumed during the legendary tailgate parties in the parking lots.
---
More to See & Do near Gillette Stadium
Patriot Place - Gillette Stadium is part of a much larger entertainment/shopping/sports complex called Patriot Place - perfect for a weekend of fun
Wrentham Designer Outlets Village - The largest discount shopping mall in the Boston area, where you'll always find savings in the neighborhood of 25%-60% - and then save even more during sales!
Xfinity Center - Huge outdoor amphitheater used for concerts between May and October - less than 5 miles away in Mansfield, MA
---
Getting to Gillette Stadium
Location: Patriot Place, Route 1 (Washington St), Foxborough, MA - about 33 miles from Boston
Park: Plenty of fee-based parking is available for game attendees, although it's pricey.
Don't want to drive? A wide range of options for getting to Gillette Stadium from Boston are available to visitors.
---
New England Patriots - More to Know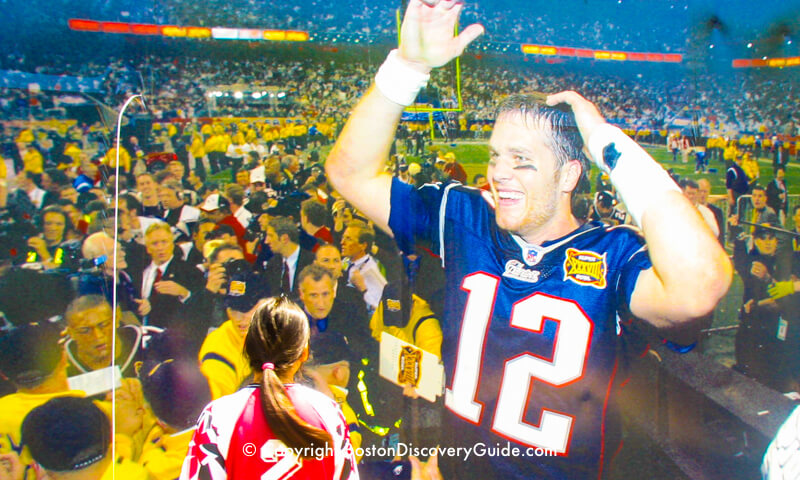 ---
More Articles about Gillette Stadium, the Patriots, & Patriot Place
---
More about Sports in Boston

---
Need a Boston Hotel or Apartment?
Use this handy map from Booking.com to find the perfect place to stay. Just enter your dates to find what's available, see the best rates, and make your reservations.