Boston's festive winter holiday markets pop up across the city during late November and December, bringing lots of holiday sparkle and cheer.
Drawing on traditions from European Christmas Markets to New England crafts fairs, these winter markets offer shoppers an appealing mix of comfort drinks (hot chocolate, mulled wine, winter cocktails, seasonal craft beers), delicious food to munch on, entertainment, kids activities, and plenty of handmade gifts and specialty food products, art, and clothing from local and New England artisans and artists.
So fortify yourself with a steaming cup of mulled wine as you stroll around the festive vendor stalls and get a head start on your holiday shopping as you soak up some holiday spirit.
What else can you expect? That depends on the market, but look for food trucks, ice sculptures, holiday workshops, performers, and carolers singing traditional holiday tunes.
Here's a roundup of the 6 best holiday and Christmas markets for you to visit in Boston in 2021.
Find more suggestions about what to do in Boston in December
Top photo: Christmas decorations in one of Boston's winter holiday markets
---
1. SoWa Winter Festival & Holiday Market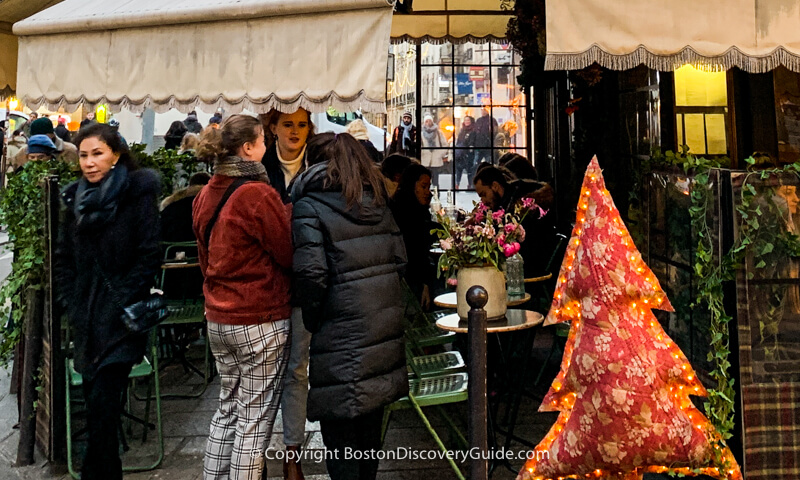 Enjoy hot mulled wine, Bailey's hot cocoa, and plenty of tasty food while you explore SoWa's festive winter shopping village - it's the biggest Holiday Market in Boston this year.
You can watch live ice sculpting along Thayer Street, take part in holiday DYI workshops at nearby shops, and visit over 130 vendors, galleries, artist studios, and boutiques - it's the perfect way to get all your holiday shopping done in one place at this festive family-friendly event. Listen for caroling by the BU Bostons on Friday and Saturday.
And don't forget: SoWa First Fridays take place from 5pm-90m on the first Friday of every month - so come back in January for another Friday evening of art, culture, and inspiration as the SoWa Art + Design District neighborhood's artists, galleries, shops, and showrooms open their doors and welcome you to come in.
Dates/Hours: December 6, 6pm-10pm, Dec 7, 10am-8pm, and Dec 8, 10am-6pm | Free admission | 460 and 500 Harrison Ave, in Boston's South End | More info: SoWa Website | Closest T station: Orange Line/Tufts Medical Center
(In case you're not familiar with Boston, SoWa is the area south of Washington Street in the South End which many of the city's artists, galleries, showrooms, crafts people, and design studios call "home." You'll find some awesome restaurants, bistros, and bars in this area as well.)
---
2. Winter Revelry: Holiday Pop Up Market in Seaport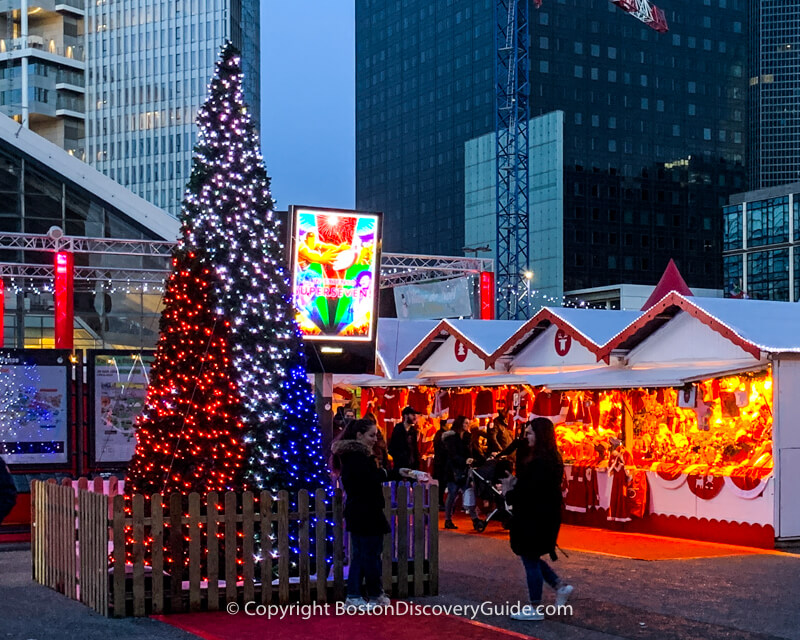 Shop for the perfect tree at the pop-up tree farm, sample the hoppy brews and winter wines at Aeronautic Brewing's winter lounge, and immerse yourself in the festive offerings from some of the Boston area's best master artisans at Winter Revelry, Seaport's holiday market located in the Innovation and Design Building.
You can expect to see plenty of appealing home goods, ceramics, skincare products, menswear, jewelry, and even gourmet treats for your favorite cat and dog.
Combine your trip to the market with a fantastic meal at a Seaport or Fort Point restaurant for a perfect day.
Dates/Hours: December 6, 11am-10pm, Dec 7, 11am-6pm | Free admission | 21 Dry Dock Ave in Boston's Seaport District | Closest T station: Silver Line SL1/Silver Line Way
---
Boston Christmas Market FAQS
Is the Boston Government Center Christmas Market at City Hall Plaza open this year?
No - too much construction going on in that area - but check back next year!
Are any of Boston's winter holiday markets still open in January?
Yes, Snowport (Seaport's Winter Village & Ice Rink stay open through early January). It's not a market in the traditional sense, but it's filled with fun things to do.
Do Boston's Christmas Markets charge an admission fee?
No - you can enter all of them for free
---
3. Snowport - Seaport's New Winter Village & Ice Rink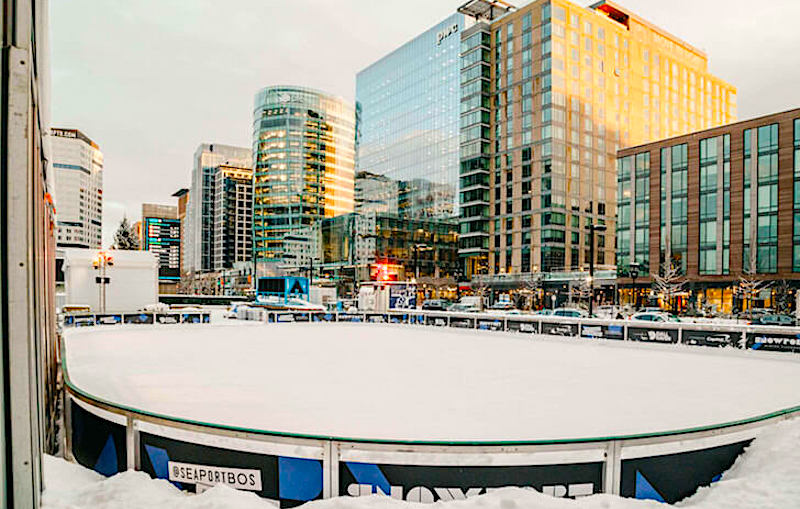 Snowport is Seaport's new pop-up (from now through February) Winter Village, and while it's not a shopping-oriented holiday market, it offers something equally exciting: a brand-new 3,000 foot ice rink - plus an assortment of related winter activities like iceless curling, yoga, live music, themed skate nights, and hot drinks - a real winter wonderland of fun things to do.
Look for more fun things to come in the next few weeks: fresh-baked waffles, the festive Fjällhäus (a tiny but cozy cabin with a visitors lounge and free hot coffee) from December 9-January 4, winter games, and special holiday events.
Rink hours & location: Monday - Thursday, 4pm-9pm; Friday, 4pm-10pm; Saturday, 11am-10pm; Sunday, 11am-8pm | 65 Northern Avenue, at the corner of Seaport and Fan Pier Boulevards
Cost: Skating is $5 adults, $3 ages 4-12, free for children 3 and younger and active duty military with military ID; bring your own skates or rent them for $5 (all ages)
---
4. Christmas Craft Fair at Old South Church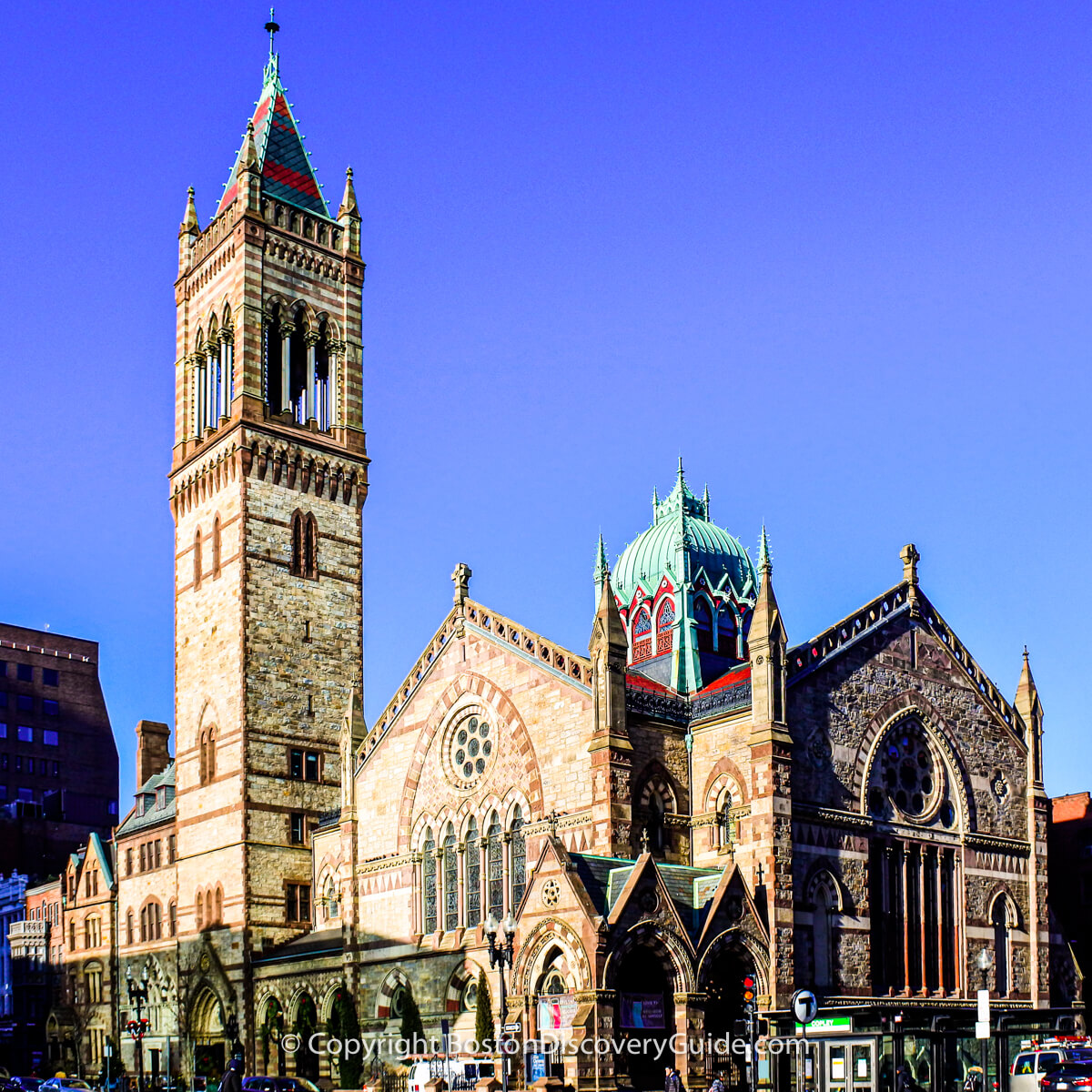 Lovers of finely crafted beeswax candles, turned wood, and sparkling blown glass know to arrive early at Old South Church's Christmas Fair, where 30 New England artists and artisans will offer some of their finest work on one day only.
Other sought-after creations include knits, photography, fine art, jewelry, pottery, and more. Of course you should shop for gifts - but you may be unable to resist buying something for yourself or your home as well.
After you leave the market, plenty more fantastic shopping opportunities await you along Newbury and Boston Streets.
Dates/Hours: December 7, 9:30am - 3:30pm | Free admission | Gordon Chapel in Old South Church, 645 Boston Street (corner of Dartmouth and Boston) at Copley Square in Boston's Back Bay neighborhood | Closest T station: Green Line/Copley | Find more info about Old South's Christmas concerts, pageants, and services
---
Visiting Boston for Christmas? Fun Things to Do
---
5. The Somerville Flea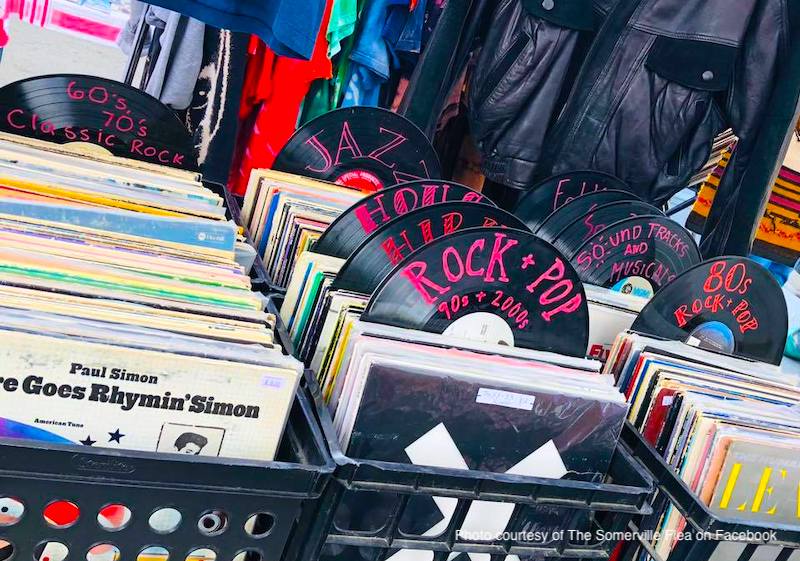 For everyone on your holiday shopping list who is into vintage, re purposing, or not contributing to global warming while unnecessarily increasing the amount of "stuff" in the world but for whom you still want to get a meaningful gift, head over to The Somerville Flea's open-air Holiday Market near Davis Square and Union Square.
You'll find an enormous and ever-evolving array of vintage and antique wares, many of which have been expertly restored and re-purposed, plus artisanal products made by craftspeople using traditional means of production. There's a farmer's stand here as well.
Enjoy the live music, yummy snacks to buy, and the opportunity to keep your money local.
Dates/Hours: December 1 and 15, 10am-5pm | Free admission | Center for Arts at the Armory, 191 Highland Ave, Somerville | Closest T station: Red Line/Davis
---
6. CraftBoston Holiday Show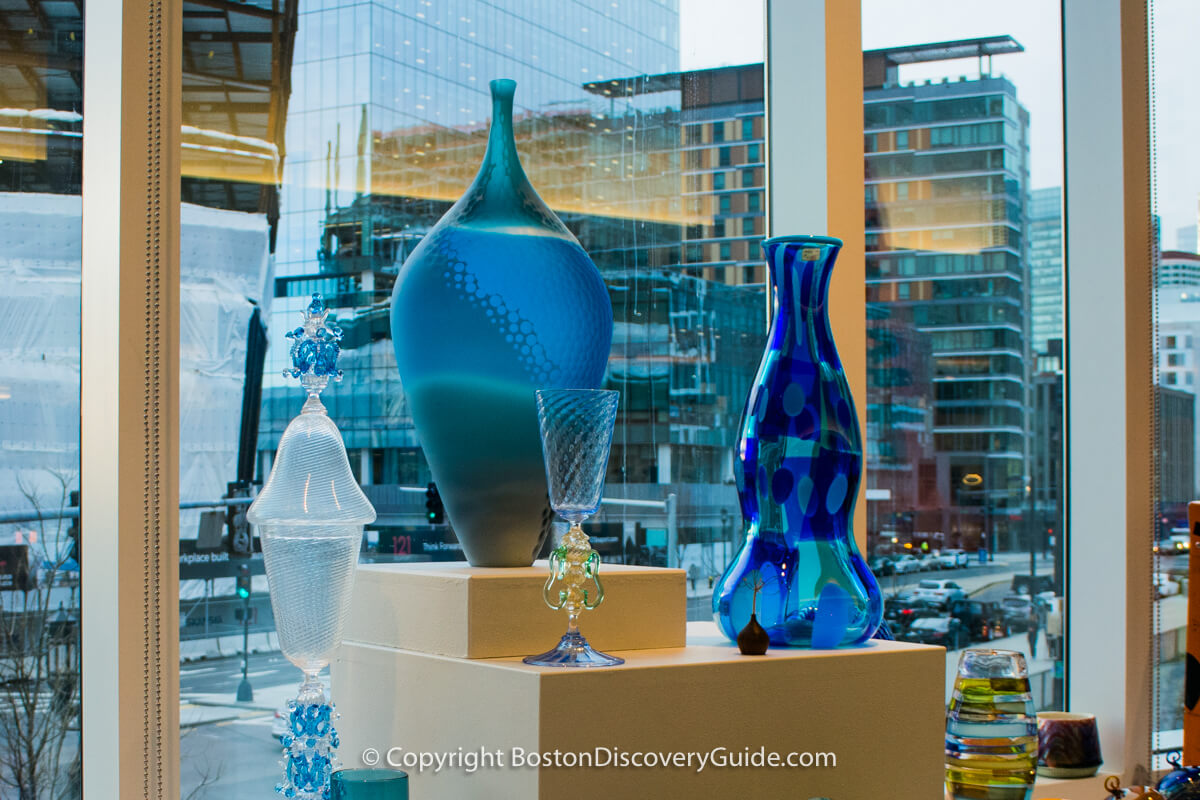 The CraftBoston Holiday Show, put on by the highly-regarded Society of Arts & Crafts, is a huge holiday market that doubles as an exhibition space for almost 200 widely recognized local and national craft artists. Because of its size and the crowds that it attracts, it is held in the Hynes Convention Center in the Back Bay neighborhood. It's a fantastic place to shop for unique gifts as well as serious art, and tends to attract collectors and other artists as well as casual shoppers.
What can you expect? Look for crafts executed with the highest level of artistry: handmade wearable art, handblown glass, furniture, pottery and ceramics, leather, mixed media, paper, decorative fibers, baskets, metal, and much more.
If you miss the show or want to see more, stop by the Society of Arts & Crafts retail gallery (100 Pier 4; closed Mondays) in the South Boston Waterfront neighborhood.
Dates/Hours: December 13, 11am-7pm; Dec 14, 10am-6pm, Dec 15 11am-5pm | Admission $15, Seniors $12, Members $7.50, Students (must have student ID) and under 18: Free | Hynes Convention Center at 900 Boston Street, Back Bay neighborhood
---
7. Harvard Square Holiday Fairs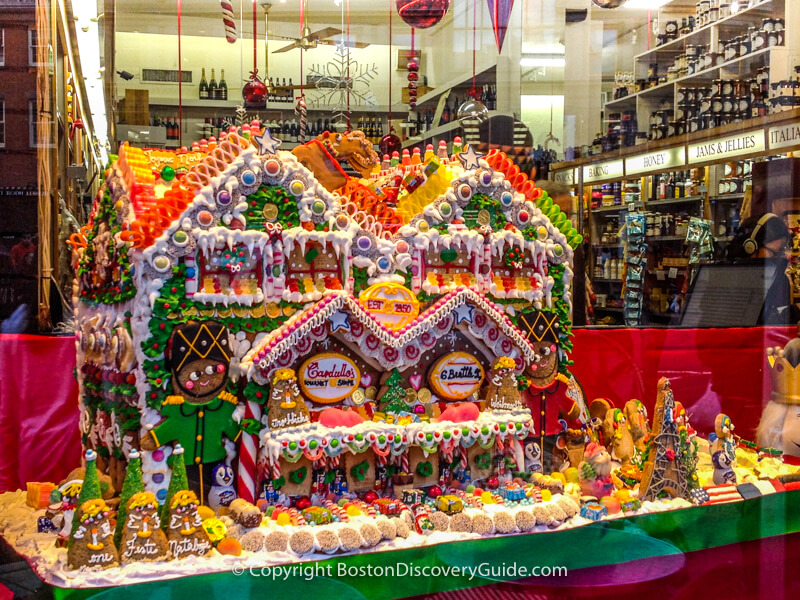 Harvard Square's Holiday Fairs are legendary - not surprising for a holiday event that's been going on for more than three decades, spans 3 weekends, and attracts a large and revolving assortment of vendors.
This is a juried fair, with carefully selected sellers from all over New England and the world. Look for handmade, beautifully crafted gift items. For example, you might find photography, hand-made clothing, artisan chocolates, olives and olive oil from Greece, LED-lit jewelry plus every other type of jewelry you can imagine, wooden utensils, pottery, West African crafts, glass art, candles, honey, mobiles, and lots, lots more. Not each vendor will be there each day, so you may want to come more than once.
Dates: Dec 7-8, Dec 13-15, Dec 19-22 | Hours: Weekdays 11:30am-7pm, Saturdays 10am-7pm, Sundays 12 noon-6pm | Free admission | St Paul's Church Hall (29 Mount Auburn Street, Cambridge; go through the Courtyard entrance)
---
8. Christmas in Boston - Year-Round Holiday Marketplace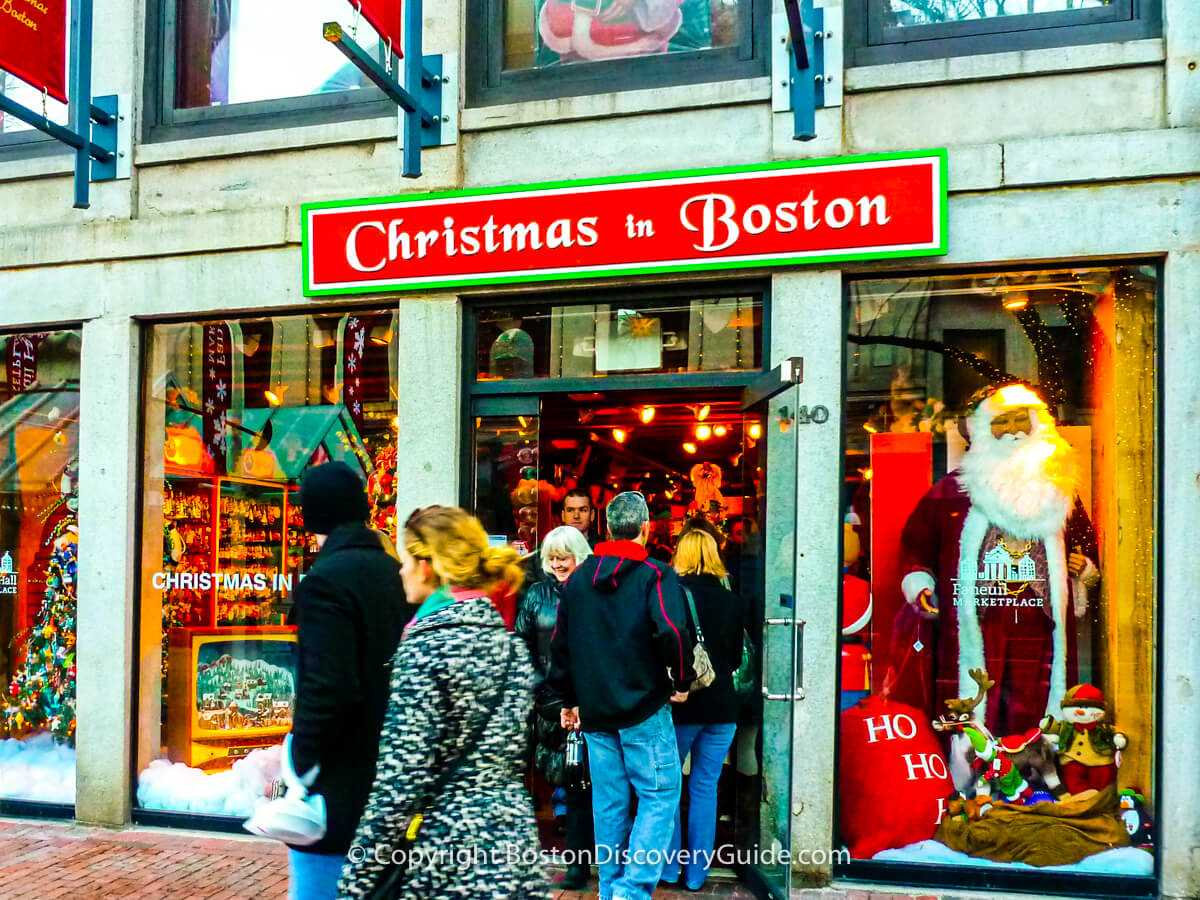 No roundup of Boston's winter holiday markets is complete without Christmas in Boston, where you can immerse yourself in all things Christmas year-round at its Faneuil Marketplace location.
Christmas in Boston should be your first stop whenever you need anything glittery and Christmasy - you can't beat it for ornaments of all sorts, including exquisite hand-painted creations from Eastern Europe.
Need an ornamental reindeer for your fireplace mantle? You'll find plenty of choices. Panda ornaments for your Christmas tree? No problem. Personalized Boston-specific ornaments? Lots of options. And you'll also find everything else you need to decorate for the holidays, including Santas and lots of cheer, whatever the season.
Combine your visit to Christmas in Boston with Faneuil Marketplace's festive Blink! lights and music show, and soak up the holiday spirit.
Dates: Open all year | Free admission | Faneuil Marketplace on Boston's Freedom Trail
---
More to Do in Boston in December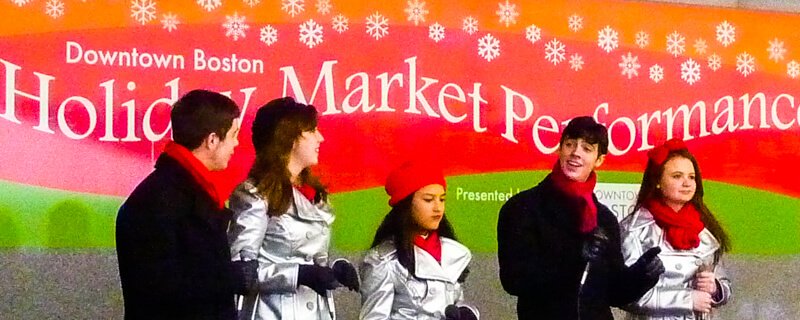 ---
Check Out More Top Boston Events Each Month
January | February | March | April | May | June | July | August | September | October | November | December | Year at a Glance
---
More Articles about Holiday Shopping in December