Planning a trip to Boston?
Take a look at the Black Friday deals and sales on offer for Boston travel, and scoop up savings of up to 25% or more through Thanksgiving weekend.
Similar special deals days such as Small Business Saturday and Cyber Monday follow right after Black Friday and may give you more chances to save.
"But.." you may be thinking, "with the Covid-19 pandemic still raging, does scooping up travel deals right now make sense?"
Depending on where you live, travel to Boston (or anywhere else) may not be feasible or wise right at this moment - but with vaccines becoming available soon, there's never been a better time to lock in savings on travel while hotel rates and plane fares are still phenomenally low.
Here are the 2 most important tips for protecting your Black Friday savings investments:
1. Make sure the travel deals you book are refundable, offer free cancellation, or can be rescheduled. For example, book refundable instead of non-refundable hotel reservations. If you make flight reservations, know what the airline's policies are if you need to change your dates.
2. Plan to travel after vaccines will be available to you (of course, you have to make your best guess about when that will be, so check news reports for current estimates). Booking.com's Black Friday deal gives you until December 31, 2021 to complete your stay - so if you expect to get vaccinated by July, make your reservations for August or later.
Black Friday for 2021 on Friday, November 26. Cyber Monday is on November 29.
Please note: The deals shown below are for last year and show you want to expect in 2021. Look for 2021 Black Friday discounts on Boston travel in early November.
Some sales last several days or even a week, and many start well before Thanksgiving this year.
Here's a round-up of some of the best Black Friday and Cyber Monday deals for saving on travel to Boston - and many other locales - right now.
Keep checking back, because we post more additions as they get revealed later in the week.
JUST POSTED - Black Friday Deals for Boston Harbor Cruises
Save 20% on Classic Harbor Line's Northern Lights and Adirondack III highly-rated Boston Harbor cruises when you book between now and November 30.
This offer includes all cruises and gift cards for 2021 - a fantastic deal!
Enter promo code CYBER20 when booking to get your 20% discount.
Book Now:
Black Friday Deals from Booking.com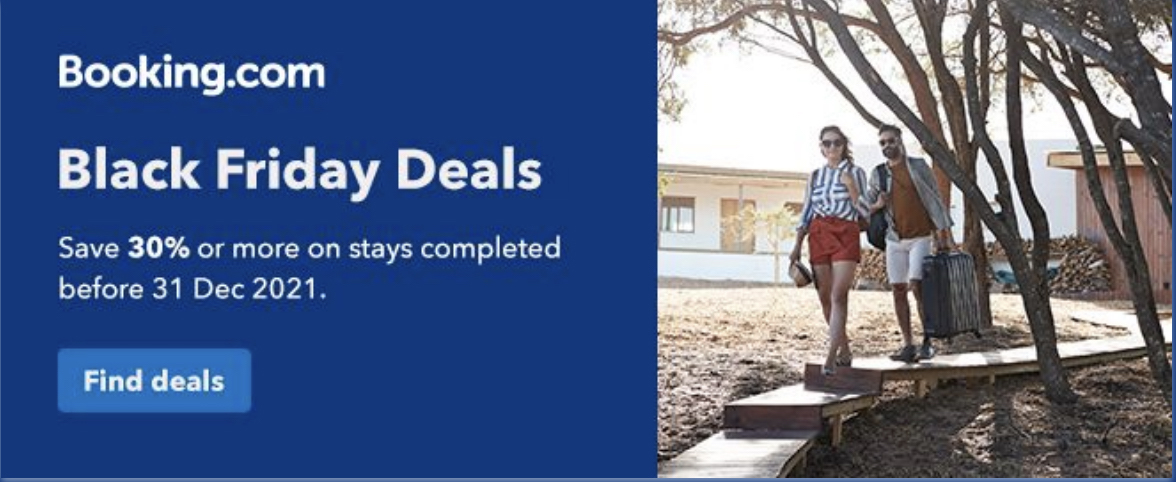 Booking.com's Black Friday deal saves you 30% or more off select properties in Boston and other cities around the globe.
You have until December 31, 2021 - yes, until the end of next year! - to complete your stay, which is a phenomenal deal.
How to get Booking.com's Black Friday discount: To receive the 30% and higher savings, you must make your reservations through the Booking.com Black Friday deals page, which will show you all the fantastic deals available for the location where you want to stay.
All you have to do is go to the booking page, enter your destination and travel dates, and you'll see the fantastic deals.
Book your hotel or apartment by Tuesday, December 1. That's almost 2 whole weeks to book - but don't wait because the best properties will fill up fast.
Stay dates are between now and December 31, 2021.
And don't forget - your savings will be at least 30%!
Black Friday Deals from Hotels.com

Hotels.com's Black Friday deal offers you savings of up to 50% off select properties in Boston and other U.S. cities (plus other places around the world). Best of all, most offer free cancellation, which means you can lock in savings right now with no risk if your plans change later.
To see the special savings deals for Boston, enter "Boston, Massachusetts" and your dates into the search bar.
Hotel rates in Boston and just about everywhere else are already amazing low - so with these extra Black Friday savings, travel is more affordable than ever.
Black Friday Sales at Amazon

Black Friday sales at Amazon.com range from good to phenomenal. And they're starting earlier than ever this year - and with deeper discounts!
The fastest way to find Amazon's deals on what you want is to go to the Black Friday deals page and enter what you're looking for in the search box at the top.
For example, let's say you want to block out most of the noise from your flight when traveling to and from Boston but still enjoy fantastic audio quality while listening to music. Just enter wireless noise-canceling headphones into the search box, and you'll see a page of deals, with Deals of the Day at the top.
But you can also just scroll down the page to see what's available, or click on one of the product category icons at the top.
Amazon's Black Friday discounts and deals typically start on the Friday before Thanksgiving and run through Black Friday, the day after Thanksgiving - but this year, they're offering Early Black Friday Deals starting right now!
Black Friday Deals from CheapOAir
Get Black Friday/Cyber Monday savings at CheapOAir.com on their already-low prices when you use the code BFRIDAY35 at checkout when booking flights.
How much can you save on flights with CheapOAir.com? Up to $35.
Here's how to do it: Book Your Trip by December 5 and at checkout, enter BFRIDAY35 to save on flights.
More Special Deals & Savings from CheapOAir
- Cyber Monday Deals - Save up to $35 on flights by using promo code CMONDAY35 when you book by December 6 - Book Now!
- Travel Tuesday Deals - Save up to $25 on flights by using promo code TRAVELT25 when you book by December 7 - Book Now!
- New Year Travel Deals - Save up to $25 on flights with promo code NY25 when you book by January 2, 2021- Book Now!
More Great Deals from CheapOAir
Vacation Packages - Save when you bundle your trip! Take up to $30 off with promo code VP30 through 12/31/20 - Book Now!
Exclusive Car Deals - Save on your rental car now! Save up to $10 with promo code CAR10 through 12/31/20 - Book Now!
---
Why You Can Save BIG on Black Friday and Cyber Monday
If you're not from the U.S., you may be wondering: What exactly is Black Friday? Or Cyber Monday? And how does Thanksgiving come into play?
In short, Black Friday is the day after the American Thanksgiving holiday (the 4th Thursday in November) when shoppers traditionally flood into retail stores (or browse online) to start holiday shopping.
To compete for customers, retailers offer big discounts on Black Friday - but many merchants now extend the sales throughout all of the week. Online vendors vie for shoppers with their own large discounts on Cyber Monday, the first day of the following week - but as part of the general grab for customers, online sales start well before Thanksgiving as well.
Bottom line? Over the past couple of decades, Black Friday and Cyber Monday have become the most important sales period of the year for savvy shoppers as brands around the world have started offering the discounts.
---
More Articles about Boston Tours & Sightseeing