Fenway Park tours give you a unique opportunity to go behind the scenes for a close-up view of America's most famous ballpark, home field of the Boston Red Sox.
As you tour the famous ballpark, you'll be in the exact spot where so much baseball history has been made.
This is your chance to be out on the field, almost alone, where baseball legends performed their magic.
You'll smell the freshly-cut grass, feel a faint breeze, and gaze up into the stands, just as the players do. Babe Ruth, Ted Williams, Petro Martinez, David Ortiz - you're standing where they've all stood.
You'll almost hear the massive crowd of cheering fans - Red Sox Nation - as they leap to their collective feet after a home run.
Get your Fenway Park Tour tickets:
Top Photo: Fenway Park, photographed during a tour, (c) Boston Discovery Guide
Boston Discovery Guide is a reader-supported publication. When you buy through our links, we may earn a commission at no additional cost for you. Learn more
---
What to Expect When You Tour Fenway Park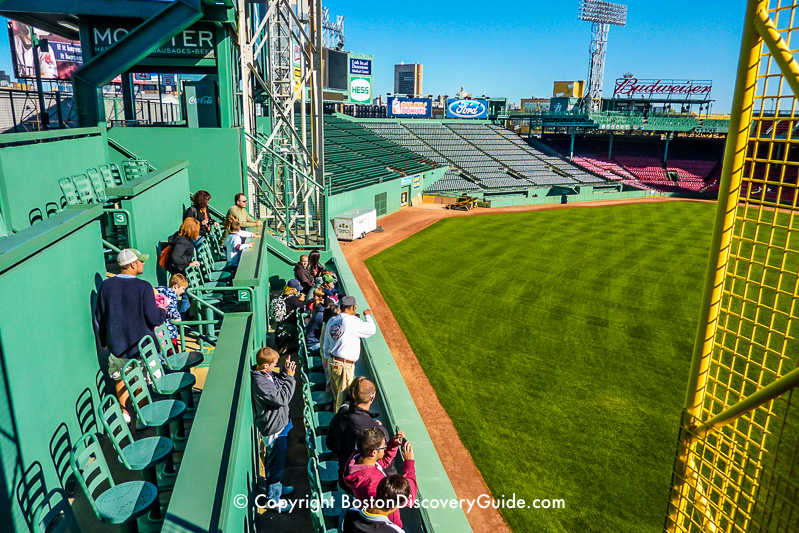 There's no place else like Fenway Park in Boston.
Of course you can go to a game and cheer the Red Sox in person. (And you should.)
But on a Fenway Park tour, you get to see everything up close in a way you can't when the stands are filled with 36,000 cheering fans.
Check Fenway Park Tour ticket availability from Get Your Guide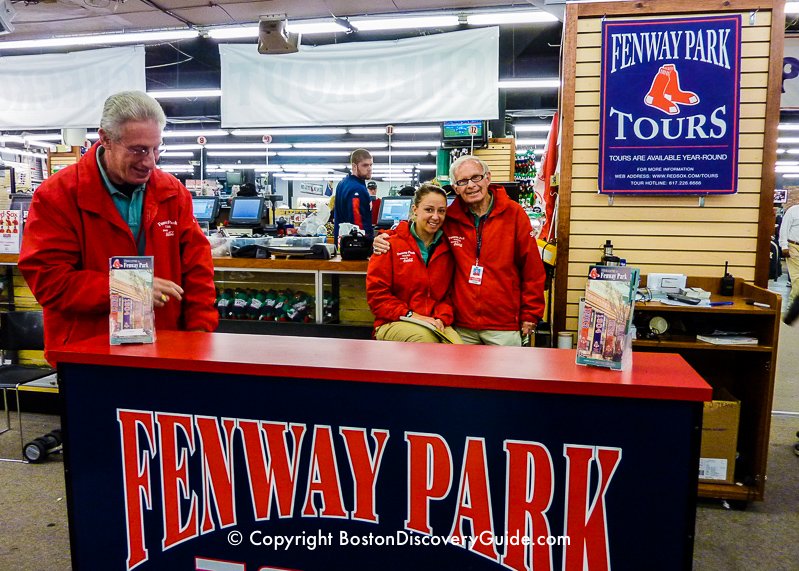 The 1-hour walking tours are led by official Fenway Park tour guides, and each tour is somewhat unique. Each guide customizes the tour based on his or her favorite Red Sox stories as well as what else is happening on the field as you tour.
Typically, you'll get to touch the Green Monster and go inside it, right behind the scoreboard. You may even get to go up and sit in the Green Monster seats.
You'll check out the Press Box, imagine yourself at the mound, learn about Red Sox history, and visit the Red Sox Hall of Fame wall covered with photos and mementos showing great moments in the team's history.
You may get to walk around the Warning Track and Pesky's Pole, the famed right field foul pole named for a former Red Sox shortstop. You'll visit a few different parts of the stadium. You'll get to see the bullpens up close, built in front of the right center bleachers in 1940 so that left-handed Ted Williams could hit more home runs and dubbed "Williamsburg" by journalists of that era.
On non-game days, you might even get to visit the Dugout and walk across the field.
You'll see the Bullpen, where players warm up before the games, and the red phone that the coach uses to call for relief players.
You may even hear a bit about some of the iconic performers who have given concerts at Fenway Park during the summer - but the tours mostly focus on baseball.
Get your Fenway Park Tour tickets
---
Check Fenway Park's Upcoming Schedule
Enter DISCOVERY10 to save 10% on TicketLiquidator & TicketNetwork tickets. Good through 12/31/24.
See the full schedule and available tickets for Fenway Park events
---
What Else to Expect on Your Tour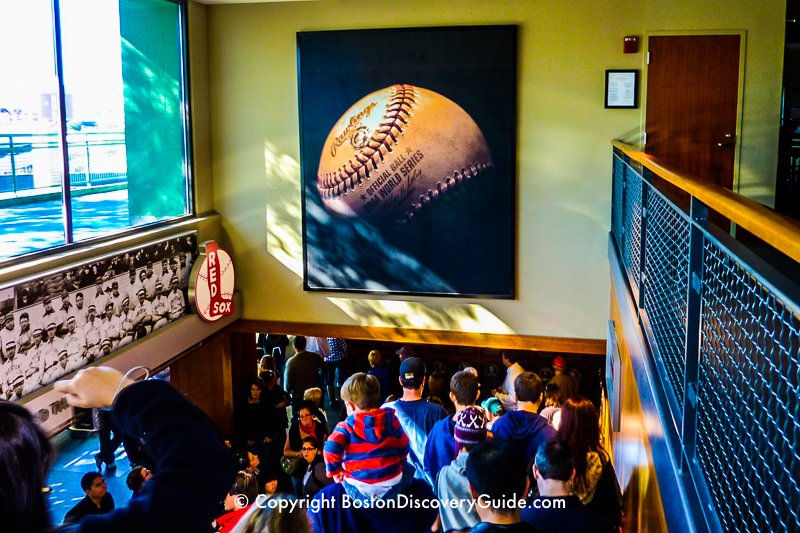 As the Fenway Park tour continues, you'll even get an up-close, first-hand sense of how peculiar some of the ball park's dimensions feel when you're on the field. You'll see how deep right field is, how short left field feels, how the Green Monster looms over you.
No doubt about it, Fenway Park can be a tough place to play . . . if you're not used to it, like the Sox are.
You'll see how wall angles come together to make "the triangle," the farthest part of the field from home plate.
All the seats will be empty . . . but you'll imagine standing on the field, getting ready to hurl a ball through the air, with the almost-at-eye-level seats filled of cheering, screaming fans.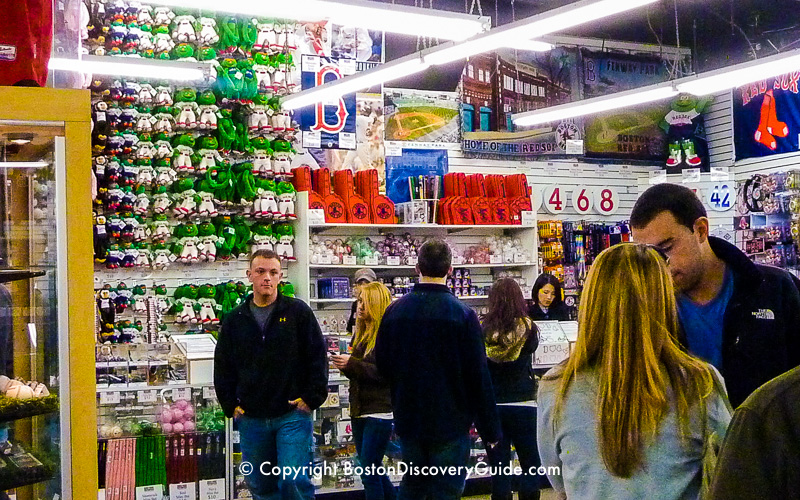 ---
Boston Insider Tips: How to Get the Most Out of Your Fenway Park Tour
You're permitted to walk on the field and in the dugout only during the morning tours on home game days - so if this is something that you want to do, plan accordingly.
Tickets are sold up to 30 days before the day of the tour and sometimes sell out. Especially if you want to do a morning tour, a good strategy is to get your tickets early. A limited number of tickets are available for walk up purchase daily at Gate D on a first come, first served basis.
Save a few minutes before and after the tour to look around the enormous Red Sox Souvenir Shop where tickets are sold on Yawkey Way. If you don't already have plenty of Red Sox gear in your closet, now is the time to buy more. You can also find lots of memorabilia such as coffee mugs and Fenway Park posters.
Kids and teens love this tour, so remind them to make sure their phones are charged - it's the perfect spot for selfies.
---
Essentials: Fenway Park Tours
Address: Fenway Park is at 4 Jersey Street, in Boston's Fenway neighborhood
Nearest T station: Green Line B or C/Kenmore; Green Line D/Fenway; Commuter Rail Worcester Line/Yawkey
Parking: Garages & lots near Fenway Park
Tour Availability: All year, rain, sunshine, or snow! (actual blizzards, no)
---
Where to Stay near Fenway Park Tours
Closest Hotels to Fenway Park
- Buckminster Hotel - Affordable rates, 2-minute walk from Fenway Park
- Hotel Commonwealth - Luxury hotel about 2 blocks away from Fenway
Enter your travel dates to find more hotels and cheapest rates on this map from Booking.com:
More about hotels near Fenway Park
---
More about Fenway Park & the Boston Red Sox
***y-nav-boston-red-sox-main.shtml***
---
---
More Fun Ways to See Boston