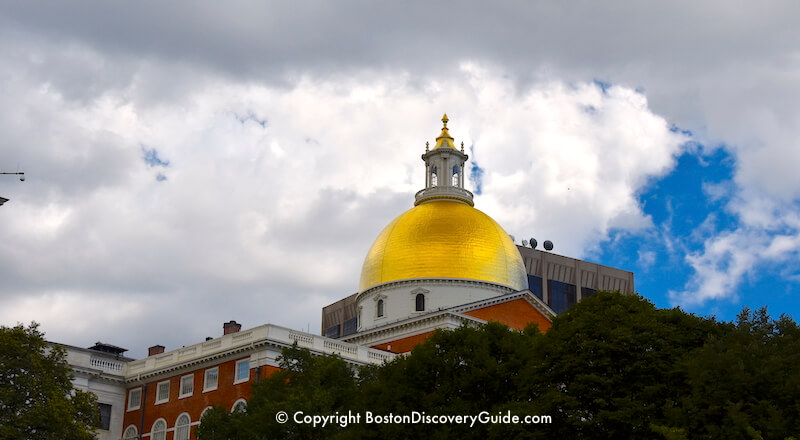 Boston weather can be unpredictable from one moment to the next.  
Fortunately, a local saying sums up it up accurately: "If you don't like the weather in Boston, just wait one moment."
Although we have four distinct seasons, you'll find lots of overlap: occasional warm days during the winter, and in many years, colder days than you might imagion during the first part of June.
Our coastal location can create unpredictable weather patterns and cause rapid changes in temperature and other conditions: howling nor'easters, blinding blizzards, torrential downpours, an occasional hurricane.
Even tornadoes - rare in this part of the state - do occur.
If you're planning a trip to Boston, you need to know what to pack.
In particular, you need to be prepared for the extremes you might occasionally encounter, especially if you're planning to drive here during the winter.
More about Boston weather:
Boston Marathon Weather - Training for the Marathon? What you might encounter based on past history (hint: you may be surprised by the variation from one year to the next)
What to Expect from Boston Weather this Week
Average, High, & Low Temperatures Each Month
This chart shows you average monthly Boston temperatures and other weather statistics.
Pay special attention to record highs and record lows. Sure, these are the extremes - but in plenty of other years, temperatures can come close to these highs and lows - so when you're packing for your trip, be prepared!
You'll also notice that precipitation is fairly evenly distributed among all the months of the year. We get between 3 and 4 inches of precipitation every month except for February, which of course has only 28 days.
Keep in mind that in below-freezing weather, a few inches of precipitation translate into a lot more inches of snow.
What Kind of Weather to Expect Each Month
To give you a more specific idea of what to expect on a month-by-month basis, here are Boston weather overviews with plenty of photos to show you what Boston looks like each month, along with activity and packing suggestions:
January weather - Very cold, usually clear . . . unless snow is falling . . . or the weather turns warm
February weather - Lots of snow . . . except when warmer days cause it to melt
March weather - Cold and blustery . . . but days grow longer and the temperature rises, and skies are a brilliant blue
April weather - Giddy excitement sweeps the city as spring begins to arrive and trees burst into bloom
May weather - Activities move outdoor, as flowering plants and breath-taking magnolias put on a show
June weather - "Perfect" sums it up . . . except for bursts of humidity and rain
July - Hot! Cruise around the Boston Harbor Islands or head to the beach
August - Lazy, steamy, hot days . . . markets overflow with ripe produce, and sidewalk tables fill up outside every restaurant
Boston weather in September - Air is warm and dry, sky is blue . . . a month of sparkling days
October - Dry, warm days full of autumn colors . . . although we occasionally get snow toward the end of the month
November weather - Gorgeous days . . . but colder, with a nip in the air . . . winter is coming
December weather - Days turn short and cold; brilliant sunshine competes with snow
---
Fun Things to Do & See in Boston
Best Boston Activities for Snow & Rain