Boston's weather offers four seasons with something for everyone . . . sometimes within a very short period!
If you love distinct seasons, you'll be thrilled by all the changes Boston's climate offers:
Boston weather gives us all of these moments . . . and more.
The four seasons make living here wonderful, and Boston vacations memorable.
Top photo: Spring in Boston - Tulips blooming in the Public Garden, (c) Boston Discovery Guide
Boston Discovery Guide is a reader-supported publication. When you buy through our links, we may earn a commission at no additional cost for you. Learn more
---
Spring Weather in Boston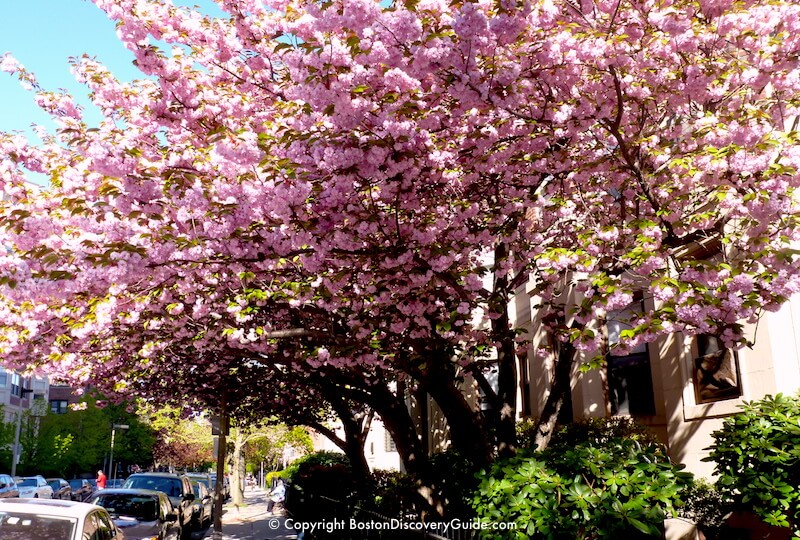 Spring - part of March, April, May, and the first part of June - typically starts out cold and often windy. In fact, these days or weeks will not be what you might think of as "spring."
Some springs can also be quite rainy, some bring snow as late as April (and I don't mean just a few flakes!), and in some years, cold temperatures last until May . . . well, truthfully, some Junes can also be fairly cold.
But in between these wretched remnants of winter, you can also expect to enjoy gloriously gorgeous warm days. In fact, occasionally temperatures rise enough to produce beach days.
Beginning in April, flowers begin to burst into bloom . . . first, just early bulbs in front gardens, but by the end of the month and early May, magnolias and cherry trees cover the city with swaths of pink blossoms. Rhododendrons quickly follow, and by early June, roses fill the air with their scent.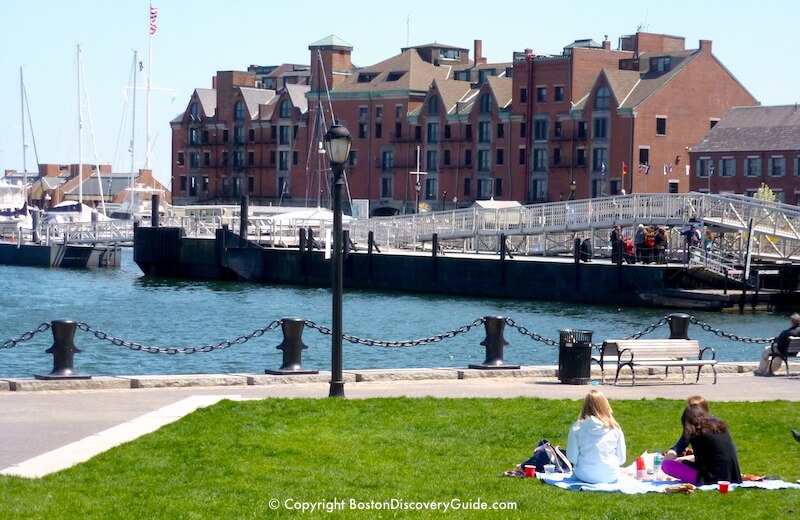 Packing essentials for spring: With such unpredictable weather during this season, bring clothes you can layer - sweaters, a jacket, and perhaps a lightweight raincoat. Just in case, bring a pair of warm gloves, a hat, and a scarf or two. Boots are no longer a "must" by April - but waterproof footwear can be a benefit.
Be sure to also bring an outfit suitable for temperatures that might zoom up to 70°-80° - or higher.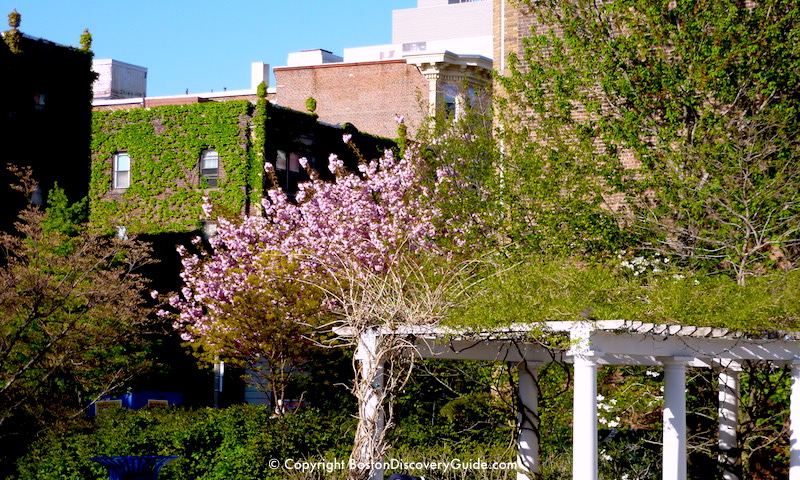 How to enjoy Boston's spring weather:
---
Summer Weather in Boston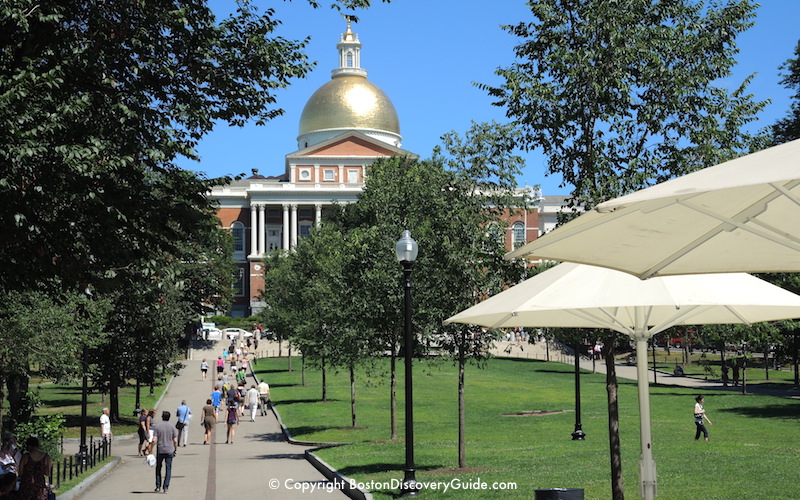 Summer - June, July, August - in Boston can be gloriously warm and sunny, hot and miserably humid, or, especially during the first part of June, chilly and rainy.
Most summers contain a mixture of all of these conditions - plus dramatic thunderstorms. Occasionally, you'll experience all of this within the space of a day.
Summer is the time to enjoy being outdoors in the balmy Boston weather of summer.
Fortunately, beautiful days outweigh the less than perfect ones.
How to enjoy Boston's summer weather:
Stroll along the Boston Esplanade, go for a ride on the Boston Swan Boats in the Public Garden, explore the Freedom Trail and the Rose Kennedy Greenway, and cruise out to the Boston Harbor Islands.
When you're booking your hotel, consider staying at one with an outdoor swimming pool.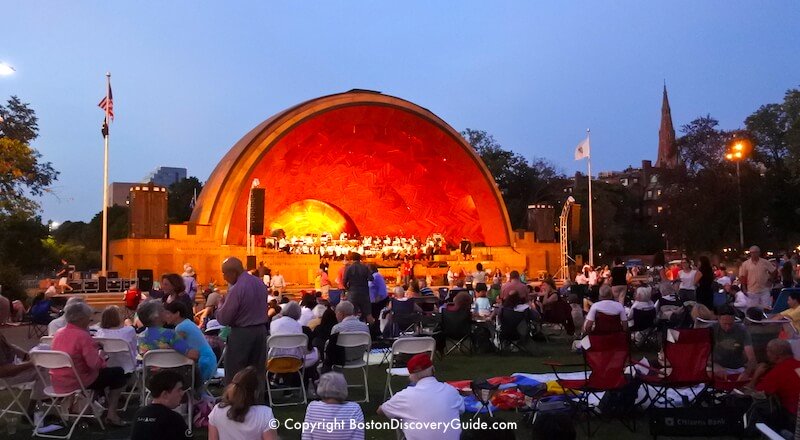 Packing essentials for summer: Lightweight summer clothing, with an emphasis on comfort. If you're visiting during the first half of June, keep in mind that rain and very cool daytime temperatures are still a possibility, so be prepared to dress in layers.
During July and August, expect hot, humid days and nights. Bring a sweater for evening and air-conditioned spaces.
And remember to pack sunscreen, a hat, and sunglasses!
---
More to Do & See in Boston
---
Fall Weather in Boston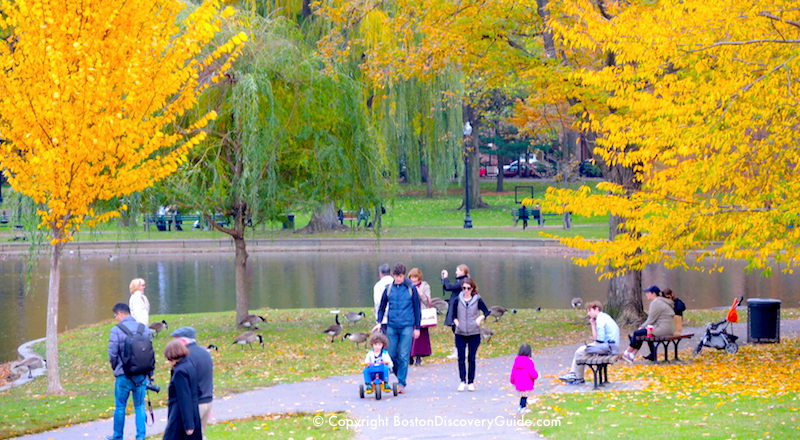 Fall - September, October, November - is when Boston weather usually produces the highest number of perfect days.
Cooler night temperatures should be a reminder that winter is coming, but bright sunshine during the day makes denial easy.
Of course, fall can also bring rain - occasionally torrential downpours and even nor'easters.
Sometimes snow will fall in November . . . and even occasionally in late October.
However, September and October are usually a great time to walk around the city, and November is also fine during many years.
Along residential streets in neighborhoods, such as Beacon Hill in the photo below, you'll often see beautiful flowering plants still at their peak, as well as chrysanthemums and, toward the end of the month, Halloween decorations.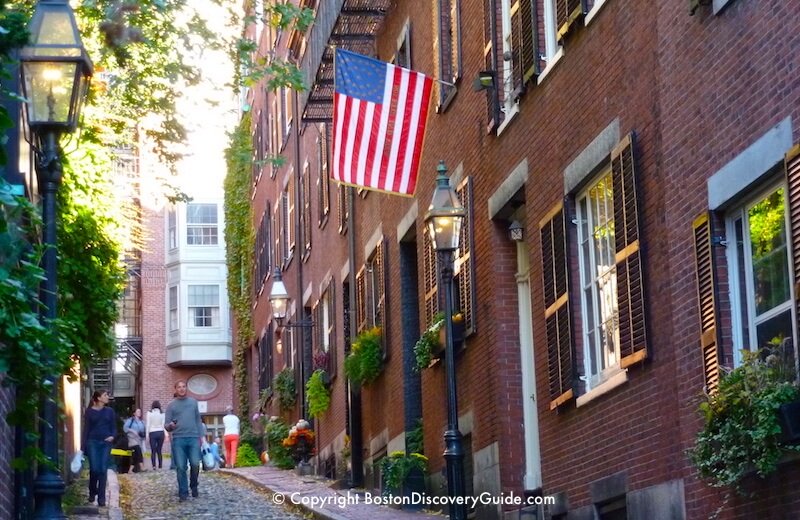 Boston fall foliage begins its spectacular annual display. As the leaves turn from green to crimson and gold, temperatures stay relatively warm. Fall foliage tours and cruises to more northern parts of New England where the leaves turn brilliant colors earlier in the season are a great way to get a head start. By mid-to-late October and early November, colors in Boston will be at peak.
How to enjoy Boston's fall weather: Just walk around the city and enjoy the bright blue skies and low humidity (in other words, no haze).
To enjoy fall foliage during your stay, choose a hotel near Faneuil Marketplace . . . most are near the tree-filled Greenway, plus you're within an easy walk of Beacon Hill, Boston Common, and the Public Garden. And if the weather turns chilly, you can explore the shops and pubs in the Marketplace.
---
Winter Weather in Boston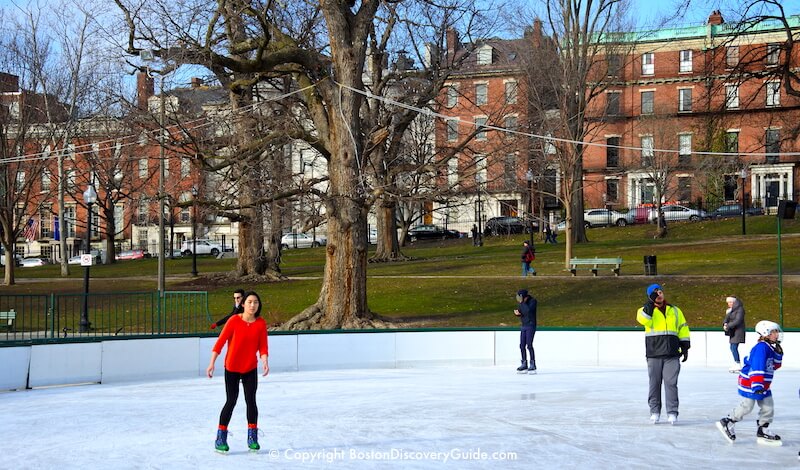 Winter in Boston - December, January, February, and usually part of March - means cold days and colder nights. Some of the most brilliantly beautiful days of the entire year occur during the winter - clear crisp air, blue skies, bright (if not warm) sunshine, and perhaps sparkling snow on the ground.
During most years, the temperature drops below freezing at night, and may remain below freezing during the day.
But Boston weather can be unpredictable. Some winters are significantly milder than others. Some produce lots of snow, while others may be almost snow-free.
Packing essentials for winter: Warm gloves, warm socks, hat, scarf, warm coat or jacket, warm boots - as you can see, "warm" is the operative word here. Preferably, consider bringing boots with waterproof soles - or at least with soles thick enough to give you some insulation as you walk.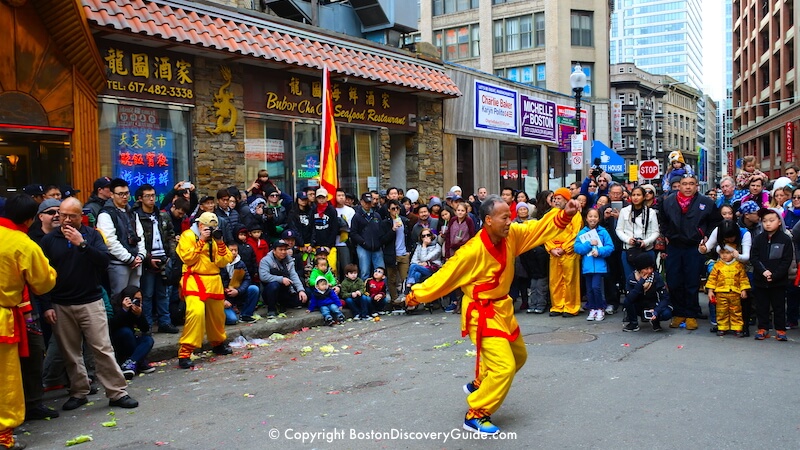 How to enjoy winter in Boston:
Generally, temperatures rise somewhat during March (which technically is spring) - but not always!
So, just in case . . . here are a few more winter activities:
---
---
Boston Weather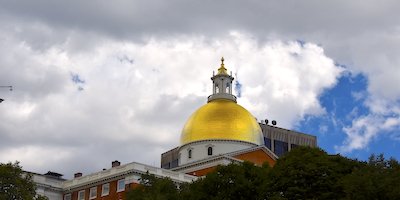 Boston Weather by Season - Blizzards, Hurricanes, Nor'easters - Boston Weather Forecast - Marathon Day Weather History - January Weather - February Weather - March Weather - April Weather - October Weather - November Weather - December Weather - Boston Weather Guide
---
More Articles about What to Expect in Boston
---
Need a Boston Hotel or Apartment?
Use this handy map from Booking.com to find the perfect place to stay. Just enter your dates to find what's available, see the best rates, and make your reservations.