Boston Weather Forecast - Today & This Week
Although this weather forecast tells you what conditions and temperature to expect here in Boston today and for the coming week, what it doesn't tell you is how quirky our weather can be.
Boston weather can be unpredictable from one moment to the next - and regardless of what is forecast, it may not be accurate beyond three or four days, despite meteorologists' best efforts.
Our coastal location can create unpredictable weather patterns and cause rapid changes in temperature and other conditions.
Even though Boston is a compact city, you'll find microclimates.
If you're near the Charles River or the Boston Harbor waterfront, you'll sometimes experience a stiff breeze that you won't find a few blocks "inland."
On hot summer days, waterfront areas may be a number of degrees cooler than, for example, Back Bay or the South End.
It's not unusual to be caught in a quick rain shower - or even a snow shower - and then walk a couple of blocks to find dry streets.
If you're traveling to Boston and want to know what to pack, your best strategy will be to check the forecast the day before you leave.
Check our summary of average highs and lows for years past, and unless you're going to be here for only a day or two, pack for the extremes.
Specifically, "packing for extremes" means extra layers and warm footwear in the winter, and cotton or other cool fabrics in the summer.
---
More about Boston weather:
Boston's Four Seasons - What to expect during each one
Extreme Boston Weather - Hopefully, you won't encounter any of these conditions . . .
Boston Marathon Weather - Training for the Marathon? What you might encounter based on past history (warning: you may be shocked by some of the highs and lows)
Will the Weather Be the Same a Few Miles Away in the Suburbs?
No, don't count on it.
If you're traveling outside of Boston, even just to outlying suburbs such as Lexington, Concord, or Salem, you may encounter temperature differences of as much as 10° - 15°, compared with the city. Yes, that's a significant difference within a range of only 8 - 15 miles.
Cape Cod and the Islands - Martha's Vineyard and Nantucket - may show even wider variations.
Fortunately, this can work to your advantage . . . if you're in the city. During the summer, despite all of its concrete, brick, and granite, Boston feels usually cooler than inland areas because of sea breezes.
Once fall arrives, leaf color in the city stays spectacular for a longer period. During the winter, all the concrete, brick, and granite plus the nearby water keep Boston warmer.
However, if you're traveling outside the city during winter or early spring, you should get a local weather prediction for the exact area where you're going, especially if you're going west or north.
Snow, Sleet, and Other Frozen Stuff: What You Need to Know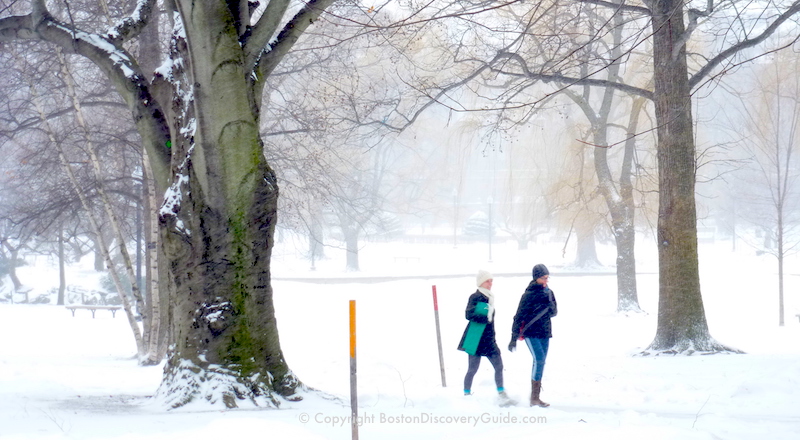 When weather conditions are borderline freezing, what's rain in Boston may be sleet, freezing rain, or snow in Lexington, only 8 miles to the west.
The same is true if you're traveling north. Slushy snowflakes in Boston can change to treacherous sleet by the time you reach Amherst.
Furthermore, the land elevation rises just to the west and north of Boston in a series of hills and ridges, so areas 8-10 miles from Boston often experience much heavier snowfalls than the city because they're in a different microclimate.
But if you're going south or to Cape Cod , you can't be sure. Often these areas will be slightly warmer than Boston weather - but if a storm is coming up from the south with cold air behind it, those areas can sometimes get significantly more snow than Boston.
Don't take chances if you're traveling: bookmark this page and check the Boston weather forecast early and often!
And one more thing that you may not know if you're not from New England: During the winter, always make sure you have a snow shovel and ice scraper in the car.
If you're not wearing a hat, gloves, scarf, and boots or waterproof shoes, make sure you bring those items with you in the car. Occasionally, iffy conditions turn into extreme weather faster than seems believable.
Fun Things to Do & See in Boston
More Boston Activities for Non-Ideal Weather
No matter what the weather forecast may be, you always need a "Plan B" when you visit Boston.
If you encounter heavy rain, snow, or sleet during your Boston visit, try these activities: