Inexpensive Boston hotels can save you a ton of money - and still give you a high-quality vacation and travel experience in the city's best neighborhoods.
Boston hotel rates routinely rank as the highest in the U.S. - even ahead of New York, LA, and San Francisco.
Fortunately, you can find bargain hotels right in the heart of the city ... if you know where to look.
In addition, you can use seasonal deals to get even more savings, sometimes at the city's most expensive hotels.
Our insider tips tell you where you'll find the best cheap hotels, inns, and B&Bs in Boston's top neighborhoods, special deals and packages on higher-priced hotels, and other affordable accommodations - WITHOUT giving up the convenience of a central Boston location.
Plus, find out how to save a bundle on hotel parking, and where to find convenient suburban Boston hotels offering even bigger savings.
Finding inexpensive Boston hotel rates can be a challenge - so find out how you can save hundreds of dollars.
Charlesmark Hotel on Boylston Street at Copley Square near the Boston Marathon Finish Line
Boston Discovery Guide is a reader-supported publication. When you buy through our links, we may earn a commission at no additional cost for you. Learn more
---
Inexpensive Boston Hotels - 5 Top Choices
When you want a cheap (for Boston) hotel in a great neighborhood, the following six hotels are the first places to look for reservations.
Each hotel does come with a "catch" - but don't worry. We'll tell you what it is, and you can decide if it works for you.
These hotels almost always offer some of the lowest rates in town - and you'll love staying in these exciting central locations.
---
CitizenM North Station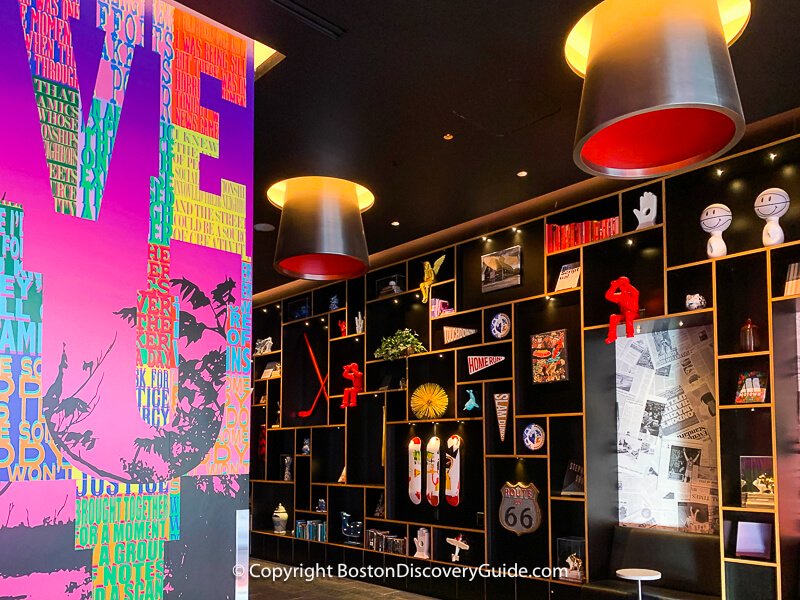 80-120 Causeway Street at Bulfinch Triangle in Boston's West End neighborhood
CitizenM Boston, located directly above the TD Garden sports/entertainment venue, offers you 272 "affordable luxury" rooms, a welcoming 4th floor lobby featuring art, books, and cool furniture, 24x7 food and beverages (not that there's any possibility of going hungry in this restaurant-filled neighborhood), and an outdoor terrace with ping-pong tables.
Enjoy the fantastic views, explore nearby Faneuil Marketplace and Beacon Hill - and of course take in an event or two at TD Garden.
Catch #1: Even for Boston, the guestrooms are small. But at times (ie, when no big events are scheduled at TD Garden), you can get very affordable rates in a fantatistic location.
Catch #2: Rates aren't always cheap; in fact, they can soar during playoffs or even headliner concerts at the Garden. But other nearby hotels may be charging even more.
---
Yotel Boston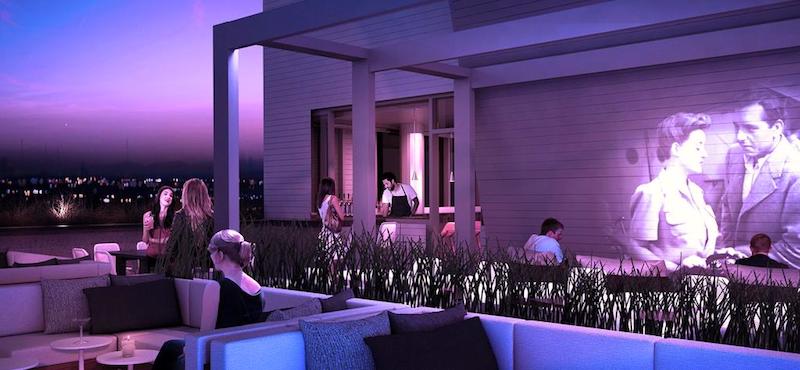 Yotel Boston offers something different: luxurious but super-compact rooms combined with a club-like lounge, a rooftop terrace with a restaurant and bar, and an excellent location in the heart of the Seaport district of the South Boston Waterfront.
Since the hotel is directly across from the MBTA's Silver Line Courthouse stop, you can easily take the "T" directly to and from the airport - or opt for a water taxi.
The catch: The smallest rooms are indeed small - Yotel calls them "cabins" designed to give guests "everything they need and nothing they don't."
But you'll love the very affordable price - especially compared with other rates at nearby hotels. And really, with all of Boston to explore, why spend much time in your hotel room?
Need more space? Larger (and pricier) cabins and even 2-room suites are also available.
---
Revolution Hotel in Boston's South End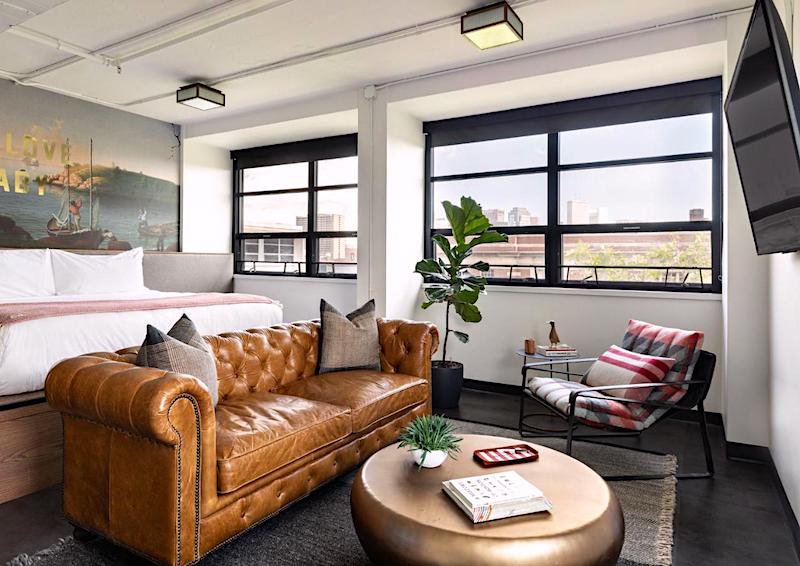 40 Berkeley Street, Boston's South End
The new 177-room Revolution Hotel in the trendy South End continues the trend of combining "micro" guest rooms for 1-4 people with a hip vibe, free amenities such as high speed wifi and a comfortable coworking space dubbed "Conspire," and very low (for Boston) rates.
You'll also like the onsite bistro/cafe with outdoor seating options for warmer weather - or walk around the neighborhood and take in the beautifully-restored Victorian brownstones and quirky community gardens.
The result? The Revolution is one of Boston's most attractive affordable hotels, especially considering its close distance (5-10 minute walk, depending on where you're going) to Downtown Boston.
The catch? The cheapest guestrooms share bathrooms (several per floor) accessed via the hall rather than en suite.
But if hallway facilities are not your thing, pay a little more for a bathroom in your room and you'll still get cheaper rates than in other nearby hotels.
---
Charlesmark Hotel
The Charlesmark Hotel offers a superb Copley Square location opposite the Boston Marathon finish line, gorgeous high-end custom furnishings, and lots of luxe touches - and great rates!
So what's the "catch"? Size and popularity ... with only 33 rooms, this sought-after owner-operated boutique hotel is often fully booked weeks in advance.
So if you want to stay at the Charlesmark, you need to be very aggressive about booking as early as possible.
---
Hotel 140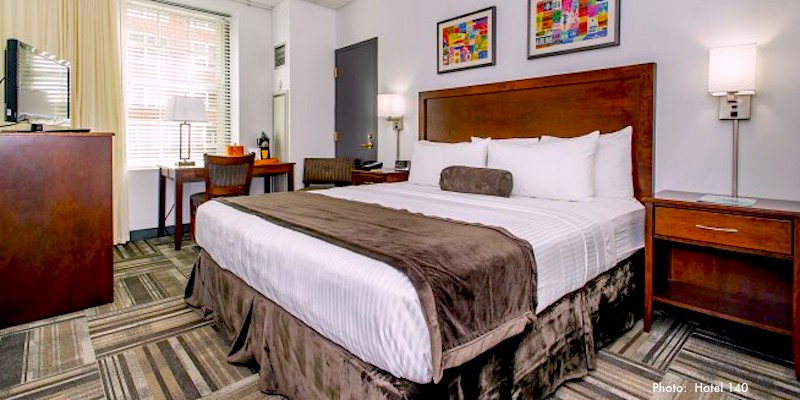 The small, contemporary boutique Hotel 140 occupies part of Boston's elegant former YWCA building, built in 1929 and now on the National Register of Historic Places.
You get an excellent Back Bay location. Hotel 140 is directly across from I.M. Pei's soaring glass-sided John Hancock Tower, and only one short block from magnificent Copley Square.
The hotel is also near the Back Bay Amtrak/Subway station, the South End, and the Theatre District.
The catch: Rooms tend to be small and basic (large and luxe would mean much higher rates in this location) but the grand lobby and staircase will take you back in time to the glamorous roaring twenties.
There is one problem ... lots of bargain travelers know about this gem, so getting reservations can be tough - book as far ahead as possible.
---
Boston Insider Tip: Why So Cheap?
You may be wondering what you give up in return for inexpensive Boston hotel rates. Convenience? Safety? Comfort?
Correct answer is: amenities. Boston's centrally-located inexpensive hotels tend to be small - so no business-oriented options such as conference facilities, high-end onsite restaurants, or big meeting rooms.
Also, the furnishings may be kind of blah . . . older furniture, dated color schemes, and older TVs rather than high definition flat screens. Don't look for designer linens on the beds.
Bottom line? If you can live without fancy shampoos and Italian sheets, you can save significant money.
---
More Boston hotels: All Boston Hotels - Newest Hotels - Deals & Discounts - Theatre District Hotels - Boston Marathon - Hotels with Fireplaces - Seaport/CruisePort Hotels - New Year's Eve Packages - Inexpensive Hotels - Discount Hotels - Back Bay Hotels - Hotels near Fireworks - Hotels with Outdoor Pools - Faneuil Market Hotels - Valentine's Day Packages - Downtown Boston - Park & Fly - Airport Hotels - Waterfront - Seaport - Historic Downtown - Suburban Hotels - Fenway Park Hotels - TD Garden Hotels - Gillette Stadium Hotels - Financial District
---
More Inexpensive Boston Hotels to Consider
The following 4 hotels are NOT for everyone. But if they meet your needs and the rates compare well with other options, you may find a big bargain. Read the reviews carefully to make sure they're a good fit for you.
At certain times of the year, you can find amazingly low rates (for Boston) at each of them.
---
Club Quarters Hotel Boston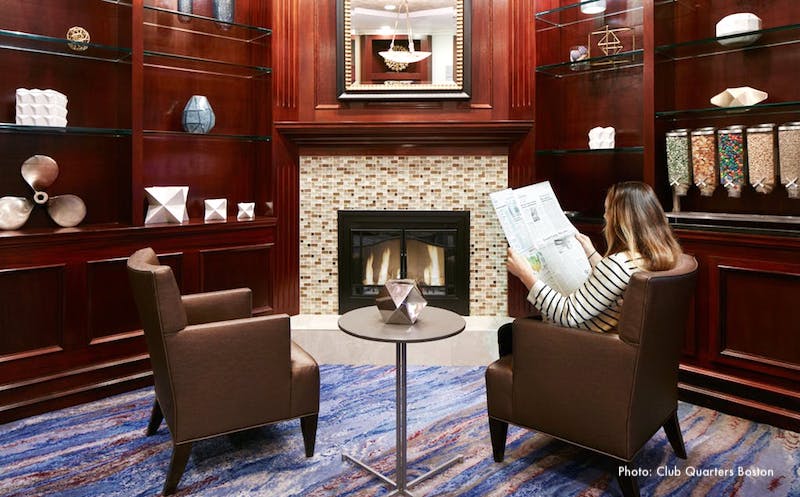 Located in the heart of Boston's downtown Financial District near the Freedom Trail, Boston Harbor waterfront, and Faneuil Hall, Club Quarters is a "private" hotel - there's no lobby and you must have a key to get in.
Club Quarters targets business travelers, but also works well for 1 or 2 leisure travelers. You can't beat the location!
The catch: This small but extremely popular boutique hotel is often fully booked well in advance due to its excellent location and club-like ambiance (and cheap rates), especially during the week. And if you need front desk services or an onsite concierge, Club Quarters will not be the hotel for you.
---
Found Hotel (formerly Milner) Boston
Visitors love or hate the Found Hotel. Built in 1877, it has a terrific location at the edge of the Theatre District and near Boston Common, close to many wonderful restaurants. It's a throwback to an earlier period.
The catch: Most rooms are small and basic. Some rooms have been renovated; others need updated furnishings and decor. Service gets mixed reviews. If you like luxury touches or concierge service, you should stay elsewhere.
However, if you want a convenient location and truly don't care about aesthetics or amenities, you'll love Found Hotel's bargain rates and homey feeling.
---
Hotel Indigo Boston Garden near TD Garden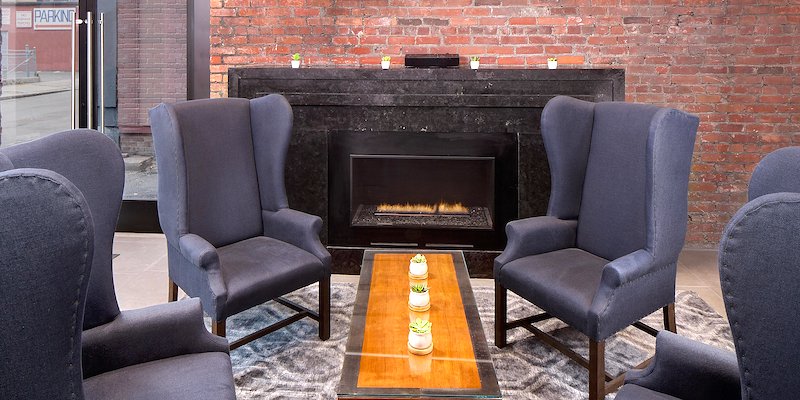 Hotel Indigo Boston Garden offers a terrific location near TD Garden, Faneuil Hall Market, Beacon Hill, and the North End. And the hotel is better than ever after a recent renovation.
You'll also find lots of fun Irish pubs and sports bars nearby.
The catch: When the Bruins and Celtics play at the Garden, rates go up and this hotel books up fast. Unfortunately, that's true for all the hotels in this popular neighborhood.
But at other times, look for attractive rates and enjoy the lively neighborhood.
And even when the Garden is hosting home games, you may still find cheaper rates here than at the nearby competition, as this small hotel does not have an onsite restaurant or garage. It's usually one of the best bargain hotels in this part of Boston.
---
Studio Allston Hotel - Walk (Or a Short Uber or Lyft Ride) to Harvard T Station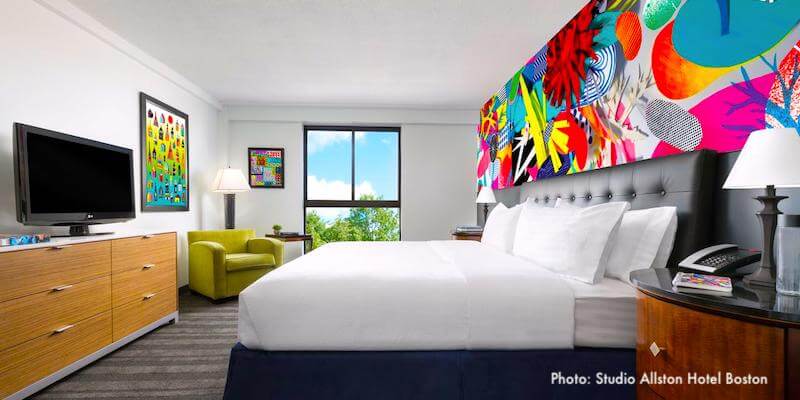 1234 Soldier's Field Road, Boston's Allston neighborhood
Studio Allston Boston is a boutique hotel overlooking the Charles River and Herter Park - close to Harvard Stadium (site of Boston Calling music festival) and the Head of the Charles Regatta, as well as Harvard University, Harvard Business School, and Boston University's West Campus, and is about 3 miles from Downtown Boston.
The location in Boston's Allston neighborhood may or may not work for you - but if it does, you can expect affordable rates (usually), spacious rooms with vibrant art by local artists, a Cuban-themed restaurant and bar with music, and a fun vibe.
No public transportation nearby (unless you walk about a mile to the Harvard Square subway station, which is actually a pleasant walk), but assuming you avoid rush hour traffic, a car service ride such a Uber or Lyft to central Boston and back will cost a lot less than parking in the city for the day.
---
Cheap Rates at Mid-Range Boston Hotels
Boston hotel rates vary for so many reasons. Time of the year and day of the week top the list. For example, you'll almost always find better rates during January than July.
But occasionally, you can find bargain rates at mid-range hotels that are as low or lower than what you might find at inexpensive Boston hotels.
For example, accommodations catering primarily to business travelers may be pricey during the week but offer great weekend rates.
Or, hotels near Fenway Park and TD Garden may drop their rates when no games or events are scheduled. Sometimes there's no obvious reason ...
Feeling lucky? Check rates for these very nice hotels in great locations where spending an extra 5 minutes looking for deals & discounts can sometimes give you a HUGE payback.
Wyndham Hotel Boston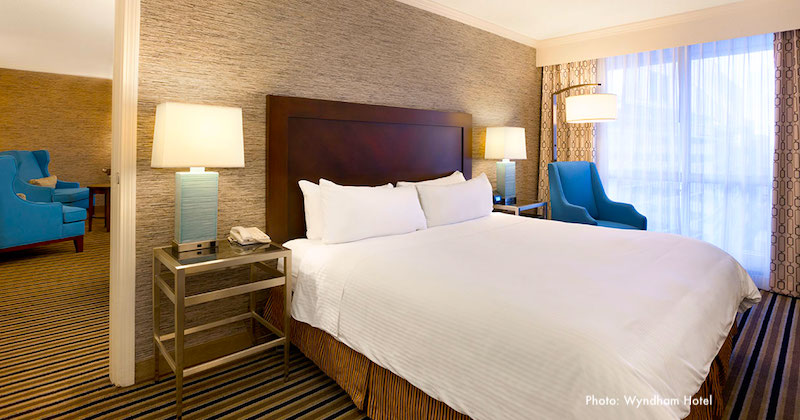 Across the street from MGH (Massachusetts General Hospital) and Beacon Hill, and just a short walk from TD Garden where the Bruins and Celtics play, the Wyndham offers an excellent location for reasonable rates.
But discounts and specials on the rooms and suitescan sometimes really sweeten the deal.
And the outdoor deck-top swimming pool is a huge bonus!
---
Bostonian Boston Hotel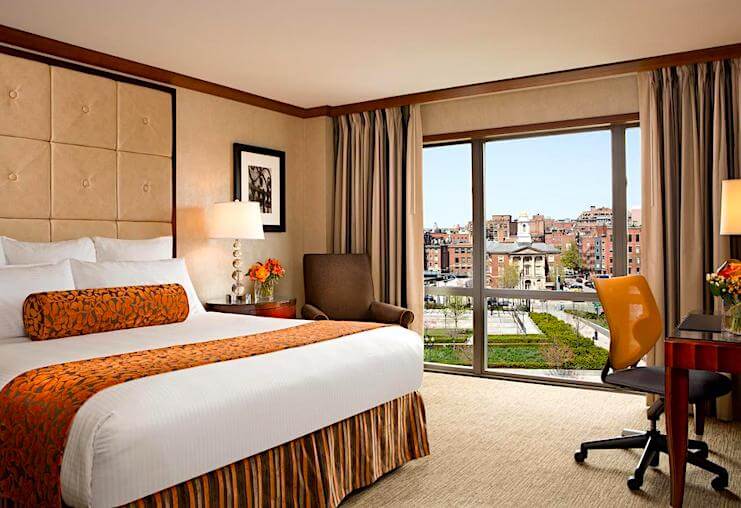 Located in Downtown Boston next to Faneuil Hall Marketplace, the luxe Bostonian Boston Hotel puts you close to everything: historic sites along the Freedom Trail, sightseeing cruises departing from the waterfront, wonderful restaurants and nightlife.
Find a cheap rate here? Grab it!
---
Doubletree by Hilton Hotel Boston
Doubletree by Hilton Hotel Boston offers a great location across from Tufts Medical Center on the edge of the Theatre District and Chinatown.
You'll enjoy dining in the wonderful Chinese and other Asian restaurants nearby, and exploring the Rose Kennedy Greenway.
The Hotel's secluded terrace (a rarity for Downtown Boston hotels) is a cool bonus!
The Downtown Doubletree caters to business travelers, so you can sometimes find very attractive rates, especially on weekends.
---
Courtyard by Marriott Boston Downtown Hotel
Courtyard by Marriott Boston Downtown Hotel offers a terrific Theatre District location right down the street from the glitzier (and considerably pricier) W Hotel.
Public areas in this historic 1925 building have been restored to their former grandeur.
With 15 floors and 315 rooms, the Courtyard is larger than you may realize at first glance. One of Boston's liveliest dance clubs occupies space on lower floors at the back of the hotel, and Tremont Street itself can be loud at times - so ask for an interior room on an upper floor if you want to minimize noise.
---
Courtyard Copley Square
Tucked away in a gorgeous 1800s building on a quite side street in the trendy Back Bay neighborhood, the Courtyard Copley Square, a small boutique hotel that's part of the Marriott brand, is just around the corner from Copley Square, one of the city's loveliest plazas.
You'll be near the city's best restaurants and shopping, and you can walk to most major attractions.
---
Hyatt Regency Boston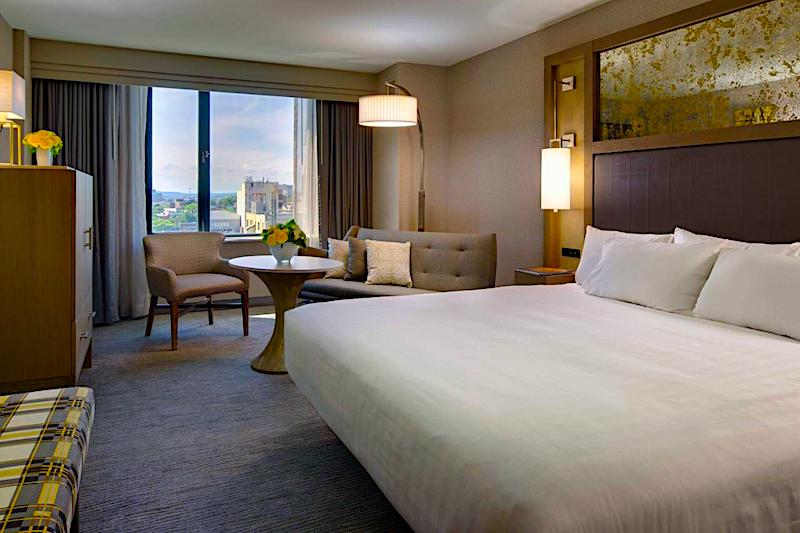 The huge 500+ room Hyatt Regency's location in the middle of the Theatre District and Chinatown is also near the Financial District, making the hotel popular with business and vacation travelers.
The well-equipped fitness room is a nice plus.
Normally, rates are what you might expect for a high-end business hotel - but at some times of the year, you can find deals here - so it's always smart to check.
---
Hilton Boston Downtown/Faneuil Hall
The Hilton Boston Downtown/Faneuil Hall'sdowntown location puts it only a few blocks from the waterfront.
Weekday rates at this popular near-luxe business hotel tend to be high, but look for bargains on the weekend when savvy leisure travelers get to enjoy all the amenities, including larger than average (for Boston) rooms and gorgeous public spaces.
---
Boston Marriott Copley Place
The Boston Marriott Copley Place is a gorgeous modern hotel in an excellent Back Bay location across from Prudential Center.
During big conferences here, rates will be higher and the hotel may be fully booked - so there are no guarantees. But always check rates here, because sometimes . . . you may find a bargain!
---
Cheap Rates at Boston's Top Hotels?
At certain times of the year, such as Labor Day weekend when everyone heads to the beach for the last days of summer, almost every hotel on the city is on sale. If your timing is right, you can sometimes find amazing rates at some of Boston's best hotels, such as the Park Plaza Hotel Boston, the Lenox Hotel, and the Omni Parker Hotel.
Why? These are older (but beautifully renovated) hotels, with wide ranges of room sizes - no cookie-cutter rooms here! You'll sometimes find the smaller rooms at a BIG discount - sometimes at rates even lower than what you'd normally expect at Boston discount hotels.
---
Can You Save at Hotels Outside of Boston?
Yes, sometimes you can save a lot - but be careful not to choose a hotel outside the city that puts you far away from public transportation such as the subway. Otherwise, almost every penny you hoped to save will be eaten up by the time and cost of driving into Boston and paying high parking fees.
See our recommendations for how and where to save at hotels outside of Boston but close to subway stations
---
How to Shave 25% Off Your Boston Hotel Bill
Many Boston hotels are now charging over $50 per day for parking - yes, that's over $50 plus tax that gets added to your hotel bill each day.
If you find a great rate of, say, $180 per night at a Boston hotel but have to pay another $50 for parking . . . well, do the math and you'll see the real cost for a night's stay. Leaving your car at home is a no-brainer way to save almost 25% on your total hotel bill.
You do not need a car in central Boston because you can easily take the subway ("T"), a cab, or car service such as Uber or Lyft.
In fact, a car is a liability - just read our tips about driving in Boston to see why! If you are planning a day trip outside Boston during your visit, you can rent a car for the day - much cheaper!
But what if you're planning to drive to Boston, and taking a plane, train, or bus simply doesn't work for you? If you're planning to be here for 7 days or less, park at one of the T stations that allow overnight parking (find a list at the MBTA's website by clicking on "parking").
Park your car in the lot (in at least some lots, you'll need to arrive either before about 7:30am or after about 6pm to find a space), grab your suitcase, and take the T to your hotel.
Or, if you're traveling with your family or friends, drive first to your hotel and drop off them and all of the luggage. Then drive to the T station, park, and take the T luggage-free.
You'll have to pay for the overnight parking (about $15 at most stations) and of course your T ticket (around $3 each way) - but you'll still save a bundle. Plus, parking at the station and taking the T to your hotel will probably be faster and easier than driving in the city.
---
Even Cheaper Hotel Alternatives
Are even the inexpensive Boston hotels pricier than your budget permits?
Don't despair . . . Check out these options:
Guest Houses - These are more like small furnished apartments than hotels. Rates are usually somewhat lower than most hotels - you won't save a lot of money, but everything helps! They're also good options if you're staying for several weeks or months.
Try Copley House for nice studios and 1-bedroom apartments in a lovely location on the Back Bay - South End border. Guest house 463 Beacon Street offers a great location in Back Bay.
Hostels - Boston Hostel (part of Hostelling International) provides hostel accommodations in an excellent location on Stuart Street in the Theatre District, as well as travel-related services such as tours.
Both private and shared rooms are offered, although the biggest bargains are the shared rooms. Just keep in mind that since rates are on a per-person basis, if you're traveling with 1 or 2 other people, you may find better values at some of the inexpensive Boston hotels. More about Boston Hostel
---
Find More Boston Hotel Choices
Enter your travel dates to see hotels available rooms and get accurate rates.
More about how to save on Boston hotels
---
More Boston hotels: All Boston Hotels - Newest Hotels - Deals & Discounts - Theatre District Hotels - Boston Marathon - Hotels with Fireplaces - Seaport/CruisePort Hotels - New Year's Eve Packages - Inexpensive Hotels - Discount Hotels - Back Bay Hotels - Hotels near Fireworks - Hotels with Outdoor Pools - Faneuil Market Hotels - Valentine's Day Packages - Downtown Boston - Park & Fly - Airport Hotels - Waterfront - Seaport - Historic Downtown - Suburban Hotels - Fenway Park Hotels - TD Garden Hotels - Gillette Stadium Hotels - Financial District
---
---
Need a Boston Hotel or Apartment?
Use this handy map from Booking.com to find the perfect place to stay. Just enter your dates to find what's available, see the best rates, and make your reservations.