These Boston discount hotels represent the city's best values - hidden bargains right in the middle of several of Boston's top central neighborhoods, near the most popular tourist attractions, restaurants, and amenities.
You're probably wondering: Why are these Boston discount hotels so cheap? What's wrong with them?
In short, nothing.
Several are simply less plush than nearby luxury hotels.
Others have smaller (even by city standards) rooms.
Still another, located almost next to Fenway Park, offers its lowest rates during off-season for the Red Sox (although even on game nights, you'll still find comparatively good rates here).
But if you can survive for a few days without designer linens, don't need a huge room, and are willing to stay elsewhere during the Boston Marathon or pay higher rates when the Sox play at Fenway, these Boston discount hotels will give you some of the best bargains in town.
Top photo: Harborside Inn - An affordable hotel just one block from the Downtown Waterfront, (c) Boston Discovery Guide
Boston Discovery Guide is a reader-supported publication. When you buy through our links, we may earn a commission at no additional cost for you. Learn more
---
Club Quarters - Financial District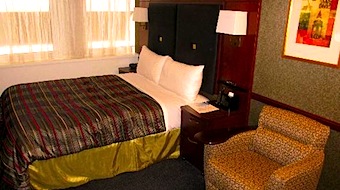 What you get: Club Quarters offers low weekday rates, especially when compared with other nearby hotels - and even lower weekend rates.
Great location for exploring Faneuil Market, the Freedom Trail, the North End, and the Downtown Waterfront.
What's the catch? Small rooms and bathrooms - but that's true for lots of city hotels. "Club" concept - non-members may pay a bit more than members.
Solution: Become a member!
Compare and smile: Luxury boutique hotels in Boston
---
Harborside Inn - Downtown Waterfront (Almost)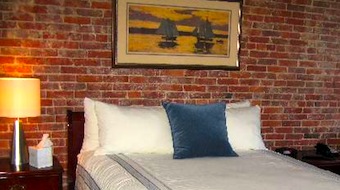 What you get: Harborside Inn's superb location in the Financial District, about a block away from Boston Harbor and very close to Faneuil Marketplace, the New England Aquarium, the Freedom Trail - and lots of other top attractions.
What's the catch? Notice "Inn" in the name? There's no on-site restaurant, no swimming pool, not even vending machines. Some rooms are charming (especially those with exposed brick); others are kind of plain. That's why the rates are lower here, despite the prime location.
If you want a comfortable place to sleep in a top location at more attractive rates than you'll find at nearby hotels, make your reservation now!
If you want the amenities of a larger hotel, you may not be happy here.
Solution: Plan to enjoy the many restaurants, bars, and cafes nearby.
Compare and smile: Boston Waterfront Hotels
---
Midtown Hotel - Back Bay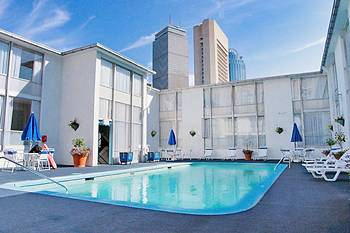 What you get: Midtown Boston gives you a pet-friendly welcome, a seasonal pool tucked behind the hotel, short walk to Northeastern University, Museum of Fine Arts, Symphony Hall, Jordan Hall, Shops at Prudential Center, and just 5 minutes from the South End.
What's the catch? Low-rise mid-century motel design can't compete with nearby luxury hotels.
Solution: Find glamour elsewhere - walk over to Newbury Street and shop in the designer boutiques with the money you'll save at the Midtown.
Compare and smile: Other Boston Hotels with Outdoor Swimming Pools
---
Boston Hotel Buckminster - CLOSED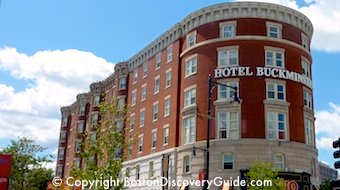 What you get: For Red Sox fans and Boston University visitors, the Buckminster's location can't be beat. Located on Commonwealth Avenue, the hotel is just a block from famed Fenway Park and only 2 blocks from Kenmore Square and the Green Line.
What's the catch? The 94 rooms are comfortable but not luxurious. Decor is homey, not trendy. Rates do go up and reservations can be very tough to get when the Red Sox play at Fenway.
Solution: Book as early as possible.
Compare and smile: Other hotels near Fenway Park
---
Things to Do in Boston during Your Stay
***y-gyg-boston-tours-shtml***
---
Boston Hotel Map
Enter your travel dates to see hotels available rooms and get accurate rates.
More about how to save on Boston hotels
---
More Boston hotels: All Boston Hotels - Newest Hotels - Deals & Discounts - Theatre District Hotels - Boston Marathon - Hotels with Fireplaces - Seaport/CruisePort Hotels - New Year's Eve Packages - Inexpensive Hotels - Discount Hotels - Back Bay Hotels - Hotels near Fireworks - Hotels with Outdoor Pools - Faneuil Market Hotels - Valentine's Day Packages - Downtown Boston - Park & Fly - Airport Hotels - Waterfront - Seaport - Historic Downtown - Suburban Hotels - Fenway Park Hotels - TD Garden Hotels - Gillette Stadium Hotels - Financial District
---
More Articles about Boston Hotels
---
Need a Boston Hotel or Apartment?
Use this handy map from Booking.com to find the perfect place to stay. Just enter your dates to find what's available, see the best rates, and make your reservations.