Boston's waterfront hotels give you the city's most spectacular views, whether you're here for a romantic weekend, a family vacation, or a stressful business trip where you just want to relax at the end of the day.
Imagine sitting dockside with a beverage in your hand and enjoying the Harbor views.
Or strolling along Harborwalk to explore the waterfront, or boarding one of the many sightseeing cruise boats to tour Boston by water.
You can make this fantasy a reality when you stay at a hotel on Boston's waterfront.
Yes, rates at these hotels can be pricey, but if you plan ahead and compare rates, you can also find special packages and discounts to make them more affordable.
Take a look at our recommendations for Boston waterfront hotels. Not surprisingly, they're among the most popular hotels in the city.
Top photo: Boston Marriott Long Wharf Hotel overlooking Boston Harbor, (c) Boston Discovery Guide
Boston Discovery Guide is a reader-supported publication. When you buy through our links, we may earn a commission at no additional cost for you. Learn more
---
Battery Wharf Hotel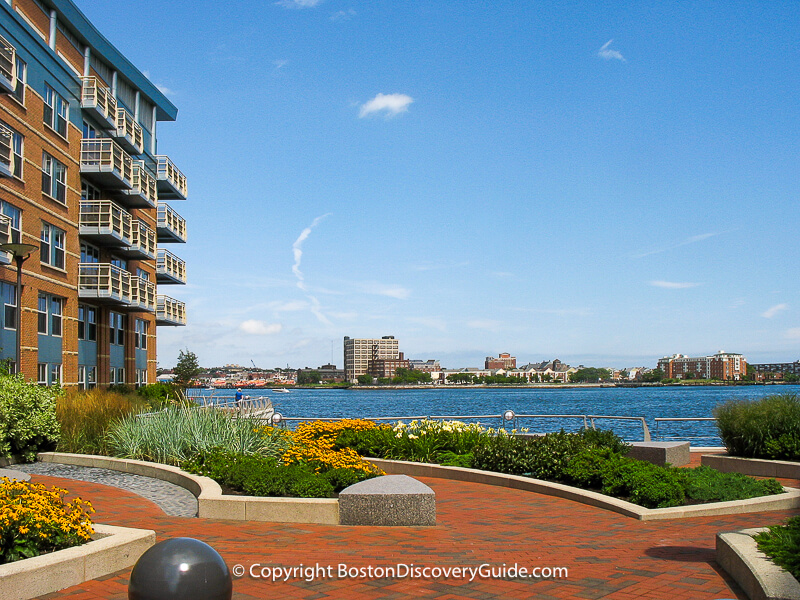 The luxurious Battery Wharf Hotel sits at the end of a wharf, commanding panoramic views of Boston Harbor.
You get the best of both worlds - a tranquil enclave, with Boston's lively North End, home to top Italian and seafood restaurants, just steps away.
Stroll along Harborwalk (shown in this photo) and watch the boat traffic go by, catch a Bruins game at nearby TD Garden, and walk across the Greenway to Faneuil Marketplace - but most of all, enjoy the spectacular views of the Harbor from the windows in your room.
---
Residence Inn Boston Harbor at Tudor Wharf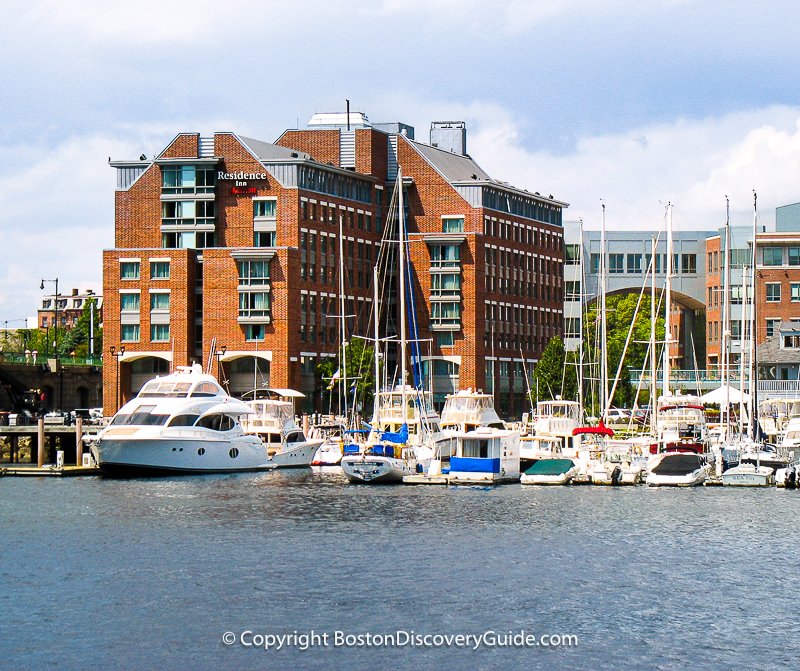 Walk across a short bridge from Boston's North End to the Charlestown neighborhood, and you'll arrive at the Residence Inn Boston Harbor, perched on the edge of the water.
Most of the comfortable 168 suites offer fascinating boat and harbor views. Enjoy the hotel's free wifi and complementary breakfast.
Explore Bunker Hill and the USS Constitution along the Freedom Trail in Charlestown, or walk across the bridge to Boston. TD Garden is about a 5-minute walk away.
Even though rates are not exactly cheap, the Marriott Residence Inn Charlestown is a relative bargain compared with other waterfront hotels, especially considering how much space you get in the suites.
---
Boston Harbor Hotel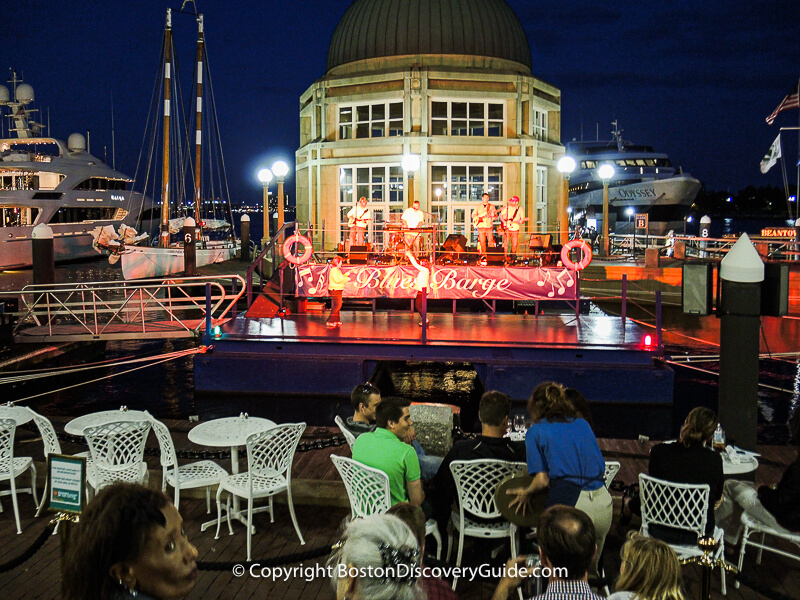 Located just steps from the Financial District, Boston Harbor Hotel offers you a cocoon of luxury, making it a perfect choice if you want to combine business with some serious pampering.
Boston Harbor Hotel is probably the most luxurious of all Boston's downtown waterfront hotels, with Frette linens, lots of fresh flowers, gorgeous marble bathrooms, and personalized service.
It is also the liveliest, in part due to its Blues Barge, a popular summer concert venue.
With the renowned Boston Wine Festival underway at onsite restaurant Meritage for 3 months every winter, and nightly music and movies during its Summer in the City harborside fest from Memorial Day to Labor Day, BHH attracts locals as well as visitors from all over the world.
---
Boston Yacht Haven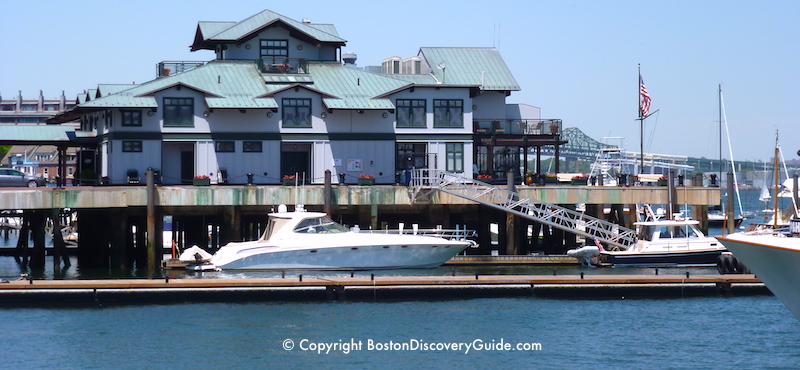 Boston Yacht Haven, a small waterfront inn at the end of Commercial Wharf in Boston's North End, commands breathtaking views of the Harbor.
The 10 guest suites are larger than most Boston hotel rooms, and each sports a different nautical theme. For the most spectacular views of all, request the penthouse.
When you stay at the Boston Yacht Haven, you'll have a marina right outside your door, and you're a short stroll away from all the tantalizing North End restaurants and bakeries. Faneuil Market, the Aquarium, and TD Garden are nearby.
---
Seaport Hotel Boston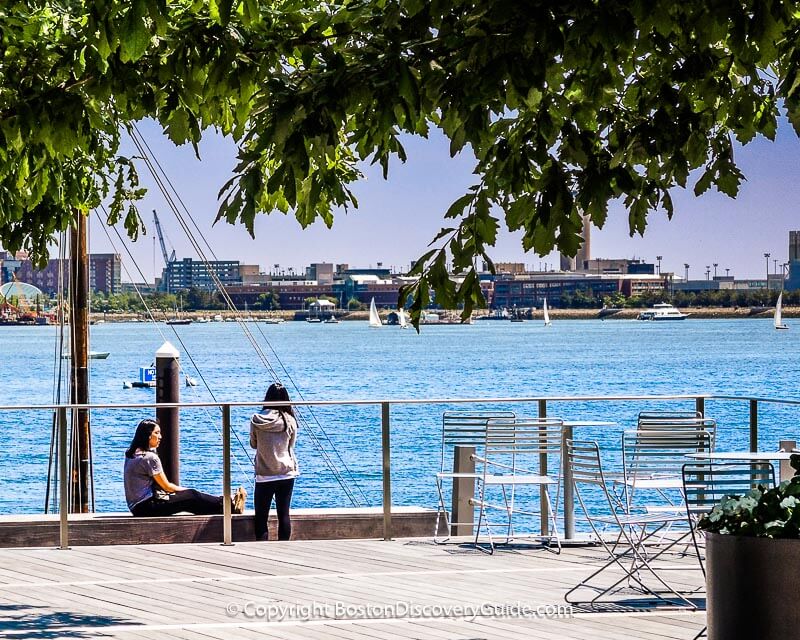 Although the Seaport Hotel is across the street from the water, most of the north-facing rooms offer terrific views of Boston Harbor.
You'll enjoy dining and relaxing at the many restaurants and bars along the waterfront in this sizzling neighborhood.
Located close to ICA(Institute of Contemporary Art and Boston's Children's Museum, the Seaport is also right across the street from the Spirit of Boston's departure point - perfect way to combine a sightseeing cruise with a delicious lunch or dinner.
---
Boston Marriott Long Wharf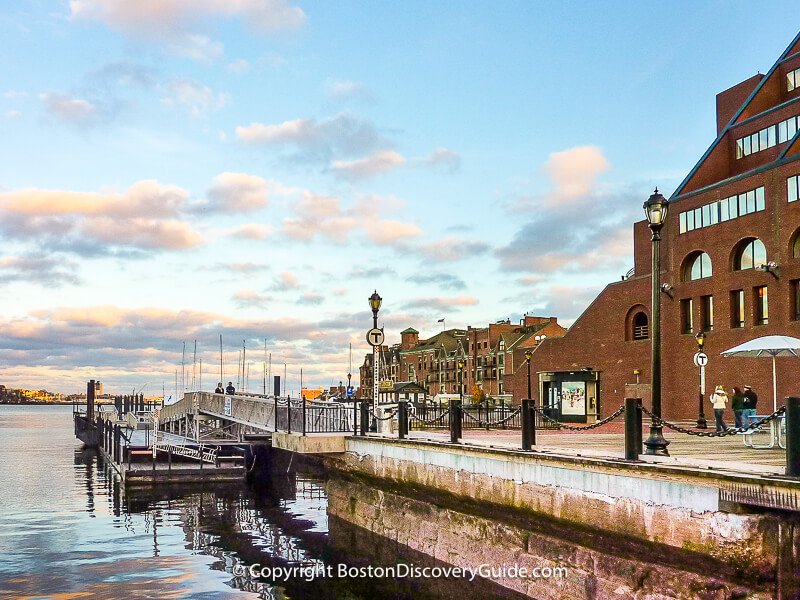 Many visitors think the Boston Marriott Long Wharf has everything. And they may be right.
The first thing you'll notice are the spectacular waterfront views.
And then there's the convenience of being just steps away from the Aquarium, Faneuil Marketplace, the Freedom Trail, the North End, and TD Garden.
Long Wharf, departure point for many sightseeing cruises, is next to the hotel. Boston's hop on, hop off trolleys stop at the hotel, and there's also a subway stop right in front.
When you consider the indoor swimming pool, children's playground behind the hotel, and the nice mix of amenities, well, the combination is hard to beat.
---
InterContinental Hotel Boston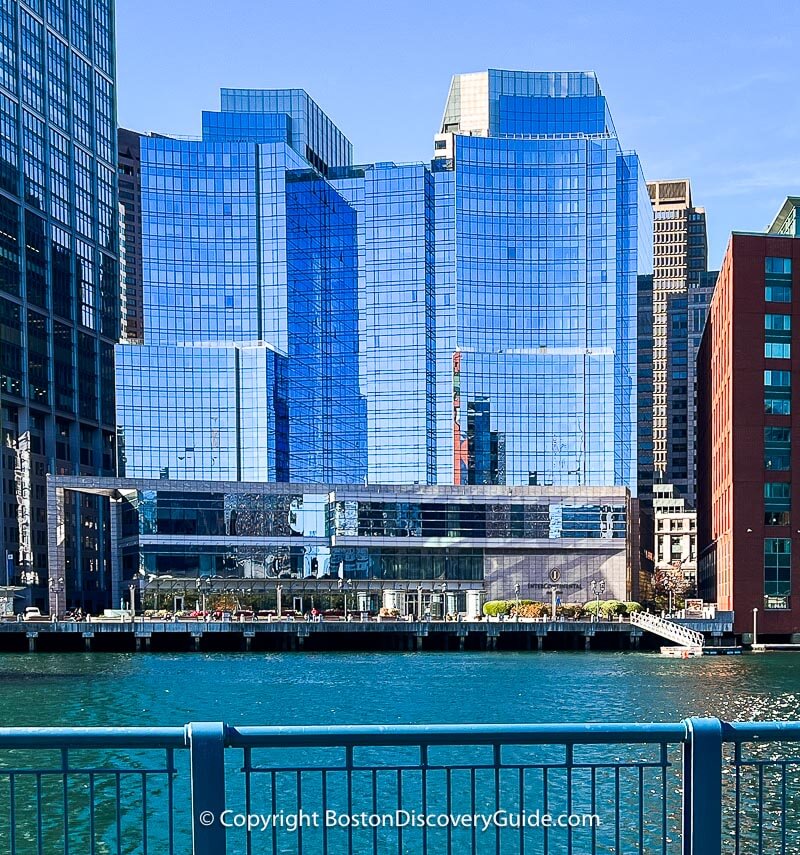 InterContinental Hotel Boston's waterfront location features sweeping views of the Boston Harbor waterfront as well as the city skyline.
You're only steps away from the Financial District, but you'll feel like you're in a different universe.
You can expect plushly elegant room and serene Asian-inspired decor.
High thread-count linens, sumptuous bathrooms, terry cloth robes, and a pet-friendly policy are just a few of the amenities you can enjoy in this large 424-room hotel, along with attentive service.
Enjoy the indoor pool and fitness center - and be sure to book some spa services when you make your reservation.
---
More Hotels on Boston's Waterfront
The Row Hotel at Assembly Row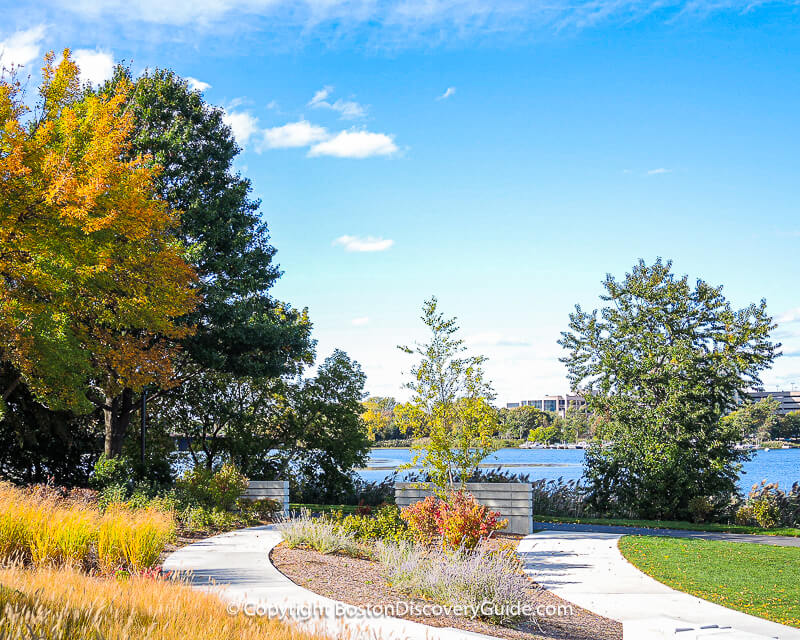 360 Foley Street, Assembly Row, Somerville
For a different type of waterfront experience (and more affordable rates than you'll find at some of the harbor-side hotels), consider Marriott's The Row Hotel, located in Assembly Square next to Harborwalk along the Mystic River and recently named as one of the "100 Best Hotels in the World" by Travel + Leisure.
Dazzling modern architecture in a brand-new building, an indoor swimming pool with private cabanas, and a relaxing roof terrace are just a few of the reasons to love The Row, located in the neighborhing city of Somerville, yet just a 5-minute subway ride gets you to TD Garden and Downtown Boston.
Best of all, the hotel puts you right at the center of the exciting Assembly Row shopping/entertainment complex.
To be clear, you won't have sweeping waterfront views from your room, but you fill find a lot to love here - including views of the resident swans as you walk along the river.
---
Things to Do in Boston during Your Stay
---
Boston Hotel Map
Enter your travel dates to see hotels available rooms and get accurate rates.
More about how to save on Boston hotels
---
More Boston hotels: All Boston Hotels - Newest Hotels - Deals & Discounts - Theatre District Hotels - Boston Marathon - Hotels with Fireplaces - Seaport/CruisePort Hotels - New Year's Eve Packages - Inexpensive Hotels - Discount Hotels - Back Bay Hotels - Hotels near Fireworks - Hotels with Outdoor Pools - Faneuil Market Hotels - Valentine's Day Packages - Downtown Boston - Park & Fly - Airport Hotels - Waterfront - Seaport - Historic Downtown - Suburban Hotels - Fenway Park Hotels - TD Garden Hotels - Gillette Stadium Hotels - Financial District
---
More Articles about Boston Hotels
---
Need a Boston Hotel or Apartment?
Use this handy map from Booking.com to find the perfect place to stay. Just enter your dates to find what's available, see the best rates, and make your reservations.