Bermuda cruises on Norwegian Cruise Line's glamorous Norwegian Gem depart weekly from Boston's Flynn CruisePort from April through early November.
These affordable 7 night / 8 day round-trip Boston to Bermuda cruise vacations are THE most popular cruises out of our CruisePort - and for good reason.
When you cruise to Bermuda from Boston, you get the fun of a special voyage on Norwegian Cruise Line's glamorous Norwegian Gem plus time to explore and enjoy this sunny and welcoming island.
Imagine yourself relaxing in a comfy deck chair and soaking up some sun as your ship cruises toward Bermuda. During the evenings, you'll feel totally entertained by the nightly shows and performances.
Once you reach Bermuda, you can visit the famous pink-sand beaches, snorkel and scuba dive among colorful fish, and enjoy world-class shopping along Hamilton Street.
Finally, you'll have a couple more days to enjoy the ship as you return to Boston. Savor the delicious cuisine, try some of the fine wines, head to the spa for pampering.
Best of all: these first-class cruises from Boston to Bermuda depart every week throughout the summer. Choose 4-7 nights, which MUCH lower rates than you might expect:
Find low Bermuda rates from Boston and reserve your cruise
Top photo: Bermuda's Kayak Beach - Photo credit: AdobeStock
Boston Discovery Guide is a reader-supported publication. When you buy through our links, we may earn a commission at no additional cost for you. Learn more
---
Where to Find Deals on Norwegian Gem Boston to Bermuda Cruises
Compared with other gateway cities, Boston usually offers the cheapest prices for cruises to Bermuda - so departing from here instead of another city can easily save you a few hundred dollars.
For rock-bottom internet prices, check Priceline - their cruise specials are tough to beat. They almost always throw in something extra to make a good deal great, such as free hotel nights and free spending vouchers.
Even though they're best known for last-minute cruise deals, Priceline actually offers extremely competitive rates at most times. Plus, they offer a 110% best cruise price guarantee.
Cruise prices peak during summer months, when schools are on vacation and family cruises are popular, and then drop again in mid-August and September.
So to find the cheapest Bermuda cruises from Boston, check dates for the beginning and end of the cruise season when most kids are in school.
You can also compare available specials on Travelocity's Cruise Deals page.
If you look at the per-day charge, you'll see why cruises are such a great bargain. Cruise rates start at under $500 - that's well under $100 per day - much, much cheaper than the cheapest Boston hotel, plus your meals and entertainment are included!
Boston-to-Bermuda Cruise FAQs: Your Questions Answered
What cruise lines go from Boston to to Bermuda?
Right now, only Norwegian cruise lines make the weekly voyage.
Where can I find the best cruise deals to Bermuda?
Priceline usually offers some great last minute deals and discounts on Bermuda cruises.
How long does it take to get to Bermuda by cruise ship?
You'll typically spend two nights and one full day going from Boston to Bermuda, and three nights and two full days on your way back to Boston. On a 7-day cruise, that means you'll have almost 3 full days in Bermuda. On a 5-day cruise, your time in Bermuda drops to 1 day. And the 4-day cruises? They're basically turn-around cruises, where your time will be spent on ship out at sea - but since the ship is basically like a floating resport, you'll have a lot of fun.
Is flying to Bermuda from Boston faster than going on a cruise ship?
Yes, much faster. You're in the air for just over 2 hours on a non-stop flight from Boston. If you want to maximize your time in Bermuda, flying is the way to go. Use GoLastMinute to check prices. All you need to do is enter Hamilton, Bermuda (or airport code BDAA) and your dates to find best prices on all airlines.
Where is the cruise ship port in Boston for cruises leaving Boston?
All cruises departing and arriving in Boston use the Flynn CruisePort Terminal on the South Boston Waterfront.
Freestyling Aboard the Norwegian Gem Bermuda Cruises Out of Boston
Bermuda cruises from Boston on Norwegian Gem offer "Freestyling" cruising.
Freestyling means you pay for amenities and services a la carte if you want them - so you save money by spending only on things you want.
One advantage of being on a huge cruise ship like the Norwegian Gem is that you can enjoy the cruise in lots of different ways.
Maybe you want to explore all decks...or try every restaurant, and hang out in all the bars and lounges.
Or maybe your idea of a great time is floating the pool...or trying your luck at the casino...or simply relaxing on the deck.
The key point is that on a cruise ship like the Norwegian Gem, you can have it all!
Top Tourist Attractions in Bermuda: Beaches, Diving, Shopping, & More
Bermuda's sensational pink-sand beaches, crystal-clear turquoise water, coral reefs and shipwrecks, world-class shopping, and unspoiled natural beauty mean you'll find plenty to do once your cruise arrives.
Norwegian Gem docks in King's Wharf on Bermuda's western tip, in the attractive Royal Navy Dockyard cruise port. Stroll around Clocktower Mall and explore the many shops loaded with fine British goods as well as inexpensive souvenirs. Pop into the Bermuda Maritime Museum to get a great overview of the island's historic past.
Coral reefs surround Bermuda, and produce its famed pink-sand beaches. Some of the best for you to enjoy include:
Horseshoe Bay - great for families who appreciate the lifeguards on duty all summer. You'll find changing facilities and water sports equipment rental here as well
Elbow Beach - almost a mile of pale pink sand and safe swimming thanks to protective offshore coral reefs
Church Bay - gorgeous deep pink sand. The sheltered location harbors abundant marine life. You can rent snorkel gear on site and dive in this ideal bay
Shopping in Bermuda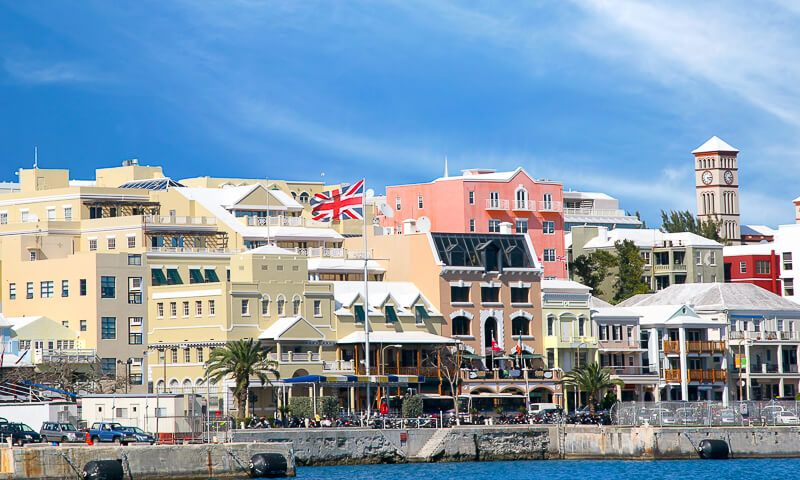 You'll find excellent shopping and restaurants along Front Street in Hamilton, Bermuda's charming capital. Don't miss the boutiques with unique home goods and clothing from England, Scotland, and Ireland.
The easiest and cheapest way to get here is by public bus or ferry. Go to the Dockyard Terminal near the pier and buy a multi-day transportation pass good for unlimited bus and ferry rides throughout Bermuda, and hop on a ferry to Hamilton.
Taxis are also plentiful and convenient, although pricier than Bermuda's public transportation.
Best Time to Cruise to Bermuda from Boston
Although Bermuda is only 600 miles off the North Carolina coast, it enjoys a semi-tropical climate.
By the time the first cruise ship arrives from Boston in late spring, air and water temperatures will reach the mid-70s, so you can enjoy swimming and snorkeling. During the evenings, you'll enjoy the cool breeze that almost always blows at night.
During the summer, the outdoor temperature seldom goes above 85°, although the water temperature can be a degree or two higher. Temperatures begin to drop in late October and November, right after cruises from Boston have ended.
Hurricane season officially lasts from June through November, although Bermuda is much less likely to be hit than the Caribbean - or for that matter, Florida. If you're concerned about trip disruptions related to hurricanes, you can buy reasonably priced insurance to protect you against this risk.
If you want to do everything possible to avoid a hurricane, select one of the earlier Bermuda cruises from Boston with April, May, or even early June departures.
What to Pack for Your Cruise from Boston to Bermuda
Remember to pack your sunglasses, sun block, and beachwear!
If you want to try the cruise ship's specialty restaurants, consider bringing a dressier outfit (collared shirt for men, nicer dress or pants for women). Otherwise, casual clothes suit the ship's relaxed ambiance.
Bermuda has a wide range of restaurants, from casual cafes to gourmet dining. A lightweight sweater or shawl can be useful in air conditioned restaurants.
Casual clothes are fine for exploring Bermuda's tourist attractions.
---
Stay in Boston Before or After Your Cruise
Enter your dates to see available hotels and rates:
More about how to save on Boston hotels
---
Other Bermuda Cruise Departure Cities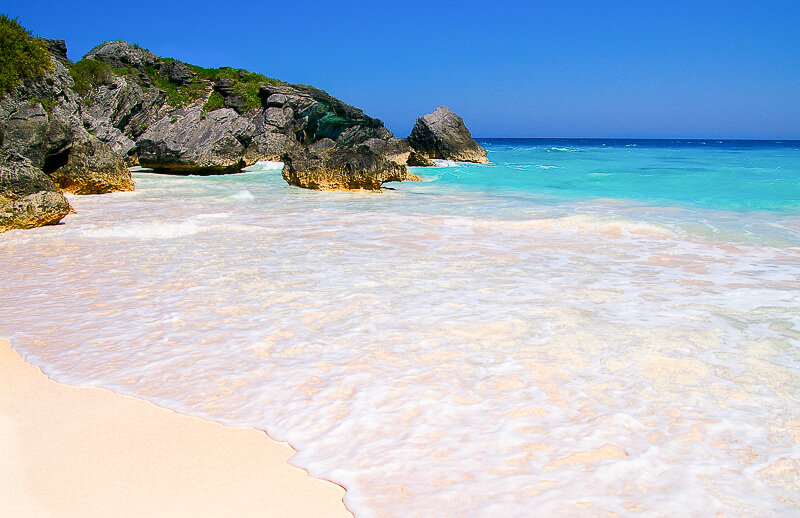 If you live in the Boston area, there's nothing easier than choosing one of the Bermuda cruises from Boston.
But if you live elsewhere, keep in mind that cruises to Bermuda also depart from other East Coast U.S. ports, such as New York, Fort Lauderdale, Cape Liberty, Norfolk, Miami, and Baltimore, as well as ports in other countries. Some of these cruises give you several days in Bermuda, while others include Bermuda as just a 1-day port of call along with other Caribbean or even European destinations.
Want to see all these different options? Check Priceline
You're sure to get some great ideas for your next cruise vacation!
Or, if you want to go on a cruise NOW, check out Priceline last-minute Cruises up to 75% off from $60/ night!
---
More To See & Do in Boston
---