Two different types of prepaid discount cards are available for Boston, and each gives you the opportunity to save money on popular attractions, museums, tours, sightseeing trolleys, and cruises.
How much can you save?
Potentially, quite a lot. Savings vary based on how many times you use the card within the card's valid time period and which attractions you choose - but you can save up to 55% with the Go Boston card and up to 42% with the Boston CityPASS card.
But with two cards to choose from, how do you know which Boston discount card is best for you? Or if you will even benefit from getting one?
Here's a run-down of how each card works, as well as other options if these cards don't fit your needs.
Top photo; Tulips blooming in Boston's Public Garden, (c) Boston Discovery Guide
Boston Discovery Guide is a reader-supported publication. When you buy through our links, we may earn a commission at no additional cost for you. Learn more
---
Boston Sightseeing Discount Cards - The Big Picture
Both Boston discount cards work basically the same way: You buy the card, and then you use it to get free admission during a set time period to the attractions it covers.
In most cases, you get to go straight to the head of the line (this can be a huge time saver at the most popular places such as the New England Aquarium), and you'll get some freebies, such as maps and additional discount coupons.
However, each card gives you different options and choices, and different savings. When you understand what each one offers, you can pick the one that's best for you.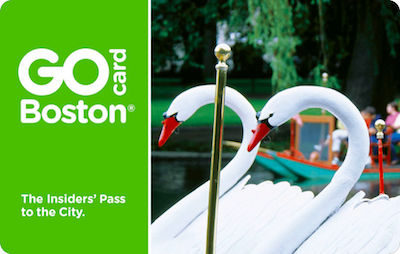 Go Boston Cards give you free admission to 45+ top Boston attractions, tours, museums, day trips, and cruises.
You save up to 55%.
No need to figure out what you want to do in advance - just choose how many consecutive days you want to use your card. You can get a card for 1, 2, 3, 5, or 7 days, and visit as many sites as you want during that time. Children's passes are also available.
Go Boston Cards work best for energetic travelers who want to visit lots of attractions within a short period of time. Also highly recommended if you want to visit top attractions close to Boston in historic Salem, Concord, or Plymouth.
You'll potentially save the most when you get the 7-day Go Boston card, visit multiple destinations each day, and choose the more expensive options such as a whale watching cruise, the Beantown trolley, the ferry cruise to Provincetown at the tip of Cape Cod, Plimouth Plantation, Six Flags New England, Museum of Fine Arts, New England Aquarium . . . just to name a few!
In addition, when you get a 3, 5, or 7 day card, Go Boston usually throws in a bonus to make a great deal even better. Current bonuses include your choice of a free New England Aquarium Whale Watch Cruise, a Boston Duck Tour, or a Boston Red Sox Ticket. (Please note - included attractions and savings may change without prior notice, some activities such as Red Sox games and Plimouth Plantation are seasonal, and others such as cruises may not be available during our coldest winter weather.)
Pricing varies based on the number of days you select. You can sometimes get the cards on sale, especially if you want a card for 3, 5, or 7 days.
Check prices and look for additional discounts.
---
Boston CityPASS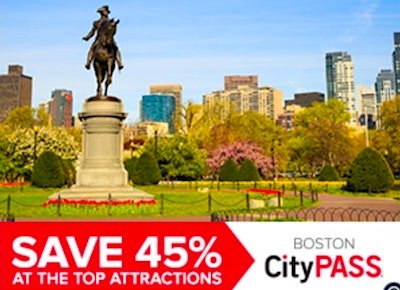 Boston CityPASS gives you entrance to 4 top attractions over a 9-day period while letting you save up to 42% of the regular admission cost - almost half off.
How it works: Buy the Boston CityPASS and use it during a period of 9 consecutive days.
With this card, you get to go at your own pace during the 9 days, with no need to rush.
Boston CityPASS gives you free admission to:
New England Aquarium
Museum of Science
Franklin Park Zoo
Natural History Museum or Boston Harbor Cruises
You can save money with Boston CityPASS even if you go to only 3 of the attractions. But you'll probably want to go to all 4 because these truly are top Boston attractions. (Please note - included attractions and savings may change without prior notice, and Boston Harbor Cruises is not usually available during our coldest winter weather.)
Save up to 42% on top Boston attractions by getting the Boston CityPASS card
---
Which Boston Discount Card is Best for You?
Both discount cards can save you substantial money, plus they save you time because at the busiest places like the New England Aquarium and Museum of Science, you go straight to the front of the line, past everyone else who is having to wait 30 minutes or an hour to get their tickets.
Choose the GoBoston card if:
You want to see 2, 3, or more attractions each day for 1 or more consecutive days
You like the mix of museums, cruises, tours, and top attractions including those outside of the Boston Metro area such as Plimouth Plantation
Choose the CityPASS card if:
You prefer a more leisurely pace
You want to visit all or most of the 4 top attractions offered by the card
---
What If You Have Time for Only 1 or 2 Attractions?
When time is limited, even a 1-day GoBoston discount card may be more than you need. Conversely, if you're in Boston for awhile, you may prefer to set your own pace and visit one attraction per week, or whatever. To buy tickets in advance (and bypass most lines) from one online location, check out Get Your Guide's tickets for tours, cruises, museums, and attractions.
More Articles about How to Save in Boston
---
Save with Discount and Half Price Tickets
Check Groupon for discounts to events, shows, sports, and more.
---
Need a Boston Hotel or Apartment?
Use this handy map from Booking.com to find the perfect place to stay. Just enter your dates to find what's available, see the best rates, and make your reservations.