Lots of exciting events pack the Boston Events Calendar for August 2023 as summer fun continues in the city.
You'll find plenty to do: head to city parks and beaches, relax on a Boston Harbor cruise, enjoy outdoor or even indoor dining at the many restaurants now open, and have fun on sightseeing tours, whale watching cruises, and Provincetown and Salem cruises.
You'll find lots to enjoy on the Greenway, and some seasonal beer gardens are starting to reopen. And, great news: Boston Restaurant Week is ON!
August weather in Boston is usually pleasant and balmy, but pack an umbrella in case of surprise thunderstorms - which usually end quickly at this time of the year.
Stroll along the waterfront, choose a restaurant offering patio seating, and by all means, check out fun options for sightseeing tours.
Top photo: Boston Common on an August afternoon, with golden dome of the Massachusetts State House in the background, (c) Boston Discovery Guide
Boston Discovery Guide is a reader-supported publication. When you buy through our links, we may earn a commission at no additional cost for you. Learn more
---
Boston Concerts & Shows - August 2023
Top August Concerts in Boston - Schedules & Tickets
Enter DISCOVERY10 to save 10% on TicketLiquidator & TicketNetwork tickets. Good through 12/31/24.
Top concerts in Boston in August 2024 so far include Metallica playing two big stadium tour shows at Gillette, with a totally different show each night - show your love for Metallica by getting a 2-day pass to see both!
2024 Metallica in Boston Concerts
Schedules & Tickets
More Concerts & Shows for April
Boston Concerts throughout the Year
---
Whale Watching Cruise Tickets
Join one of the exciting 3-hour Whale Watching Cruises departing from the Downtown Boston Waterfront, and experience the thrill of spotting whales off the coast of Boston.
You'll see magnificent creatures such as Humpback and Finback whales close-up from the deck of your ship, and spot White-Sided Dolphins frolicking in the waters.
These cruises sell out quickly, so don't wait to get your tickets now for this iconic Boston experience!
---
Boston Theater & Shows for August - 2023

Top August Shows in Boston - Schedules & Tickets
Enter DISCOVERY10 to save 10% on TicketLiquidator & TicketNetwork tickets. Good through 12/31/24.
2024 Shows in Boston
More Boston Theater District Shows
---
Top Hotels near Boston's Theatre District
Enjoy your Boston performance or show experience to the fullest when you stay in one of the nearby Theatre District hotels, such as the hip and glamorous Revere Hotel: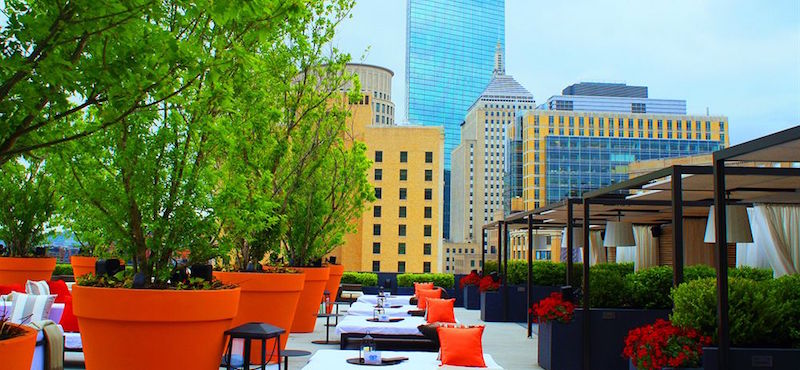 More top Theatre District hotels:
Check out more hotels in Boston's Theatre District
---
Boston Harbor Sightseeing Cruises - August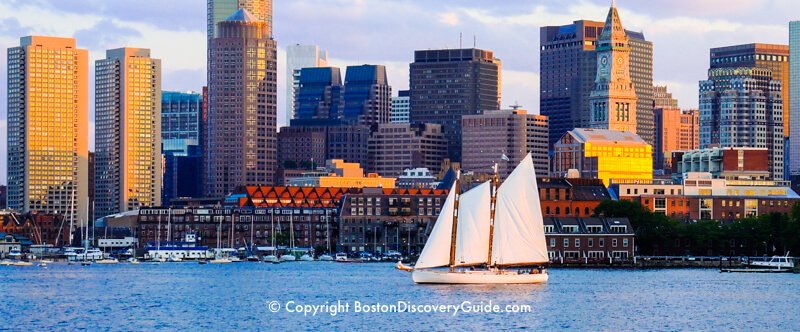 Tour Boston by boat - the best way to see the city!  
Check out these fun sightseeing, music, and entertainment Boston Harbor cruises on the Yacht Northern Lights and Schooner Adirondack III:
Popular Cruises on the Northern Lights:
Sailing on the Adirondack III
Adirondack III Day Sail - Enjoy cool breezes and the afternoon sun on this relaxing sightseeing sail around Boston Harbor and the Inner Harbor Islands - Starts May 3
Adirondack III Sunset Sail - Relax as the setting sun turns the sky brilliant colors - Starts May 3
Adirondack III 90-Minute Mimosa Day Sail - Soak up the sun on this afternoon sail through the Inner Harbor and Harbor Islands with drinks available for purchase at the bar - Starts July 1
Book Your July 4th Cruises Now!
---
Fun Ways to Experience Boston
---
"Allston Christmas" 2023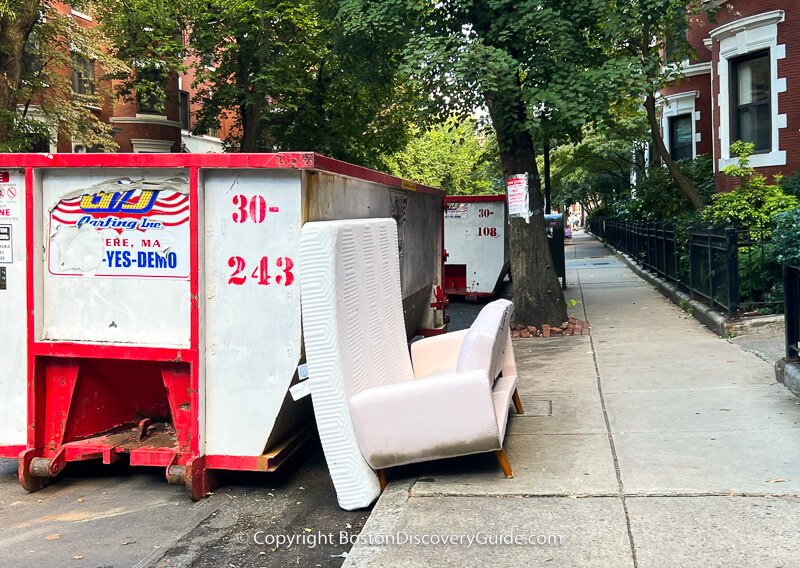 What exactly is "Allston Christmas"? It's one of Boston's least-loved annual events, and can last for well over a week.
When the Boston area's roughly 250,000 college students return to campus in September, a significant number move into apartments, just as others move out at the end of August
The catch? Those moving out dump unwanted furniture including queen-sized beds and massive couches, household items, clothes, and piles of junk on the sidewalks and into the streets. Everything is up for grabs.
At the beginning, dumpsters along the streets contain most of the mess, until they quickly begin to overflow. That's when new residents arrive with their UHauls filled belongings to unload.
Allston along with Brighton, Longwood, Mission Hill, Beacon Hill, Cambridge, and parts of Brookline and Somerville are the most-impacted Boston-area neighborhoods due to their large number of student residents.
With countless UHauls blocking the streets and gridlocking traffic for several days before the end of August and after September 1, you may want to avoid these areas if you're visiting the city during this period.
---
August Moon Festival in Chinatown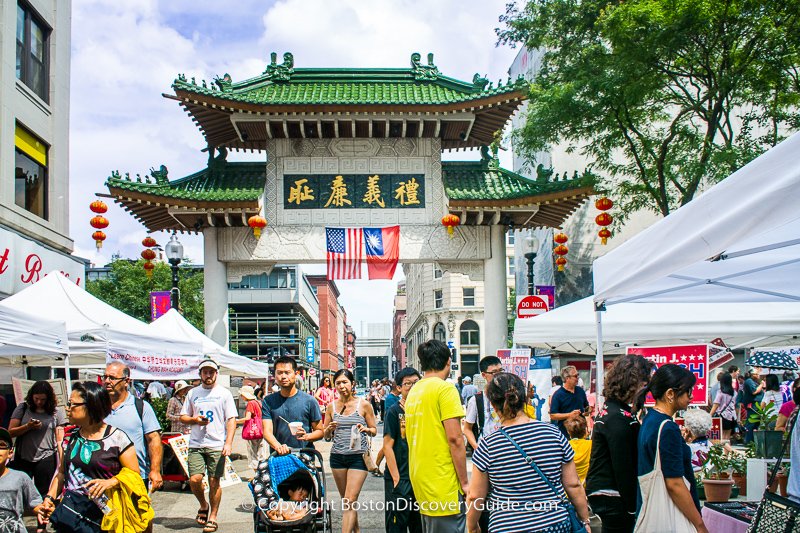 Boston's Chinatown comes alive with lion dances, martial arts, folk dances, and lots of vendors for the annual Chinese Autumn MoonFestival.
What does the festival actually celebrate? Good question.
Possibilities include the end of the annual harvest, the legend of Chang'e, the immortal Lady of the Moon, and the overthrow of the Mongol rulers in 1368 after a rebel leader distributed mooncakes filled with messages saying "Kill the Mongols."
Mooncakes, a specialty of the festival, are round pastries filled with lotus seed paste - you can buy this delicious treat at all Chinatown bakeries.
Although this 3,000+ year old Chinese festival traditionally falls on the 15th day of the 8th Lunar month (late September/early October), Boston celebrates it in mid-August.
The August Moon Festival is the perfect excuse to spend an August Sunday in Chinatown.
Start with dim sum or lunch at one of these fun contemporary and traditional Chinatown restaurants, and then enjoy the colorful festival.
When: Sunday, August 14; Lion Dances and other cultural events take place between 10am and 5pm
Where: Boston's Chinatown (Harrison Ave, and Beach, Tyler, Hudson, Essex, and Oxford Streets); Main Stage is at Phillips Square (corner of Harrison Ave and Essex Street)
Cost: Free
Closest T station: Orange Line / Chinatown
If you drive: Easiest parking is at the Boston Common Garage; walk 2 blocks to Chinatown

---
Fun Events & Activities on the Rose Kennedy Greenway 2023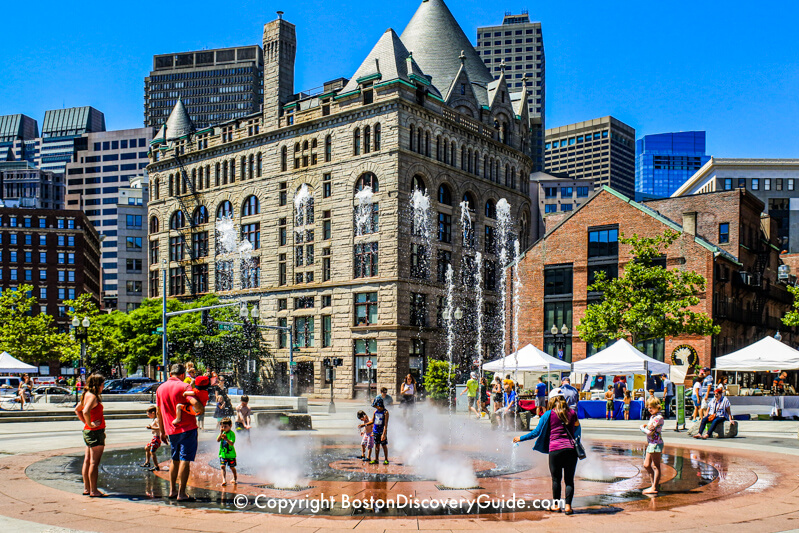 The Rose Kennedy Greenway is offering so many fun things to do this summer:
Greenway Artisan Market, 11am - 5pm, operated by Somerville Flea on Rowes Wharf Plaza - Shop for handmade items by local makers and artisans; open every Saturday from May 6 through October 31 and every Sunday from May 28 through October 8, 2023
Trillium Beer Garden in the Wharf District Parks (High Street and Atlantic Ave) featuring draft beers by Trillium Brewing Company and a rotating selection of food trucks. Open Thursday 3pm-8pm, Friday and Saturday 12pm-8pm, and Sunday 12 noon-6pm.
Fountains - You'll find them in 7 different locations along the Greenway - so get ready to splash, wade, and cool off!
Carousel - Open daily, 11am-6pm. Tickets: $4 (buy online)
Greenway Food Trucks: A rotation of 18 trucks, including 6 new ones this year, offer Korean, Jamaican, Italian, Caribbean, Italian, seafood, and other specialties along the Greenway in Dewey Square, the Carousel, Rings Fountain (Milk Street), State Street, Rowes Wharf Plaza, and Trillium Beer Garden. You'll find them at several locations each day, usually with a total of about 3 trucks per day. You can track the schedule and locations of your favorites here
Public Art - See new installations by top artists
More about the Rose Kennedy Greenway
---
August Boston Red Sox Schedule - Home Games at Fenway - 2023
Location: Fenway Park
Nearest T stations: Green Line B or C/Kenmore; Commuter Rail Worcester Line/Yawkey
Get Schedule & Tickets
Enter DISCOVERY10 to save 10% on TicketLiquidator & TicketNetwork tickets. Good through 12/31/24.
Find Red Sox Home Games at Fenway for Other Months
Stay: Hotels near Fenway Park
Park: Garages & lots near Fenway Park
Celebrate: Best sports bars near Fenway Park
Find out about more Boston sports
---
Fun Sightseeing Tours of Boston
More: Sightseeing Tours | Tours for Teens | Kids & Family Tours
---
Landmarks Orchestra Concerts at the Hatch Shell - 2023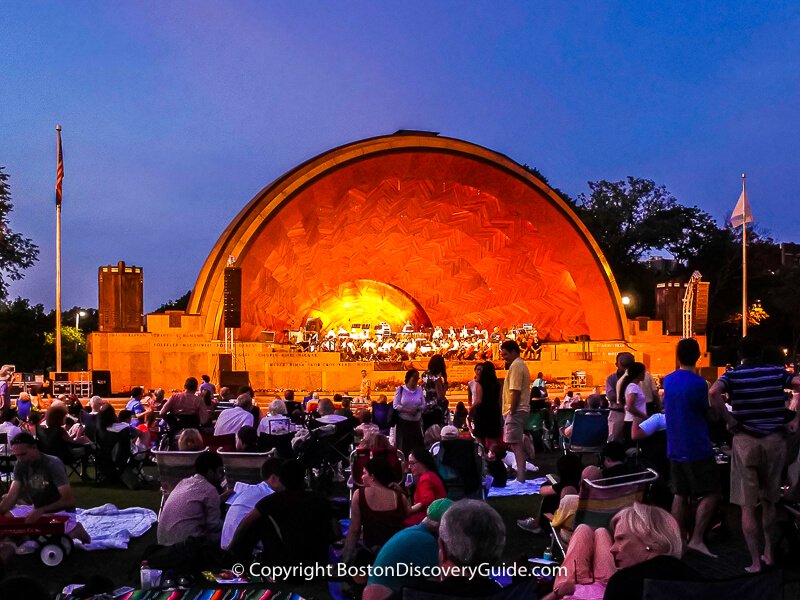 The Boston Landmarks Orchestra's weekly free summer Esplanade concerts attract large crowds to the Hatch Shell on Boston's Esplanade each July and August with its mix of classical, traditional, modern, and contemporary music, as well as the annual Dance Night.
Concerts start at 7pm and run about 2 hours. Bring a blanket or low folding chairs to sit on, and a picnic dinner.
Landmarks Concert schedule for August:
August 7 - An American in Paris and Dvorak Cello Concerto
August 12 - Mozart & More
August 23 - Dance Night, featuring Beethoven's Symphony No 7 and Tchaikovsky's Sleeping Beauty, with dancers from Jean Appolon Expressions, Sayat Nova Dance Company, and Principal Dancer of Boston Ballet, Chrystyn Mariah Fentroy
Weather alerts and alternate locations in case of rain: 617-987-2000; orchestra website
Cost: Free

More about what to see & do on Boston's Esplanade
---
Not Sure about Boston Neighborhood Locations?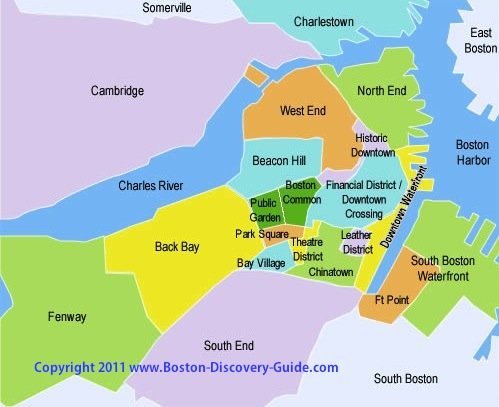 This neighborhood map should help you get oriented. You can find a list of top attractions in each neighborhood here.
Need a more details? Here are our favorite free and low-cost Boston maps
---
Cape Ann Artisans August Mini-Tour 2023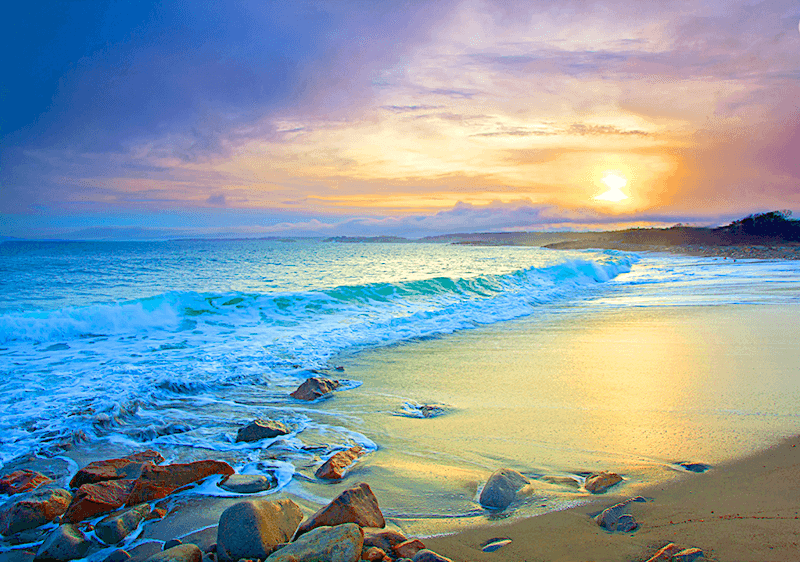 For one day only in August, Cape Ann artists open their studios along the beautiful Rockport and Gloucester coast for you to tour.
Local artists and artisans will welcome you to view their paintings, sculpture, mosaics, photography, pottery, jewelry, and other wonderful creations.
Drive up from Boston for the day (or take the Commuter Rail) - or spend the weekend and go for walks along the beach, dine on lobster dinners, and browse in local boutiques, galleries, and antique shops.
Open Studio Tour: August 12 at 10am - 5pm
Where: Open Studio Tour map and more information at www.capeannartisans.com - or pick up brochures with route maps at the Cape Ann Chamber of Commerce, the Rockport Information Booth on Rte 127, and at each studio. Look for the Studio Tour banner at each location More inf
ormation: Cape Ann Artisans website
Cost: Free
---
Faneuil Marketplace Events in August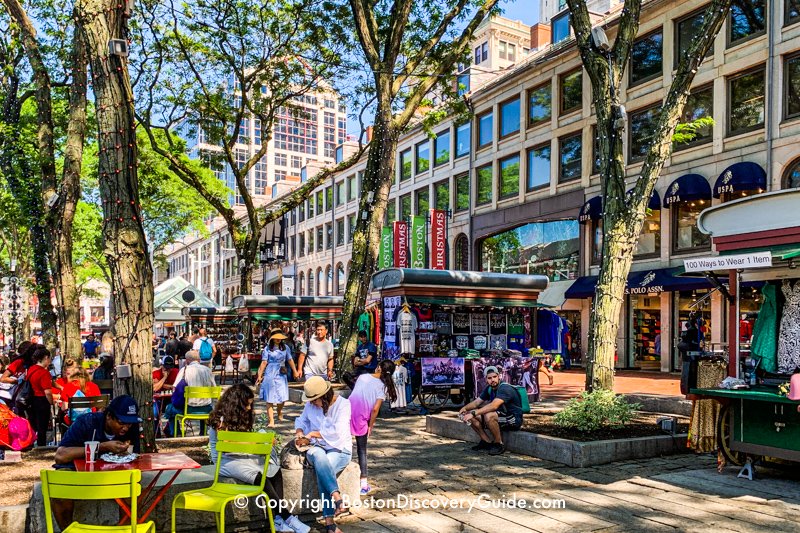 August is the perfect month to enjoy Faneuil Marketplace's outdoor seating, as well as the 30 or so performers who provide daily entertainment from 11am to 9pm.
Look for lots of talented musicians, amazing acrobats, comedians, magicians, an escape artist, local comedian Kilted Colin, Pogo Fred, dancers, and even the Unicycling Unicorn.
---
Boston Hotel Map
Enter your dates to see available hotels and rates:
---
Shakespeare on the Common 2023
One of the most popular summer Boston events, Commonwealth Shakespeare Company presents Macbeth, the famous tragedy in which a toxic mix of political ambition, power, guilt, and paranoia collide in an unstoppable path to murder, madness, and death, in this year's Shakespeare on the Common.
Bring a blanket or low folding chair, perhaps a picnic basket, and get ready to enjoy a magical evening of free theater under the stars.
You can bring food (but please note, there's not enough room for a lavish picnic spread). Portable toilets are located near the tennis courts.
You can also rent a chair on site for $10 (prepay on Comm Shake's website). A small "Friends" section of beach chairs in a prime location are available in return for donations of $100 or more, made through the website.
When: July 19-23 and 25-30; August 1-6 at 8pm on all nights except for 7/30, when the show starts at 4pm; performances normally run about 2.5 hours with no intermission. Heavy rain and lightening storms can cause cancellations for safety reasons; if in doubt, call the group's Weather Hotline at 617-362-7485.
Where: Boston Common, near the Parkman Bandstand
Getting there: By subway: Green/Red line to Park Street Station, or Green Line to Boylston; By car: Park under the Common in the Boston Common Parking Garage: pick up a discount coupon at one of the event tents (you'll spot them easily) - you'll save a bit on parking, and the garage donates the proceeds to CSC
Cost: Free
More about Shakespeare on the Common
---
Hotels near Boston Common
---
New England Patriots Pre-Season Home Games 2023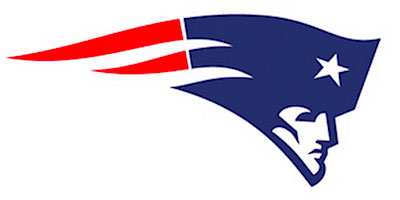 The Patriots start their regular season in September.
Will this be the year that we celebrate another Super Bowl victory? Stay tuned!
Enter DISCOVERY10 to save 10% on TicketLiquidator & TicketNetwork tickets. Good through 12/31/24.
See the Patriots' schedule & get your tickets
Where: Gillette Stadium
Getting there: From Boston to Gillette Stadium
---
Want to Stay Nearby? Hotels near Gillette Stadium
Going to Gillette Stadium for a game or concert or to Patriot Place for shopping?
Stay in one of these convenient nearby hotels:
Check out more hotels near Gillette Stadium
More about hotels near Gillette Stadium (and Wrentham Premium Outlets)
---
North End Feasts and Festivals 2023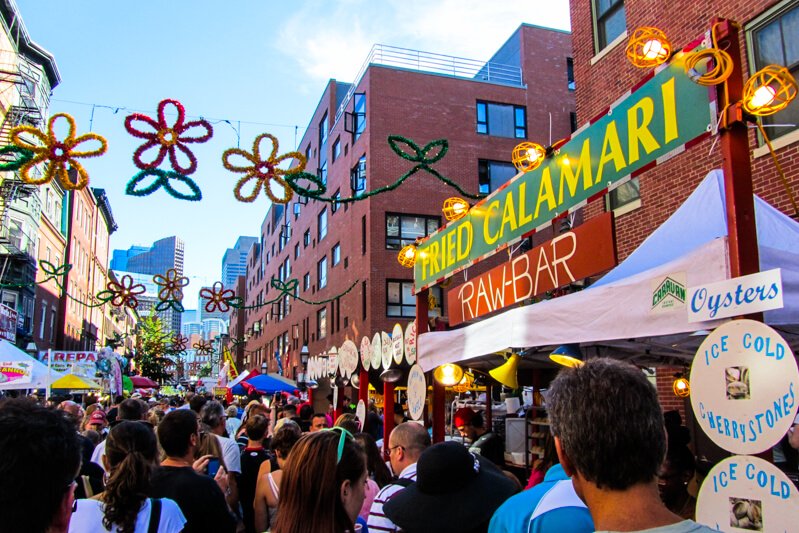 Five of the biggest and most famous North End Italian Feasts and Festivals take place in August, as they have for 100 years or more - almost as long as Italians have lived in this neighborhood.
Most of the North End feasts celebrate a saint with food, music, religious ceremonies, dancing, parades, strolling singers, celebrations, and more - they're like giant street parties. The August festivities
In general, opening ceremonies take place on Friday evenings, with other events starting around 1pm on Saturday and Sunday and continuing until about 11pm. High Mass usually takes place on Sunday morning.
August Feasts and Festivals schedule (all dates and times are to be confirmed):
St. Agrippina di Mineo Feast and Procession - August 3, 4, 5, 6 - Feast starts at 7pm on Thursday and 12 noon on Friday, Saturday, and Sunday, and continues to about 11pm - Procession on Sunday, August 7 only, starting at 12 noon on Hanover and Battery Streets
Madonna Della Cava Feast - August 11, 12, 13 on Battery and Hanover Streets - Procession at 1pm on Sunday; feast opens at 7pm on Friday and 12 noon on Saturday and Sunday, and continues to about 11pm
Fisherman's Feast of the Madonna del Soccorso di Sciacca - August 17, 18, 19, 20 - Blessing of the Fishing Waters at Columbus Park on Thursday at 6pm. Feast opens at 6pm on Friday and 12 noon on Saturday and Sunday and lasts until about 11pm. Grand Procession at 1pm on Sunday, on Fleet, Louis, and North Streets, with Flight of the Angel at 8pm
St. Lucy's Feast - August 24-25 (Thursday and Friday) - Thatcher and Endicott Streets. Thursday: At 5pm, opening ceremonies, blessing of the statue, and procession with Italian street bands, flower girls, and color guard; at 6pm, dancing and singing in the streets, followed by the feast; at 10:30pm, candlelight procession and welcome of Santa Lucia statue in the outdoor chapel, followed by an overnight vigil. Friday: More festivities including food and music throughout the weekend plus another procession to St Leonard Peace Garden at 6:15pm
St. Anthony's Feast - The largest Italian religious festival in New England, August 25, 26, 27 (Friday, Saturday, Sunday) - Endicott, Thatcher, and North Margin Streets. Feast opens with ceremony and a procession at 7pm on Friday. Grand Procession starts at 12 noon on Sunday - parades, strolling singers, entertainment, and 100 pushcarts offering mouth-watering Italian food in this "Feast of All Feasts"; feast opens at 7pm on Friday, 12 noon on Saturday and Sunday - St Anthony website
Nearest T station to North End: Commuter Rail or Orange & Green Lines/North Station
Cost: Free (although you'll find temptations to spend money on food, drink, and commemorative items)

Find out about North End Feasts and Festivals taking place in September
---
Hotels in Boston's North End
Interested in staying in or near Boston's wonderful North End neighborhood, filled with tantalizing Italian restaurants and bakeries?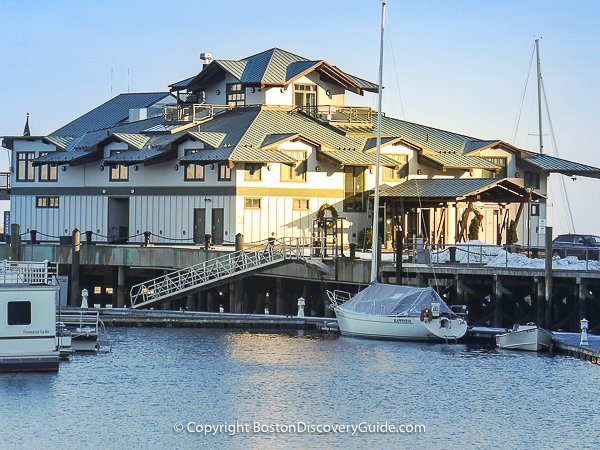 Consider these welcoming choices:
Find more hotels in or near the North End
---
Boston Parks Movie Nights 2023
The Mayor's Movie Nights in Boston Parks take place during August and September and give Bostonians in many city neighborhoods the chance to watch a recent movie for free under the stars.
Here's the August schedule (movies begin at dusk):
Aug 8 - South Boston/Seaport - Minions: The Rise of Gru
Aug 11 - West Roxbury - Lightyear plus Space Programming
Aug 14 - Roxbury - Black Panther: Wakanda Forever
Aug 15 - Allston/Brighton - Marcel: The Shell with Shoes On
Aug 16 - DC League of Super-Pets
Aug 21 - East Boston - Vivo
Aug 22 - South End - Lyle, Lyle Crocodile
Aug 23 - Roslidale - Spider Man: No Way Home
Aug 28 - Hyde Park - League of Super Pets
Aug 29 - Charlestown - The Bad Guys
For more information and park locations, see the City of Boston website.
---
Lawn on D 2023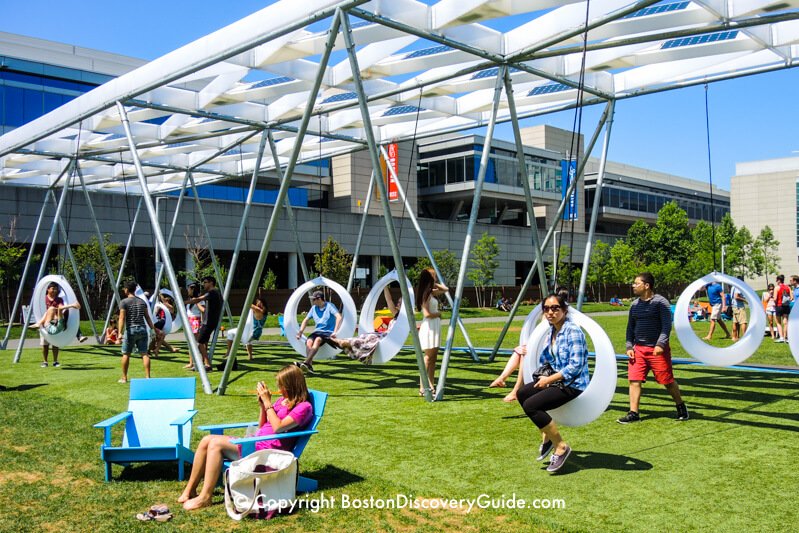 Lawn on D, a playground for adults (kids are welcome too but this is primarily an adult venue) located behind the Convention Center in the South Boston Waterfront, is where you'll find fun swings with LED lights and comfy seating, pickleball and other games, and music throughout the summer and early fall, along with casual food and wine, beer, cocktails, and non-alcoholic beverages.
Open daily from 7am-11pm from May to October, except when closed for private events (always check their website before going).
Food, drinks, and lawn games available Thursday 3-10:30pm, Friday & Saturday 12 noon-11pm, Sunday 12 noon-10:30pm, with live entertainment by local bands on the weekends.
Swings are open whenever Lawn on D is open.
Rules, in case you're wondering: No dogs, no outside alcohol, no outside food during concession hours.
Another option in this area is to sample one of the many restaurants in the Seaport and Fort Point areas of the South Boston Waterfront.
For Boston Harbor views while you dine, visit a Seaport restaurant. To try the creative cuisine of some of Boston's most innovative chefs, head to a Fort Point restaurant.
---
Berklee Summer in the City: Free Summer Concerts in Boston 2023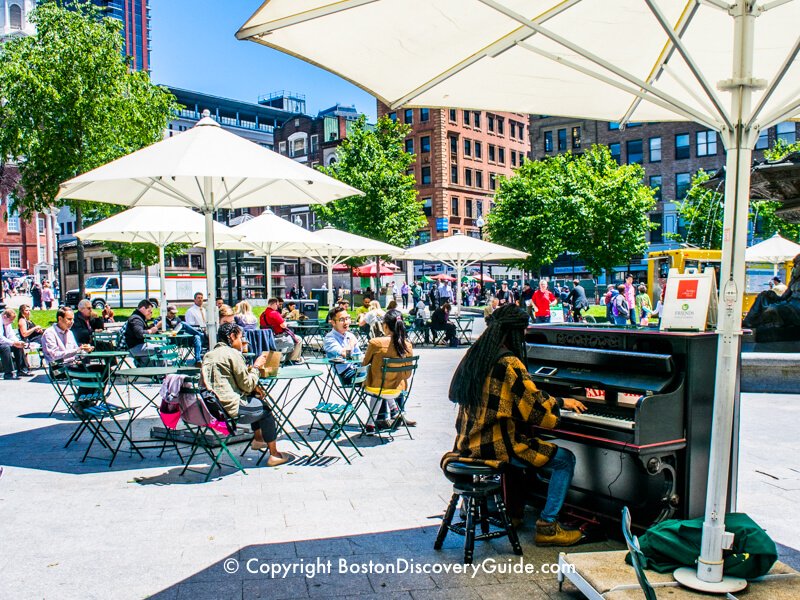 Berklee College of Music students, faculty, and alumni give over 400 free outdoor concerts all over the city during the summer from June through early October. Music ranges from jazz to classical, Latin to funk, folk to world, and are free.
Locations include Atlantic Wharf, the Boston Public Library, Brewer Fountain Plaza on Boston Common, the Charlestown Navy Yard, Chin Park and City Winery on the Greenway, selected Boston Harbor Cruises, the Arnold Arboretum, Christopher Columbus Park on the waterfront, Downtown Boston, the Longwood Medical Campus, multiple locations in Cambridge, Dorchester Heights, Institute of Contemporary Art, Prudential Center, Fenway locations, and more.
---
Fun Boston Tours for August
---
New England Revolution at Gillette Stadium 2023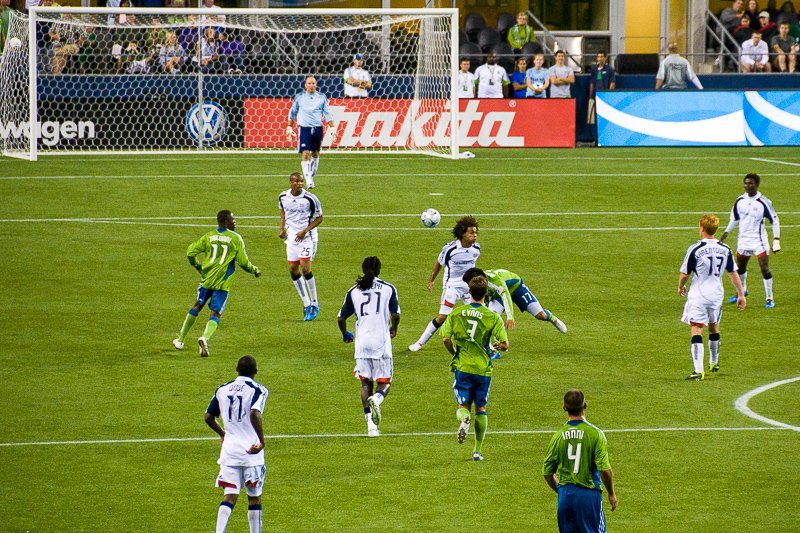 Watch our local soccer team, the New England Revolution, bring men's soccer to a new level during August at Gillette Stadium.
Where: Gillette Stadium
Getting there: Gillette Stadium from Boston
Tickets & Schedule:
Enter DISCOVERY10 to save 10% on TicketLiquidator & TicketNetwork tickets. Good through 12/31/24.
See the full schedule and available tickets for New England Revolution games at Gillette Stadium
---
Boston Hotels with Outdoor Swimming Pools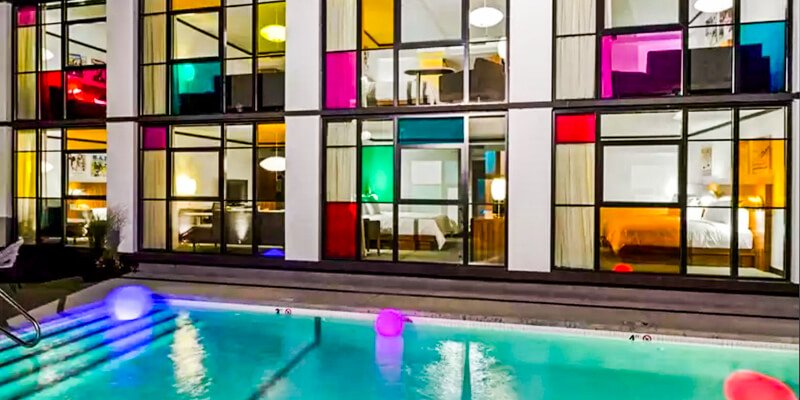 Find more Boston hotels with outdoor swimming pools
---
Summer in the City - August Events 2023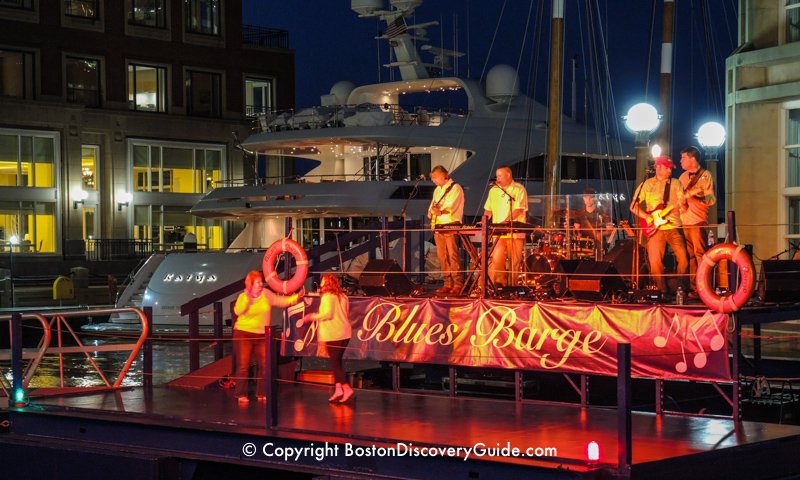 Boston Harbor Hotel's popular "Summer in the City" series lets you kick back and enjoy live music overlooking the waterfront throughout the summer until August 25.
Listen to live music between 6pm - 10pm as musicians staged on the Blues Barge perform a range of music including jazz, soul, country, R&B, DJ sets, and more.
Combine these events with a drink and dinner on the hotel's Harborwalk Terrace (reservations usually needed) or the Rowes Wharf Sea Grill overlooking the Harbor for the perfect summer evening.
More about Boston Harbor Hotel
Check reviews and rates for the Boston Harbor Hotel
---
Popular Boston Tours for August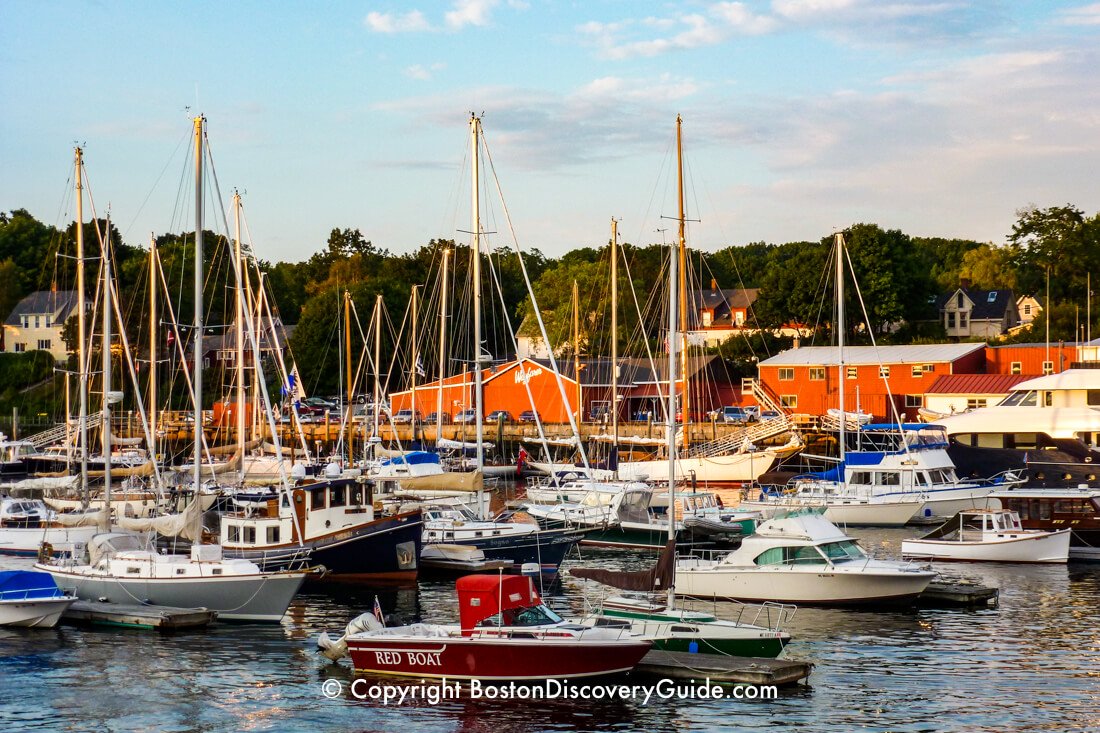 On this special 1-day small-group day trip from Boston to Coastal Maine & Kennebunkport. you'll see the picturesque Nubble Light lighthouse, and stroll along Ogunquit's Marginal Way before arriving in scenic Kennebunkport, where you'll enjoy a narrated trolley tour.
You'll have time to explore, eat, and shop before your return to Boston.
Depending on when you go, you may also see the first displays of brilliant fall foliage along the southern Maine coast.
Bonus: Pick up and drop off at your Boston hotel.
Find out more about the Coastal Maine and Kennebunkport Tour
Looking ahead to fall and the beginning of fall foliage season in Boston:
Find out about fall foliage sightseeing tours departing from Boston
More about where to see gorgeous fall foliage in Boston
---
More Fun Boston Tours
More:
Sightseeing Tours
|
Tours for Teens
|
Kids & Family Tours
---
Boston Lights at Franklin Park Zoo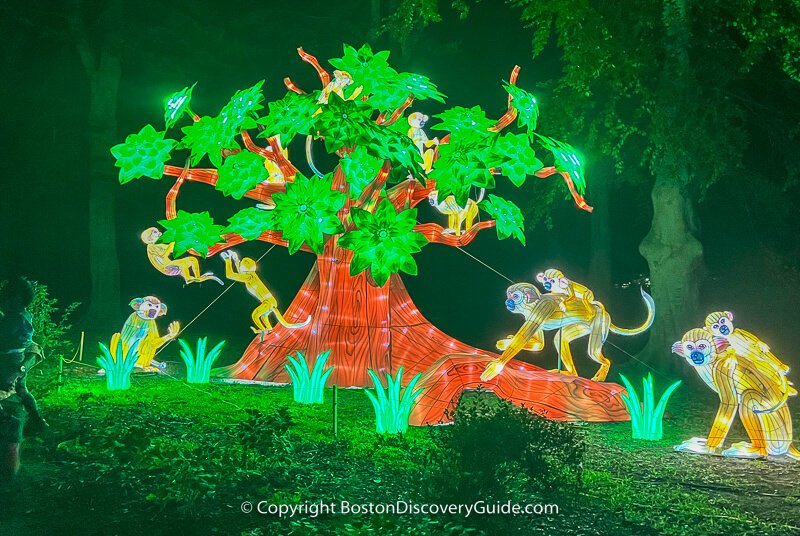 Franklin Park Zoo transforms into an evening wonderland as more than 55 brilliant outdoor all-new displays take you through fantastic journeys filled with color and light.
You'll discover an ice-breathing dragon, underwater adventures in a coral reef, and Chinese lantern scenes with pagodas, cranes, and lotuses.
Not to be missed: a 80-foot glowing walk-through dragon tunnel.
Get your tickets at the gate (if available), or secure your spot (highly recommended) and also save a little by booking online in advance on the Zoo's website.
Boston Lights dates/hours: July 22 - October 29, 6pm-10:30pm
Just want to visit the zoo during the day? You can also book or pre-book tickets online for a regular visit (does NOT include the Boston Lights show).
---
Summer Dine Out Boston (Restaurant Week) 2023
Twice each year, Boston foodies look forward to the best restaurants in the city being on sale.
You will too, as you sample the affordable fixed price lunch and dinner menus concocted by the city's best chefs.
You can start making your Dine Out Boston reservations about 3 weeks ahead of time. Don't wait, because tables fill up fast!
When: August 6-21
Where: Best restaurants in Boston, Cambridge, and suburbs
More about Dine Out Boston Summer Restaurant Week
---
Greenway Open Market 2023
Greenway Open Market, sister market to SoWa Open Market (held Sundays in the South End), brings an eclectic mix of hand-made art, music, and locally produced products to Boston.
Look for the sea of white vendor tents - and get ready for some fun shopping, plus good eating at the gourmet food trucks.
With a different mix of vendors present each week, you never know what treasures you'll find! It's a quintessential Boston event.
When: Every Saturday from May 1 through October 31, 11am - 5pm
Where: Rose Kennedy Greenway, near Rings Fountain along the Wharf District parks (look for the Carousel and the vendors' white tents)
Nearest T station: Blue Line/Aquarium, or Orange and Green Lines/Haymarket
Cost: Free (but of course you'll probably be tempted to buy things
---
Boston Fan Expo 2023
When: August 4-6
Where: Boston Convention & Exhibition Center
Stay nearby: South Boston Waterfront Hotels near the Boston Convention & Exhibition Center
More information & tickets: https://www.fanexpoboston.com
Boston FAN EXPO (formerly Comic Con) gives you the chance to meet and chat with over 200 top graphic novelists, super hero artists, and developers of anime, comic, cosplay, horror, sci-fi, and gaming, plus thousands of fans. Celebrity guests and artists this year include Rosario Dawson, Henry WInkler, William Shatner, Sam Raimi, Danny Trejo, Ashley Eckstein, Samantha Kelly, and many more!
Plenty of dealers will be present also, so indulge in this opportunity to shop for Pop Culture merchandise.
---
2 Easy Ways to Save BIG in Boston
Find out more about Boston discount cards, and how they give you big savings on top attractions.
---
Free Summer Movies in Christopher Columbus Park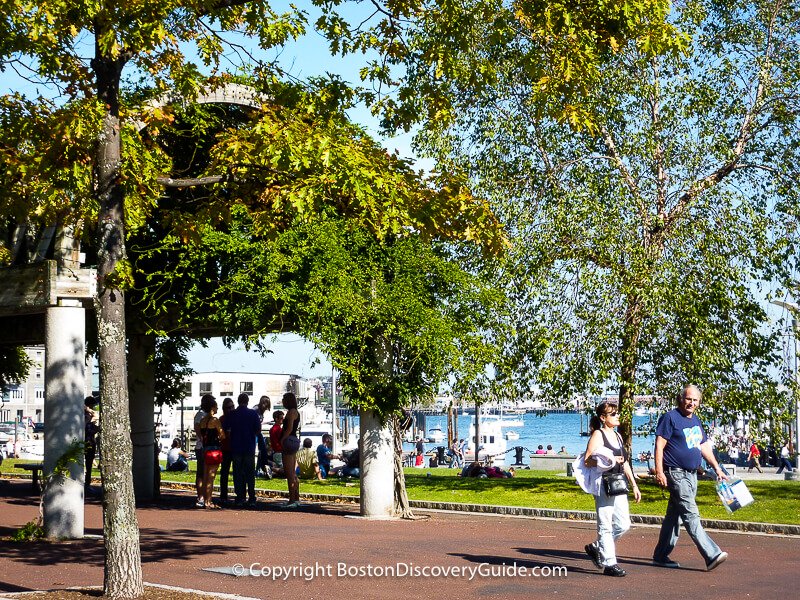 Enjoy free outdoor Summer Sunday Movies on most Sunday evenings during July 16 and August 27 at Christopher Columbus Park in Boston's North End.
Movies start at 8pm. Bring a blanket or low folding chairs and watch family favorites.
Check the lineup and schedule on the park's website.
---
Free Family Flicks @ Prudential Center 2023
Enjoy this free fun family-friendly activity - movies under the stars in Prudential Center's lovely South Garden (go up the escalators from Huntington Ave, and the garden is to your right; from Boylston, the garden is on your left).
Bring a picnic blanket or low beach chairs, and grab dinner at Prudential Center.
Schedule:
August 5: Puss in Boots: The Last Wish
August 12: The Princess Diaries
August 19: Spider-Man: No Way Home
August 26: The Bad Guys
When: Every Saturday during July and August; movies start at sundown but the garden will be open for the event from 6pm - 10pm
Where: Prudential Center, South Garden
Cost: Free
Nearest T station: Green Line/Prudential
Nearest parking garage: Prudential Center Garage - enter after 5pm for $20 rate, or get discounted parking with a $25 purchase from any Pru Center store, restaurant, cart, or kiosk; bring your parking ticket with you when you leave the garage and have your sales associate validate your parking ticket after you make your purchase

---
Boston Discount Cards for Attractions, Tours, Cruises
Best way to save in Boston. Save 50% or more when you take a Boston Harbor cruise or Duck Boat tour, visit Plimouth Plantation, the New England Aquarium, Museum of Science, Museum of Fine Arts, Fenway Park Tour, and more. Compare to find out which one is best for you.
---
Free Drop-In Summer Yoga on Boston Common 2023
Dropping in on free summer yoga sessions near the carousel on Boston Common is part of what makes Boston fun in the summer. Instructors will lead a vinyasa flow class focused on releasing stress and expanding energy and welcome participants of all levels.
When: Every Thursday, 6-7 - through August 31
Where: Frog Pond at Boston Common
Nearest T station: Green Line/Park
Cost: Free
Bring: Your own mat, blocks, towels, and belt
---
Free Friday Flicks at the Hatch Shell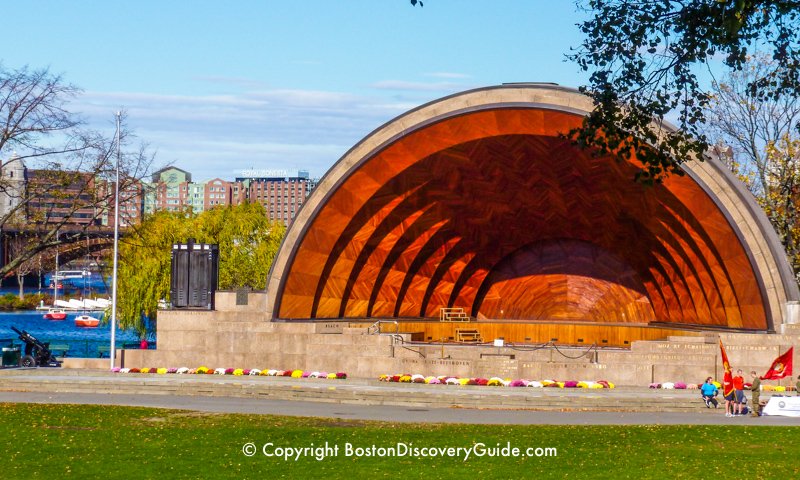 Enjoy free outdoor concerts at the Hatch Shell on Boston's Esplanade throughout August.
This series of family movies sponsored by the Department of Conservation and Recreation (DCR) provides the perfect excuse to grab a blanket or lawn chair, pack a picnic, and head for an evening of entertainment under the stars.
The August movie lineup includes:
August 4 - Goonies
August 11 - Back to the Future
August 18 - Super Mario Bros
August 25 Thor Love and Thunder
When: Movie starts at sundown (about 8pm in at the beginning of August, and 7:30pm by the end)
More information, including the movie schedule and weather cancellations: Call the Free Friday Flicks Hotline at 617-787-7200
---
Immersive Disney Animation Boston - 2023
Immersive Disney Animation Boston brings all your favorite Disney characters, stories, and music to life in a magical immersive experience with you at the center.
You'll visit La Casita with Mirabel from Encanto, watch Rafiki present Simba in the Lion King, take the journey of a lifetime with Aladdin and Jasmine in the Magic Carpets of Aladdin, hop on a train to Zootopia, enter the enchanted worlds of Peter Pan and Pinocchio, and so much more in this family-friendly, kid-pleasing innovative production.
The show lasts one hour and is currently playing at Boston's Lighthouse ArtSpace at The Saunders Castle, 130 Columbus Ave, now through August 13.
Sensory-friendly viewings are scheduled at 9am on August 13.
Book your tickets online in advance to get your preferred date/timeslot.
---
Looking Ahead to Fall Events in Boston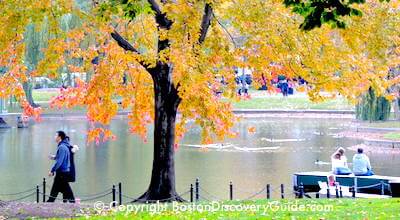 ---
More Articles about Boston Events in August
---
Make Your Boston Hotel Reservations
Enter your travel dates in this hotel map from Booking.com to see what's available and find lowest rates: