Lots of exciting events pack the Boston Events Calendar for August 2022 as summer fun continues in the city.
You'll find plenty to do: head to city parks and beaches, relax on a Boston Harbor cruise, enjoy outdoor or even indoor dining at the many restaurants now open, and have fun on sightseeing tours, whale watching cruises, and Provincetown and Salem cruises.
You'll find lots to enjoy on the Greenway, and some seasonal beer gardens are starting to reopen. And, great news: Boston Restaurant Week is ON!
August weather in Boston is usually pleasant and balmy, but pack an umbrella in case of surprise thunderstorms - which usually end quickly at this time of the year.
Stroll along the waterfront, choose a restaurant offering patio seating, and by all means, check out fun options for sightseeing tours.
Top photo: Boston Common on an August afternoon, with golden dome of the Massachusetts State House in the background
---
Summer Dine Out Boston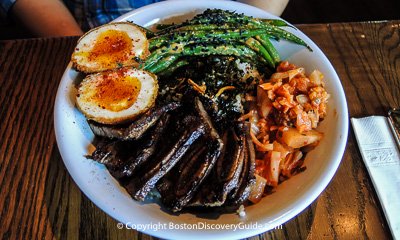 When: August 8-21
Where: Best restaurants in Boston, Cambridge, and suburbs - hundreds of choices!

Twice each year, Boston foodies look forward to the best restaurants in the city being on sale. You will too, as you sample the affordable fixed price lunch and dinner menus concocted by the city's best chefs. You can start making your Dine Out Boston reservations about 3 weeks ahead of time. Don't wait, because tables fill up fast!
More about Summer Dine Out Boston
---
Boston Concerts & Shows - August 2022
Top August Concerts in Boston - Schedules & Tickets
Enter DISCOVERY 10 to save 10% on TicketLiquidator & TicketNetwork tickets
Schedules & Tickets
More Concerts & Shows for April
Boston Concerts throughout the Year
---
Whale Watching Cruise Tickets
Join one of the exciting 3-hour Whale Watching Cruises departing from the Downtown Boston Waterfront, and experience the thrill of spotting whales off the coast of Boston.
You'll see magnificent creatures such as Humpback and Finback whales close-up from the deck of your ship, and spot White-Sided Dolphins frolicking in the waters.
These cruises sell out quickly and capacity is currently limited to 15 participants per cruise, so don't wait to get your tickets now for this iconic Boston experience!
---
Boston Theater & Shows for August - 2022

Top August Shows in Boston - Schedules & Tickets
Enter DISCOVERY 10 to save 10% on TicketLiquidator & TicketNetwork tickets
More Boston Theater District Shows
---
Top Hotels near Boston's Theatre District
Enjoy your Boston performance or show experience to the fullest when you stay in one of the nearby Theatre District hotels, such as the hip and glamorous Revere Hotel: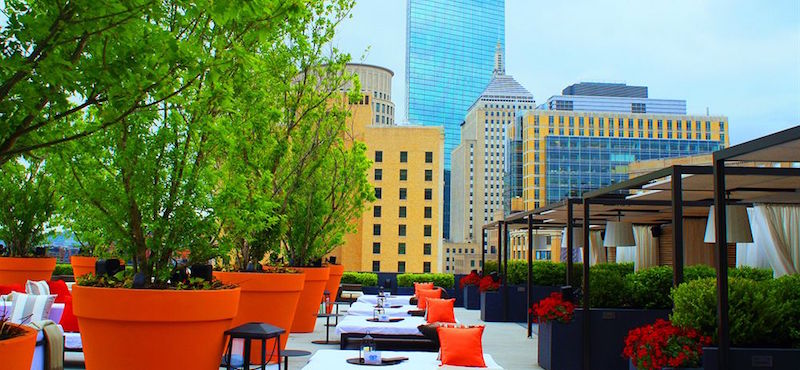 More top Theatre District hotels:
Check out more hotels in Boston's Theatre District
---
Boston Harbor Sightseeing Cruises - August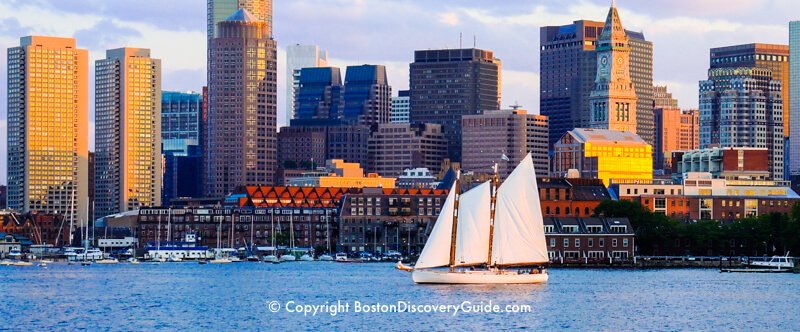 Tour Boston by boat - the best way to see the city!   Check out these fun sightseeing, music, and entertainment Boston Harbor cruises on the Yacht Northern Lights and Schooner Adirondack III:
Popular Cruises on the Northern Lights:
Brunch Cruise on the Northern Lights - Savor a delicious 3-course brunch on this relaxing sightseeing cruise around Boston Harbor
Boston Harbor Cruise on Northern Lights - Soak up Boston's unique sites and rich history on this comfortable sightseeing cruise around the Harbor - perfect friends and family experience! Refreshments are available for purchase at the bar
Northern Lights Sunset Cruise - Grab a refreshments from the bar and then relax as you watch the sun set on this sail around the Harbor, just in time to catch the USS Constitution fire its cannons as the sun dips down past the horizon
Sails on the Adirondack III
Fireworks Cruises
USS Constitution Turn-Around Cruises
---
Fun Ways to Experience Boston
---
August Moon Festival in Chinatown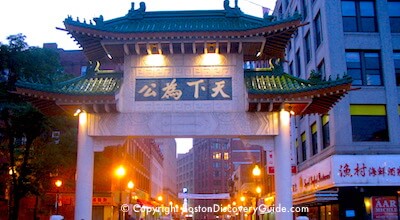 When: Sunday, August 8; Lion Dances and other cultural events take place between 12:30-m and 5pm
Where: Boston's Chinatown (Harrison Ave, and Beach, Tyler, Hudson, Essex, and Oxford Streets); Main Stage is at Phillips Square (corner of Harrison Ave and Essex Street)
Cost: Free
Closest T station: Orange Line / Chinatown
If you drive: Easiest parking is at the Boston Common Garage; walk 2 blocks to Chinatown

Boston's Chinatown comes alive with lion dances, martial arts, folk dances, and lots of vendors for the annual Chinese Autumn MoonFestival.
What does the festival actually celebrate? Possibilities include the end of the annual rice and wheat harvest, the legend of Chang'e, the immortal Lady of the Moon, and the overthrow of the Mongol rulers in 1368 when a rebel leader distributed mooncakes (which Mongols didn't eat) with messages hidden inside saying "Kill the Mongols."
Mooncakes, a specialty of the festival, are round pastries filled with lotus seed paste - you can buy this delicious treat at all Chinatown bakeries.
Although this 3,000+ year old Chinese festival traditionally falls on the 15th day of the 8th Lunar month - in other words, late September/early October - Boston celebrates it in mid-August. It's the perfect excuse to spend an August Sunday in Chinatown. Start with dim sum or lunch at one of these fun contemporary and traditional Chinatown restaurants, and then enjoy the colorful festival.
---
Fun Events & Activities on the Rose Kennedy Greenway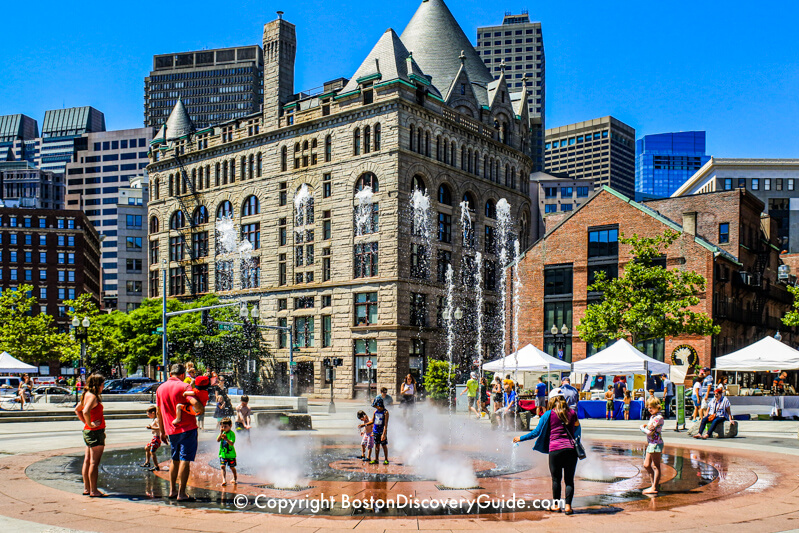 The Rose Kennedy Greenway is offering so many fun things to do this summer:
Greenway Food Trucks: Over 35 trucks offering specialties ranging from Korean to Summer Shack's seafood to frozen hoagies in Dewey Square, Congress Street, the Carousel, Rings Fountain (Milk Street), State Street, and Rowes Wharf Plaza, and Trillium Beer Garden. You'll find them at 2-6 locations each day, and although the number of trucks vary each day, the number of locations and trucks is the biggest on Thursdays.
Farmers Market in Dewey Square run by Boston Public Market offering fresh produce, meat, cheese, breads and pastries, ice cream, and more. Open Tuesdays and Thursdays 11am - 4pm
Boston Calling Block Parties - Live music and drinks from Blue Moon Brewing, Vizzy Hard Seltzer Canada, Topop Chico Aqua Mineral, and more. Thursdays, 5pm-8pm, Dewey Square.
Trillium Beer Garden in the Wharf District Parks (High Street and Atlantic Ave) featuring draft beers by Trillium Brewing Company and a rotating selection of onsite food trucks. Open Thursday and Friday 2-10pm, Sat 12 noon-10pm, Sunday 12 noon-6pm.
City Winery Open Air Wine Garden on Dewey Square across from South Station, serving their locally-crafted wine on tap plus with craft beer and cider by Harpoon Brewery along with a menu of fresh wraps, cheese boards, and snacks. Open Wed and Thurs 4-9pm, Friday 4-10pm, Sat. 1-9pm, Sunday 11am-7pm.
Public Art - See new installations by Daniel Gordon in the Fort Point Channel Park
Fountains - You'll find them in 7 different locations along the Greenway - so get ready to splash, wade, and cool off!
Carousel - Open daily, 11am-8pm. Tickets: $4.
Greenway Fitness Programs: Free fitness and yoga classes from local studios; must preregister
More about the Rose Kennedy Greenway
---
August Boston Red Sox Schedule - Home Games at Fenway - 2022
Location: Fenway Park
Nearest T stations: Green Line B or C/Kenmore; Commuter Rail Worcester Line/Yawkey
Get Schedule & Tickets
Enter DISCOVERY 10 to save 10% on TicketLiquidator & TicketNetwork tickets
Find Red Sox Home Games at Fenway for Other Months
Stay: Hotels near Fenway Park
Park: Garages & lots near Fenway Park
Celebrate: Best sports bars near Fenway Park
Find out about more Boston sports
---
Fun Sightseeing Tours of Boston
More: Sightseeing Tours | Tours for Teens | Kids & Family Tours
---
Landmarks Orchestra Concerts at the Hatch Shell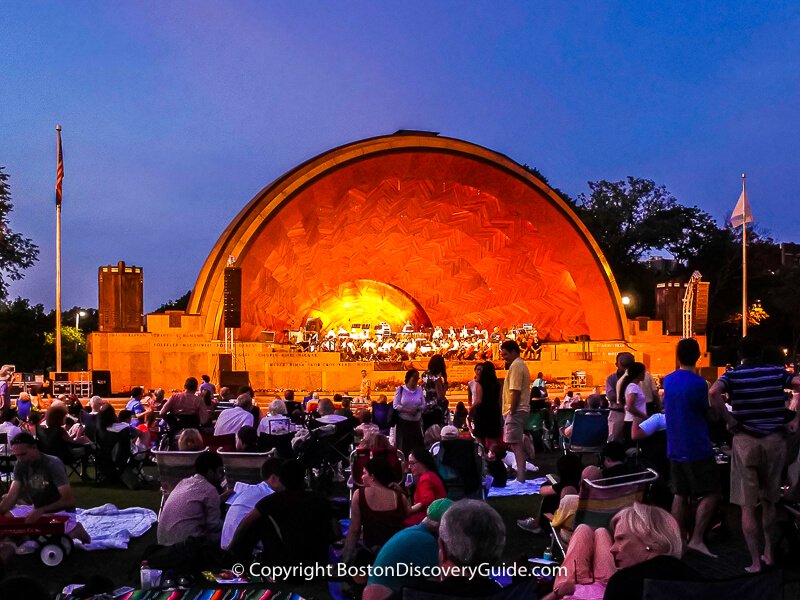 The Boston Landmarks Orchestra's weekly free summer Esplanade concerts attract large crowds to the Hatch Shell on Boston's Esplanade each July and August with its mix of classical, traditional, modern, and contemporary music. Concerts start at 7pm and run about 2 hours. Bring a blanket or low folding chairs to sit on, and a picnic dinner.
Landmarks Concert schedule for August:
August 4 - Beethoven's Fifth and American Icons
August 11 - Rachmaninoff to Ellington: Music & Healing
August 18 - Bach & Beethoven
August 25 - Amazing Grace & Sousa Marches
September 1 - Rhapsody in Blue & American Portraits
Weather alerts and alternate locations in case of rain: 617-987-2000; orchestra website
Cost: Free

More about what to see & do on Boston's Esplanade
---
Not Sure about Boston Neighborhood Locations?
This neighborhood map should help you get oriented. You can find a list of top attractions in each neighborhood here.
Need a more details? Here are our favorite free and low-cost Boston maps
---
Cape Ann Artisans August Tour 2022
For one day only in August, Cape Ann artists open their studios along the beautiful Rockport and Gloucester coast for you to tour. Local artists and artisans will welcome you to view their paintings, sculpture, mosaics, photography, pottery, jewelry, and other wonderful creations.
Drive up from Boston for the day (or take the Commuter Rail) - or spend the weekend and go for walks along the beach, dine on lobster dinners, and browse in local boutiques, galleries, and antique shops. View Rockport Hotels
Open Studio Tour: August 13 at 10am - 5pm
Where: Open Studio Tour map and more information at www.capeannartisans.com - or pick up brochures with route maps at the Cape Ann Chamber of Commerce, the Rockport Information Booth on Rte 127, and at each studio. Look for the Studio Tour banner at each location
More information: Cape Ann Artisans website
Cost: Free
---
Faneuil Marketplace Events in August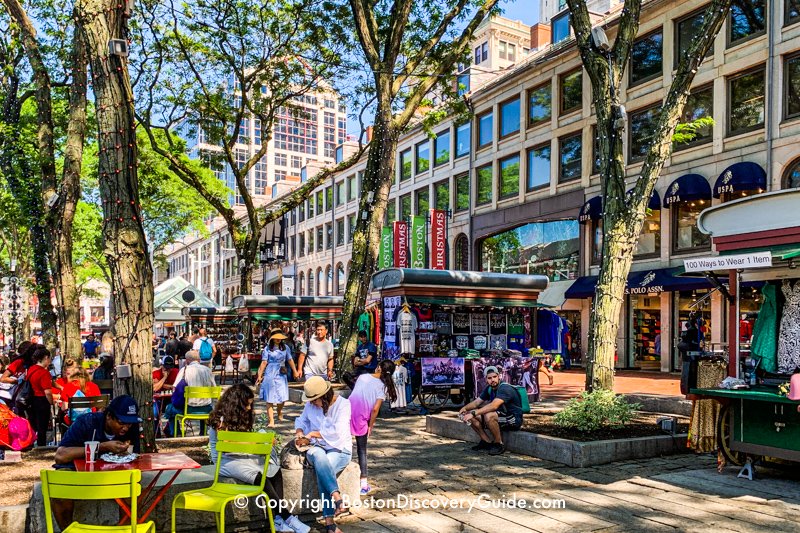 August is the perfect month to enjoy Faneuil Marketplace's outdoor seating, as well as a variety of special free events going on this month:
Storytelling on Tuesdays in the South Market Building - 10:30-ll:30am
Art on Wednesdays in the South Market Building - Kids Art 10:30-12:30, Collaborative Art (all ages) 1pm-2pm, Open Studio 3pm-5pm, Apres Work Painting (ages 12 & up) 5:30pm-7pm
Movie Musicals on Thursdays - Preshow activities begin at 7:30 and films start at dusk. Lineup includes: Mamma Mia 2 (8/1), Hairspray (8/8), A Star is Born (8/15), and Bohemian Rhapsody (8/22).
Quincy Market History Hours on Saturdays - Find out about the fascinating history of Faneuil Marketplace's architecture, politics, and geography. 11am-12 noon. Meet your guide by the Directory sign near Anthem restaurant.
---
Boston Hotel Map
Enter your dates to see available hotels and rates:
---
Shakespeare on the Common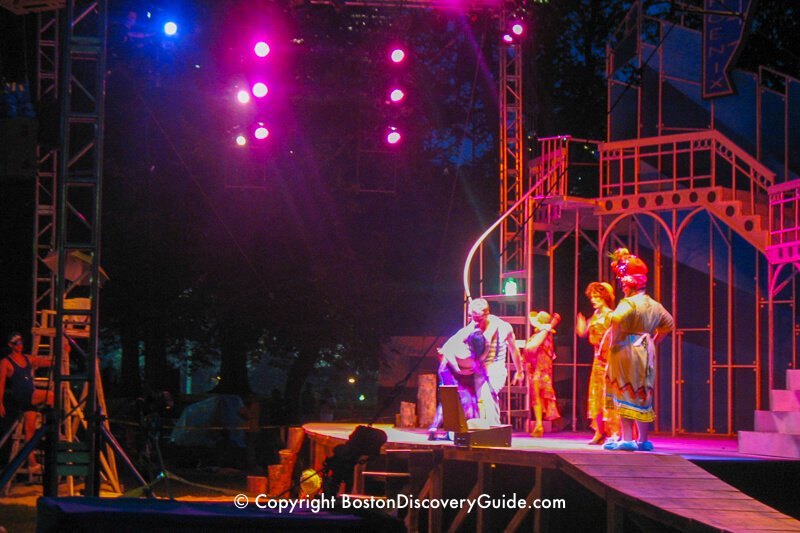 One of the most popular summer Boston events, Commonwealth Shakespeare Company presents The Tempest, a comedy laced with tragedy, in this year's Shakespeare on the Common.
Bring a blanket or low folding chair, perhaps a picnic basket, and get ready to enjoy a magical evening of free theater under the stars. You can also rent a chair for $5, plus a $5 deposit that you will get back when you return the chair.
Bring your own food, or purchase something tasty from the vendors who will be onsite for the occasion. Toilets are available at the nearby tennis courts.
When: July 21 - August 8 at 8pm on Tuesdays through Saturdays, 6pm on Sundays (note - no performances on Mondays); performances normally run about 2.5 hours; heavy rain and lightening storms can cause cancelations for safety reasons, so if in doubt, call the weather line at 617-426-0863.

Where: Boston Common, near the Parkman Bandstand
Getting there: By subway: Green/Red line to Park Street Station, or Green Line to Boylston; By car: Park under the Common in the Boston Common Parking Garage: pick up a discount coupon at one of the event tents (you'll spot them easily) - you'll save a bit on parking, and the garage donates the proceeds to CSC
Cost: Free admission but pre-registration will be required this year due to capacity constraints
More information & pre-registration: Shakespeare on the Common
---
Hotels near Boston Common