Lots of exciting events pack the Boston Events Calendar for August 2021 as summer fun continues in the city.
You'll find plenty to do: head to city parks and beaches, relax on a Boston Harbor cruise, enjoy outdoor or even indoor dining at the many restaurants now open, and have fun on sightseeing tours, whale watching cruises, and Provincetown and Salem cruises.
Don't miss Cirque du Soleil's Under the Same Sky at Suffolk Downs starting at the end of the month.
You'll find lots to enjoy on the Greenway, and some seasonal beer gardens are starting to reopen. And, great news: Boston Restaurant Week is ON!
August weather in Boston is usually pleasant and balmy, but pack an umbrella in case of surprise thunderstorms - which usually end quickly at this time of the year.
Stroll along the waterfront, choose a restaurant offering patio seating, and by all means, check out fun options for sightseeing tours.
Top photo: Boston Common on an August afternoon, with golden dome of the Massachusetts State House in the background
Summer Dine Out Boston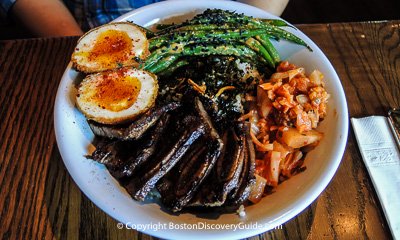 When: August 18-23 and 25-30
Where: Best restaurants in Boston, Cambridge, and suburbs - hundreds of choices!

Twice each year, Boston foodies look forward to the best restaurants in the city being on sale. You will too, as you sample the affordable fixed price lunch and dinner menus concocted by the city's best chefs. You can start making your Dine Out Boston reservations about 3 weeks ahead of time. Don't wait, because tables fill up fast!
More about Dine Out Boston
Boston Concerts & Shows - August 2021

Top August Concerts in Boston
Enter DISCOVERY 10 to save 10% on TicketNetwork & TicketLiquidator tickets
Schedules & Tickets:
Whale Watching Cruise Tickets
Join one of the exciting 3-hour Whale Watching Cruises departing from the Downtown Boston Waterfront, and experience the thrill of spotting whales off the coast of Boston.
You'll see magnificent creatures such as Humpback and Finback whales close-up from the deck of your ship, and spot White-Sided Dolphins frolicking in the waters.
These cruises sell out quickly and capacity is currently limited to 15 participants per cruise, so don't wait to get your tickets now for this iconic Boston experience!
Boston Theater & Shows for August - 2021

Top August Shows in Boston
Schedules & Tickets
Enter DISCOVERY 10 to save 10% on TicketNetwork & TicketLiquidator tickets
---
Top Hotels near Boston's Theatre District
Enjoy your Boston performance or show experience to the fullest when you stay in one of the nearby Theatre District hotels, such as the hip and glamorous Revere Hotel: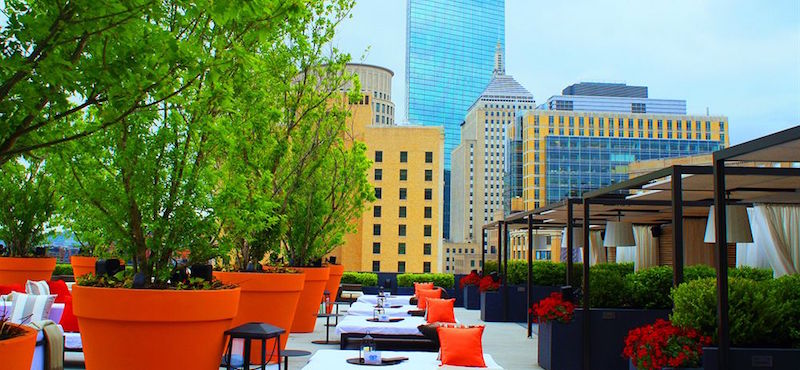 More top Theatre District hotels:
Check out more hotels in Boston's Theatre District
Boston Harbor Sightseeing Cruises - August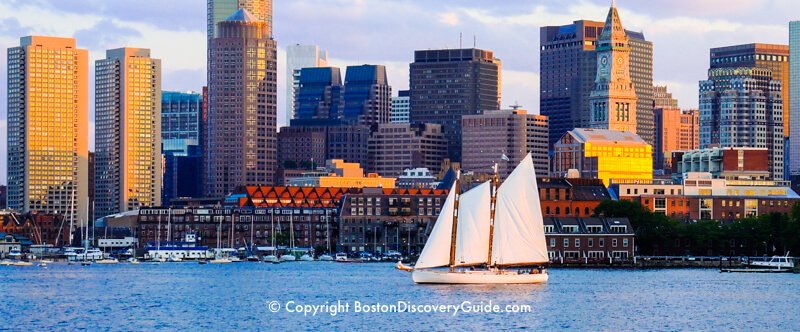 Tour Boston by boat - the best way to see the city!   Check out these fun sightseeing, music, and entertainment Boston Harbor cruises on the Yacht Northern Lights and Schooner Adirondack III:
Fun Boston Harbor Cruises To Do Right Now:
Cirque du Soleil's Under the Same Sky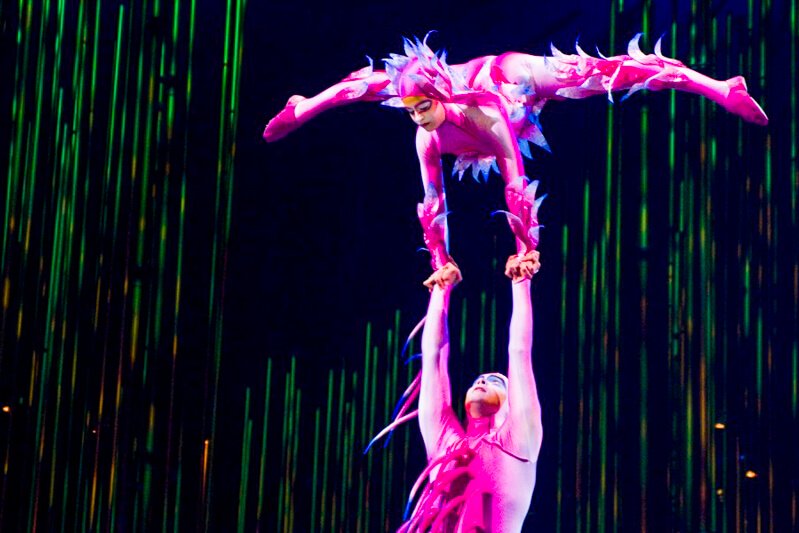 Cirque du Soleil's U.S. premier of Under the Same Sky entertains Boston from August 29 through September 27 for dazzling performances under the Big Top at Suffolk Downs.
With its unique blend of acrobats and dancers, gorgeous costumes, original music, and stunning choreography, Under the Same Sky will create a fantasy world in front of your eyes.
Enter DISCOVERY 10 to save 10% on TicketNetwork & TicketLiquidator tickets
More about Cirque du Soleil in Boston
Fun Ways to Experience Boston
Fun Events & Activities on the Rose Kennedy Greenway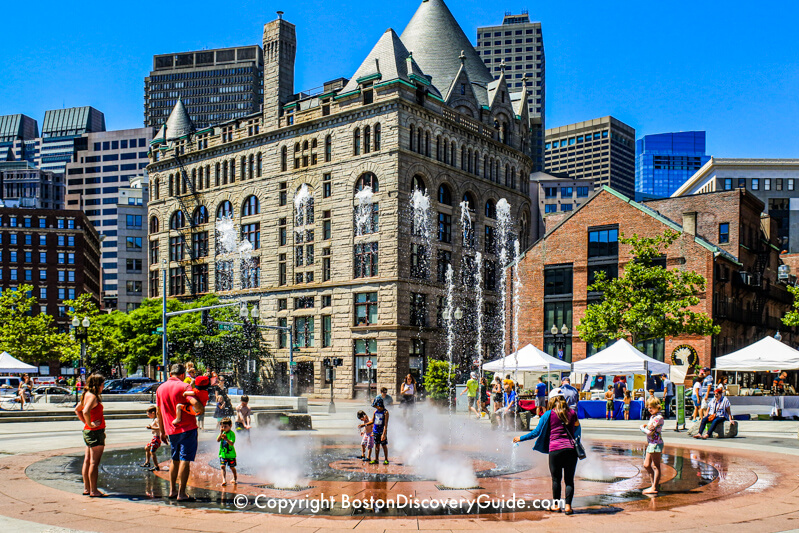 Exciting news - some Greenway events and things to do this summer will be happening:
Greenway Food Trucks: Generally Monday - Sunday (but not on holidays) in Dewey Square, Carousel, Rings Fountain (Milk Street), State Street, and Rowes Wharf areas of the Greenway - reduced schedule, with only 2-3 locations and only a few trucks per day.
Farmers Market in Dewey Square run by Boston Public Market offering fresh produce, meat, cheese, breads and pastries, ice cream, and more - opens on June 2; Tuesdays and Thursdays 11:30am - 6:30pm through November 21.
Public Art - See new installations by Mexican-American folk artist Catalina Delgado-Trunk and British-Nigerian artist Yinka Shonibare, plus other revolving art installations thoughout the Greenway, and especially in the Fort Point Channel Park
Fountains - All 7 will be on.
Greenway PlayCubes - Chinatown Park; children must be with a supervising adult.
Greenway Open Market - Each Saturday and the first and third Sundays of each month, 11am-5pm in the Wharf District Parks.
Carousel - Will follow a limited Friday, Saturday, Sunday schedule, 11am-6pm. You can expect lots of cleaning and physical distancing.
Not Now but Maybe Later:
Boston Calling Block Parties held at Dewey Square (between Pearl and Oliver Streets) across from the InterContinental Hotel; different local band each week, plus a cash bar for 21+
Trillium Beer Garden in the Wharf District Parks (High Street and Atlantic Ave) featuring draft beers by Trillium Brewing Company and barrels of Westpoint Rivers Winery.
City Winery Open Air Wine Garden on Dewey Square, with beer and cider by Harpoon Brewery.
On hold for now:
Greenway Fitness Programs: Free fitness classes from local gyms and instructors
Greenway Play: Play programming for kids
More about the Rose Kennedy Greenway
August Boston Red Sox Schedule - Home Games at Fenway
Location: Fenway Park
Nearest T stations: Green Line B or C/Kenmore; Commuter Rail Worcester Line/Yawkey
---
Hotels near Fenway Park
If you're coming to a Red Sox game, spend the night or the weekend at one of the nearby hotels, such as the hip Verb Hotel, directly across the street from Fenway Park: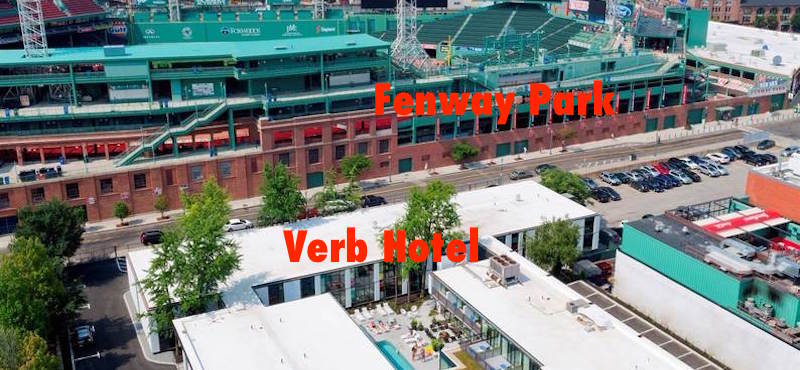 More top hotels near Fenway Park:
Check out more hotels near Fenway Park
Park: Garages & lots near Fenway Park
Celebrate: Best sports bars near Fenway Park
Fun Sightseeing Tours of Boston
More: Sightseeing Tours | Tours for Teens | Kids & Family Tours
Landmarks Orchestra Concerts at the Hatch Shell
The Boston Landmarks Orchestra's weekly free summer Esplanade concerts attract large crowds to the Hatch Shell each July and August with its mix of classical, traditional, modern, and contemporary music. Concerts start at 7pm and run about 2 hours. Bring and blanket or low folding chairs to sit on, and a picnic dinner.
Landmarks Concert schedule for August:
August 18, 7pm-8pm - Livestream of "She's the First" - a musical celebration of the centennial of the 19th Amendment giving women the right to vote - a link to the livestream will be posted on Landmark Orchestra's website.
Weather alerts and alternate locations in case of rain: 617-987-2000; orchestra website
Cost: Free

Find more free Hatch Shell concerts
Not Sure about Boston Neighborhood Locations?
This neighborhood map should help you get oriented. You can find a list of top attractions in each neighborhood here.
Need a more details? Here are our favorite free and low-cost Boston maps.
Faneuil Marketplace Events in August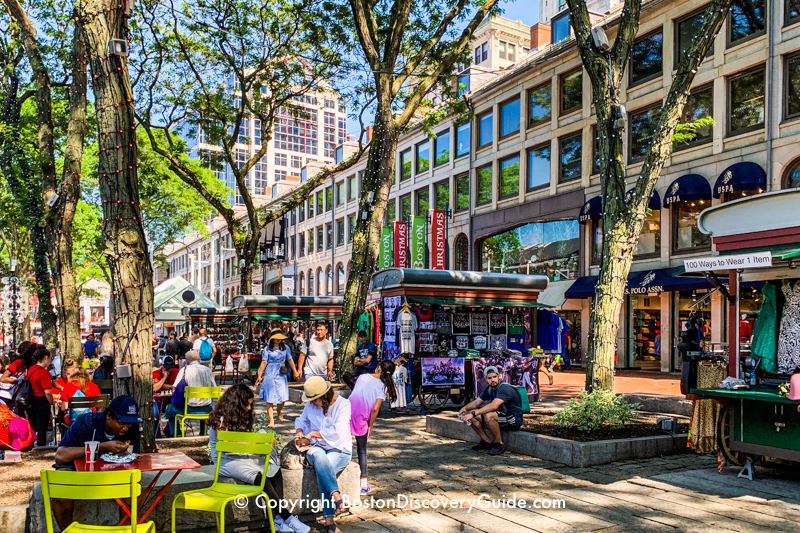 August is the perfect month to enjoy Faneuil Marketplace's outdoor seating, as well as a variety of special free events going on this month:
Storytelling on Tuesdays in the South Market Building - 10:30-ll:30am
Art on Wednesdays in the South Market Building - Kids Art 10:30-12:30, Collaborative Art (all ages) 1pm-2pm, Open Studio 3pm-5pm, Apres Work Painting (ages 12 & up) 5:30pm-7pm
Movie Musicals on Thursdays - Preshow activities begin at 7:30 and films start at dusk. Lineup includes: Mamma Mia 2 (8/1), Hairspray (8/8), A Star is Born (8/15), and Bohemian Rhapsody (8/22).
Quincy Market History Hours on Saturdays - Find out about the fascinating history of Faneuil Marketplace's architecture, politics, and geography. 11am-12 noon. Meet your guide by the Directory sign near Anthem restaurant.
Boston Hotel Map
Enter your dates to see available hotels and rates:
Boston Fermentation Festival
Fermented drink and food tastings, speakers, microbiologists, demos, and a chance to make your own sauerkraut under the guidance of local "Kraut Mobsters" make the free Boston Fermentation Festival one of the summer's most unique events.
Where & When: Boston Public Market's Demonstration Kitchen (100 Hanover St) on Sunday, August 15, 10am-4pm (to be confirmed)
Don't Miss: The Makers Marketplace showcasing local New England fermentation businesses, and the Libations Lounge featuring New England's most creative brewers and cider makers.
Shakespeare on the Common - 2021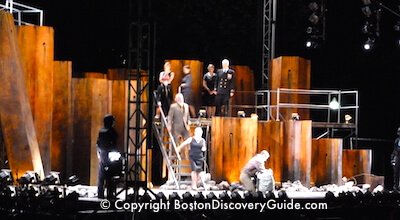 One of the most popular summer Boston events, Commonwealth Shakespeare Company presents The Tempest, one of the Bard's romantic comedies, in this year's Shakespeare on the Common.
Bring a blanket or low folding chair, perhaps a picnic basket, and get ready to enjoy a magical evening of free theater under the stars. You can also rent a chair for $5, plus a $5 deposit that you will get back when you return the chair.
Bring your own food, or purchase something tasty from the vendors who will be onsite for the occasion. Toilets are available at the nearby tennis courts.
More information: Shakespeare on the Common
When: July and August (Exact dates TBD) at 8pm on Tuesdays through Saturdays, 7pm on Sundays, plus a 3pm matinee (note - no performances on Mondays); performances run about 2.5 hours; heavy rain and lightening storms can cause cancelations for safety reasons, so if in doubt, call the weather line at 617-426-0863.

Where: Boston Common, near the Parkman Bandstand
Getting there: By subway: Green/Red line to Park Street Station, or Green Line to Boylston; By car: Park under the Common in the Boston Common Parking Garage: pick up a discount coupon at one of the event tents (you'll spot them easily) - you'll save a bit on parking, and the garage donates the proceeds to CSC
Cost: Free admission; chairs in a small special priority section near the stage are available in return for a donation of $75 or more, with proceeds to benefit CSC.
Hotels near Boston Common
New England Patriots Pre-Season Home Games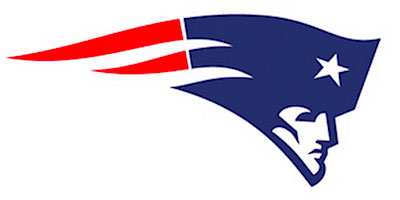 The Patriots start their regular season in September.
See the entire Regular Season schedule
Will this be the year that we celebrate another Super Bowl victory? Stay tuned!

Get your tickets now:
Enter DISCOVERY 10 to save 10% on TicketNetwork & TicketLiquidator tickets
Where: Gillette Stadium
Getting there: From Boston to Gillette Stadium

Want to stay nearby? Hotels near Gillette Stadium
More about hotels near Gillette Stadium (and Wrentham Premium Outlets)
North End Feasts and Festivals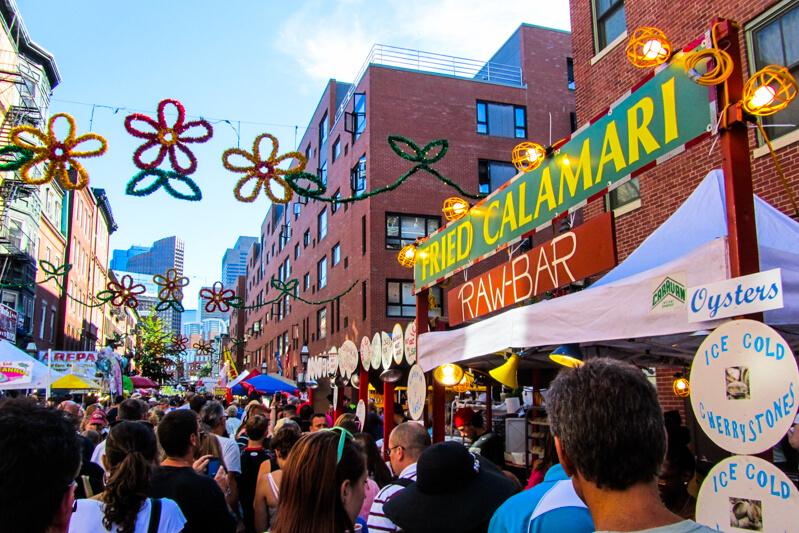 Four of the biggest and most famous North End Italian Feasts and Festivals take place in August, as they have for 100 years or more - almost as long as Italians have lived in this neighborhood.
Most of the North End feasts celebrate a saint with food, music, religious ceremonies, parades, strolling singers, celebrations, and more - they're like giant street parties.
In general, opening ceremonies take place on Friday evenings, with other events starting around 1pm on Saturday and Sunday and continuing until about 11pm. High Mass usually takes place on Sunday morning.
August Feasts and Festivals schedule (to be updated for 2021):
St. Agrippina di Mineo Feast and Procession - August 1-4 - Feast starts at 7pm on Thursday and 12 noon on Friday, Saturday, and Sunday, and continues to about 11pm - Procession on Sunday only, starting at Hanover and Battery Streets
Madonna Della Cava Feast - August 9-11, Battery and Hanover Streets - Procession at 1pm on Sunday; feast opens at 7pm on Friday and 12 noon on Saturday and Sunday, and continues to about 11pm
Fisherman's Feast of the Madonna del Soccorso di Sciacca - August 15-18, - Blessing of the Fishing Waters at Christopher Columbus Park on Thursday at 6pm. Feast opens at 6pm on Friday and 12 noon on Saturday and Sunday. Grand Procession at 1pm on Sunday, on Fleet, Louis, and North Streets, with Flight of the Angel at 8pm
St. Lucy's Feast - August 22, Thatcher and Endicott Streets, procession and feast at 5pm on Monday
St. Anthony's Feast - The largest Italian religious festival in New England, August 23-25, Endicott, Thatcher, and North Margin Streets. Grand Procession starts at 12 noon on Sunday - parades, strolling singers, entertainment, and 100 pushcarts offering mouth-watering Italian food in this "Feast of All Feasts"; feast opens at 7pm on Friday, 12 noon on Saturday and Sunday - St Anthony website
Nearest T station to North End: Commuter Rail or Orange & Green Lines/North Station
Cost: Free (although you'll find temptations to spend money on food, drink, and commemorative items)

Find out about North End Feasts and Festivals taking place in September
Hotels in Boston's North End
Berklee Summer in the City: Free Summer Concerts in Boston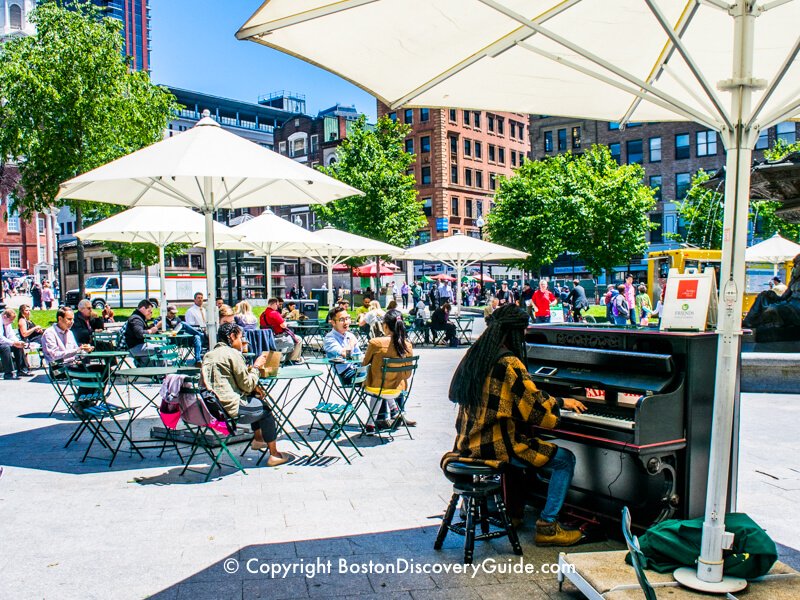 Free outdoor concerts take place all over the city during the summer - and Berklee College of Music students, faculty, and alumni give over 400 of them between early June and early October. Music ranges from jazz to classical, Latin to funk, folk to world, and are free.
Locations include Atlantic Wharf, the Boston Public Library, Brewer Fountain Plaza on Boston Common, the Charlestown Navy Yard, Chin Park and City Winery on the Greenway, selected Boston Harbor Cruises, the Arnold Arboretum, Christopher Columbus Park on the waterfront, Downtown Boston, the Longwood Medical Campus, multiple locations in Cambridge, Dorchester Heights, Institute of Contemporary Art, Prudential Center, Fenway locations, and more - so check the schedule at https://www.berklee.edu/events/summer
---
More Free Summer Concerts in Boston
Concerts in the Courtyard: Boston Public Library in the McKim Courtyard (700 Boylston Street, Copley Square in Back Bay), most Wednesdays 6-7pm and Fridays 12:30-1:30pm from early June through the end of August. Music ranges from jazz to classical, folk to world, and are free. Concerts move indoor to Rabb Hall in case of bad weather. More info: https://www.bpl.org/concerts-in-the-courtyard/
Boston Calling Weekly Block Parties: Live performances by popular banks such as East Coast Soul, Bourbon Chasers, and The Almighty Buck take place every week from 5-8pm on Thursdays at Dewey Square on the Rose Kennedy Greenway from early May through the end of August. Cash bar for 21+ with beer and wine, plus food to purchase. Check out the weekly lineup on their Facebook page: www.facebook.com/bostoncallingblockparties
---
Fun Boston Tours for August
New England Revolution at Gillette Stadium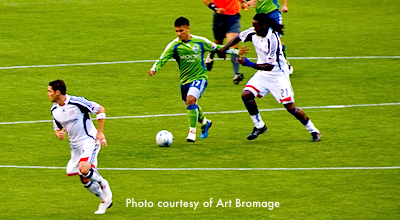 Watch our local soccer team, the New England Revolution, bring men's soccer to a new level during August at Gillette Stadium.
Where: Gillette Stadium
Getting there: Gillette Stadium from Boston
Tickets & Schedule:
Enter DISCOVERY 10 to save 10% on TicketNetwork & TicketLiquidator tickets
See the full schedule and available tickets for New England Revolution games at Gillette Stadium
Hotels near Gillette Stadium
More hotels near Wrentham Premium Outlets and Gillette Stadium
Free Friday Flicks at the Hatch Shell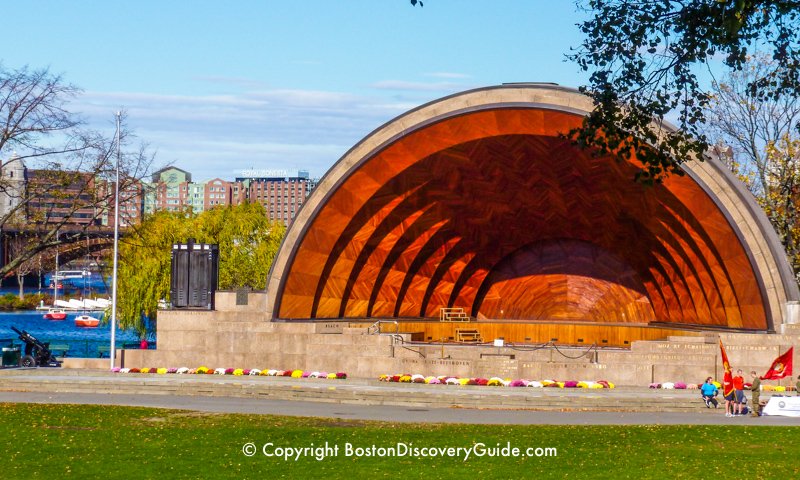 Enjoy free outdoor concerts at the Hatch Shell on Boston's Esplanade throughout August.
This series of family movies sponsored by WBZ NewsRadio 1030 and the Department of Conservation and Recreation (DCR) provides the perfect excuse to grab a blanket or lawn chair, pack a picnic, and head for an evening of entertainment under the stars.
The August movie lineup includes:
- August 7 - The Lion King
- August 14 - Onward
- August 21 - Spider-Man: Far from Home
- August 28 - Star Wars: The Rise of Skywalker
When: Movie starts at sundown (about 8pm in August)
More information, including the movie schedule and weather cancellations: Call the Free Friday Flicks Hotline at 617-787-7200
Boston Hotels with Outdoor Swimming Pools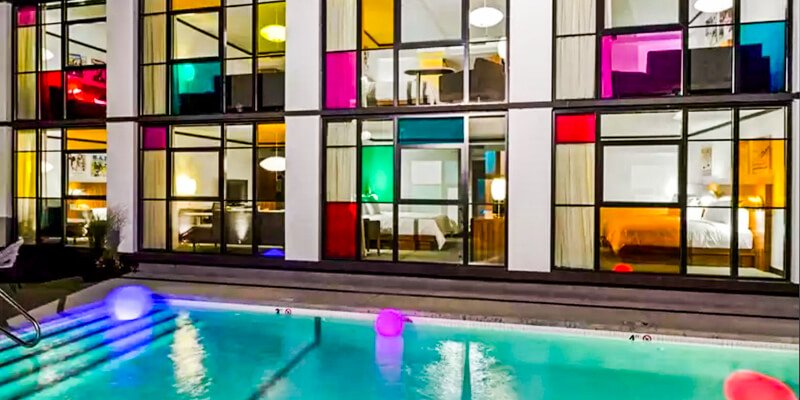 Find more Boston hotels with outdoor swimming pools
Summer in the City - August Events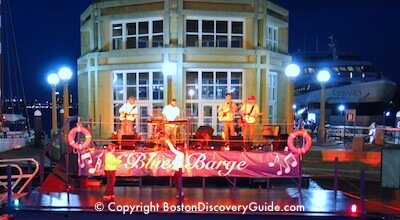 Boston Harbor Hotel's popular "Summer in the City" series lets you kick back and enjoy free music and movies overlooking the waterfront throughout the summer from June 6 until August 30.
Listen to music between 6pm - 10pm as musicians perform on the Blues Barge on Tuesday (Pop-Soul), Wednesday (Rat Pack), and Thursday (Blues Barge).
On Fridays, enjoy music (starts at 4:30) and Movies By Moonlight - your favorite classics projected on a large screen over the Harbor- starts at dusk.
Combine these events with a drink at the hotel's Rowes Wharf Sea Grill and dinner at Meritage for the perfect summer evening.
August movies: (to be updated for 2021)
August 2 - Raiders of the Lost Arc
August 9 - Aquaman
August 16 - Ghost
August 23 - Star Wars: The Force Awakens
August 30 - Captain America: The First Avengers

More about Boston Harbor Hotel
Check reviews and rates for the Boston Harbor Hotel
Popular Boston Tours for August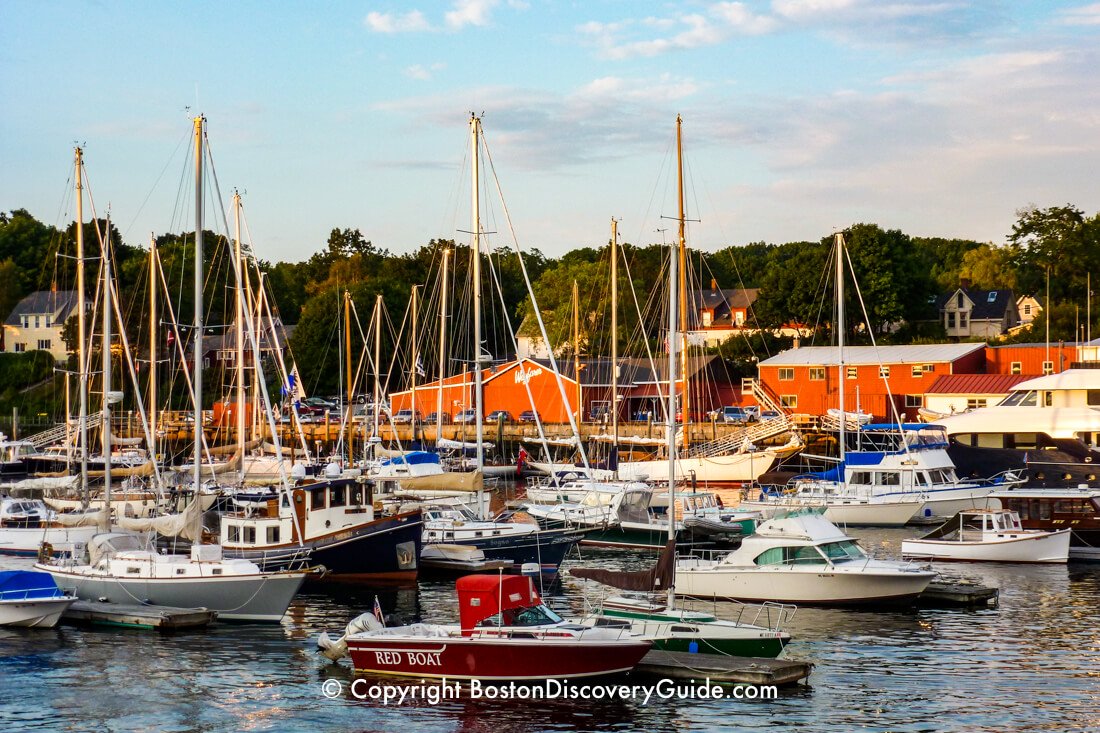 These special 1-day New England Coastal All-Day Tours on a luxury bus show you spectacular beaches, wetlands, quaint seaside villages, harbors, and lighthouses along the North Shore of Massachusetts, New Hampshire, and Maine.
Depending on when you go, you may also see the first displays of brilliant fall foliage along the New England coast.
You'll visit Hampton Beach and have plenty of time to photograph 19th century Nubble Light in York, Maine.
Don't miss this chance to see New England's glorious coast at its best!
- Find out more about the New England Coastal Tour - Now through October
- Find out about fall foliage sightseeing tours departing from Boston - Tours start in September
More about where to see gorgeous fall foliage in Boston
---
More Fun Boston Tours
The Northern Trust - PGA Tour
PGA Tour's first event in the FedExCup playoffs, The Northern Trust returns on August 19-23 to TPC Boston, named by Golf Digest as one of the "Top 10 Best New Private Clubs in the U.S.," located 38 miles south of Boston in Norton, MA.
Golfers will compete in The Northern Trust for an $8.5 million purse to benefit New England charities as the defending champion takes on past champions.
Tickets
More Boston events during August
Boston Fan Expo Boston
When: August 7-9
Where: Boston Convention & Exhibition Center
Cost: Tickets start at $35
Stay nearby: South Boston Waterfront Hotels near the Seaport World Trade Center
More info:https://www.fanexpoboston.com
Boston Comic Con gives you the chance to meet and chat with over 200 top graphic novelists, super hero artists, and developers of anime, movies, games, and toys, plus about 50,000 fans. Celebrity guests and artists include Pamela Anderson, Ke Huy Quan, Mike Colter, Sean Astin, Stephen Amell, and many more!
Plenty of dealers will be present also, so indulge in this opportunity to see your own graphic/comic heroes and add to your collection.
2 Easy Ways to Save BIG in Boston
Find out more about Boston discount cards, and how they give you big savings on top attractions.
Free Events in Columbus Park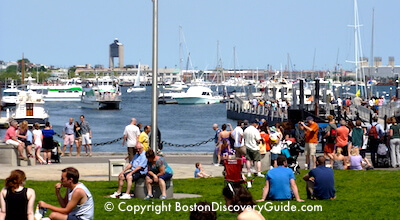 Enjoy free outdoor movies, croquet, and celebrations at Christopher Columbus Park in Boston's North End.
Here's the summer lineup:
Croquet - Wednesdays, June 5-Aug 28, 5:30-7:30pm - Play croquet on the West Lawn. Don't know how? A member of the sponsoring organization (Friends of Christopher Columbus Park) will be on hand to teach you
Lawn Games - Saturdays July 20-September 14, noon - 4pm - Corn hole, giant jenga, ladder golf, & more!
Independence Day Celebration & Fireworks - Children's parade, cartoon charachters, jugglers, magicians, face painting, and more kids activities from noon-4pm on Saturday, June 29
Movies in the Park - Sundays July 21 through August 26, 7pm - Bring a blanket or low folding chairs and watch family favorites starting at sundown. Find out what's showing: https://www.foccp.org/foccpevents
Boston GreenFest - Free!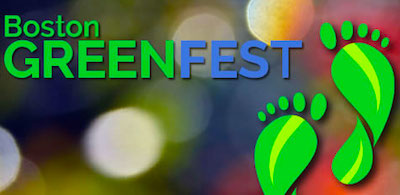 Boston GreenFest offers a huge assortment of exhibits, performances, and presentations about sustainable living. EcoThemes include water, energy, green cities, transportation, health, nutrition, and EcoFashion.
GreenFest highlights include:
200+ exhibitors, plus robots, Eco cars to see & drive, Eco Fashion show, and lots of innovation
Green Film Fest - huge lineup of films from around the world
Non-stop live performances
Lots of international cuisines and local food trucks plus a Wine & Beer Garden
Casa Latina
EcoKids Center
EcoForums with top experts discussing critical topics in Faneuil Hall
Free fitness classes (bring your old running shoes and donate them)
Speakers, workshops, art, music, dance, and much more!
When: August 3-5, noon - 10pm on Friday and Saturday, noon - 6pm on Sunday
Where: Boston City Hall Plaza and Faneuil Hall
Nearest T station: Government
Cost: Free admission - all ages welcome
More information: www.bostongreenfest.org
Boston Seafood Festival
The Annual Boston Seafood Festival celebrates our city's marine heritage, love of seafood, and commitment to sustainable harvest.
This family-friendly event brings together seafood tastings, chef demos, educational events, all day lobster bake, Battle of the Shuckers, a fish cutting contest, Harpoon Garden, and the traditional Blessing of the Fleet.
When: Sunday, August 4, 11am - 6pm
Where: Fish Pier (212 Northern Ave), South Boston Waterfront
Tickets: $15 for general admission (kids 6-12 $5), $53 for lobster bake - more info
Stay: South Boston Waterfront Hotels
---
Where to Stay: Seaport & Fort Point
Attending an event in the South Boston Waterfront or Fort Point? Stay in a nearby hotel, such as the stylish Seaport Boston Hotel: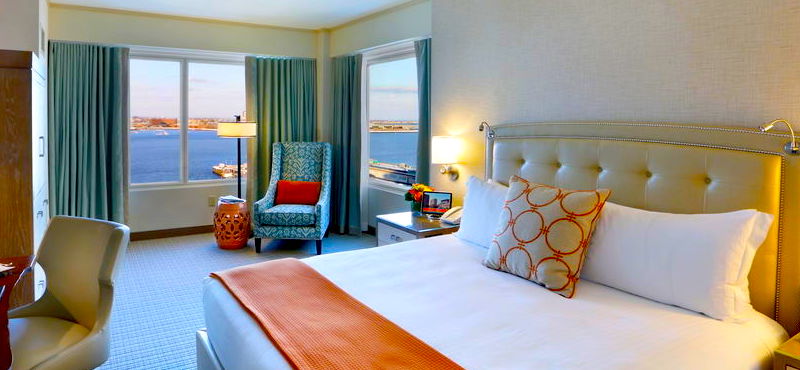 More top hotels near the South Boston Waterfront:
Check out more hotels near the South Boston Waterfront & Fort Point
Fun Sightseeing Tours for August
More: Sightseeing Tours | Tours for Teens | Kids & Family Tours
August Moon Festival in Chinatown - TBD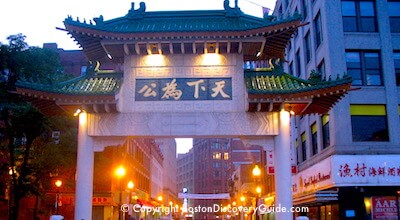 When: Sunday, August 12, 10am - 5pm
Where: Boston's Chinatown (Harrison Ave, and Beach, Tyler, Hudson, Essex, and Oxford Streets); Main Stage is at Phillips Square (corner of Harrison Ave and Essex Street)
Cost: Free
Closest T station: Orange Line / Chinatown
If you drive: Easiest parking is at the Boston Common Garage; walk 2 blocks to Chinatown

Boston's Chinatown comes alive with lion dances, martial arts, folk dances, and lots of vendors for the annual Chinese Autumn MoonFestival.
What does the festival actually celebrate? Possibilities include the end of the annual rice and wheat harvest, the legend of Chang'e, the immortal Lady of the Moon, and the overthrow of the Mongol rulers in 1368 when a rebel leader distributed mooncakes (which Mongols didn't eat) with messages hidden inside saying "Kill the Mongols."
Mooncakes, a specialty of the festival, are round pastries filled with lotus seed paste - you can buy this delicious treat at all Chinatown bakeries.
Although this 3,000+ year old Chinese festival traditionally falls on the 15th day of the 8th Lunar month - in other words, late September/early October - Boston celebrates it in mid-August. It's the perfect excuse to spend an August Sunday in Chinatown. Start with dim sum or lunch at one of these fun contemporary and traditional Chinatown restaurants, and then enjoy the colorful festival.
Films at the Gate - Free Chinese Film Festival in Chinatown - TBD
The Chinatown Park Plaza on the Greenway morphs into an outdoor movie theater for this popular free event featuring Kung-Fu Classics (Mandarin or Cantonese, with English subtitles; one film this year will be in English with Chinese subtitles). A limited number (250) of folding chairs are available on a first-come, first-served basis - or bring your own, along with carryout from nearby restaurants (no alcohol, though). The festival begins at 5:30pm with games, martial arts, and other cultural performances followed by the feature film starting at 8pm, and runs from August 23 to August 25.
After the movie, head for dinner at one of these nearby fun Chinatown restaurants.

Location: Chinatown Park Plaza on the Rose Kennedy Greenway
Closest T station: Red Line, South Station (nearest public restrooms are also here)
Cost: Free - sponsored by Asian Community Development Corporation (ACDC), series curator Jean Lukitsh, founding producers Leslie and Sam Davol, and numerous other local organizations, businesses, and individuals
More info: https://asiancdc.org/events?category=Movie
Magic 106.7 Family Film Festival
Enjoy this free fun family activity - movies under the stars in Prudential Center's lovely South Garden (go up the escalators from Huntington Ave, and the garden is to your right; from Boylston, it is on your left).
When: Every Saturday from early July through end of August; entertainment and children's activities start at 5pm, and movies start at sundown; rain dates will be held on the following Wednesday
Where: Prudential Center, South Garden
Nearest T station: Green Line/Prudential
Nearest parking garage: Prudential Center Garage - get discounted parking with a $10 purchase
Cost: Free
Schedule:
August 3: How to Train Your Dragon: The Hidden World
August 10: Smallfoot
August 17: Alice in Wonderland (1951)
August 24: Hotel Transylvania 3
August 31: Dumbo 
Boston Discount Cards for Attractions, Tours, Cruises
Best way to save in Boston. Save 50% or more when you take a Boston Harbor cruise or Duck Boat tour, visit Plimouth Plantation, the New England Aquarium, Museum of Science, Museum of Fine Arts, Fenway Park Tour, and more. Compare to find out which one is best for you.
Free Drop-In Summer Yoga on Boston Common
Dropping in on free summer yoga sessions near the carousel on Boston Common is part of what makes Boston fun in the summer. Instructors will lead a vinyasa flow class focused on releasing stress and expanding energy and welcome participants of all levels.
When: Every Thursday, 6-7:15 - through September 26 (no class on July 4th)
Where: Frog Pond at Boston Common
Nearest T station: Green Line/Park
Cost: Free
Bring: Your own mat, blocks, towels, and belt
Boston hotel where you'll find a yoga mat in your room: Nine Zero (and conveniently, it's just steps away from the Common

Fun Free Fridays in Boston in August
Fun Free Fridays give you free admission to top Massachusetts cultural venues throughout the summer, thanks to the generosity of Highland Street Foundation. A different selection of destinations offer no-cost access each Friday from the end of June through the end of August.
Here is the schedule for Boston area destinations during August:
August 2:
- Franklin Park Zoo
- Old State House
- Concord Museum (Concord)
- Museum of Russian Icons (Clinton)
August 9:
- Boston Harbor Islands National & State Park
- Greenway Carousel
- Museum of the National Center of Afro American Artists
- Hancock Shaker Village (Pittsfield)
- New Bedford Whaling Museum
August 16:
- JFK Presidential Library and Museum
- The Discovery Museums (Acton)
- Fruitlands Museum (Harvard, MA)
- Harvard Museums of Science & Culture (Cambridge)
- Provincetown Art Association & Museum
- USS Constitution Museum
August 23:
- Boston Athenaeum
- Institute of Contemporary Art/Boston
- Museum of African American History
- Mary Baker eddy Library and Mapparium

August 30:
- Griffin Museum of Photography (Winchester)
- Old Sturbridge Village (Sturbridge)
More locations outside of Boston: Highland Street Foundation website
Lawn on D - Concerts, Art, Games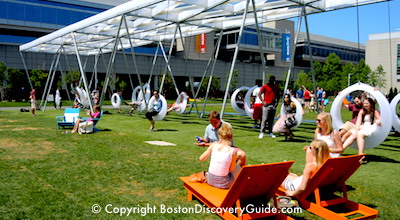 Lawn on D, a playground for adults located behind the Convention Center in the South Boston Waterfront, is the site of beanbag and other games plus art installations throughout the summer, along with a rotating series of food trucks.
But even when no special events are underway, the Lawn gives you a perfect place to just chill under the summer sun.
Event schedule and information: Website
A visit to Lawn on D provides the perfect excuse to sample one of the many new restaurants in the Seaport and Fort Point areas of the South Boston Waterfront.
For Boston Harbor views while you dine, visit a Seaport restaurant.
To try the creative cuisine of some of Boston's most innovative chefs, head to a Fort Point restaurant.
Looking Ahead to Fall Events in Boston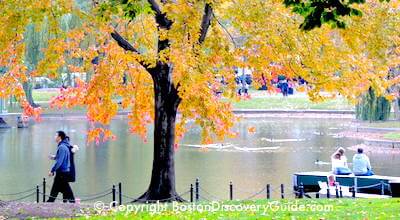 ---
Make Your Boston Hotel Reservations
Enter your travel dates in this hotel map from Booking.com to see what's available and find lowest rates: