Coming to a Red Sox game?
Then you may be wondering . . . where are the best Boston bars near Fenway Park for pre- and post-game celebrations (or numbing your sorrows after a loss)?
Don't be misled by all our museums, universities, culture, etc. . . . Boston is a fun-loving town!
As you explore these Boston sports bars near Fenway Park, you'll understand why.
With plenty of big screens, great brew, and much better food than you might expect, there's plenty to love.
You can expect them to be packed and crazy on game days and most weekend nights - that's part of the fun.
But they're also popular choices for Sunday brunch, weekday lunch and dinner, and just about any other time they're open.
Top photo: Bleacher Bar overlooking Fenway Park from its under-the-stands location, (c) Boston Discovery Guide
Boston Discovery Guide is a reader-supported publication. When you buy through our links, we may earn a commission at no additional cost for you. Learn more
---
1. Bleacher Bar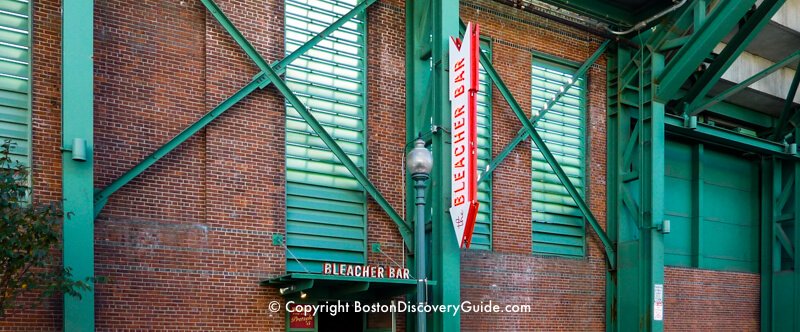 Bleacher Bar is Boston's ultimate sports bar - a bar right under the bleachers with an amazing view of center field through a huge garage window.
Yes, you are right on the field - well, at least on the Warning Track - and you're at field level. Look right across center field, and you'll see home plate.
Except for when a game is underway or the weather is cold, the window is open. You'll feel the breeze, smell the grass, hear the roar of the crowd. During the game, a glass pane covers the opening so that you can still look out but the players can't see in.
The bar is small and gets crowded at game time, but no matter. It's the best view in town.
And remember, you're on view, too - so be sure to wear your Red Sox clothing - or at least a Red Sox hat.
Bleacher Bar opened over 10 years ago, and still occupies "best kept secret" territory among Boston bars near Fenway, although that's changing. Drinks are reasonably priced (very reasonable, considering the location and the view), and the food is tasty.
Open year around, Bleacher Bar is also a popular place to come during less-crowded non-game times. You get a great view of Fenway Park, with or without players. Who knows, maybe you'll even get to see them warming up?
82A Lansdowne, Fenway neighborhood | Green Line/Kenmore | 617-262-2424 | website
---
2. Tony C's Sports Bar & Grill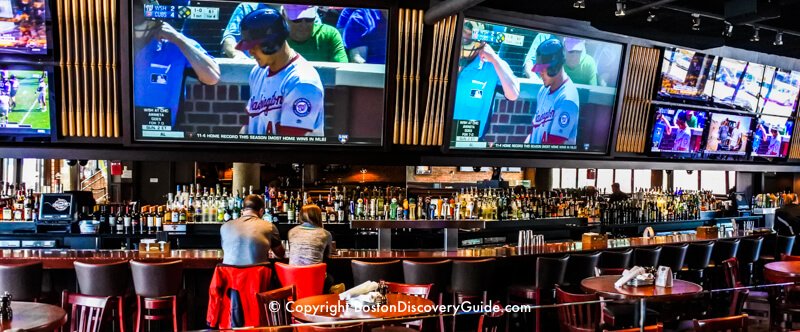 Huge high-quality HD screens, an impressive bar, and comfy banquette seating make Tony C's the quintessential sports bar. Whether or not the Sox are playing a block away at Fenway Park, you can always catch plenty of games here.
From May through October, head up to the rooftop deck where you can dine and drink under the glow of Fenway's right field lights.
Food selections include well-prepared pub favorites and contemporary American comfort food. Try the fresh fish tacos, grilled steak tips, or even the surprisingly good kale salad. You'll also find family-friendly touches like a good chidren's menu and tasty desserts.
1265 Boylston Street | Green Line/Kenmore | 617-236-7369 | website
Other Boston locations include Assembly Row, Seaport (250 Northern Ave), and Burlington (17 3rd Ave)
---
What's On At Fenway?
Enter DISCOVERY10 to save 10% on TicketLiquidator & TicketNetwork tickets. Good through 12/31/24.
See Complete Fenway Park Schedule
---
3. Cask 'n Flagon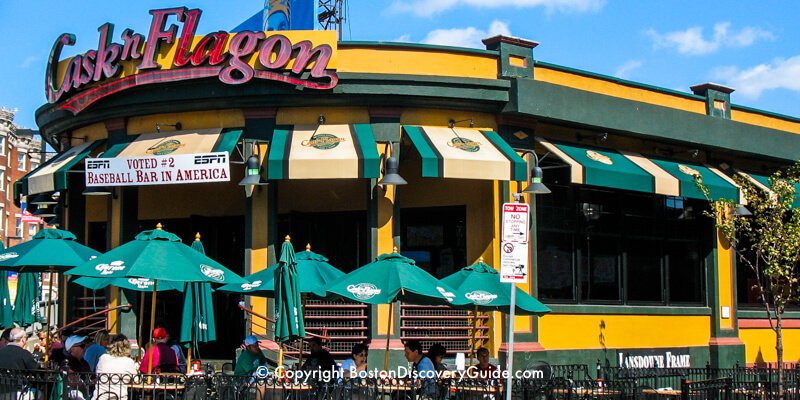 Cask 'n Flagon is a true Boston sports bar. You'll find tons of giant screens - over 40 at last count - for game viewing, plenty of cold Sam Adams plus lots of other brew on tap, and two large rooms with walls covered with Red Sox memorabilia as a reminder that Boston is Red Sox Nation.
On days when the Red Sox are playing across the street at Fenway Park, expect Cask 'n Flagon to be packed and lively. To snag a coveted outdoor table for pre-gaming and socializing, arrive very early.
Even on non-game days, Cask 'n Flagon is popular with both local and tourists as a dining destination, offering contemporary American favorites - pastas, salmon, steak, tacos, quesadillas, salads, sandwiches, burgers - for lunch and dinner. The specialty? Mouthwatering Texas-style BBQ smoked onsite by Cask 'n Flagon's pit master.
62 Brookline Avenue, Fenway | Green Line/Kenmore | 617-536-4840 | website
---
4. Lansdowne Pub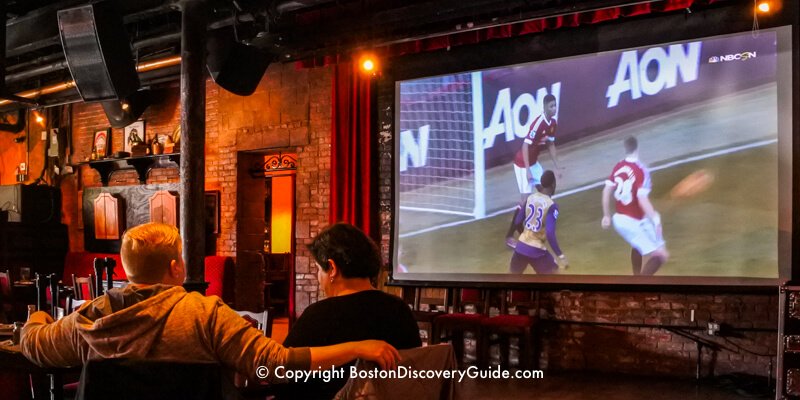 Lansdowne Pub, an Irish-inspired bar down the street from Fenway serves up delicious food including some Irish fare, a cozy ambiance with lots of nooks and crannies, plenty of brews on tap, and a huge HD screen. When our local teams aren't playing, you may find Irish football on the screen.
Adding to the fun are live bands on Thursdays, Fridays, and Saturdays, dancing, karaoke, open mic, and other special events.
For a quiet drink and conversation and to really savor the food, come mid-afternoon or early evening. Try the New England Seafood Stew, the traditional Irish Breakfast, and don't miss the Guinness Float. Look for $1 oysters too!
Weekends draw big crowds. Special events such as Super Bowl Sunday, St. Patrick's Day, Red Sox home games, and Boston Marathon Day also trigger huge celebrations here.
9 Lansdowne Street | Green Line/Kenmore | 617-247-1222 | website
---
5. Beer Works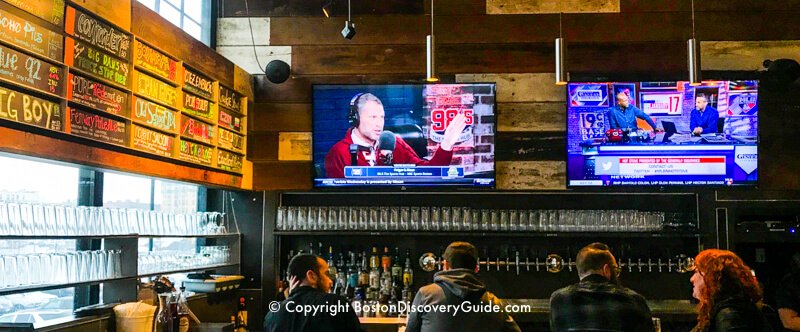 First and foremost, Beer Works is a real brewery, started by two brothers back in 1990.
You'll smell the hops, see the beer-making equipment, and of course, taste and enjoy the results. The micro-brewery creates about 50 hand-crafted ales, lagers, stouts, and pilsners each year, and you'll find about 20 on tap at any one time, plus beer flights, limited editions, and craft ciders.
Along with the usual Boston bar food - nachos, New England clam chowder, and chili - Beer Works serves up what is possibly the best burger in the Fenway Park area.
Since this is also a favorite sports bar, just a short pitch away from where the Red Sox are playing, you'll find plenty of high definition screens for game-viewing. On game days, despite its spacious layout, Boston Beer Works can get so crowded that the line of people waiting to enter winds around the block.
61 Brookline Ave | Green Line/Kenmore | 617-536-2337 | website
Other Beer Works locations in Boston include TD Garden (112 Canal Street), Logan Airport (Terminal C - Jet Blue Concourse, United Airlines Concourse)
---
6. Baseball Tavern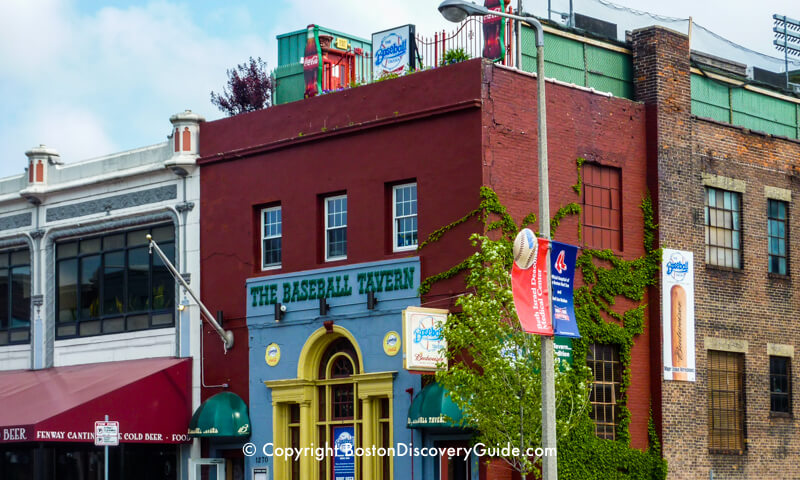 The Baseball Tavern, located so close to Fenway Park that you can see the stadium's lights and upper level from the roof deck (and even hear music from Fenway concerts when the wind is right), has been here since 1963 and it's still going strong!
Even with 4 floors, this popular sports bar gets pretty crowded, especially before Red Sox games. It has affordable (ie, cheap compared with other neighborhood options and Fenway Park itself) beer and food, fast service (there's a bar on each floor), a welcoming and fun vibe, and 30+ HD screens.
The beer of choice here is Budweiser, and while there's a fairly wide variety of bar food, you can't go wrong with the onion rings, spicy popcorn shrimp, and burgers.
1270 Boylston Street | Green Line/Kenmore | 617-867-6526 | website
---
7. Game On Fenway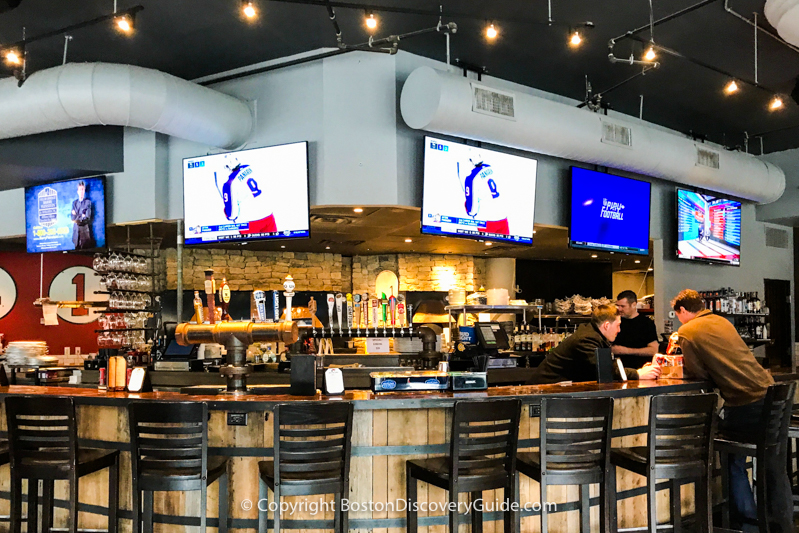 Over 30 HD TVs, a state-of-the-art sound system, and ice-cold beverages - what more could any sports fan need? If you want to almost feel like you're on the field with the players, Game On! is the place to come. Baseball is big, but other sports get their fair share of broadcast time.
Game On! is huge, with full bars on each of its two floors, including a terrific restaurant - Max and Leo's Artisan Pizza - on the first floor.
The regular menu features apps, salads, sandwiches, wings (which are outstanding), and of course the mouth-watering pizzas. The game day menu is similar, but adds burgers. Plus, of course, plenty of beers and ale, wine, and cocktails.
As a bonus, Game On! has an official Fenway Park batting cage, cornhole sets, and 6 semi-private suites with ping pong tables. With weekly Trivia Tuesday nights and themed parties, you'll always find something going on here.
82 Lansdowne Street | Green Line/Kenmore | 617-351-7001 | www.gameonboston.com
---
8. Loretta's Last Call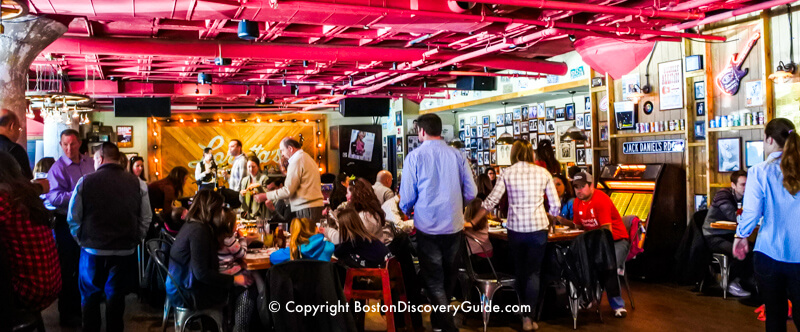 First off, let's get this straight: Loretta's Last Call is not actually a sports bar, despite its location at the end of Lansdowne Street just down from Fenway Park.
Instead, Loretta's offers a Southern theme, live country music (with a little Southern rock and bluegrass thrown in) and/or line dancing close to 7 nights each week, a small dance floor, a friendly vibe, drinks served up in mason jars, and Southern cooking.
The chicken and waffles smothered in maple-infused BBQ sauce and butter are famous, but you shouldn't miss the fried catfish, biscuits with sausage gravy, or the shrimp po' boys.
So why do we include Loretta's in our recommendations for Boston sports bars near Fenway Park?
Well . . . the Red Sox don't always win, and at those times, Loretta's is the perfect place to forget about the loss, especially like any Southern bar, they have plenty of Jack Daniels. It's also a fun place anytime.
1 Lansdowne Street | Green Line/Kenmore | (617) 421-9595 | website
---
If you're coming to a Red Sox game, spend the night or the weekend at one of the nearby hotels:
Verb Hotel, directly across the street from Fenway Park
Check out more hotels near Fenway Park
Need a Boston Hotel or Apartment?
Use this handy map from Booking.com to find the perfect place to stay. Just enter your dates to find what's available, see the best rates, and make your reservations.
---
More Articles about Fenway Park
---