Assembly Row or Wrentham Village Premium Outlets? Which Boston discount shopping mall is best?
If you have to choose, where will you get the biggest discounts, bargains, and sales?
Boston boasts not just one, but two premier discount shopping destinations.
Both Wrentham Village and Assembly Row Outlets offer impressive savings, especially when you find sales of 30% to 70% off already discounted prices on major holidays and Black Friday.
However, each offers a different mix of stores, and a different shopping experience - and they are located on opposite sides of the city, roughly 40 miles apart, separated by plenty of city traffic.
While you could visit both in the same day, you may not have time to.
So if you need to choose, read Boston Discovery Guide's comparison of stores and brands, deals and sales, food and entertainment, and transportation convenience to help you choose between Assembly Row and Wrentham Premium Outlets.
Top photo: Signs announcing sales at Assembly Row, (c) Boston Discovery Guide
Boston Discovery Guide is a reader-supported publication. When you buy through our links, we may earn a commission at no additional cost for you. Learn more
---
Stores & Brands - Assembly Row and Wrentham Village Compared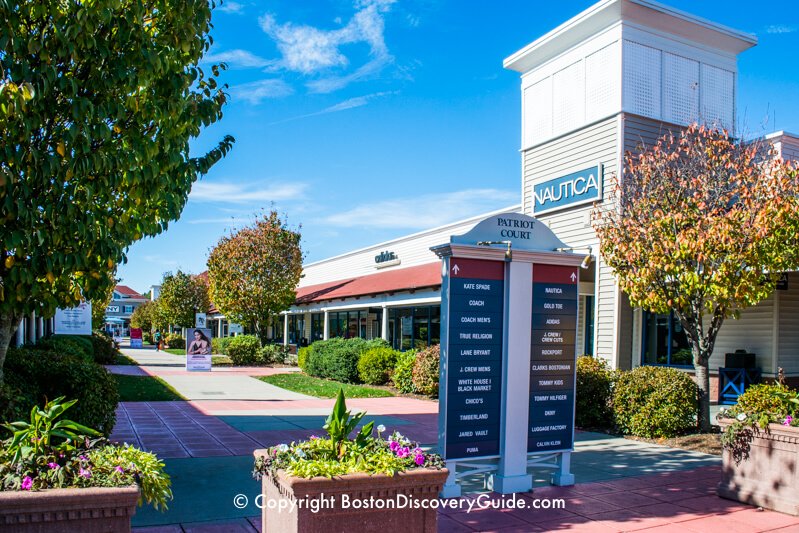 If your only goal is to shop and you are looking for deep discounts on high-end and designer labels, your decision is easy: head to Wrentham Village Premium Outlets.
With approximately 170 stores at Wrentham Outlets compared with fewer than 40 at Assembly Row, it's a no-brainer.
Wrentham Village specializes in premium brands and designer outlets - Armani, Ferragamo, Burberry, Elie Tahari, Ted Baker London, Calvin Klein, Michael Kors, Swarovski, Coach, Theory, BCBG Max Azria, Bose, and Barneys New York, to name a few.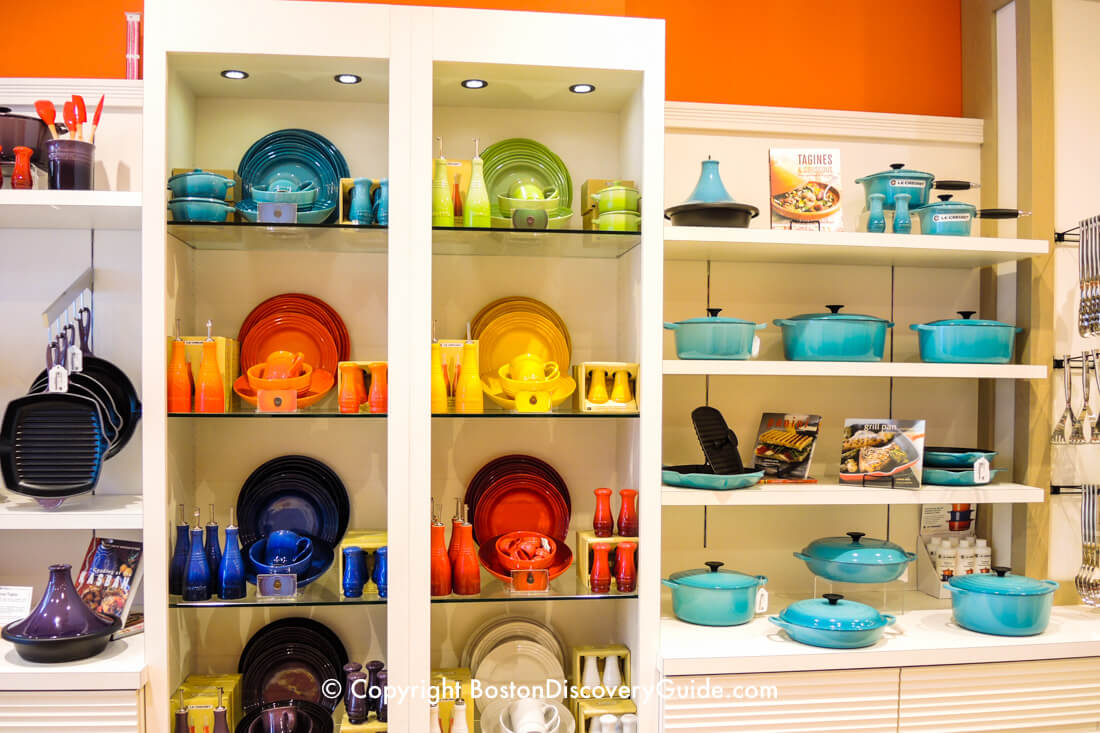 Right now, Assembly Row does have Kenneth Cole, Saks Off 5th, and Le Creuset, but focuses more on mid-range - although with lots of stores still opening at this relatively new location, that could change.
It is worth noting that you will also find all three of these stores at Wrentham Village.
Lots of other brands also have stores at both locations: Chico's, Brooks Brothers, Banana Republic, Adidas, Converse, Loft, Puma, Lucky Brand, and several more. In fact, Assembly Row has only a handful of stores you won't also find at Wrentham Village.
So if shopping options were the only thing to be considered, Wrentham Outlets would be the clear winner.
But there are other factors beyond shopping to consider . . . and that is where Assembly Row begins to shine.
---
Dining & Entertainment - Assembly Row vs Wrentham Outlets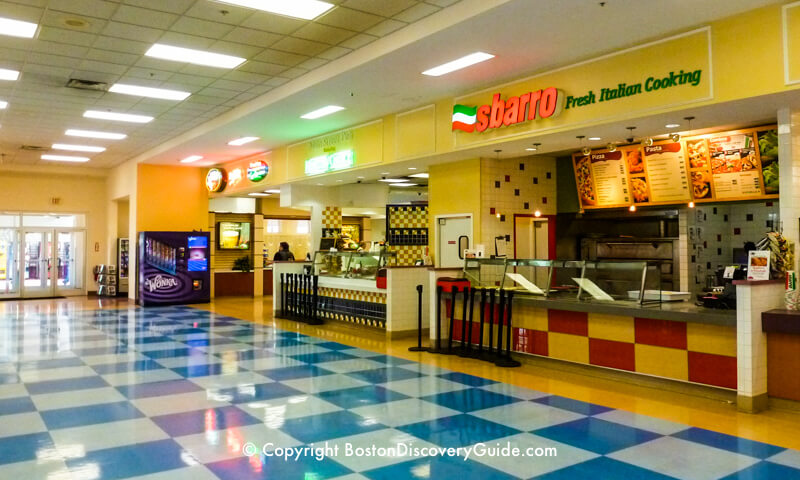 You will not starve at Wrentham Outlets, but drinking and dining options at the food court are similar to what you might find in any suburban strip mall: Dunkin' Donuts, Ruby Tuesday, Sbarro, Auntie Anne's Soft Pretzels.
You'll find a few other casual food options adjacent to the parking lot.
And aside from a small children's play area, entertainment options don't really exist here.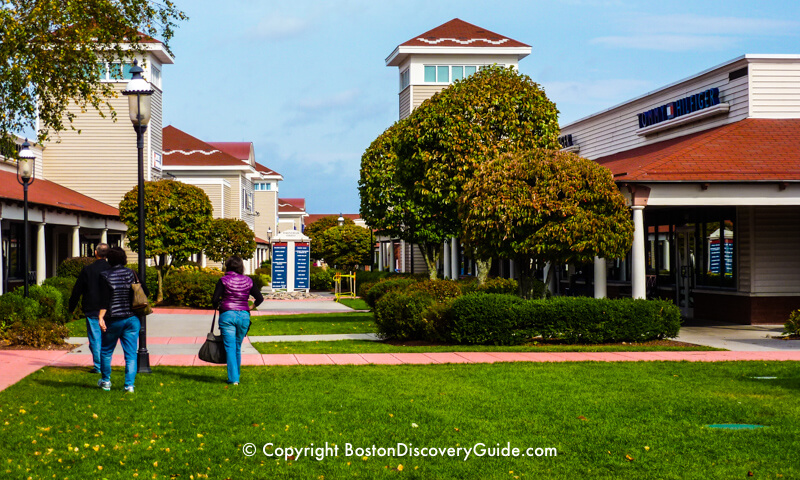 In short - you would never choose Wrentham Village as a date-night destination, a family outing, a place to enjoy New England's natural beauty, or even a spot to meet your friends and watch a game on a big screen - although in fairness, the sprawling shopping complex, designed to resemble a village, is perfectly pleasant.
You'll find a totally opposite approach at Assembly Row's waterfront site bordering the Mystic River.
Several restaurants such as Earl's Kitchen and Bar, Legal Seafood's Legal on the Mystic, and sushi favorite Fuji provide seriously good dining options.
Tony C's Sports Bar offers water views.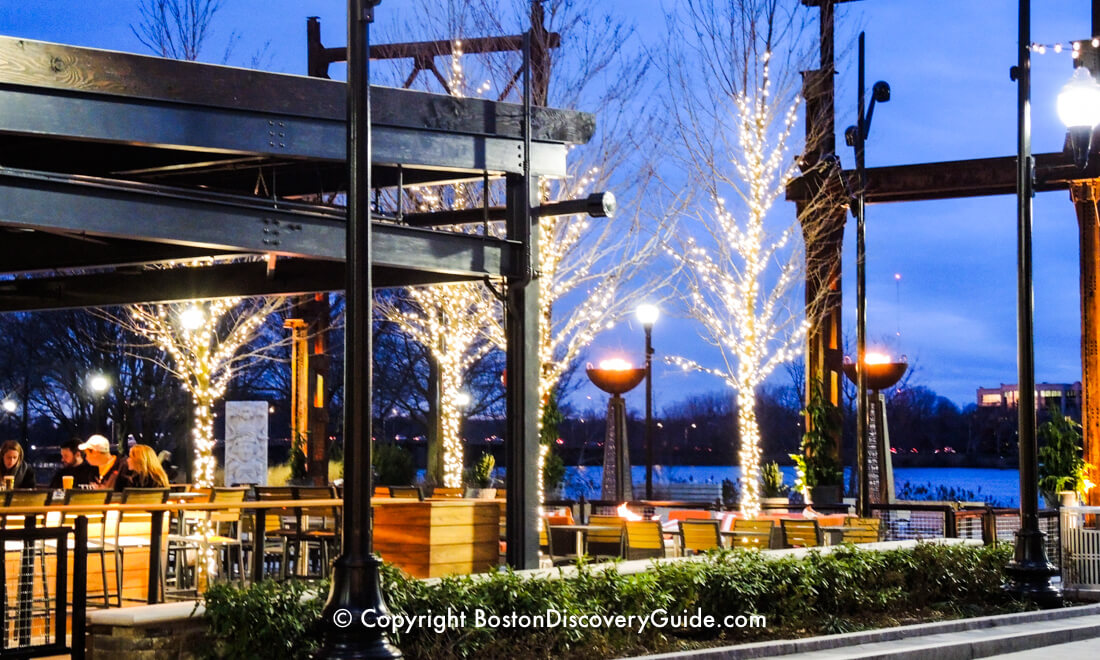 River Bar goes one step farther with a patio, covered and heated in the winter, overlooking the Mystic.
The famous award-winning French bakery/pastry shop, Paul, has chosen Assembly Row as one of their very few American locations - so you can shop here for freshly baked baguettes, croissants, and pains au chocolat.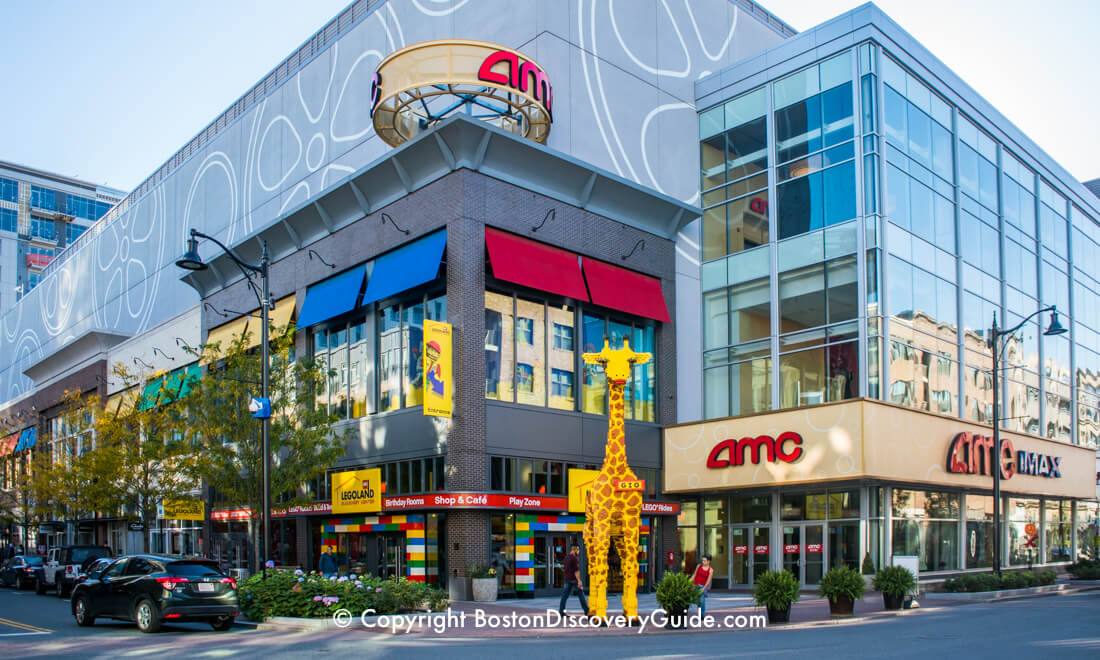 Local favorite, Ernesto's Pizzeria, lets you savor their North End favorites.
As for entertainment, kids will love the enormous Legoland Discovery Center, heralded by the giant outdoor Lego giraffe.
And everyone will be sure to find something to enjoy at the 12-screen onsite AMC movie theater.
During fall months, you're likely to see a dozen or more pairs of swans on the Mystic River adjacent to Assembly Row.
But to experience the real beauty of the area, walk though the giant steel sculptures that recall Assembly Row's history as a former Ford Motor plant - Edsels were built here!
Take a few minutes to xplore the 6-acre riverfront park, complete with a children's playground, meandering pathways, and gorgeous views.
Depending on the time of the year, you may see some of the fairly large colony of swans that call this lovely area "home."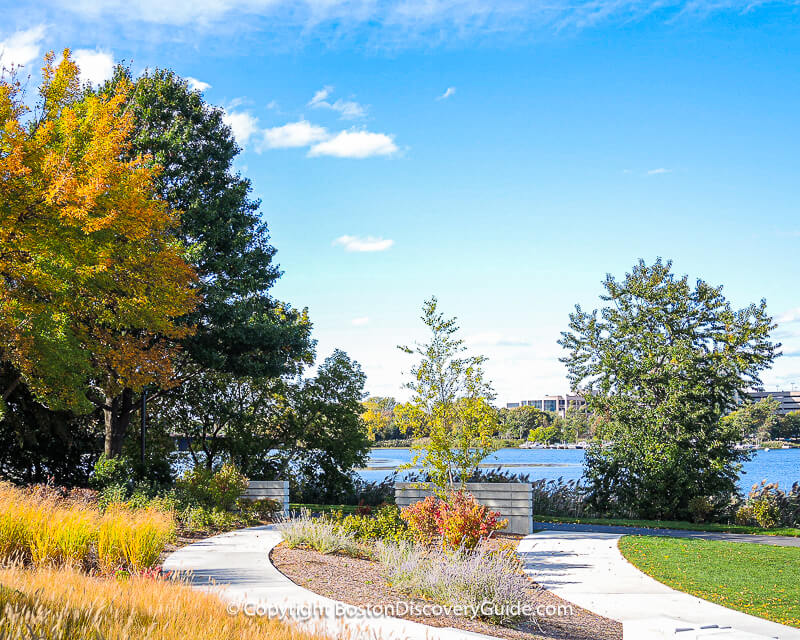 ---
And the Best Boston Discount Mall is ...
So in summary, Wrentham Village offers the best high-end discount shopping and by far the greatest number of stores - but Assembly Row can't be beat for its combination of outlets, dining, entertainment, and riverside park.
For serious power shopping, go to Wrentham Village.
For dining and entertainment combined with discount shopping, head to Assembly Row.
---
Where to Stay near Wrentham Outlets & Assembly Row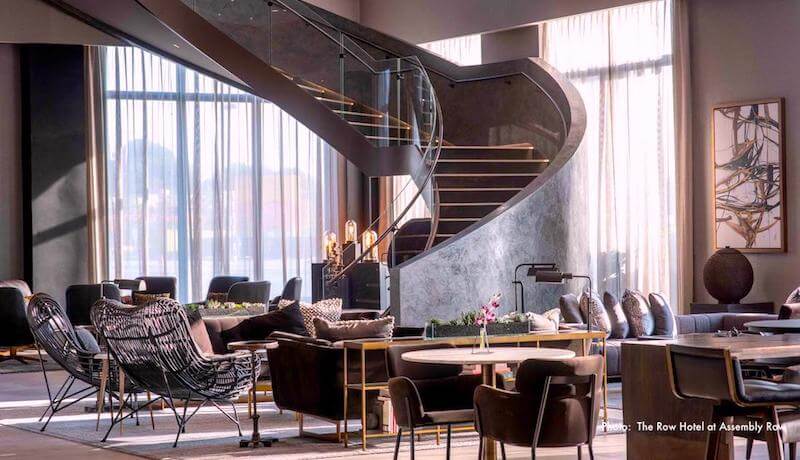 In case one day of shopping is not enough or shopping is the focus of your trip to Boston, staying in a nearby hotel give you the ultimate convenience.
If Assembly Square is your shopping destination, stay at the sparkling new Row Hotel right in the center of the shopping/entertainment complex, and enjoy the hotel's indoor swimming pool and roof terrace.
Compare rates and make your reservation
For more options, consider one of the hotels near TD Garden within a block or two of North Station, just a 5-minute subway ride away.
To stay in a hotel near Wrentham Outlets, choose one of the hotels close to nearby Gillette Stadium.
Going to Gillette Stadium for a game or concert or to Patriot Place for shopping?
Stay in one of these convenient nearby hotels:
Check out more hotels near Gillette Stadium
More about hotels near Wrentham Village/Gillette Stadium
---
Getting to Wrentham Outlets vs Assembly Row - Which is Easier from Boston?
Wrentham Village Outlets are located off exit 6B on I-495, almost 40 miles south of Boston - about a 45-55 minute drive, assuming you avoid rush hour. You really need a car or similar transportation to get there. Parking is free in a huge outdoor lot, although it can fill up on weekends and overflows on holiday weekends (ie, big sales) and Black Friday.
If you are visiting Boston and staying in the city, the easiest way to get there is by luxury express bus. Find out more
You can also rent a Zipcar for the day. Especially if you are going with friends, this may be cheaper than going by coach. Find out more
Assembly Row, by contrast, is only about 1.5 miles from downtown Boston.
The easiest way to come is on the T (Boston's subway). Take the Orange Line to the new Assembly station - less than 5 minutes (3 stops) from North Station or 10 minutes (6 stops) from Downtown Crossing.
If you choose to drive, you can park in the onsite garage.
Bottom line: Assembly Row is much faster and more convenient to get to from Boston, especially if you don't have a car.
However . . . if you are planning to buy a lot of upscale or designer brands that you can find only at Wrentham Outlets, your savings will more than offset the cost of coming by express bus or renting a Zipcar.
---
More Places to Shop in Boston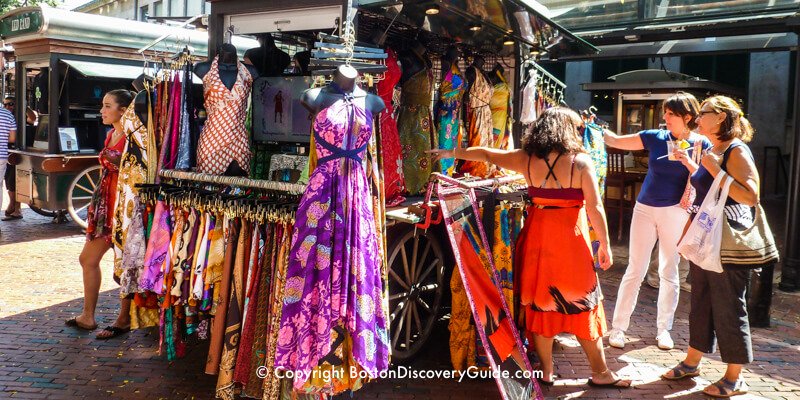 ---
Outlet Malls near Boston - Sales & Deals Compared
Of course discounts, sales, and promotions vary by store - but the good news is that for those stores located in both Assembly Square and Wrentham Village, you will find identical discounts and sales, even though stock may vary.
In addition, both discount malls offer their biggest promotions and sales during the same major holidays - New Year, Dr. Martin Luther King's Day, Washington's Birthday, Memorial Day, July 4th, Labor Day, Indigenous Peoples Day (Columbus Da, Veterans Day, and Black Friday.
So this is one area where neither Assembly Square or Wrentham Village has the edge.
---
---
Why Shopping in Massachusetts is a Bargain
If you are visiting from many other states or overseas, you will benefit from a "hidden" savings, especially when you shop for clothes: no sales tax on clothing items under $175. Massachusetts sales tax on non-clothing items and clothing costing $175 or more is only 6.25%.
If you are visiting from a country with a high VAT or even from another American state where clothing is taxed, you can enjoy significant tax savings when you shop here.
---
---
Fun Ways to See Boston
---
Need a Boston Hotel or Apartment?
Use this handy map from Booking.com to find the perfect place to stay. Just enter your dates to find what's available, see the best rates, and make your reservations.