Heading to TD Garden for a Bruins or Celtics game, or perhaps a concert?
These 7 top Boston bars near the Garden offer great experiences for every occasion.
Looking for sports bars with huge HD screens and massive displays of sports memorabilia to give you a taste of Boston's real sports culture? (Which, by the way, we pronounce "cul-chah.")
You'll find plenty of bars around TD Garden packed with enthusiastic fans on game nights.
But if you want a quieter pub to enjoy dinner and a drink at lunch or on non-game nights, or if you're looking for a lively nightlife venue with music and dancing, you'll find those venues near the Garden too.
As a bonus, most of these bar/restaurants are family-friendly during lunch and early evening hours, and the food at several is good enough to exceed your expectations.
And one, a food and beverage court, features food stalls from some of Boston's top chefs and eateries.
All the sports bars featured here are just a few blocks from North Station and TD Garden in Boston's West End.
You won't see many tourists here at non-game times, so if you want a glimpse of the authentic Boston while having some brew and a good meal, stop by and enjoy what's on tap.
Top photo: Banners Kitchen & Tap next to TD Garden at Hub on Causeway, (c) Boston Discovery Guide
Boston Discovery Guide is a reader-supported publication. When you buy through our links, we may earn a commission at no additional cost for you. Learn more
---
1. Hub Hall Food Court (& Bars)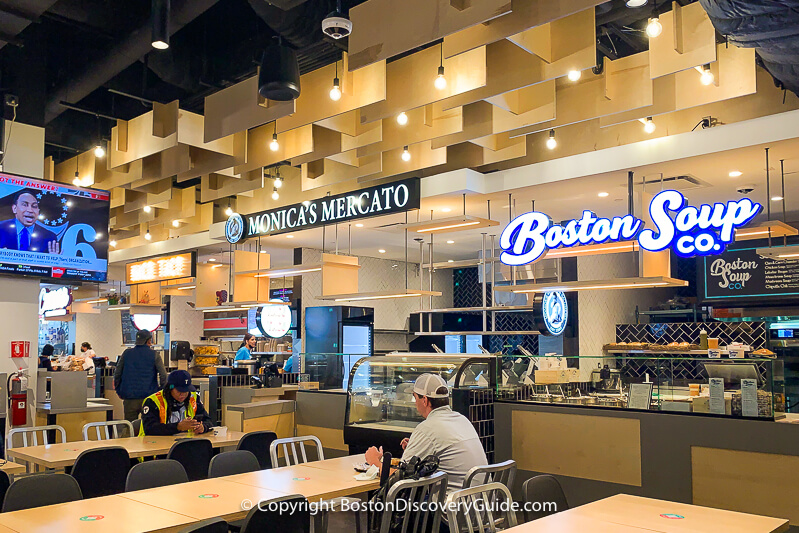 The first thing you'll see as you approach TD Garden on Causeway Street are signs for Hub Hall, a newly opened food court/bar next to the escalator you take up to TD Garden.
No, Hub Hall is not a typical sports bar - but you will find some tasty beverages on offer, plenty of big screens, and lots of appealing food choices from local chefs, restaurants, and casual food establishments that will give you a true "taste of Boston."
With 18 places to drink and eat, there's a lot to love here - fresh oysters, fried chicken, lobster rolls, tacos, pizza, pastries, sausages and peppers, Italian subs, soup, Greek specialties, ramen, sushi, roast beef sandwiches, BBQ, burgers, and even fried fish baskets.
What makes it special is that the food stalls are the offspring of some of Boston's best-loved chefs and long-time establishments: Chefs Douglass Williams (Mida Apizza), "Iron Chef" Masaharu Morimoto (Momosan), Andy Husband's Smoke Shop BBQ, and Chris Parsons (Lily P's fried chicken), and Mike's Pastry (yes, the Mike's Pastry, with the famous cannolis) from the North End, the North Shore's Sauce Burgers, Jamaica Plains' JuicyGreens juice bar, the upscale Mooncusser seafood restaurant from Back Bay, and Castle Island's Sullivan's, much-loved for its authentic shore food.
"What about beverages?", you may be wondering. Don't worry, Hub Hall has you well-covered.
The Draft (younger sibling to Banners Kitchen & Tap upstairs) offers a rotation of 24 of New England's best draft beers.
If wine is your preference, stop by Now Pouring Wine Bar, where you'll find a rotating list of reds, whites, and bubbly.
And for caffeine, Cafe Nero offers its usual selection of Italian specialty coffee and espresso drinks, along with pastries and sandwiches.
80 Causeway Street | Green and Orange Lines/North Station
---
2. Banners Kitchen & Tap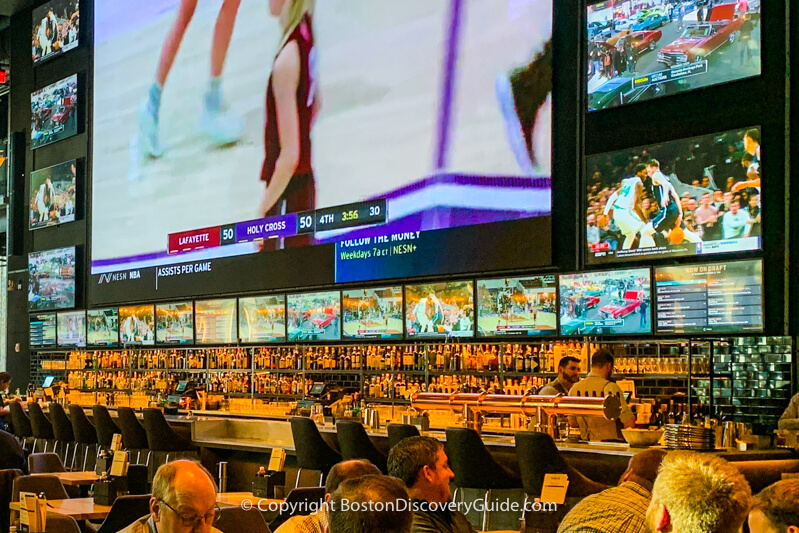 The first thing you'll notice about Banners is the enormous screen over the bar - the biggest in Boston.
Once you can finally tear your gaze away from it, you'll also plenty of other smaller screens showing different events.
For sports fans, enjoying a brew while watch a game doesn't get better than this, unless you're actually at the game.
But you may have better seats here.
The second thing you'll notice is the space - massive volumes of it, and high, high ceilings.
That's because Banners offers lots more than just the general seating area you see when you walk in.
You can enjoy luxury dining in Blades & Boards where you'll choose from a steakhouse-style menu and curated beverage program.
For lots of fun, head to Topgolf Swing Suite on a second level where you can play a variety of simulation games such as golf, hockey, and zombie dodgeball while enjoying food and beverages.
Banners also organizes fun tasting events, viewing parties, and weekend brunches around Monday Night Football, UFC, the entire Bruins, Celtics, Sox, and Pats seasons (yes, that covers the entire year), and other marquee events.
But, front and foremost, Banners is a sports bar, with an extensive and creative beer menu that includes wild, fruited, and sour ales as well as cider, and much better than average food including yummy desserts and a children's menu).
And unlike most Boston sports bars, you can even get a decent latte or high-quality green tea.
82 Causeway Street | (617) 263-8200 | website
---
TD Garden Events: Schedule & Tickets for Bruins, Celtics, Concerts, Ice Shows
Enter DISCOVERY10 to save 10% on TicketLiquidator & TicketNetwork tickets. Good through 12/31/24.
See Complete TD Garden Schedule
---
3. The Greatest Bar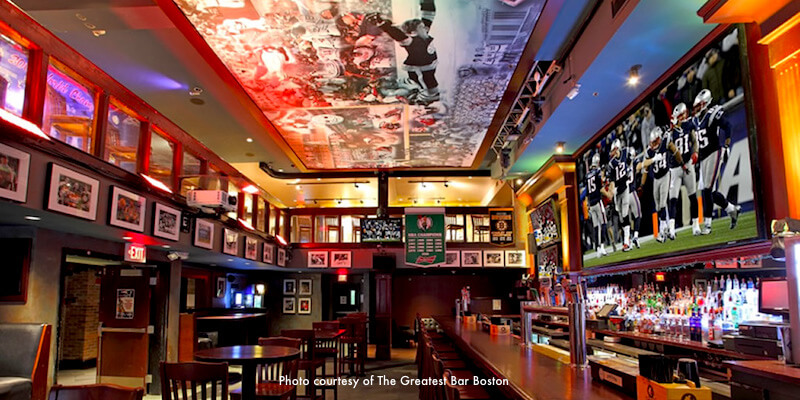 Greatest Bar is huge - 4 large floors. Part sports bar, part nightspot, it features lots of big screens, including a 14 foot high def TV, plus DJs and live music.
Come here to pre-game, celebrate win, mourn defeats, dance, and party.
With lots of theme nights and special events all the time and especially around championship playoffs and holidays such as St Patrick's Day and Halloween, you'll always find lots going on at Greatest Bar.
Posters, photos, and collages cover the walls and ceilings, showing "greatest" Boston moments - mostly sports, but also including history, politics, etc.
That's what inspired the bar's name . . . it's a bar that features "the greatest."
Be sure to look for the large murals depicting all the championships won by Red Sox, Bruins, Celtics, and Patriots since The Greatest Bar opened in 2004.
A cover charge (the amount varies) applies on some nights, but beers are relatively inexpensive and the fairly typical pub food is reasonably priced.
Dress code: Casual, comfortable, and management's discretion
262 Friend Street | 617-367-0544 | website
---
4. Porter's Bar & Grill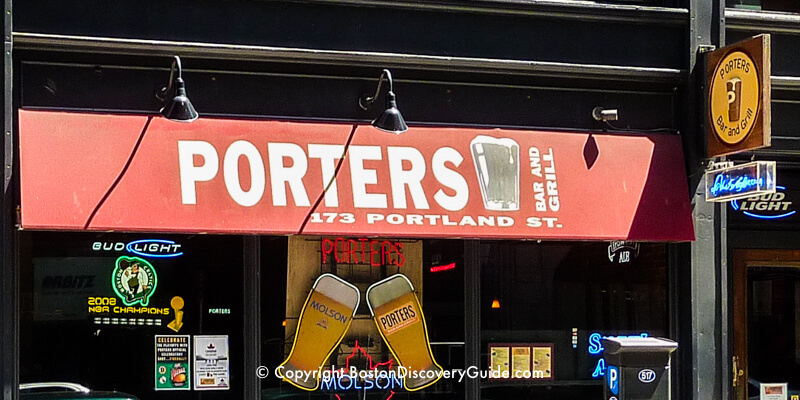 A little off the usual track from the rest of the Boston bars near the Garden, Porter's Bar & Grill attracts fewer tourists, college kids, and inebriated sports fans.
In fact, despite the 10 foot projection screen and HDTVs, it's more like a normal laid-back neighborhood bar.
Come here when you want to watch a game, enjoy a few beers, and maybe munch on some nachos or a burger.
Porter's serves weekend brunch on most Saturdays and Sundays, and hosts Trivia Night on Tuesdays.
On draft, look for local craft beers and cider, Guinness, and a rotating selection of special microbrews, with non-alcoholic and gluten free options also available.
Throughout much of the year, take advantage of the opportunity to order Porter, the delicious dark beer and favorite of workers in Boston's West End - and the inspiration for Porter's name.
And while you won't mistake Porter's for a wine bar, the small wine list includes some interesting and quite drinkable selections.
173 Portland Street | 617-742-7678 | website
---
5. McGann's Irish Pub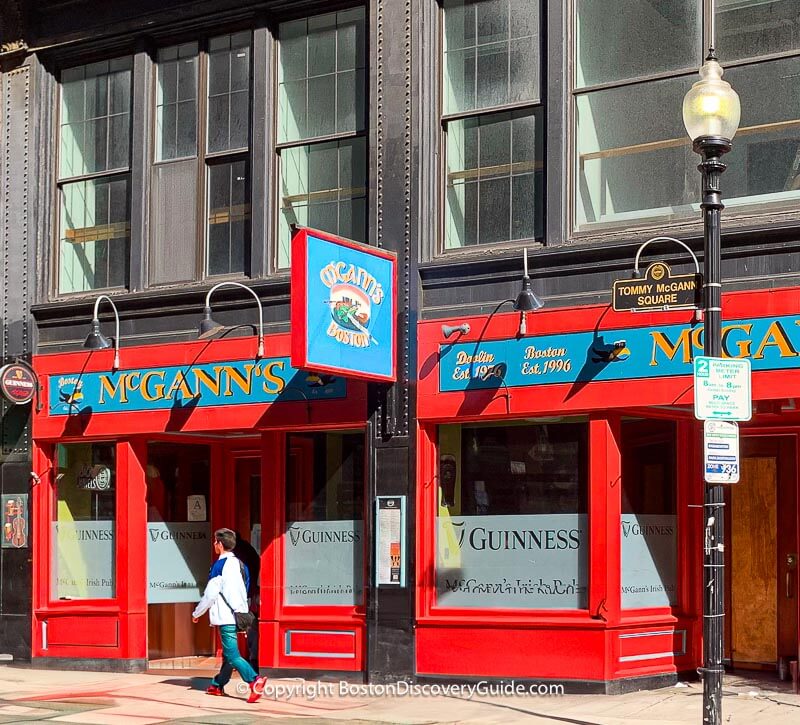 Quiet and unassuming, McGann's Irish Pub is one of those great sports bars for real sports fans where once you find it, you know you'll be back.
Plenty of wide screen TVs show American and Irish sports, with a strong emphasis on rugby, hurling, and soccer.
The full bar offers reasonably priced drinks, but the real treat here is excellent pub food from both sides of the Atlantic - fish and chips, burgers, curries, shepherd pie, and mouth-watering Irish beef stew, making this one of the best lesser-known plances to eat near TD Garden.
Irish bands occasionally play here in the evenings - close your eyes, and you'll almost feel like you're in a pub in Dublin's Temple Bar.
What really makes McGann's stand out, though, is its newest addition, an online casino with online games and betting.
Not sure if you want to try it? McGann's offers a few free spins to help you make up your mind.
197 Portland Street | 617-227-4059
Boston Insider's Tip: Why Our Sports Bars Serve Tasty Food
By law, we don't have Happy Hours in Massachusetts - so no 2-for-1 deals on booze, no Tequila Tuesday discounts.
So because Boston's bars can't use on cheap drinks to compete with each other, they use food instead - $1 oysters, anyone?
That's why you'll find appealing freshly-made food at affordable prices served in most Boston bars.
Pro Tip: To score the biggest specials and even free apps, drop in between 5pm-7pm.
---
6. Sullivan's Tap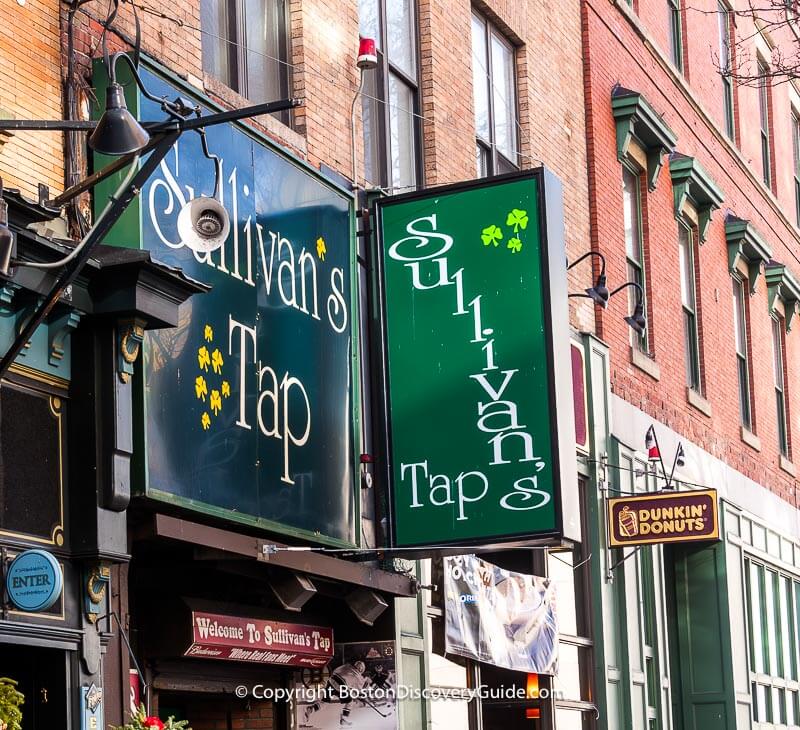 One of the few bars near the Garden to resemble a true dive bar, Sullivan's Tap (known in Boston as "Sully's") is more about semi-cheap drinks than sports, despite billing itself as "Boston's Oldest Sports Bar" since it first opened in 1933, not long after the end of Prohibition.
Whether it's a sports bar or dive bar probably doesn't make much difference to its popularity - it's the perfect mix of comfort, familiarity, and low-key fun.
You'll find some TVs, video games, pool tables, and a juke box.
The bar - long, narrow, dark - gets packed and loud on game nights.
As you've probably already guessed - don't bring your kids.
168 Canal Street | (617) 617-7617
---
Want to know more about Boston's dive bars, now an endangered species in many parts of the city? Check out Luke O'Neil's Boston's Best Dive Bars on Amazon (#ad).
---
7. Tavern in the Square North Station/TD Garden
Part of a national chain, Tavern in the Square at North Station/TD Garden hits a nice mix between an upscale bar and a trendy restaurant.
Inside, you'll see the requisite screens over the bar showing sports more or less 24x7.
Outside, an attractive cluster of tables and chairs makes you want to claim one and spend the afternoon or evening there during Boston's warmer months. When temperatures cool down, sitting inside is also appealing.
To be clear, you can't really call Tavern in the Square a sports bar just because it happens to be near the Garden, but it is pleasant place to have a meal and perhaps catch a glimpse of your favorite team on the screens.
The menu features dishes such as baked crab and sween corn dip, a yuzu tuna stack, a quinoa bowl with roasted broccoli and beets, and agave lime chicken. Burger selections include gluten-free and vegetarian options - no greasy flat patties here.
The drinks menu includes craft cocktails, hard ciders and seltzers, and a decent selection of mostly regional craft beers, but the mostly-Massachusetts IPAs are where it really shines. Even if you come in just to grab a quick bite and maybe a drink, it's easy to find yourself ordering a second brew, especially if your favorite team is playing.
120 Beverly Street; website
---
More Nightlife near TD Garden: City Winery
City Winery brings music, wine, and dining to Boston in an appealing West End dinner/concert venue seating about 400 and featuring veteran artists who prefer intimate venues.
Think of it as the polar opposite of the huge arena concerts at nearby TD Garden down the street.
In contrast to the Garden's tiered stadium seating, City Winery lets you sit at small tables where you can enjoy a glass of wine or two and a bite to eat before and during the show.
Look for an eclectic mix of renowned musicians, as well as a future onsite winery.
80 Lovejoy Wharf (off Valenti Way) | (617) 933-8047
City Winery Schedules & Tickets:
Enter DISCOVERY10 to save 10% on TicketLiquidator & TicketNetwork tickets. Good through 12/31/24.
See All City Winery Concerts & Tickets
---
Best Hotels near TD Garden, City Winery, and Nearby Bars & Restaurants
For when just one evening out isn't nearly enough:
Coming to an event at the Garden? Consider spending the night or the weekend at one of these top nearby hotels:
Check out more hotels near TD Garden
---
Check out more hotels near TD Garden
Need a Boston Hotel or Apartment?
Use this handy map from Booking.com to find the perfect place to stay. Just enter your dates to find what's available, see the best rates, and make your reservations.
---
Gone but Not Forgotten Boston Bars near the Garden - R.I.P.
The Fours - Closed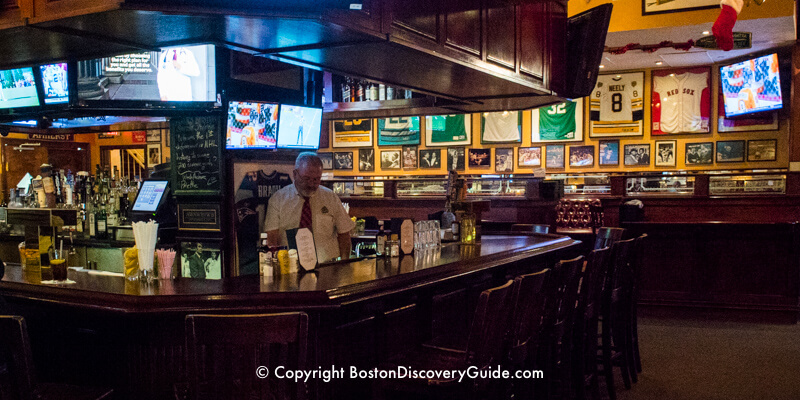 You'll know you're in the ultimate Boston sports bar near TD Garden the moment you walk into The Fours, named after legendary Boston Bruin hockey player Bobby Orr's jersey number and recognized by Sports Illustrated a few years back as the Best Sports Bar in America.
With sports memorabilia covering almost every inch of the walls and high quality HD screens everywhere, you find plenty to keep you entertained while you enjoy your favorite brew.
The kitchen turns out food that's consistently several notches above typical pub grub - in fact, The Fours is considered one of the best places to eat near TD Garden.
Although you'll be happy with bar favorites such as wings, burgers, calamari, chowder, fried pickles, you also won't regret ordering local seafood dishes such as sea scallops or a steak.
Or try one of the hefty sandwiches named for Boston's many sports heroes - not surprisingly, the "Bobby Orr" holds the "most popular" title.
Before you leave, be sure to check out The Fours' Bruins, Celtics, and Red Sox memorabilia and absorb Boston's rich sports history.
166 Canal Street
Sports Grille - Closed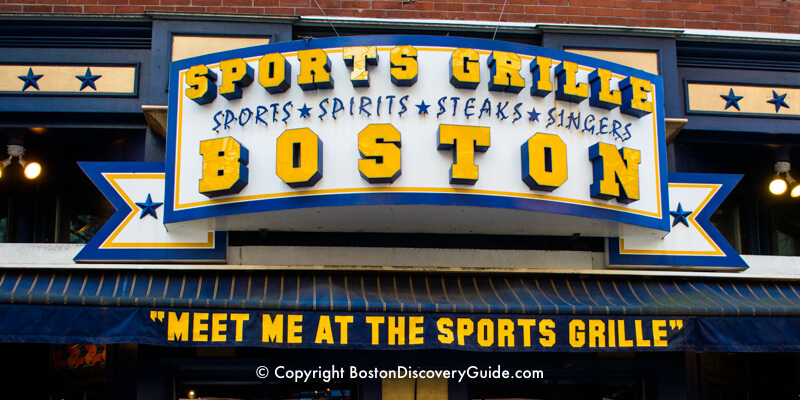 With huge flat screens lining the walls and individual screens in the booths, Sports Grille is known as one of the best bars in Boston to watch Bruins and Celtics games.
If you can move your eyes past the TVs, you'll also see lots of sports memorabilia around, adding to the atmosphere.
You'll find plenty of reasonably priced beer and other beverages plus good food - try a cheese steak or baby rib sub or the fried fresh haddock. Prices for drinks and food are reasonable.
Sports Grille's claim to culinary fame, though, are the half-pound hot dogs served on sub rolls with fries on the side. Add cheese, beans, peppers, and sauerkraut to taste.
A "rookie" menu for sports fans 12 and under tells you this is a family-friendly sports bar where everyone will have a lot of fun.
132 Canal Street
---
Beer Works - Closed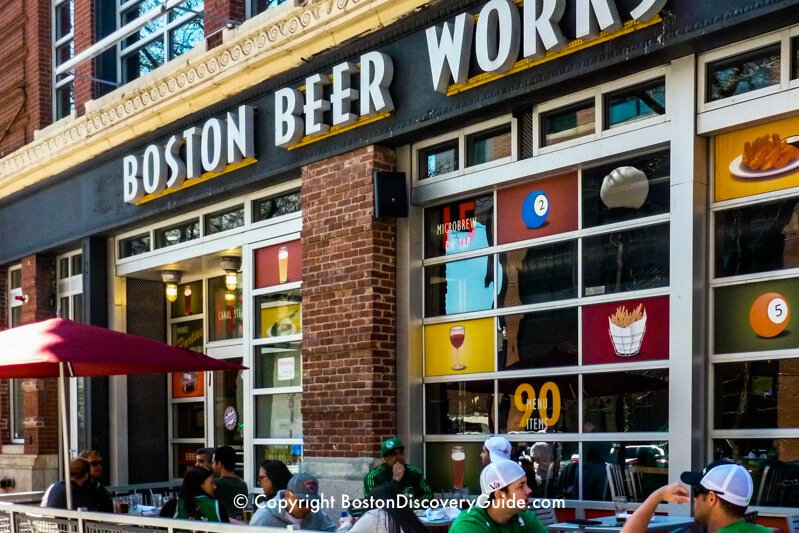 Beer Works' huge space and plentiful seating, tasty brew (Beer Works is, in fact, a local brewery), and better than average bar food makes it a popular choice for pre-gaming and post-game celebrations (or drowning of sorrows) among the bars on Canal Street close to TD Garden.
The micro-brewery produces 50 hand-crafted ales, lagers, stouts, and pilsners each year and you'll find about 20 or so on rotation, plus a few limited editions and craft ciders.
If you're visiting for the first time and not familiar with their brew, choose the flight to sample four different styles. Beer Works also offers small, medium, and large pours of each brew.
Beer Works pays attention to food, which makes it one of the best places to have dinner near TD Garden.
You'll find a few entrees and salads in addition to typical pub food choices. Burgers are especially good here - order the BWX full-sized burger with cheese, bacon, onion strings, and fries.
Because of all its space, Beer Works gets noisy and exuberant when it fills up, but on non-event nights at the Garden, you can also enjoy a quiet dinner here.
112 Canal Street
---
More Articles about TD Garden
---