Lots of exciting things to do pack the Boston Event Calendar for December.
If you're visiting Boston in December, you'll see festive lights and sparkling Christmas trees everywhere as we embrace the coming of winter.
Special holiday events take place all month - The Nutcracker, Black Nativity, Boston Pops, Disney on Ice, and holiday concerts.
Plan to spend time walking around the city, enjoying all the homes and shops decked out in the holiday spirit. Check out all the special Christmas in Boston events and activities.
On New Year's Eve, Boston's First Night festivities include a huge parade, ice sculptures, entertainment and musical performances, light displays, and a fabulous midnight fireworks show over Boston Harbor. Lots of other New Year's Eve events will be going on as well - so it's a great time to visit Boston!
Finally, if you're planning a visit to Boston over New Year's Eve, be sure to make your hotel reservations early to avoid disappointment. Look for special New Years Eve packages.
Need more suggestions? Check out more things to do and see in Boston in December.
Top photo: Blink! lights in Quincy Market
---
Boston Theater & Shows for December 2021

Schedules & Tickets
Schedules & Tickets
Enter DISCOVERY 10 to save 10% on TicketNetwork & TicketLiquidator tickets
Shows scheduled during other months
---
Where to Stay near Boston's Theatre District
Enjoy your Boston performance or show experience to the fullest when you stay in one of the nearby Theatre District hotels, such as the luxurious Hyatt Regency: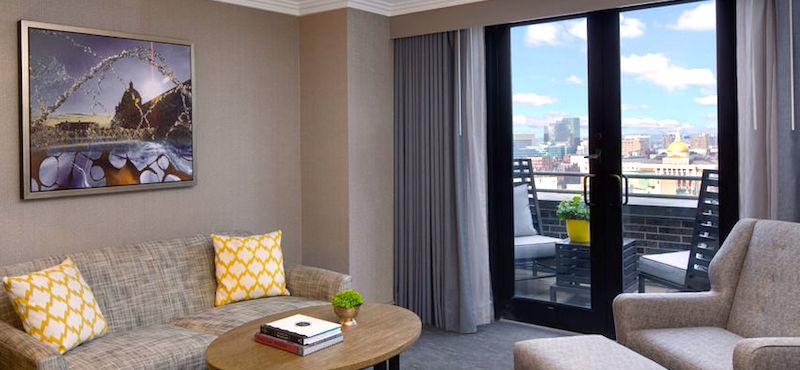 More top Theatre District hotels:
Check out more hotels in Boston's Theatre District
---
Boston Concerts & Shows - December 2021

Top December Concerts in Boston
Schedules & Tickets
Enter DISCOVERY 10 to save 10% on TicketNetwork & TicketLiquidator tickets
---
Special Holiday Cruises on the Northern Lights in Boston Harbor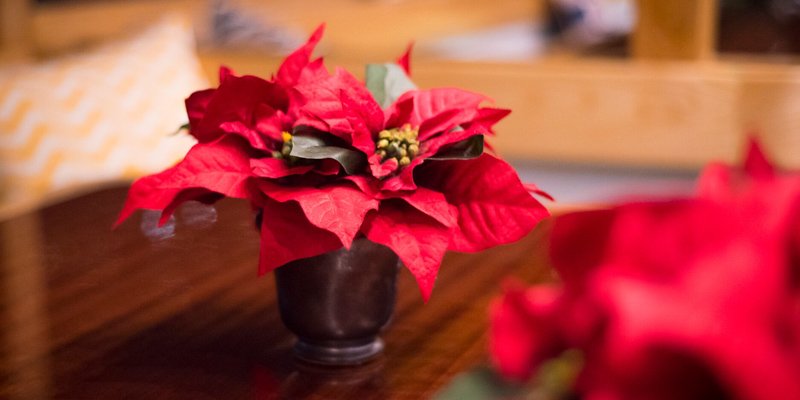 Celebrate the holidays while relaxing and sightseeing on the elegant yacht Northern Lights, lavishly decorated for the holidays, on these special cruises around Boston Harbor:
Celebrate the holidays while relaxing and sightseeing on the festively decorated Yacht Northern Lights on these special cruises around Boston Harbor:
---
Disney on Ice in Boston December - 2021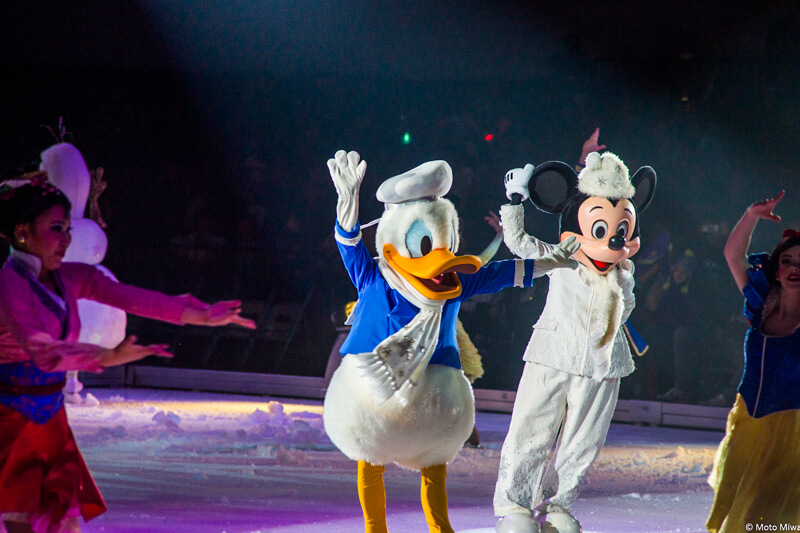 With a cast of amazing performers, Worlds of Enchantment is a spectacular performance on the ice at Agganis Arena that will leave you smiling.
Your whole family will be mesmerized as the dancing and music bring all of your favorite Disney princesses to life - be prepared to enjoy every moment!
Disney on Ice Tickets for Boston Shows - December 2021
Enter DISCOVERY 10 to save 10% on TicketNetwork & TicketLiquidator tickets
See tickets for all Disney on Ice performances in Boston
---
Fun Boston Tours for December 2021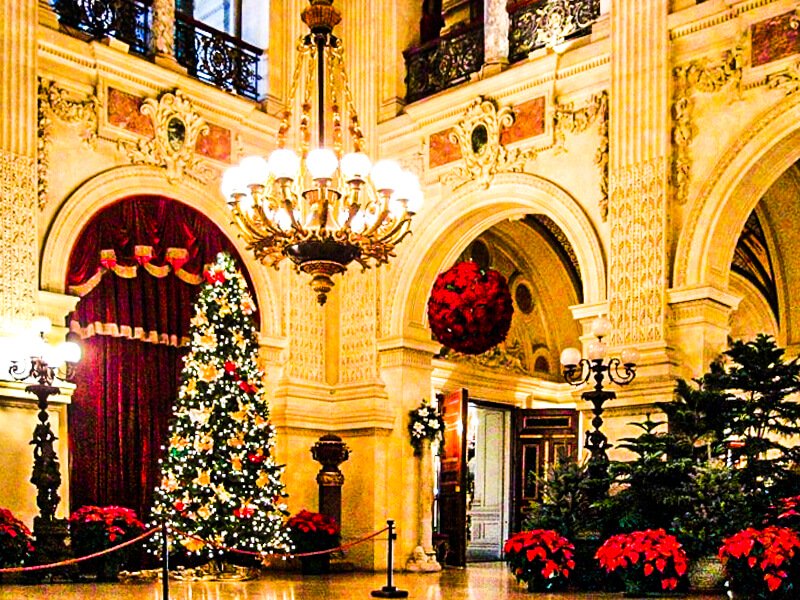 Newport Mansions at Christmas - Tour The Breakers and Marble House, famous Newport mansions, and enjoy their lavish holiday decorations on this top-rated day trip tour. Find out more
Hop On Hop Off Trolley - Explore at your own pace, get off and on the fun trolley as often as you'd like, and take advantage of the winter special, which gives you a second consecutive day on the trolley free, plus free admission to the Boston Tea Party Ships & Museum. Find out more
Boston: Personal Travel & Vacation Photographer - For the ultimate lasting memory of your trip to Boston, book your own personal professional photographer who will photograph you in the beautiful Public Garden and along the cobblestone Acorn Street in nearby Beacon Hill. Perfect for a family trip, romantic getaway, or fun experience with friends! Find out more
Boston Tea Party Ships and Museum - Relive the key Boston events leading up to the American Revolution in this unique museum that lets you travel back in time and experience the Boston Tea Party. Fascinating interactive exhibits and restored tea ships make this top-rated museum a must-visit Boston attraction. Find out more
Boston Pub Crawl along the Freedom Trail - Visit 4 historic taverns along the Freedom Trail and sample the brews along the way (or choose the "Dry Run" option) as you see historic sites and learn about the important role beer has played in Boston's history on this fun 21+ tour. Find out more
More: Sightseeing Tours | Tours for Teens | Kids & Family Tours
---
New Year's New Year's Eve & New Year's Day Brunch Cruise - 2022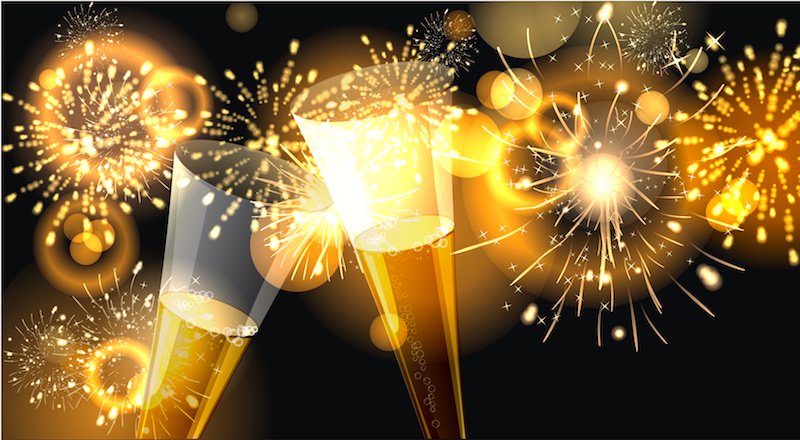 Welcome the New Year aboard the elegant yacht Northern Lights on these special New Year's Eve and New Year's Day cruises around Boston Harbor:
These cruises always sell out early - so don't wait to make your reservations!
---
First Night / First Day Celebration 2021-2022 - New Year's Eve & New Year's Day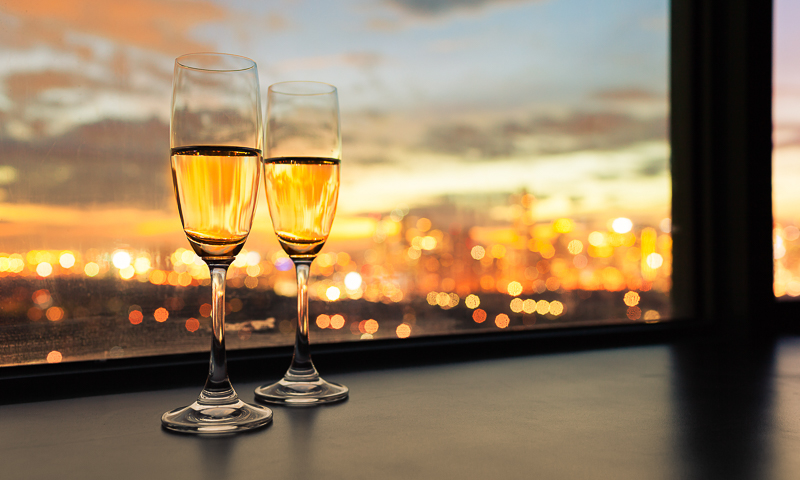 Over 1 million people typically turn out for Boston's gala First Night celebration to welcome the coming New Year.
This day-long, alcohol-free event features ice sculptures, fireworks, crafts, performances, entertainers, and a grand parade filled with costumed entertainers.
- More New Year's Eve Events in Boston
- New Year's Eve Parties in Boston
---
New Year's Eve Special Packages at Boston Hotels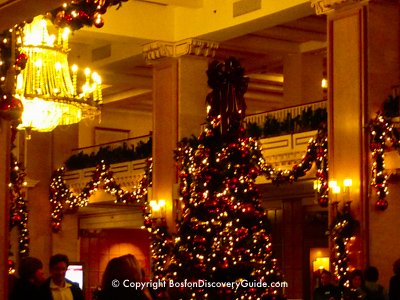 Special New Year's Eve Boston hotel packages give you elegant accommodations to enjoy when the night's festivities end, plus a tantalizing array of complimentary amenities and meals. Some even let you add on extra nights at discounted rates.
What's on offer? Look for specials like the "New Year's Eve Rest and Recovery" package at the Langham including a "Recovery Brunch" at Cafe Fleuri on New Year's Day. Other hotels offer special dinners, even gala parties. (Note: These packages are from last year - look for specials to be announced in early December.)
Each special package is unique - so check out each one to see which you like best! And remember, you can also book at the regular rates, usually at their lowest levels during winter months.
Check out New Year's Eve hotel specials in Boston
---
Bruins Home Games @ TD Garden - December 2021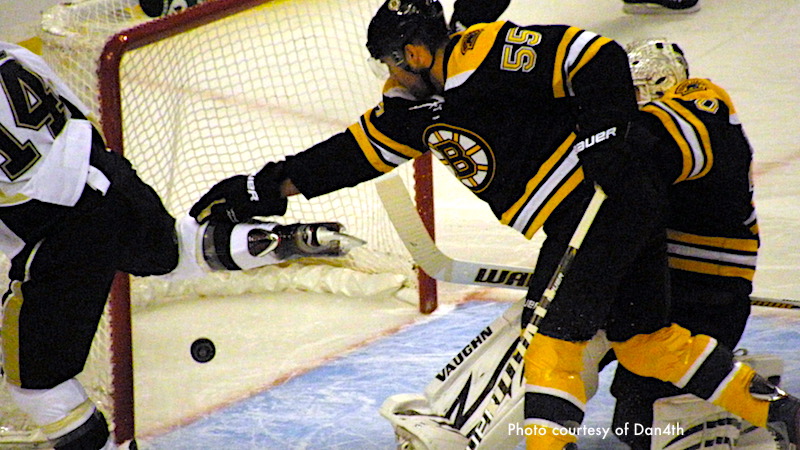 Get your Boston Bruins tickets for December home games, and head over to TD Garden for some fast action on the ice.
The Garden's convenient location next to North Station and close to Faneuil Marketplace makes it super-easy to get to.
Don't miss this chance to see Boston's hockey team, winner of 6 Stanley Cup championships!
Enter DISCOVERY 10 to save 10% on TicketNetwork & TicketLiquidator tickets
More about TD Garden: Schedule, directions, best ticket prices
---
Hotels near TD Garden
Coming to an event at the Garden? Spend the night or the weekend at a nearby hotel, such as the glamorous Onyx (shown in photo), part of the Kimpton hotel family: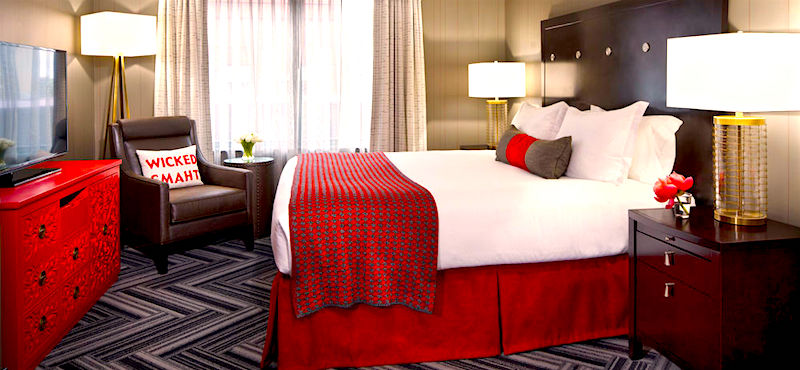 More top hotels near the Garden:
Check out more hotels near TD Garden
---
Holiday Concerts, Shows, & Performances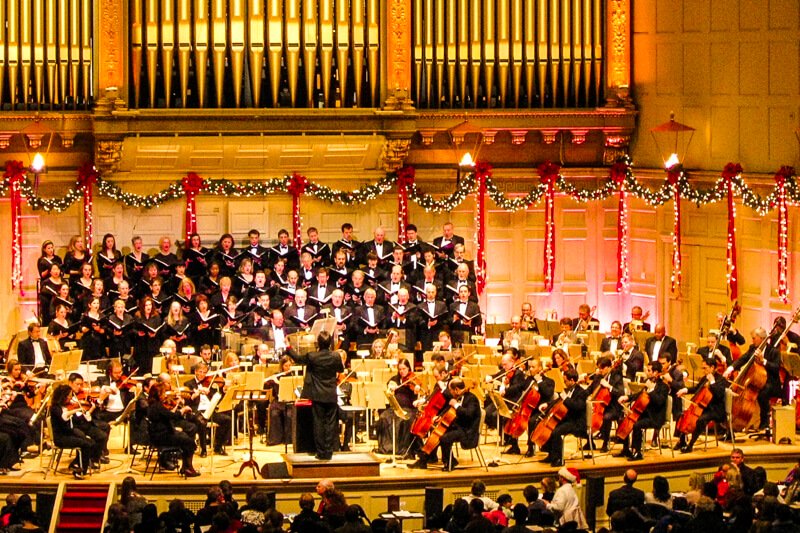 Boston Holiday Pops Concerts in Symphony Hall throughout the Boston Christmas season provide the perfect chance to sing along with old favorites, be photographed with Santa, and hear the special holiday music conducted by Keith Lockhart.
Lots of other special musical performances and shows also take place throughout December, such as these:
---
Celtics Basketball at TD Garden - December 2021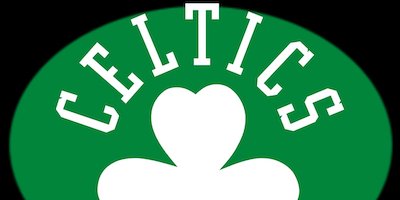 Get your Boston Celtics tickets for December home games, and head over to TD Garden for some fast action on the court.
The Garden's convenient location next to North Station and close to Faneuil Marketplace makes it super-easy to get to.
Get ready for plenty of action at the net from Boston's champion basketball team.
Get your tickets now:
Enter DISCOVERY 10 to save 10% on TicketNetwork & TicketLiquidator tickets
***y-celtics-dec.shtml***
Tickets for other months: Check for great prices, great seats, and sometimes discounts
Where: TD Garden
Nearest public transportation: Green Line/Orange Line or Commuter Rail to North Station, next to the Garden

---
Holiday Tree Lighting Ceremonies in Boston in December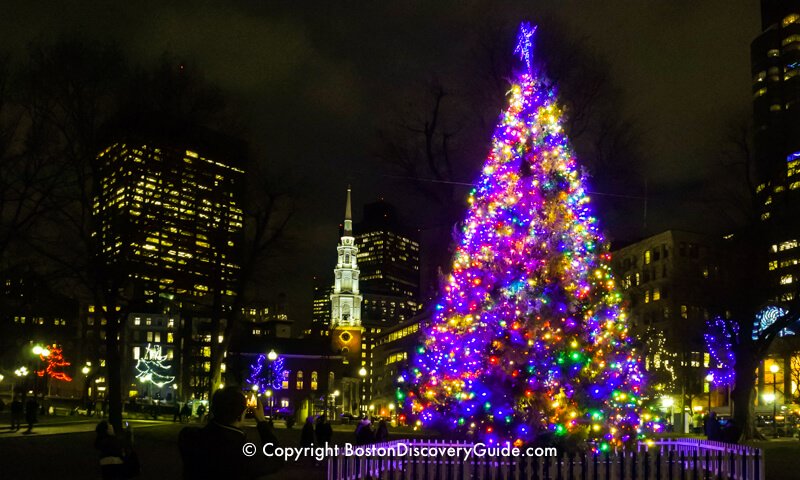 Christmas tree lighting ceremonies in Boston during November and December signal the "official" start of the holiday season.
These festive occasions are fun to attend and the lights are spectacular!
Find the complete schedule for the exciting Holiday Lighting Ceremonies taking place in December
More about where to see special holiday decorations in Boston
---
Hanukkah - The Festival of Lights in Boston 2021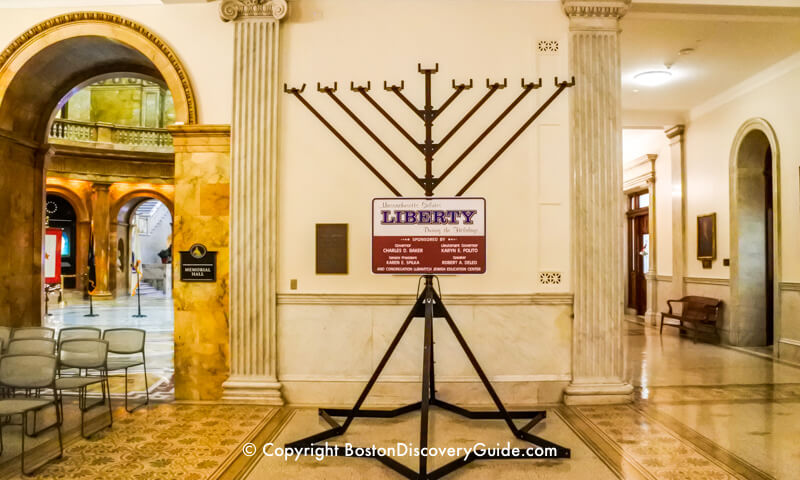 Hanukkah, the Jewish Festival of Lights, takes place from November 28-December 6 this year. To commemorate Hanukkah, public menorrah lightings take place at various Boston sites to mirror the celebrations also happening in private homes and synagogues around the city.
Look for New England's tallest menorah at Brewer Fountain on Boston Common. A lighting ceremony of the first branch of the candelabra takes place on November 28 at 4pm, with special guests, live music, holiday treats, and warm beverages. Lightings on the following evenings take place at 4pm (Nov 28-29; Dec 1-3), 2pm (Dec 4), 7:30pm (Dec 5), and 4pm (Dec 6). (dates and times to be confirmed)
Other places in Boston to see nightly lightings of public menorahs during Hanukkah include the Massachusetts State House, Faneuil Marketplace, Copley Square, and the Museum of Fine Arts. All events are free.
Please note: Vilna Shul (18 Phillips Street, Beacon Hill) also often hosts special Chanukkah events. Vilna Shul, which has the only examples of prewar Jewish mural art in the U.S. and is the only remaining intact immigrant-era synagogue in Boston, is a cultural center and home to monthly Kabbalah Shabbat services.
---
Imagine Van Gogh Comes to Boston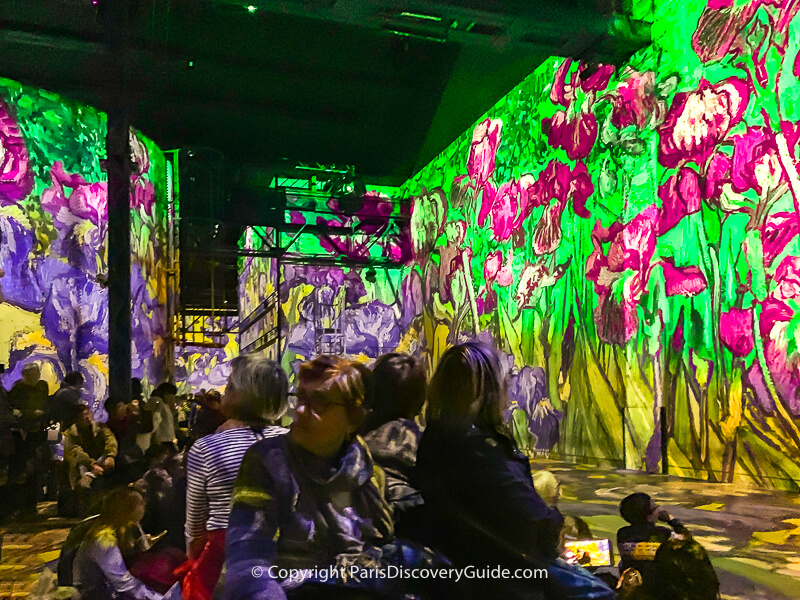 Imagine Van Gogh, an immersive show featuring the famous painter's paintings, features a kaleidescope-like projection of digitized art set to a musical score ranging from classical to pop for an unforgettable experience at the iconic SoWa Power Station in Boston's South End.
The show has toured select venues in Europe, including Paris, during the past couple of years to rave reviews.
This will be a contactless experience in a 24,000+ square foot venue with a limited number of guests admitted on a timed-entry basis, and will follow Massachusetts safety guidelines.
Dates: December 21, 2021 - February 20, 2022
Location: 550 Harrison Ave, South End
Find more information and get tickets
---
The Nutcracker Ballet at the Opera House 2021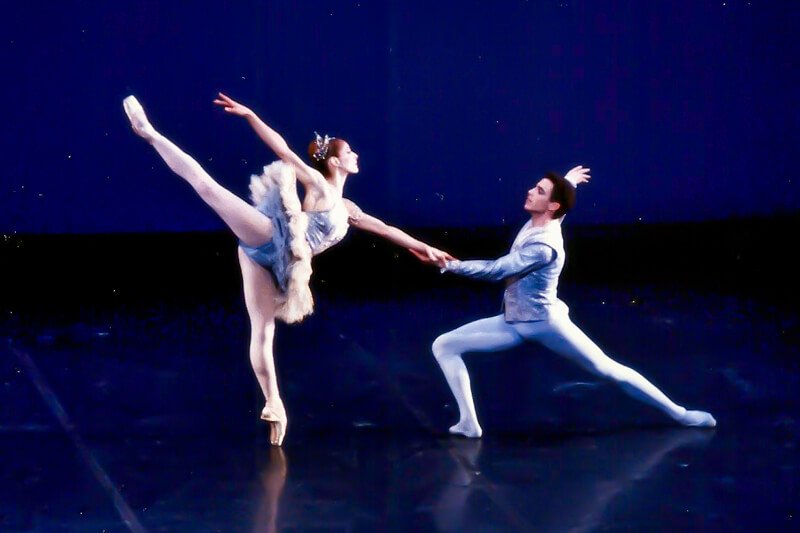 Attending a performance of The Nutcracker is a holiday tradition in Boston, and for good reason.
Enjoy the magic as Clara, the Sugar Plum Fairy, and all the other dancers twirl around the stage as Tchaikovsky's music soars in Boston's gorgeous Opera House.
Nutcraker Schedule & Tickets
Enter DISCOVERY 10 to save 10% on TicketNetwork & TicketLiquidator tickets
See All Nutcracker Dates/Times in Boston
---
New England Patriots at Gillette Stadium - December 2021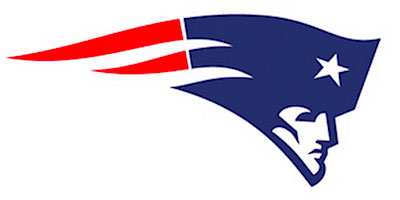 The New England Patriots play only one home game at Gillette Stadium during December:
Enter DISCOVERY 10 to save 10% on TicketNetwork & TicketLiquidator tickets
Where: Gillette Stadium
Getting there: The Patriot Train - plus more ways to get to Gillette from Boston
Where to stay: Hotels near Gillette Stadium
Tickets for other months: Check for great prices and great seats
Stay Warm in Gillette Stadium When You Dress Like a Patriot
---
Holiday Pops from Boston Pops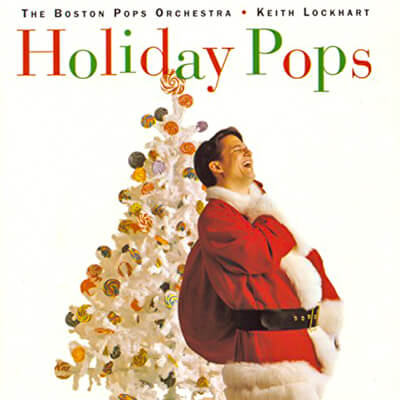 Conductor Keith Lockhart and the Boston Pops present the beloved annual Holiday Pops concert at Boston's Symphony Hall.
You'll get to hear and see all your favorites:  the Pops' classic "Sleigh Ride" and "Twelve Days of Christmas," jazzy arrangements of traditional favorites, "O Holy Night," "Home for the Holidays," a virtual performance with the Tanglewood Festival Chorus, and a special new reading of "A Visit from St. Nicholas" ("'Twas the Night Before Christmas").
Tickets:
Check back later for the 2021 Holiday Pops schedule and tickets
Another way to get in the mood for Christmas: listen to A Christmas Festival by the Boston Pops, which includes many favorites such as Winter Wonderland, White Christmas, and more (#ad).
Photo credit: Johanna Mason
---
More Boston Concert Tickets
Enter DISCOVERY 10 to save 10% on TicketNetwork & TicketLiquidator tickets
More Concerts & Shows for December
Boston Concerts & Shows throughout the Year
---
Fun Ways to See Boston
---
Holiday Strolls
Get your holiday shopping done, enjoy some good cheer, and feel the spirit of the season in these fun holiday strolls in favorite Boston neighborhoods.
North End Holiday Stroll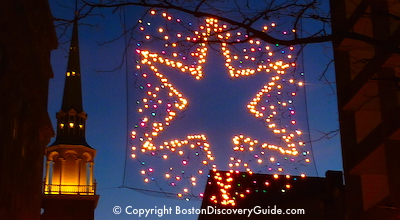 15+ North End boutiques, wine stores, galleries, and restaurants offer warm hospitality and 1-night-only discounts during their Buon Natale Holiday Stroll.
This event is a wonderful excuse to visit the North End - and get your holiday shopping done early!
When: Friday, December 6, 5pm-10pm
Where: North End
Closest T station: Orange Line/Haymarket

Parking: Do not even think about street-side parking in the North End! Try Boston garages near Government Center (hint: check details for the Parcel 7 garage next to Boston Public Market - very convenient and cheap, IF you get your parking ticket validated by a North End business)

---
Holiday Sale & Stroll - Fort Point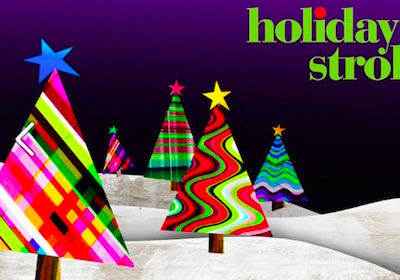 The Fort Point Holiday Stroll takes place on December 11, 5:30pm-8:30pm.
Artists will display their jewelry, paintings, clothing, cashmere accessories, holiday ornaments, and pottery.
For the Sale, gather in the lobby of 315 on A, where you can also enjoy drop-in holiday art and craft activities, refreshments, and the fireplace.
For the Stroll, just follow the signs to local businesses and restaurants (Row34, Flour Bakery + Cafe, Fort Point Market), museums and galleries (Children's Museum, 249 A Street Gallery, 300 Summer Gallery), art studios, and more!
More information: Friends of Fort Point website
---
Beacon Hill Holiday Stroll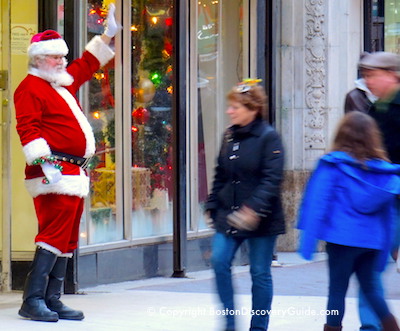 When: Thursday, December 5, 5pm-9pm (come at 3:30 for photos with Santa at the Hill House Firehouse)
Where: Charles Street, Beacon Hill
Closest T station: Red Line/Charles-MGH
Parking: Boston Common Garage
Stay nearby: Beacon Hill hotels
Carolers and music, festive holiday decorations, and all the eclectic boutiques, galleries, and restaurants along Charles Street make this annual Holiday Stroll a special occasion. Enjoy the festive spirit - and get all of your holiday shopping done in one evening!
Entertainment this year includes the Christmas tree lighting, carolers, horse-drawn carriage rides, and performances throughout the evening by the Back Bay Bell Ringers, King's Chapel Choir, Brass Quartet, and more.
More about top places for holiday shopping in Boston
---
South End Holiday Stroll
The South End's Holiday Stroll on December 4th takes place from 5pm-9pm, and gives you access to special promotions from 40+ neighborhood boutiques and restaurants.

Come for the weekend and enjoy a stay in the sleek and stylish new Alise Hotel in the heart of the South End. Rates & reservations
---
Snowport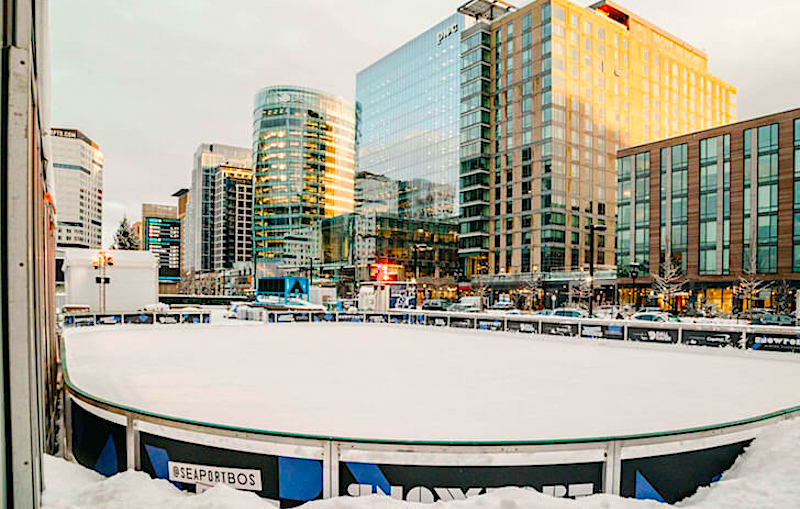 A brand-new 3,000 foot ice rink opens on December 2 in Seaport's equally new Snowport Winter Village. In addition to ice skating, look for even more winter activities: iceless curling, yoga, live music, themed skate nights, and hot drinks. The rink and Winter Village will be in place through February.
More fun things will be added in the next few days or weeks: fresh-baked waffles, the festive Fjällhäus (a tiny but cozy cabin with a visitors lounge and free hot coffee) from December 9-January 4, winter games, and special holiday events.
Rink hours & location: Monday - Thursday, 4pm-9pm; Friday, 4pm-10pm; Saturday, 11am-10pm; Sunday, 11am-8pm | 65 Northern Avenue, at the corner of Seaport and Fan Pier Boulevards
Cost: Skating is $5 adults, $3 ages 4-12, free for children 3 and younger and active duty military with military ID; bring your own skates or rent them for $5 (all ages)
---
Santa Speedo Run on Newbury Street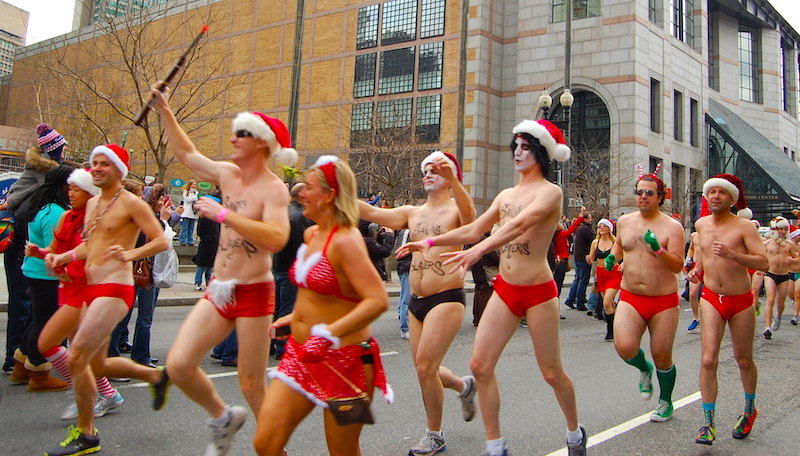 In case you need an extra incentive to do your holiday shopping in Back Bay on Saturday, December 14, the annual Santa Speedo Run may be just what you're looking for as 700 scantily-clad Santas complete a 1-mile jog to raise money for the Play Ball Foundation, a charity which brings sports and team-building skills to local Boston middle-schoolers. The goal this year is $250,000.
Runners (must be 21+) register at Lir (903 Boylston) at 10am for check-in and libations, kick off at 1pm, and make their way down Boylston to Berkeley to Gloucester, and then back up Newbury Street and back to Lir. It's a fun event. Bring your camera!
Register for the Santa Speedo run at http://ssrunners.org
Speedo Santa photo courtesy of Jeremy T. Hetzel via Creative Commons license
---
Save Big $$$s on Boston Museums and More Top Attractions
Find out how a Boston Discount Card gives you free entrance to museums and lots of other attractions every day while your card is valid - plus you get to go straight to the head of the line.
---
SoWa Boston's Winter Festival & Holiday Market 2021
Enjoy winter cocktails, hot mulled wine, craft beers, and plenty of other good thingsto sip and nibble from 100 local makers and specialty food producers while you explore SoWa's festive winter marketplace - it's the biggest Holiday Market in Boston this year!
You'll get to see live ice sculpting, holiday workshops, galleries, artist studios, and boutiques - plus it's the perfect way to get all your holiday shopping done in one place at this family-friendly event.
Dates/Hours: December 3-12, hours vary by day of week: Fridays 12 noon-9pm, Saturdays 11am-9pm, Sundays 11am-7pm, Monday-Thursday 3pm-8pm | Free admission | 550 Harrison Ave in Boston's South End
---
Globe Santa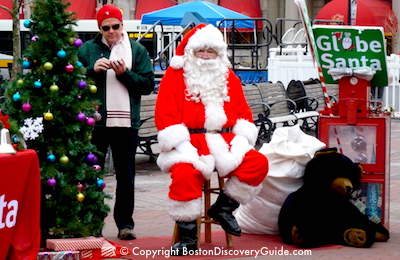 Want to meet Globe Santa? You can find him (or her) in various places and events around Boston during December, such as Copley Square (shown in photo).
More important...want to help Globe Santa raises fund for Boston's neediest children, one of Boston's best holiday traditions?
100% of all donations go to purchase and deliver holiday gifts for Boston families in need. More about donating
More about Christmas in Boston
---
Not Sure about Boston Neighborhood Locations?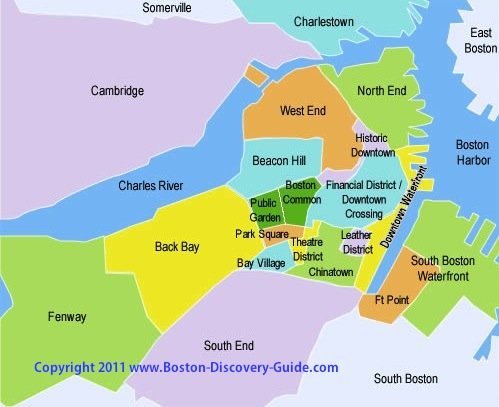 This neighborhood map should help you get oriented. You can find a list of top attractions in each neighborhood here.
Need a more details? Here are our favorite free and low-cost Boston maps.
---
Black Nativity
Another beloved Boston Christmas tradition is Harlem Renaissance poet Langston Hughes' gospel song-play, Black Nativity, which has enchanted Boston audiences since 1970.
The original Nativity story comes to life in this marvelous production combining words, music, and dance, including traditional Christmas favorites sung in Gospel style.
From the moment the actors walk on stage singing "Go Tell it on the Mountain" to the final scene, you'll be captivated and enthralled.
Produced by the National Center of Afro-American Artists, this renowned holiday show features a large cast of professional singers, dancers, musicians, and actors.
Black Nativity Schedule & Tickets
Enter DISCOVERY 10 to save 10% on TicketNetwork & TicketLiquidator tickets
See All Black Nativity Dates & Tickets
---
Blink! Holiday Light Show at Faneuil Market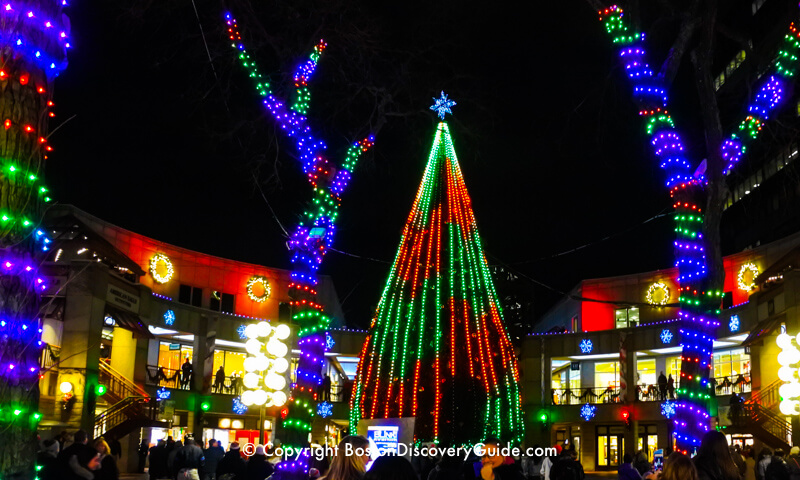 Blink! combines 350,000 flashing LED lights and popular holiday music to set Faneuil Hall Marketplace ablaze every evening through early January. The all-new show this year is even more fabulous than before!
Catch the free show, which runs 12 times between 4:30pm and 10pm, as you stroll around the country's open-air marketplace, site of the largest Christmas tree in New England.
Faneuil Marketplace also offers excellent shopping opportunities - lots of unique "only in Boston" boutiques mixed in with larger national chains where you'll often see "40% off" signs.
Check the exact dates and times for Blink!
---
Where to Stay in Boston near Faneuil Marketplace
---
Christmas Celtic Sojourn Dates & Tickets
Brian O'Donovan, host of classical music radio station WGBH's popular Celtic Sojourn program, presents an afternoon or evening of Christmas Celtic Sojourn.
Performances feature fiddlers, pipers, percussionists, vocalists, and performers from Scotland, Ireland, and other Celtic lands as they present Christmas music and dance based on Celtic traditions.
Christmas Celtic Sojourn Dates & Tickets
Enter DISCOVERY 10 to save 10% on TicketNetwork & TicketLiquidator tickets
See dates tickets for all Christmas Celtic Sojourn performances
---
244th Boston Tea Party Reenactment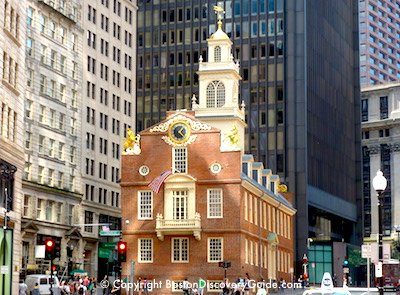 Celebrate the anniversary of the Boston Tea Party - take on the role of a Patriot or a Loyalist as you join more than 100 reenactors to bring to life the famous tax protest that sparked a revolution.
Events begin at Old South Meeting House, where over 100 volunteer reenactors portray Patriots such as Samuel Adams, Paul Revere, and John Hancock as they recreate the events of Dec. 16, 1773, when more than 5,000 colonists gathered here to voice concerns on a moonlit night.
After the debate, you can join the procession, complete with fifes and drums, down to Griffin's Wharf, and watch as the tea is dumped into Boston Harbor.
When: Monday, December 16, 6:30pm (rain or shine)
Where: Old South Meeting House
Closest T station: Red and Orange Line/Downtown Crossing; Orange and Blue Line/State
Parking: Use the Boston Common Garage and walk over - maybe an 8-10 minutes , or check out Boston garages near Government Center
Cost: $30 (plus service fee)
More information and tickets: Old South website: http://www.osmh.org
---
2 Easy Ways to Save BIG in Boston on Museums & Attractions
Best way to save in Boston. Save up to 50% when you visit the New England Aquarium, Museum of Science, Museum of Fine Arts, Fenway Park Tour, and more. Compare to find out which one is best for you.
---
Boston Hotels Special Packages for December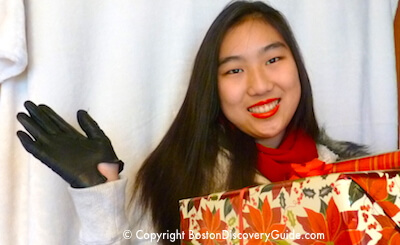 Colonnade Boston: Retail Therapy Package - Stay at the Colonnade Hotel and get a discount booklet for 500+ stores at nearby Shops at Prudential Center and Copley Place Mall, overnight parking, and overnight accommodations for two. Promo code: RETTHER
Compare rates and book your room
Boston Marriott Copley Place "Dine & Shop" Package - Stay Thursday through Sunday and get deluxe accommodations, breakfast for two each morning at Champions, a $50 gift card per each night's stay to Copley Place Mall, and complimentary valet parking. Good through December 31. Promo code: YX1
Compare rates and reserve now
---
North End Christmas Parade
Look for Santa, Frosty the Snowman, and lots of elves at the North End's annual Christmas Parade on Sunday, December 15, 1-2pm. Starting at Puopolo Field on Commercial Street where Santa arrives by helicopter, the parade marches around neighborhood streets. Look for marching bands, antique cars, and plenty of good cheer during this festive event, a North End tradition for almost half a century.
---
Boston Baroque Performs Handel's Messiah
When: December 6 and 7, 7:30
Where: Jordan Hall at the New England Conservatory, 30 Gainsborough Street, Fenway neighborhood
Closest T station: Green Line E/Symphony
More information and tickets: Boston Baroque's website
Musical Director Martin Pearlman's Grammy-nominated production of Handel's Messiah for a spell-binding experience.
Adding to the experience are Boston Baroque's period instruments, plus the splendor of Jordan Hall's perfect acoustics. Attending a performance of Messiah is a Boston Christmas tradition for many people, and this production is always among the very best.
Boston Baroque is also playing special New Year's Eve and First Day Concerts.
---
Boston Discount Passes for Attractions, Tours, Cruises
Why pay full price for top Boston attractions such as the New England Aquarium, Museum of Fine Arts, Fenway Park Tours, Boston Harbor Cruises, and much more?
Boston Discount Cards are the best deal in town. Select Boston CityPass to see Boston's Top Attractions at a leisurely pace, or choose the GoBoston card (you pick how many days) to see 50+ attractions, tours, cruises, and day trips.
---
Illuminus Boston - TBD for 2021
Get ready to see 3 blocks of Boston's Downtown Crossing/Financial District transformed by Illuminus, a free annual digital nighttime art festival. Art, design, technology, and science intersect in giant displays of video art, live performances, projections, and immersive experiences with light and sound.
Start your experience at 100 Summer Street in Downtown Crossing. December 5 and 6, 5pm-11pm.
---
Christmas Revels at Harvard's Sanders Theatre
When: December 13-29 - matinees and evening shows
Where: Sanders Theatre in Memorial Hall, Harvard University, Cambridge, MA
Closest T station: Red Line/Harvard Square
Tickets: Revels website
Since 1971, the Christmas Revels Boston have used music and dance to explore winter solstice traditions from different cultural perspectives. The theme this year is "An American Celebration of the Winter Solstice." You'll be transported as the Revels celebrate winter solstice and its music, dance, folk traditions, and rituals.
---
"The Ice" at Faneuil Hall Marketplace
Come celebrate the New Year by enjoying "The Ice" - Faneuil Hall Marketplace's own interactive ice sculpture to ring in the New Year on December 31.
Don't worry if the weather is frosty - all the festive holiday lights will make you feel warm, and in addition to enjoying post-holiday sales, you'll find many inviting restaurants and pubs where you can warm up. And don't forget, several of Boston's oldest historic pubs and Colonial-period taverns are right around the corner.
---
Museum of Science Exhibits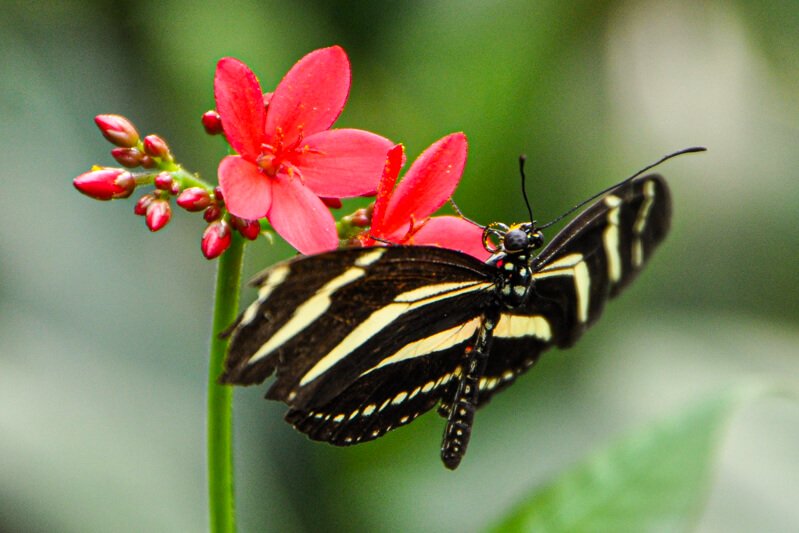 Special Exhibits
Arctic Adventure: Exploring with Technology - Find an Arctic fox, travel across a glacier, & more in this immersive exhibit
Science Behind Pixar: See how art and science create magic
Design Engineering Workshop - Design, build, and test solutions for everyday problems
Permanent Exhibits
With fascinating permanent exhibits for all ages, there's always something to see, do, and learn. Here are just a few of the most popular: Butterfly Garden (extra fee), Colossal Fossil: Triceratops Cliff, Cosmic Light, Dinosaurs, Hall of Human Life, Live Animal Care Center, Mathematica, Nanotechnology, Natural Mysteries, New England Habitats, The Light House - plus 17 more!
Where: Boston's Museum of Science
When: Daily, 9am-5pm; open until 9pm on Fridays
Admission: $29 general museum admission ($24 for kids). Buy online to skip the line. Get free museum admission when you have a GoBoston Discount card or Boston CityPASS card.
Imax Theater and Planetarium: Additional fees apply
---
More Holiday Events in Boston
---
Questions & Answers about Christmas in Boston
Romantic Things to Do in Boston during the Christmas Holidays
Hello!  My name is Shelly. I moved to Massachusetts about a year ago but I don't know much about the state. My boyfriend of three years lives in Florida and he is coming to visit for the Christmas holidays . . . More
---
More to Do in Boston in December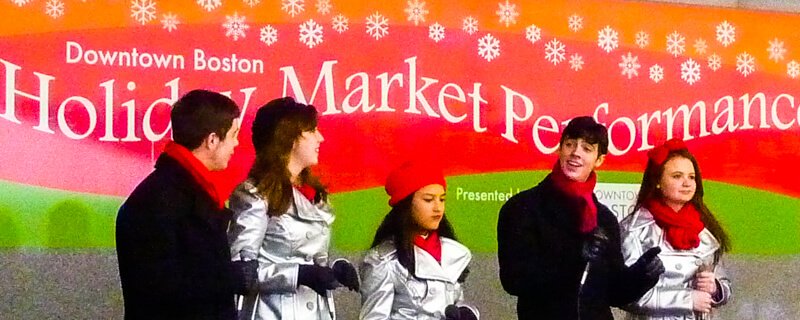 ---
More to See and Do in Boston during December
---
Check Out More Top Boston Events Each Month
January | February | March | April | May | June | July | August | September | October | November | December | Year at a Glance
---
More Articles about Things to Do in Boston in December
---
Find a Hotel for Your Boston Visit
Enter your dates to see available hotels and rates: