Lots of exciting things to do pack the Boston Event Calendar for December.
If you're visiting Boston in December, you'll see festive lights and sparkling Christmas trees everywhere as we embrace the coming of winter.
Special holiday events take place all month - The Nutcracker, Black Nativity, Boston Pops, Disney on Ice, and holiday concerts.
Plan to spend time walking around the city, enjoying all the homes and shops decked out in the holiday spirit. Check out all the special Christmas in Boston events and activities.
On New Year's Eve, Boston's First Night festivities include a huge parade, ice sculptures, entertainment and musical performances, light displays, and a fabulous midnight fireworks show over Boston Harbor. Lots of other New Year's Eve events will be going on as well - so it's a great time to visit Boston!
Finally, if you're planning a visit to Boston over New Year's Eve, be sure to make your hotel reservations early to avoid disappointment. Look for special New Years Eve packages.
Need more suggestions? Check out more things to do and see in Boston in December.
Top photo: Holiday lights in Quincy Market, (c) Boston Discovery Guide
Boston Discovery Guide is a reader-supported publication. When you buy through our links, we may earn a commission at no additional cost for you. Learn more
---
Boston Theater & Shows for December

Top December Theater Shows in Boston - Schedule & Tickets
Enter DISCOVERY 10 to save 10% on TicketLiquidator & TicketNetwork tickets
Find all shows & tickets for December
Find shows & tickets for other months
---
Where to Stay near Boston's Theatre District
Enjoy your Boston performance or show experience to the fullest when you stay in one of the nearby Theatre District hotels, such as the luxurious Hyatt Regency: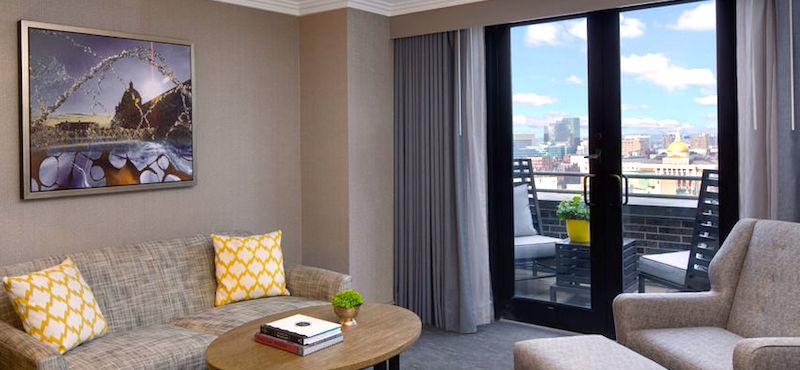 More top Theatre District hotels:
Check out more hotels in Boston's Theatre District
---
Boston Concerts & Shows - December
Top December Concerts in Boston
December is shaping up to be an exciting month for concerts in Boston with Aerosmith's Farewell Tour with the Black Crowes on New Year's Eve, Andrea Bocelli at the Garden early in the month, and the first Christmas concerts at City Winter. Check back soon for more!
A Swingin Little Christmas - City Winery - Dec 5, 6
Andrea Bocelli - TD Garden - Dec 6
Aerosmith & the Black Crowes - TD Garden - Dec 31
Enter DISCOVERY 10 to save 10% on TicketLiquidator & TicketNetwork tickets
December Concerts - Schedules & Tickets
More Concerts & Shows for December
Boston Concerts & Shows throughout the Year
---
Special Holiday Cruises on the Northern Lights in Boston Harbor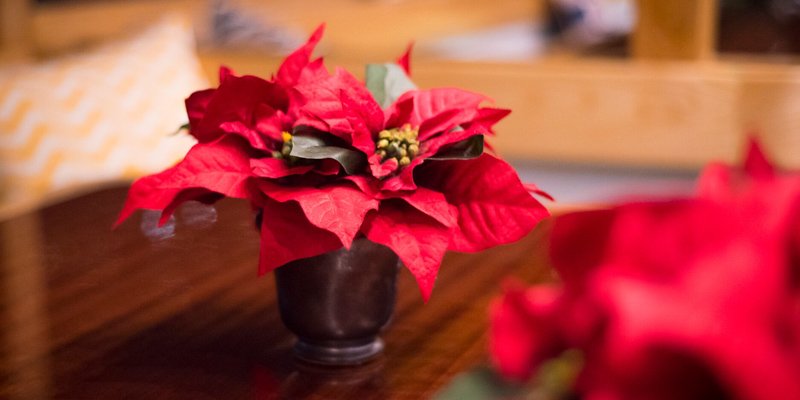 Celebrate the holidays while relaxing and sightseeing on the elegant yacht Northern Lights, lavishly decorated for the holidays, on these special weekend holiday brunch, New Year's Eve fireworks, and New Year's Day cruises around Boston Harbor:
Celebrate the holidays while relaxing and sightseeing on the festively decorated Yacht Northern Lights on these special cruises around Boston Harbor:
---
Ice Sculpture Strolls - 2022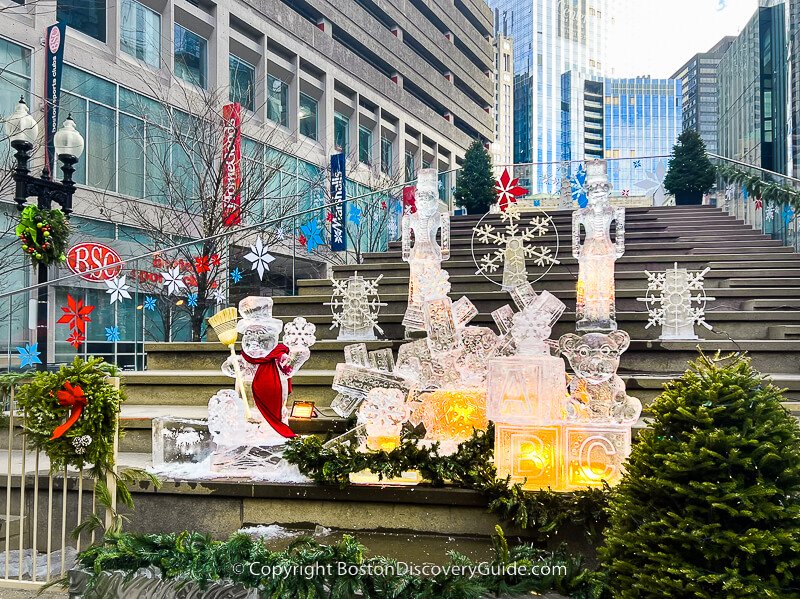 Dazzling ice sculptures bring beauty to Boston's winter landscape during December. Their ephemeral nature, especially when temperatures rise above freezing, mean you need to move fast to see them before they disappear.
Here's the current schedule for Ice Sculpture Strolls in Boston this December: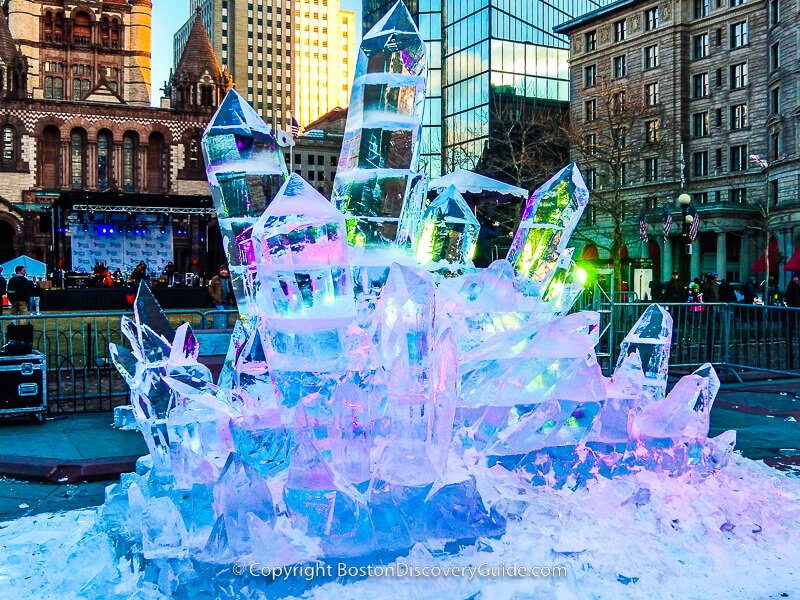 ---
Disney on Ice in Boston December - 2022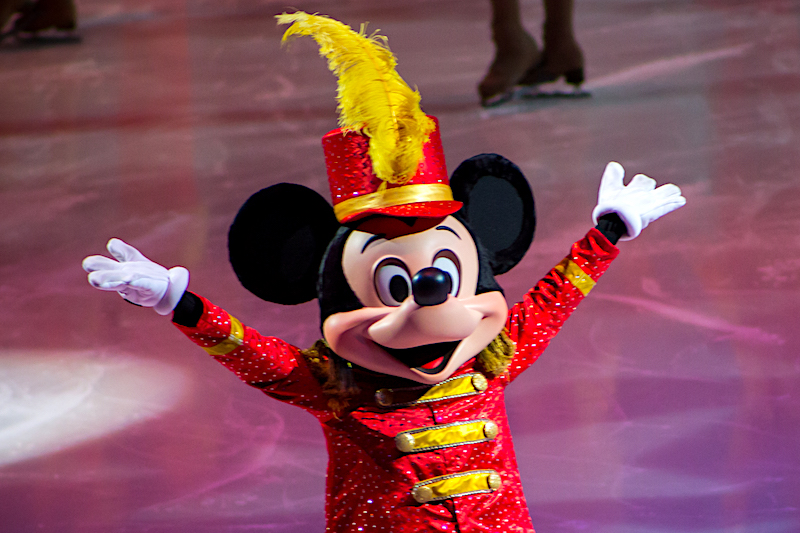 With a cast of over 50 world-class performers, Find Your Hero, December's enchanting ice show at Boston's Agganis Arena, will leave you smiling as you wantch exciting acrobatics, expert skating, and fantastic stunts on the ice and in the air.
Your whole family will be mesmerized as the dancing and music bring all of your favorite Disney princesses to life - be prepared to enjoy every moment!
Disney on Ice Tickets for Boston Shows - December 2022
Enter DISCOVERY 10 to save 10% on TicketLiquidator & TicketNetwork tickets
See tickets for all Disney on Ice performances in Boston
More about Disney on Ice in Boston
---
A Gilded Christmas at Prescott House - 2022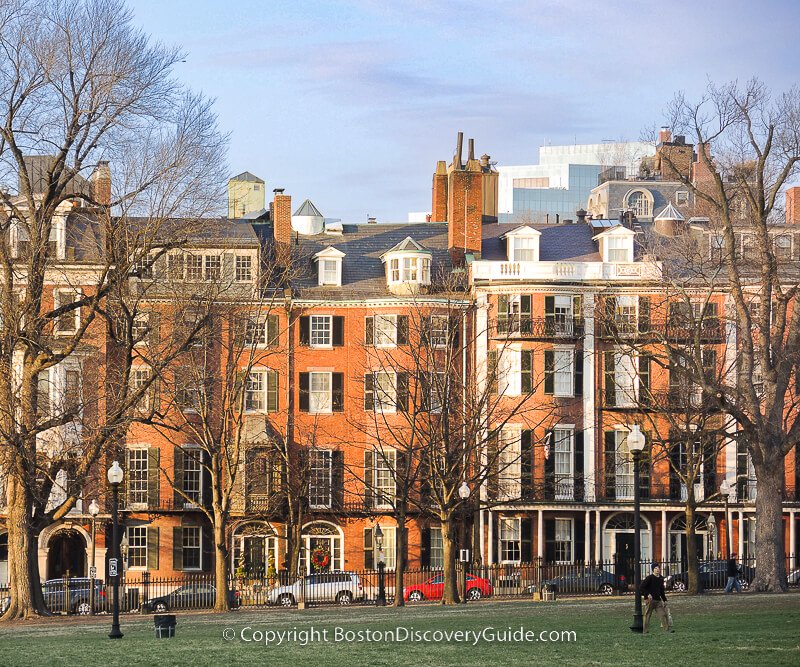 The National Society of Colonial Dames in Massachusetts will celebrate the holidays with three special events at its headquarters, the William Hickling Prescott House at 55 Beacon Street on Beacon Hill. Dates, hours, and entertainment include:
Dec 9 - 5pm-8pm - Live music by Jayne Young on the home's 1808 piano
Dec 10 - 1pm-5pm - Concert by the Back Bay Bell Ringers
Dec 11 - 1pm-5pm - Music by the Boston College Madrigal Singers
You can find out more information and get your tickets ($10 each adults; children under 12, free) on the event website.
Prescott House, built in 1808 by Boston merchant James Smith Colburn (who also built the almost identical house next door at #54) is one of the best examples of Federal architecture in Massachusetts and has been a National Historical Landmark since 1964.
---
Fun Boston Tours for December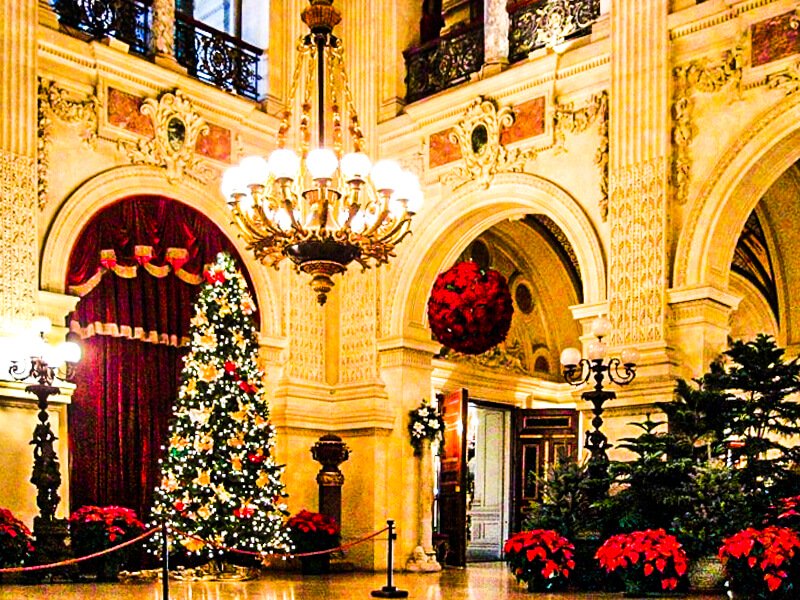 More: Sightseeing Tours | Tours for Teens | Kids & Family Tours
---
New Year's Eve & New Year's Day Brunch Cruise - 2022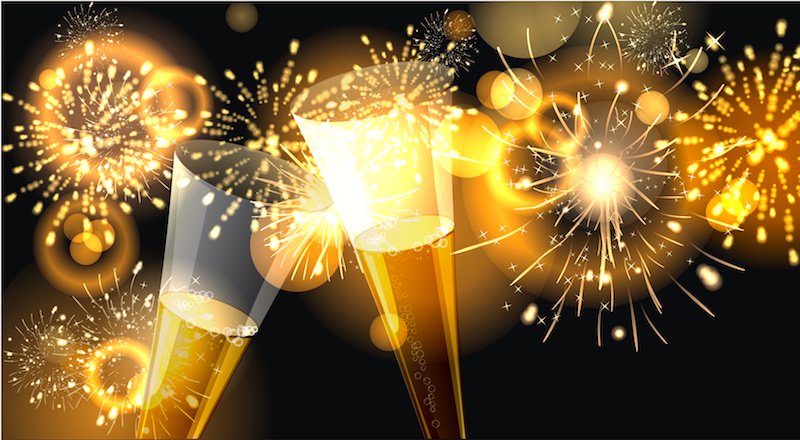 Welcome the New Year aboard the elegant yacht Northern Lights on these special New Year's Eve and New Year's Day cruises around Boston Harbor:
New Year's Eve Cruise - Say goodbye to 2022 and welcome 2023 on this festive Boston Harbor cruise with music and gourmet appetizers; purchase the beverage of your choice onboard - or pre-order a bottle of Moet & Chandon when you book - Book now
New Year's Day Brunch Cruise - Welcome the New Year with a tasty hot 3-course brunch on this relaxing sightseeing tour around Boston Harbor - Book now
These cruises always sell out early - so don't wait to make your reservations!
---
Holiday Decorations Tour: Downtown Boston Lobbies - 2022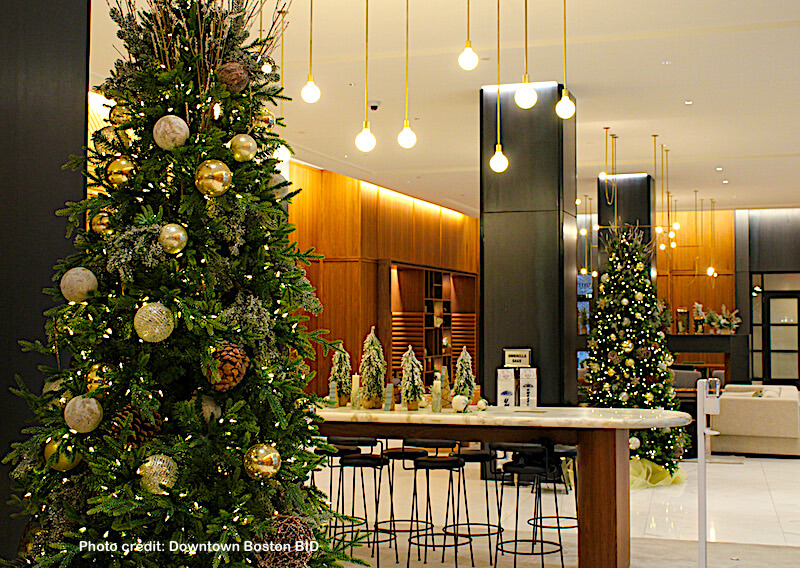 Did you know that some of Downtown Boston's most festive holiday decorations are in hotel and office building lobbies? You are invited to drop in and check them all out when you're in the neighborhood for shopping, theater, or entertainment, and vote for your favorite from December 5 - 16.
Participants include The Godfrey Hotel (505 Washington Street), The Parker House Hotel (60 Summer Street), and office buildings at 155 Federal, 100 Federal, 75-101 Federal, 160 Federal Street, 1 Federal Street, 99 Summer, 100 Summer Street, 75 State Street, 100 High Street, and 125 Summer Street.
Please note that some buildings may be closed to the public on the weekend (Dec. 10 & 11).
---
First Night Celebration 2023 - New Year's Eve & New Year's Day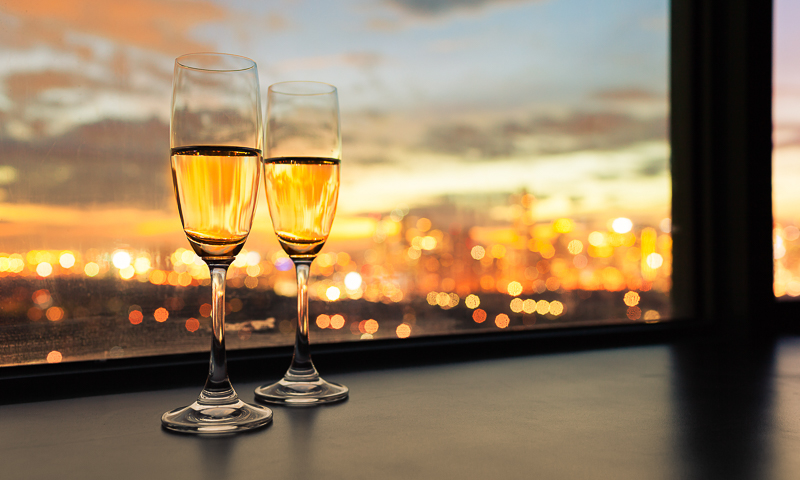 Over 1 million people typically turn out for Boston's gala First Night celebration to welcome the coming New Year.
This day-long, alcohol-free event features ice sculptures, fireworks, crafts, performances, entertainers, and a grand parade filled with costumed entertainers. Find out more!
More New Year's Eve Events in Boston
New Year's Eve Parties in Boston
---
Bruins Home Games @ TD Garden - December 2022
Get your Boston Bruins tickets for December home games, and head over to TD Garden for some fast action on the ice.
The Garden's convenient location next to North Station and close to Faneuil Marketplace makes it super-easy to get to.
Don't miss this chance to see Boston's hockey team, winner of 6 Stanley Cup championships!
Enter DISCOVERY 10 to save 10% on TicketLiquidator & TicketNetwork tickets
Find Bruins schedule & tickets for all December home games at the Garden
Find Bruins schedule & tickets for all home games
More about TD Garden: Schedule, directions, best ticket prices
---
Hotels near TD Garden
Coming to an event at the Garden? Spend the night or the weekend at a nearby hotel, such as the glamorous Onyx (shown in photo), part of the Kimpton hotel family: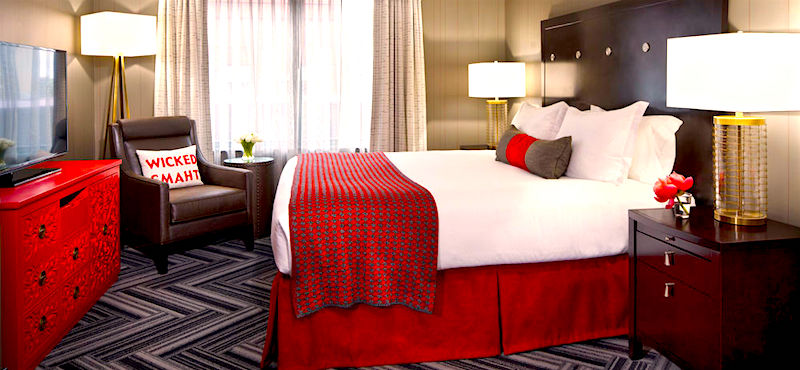 More top hotels near the Garden:
Check out more hotels near TD Garden
---
Holiday Concerts, Shows, & Performances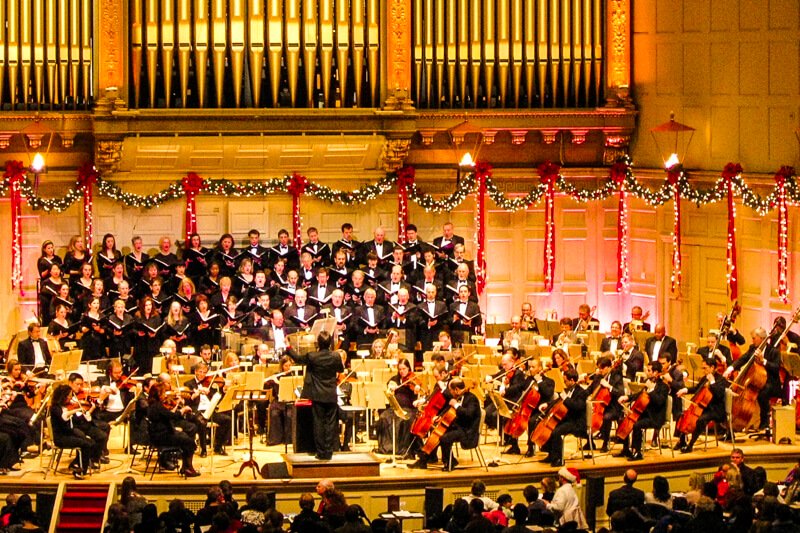 Boston Holiday Pops Concerts in Symphony Hall throughout the Boston Christmas season provide the perfect chance to sing along with old favorites, be photographed with Santa, and hear the special holiday music conducted by Keith Lockhart.
Lots of other special musical performances and shows also take place throughout December, such as these:
---
Celtics Basketball at TD Garden - December 2022
Get your Boston Celtics tickets for December home games, and head over to TD Garden for some fast action on the court.
The Garden's convenient location next to North Station and close to Faneuil Marketplace makes it super-easy to get to.
Get ready for plenty of action at the net from Boston's champion basketball team.
Enter DISCOVERY 10 to save 10% on TicketLiquidator & TicketNetwork tickets
Find schedule & tickets for all Celtics games
Nearest public transportation: Green Line/Orange Line or Commuter Rail to North Station, next to the Garden
Where to stay: Hotels near TD Garden
---
Holiday Tree Lighting Ceremonies in Boston in December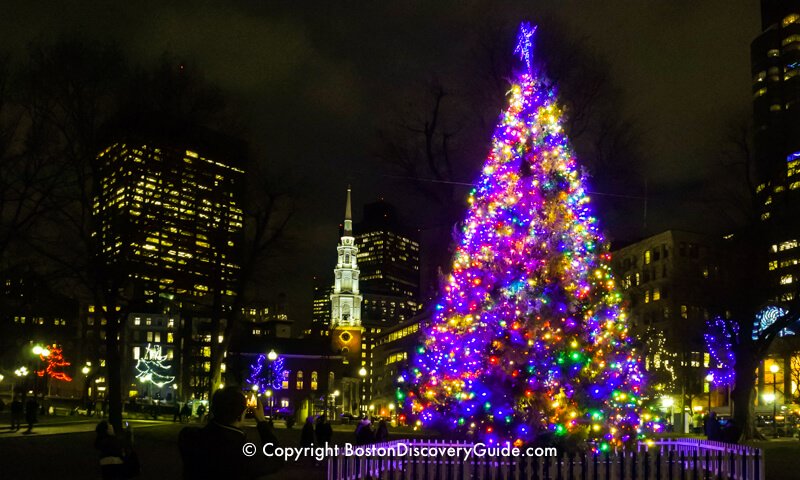 Christmas tree lighting ceremonies in Boston during November and December signal the "official" start of the holiday season.
These festive occasions are fun to attend and the lights are spectacular!
Find the complete schedule with dates, times, and locations for the exciting Holiday Lighting Ceremonies taking place in December
More about where to see special holiday decorations in Boston
---
Hanukkah - The Festival of Lights in Boston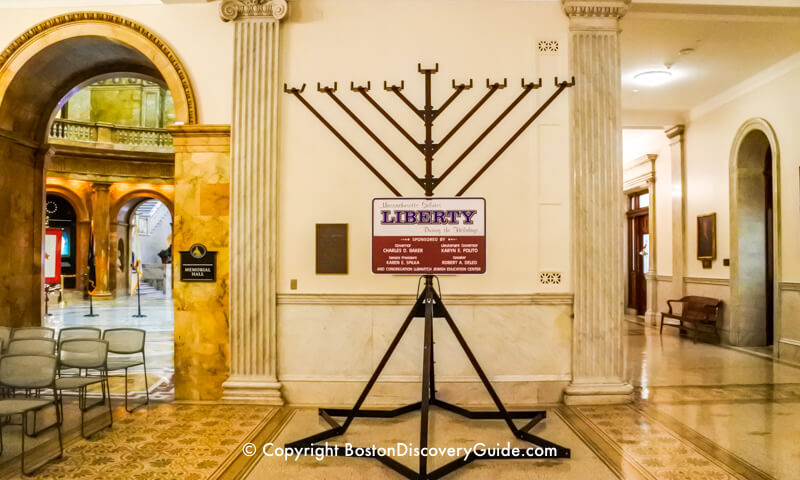 Hanukkah, the Jewish Festival of Lights, takes place from December 18-26 this year. To commemorate Hanukkah, public menorrah lightings take place at various Boston sites to mirror the celebrations also happening in private homes and synagogues around the city.
Look for one of New England's tallest menorah at Brewer Fountain on Boston Common. A lighting ceremony of the first branch of the candelabra takes place on December 18 at 4pm, with special guests, live music, holiday treats, and warm beverages. Lightings on the following evenings mostly take place at 4pm. (date and time to be confirmed)
Other places in Boston to see nightly lightings of public menorahs during Chanukah include the Massachusetts State House, Seaport, Copley Place Mall (with live music, kosher wine tasting, and a latke bar), and the BCA Plaza (539 Tremont St) in the South End. All events are free. Details
The Museum of Fine Arts hosts a Hanukkah celebration on December 15 at 5-10pm - Registration required
Vilna Shul (18 Phillips Street, Beacon Hill) hosts a special Hanukkah A Cappella concert this year. Vilna Shul, which has the only examples of prewar Jewish mural art in the U.S. and is the only remaining intact immigrant-era synagogue in Boston, is a cultural center and home to monthly Kabbalah Shabbat services. Details
---
Chef's Table Food & Wine Pairing Events at Bonde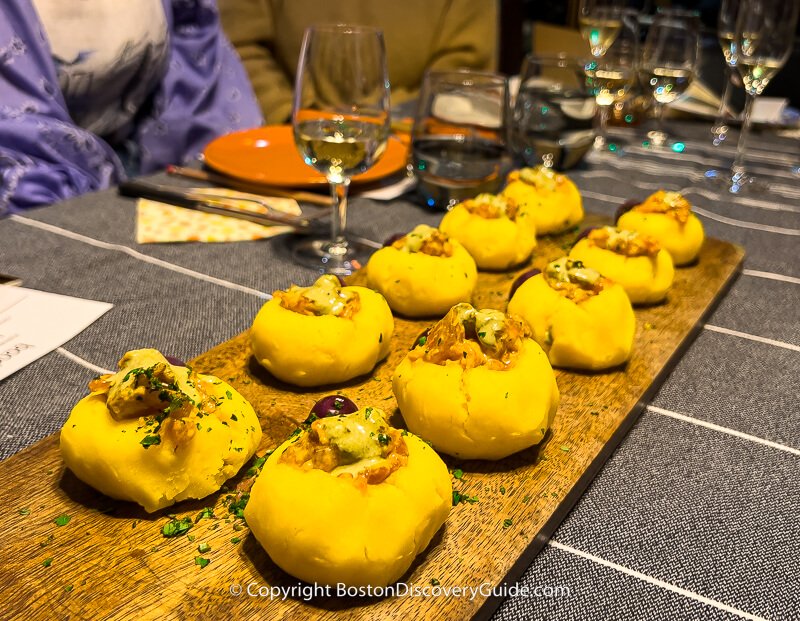 Get ready to savor superb small-production American wines paired with cuisine from top local restaurants when Bonde Fine Wines' owner/sommelier Bertil Jean-Chronberg teams up with chefs at some of the area's best restaurants to present weekly wine and food pairings. You'll enjoy a flight of four special wines accompanied by small plates of complementary food as you learn about the 5 key things to consider when doing your own pairings. Here's the lineup for December:
Dec 7: Chocolate-centric wine tasting featuring Cabernet Sauvignon and dessert wines such as port
Dec 14: A festive Chardonnay-themed tasting and food pairing
Bonde also offers 45-minute wine and food tastings on Sunday afternoons; see the website for details
Location: 54 Church Street, Harvard Square, Cambridge
Time: Wednesday evenings, 7pm-9pm
Cost: $85; sessions limited to 8 participants; reservations required
More information and reservations: Bonde website
More about where to find wine tastings in Boston
---
The Nutcracker Ballet at the Opera House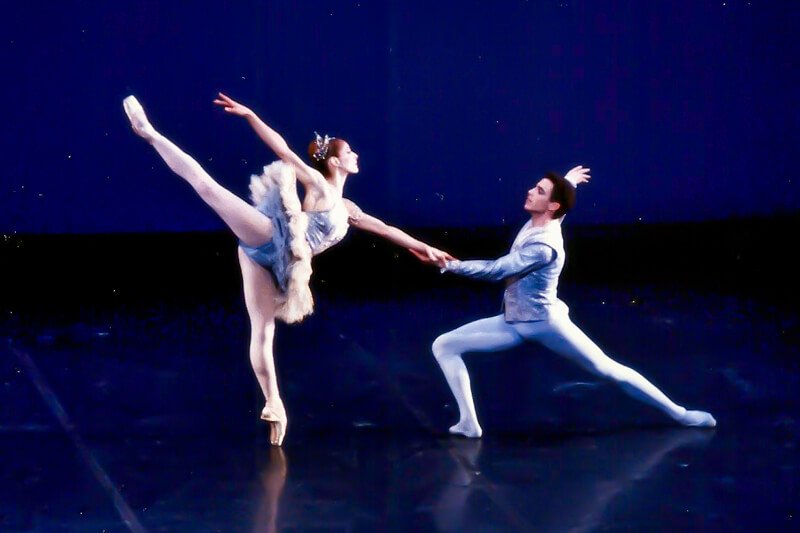 Attending a performance of The Nutcracker is a holiday tradition in Boston, and for good reason.
Enjoy the magic as Clara, the Sugar Plum Fairy, and all the other dancers twirl around the stage as Tchaikovsky's music soars in Boston's gorgeous Opera House.
Nutcraker Schedule & Tickets
Enter DISCOVERY 10 to save 10% on TicketLiquidator & TicketNetwork tickets
See All Nutcracker Dates/Times in Boston
---
New England Patriots at Gillette Stadium - December
The New England Patriots play only one home game at Gillette Stadium during December - so don't miss it!
Get your tickets now, and get ready to join in the fun!
Enter DISCOVERY 10 to save 10% on TicketLiquidator & TicketNetwork tickets
Where: Gillette Stadium
Getting there: The Patriot Train - plus more ways to get to Gillette from Boston
Where to stay: Hotels near Gillette Stadium
Tickets: Check for great prices, great seats, and sometimes discounts
---
Holiday Pops from Boston Pops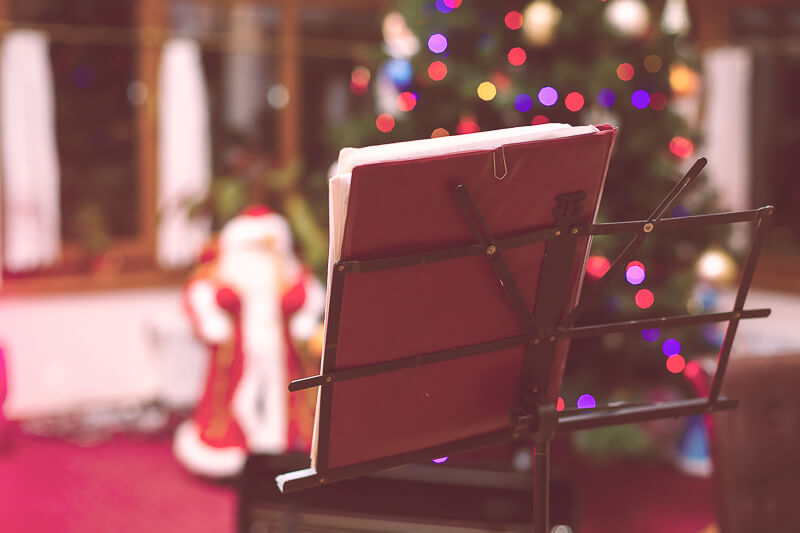 Conductor Keith Lockhart and the Boston Pops present the beloved annual Holiday Pops concert at Boston's Symphony Hall.
You'll get to hear and see all your favorites:  the Pops' classic "Sleigh Ride" and "Twelve Days of Christmas," jazzy arrangements of traditional favorites, "O Holy Night," "Home for the Holidays," a virtual performance with the Tanglewood Festival Chorus, and a special new reading of "A Visit from St. Nicholas" ("'Twas the Night Before Christmas").
Tickets:
Enter DISCOVERY 10 to save 10% on TicketLiquidator & TicketNetwork tickets
Find more Holiday Pops performances at Symphony Hall
Another way to get in the mood for Christmas: listen to A Christmas Festival by the Boston Pops, which includes many favorites such as Winter Wonderland, White Christmas, and more (Amazon ad).
---
More Boston Concert Tickets
More Concerts & Shows for December
Boston Concerts & Shows throughout the Year
---
Fun Ways to See Boston
---
Snowport: Winter Holiday Market in Boston's Seaport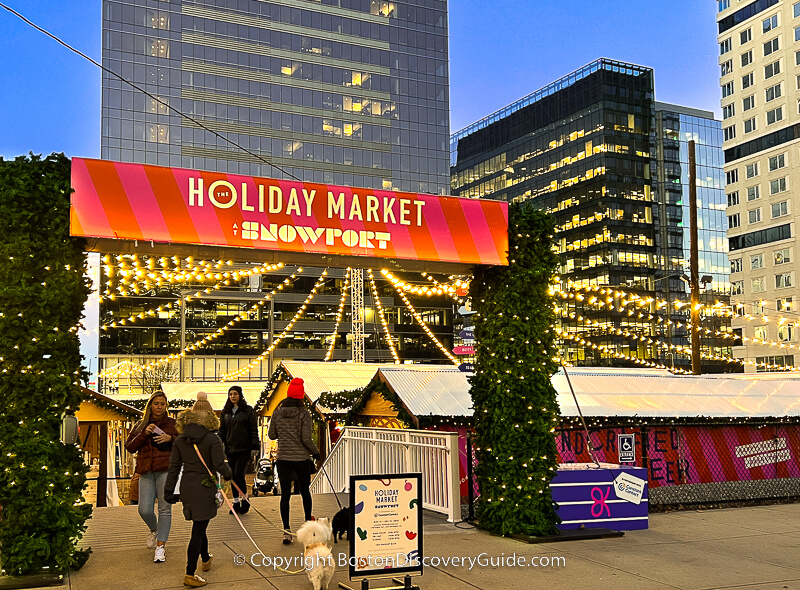 Seaport's popular European-style Winter Holiday Market at Snowport returns from November 11 through January 2 to light up the holiday season with shopping, fun activities, food, and beverages.
The market showcases 120+ small businesses selling art, jewelry, home goods, apparel, and other gifts and crafts, plus seasonal treats such as hot chocolate, freshly-made waffles, craft beer, and more from 19 different food and beverage spots.
As you walk around, you'll have the opportunities to chat with the makers about their creations. Many are from the Boston area, as well as other New England states.
In addition, there will be lots of fun activities and events such as iceless curling, fun games, a tree market, and the "Light Up Seaport" holiday tree lighting celebration.
Seaport's Snowport this year is more than twice the size of previous years, and tons of fun - so don't miss it!
Find out about all of Boston's fun holiday markets, dates, hours
---
Candlelit Labyrinth Walk on the Greenway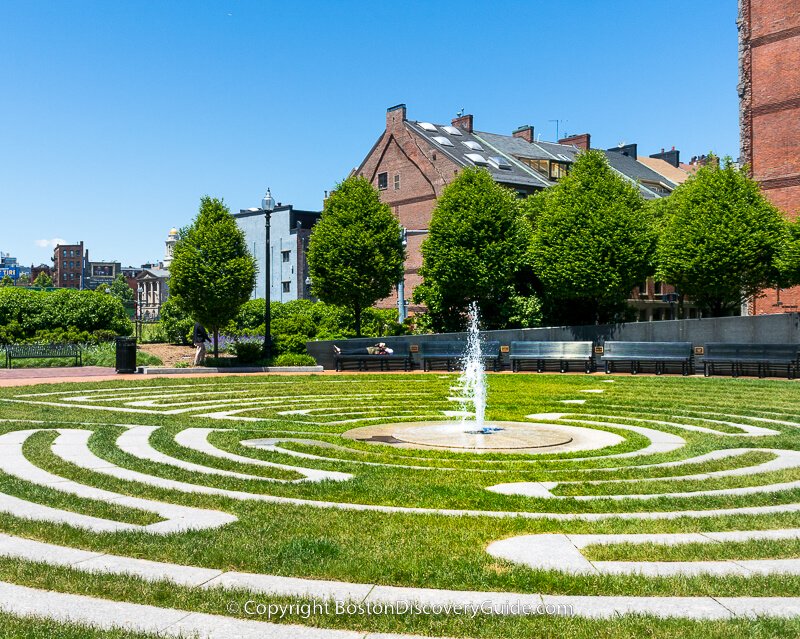 Join the Friends of the Armenian Heritage Park on the Rose Kennedy Greenway for a Candlelit Peace & Harmony Walk around the park's Labyrinth at 4:45pm on Sunday, December 11.
The Boston Children's Chorus will perform at 5pm, and hot chocolate and cookies will be available for your enjoyment. You can also tie a ribbon on the wishing tree.
If possible, please share the warmth by brining a winter hat, scarf, or gloves to donate to the group's ABCD Winter Drive.
---
Save Big $$$s on Boston Museums and More Top Attractions
Find out how a Boston Discount Card gives you free entrance to museums and lots of other attractions every day while your card is valid - plus you get to go straight to the head of the line.
---
The Immersive Nutcraker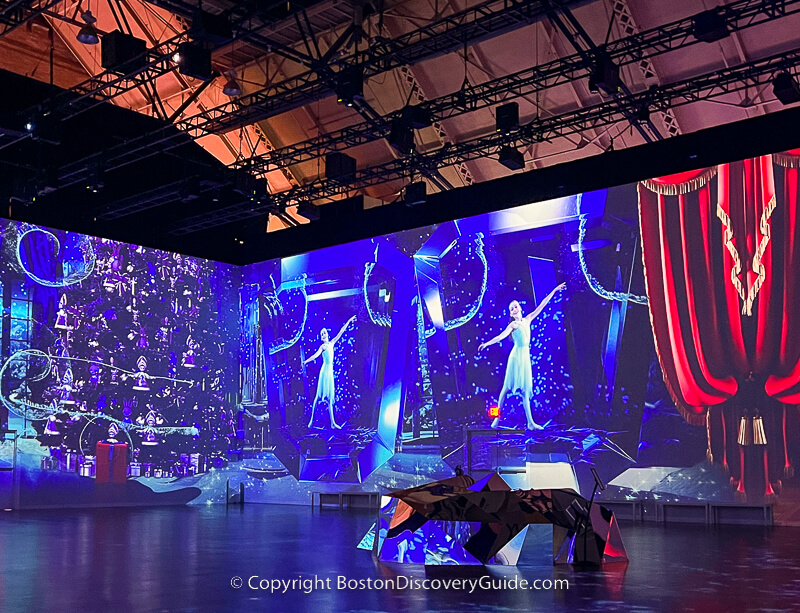 The Immersive Nutcracker: A Winter Miracle combines stirring music selections from Tchaikovsky's Nutcracker Suite with immersive projections of video and animations for a festive holiday experience for the whole family. Benches scattered along the walls provide some seating, but don't be surprised to see kids (and adults) dancing along with the show in the ballroom-sized space.
The show lasts 30 minutes and is currently playing at Boston's Lighthouse ArtSpace at The Saunders Castle, 130 Columbus Ave, now through January 1. Book your tickets online in advance to get your preferred date/timeslot.
---
Globe Santa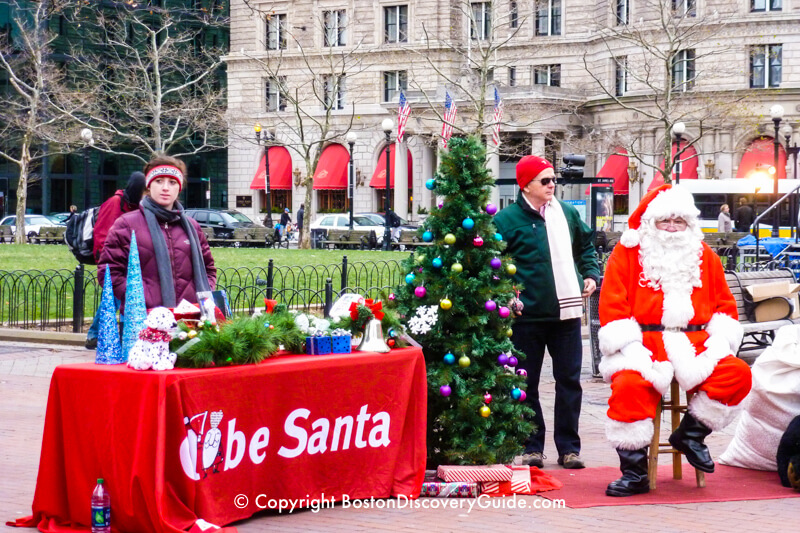 Want to meet Globe Santa? You can find him (or her) in various places and events around Boston during December, such as Copley Square (shown in photo).
More important...want to help Globe Santa raises fund for Boston's neediest children, one of Boston's best holiday traditions?
100% of all donations go to purchase and deliver holiday gifts for Boston families in need. More about donating
More about Christmas in Boston
---
Not Sure about Boston Neighborhood Locations?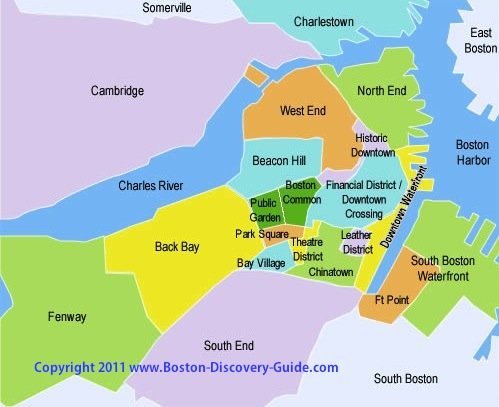 This neighborhood map should help you get oriented. You can find a list of top attractions in each neighborhood here.
Need a more details? Here are our favorite free and low-cost Boston maps.
---
New Year's Eve Special Packages at Boston Hotels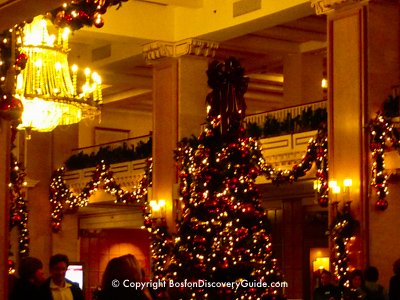 Special New Year's Eve Boston hotel packages give you elegant accommodations to enjoy when the night's festivities end, plus a tantalizing array of complimentary amenities and meals. Some even let you add on extra nights at discounted rates.
What's on offer? Look for specials like the "New Year's Eve Rest and Recovery" package at the Langham including a "Recovery Brunch" at Cafe Fleuri on New Year's Day. Other hotels offer special dinners, even gala parties. (Note: These packages are from last year - look for specials to be announced in early December.)
Each special package is unique - so check out each one to see which you like best! And remember, you can also book at the regular rates, usually at their lowest levels during winter months.
Check out New Year's Eve hotel specials in Boston
---
Black Nativity
Another beloved Boston Christmas tradition is Harlem Renaissance poet Langston Hughes' gospel song-play, Black Nativity, which has enchanted Boston audiences since 1970.
The original Nativity story comes to life in this marvelous production combining words, music, and dance, including traditional Christmas favorites sung in Gospel style.
From the moment the actors walk on stage singing "Go Tell it on the Mountain" to the final scene, you'll be captivated and enthralled.
Produced by the National Center of Afro-American Artists, this renowned holiday show features a large cast of professional singers, dancers, musicians, and actors, and returns again this year to the dazzling Paramount Theatre in Boston's downtown Theatre District.
Black Nativity Schedule & Tickets
Enter DISCOVERY 10 to save 10% on TicketLiquidator & TicketNetwork tickets
See All Black Nativity Dates & Tickets
---
Christmas Celtic Sojourn Dates & Tickets
Brian O'Donovan, host of classical music radio station WGBH's popular Celtic Sojourn program, presents an afternoon or evening of Christmas Celtic Sojourn.
Performances feature fiddlers, pipers, percussionists, vocalists, and performers from Scotland, Ireland, and other Celtic lands as they present Christmas music and dance based on Celtic traditions.
Christmas Celtic Sojourn Dates & Tickets
Enter DISCOVERY 10 to save 10% on TicketLiquidator & TicketNetwork tickets
See dates tickets for all Christmas Celtic Sojourn performances
---
249th Boston Tea Party Reenactment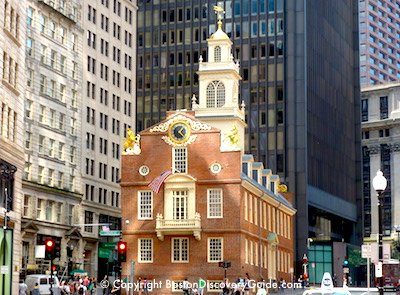 Celebrate the anniversary of the Boston Tea Party - take on the role of a Patriot or a Loyalist as you join more than 100 reenactors to bring to life the famous tax protest that sparked a revolution.
Events begin at Old South Meeting House, where over 100 volunteer reenactors portray Patriots such as Samuel Adams, Paul Revere, and John Hancock as they recreate the events of Dec. 16, 1773, when more than 5,000 colonists gathered here to voice concerns on a moonlit night.
After the debate, you can join the procession, complete with fifes and drums, down to Griffin's Wharf, and watch as the tea is dumped into Boston Harbor.
When: December 16, 5pm (rain or shine)
Where: Old South Meeting House
Closest T station: Red and Orange Line/Downtown Crossing; Orange and Blue Line/State
Parking: Use the Boston Common Garage and walk over - maybe an 8-10 minutes , or check out Boston garages near Government Center
Cost: $30 (plus service fee) with reduced prices for children and seniors; includes access to both the Old State House and Old South Meeting House
More information and tickets: website
---
2 Easy Ways to Save BIG in Boston on Museums & Attractions
Best way to save in Boston. Save up to 50% when you visit the New England Aquarium, Museum of Science, Museum of Fine Arts, Fenway Park Tour, and more. Compare to find out which one is best for you.
---
Boston Hotels Special Packages for December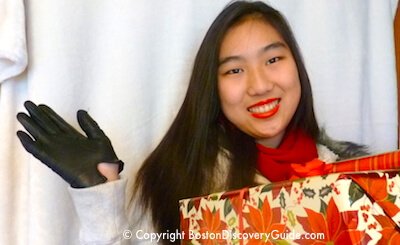 Colonnade Boston: Retail Therapy Package - Stay at the Colonnade Hotel and get a discount booklet for 500+ stores at nearby Shops at Prudential Center and Copley Place Mall, overnight parking, and overnight accommodations for two. Promo code: RETTHER
Compare rates and book your room
Boston Marriott Copley Place "Dine & Shop" Package - Stay Thursday through Sunday and get deluxe accommodations, breakfast for two each morning at Champions, a $50 gift card per each night's stay to Copley Place Mall, and complimentary valet parking. Good through December 31. Promo code: YX1
Compare rates and reserve now
---
North End Christmas Parade
Look for Santa, clowns, and favorite characters at the North End's annual Christmas Parade on Sunday, December 11 (bad weather date: Dec 18), at approximately 12:30pm.
Starting at Puopolo Field on Commercial Street where Santa arrives by helicopter, the parade marches around neighborhood streets. Look for marching bands and plenty of good cheer during this festive event, a North End tradition for half a century.
---
Boston Baroque Performs Handel's Messiah
When & Where: December 3 at 7:30, GBH's Calderwood Studio, and Dec 4 at 30m, at Jordan Hall
More information and tickets: Boston Baroque's website
Musical Director Martin Pearlman's Grammy-nominated production of Handel's Messiah for a spell-binding experience.
Adding to the experience are Boston Baroque's period instruments, plus the splendor of Jordan Hall's perfect acoustics. Attending a performance of Messiah is a Boston Christmas tradition for many people, and this production is always among the very best.
---
Boston Discount Passes for Attractions, Tours, Cruises
Why pay full price for top Boston attractions such as the New England Aquarium, Museum of Fine Arts, Fenway Park Tours, Boston Harbor Cruises, and much more?
Boston Discount Cards are the best deal in town. Select Boston CityPass to see Boston's Top Attractions at a leisurely pace, or choose the GoBoston card (you pick how many days) to see 50+ attractions, tours, cruises, and day trips.
---
Midwinter Revels: A Solstice Celebration
When: December 16-28 - matinees and evening shows
Where: Sanders Theatre in Memorial Hall, Harvard University, Cambridge, MA
Closest T station: Red Line/Harvard Square
Tickets: Revels website
Since 1971, the Christmas Revels Boston have used music and dance to explore winter solstice traditions from different cultural perspectives. The theme this year is "Midwinter Revels." You'll be transported as the Revels recreate Christmas Eve on Ellis Island of the 1920s, when Irish Catholic and European Jewish families shared their music and stories.
---
Holiday Strolls
Get your holiday shopping done, enjoy some good cheer, and feel the spirit of the season in these fun holiday strolls in favorite Boston neighborhoods.
These popular events are slowly returning post-pandemic. Here's what we know so far:
Boston's South End Stroll - Dec 3, 4 - More information. Come for the weekend and enjoy a stay in the sleek new Alise Hotel in the heart of the South End - Check rates
Beacon Hill Holiday Stroll - Dec 1, 6pm-9pm, on Charles Street. Look for festive holiday decorations at all the eclectic boutiques, galleries, and restaurants, with free snacks and beverages. Pictures with Santa from 3-5pm at Hill House (127 Mt Vernon Street), followed by tree lighting at 7pm at Charles and Mount Vernon Streets, with musical entertainment by the Back Bay Ringers, Beacon Hill Village Carolers, Brass Quartet, and the John Everett Band. More information
South Boston Christmas Stroll - December 1, starting at 4pm, with a Santa Claus process along East and West Broadway, performances by the Original Dickens Carolers (4-6pm, E Broadway; 5-7pm, W Broadway), and free pedicab rides from 5:30-7:30 to take you to your favorite shops - More information
---
"The Ice" at Faneuil Hall Marketplace - TBD
Come celebrate the New Year by enjoying "The Ice" - Faneuil Hall Marketplace's own interactive ice sculpture to ring in the New Year on December 31.
Don't worry if the weather is frosty - all the festive holiday lights will make you feel warm, and in addition to enjoying post-holiday sales, you'll find many inviting restaurants and pubs where you can warm up. And don't forget, several of Boston's oldest historic pubs and Colonial-period taverns are right around the corner.
---
Museum of Science Exhibits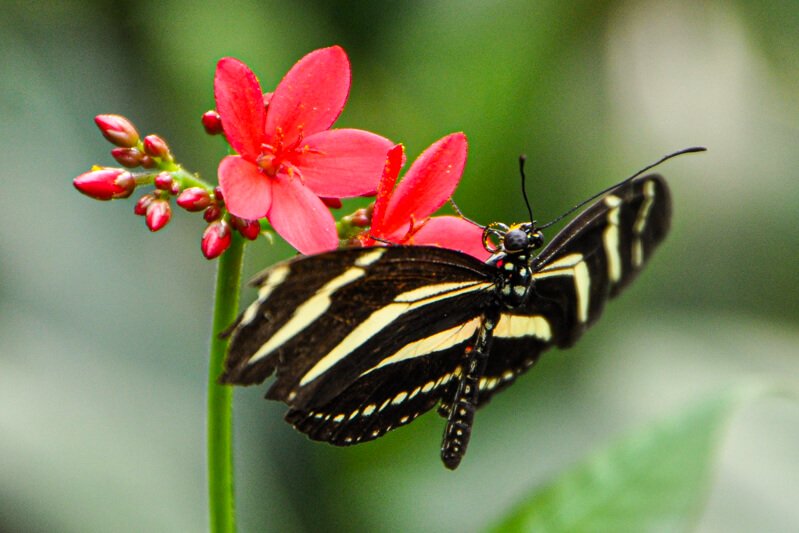 Special Exhibits
New England Climate Stories - Meet fascinating New England animals
All Aboard! Trains at Science Park - Visit miniature landscapes with fantasic model trains - through January 16
Gaia - View our planet in a new way through UK artist Luke Jerram's artwork with NASA images of Earth's surface
Mental Health: Mind Matters - Get insights into understanding mental health through this interactive exhibit
With fascinating permanent exhibits for all ages, there's always something to see, do, and learn. Here are just a few of the most popular: Engineering Design Workshop, Colossal Fossil: Triceratops Cliff, Cosmic Light, Dinosaurs, Arctic Adventure, Hall of Human Life, Live Animal Care Center, Mathematica, Exploring AI, Natural Mysteries, New England Habitats, Project Vaccine.
Where: Boston's Museum of Science
When: Daily, 9am-5pm; open until 9pm on Fridays
Admission: $29 general museum admission ($24 for kids; children under 3 free). Get free museum admission when you have a GoBoston Discount card or Boston CityPASS card.
Imax Theater and Planetarium: Additional fees apply
---
Santa Speedo Run on Newbury Street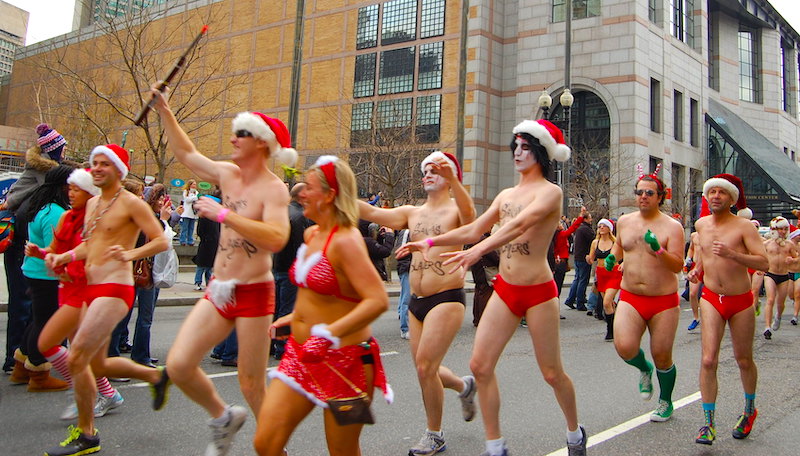 No word yet on whether this will take place this year. The information below is from previous years.
In case you need an extra incentive to do your holiday shopping, the annual Santa Speedo Run may be just what you're looking for as 700 scantily-clad Santas complete a 1-mile jog to raise money for the Play Ball Foundation, a charity which brings sports and team-building skills to Boston, Lawrence, and Holyoke middle-schoolers. The goal this year is $250,000.
The run will be different this year, as the event has grown and the number of middle school sports programs have expanded. It will take place on two Saturdays - December 4th and 11th - in various locations across the Commonwealth.
Runners (must be 21+) can register for the Santa Speedo Run here.
Check back later for Boston-area locations, dates, and times.
---
Blink! Holiday Light Show at Faneuil Market - NOT in 2022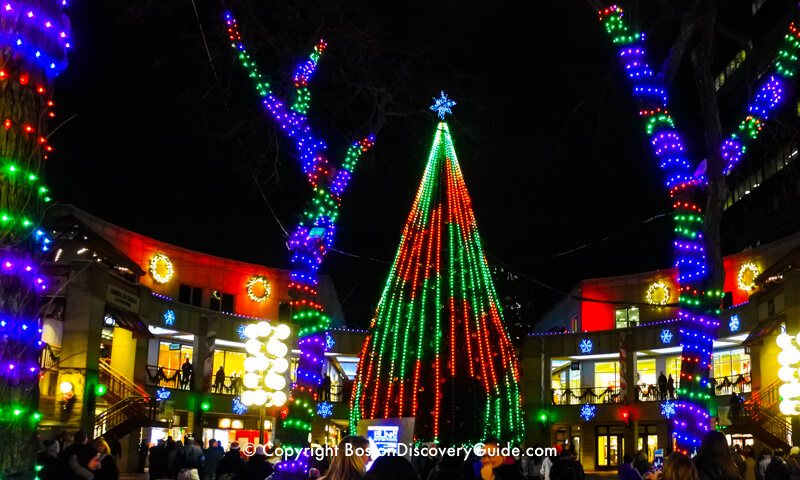 NOT happening this year - but rumored to be returning next year, so we're leaving the following information up in case you want to plan ahead:
Blink! combines 350,000 flashing LED lights and popular holiday music to set Faneuil Hall Marketplace ablaze every evening through early January. The all-new show this year is even more fabulous than before!
Catch the free show, which runs 12 times between 4:30pm and 10pm, as you stroll around the country's open-air marketplace, site of the largest Christmas tree in New England.
Faneuil Marketplace also offers excellent shopping opportunities - lots of unique "only in Boston" boutiques mixed in with larger national chains where you'll often see "40% off" signs.
Check the exact dates and times for Blink! and other Christmas tree lighting events
---
More Holiday Events in Boston
---
Questions & Answers about Christmas in Boston
Romantic Things to Do in Boston during the Christmas Holidays
Hello!  My name is Shelly. I moved to Massachusetts about a year ago but I don't know much about the state. My boyfriend of three years lives in Florida and he is coming to visit for the Christmas holidays . . . More
---
More to Do in Boston in December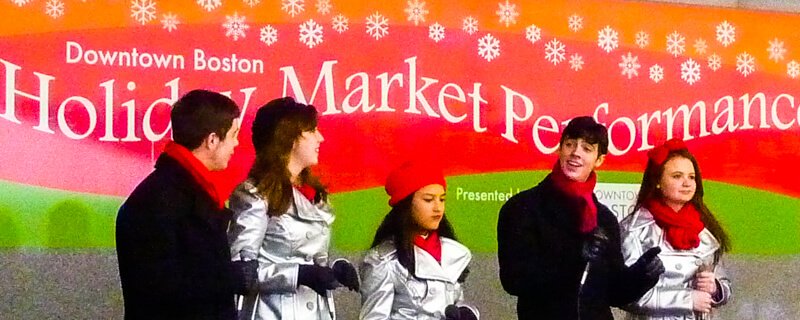 ---
More to See and Do in Boston during December
---
Check Out More Top Boston Events Each Month
January | February | March | April | May | June | July | August | September | October | November | December | Year at a Glance
---
---
Find a Hotel for Your Boston Visit
Enter your dates to see available hotels and rates: