More than 11 thousand elite athletes compete in Boston's Head of the Charles Regatta, the world's biggest 2-day rowing (sometimes called "sculling" or just "crew") event.
Held on the 3rd weekend in October when fall foliage colors begin to peak along the Charles River where the races take place, the Head of the Charles Regatta attracts top rowers from Boston and around the world.
If you are coming to watch, you'll be part of a massive crowd of up to 300,000 spectators lining both sides of the river plus nearby bridges.
Please note: Due to the coronavirus pandemic, the Head of the Charles Regatta will take place this year as a remote event. For details about how to participate and/or watch, please see the event website.
This year marks the epic event's 55th anniversary.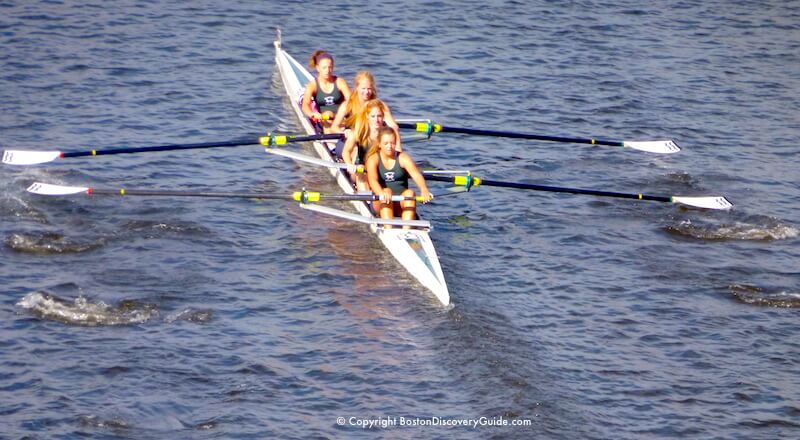 What to Expect at the Head of the Charles Regatta
With more than 60 exciting events involving almost 2,000 boats over the 2-day period, there's plenty to watch. If you know someone who's racing, the regatta is super-exciting.
Otherwise, it's simply a perfect excuse to be outside enjoying the October weather. The 3-mile race starts at Boston University's DeWolfe Boathouse near the BU bridge and finishes just past the Eliot Bridge by the Artesani Playground in Brighton.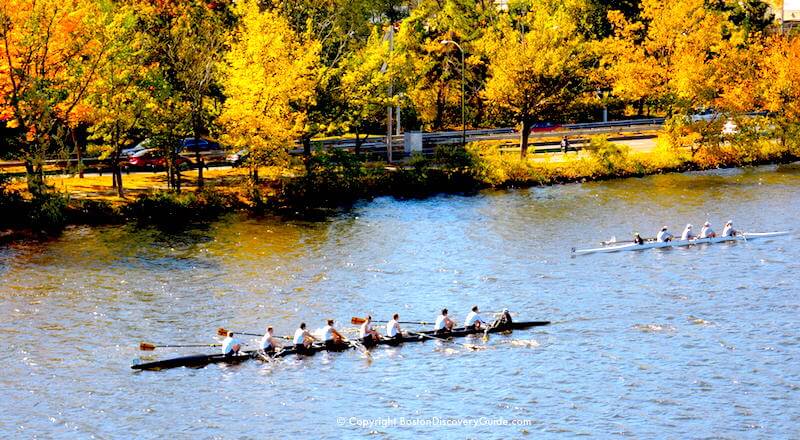 Three members of the Cambridge Boat Club started the Head of the Charles Regatta back in 1965, and the race has grown ever since. Members of racing clubs, college crew teams, and even high school teams converge to compete to be the best in their class.
A "head," in England, is a type of regatta, or boat race, in which boats depart at 15-second intervals on a 3-mile race. The winner of each race is called the "head" - or, in these races, the "Head of the Charles."
Race events start at roughly 15-second intervals - so it's an action-packed day with record-breaking numbers of sculls filling the river. At just about any time, you can see numerous boats on the water.
---
In addition to the races, the event features displays by boat builders, a rowing and fitness expo, other sponsors, and, of course, food and beverages.
Reunion Village, an area on the Boston side of the river between the Weeks and Anderson Bridges and filled with tents set up by participants and sponsors, provides a lively social and networking scene.
Many of the university and private boat houses along the river host open houses, which can be a lot of fun to visit, especially since many of the sponsors offer free giveaways.