Halloween in Salem Massachusetts is a month-long spree of haunted happenings, séances, ghouls, ghost stories, witches, pirates, vampires, and the macabre.
Salem starts decorating for Halloween in early fall. By October 1st, you'll see Halloween decorations everywhere you look. Even better, all the Halloween special attractions, shows, and things to do are open, and continue welcoming guests all month.
Although visiting Salem makes a fascinating day trip from Boston at any time of the year, going in October gives you the perfect opportunity to experience this quaint coastal city's darker past along with plenty of present-day fun.
Getting to Salem from Boston for a day trip or weekend adventure is easy, especially if you hop on the fast ferry from Boston's Long Wharf.
Once you arrive in Salem, you'll notice that everyone is wearing colorful costumes, wigs, and fanciful (or macabre) make-up - so make sure you wear yours!
---
Salem Halloween Haunted Happenings Marketplace, Tours, & Parade 2023
Haunted Happenings Grand Parade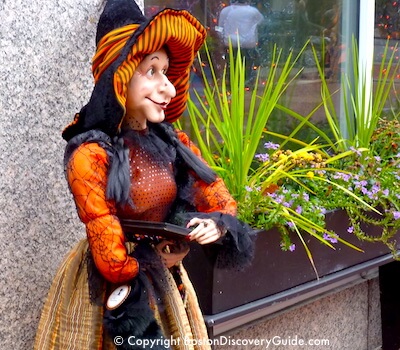 The annual Haunted Happenings Grand Parade kicks off the festivities for Halloween in Salem in early October with music, pageantry, and floats. The event, all performances, floats, vehicles, and displays will be stationary while attendees parade around the route, which includes the streets surrounding Salem Common and along Hawthorne Boulevard and Essex, Central, and Charter Streets.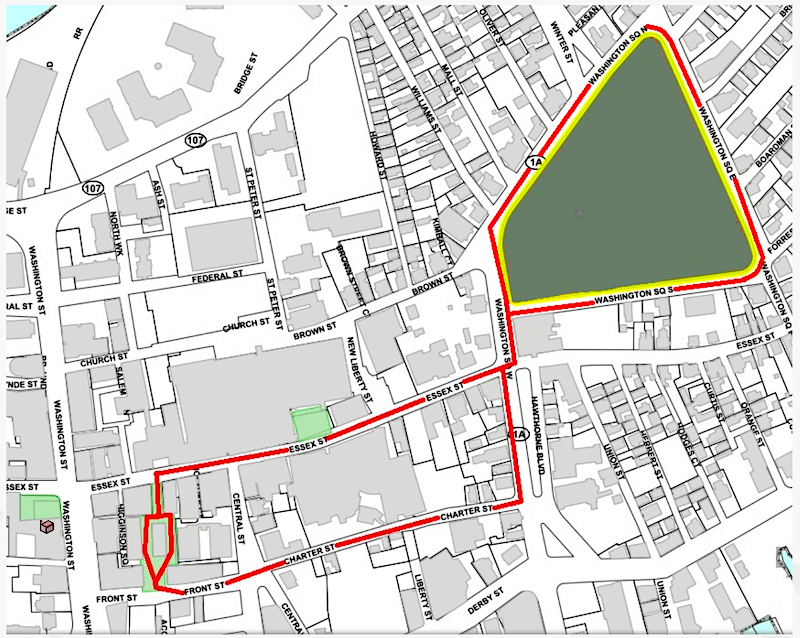 Come and stroll by this fun and (maybe) haunted spectacle - and be sure to wear your Halloween best!
The Parade normally takes place on the first Thursday evening of the month - but check the Boston Event Calendar for October to confirm the exact date and time.
Haunted Happenings Marketplace
The annual Haunted Happenings Grand Parade kicks off the festivities for Halloween in Salem in early October with music, pageantry, and costumed students from Salem schools marching from Shetland Park to Salem Common.
Come and watch - and be sure to wear your Halloween best.
The Parade usually takes place on the first Thursday evening of the month - but check the Boston Event Calendar for October for the exact date and time.
---
Haunted Salem Witch City Tours - Plus House of the Seven Gables
Spend the day soaking up witch trial history on this Guided Day Trip to Salem by Ferry with Witch Museum.
You will visit the Salem Witch Museum and learn about witchcraft and the historical reasons behind witchcraft panic that let to the witch trials in Salem, Boston, and other areas in New England.
After lunch on your own, you'll meet up with your guide again and go for a walking tour through Salem's historic area, where you'll learn more about the historical events that take place here and how the present day residents continue to honor the lasting legacy of the Witch Trials.
You'll also explore modern Salem with your guide and see all the fascinating storefronts, historical homes, the Bewitched statue, and more. Once the tour concludes, you can stay as long as you like for more explorations on your own before catching the ferry back to Boston.
Book your Salem Witch City Tour now
---
More Halloween Events & Things to Do in Salem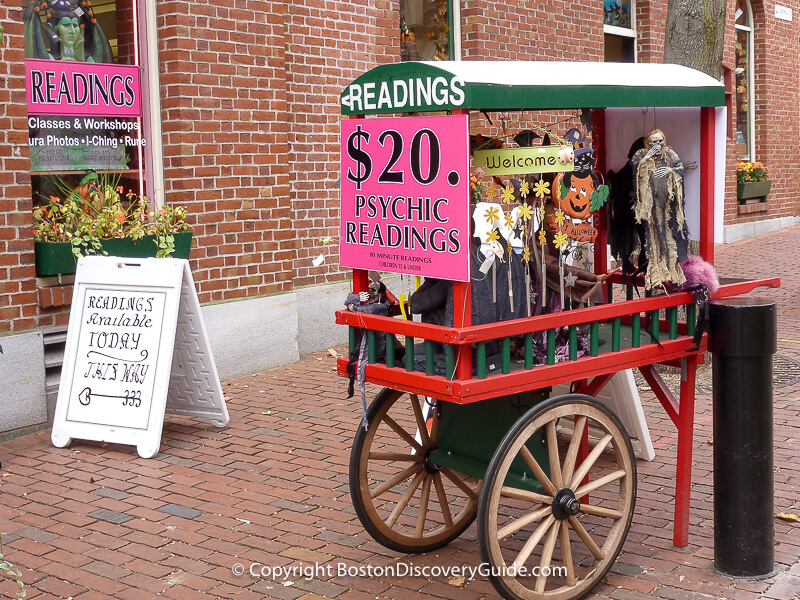 Throughout the month of October, numerous Halloween-related events such as pumpkin decorating, seances, haunted tours, and even a pet costume contest take place.
Many of these events are free while others charge admission fees.
Some events for Halloween in Salem are expertly done, while you'll cringe at how cheesy others are - but hey, it's all in good fun!
---
Salem Witch Museums: Which Ones Should You Visit on Halloween?
Witch museums abound in Salem. Once October arrives, they ramp up for Halloween with extra decorations, special effects, and blood-curdling screams.
Here's a quick guide to several top witch museums and ghoulish attractions. As you'll quickly discover, most focus more on chills and thrills rather than historical facts - so go expecting to maybe learn a couple of things but mostly just have fun.
Salem Witch Museum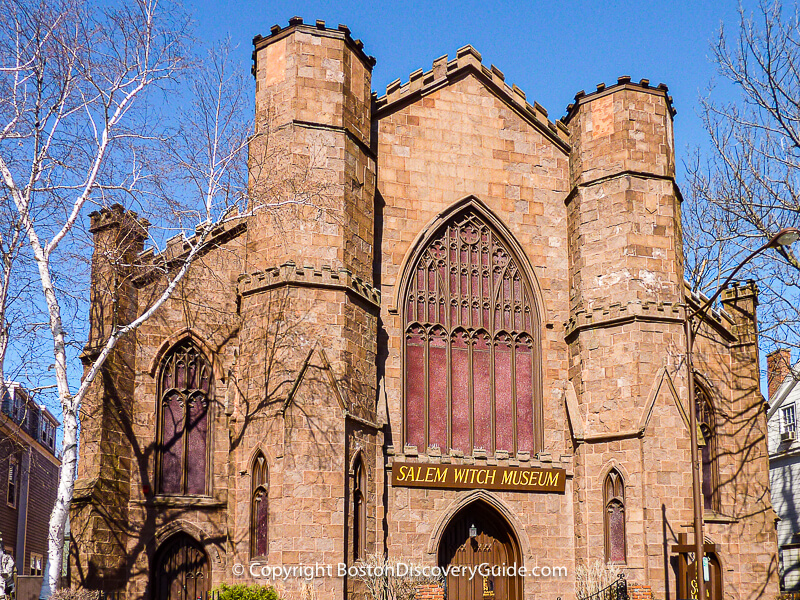 Located in an authentic old gothic church worthy of inclusion in any horror movie, the Salem Witch Museum is the oldest of the witch museums and claims to be the most visited.
You'll see a "living history" presentation as animated mannequins in 13 life-sized stages around an auditorium re-enact the sad drama leading up to the Salem witch trials and executions.
Then, museum staff with guide you through an exhibit with more life-sized stages where you'll see the evolution of the word "witch" from pagan times to today.
The visit takes about an hour and fifteen minutes in total.
Book your tickets to the Salem Witch Museum:
Salem Witch Village
Get ready for a guided tour of witchcraft through the centuries as you make your way through a "maze" of sets complete with mannequins, painted backdrops, and lights.
The tour guides' narrative focuses on what's a witch, and what isn't, with lots of detail about present-day wiccans. You'll also learn a bit about about Salem in 1692. Aside from the rather creepy fake spiders dangling in corners, Salem Witch Village normally focuses on delivering information rather than fright.
But on October weekends, the emphasis shifts to Halloween as Salem Witch Village becomes Haunted Witch Village where ghouls and goblins do their best to scare the visitors.
Location: 282 Derby Street
More ways to explore the darker side of Salem:
---
Salem Wax Museum and Frankenstein's Laboratory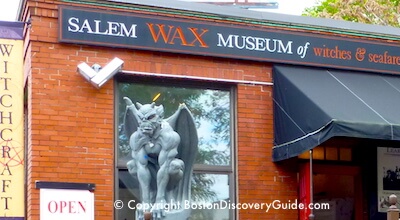 If you're a fan of wax museums, you'll probably enjoy the London-made figures in the Salem Wax Museum depicting local history from Salem's founding in 1626 through the witch hysteria of 1692.
As a bonus, the museum also features other locals - Scarlet Letter author Nathaniel Hawthorne, bands of pirates, and more.
Down in the dungeon - that is, the basement - you'll visit Frankenstein's Laboratory . . . if you can make your way through a maze, past grave robbers, and avoid the bats.
Location: 288 Derby Street
---
More Experiences in Salem: Ghosts, Vampires, and Murder Mysteries
---
4 Ways to Get to Salem from Boston
Newburyport/Rockport Commuter Rail from North Station
#450 bus from Haymarket T Station
---
---
What Caused the Salem Witch Trials?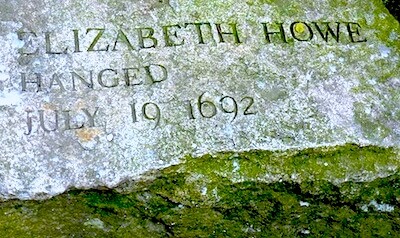 Salem's obsession with the supernatural started back in 1692, when two local girls accused their neighbors of being witches and the town exploded with hysteria.
Over the next 15 months, the Salem witchcraft trials left 20 people and 2 dogs - believed to possess "the evil eye" - dead, and hundreds more imprisoned.
Although the persecution of witches died down as soon as it started and became regarded as shameful over the next couple of centuries, Salem has been promoting itself as "Witch City" for well over 100 years.
Today, Salem is home to an active Wiccan community - and the center of a festival throughout October celebrating its haunted past.
---
Want to Spend More Time in Salem?
Check out our recommendations for Salem hotels, and use this Salem hotel map to find other great deals (enter your travel dates to get accurate rates)

---
Spooky Salem Tours
---
More to Do in Boston in October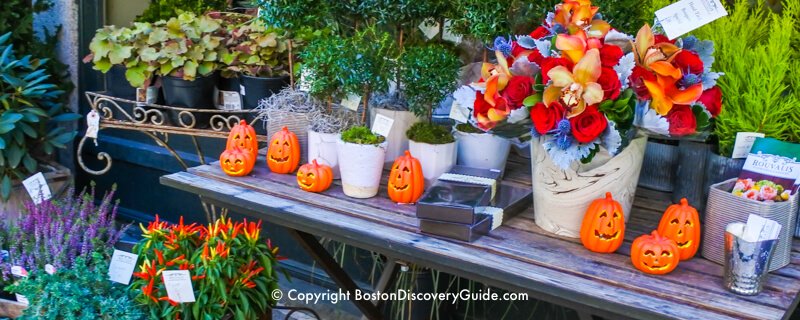 ---
---
Check Out More Top Boston Events Each Month
January | February | March | April | May | June | July | August | September | October | November | December | Year at a Glance