Boston's subway system - locally we call it the "T" - is the easiest and cheapest way to get around the city, aside from walking.
It can also be the most frustrating.
Trains get crowded, and sometimes break down.
Service can be less frequent than you'd like during off-peak hours and weekends. And the last trains leave the station soon after midnight.
A fast, heavy snowstorm brings above-ground sections of the T to a halt. Severe winter weather - an almost annual occurance in Boston - brings the subway system to a halt. So does ... well, plenty of other things.
And the Green Line - which uses trolleys, not trains - is notoriously slow.
Boston's subway system dates back to 1897, making it the oldest in the United States. Once you ride on it, this fact will not surprise you.
Compared with newer subway systems in other American cities and around the world, ours is downright shabby.
But if you are visiting Boston, you can (usually) find a lot to love about getting around on the T.
Top photo: The T's Red Line crossing over Storrow Drive on its way to Cambridge; Photo: copyright Boston Discovery Guide
Boston Discovery Guide is a reader-supported publication. When you buy through our links, we may earn a commission at no additional cost for you. Learn more
---
So Why Take Boston's Subway?
Despite the T's quirks and shortcomings, reasons for using it for transportation far outweigh the inconveniences:
You can easily reach most tourist attractions by T
By taking the subway (and perhaps water taxis), you avoid the considerable trouble and expense of having a car in the city
Boston's T is relatively cheap compared with subways in other U.S. cities such as Washington D.C. (Although it's much more expensive than some major international cities such as Paris.)
It's relatively fast compared with driving (unless you are on the Green Line)
If you're arriving in Boston at Logan Airport, the T is the fastest and cheapest way to get into the city (assuming you can manage your luggage)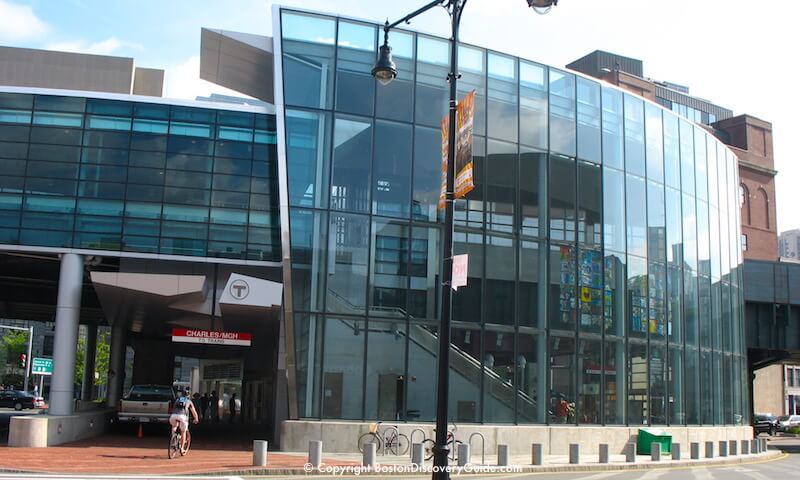 ---
Essentials: Boston Subway Basics
Who Runs Boston's Subway?
The Metropolitan Boston Transit Authority (MBTA). The MBTA system also includes commuter rail trains, buses, and ferries.
Subway Basics
Number of lines: 5
T line names: Green (5 branches), Red (2 branches), Blue, Orange, Silver (2 branches)
Hours of Service: Varies by line and station. First trip is generally between about 5am-6am, and last trip is generally between about 12:20pm and 12:50 - so best to depart by 12:15pm-12:30pm if you don't need to change lines, and even earlier if you do.
Subway Tickets & Fares
Ticket Types
Charlie Card - Plastic stored-value multiple-use card; you can add value to it as needed; expires after 10 years
CharlieTicket - Paper ticket; you can add value to it as needed; expires after 90 days
You can get Charlie Cards at the ticket vending machines in most stations, and Charlie Tickets at the machines in every station.
You can also pay for your ride in cash when you board buses and the T's above-ground Green Line trolleys.
Fares Per Trip (1-Way)
Charlie Card (plastic stored-value multiple-use card), Charlie Ticket (paper ticket; you can also add value to it, but it expires after 90 days), Cash : $2.40
Local bus using a Charlie Ticket, Charlie Card, or cash: $1.70
Boston Logan Airport Terminals to South Station (and stops in between) via the SL1: Free (more information below)
The price of your subway ticket includes one free transfer to any local bus, Silver Line, or other subway within two hours of your original ride.
Unlimited trip passes ("LinkPass")
A LinkPass is not a separate type of pass. Instead, it is value that is added to either a plastic CharlieCard or a paper CharlieTicket. In other words, you must have a CharlieCard or CharlieTicket before you can add on a LinkPass. Confusing? Yes.
But the important thing to know: These passes can save you money if you ride the T a lot during the periods of their validity.
1-day: $11
7-day: $22.50
Monthly: $90
The passes also give you a few bonuses:
If you put your Pass on a Charlie Card, you get unlimited travel during a 24-hour period on the subway (including the Silver Line) and bus
If you put your Pass on a Charlie Ticket, you get unlimited travel during a 24-hour period on the subway (including the Silver Line) and bus - PLUS it's also valid on the Commuter Rail's Zone 1A, the Charlestown Ferry, and the East Boston Ferry
More fare options: See the MBTA website, Fares & Gifts tab
Looking for Boston Marathon Day subway & commuter rail options and fares? Find that here
---
Best Ticket & LinkPass Options for Boston Visitors
Figuring out which type of T ticket or LinkPass will give you the most value at the cheapest price depends on how long you will be in Boston, how much you expect to use the T, and if/when you are likely to return. In these examples, "1 trip" means a 1-way ride, not round trip.
If you will be in Boston for only a day -
If you expect to make 4 or fewer trips, load your card or ticket with regular Charlie Tickets. The card expires after 90 days, so don't buy more than you need unless you know you'll be back before the card expires.
If you expect to make 5 or more 1-way trips during a day, you can save money by buying a 1-day LinkPass.
If you will be in Boston for 2 or more days and expect to make 9 or more trips during your stay, you can save money by getting a 1-week LinkPass.
---
Getting from Logan Airport to Boston by Subway
To get from Logan Airport to Boston on the T (subway), you have 2 choices:
The Silver Line SL1 Bus - Board for FREE at any of Logan's terminals, and take the SL1 to any of its stops in the South Boston Waterfront neighborhood, or all the way to South Station, where you can transfer to the Red Line. The trip from Terminal E at Logan to South Station takes about 30 minutes, depending on traffic. From South Station, you can take the Red Line to Downtown, Boston Common, Massachusetts General Hospital, and Cambridge destinations such as MIT and Harvard.
The Blue Line - Board a FREE Massport shuttle bus (Route numbers 22, 33, or 55 to MBTA Blue Line) outside your terminal and take it to Airport Station. At the station, buy a Charlie Ticket and board the Blue Line. The Blue Line connects to the Green Line (Boston Common, Fenway Park, Back Bay, Longwood Medical Area, Boston University, Boston College, Northeastern University, Brookline, Newton) at Government Center, and the Orange Line (Downtown, North Station, Back Bay) at State Street Station.
Alternately, keep in mind that you can also take a water taxi from Logan to points along the Waterfront (North End, Downtown, South Boston Waterfront, Charlestown), or a land taxi.
The T is the cheapest option if you can manage your luggage on your own, the water taxi is the most scenic and usually the fastest, and a land taxi is the most convenient if you have more luggage than you can manage on your own.
---
Getting from Logan Airport to the Cruise Port by Subway
Board the Silver Line SL1 Bus for FREE at any of Logan's terminals, and take it to the Silver Line Way Stop.
Get off, and get on the SL2 bus going toward the Flynn (Black Falcon) Cruise Terminal.
You will need to buy an on-board Charlie Ticket when you board the SL2 bus.
Alternately, keep in mind that you can also take a water taxi or land taxi from Logan to the Cruise Port.
---
How to Buy Charlie Tickets, Charlie Cards, and LinkPasses
T stations located underground have full service Fare Vending Machines where you can buy Charlie Tickets, add LinkPasses to your CharlieTicket or CharlieCard, and add funds to your stored value Charlie Card.
Above-ground stations and bus stations have limited-use fare boxes. You can use them to pay your fare, buy a stored value CharlieTicket, and add stored value to a CharlieCard.
Check MBTA's website for more information.
---
Boston Subway Map - Plus What You Need to Know about Each Line
The T's five color-coded lines - Red, Green, Orange, Blue, and Silver - serve many (but not all) Boston neighborhoods plus parts of Cambridge, Somerville, Revere, Malden, Brookline, Newton, Milton, and Quincy.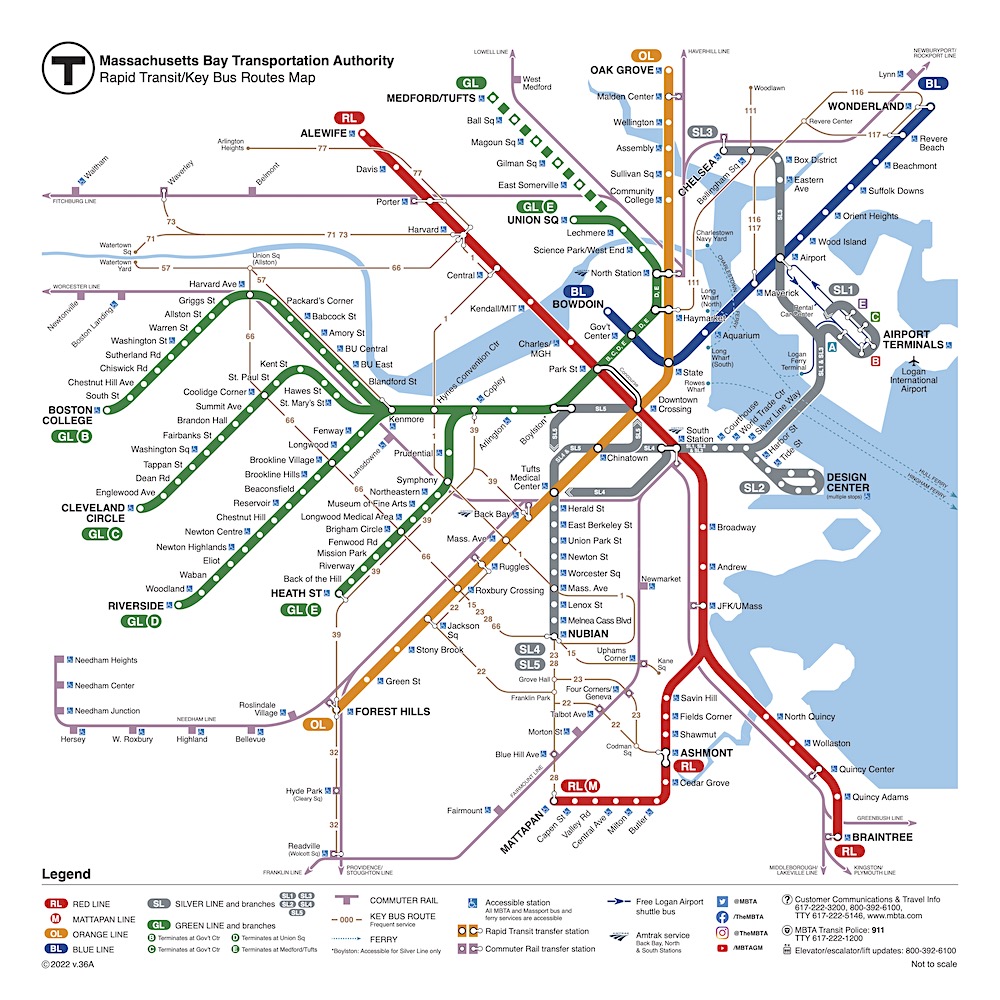 As you can see, the western end of the Green Line has several branches (B, C, D, E - that's right, no A - don't ask - but E has both an east and a west branch) and the southern end of the Red Line has 2 branches (Mattapan and Braintree).
If you're taking one of the lines with branches, be sure to check the sign at the front of the first car to verify the destination.
The Green Line can be especially confusing because the B, C, D, and E lines branch off at different points.
The Silver Line of the Boston subway consists of 2 sections, with 2 routes each.
One section (SL1 and SL2) provides service from South Station to Logan Airport (SL1) and from South Station to several points in South Boston, including the CruisePort Terminal and the Institute of Contemporary Art (SL2).
Because the SL 1 and SL2 buses travel partly underground as well as on surface roads, MBTA classifies them as part of the subway system. Most Boston Locals call them buses, because that's what they are.
The other two Silver Line sections (SL 4 and SL5; and no, there's no SL 3) use only above-ground roads, and MBTA considers them part of the bus system, which does make sense.
The SL 4 and SL 5 routes provide service between South Station and Dudley Square in Roxbury, traveling along Washington Street in the South End.
All of the other Boston subway lines have some above-ground stations. As you might imagine, this slows the progress of the trains, especially the Green Line, as cars and pedestrians cross the tracks in front of them.
Only the Red, Orange, and Blue lines have subway cars that are classified as trains.
The Green Line has trolleys, sometimes referred to as "light rail," but in reality, they're just old-fashioned street trolleys.
The Silver Line uses regular buses and duel-fuel (diesel and electric) buses.
Most of the time, Boston's subway system is fairly efficient, except for when breakdowns or other delays occur.
The above-ground sections of track are especially prone to problems during the winter, when heavy or rapid snow accummulation can make the tracks impassible.
Although the MBTA is normally fairly fast about digging out the tracks, service will be delayed or shut down.
During extreme conditions, the T cannot operate, as anyone who relies on public transportation during Boston's most extreme winters - which, thankfully, do not happen ever year year - can testify.
T Trivia:
The newest T stations are in Somerville on the Green Line; they are: East Somerviille, Gilman Square, Magoun Square, Bell Square, and Medford/Tufts on the main line, and Union Square on the "E" branch, and they run on existing commuter rail tracks
Only 26 of the T's 145 stations are actually underground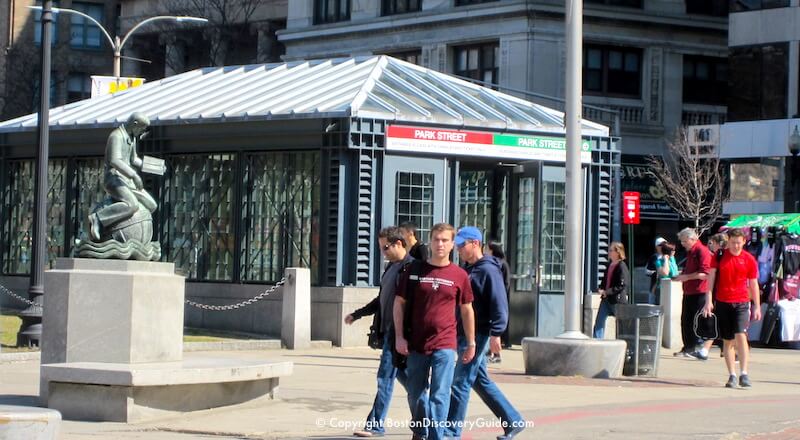 ---
More Ways to Explore Boston
---
Where to Find the MBTA Map and Info Online
You can access the MBTA map and related information about the subway system on line at: MBTA map
This link brings you to the same subway map that you see above, which lets you drill down for additional details.
Click on the MBTA map. See the tab near the top marked "Interactive Street Map"? Click on that, zoom in, and you get a street map.
Find a specific address or neighborhood, and you can determine the closest subway, bus, and other public transportation options.
If you need to print a map, you'll find links to .pdf (printable) versions in the upper right corner.
Now, find the colored bars labeled "Red Line," "Orange Line," and so forth near the upper right corner. Click on these to get details about each line.
If you're visiting Boston from another country, you may be accustomed to subways, trains, and buses arriving and departing according to a schedule. Please be aware that being on schedule doesn't happen here.
Boston subway schedules are only useful for telling you approximate service start and end times, and intervals that would be between stops barring other things such as traffic backups.
Since delays and changes of various sorts do happen, the details of the schedules are meaningless.
Want station-specific information? Click on a station on the line map and you will find connecting bus lines, accessibility information, and parking availability and cost.
The only thing that's missing is a description of the very cool public art and the performers found in and near some stations.
If you need accessibility, please note that a few stations are still not accessible.
Even if a station appears to be accessible, you should confirm its current status. Click on the Service Alerts link that says "Click here for all service alerts."
When the Service Alerts page appears, click on the "Elevators, Escalators, Lifts" tab at the top to the real-time status.
You'll also find detailed subway maps at several points in all T stations and near bus stops on the Silver Line routes.
---
More Important Things to Know about Boston's T
Boston Subway Hours
Operating hours vary slightly by line. The earliest morning departure time is slightly before 5am, and the latest evening (early morning, actually) departure time is around 12 midnight to just before 1pm.
This link to the T Frequency Schedule will give you the big picture and "peak" vs "non-peak" hours for each line, as well as the scheduled interval between trains for various periods within the day.
Like the schedules for each line, the Frequency Schedule isn't necessarily accurate but it will give you a general idea of what to expect, especially if you're planning to use the T on the weekend when service is sparse on some lines.
Tip: If you're planning to enjoy some of Boston's nightlife and then return to your hotel on the T, remember that bars can stay open until 2.
Even on Friday and Saturday, your last drink should be a couple of hours before last call in order to allow time to reach the station . . . unless you want to call a cab. Yes, that means you're heading home while the bars are still open.
Just think of Boston as "the city that sleeps."
---
Inbound Subway vs Outbound Subway - What's the Difference?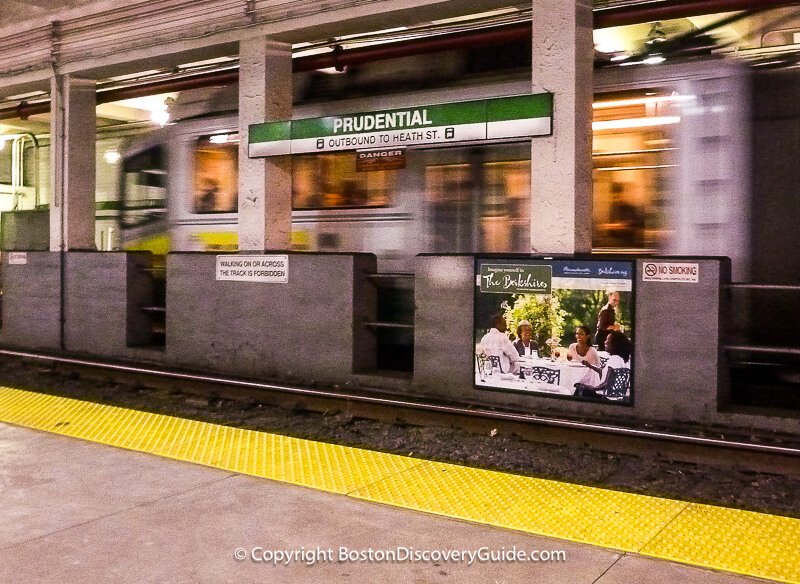 Go to any Boston subway station and you'll see signs and hear announcements about "Inbound" and "Outbound" service. You might logically infer that trains going in toward the center of Boston are "Inbound" and going out are "Outbound."
That's more or less true, but because there's no central station where all lines converge, the switch from Outbound to Inbound occurs where another line intersects with the line you're on:
Green Line and Blue Line: Toward Government Center (Green and Blue Line intersection) is Inbound; away is Outbound
Red Line: Toward Park Street (Green Line intersection) is Inbound; away is Outbound
Orange Line: Toward Downtown Crossing (Red Line intersection) is Inbound: away is Outbound
Silver Line: Toward South Station (Red Line intersection) is Inbound; away is Outbound
Confused? Don't worry ... even born-and-bred Bostonians find this tough to keep straight.
Your best strategy? Look carefully at the sign in the front car to see the train's destination.
---
How to Tell if a Subway Is Inbound or Outbound? Look at the Entrance Signs!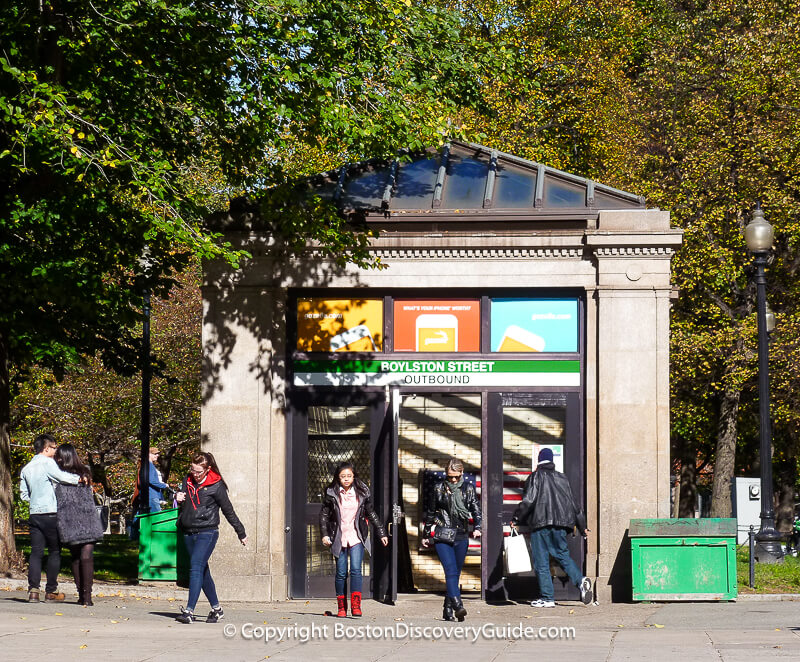 Another very important fact to keep in mind when you are entering a station is that not all entrances will let you access both outbound and inbound tracks (although most do).
Therefore, you need to look carefully at the station sign before entering to make sure you can access the tracks going in the direction that you hope to go.
For example - this photo (on the left) of one of the Kendall station entrances goes ONLY to the outbound tracks going in the direction of the Alewife station at the end of the Red Line in Cambridge.
If you want to go inbound toward Downtown Boston, you need to look around and find either an inbound entrance, or one that leads to both inbound and outbound.
Also, some entrances are not actually entrances - they are exits only, meaning that you will not be able to reach any tracks in either direction.
If this seems confusing, just remember that Boston's subway system is old. Not everything makes sense.
---
Potentially Scary Things about the T that You Can (Usually) Safely Ignore
Lurching and screeching - Hey, the T really is old...it's a little, um, quirky. So if you're new to Boston's subway, don't be alarmed by a ride that's less than smooth. Lurches are normal, loud screeching noises are normal ... you get the idea.
Unexplained stops between stations - Usually no need to be alarmed...this normally happens for unknown reasons. Although recently, an Orange Line train had to stop after catching on fire while going over a bridge across the Mystic River, causing passengers to have to climb out through the windows. The good news is that all the bad publicity from this incident prompted some immediate emergency repairs and upgrades which otherwise might have taken years.
Furry creatures with long tails running around the tracks - The good news is that they usually stay at track level and normally don't come up on the platform where you're waiting. They probably don't even like people. More good news ... some of them are mice, not rats, although it is true that most are rats. They're entertaining to watch if you have a long wait. If they make you nervous, repeat to yourself "They never come above track level" until you believe it.

Remember . . . "They never come above track level."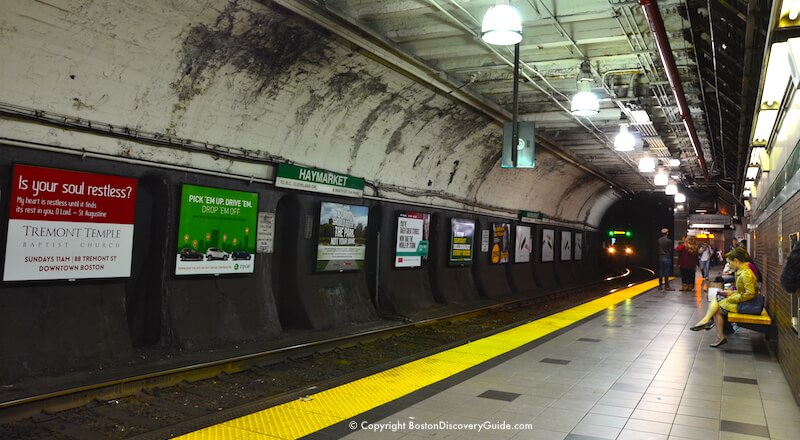 ---
How to Get Around Boston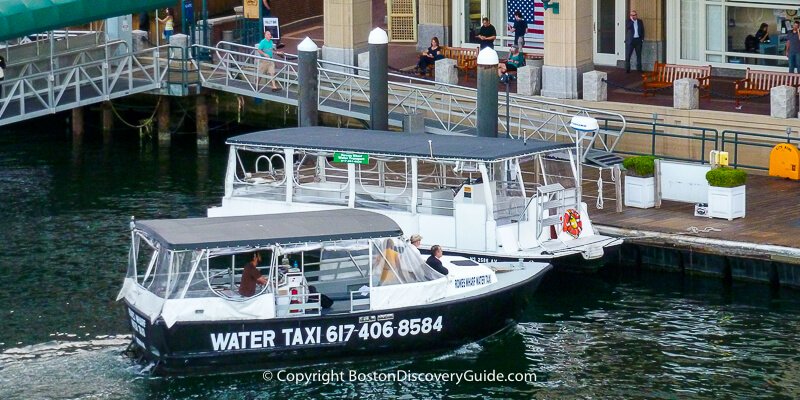 ---
Boston Subway FAQs
Here are answers to a few Frequently Asked Questions that Boston Discovery Guide gets about the T:
Can you bring your pet on the T?
Yes, with some restrictions.
During "peak" hours, when traffic is busiest, you can bring what MBTA calls "small domestic" animals in lap-sized containers away from exits.
During "off-peak" hours, you can bring non-service dogs at the discretion of the T operators.
Dogs must be on leashes, and must not annoy other passengers or take up a seat.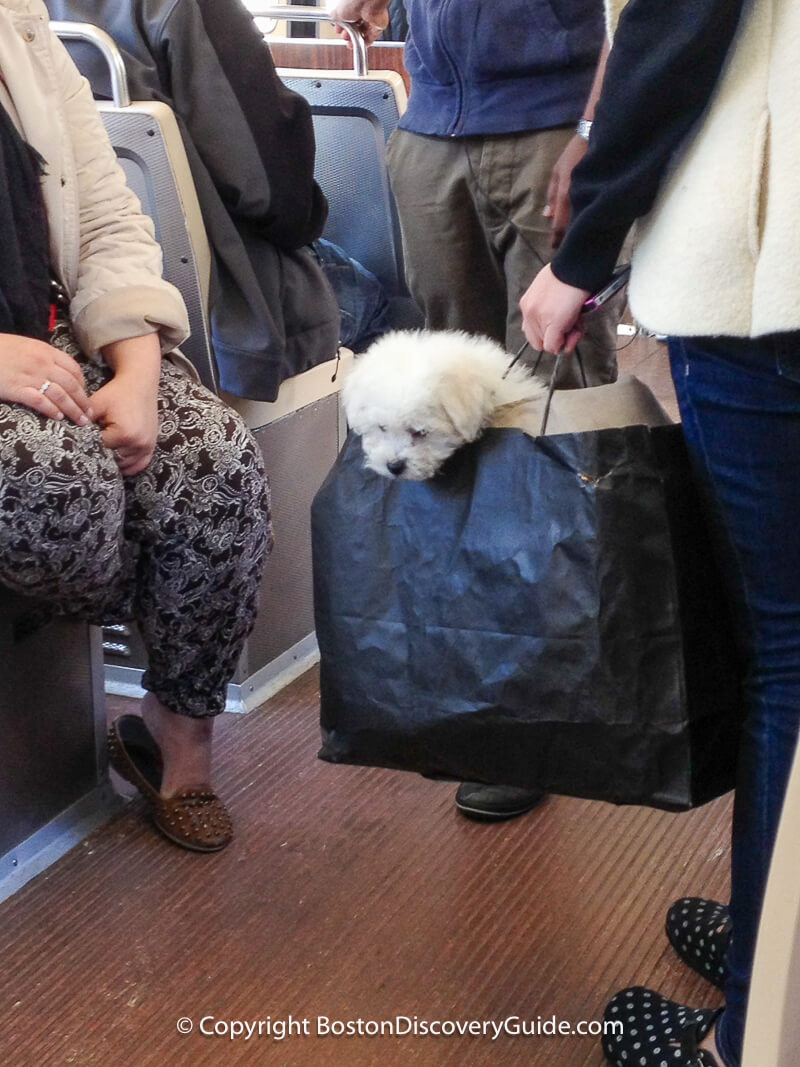 The well-behaved cutie in this photo taken on the Green Line seemed to enjoy her ride in the shopping bag and provided lots of entertainment.
Although the other passengers made loud smooching sounds to get her attention,she wasn't impressed.
The T welcomes service animals at all times.
Check the MBTA website to read all the details of their pet policy MBTA website. and definition of peak vs non-peak hours for each line.
Can you bring your bicycle on the T?
The short answer is that during non-peak hours, yes, except on the Green Line and the Mattapan Trolley, where they are never allowed due to crowding.
They also may be prohibited during holidays and special Boston Events, such as St Patrick's Day, Marathon Monday, and 4th of July. They will also probably be banned any time special conditions or unusual crowding exists.
Bikes are also banned from several stations - Park Street, Downtown Crossing, Government Center - due to congestion and the very narrow platforms, passages, and corridors.
Trust me, you would not want to be wheeling a bike along some of these spaces.
However - if you have a folding bike, it will be allowed on all lines and in all stations as long as it is completely folded.
A number of additional restrictions apply, so you should check the MBTA bicycle guidelines carefully.
Policy seems to be evolving quickly as more and more people are using bikes for transportation and the T finds ways to accommodate them - so check the MBTA policy periodically for updates.
You'll find bike racks at about 95% of all MBTA stations - a big change from just a few years ago - and many have secure bike cages.
---
Questions and Answers about Boston's Subway System
Is the 7-Day LinkPass a good deal for visitors? My family is visiting Boston in October, and we're thinking about getting the 7-day pass for Boston's subway. Is this a good deal? Or is there . . .
---
More Articles about Getting Around Boston
---
Need a Boston Hotel or Apartment?
Use this handy map from Booking.com to find the perfect place to stay. Just enter your dates to find what's available, see the best rates, and make your reservations.