Put on your leiderhosen and dirndl, and get ready to party as Boston celebrates Oktoberfest at our local breweries, bars, and restaurants each fall. There's even a day-long festival with a parade, live music, performers, and plenty of beer gardens when Oktoberfest takes over Harvard Square.
You'll get to sample traditional German specialties, dance the oompah, and of course raise a stein (or more) overflowing with your favorite German lagers, ales, Marzen, and special Oktoberfest beers.
Three important things to know about Oktoberfests in Boston: 1) Contrary to what the name "Oktoberfest" leads you to believe, the first ones kick off in September soon after Labor Day and continue through about mid-October; 2) as Boston's craft brewery scene expands, so does the number of Oktoberfests across the city; and 3) they're a lot of fun!
Oh, and you should also know: you must be 21+ and show ID to attend most of them.
Here are the best Oktoberfests in and near Boston taking place in September and October where you can enjoy German-style pretzels, sausages, oompah music, dancing, and your favorite seasonal beers on draft.
Top photo: Friends celebrating Oktoberfest - Credit: iStock.com/ViewApart
Boston Discovery Guide is a reader-supported publication. When you buy through our links, we may earn a commission at no additional cost for you. Learn more
---
Dorchester Brewing Oktoberfest 2023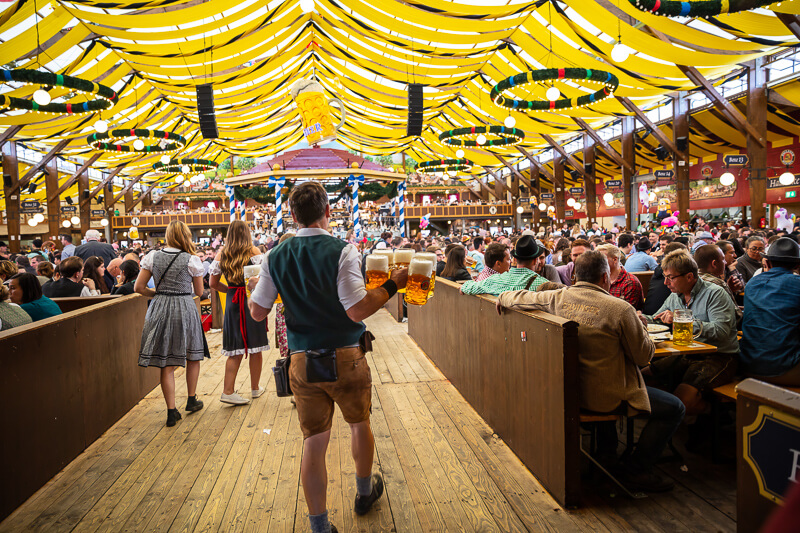 Dorchester Brewing's big Oktoberfest party features 3 days of celebrations - that's right, an entire weekend including Friday! - and showcases four new releases of German-style beers: Festbier, Helles, Dunkelweizen, Schwarzbier.
Can't decide which ones to try? Choose Dorchester's All-German Flight with 5-ounce samples - and then get your own limited edition Dorchester-branded stein (additional purchase) to enjoy full-liter pours of your favorites.
More to enjoy: Beer-braised brats and barbeque from Dorchester's in-house M&M BBQ, German beer slushies, lederhosen and dirndls, stein-hoisting competitions (with BIG prizes for the strongest), a pop-up from DJ's Market with German chocolate cupcakes, games and prizes in the bierhall, and lots of music.
On Saturday night, you'll enjoy live music German music from Brockton Cosmo, a 5-piece traditional German band.
Where: 1250 Massachusetts Ave, Dorchester; nearest T station: Red Line/JFK-UMass
When: September 15-17, 11:30am-11pm
---
Trillium Oktoberfest 2023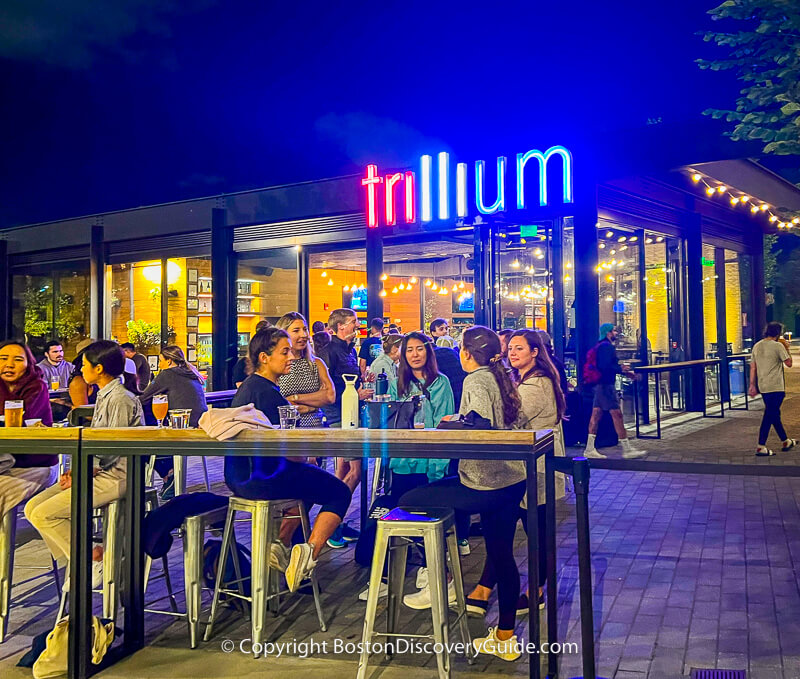 Join Trillium Brewing at its Boston locations (Time Out Market in Fenway, the Trillium Beer Garden on the Greenway) and in Canton south of the city for a fun family-friendly Oktoberfest celebration complete with lederhosen, lagers, and music.
More to enjoy: Stein pours, traditional music, German food specials, and Trillium's Märzen lager showcasing German malts and Hallertau Mittelfruh hops with floral hop aromatics - plus lots more!
Boston locations: Time Out Market in Fenway (nearest T station: Green Line/Fenway) and the Rose Kennedy Greenway (near 369 Congress Street - nearest T station: Blue Line/Aquarium
When: September 16, noon-6pm, and Sept 17 noon - 4pm
Admission: Free; no tickets required
---
Oktoberfest dates don't work for you? Try one of these fun tours offered throughout the year:
---
Democracy Brewing Oktoberfest 2023
Democracy Brewing, a worker-owned cooperative brewery and pub in Downtown Crossing, kicks off its big Oktoberfest celebrations on September 22 - 25 with German-style beer and German food specials.
Stop by on Saturday to hear Boston's own Oom Pa Pas band play German oom pah music from 3pm-5:30 and to try your luck at the stein holding contest from 3:30-5:30pm.
More to enjoy: Democracy Brewing's ales, pilsners, IPAs, stouts, and hard seltzers, plus tasty eats (including vegan, vegetarian, gluten-free choices) from the talented chef and cooks.
Where: 35 Temple Place, Downtown Crossing; nearest T station: Green & Red Lines/Park Street
When: September 22-25
Admission: Free
---
Night Shift Brewing Oktoberfest - 2023
Dress in your best leiderhosen and dirndls for Night Shift Brewing's Oktoberfest festivities at its Esplanade and Allston Beer Gardens on Friday, 4pm-10pm ,September 22, its Everett taproom from 12 noon - 11pm on Saturday, September 23, and at Lovejoy Wharf Brewery and Restaurant from 12 noon - 8pm on Sunday, September 24.
And of course, what's Oktoberfest without new brews? Night Shift rolls out 5 new German-style beers just for this event: Owltoberfest (German-style Helles), Chill Zwickelson (German-style Zwickelbier), Kolsch Encounters (German-style Kolsch), Dunkel John's Band (Munich style Dunkel), and Prost Malone, an unfiltered Munich lager.
Activities vary a bit by site, so check Night Shift's website for details.
More to enjoy: Night Shift's full array of other lagers, IPAs, ales, sour ales, and limited release beers as well as hard ciders, hard seltzers, and specialty coffees.
Where: Everett location: 87 Santilli Highway; Lovejoy Wharf location: 1 Lovejoy Wharf
Admission: Free; no tickets or registration needed; however, if you want a table, reservations are strongly recommended
---
Sam Adams Brewery Oktoberfest - 2023
Sam Adams Brewery pulls out all the stops to celebrate Oktoberfest at its two Boston locations: the Downtown Taproom near Faneuil Hall, and the Boston Brewery in the Jamaica Plains neighborhood.
At both sites, the 3-days of Oktoberfest revelry include lots of live music, stein hoisting contests, awesome German and New England food specials (a 3-course Beer Dinner complete with beer pairings in the Jamaica Plains location and Fest Plates, Sausage Platters in the Downtown Taproom), and special Oktoberfest-inspired beer releases to celebrate Sam Adams' love of lager.
The lineup of food selections, live music and DJs, and stein-hoisting contests varies by day and venue - so check the details on Sam Adams' website
Where: Samuel Adams Boston Taproom (60 State Street, near Faneuil Hall; nearest T station: Blue Line/Government Center) and Samuel Adams Brewery (30 Germania Street, Jamaica Plain neighborhood, Boston; nearest T station: Orange Line/Stony Brook)
When: September 22 - 24
Tickets: Presale tickets cost $10 and include a pour of Octoberfest brew (amount varies by location), and guaranteed Octoberfest swag; you can also get tickets for $10 at the door (assuming space is available), which include a 7 oz pour of Oktoberfest.
---
Oktoberfest at The Beehive 2023
The Beehive salutes Oktoberfest with seasonal brews, Bavarian & German food such as sausages, sauerkraut, potato salad, and pretzels, plus live music from the Cocek! Brass Band.
Come for dinner (reservations strongly suggested), or gather at the bar. Don't forget your dirndl and lederhosen!
Where: Located in Boston Center for the Arts, 541 Tremont Street, Boston's South End neighborhood; nearest T station: Orange Line/Back Bay
When: September 28, 5pm-12 midnight
---
Harpoon Brewery 2023
Harpoon Brewery stages one of the biggest Oktoberfests in Boston, with enclosed tents pitched next to the brewery.
Wear your best liederhosen and get ready for chicken dancing, live oompah music, pretzel-eating contests, a big selection of Harpoon beers and ales, and lots of bratwurst and other German food by local food trucks and caterers for sale.
Not a beer drinker? You'll find plenty of other Harpoon beverages: Arctic Chill Hard Seltzer, Harpoon Cider, and WhistlePig PiggyBack Barrel-Aged Smash.
Pro Tip #1: Dress for the weather because although the tents feel cozy, the bathrooms are outside.
Pro Tip #2: This is a cashless event - so bring a credit or debit card.
Where: 306 Northern Ave, South Boston Waterfront neighborhood
When:
- September 29: 6pm - 11pm (doors close at 9:30pm)
- September 30: 12 noon - 7pm (doors close at 5:30pm)
Tickets: $30-$49 (plus Eventbrite booking fee) reserved online (price varies by date and by the number of beer tickets; in addition to entrance, also includes a souvenir cup); you can also purchase tickets at the door as capacity allows for $35 (plus Eventbrite booking fee), which includes your first beer and a souvenir cup)
Ages: Strictly 21+
More information: Harpoon Brewery website
---
Harvard Square Oktoberfest 2023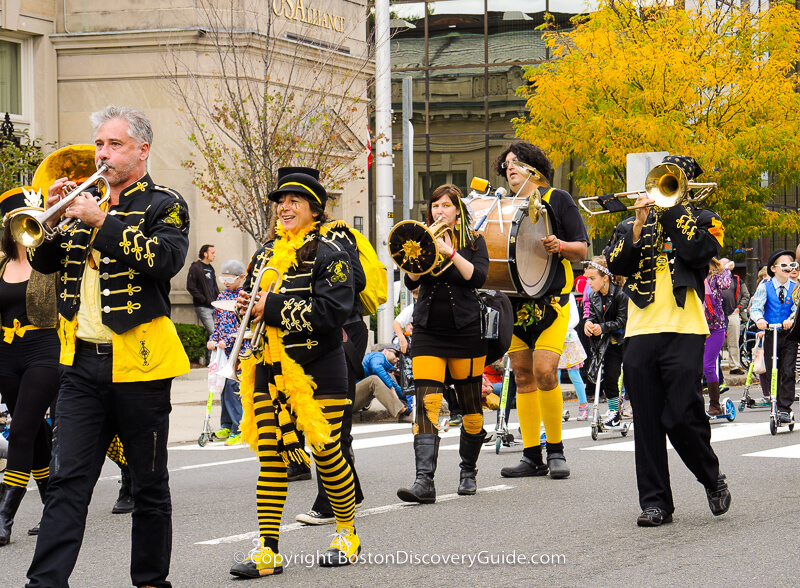 Harvard Square's huge and legendary Oktoberfest takes place on the Sunday of Indigenous People's Day (previously Columbus Day) weekend - October 8 this year - and attracts over 100,000 people.
You'll find multiple beer gardens, many food vendors, lots of street performers and live music, sidewalk sales in front of many stores, arts and crafts vendors, vintage goods, and family-friendly activities.
Harvard Square basically turns into a massive street party.
A highlight is the huge HONK! music parade, which is part of the 3-day HONK! Festival of Activist Street Bands going on this weekend.
After the parade, the bands will continue performing everything from oompah music to Dixieland jazz in locations throughout the square.
The weather typically is beautiful on the weekend, with lots of colorful fall foliage - but in case of rain, Harvard's Oktoberfest will take place on the following Saturday.
What to enjoy: Chicken dancing, live music, a big selection of Harpoon beers and ales, and lots of bratwurst and other German food
Where: Harvard Square; closest T station: Harvard
Getting there: Don't even think about driving to this event because all streets through and around the square will be closed to traffic starting at 5am and any parked cars will be towed.
If possible, take the T's Red Line to the Harvard Square station. If you're coming from a distance and do need to drive, the best strategy is to park at the Alewife T station (or any other T station with a large parking lot/garage) and take the T from there.
You could also take MBTA's Fitchburg Line commuter rail to Porter, and walk from there to Harvard Square (about 5 minutes)
Admission: Free
---
More Ways to Enjoy Boston's Best Brews
---
Aeronaut Brewing Company (Aeronaut Allston location) - 2023
Put on your liederhosen and join Aeronaut Brewing at their Allston beer garden location for their annual Oktoberfest.
You'll get to enjoy their mouthwatering German fare, dance as the the Polka Hall of Fame's Dennis Polisky & The Maestro's Men play your favorite oompah tunes, and raise your stein filled with your favorite Aeronaut beers on draft, including Oktoberfest, Hefeweizen, Summer in Cologne Kölsch, and more.
Where: 267 Western Ave, Boston's Allston neighborhood
When: October 7, 1pm-9pm
Tickets & more information: Aeronaut website
---
Blackmoor Bar & Kitchen 2023
Swing by Blackmoor Bar & Kitchen, a craft beer gastro pub in Boston's Charlestown neighborhood, on October 7 and 14 to celebrate Oktoberfest.
Look for a large selection of German-brewed Oktoberfest beers, authentic German food, and live music on the patio (weather permitting) on 10/7 (3-9pm) from The Vagabonds and Tubafrau, and on 10/14, (2-10pm) from Hofbrau Speler, Vagabonds, and the Bavarian Brothers. No cover.
What to Enjoy: Oktoberfest Specials from Blackmoor's kitchen, including pork schnitzel, a haus worst plate with beer-steamed German sausages, sauerkraut, warm German salad, and currywurst, and a platter with German ham and sausages, Obatza-Bavarian cheese spread, and German dark rustic bread - available after 2pm from 9/15 - 10/31.
Where: 1 Chelsea Street, Charlestown (on the Freedom Trail)
When: October 14 (to be confirmed)
More information: Blackmoor Bar facebook page
---
More Fun Ways to See Boston
---
More to Do in Boston in October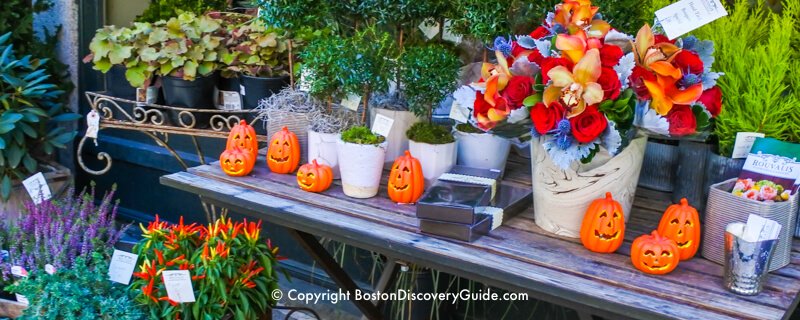 ---
More Articles about Fun Things to Do in Boston
Need a Boston Hotel or Apartment?
Use this handy map from Booking.com to find the perfect place to stay. Just enter your dates to find what's available, see the best rates, and make your reservations.
---