Want to know where to see the most spectacular Christmas lights in Boston? Our festive Christmas tree lighting ceremonies are the place to start.
Boston's holiday lighting ceremonies begin in late November and continue into early December. By the time the last lights go on, the city sparkles with glowing lights.
Typically, the most festive ceremonies feature entertainment, appearances by Santa, fun activities for kids, and perhaps refreshments and singing traditional and popular holiday songs to celebrate the season.
In fact, they're sort of like community parties where everyone shares the magical moment when thousands of beautiful sparkling lights suddenly brighten the winter darkness.
By the time the last lighting event takes place, holiday lights glow across the city, covering not only the largest Christmas trees but also hundreds of trees in Boston Common, the Public Garden, Commonwealth Avenue Mall, Copley Square, Prudential Center, the North End, Downtown Crossing, and along the Seaport waterfront.
From the moment the first lights turn on in late November, walking around the city at night to see the sparkling displays and other holiday decorations becomes a favorite winter evening activity. Don't pass up the chance to do this!
Article Contents:
More suggestions about things to do & see in Boston in December
Top Photo: Lighted Christmas Tree from Nova Scotia on Boston Common
Boston Discovery Guide is a user-supported website. When you buy through our links, we may earn a commission. Learn more
---
Boston's Biggest & Most Festive Christmas Tree Lighting Ceremonies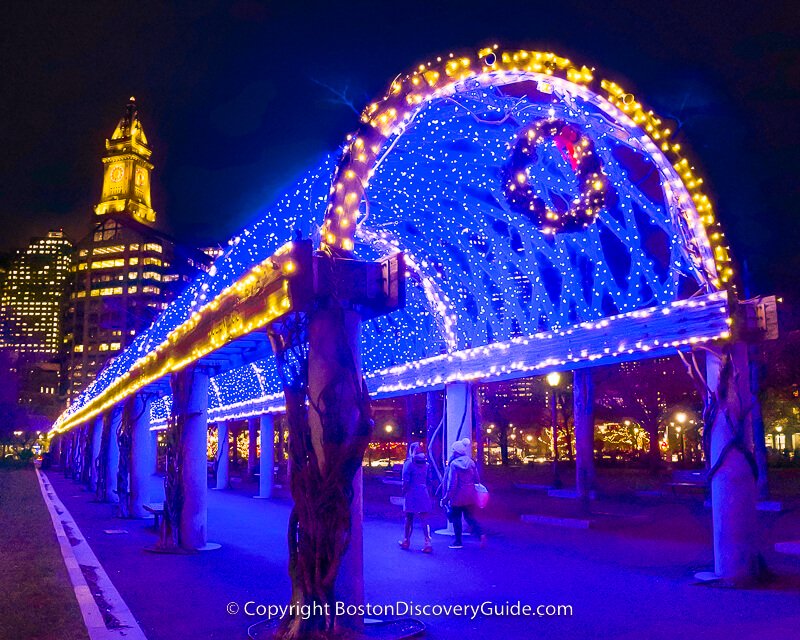 These are Boston's most elaborate holiday lighting celebrations and parties, with lots of family-friendly activities in addition to the main event.
All of these events are free admission.
Please note: All dates and times to be confirmed for 2023
Annual Lighting of the Columbus Park Trellis
The Mayor turns on the 50,000 glowing blue and white energy-saving LED lights along the 260 foot trellis and 14 nearby trees on Tuesday, November 21, 5 pm in Columbus Park (110 Atlantic Ave), transforming the waterfront park into a magical light garden through the holiday season. The family-friendly ceremony this year will also include include music, entertainment, and refreshments plus the opportunity to join in singing classic holiday hits before the lighting ceremony.
The iconic blue trellis lights stay on until the middle of April, making this one of Boston's most romantic spots from late fall through early spring.
More to do nearby: Don't miss this chance to have dinner in the North End. You'll find most restaurants located along Salem and Hanover Streets.
---
Boston Common Holiday Tree Lighting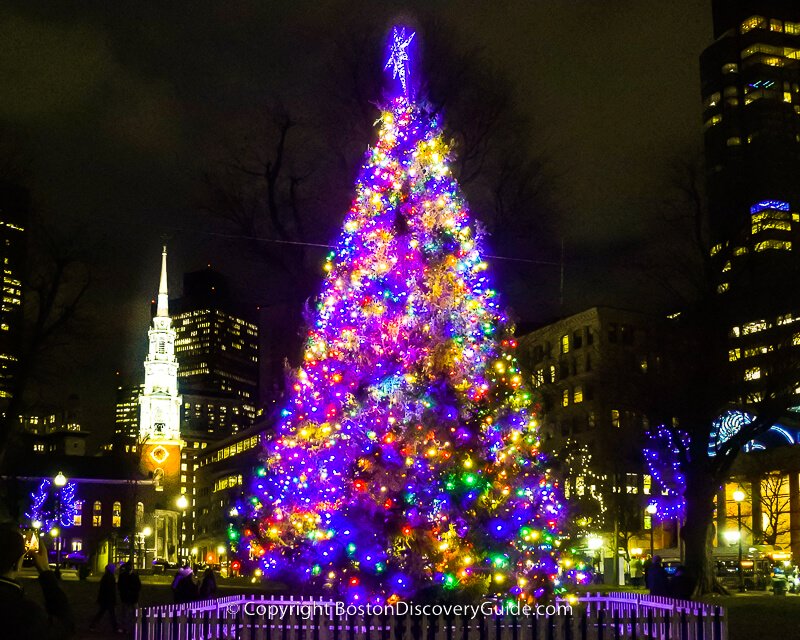 Thursday, November 30, at 7:55pm
This exciting event takes place near the Visitors Information Center on Tremont St and stars the special tree sent as a gift from Nova Scotia (shown in photo at top of page). Boston Mayor Michelle Wu will be joined by Santa Claus, Rudolph, and members of the Royal Canadian Mounted Police. Refreshments, music, and entertainment will be provided by local groups. The event starts at 6pm and ends at 8pm with a pyrotechnic display.
Lights on the tree - about 7,000 of them - go on at about 7:55 pm, followed by lights on 80+ other trees throughout the Common and the Public Garden. When the weather is reasonably good, about 25,000 spectators turn out for this festive event. When the Mayor turns on the lights, Boston's magical holiday season officially begins!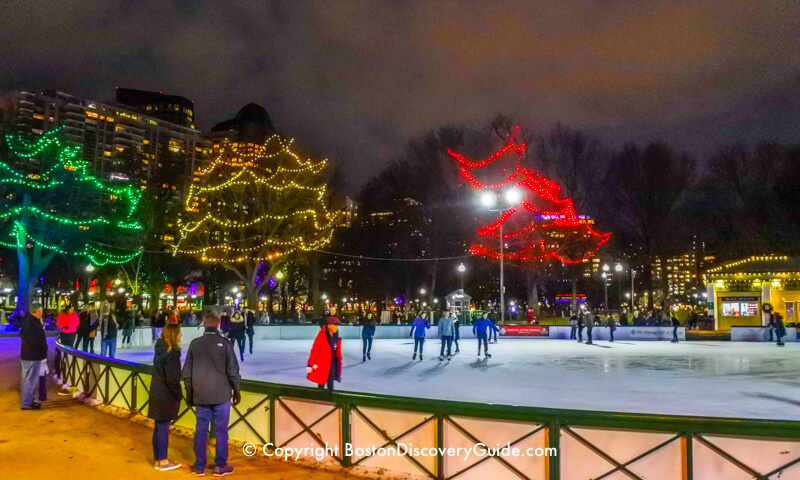 ---
Macy's Christmas Tree Lighting & Christmas Windows Unveiled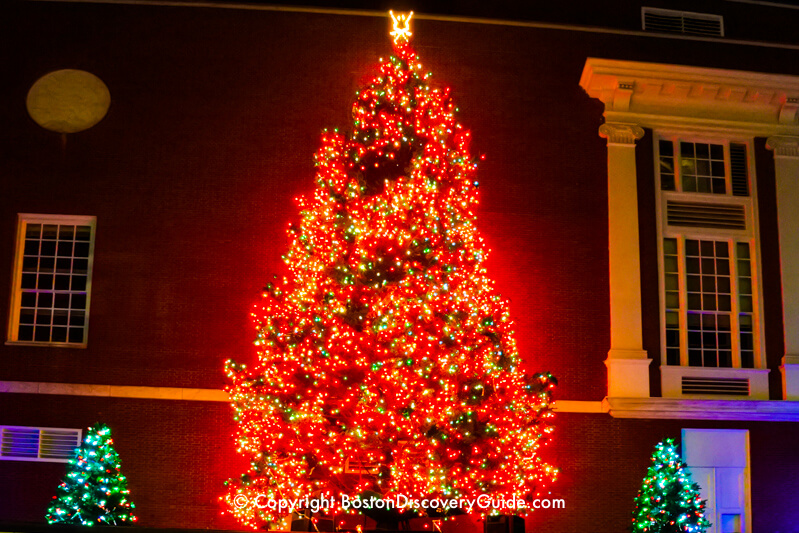 Wednesday, November 22 (to be confirmed) - Macy's (450 Washington Street) lights up Boston's Downtown Crossing this year before Thanksgiving when the festive evergreen trees on the Summer Street side of the store turn on and the store's famous holiday window displays are unveiled.
There's no word yet about and opening show the traditional appearance of Santa and his Elves or entertainment, but stay tuned!
More to do: Shop at Macy's, of course! Explore all the new shops around Downtown Crossing, and then head to one of the many nearby Theatre District restaurants for dinner or take in a show such as Boston Ballet's The Nutcracker.
Check out current Theatre District shows
---
Massachusetts State House Tree Lighting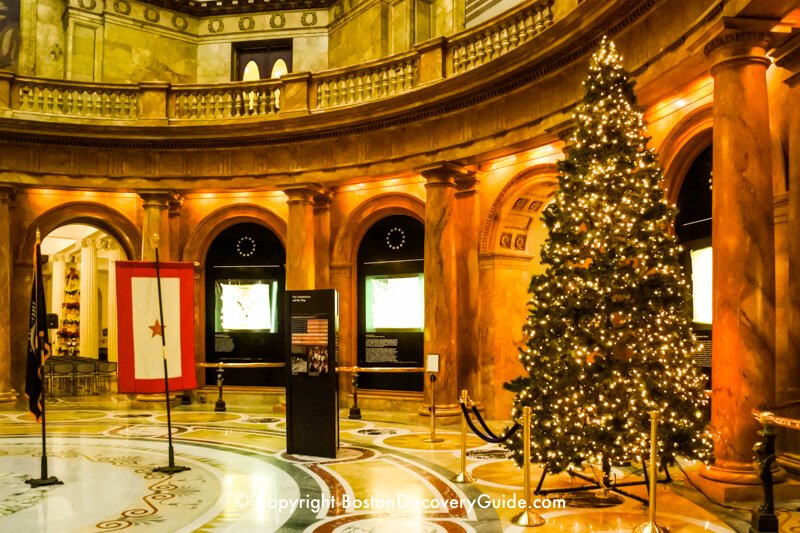 A giant Christmas tree in the Rotunda lights up in the annual tree lighting event ceremony at 5pm on Tuesday, November 21, followed by an open house and visit from Santa in Doric Hall. (Date, time, details to be confirmed) This marks the official kick-off of the holiday season in Massachusetts.
More to do: Before the ceremony, explore the special treasures in the State House. After the tree is lit, walk across Beacon Street to Boston Common, rent skates, and take a twirl around the Frog Pond ice rink.
More about where to ice skate in Boston
---
Copley Square Tree Lighting
Monday, November 27, 5pm-6pm - Wreaths with red bows decorate Copley Square, and the Old South Church bell tolls when the lights on the Copley Square tree go on - look for appearances by Santa and Rudolph, plus live music by local groups including the Boston Children's Chorus and the Boston Pops Esplanade Brass Ensemble. After the ceremony, head over to the Fairmont Copley Plaza Hotel to enjoy cookies and photos with Santa.
More to do: Get a head start on your holiday shopping - check out the national-brand stores along Boylston Street or explore boutiques and galleries on nearby Newbury Street.
---
Boston's Public Garden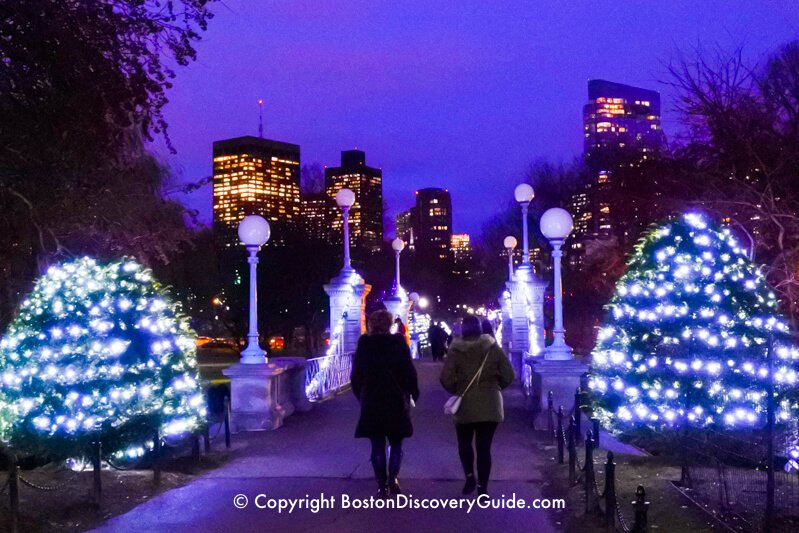 Thursday, November 30, about 8 pm. Right after the brilliantly colored lights on Boston Common go on, so do the white holiday lights covering the bridge over the Lagoon and many of the Public Garden's formally-sheared evergreens, giving an ethereal snowball effect across the entire park.
Don't miss the experience of walking through the Garden in the evening after the lights transform it into an enchanting wonderland.
---
Light Up Seaport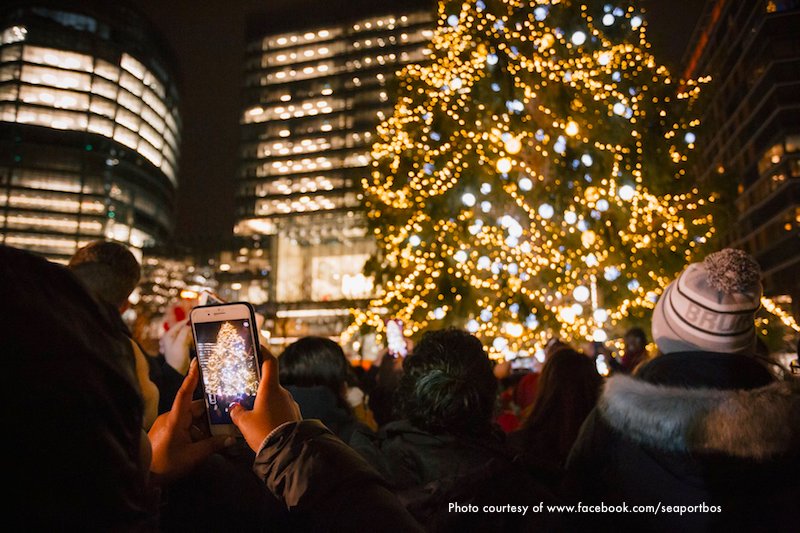 Friday, December 1, 5pm - 9pm - Gather on Seaport Common (85 Northern Ave) for live music, treats from nearby restaurants, and various give-aways, and then see the Christmas tree lighting.
Stop by Snowport for the biggest ever holiday market, plus enjoy all the lighted trees throughout the neighborhood.
---
Tree Celebration in the North End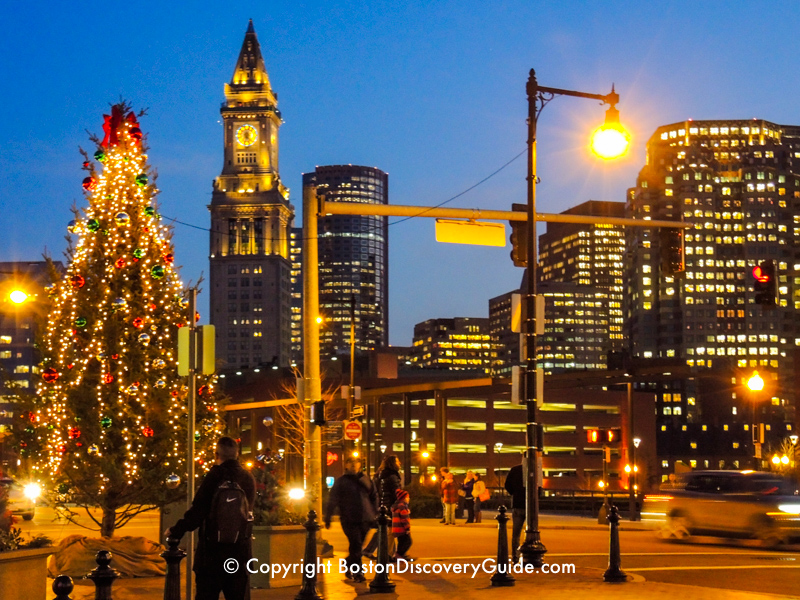 Friday, December 1, 6pm - 9pm (to be confirmed) - Celebrate the season at the North End's lighted Christmas tree at the corner of Hanover and North Streets, meet Santa, and enjoy hot chocolate and caroling. Local North End students will be having their annual bake sale (all proceeds benefit the school), so it's a great opportunity to stock up on holiday treats. (Date, time, details to be confirmed for 2023.)
The North End's Holiday stroll takes place on this same evening - so stop by and enjoy that too!
---
Annual Tree Lighting at the USS Constitution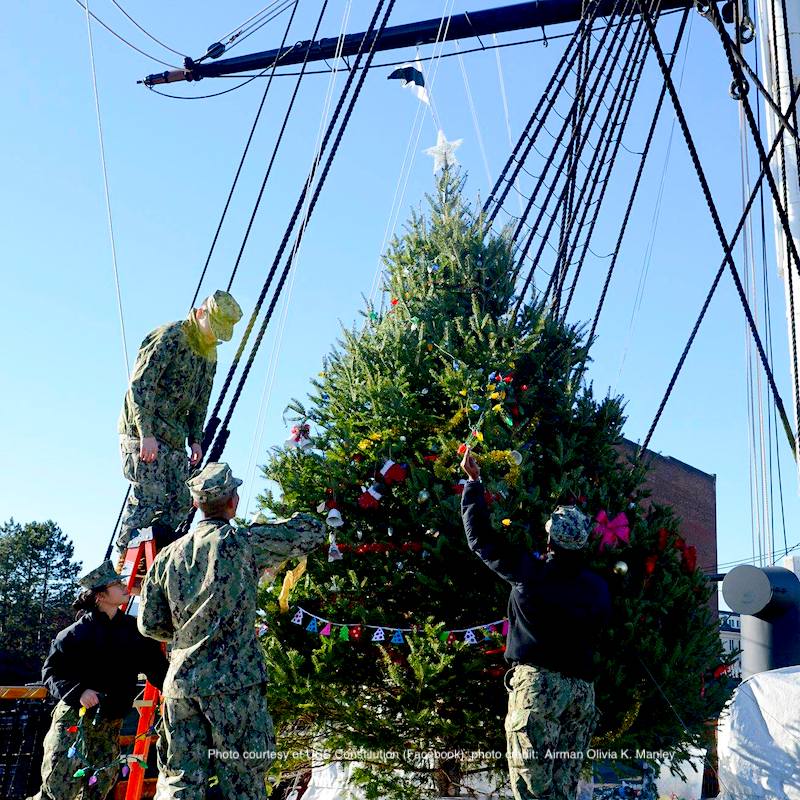 Sunday, December 3, 4:30pm-6pm - Join the USS Constitution crew in the Navy Shipyard in Charlestown for the USS Constitution's annual Christmas tree lighting ceremony, and enjoy holiday music, free hot chocolate and cookies, and a visit by Santa and his merry Elves. (Date, time, details to be confirmed)
You can begin boarding the ship at 3:45pm, and can observe evening colors at sundown with the crew as the ship fires her saluting battery at 4:12pm.
More about visiting the USS Constitution
---
Faneuil Marketplace Christmas Tree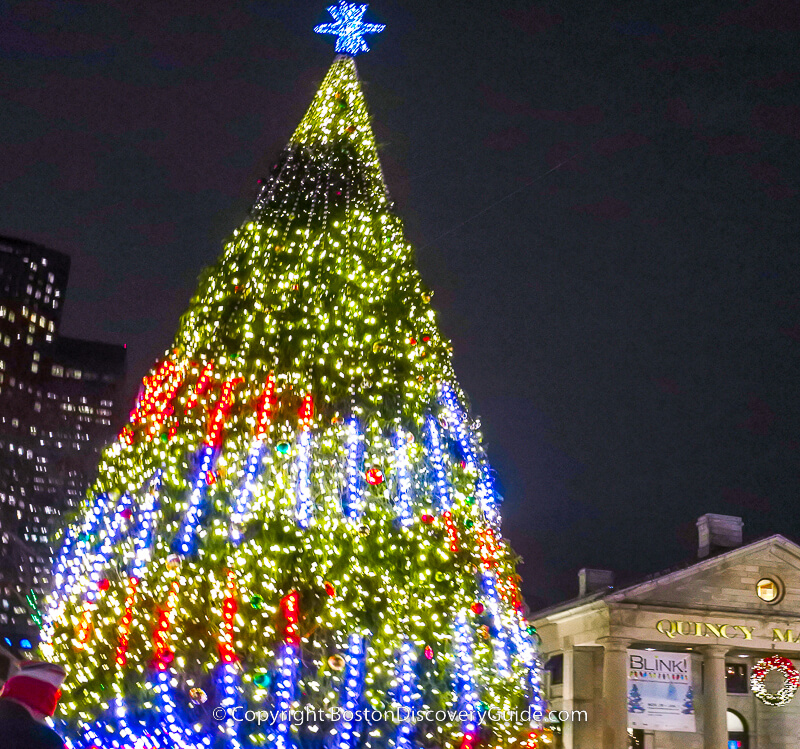 Lights on the large Christmas tree at Faneuil Hall Marketplace will be turned on by Santa during a small lighting ceremony at 6pm on Tuesday, November 21.
Look for the tree, which came from Pennsylvania this year, in front of the Quincy Market building this year. The lights also will be different - white instead of the previous multicolored display.
Sadly, the popular Blink! music and light show has been cancelled for this year - but at least we all get to enjoy the tree!
More to do nearby: Get all your holiday shopping done and enjoy the holiday performers at Faneuil Hall Marketplace. Relax at one of the historic taverns along nearby Union Street. Walk over to nearby Columbus Park and see the spectacular lighted trellis.
---
More Fun Ways to See Boston
---
Need a Boston Hotel or Apartment during the Holidays?
If you're planning to visit Boston in November or December to see a Christmas tree lighting ceremony, go holiday shopping, or just enjoy the festive decorations and good cheer filling the city at this time of the year, use this hotel map to find a great place to stay. Just enter your dates to see what's available:
More about how to save on Boston hotels
---
More Holiday Tree Lighting Events in December
Commonwealth Avenue Mall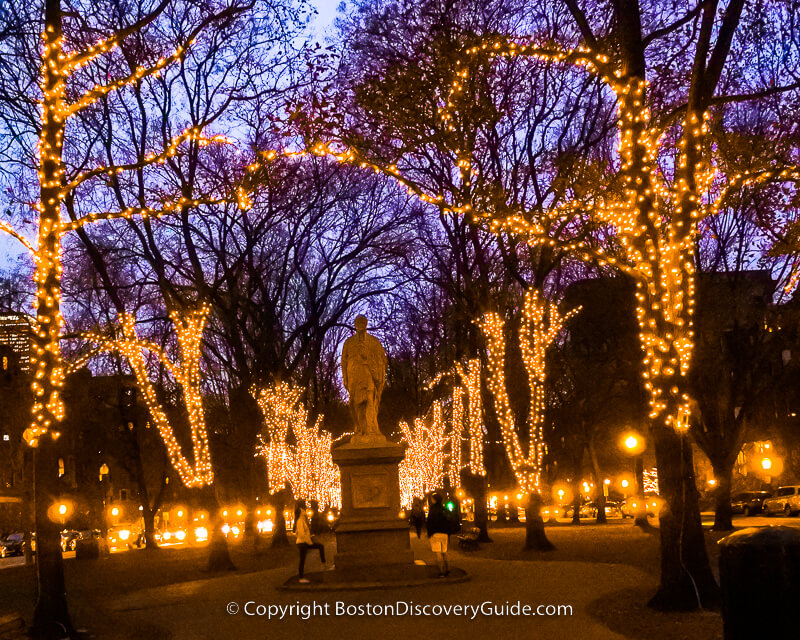 Thursday, Nomember 1, 8 pm - Thousands of sparkling gold lights transform this tree-filled parkway into an enchanting forest. The lights go on immediately after the Boston Common Tree Lighting ceremony.
The lights turn the many trees along Comm Ave Mall into an enchanted forest!
---
Martin's Park at the Boston Children's Museum in Seaport
Over 1,500 blue and white energy efficient holiday lights turn on at the large wooden play ship in Martin's Park (64 Sleeper Street) next to the Boston Children's museum on November 25 at 4pm.
Santa will arrive by boat at Harborwalk and then goes to the park to switch on the lights. The Ball in the House acapella musical group will sing holiday classics, and hot chocolate will be served.
Martin's Park honors the memory of 8-year-old Martin W. Richard, the youngest victim of the 2013 Boston Marathon Bombings.
---
31 Nights of Lights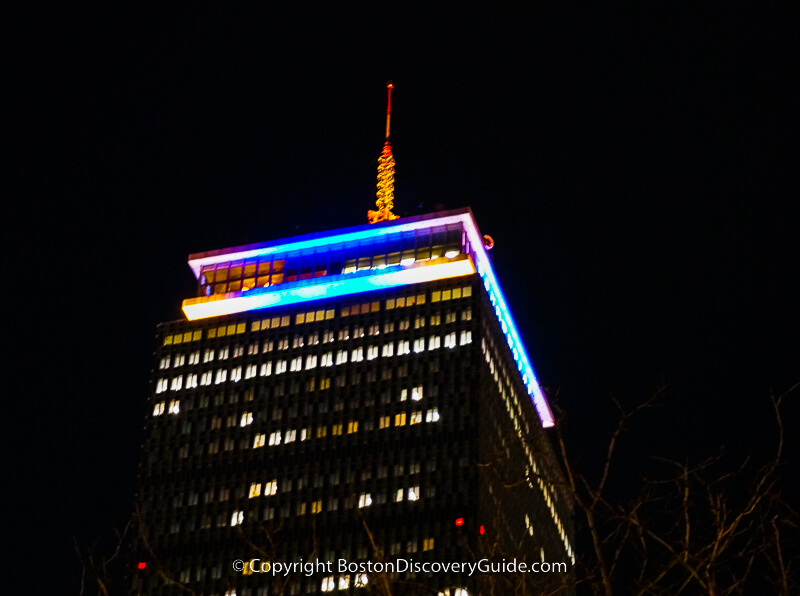 From December 1 through New Year's Eve on December 31, Prudential Tower displays lights of a different color each night to bring awareness to non-profit organizations.
It's one of Boston's special holiday traditions!
---
Best Neighborhoods for Seeing Holiday Decorations in Boston
Want to see beautiful holiday decorations, lovely evergreen wreaths on doors, and creative displays of Christmas lights, glowing candles, and perhaps even an animated reindeer or two?
Stroll around these historic neighborhoods in central Boston, and don't be surprised in you happen upon groups of carolers along the way:
Beacon Hill - Start on Charles Street (pop into Beacon Hill Books & Cafe at #71 for hot chocolate and a snack), and then explore any or all of the side streets. If you're hungry, 75 Chestnut (at, literally, 75 Chestnut Street) usually has plenty of cheery holiday decorations as well as very good food. More about Beacon Hill
Back Bay - You're likely to spot gorgeous decorations on the Victorian mansions along Commonwealth Ave and Marlborough Street - but don't skip the dazzling store windows on Newbury and Boylston Streets.
The South End - Anywhere in this neighborhood of gorgeous restored brownstones is a good bet - so wander around enjoying the sights, and then treat yourself to dinner and holiday cheer at one of the many top restaurants and bistros.
Seaport - Start your neighborhood exploration on Seaport Ave and enjoy all the sparking lights on all the neighborhood trees.
Downtown Crossing - Stroll along (mostly) pedestrian-only Washington Street to enjoy the overhead holiday lights, decorated store windows, and the brilliant Christmas tree at Macy's overlooking Summer Street. Enjoy a hot beverage and delicious pastry at George Howell in the Godfrey Hotel. Faneuil Marketplace, with its large Christmas tree, is about a 6-minute walk away.
---
Planning Ahead for the Holiday Season?
The schedule for Boston's Christmas tree lighting ceremonies doesn't usually get finalized until around mid-October each year.
If you want to plan ahead to attend one or more of these ceremonies before the final schedule is available, here's a tip: ceremonies usually take place on the same day of the week from one year to the next, so you can use the previous year's date to guess the date for the next year with reasonable accuracy.
However ... keep in mind, there are no guarantees, even once dates are set.
So please note: Dates and times for tree lighting ceremonies are always subject to change and even last-minute cancellations, particularly if we get hit by extreme weather (ie, nor'easters, blizzards, etc.). Please verify dates and times close to the events.
---
More to Do in Boston in December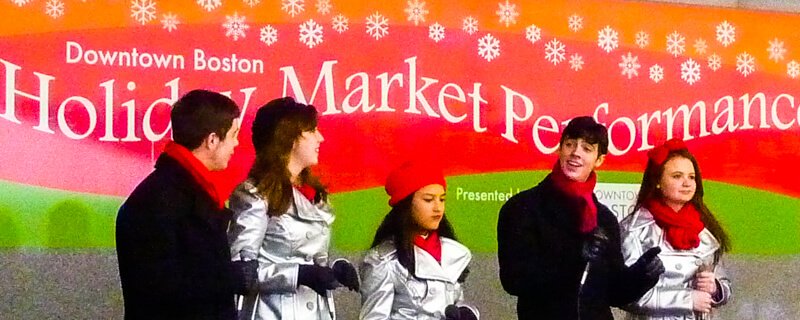 ---
More Articles about Christmas in Boston
---
Need a Boston Hotel or Apartment?
Use this handy map from Booking.com to find the perfect place to stay. Just enter your dates to find what's available, see the best rates, and make your reservations.