Christmas Tree Lighting Celebrations in Boston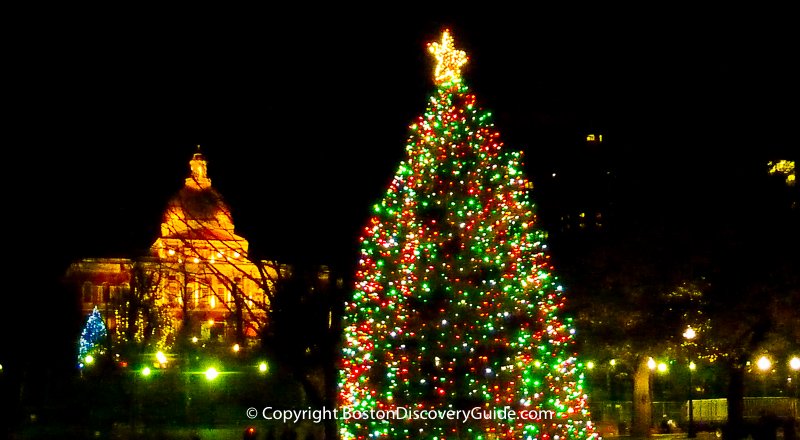 Boston's festive Christmas tree lighting ceremonies start in late November, and by early December, the city sparkles with glowing lights.
If you have the chance to attend one of these special events, you'll enjoy seeing the beautiful lights suddenly brighten the winter darkness.
In addition, many ceremonies feature entertainment, appearances by Santa, and perhaps refreshments and singing.
By the time the last lighting event takes place, holiday lights almost blanket the city, covering not only the large Christmas trees dotted around the city but also hundreds of trees in Boston Common, the Public Garden, Commonwealth Avenue Mall, Copley Square, the North End, and along the waterfront.
Holiday Tree Lighting Schedule
Two of the biggest trees stand proudly in Boston Common and Faneuil Hall Marketplace, site of the Blink! holiday lights and music show.
The tree on the Common (shown in the above photo) is a special gift to Boston that arrives every year from the people of Nova Scotia.
You can find another huge tree perched above Macy's in Downtown Crossing - plus plenty more in shop windows, hotel lobbies, and restaurants.
Find out when the lights on each special Christmas tree are lit, what happens during the tree lighting ceremony, and other nearby things to do and see.
Please note: Most dates and times below need to be confirmed for 2018. Look for most updates starting in October!
---
Holiday Tree Lighting Events in Boston in November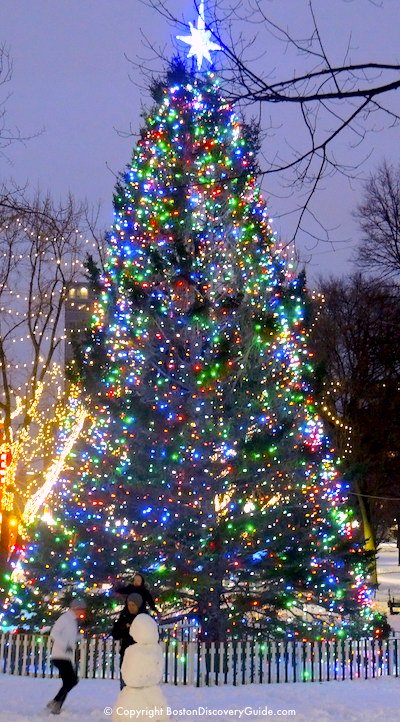 Annual Lighting of the Columbus Park Trellis - 2018
The Mayor turns on the 50,000 glowing blue and white lights along the 260 foot trellis (shown in photo below) and 14 nearby trees on Monday, November 19, 5 pm in Christopher Columbus Park (110 Atlantic Ave), transforming the waterfront park into a magical light garden through the holiday season. The event includes music, entertainment, and refreshments.
More to do: Don't miss this chance to have dinner in the North End! You'll find most restaurants along Salem and Hanover Streets.
Copley Square Tree Lighting
Monday, November 26, 5:00pm-6:00pm (to be confirmed for 2018) - Wreaths with red bows decorate Copley Square, and the Old South Church bell tolls when the lights go on - look for appearances by Santa, Rudolph, and Frosty, plus music by local chorus groups! The Boston Public Library hosts a story time and candy cane tea from 3-5pm (free, but you must make reservations - call 617-859-2282), and Fairmont Copley Plaza hosts a post-lighting reception at 6pm.
More to do: Get a head start on your holiday shopping - check out the national-brand stores along Boylston Street or explore boutiques and galleries on nearby Newbury Street.
Massachusetts State House Tree Lighting
A giant Christmas tree in the Rotunda lights up in the annual tree lighting event ceremony at 5pm on Tuesday, November 27, followed by an open house and visit from Santa in Doric Hall. This marks the official kick-off of the holiday season in Massachusetts.
More to do: Before the ceremony, explore the special treasures in the State House. After the tree is lit, walk across Beacon Street to Boston Common, rent skates, and take a twirl around the Frog Pond ice rink. More about where to ice skate in Boston
Faneuil Marketplace: Giant Christmas Trees and Blink! Light Show
Tuesday, November 27 - By tradition, the "Big Tree" at Faneuil Hall Marketplace is by tradition the biggest decorated tree in the Northeast. Lights go on during a ceremony to be live broadcast by CBS Boston WBZ-TV between 7:30pm-8pm. (Details to be confirmed)
After the tree is lit, the Marketplace's music-light show Blink! will start at 4:30 and continue to run every hour on the half-hour from 4:30pm-10pm daily through early January - More about Blink
More to do nearby: Get all your holiday shopping done and enjoy the holiday performers at Faneuil Hall Marketplace. Relax at one of the historic taverns along nearby Union Street.
Boston Common Holiday Tree Lighting
Thursday, November 29, from 6pm-8pm. This exciting event takes place near the Visitors Information Center on Tremont St and stars the special tree sent as a gift from Nova Scotia (shown in photos above). The Mayor will be joined by Santa and members of the Royal Canadian Mounted Police. Refreshments, music, and entertainment will be provided by local groups. Lights on the tree - almost 7,000 of them - go on at about 7:55pm, followed by lights on 80+ other trees throughout the Common and the Public Garden. When the Mayor turns on the lights, the Boston holiday season officially begins! The show closes with a special fireworks display over the Common.
Before the lighting event, a free ice-skating show by the Skating Club of Boston featuring national and international competitive skaters takes place at Frog Pond from 5pm-6pm.
Commonwealth Avenue Mall
Thursday, November 29, 8:30pm - Thousands of twinkling white lights transform this tree-filled parkway into a sparkling forest.
Holiday Tree Lighting Events in December
31 Nights of Lights
From December 1 through New Year's Eve on December 31, Prudential Tower displays lights of a different color each night to bring awareness to non-profit organizations.
North End Tree Lighting
Friday, November 30, 6pm-8pm, at the corner of Cross and Hanover Streets. Come hear carolers and enjoy some light refreshments from Caffé Paradiso and the St John's Chool Bake Sale (all proceeds benefit the school's programs). The North End's Holiday Stroll takes place this evening too!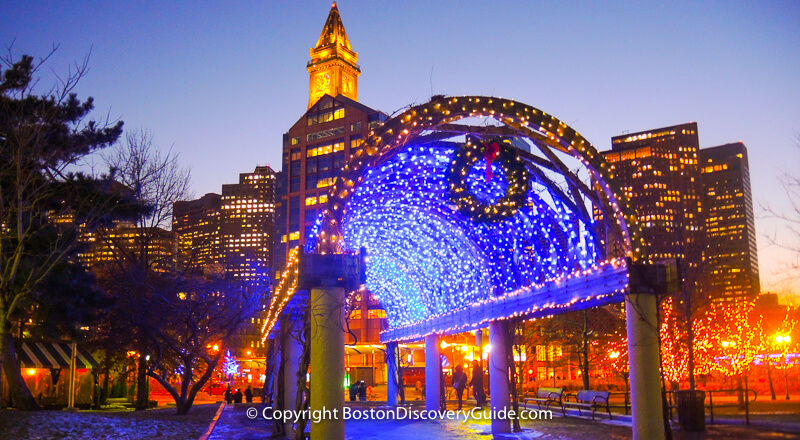 Planning Ahead?
The schedule for Boston's Christmas tree lighting ceremonies doesn't usually get finalized until around mid-October each year.
If you want to plan ahead to attend one or more of these ceremonies before the final schedule is available, here's a tip: ceremonies usually take place on the same day of the week from one year to the next, so you can use the previous year's date to reasonably guess when the date for the next year.
However ... keep in mind, there are no guarantees, even once dates are set.
So please note: Dates and times for tree lighting ceremonies are always subject to change and even last-minute cancellations, particularly if we get hit by extreme weather (ie, nor'easters, blizzards, etc.). Please verify dates and times close to the events.