Let's face it - a Boston map can be your best friend as you try to find your way around the city's narrow, winding streets.
Some streets change names every block or two, while others suddenly dead-end.
Street signs can be scarce - Yankee frugality? - especially on major roads. Yet alleys seem to not only have names, but also signs.
And then there are streets with seemingly identical names, except for "Court" or "Lane" or "Terrace" at the end - usually abbreviated in some cryptic way.
Even GPS fails - or leads you down the wrong path. Or to a street with the name you request - but in Cambridge instead of Boston, which of course you don't realize until after you've spent an hour in rush hour traffic trying to reach the wrong destination. Or GPS and the map you've pulled up on your phone are fine - until your phone battery dies.
Fortunately, you can easily get excellent maps of Boston for free. This article tells you where to get the best free Boston tourist maps for sightseeing in Boston, creating your own walking tours, and - maybe most important - not getting lost!
Top Photo: Free Boston map showing the Freedom Trail (marked in red), (c) Boston Discovery Guide
Boston Discovery Guide is a reader-supported publication. When you buy through our links, we may earn a commission at no additional cost for you. Learn more
---
Boston Discovery Guide's Recommended Free Map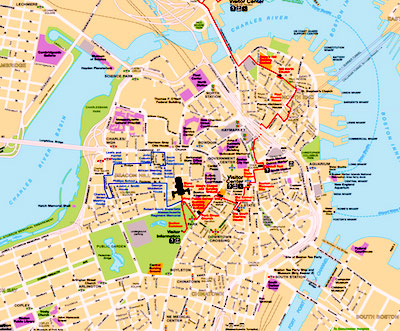 The National Park Service's map of the Freedom Trail and Black Heritage Trail walking routes gets BDG's vote as the best map of central Boston for tourists and other visitors.
Not only do you get a clear view of Boston's two most famous walking trails, but you can also easily see the clearly labeled top attractions, neighborhoods, T stops, and all but the smallest streets, lanes, courtyards, and alleys.
Download and print the map here
Or, pick up a free copy in person at the Boston Common Visitor Information Center (147 Tremont Street, across from West Street intersection).
Boston Insider Tip: Where to Find the Free Map
To get the free NPS map, you have to go up to the counter at the Visitor Center and ask for the "free Freedom Trail map." The maps you'll see in the display racks near the door are not free.
---
Free Trolley Tour Maps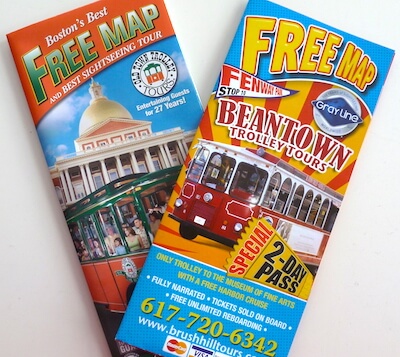 Our leading trolley tour companies produce their own Boston city maps, although they focus just on the area covered by the trolley tours - but that's still a fairly large swath of the city. And these maps are they're designed for tourists, so they show all the top attractions.
The Old Town Trolley map includes a small map of Boston's subway system, while the Beantown Trolley map size is smaller and somewhat more convenient to use. They're free - so get them both and decide when one you like best.
You can almost always find these free maps in city hotel lobbies - just ask the concierge - and you'll also be given one if you go on a trolley tour.
More about Boston trolley tours
---
Free Maps in Boston Guide Books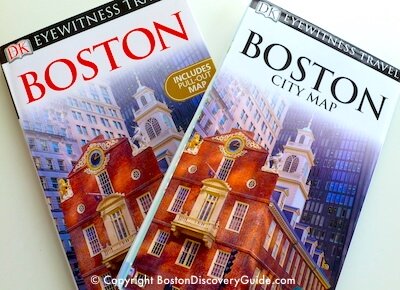 Several Boston travel guidebooks include bonus pull-out maps, free when you buy the book.
Most are excellent - but if you're going to pick just one, go with DK Eyewitness Travel Guide: Boston (#ad).
The full-size pull-out map printed on glossy high-quality paper provides an index to main attractions and plenty of detail, including named subway stations; a subway map showing all the different lines is printed on the reverse side.
Inside the front cover, you'll find a high-level neighborhood map. Even more useful is transportation map inside the back cover. In addition to providing labeled T (ie, subway) stations, it gives a slightly different, more detailed view of neighborhoods - although inexplicably, it omits labels for the North End and West End, and the large area allocated to Chinatown would surprise most Bostonians.
Within the book, you get lots of added value - over 500 more detailed maps of neighborhoods, parks, famous buildings. This guidebook does an excellent job of orienting you to the city, and is highly recommended by other travelers.
More about DK Eyewitness Travel Guide: Boston (#ad)
Another good alternative, if you're looking for a guidebook-pullout map combo, is Frommer's Boston Day by Day (#ad). Its pullout map does not show quite as much detail as the Eyewitness map, but you'll find numerous detailed maps throughout this compact, easy-to-carry book.
---
Fun Things to See & Do in Boston
---
Boston Neighborhood Map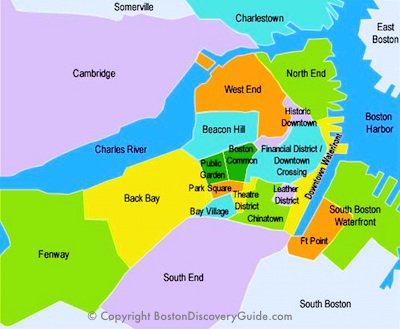 To quickly see locations for Boston neighborhoods, consult BDG's sightseeing map.
Although some neighborhood boundaries may always be slightly fuzzy, this map shows all major areas with a reasonable degree of accuracy.
Admittedly, Boston is so compact that you may be wondering why neighborhood location even matters? However, Boston Locals tend to give directions by referring to Beacon Hill, the North End, and other neighborhoods - so knowing generally where they're located gives you an advantage when choosing a hotel, planning your itinerary, and finding your way around.
To give you a sense of scale, walking distance from Fenway Park to the North End is just over 2 miles - easy to cover on foot in 30-40 minutes - unless you let the numerous interesting distractions along the way slow you down.
---
Inexpensive Waterproof Maps
Free maps are fine until they get wet. Online maps and walking or driving directions can work unless your phone dies.
But for the best convenience and reliability, you can't beat a waterproof foldout map. In addition to being available when you need it and not melting in the rain, these maps let you see the big picture as well as small details when you're trying to figure out the best route to where you need to go.
We've rounded up two of the best choices - and as a bonus, they'll cost you less than a couple of drinks at Starbucks:
National Geographic Waterproof Boston Destination Map
Despite being small enough to fit in your pocket, Boston Destination Map: City Map & Travel Guide (#ad) packs in an enormous amount of information in its waterproof format.
The easy-to-read road map of Boston includes 3D depictions of many popular sites as well as location markers for hundreds of others, letting you easily find all the top attractions, hotels, subway and train stations, parks, theaters, and lots more at a glance.
In addition, there's an index, plus maps of walking tours such as the Freedom Trail, Black Heritage Trail, and Maritime Trail, a "T" (subway) map, a diagram of Logan Airport, and even a regional map.
Great value for the money! Buy it at Amazon (#ad)
Laminated Boston Streetwise Map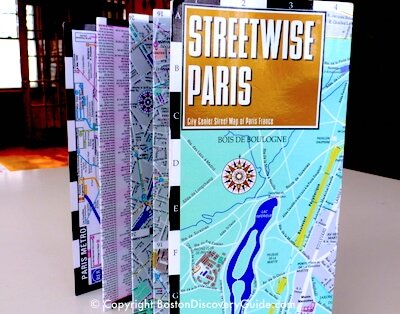 Nothing beats the Boston Streetwise map (#ad) for detail, convenience, durability, and accuracy.
Although this map costs a few dollars, it's money well-spent - the heavy laminated finish means your map won't fall apart, even after you use it to cover your head during an unexpected rainstorm.
It also wipes clean, so you can use a felt-tip marker to circle locations on it. You can even use it as a make-shift plate if you're eating street food.
We've loaned our own Boston Streetwise Map to a friend, which is why you see our Paris map in the photo.
The map's accordian-folded style keeps it compact for carrying and also for using - you can open it up to just the section you need, rather than unfolding a large map that screams "Tourist!" to everyone passing by. Even after rigorous use and abuse during a number of trips, our Paris map shows only the slightest wear along the edge.
Like the Paris map, the Boston map shows lots of attraction locations and includes a subway map, as well as an street name index. Buy at Amazon (#ad)
---
Need a Boston Hotel or Apartment?
Use this handy map from Booking.com to find the perfect place to stay. Just enter your dates to find what's available, see the best rates, and make your reservations.
---
More Articles about Getting Around Boston
---
More Fun Ways to Experience Boston