If cold temperatures make you shiver, visiting Boston during frigid winter weather may seem appealing - until you check out our tips for the 8 best INDOOR Boston winter activities and things to do indoor around the city.
You'll quickly see why winter here can be lots of fun - despite the cold.
Our recommendations focus on places that will let you experience the best of Boston while keeping warm: our world-class museums, historic pubs and taverns, vibrant theaters, city tours that keep you warm, cozy restaurants, and more.
All of our suggestions are close to T (Boston's subway) stations to minimize your time outside.
Prefer to be outside? Check out fun outdoor activities in Boston in the winter.
Top Photo: Boston's Beacon Hill neighborhood in the snow, (c) Boston Discovery Guide
Boston Discovery Guide is a reader-supported publication. When you buy through our links, we may earn a commission at no additional cost for you. Learn more
---
1. Shows & Performances in Boston's Theatre District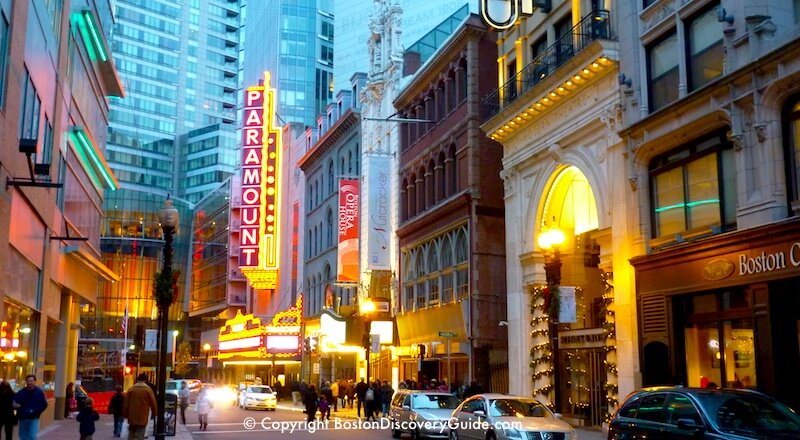 Boston's lively theater season reaches its peak during winter months, when the beautifully restored Theatre District sparkles with lights.
The largest commercial theaters - the Boston Opera House, the Wang Theatre, the Shubert - attract headliner performers, Broadway Across America shows, and renowned Boston Ballet productions.
Look for experimental theater at the Paramount, where ArtsEmerson produces award-winning productions, and Modern Theatre where Suffolk University runs highly-rated performance and film programs.
Nearby, in the Charles Playhouse, you'll find Boston's 2 longest-running shows: Shear Madness, where audiences participate in the pun-filled mystery set in a hair salon, and Blue Man Group, the bald blue comedians who perform an always-changing series of skits and joke routines.
Also nearby, the Wilbur Theatre hosts an eclectic mix of top comedians in its comedy club format.
Check out these possibilities:
Theatre District shows and performances
Check out Boston's comedy clubs
---
Where to Stay in the Theatre District
During winter months, when every extra step in icy weather matters, staying just steps away from the theater where you're attending an evening performance can feel like a wonderful luxury.
Hotels closest to the Opera House, Paramount, Modern Theatre include: the Godfrey, the Ritz-Carlton, and the Hyatt Regency
Hotels closest to the Shubert Theatre, Wang Theatre, the Wilbur, and the Charles Playhouse include: the W Boston, the Revere, and Courtyard Boston
More about hotels in Boston's Theatre District
Find More Boston Hotels
Enter your dates to find available hotels and rates:
More about how to save on Boston hotels
---
2. Best Boston Tours for Winter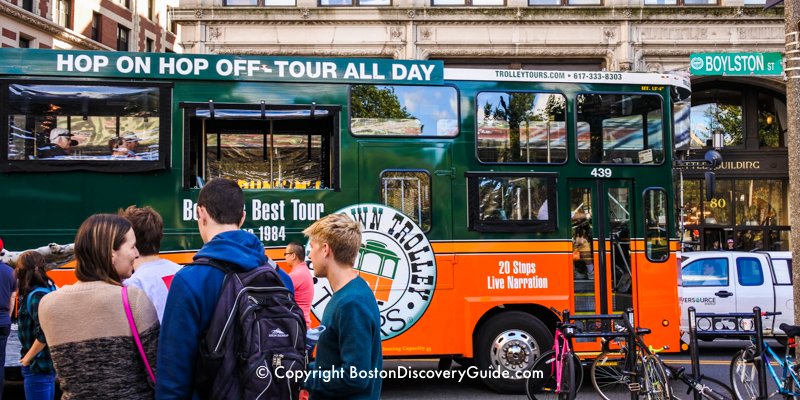 Most walking tours, bus tours, and even the popular Boston Duck Boat tours stop during the winter - usually on the Sunday of Thanksgiving weekend. But no worries, you'll still find excellent tours that let you see the city while staying toasty warm:
Boston Hop On Hop Off Trolley Sightseeing Tour - This narrated trolley tour around the city shows you over 125 points of interest from the comfort of a fun retro trolley. If you stay on the bus for the whole tour, it lasts almost 2 hours - but you can also get off and on as many times as you want at any or all of the 19 stops along the way at places like the New England Aquarium, Museum of Fine Arts, and Beacon Hill (where you'll find plenty of tasty restaurants). Tickets includes free admission to the Old State House, as well as a free Harbor Cruise (seasonal: April-October). More
Boston Brewery Tour plus Lunch or Dinner - You'll explore Boston's vibrant brewpub scene - and taste up to 18 different local brews during these morning and evening tours. You'll make behind-the-scenes visits to learn about the brewery operations as you travel by bus (round-trip transportation from Downtown is included). Lunch or dinner included. More
---
More Ways to Experience Boston in the Winter
These fun trolley tours, bus tours, and special destinations let you enjoy the best of Boston even when the weather outside is cold!
---
3. Cruise Around Boston Harbor (While Staying Snug and Warm)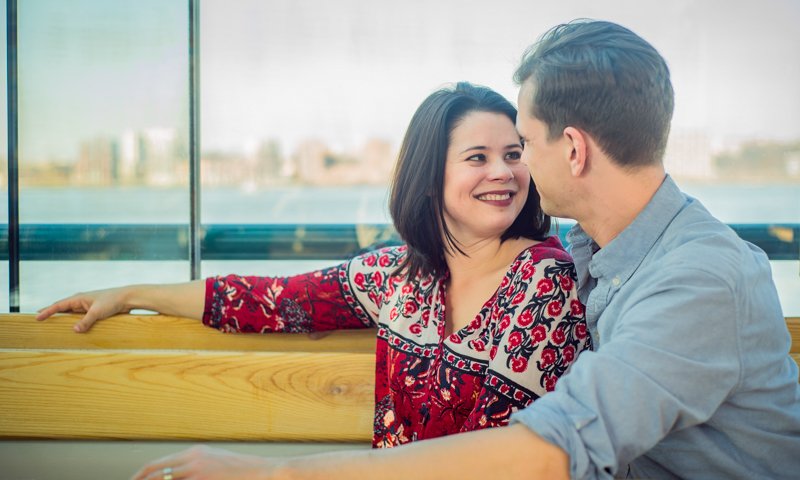 Popular Cruises on the Northern Lights:
Sailing on the Adirondack III
Adirondack III Day Sail - Enjoy cool breezes and the afternoon sun on this relaxing sightseeing sail around Boston Harbor and the Inner Harbor Islands - Starts May 3
Adirondack III Sunset Sail - Relax as the setting sun turns the sky brilliant colors - Starts May 3
Adirondack III 90-Minute Mimosa Day Sail - Soak up the sun on this afternoon sail through the Inner Harbor and Harbor Islands with drinks available for purchase at the bar - Starts July 1
Book Your July 4th Cruises Now!
---
4. Enjoy these Boston Winter Sports Inside a Comfortable Indoor Stadium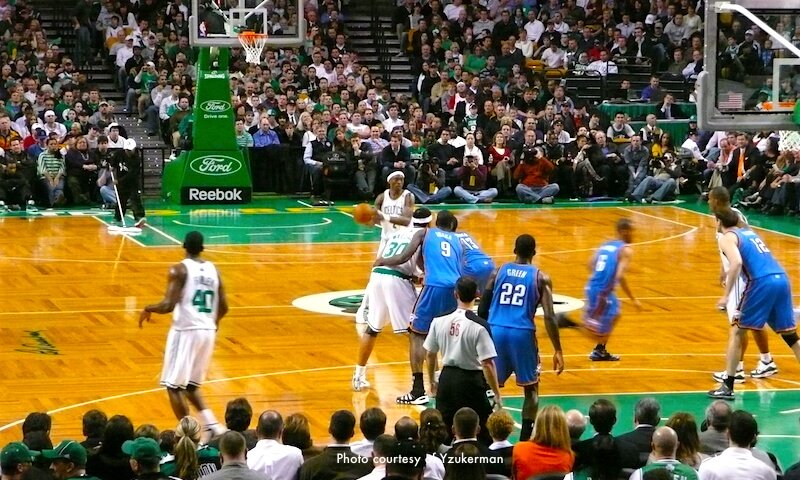 The air outside may be frigid, but inside TD Garden, the action on the ice and on the court heats up when the Boston Bruins and Celtics are in town for home games. You can take the T straight to North Station and not even have to step outside as you make your way to the Garden to watch them play.
Fortunately for Boston sports fans, a game is scheduled almost every day throughout the winter.
Bruins Schedule
Save when you use this Ticket Discount Code:
Enter DISCOVERY10 to save 10% on TicketLiquidator & TicketNetwork tickets. Good through 12/31/24.
Find All Bruins Games at TD Garden
Celtics Schedule
Enter DISCOVERY10 to save 10% on TicketLiquidator & TicketNetwork tickets. Good through 12/31/24.
Find all Celtics tickets for TD Garden
The Garden also hosts the popular Disney on Ice Spectacular during the winter months:
See Disney on Ice Show Performance Schedule & Tickets
---
Where to Stay Near TD Garden
Coming to an event at the Garden? Consider spending the night or the weekend at one of these top nearby hotels:
Check out more hotels near TD Garden
---
More to Do near TD Garden
If you're visiting with kids, take them to visit the Sports Museum in the Garden - lots of fun to see the history of Boston's many winning sports teams! Check the Sports Museum website (http://sportsmuseum.org) before you go to make sure they're open, because they close on holidays and during certain Garden events.
The area around the Garden is also home to many of the city's top sports bars and Irish pubs, where you can enjoy a tasty meal and brew while watching the action on the big screens - another way to enjoy sports from a comfortable indoor spot on a chilly (ok, frigid) Boston winter day or evening.
---
5. Best Boston Museums for Winter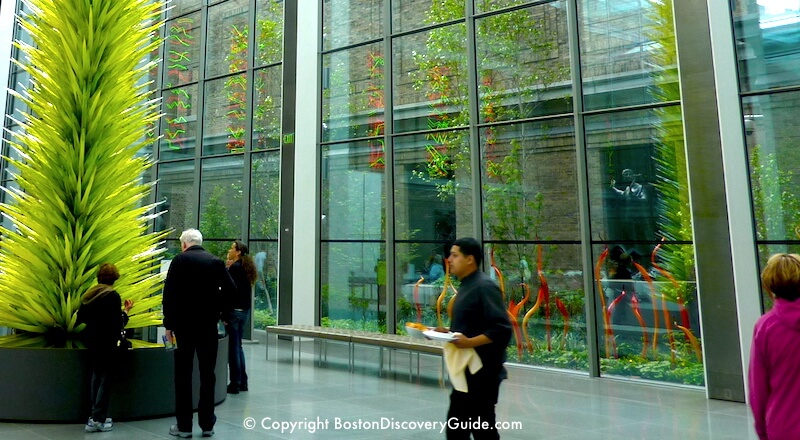 With 60+ Boston museums appealing to all kinds of interests, you'll find plenty of interesting choices. In fact, a trip to a museum can be the perfect solution to a bad-weather day at any time of the year, but ranks especially high among top Boston winter activities.
But which Boston museums are best for winter?
Two things are most important:
Size - Should be big enough to occupy you for a few hours - no need to go back outside for awhile!
Logistics - Should be near a T station and/or a hotel to minimize the need to walk far
Here are several interesting large museums targeted for different interests, along with nearby T stations and hotels to keep your walk short:
- Museum of Fine Arts - Green Line E/Museum - Midtown Hotel (compare rates) - Several blocks from the museum - but only 1 subway stop away on the Green Line
- New England Aquarium - Blue Line/Aquarium - Boston Marriott Long Wharf (compare rates) - Just steps away, and it has a lovely indoor pool
- Museum of Science - Green Line/Science Park - Hotel Indigo Boston Garden (compare rates) or Onyx (compare rates) - Walk 1 block and take the Green Line from North Station to Science Park
- Boston Children's Museum - Silver Line/Courthouse Station (children 11 and under ride free) - Residence Inn Seaport (find rates) or Envoy Hotel (compare rates) - Both are about a 2-minute walk from the museum
If you have a Boston discount card, you will typically get free admission to some are all of these museums.
---
7. Boston's Warm & Welcoming Irish Pubs & Historic Taverns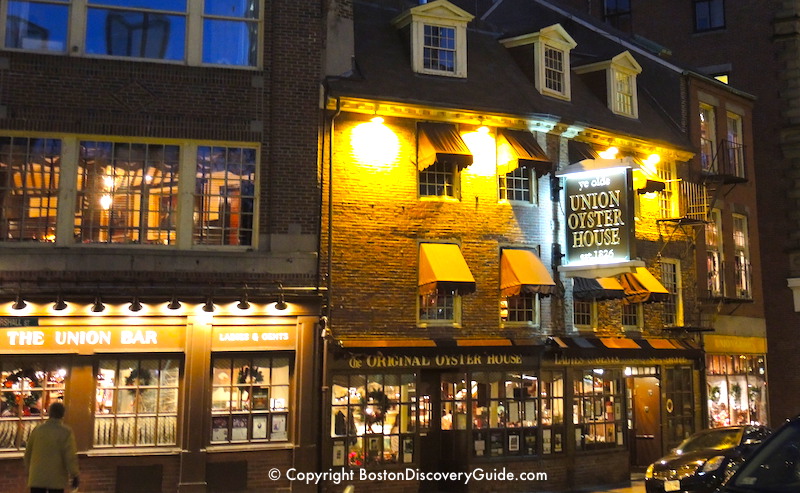 On a cold winter night, nothing beats the warm welcome, tasty brew, and excellent food you'll find at Boston's friendly Irish pubs and historic taverns, some of which have been around since the American Revolution.
Because local ordinances prevent Boston bars from offering Happy Hour cheap drinks, our local pubs instead offer Happy Hour food specials and compete for customers based on their gastro pub cuisine at deep discount prices - usually from about 5:30pm - 7pm. Obviously, it's a win-win, and an excellent way to stay warm on a cold winter night.
Stop by to experience the real Boston - and perhaps enjoy some music and conversation. It's a Boston tradition!
Winter is also when Boston hosts a couple of well-known wine festivals. Whether you're a connoisseur or just enjoy wine, you won't want to miss these!
---
Fun Tours of Boston Bars & More
---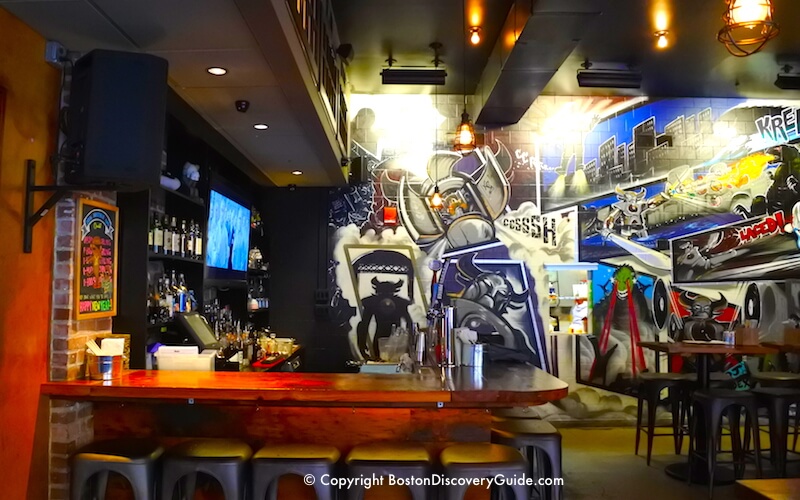 8. Fun Restaurants in Downtown Boston
Although Boston has wonderful restaurants all over the city, winter is a great time to sample those right in the middle of the city, close to the lively Theatre District, shopping and entertainment at Faneuil Marketplace, and ice skating on Boston Common.
In and near the Theatre District, you'll find an eclectic selection of top places to dine, casual bistros, and wonderful bakery/coffee bars. Check out Theatre District restaurants and cafes
Somewhat overlapping the Theatre District is Boston's Chinatown - in fact, it's the third largest Chinatown in the U.S., and full of all sorts of Asian restaurants, bakeries, and tea houses. You'll find everything from traditional dim sum palaces to Mongolian hot pot to innovative contemporary cuisine. Find our recommendations for fun Chinatown restaurants
---
Check Out Top Boston Events Each Month
January | February | March | April | May | June | July | August | September | October | November | December | Year at a Glance
---
More Articles about Boston Winter Activities
---