Fenway Park, located in Boston's Fenway neighborhood, is America's smallest major baseball league park and a Boston treasure.
Fenway is where you can see the Boston Red Sox home games throughout baseball season, special winter sports events, and big summer concerts.
When Lady Gaga, Guns N'Roses, the Hella Mega Tour, Aerosmith, Maroon 5, and Billy Joel come to town, Fenway is where you can see them perform.
With tickets easy to get and Fenway Park super-easy to reach by subway or on foot, plan to attend at least one exciting game, concert, or show during your Boston visit!
Top photo: Fenway Park's "Gate B" entrance
Boston Discovery Guide is a reader-supported publication. When you buy through our links, we may earn a commission at no additional cost for you. Learn more
---
Game & Concert Schedules at Fenway Park 2023
Save on your Fenway Park tickets with this discount code:
Enter DISCOVERY10 to save 10% on TicketLiquidator & TicketNetwork tickets. Good through 12/31/24.
Fenway Park Red Sox Games - Schedule & Tickets
See schedule & tickets for all sports events at Fenway Park
Fenway Park Concert Schedule & Tickets
See schedule & tickets for all concerts at Fenway Park & get tickets
Fenway Park Events Each Month
---
Where to Get Fenway Park Tickets
If you're visiting Boston, the easiest way to get great seats for the game you want to see is to order online before you leave home. Just choose your game, pick your seats, and click. All of the following ticket vendors guarantee you'll receive valid tickets at before your event:
Enter DISCOVERY10 to save 10% on TicketLiquidator & TicketNetwork tickets. Good through 12/31/24.
TicketNetwork - Excellent seats for Red Sox, playoffs, other sports, top concerts, great prices
TicketLiquidator - Best seats, great prices
Viagogo - Huge selection of seats, great prices
---
Discount Tickets for Fenway Park
Groupon is the best source for Fenway Park discount and half-price tickets.You can occasionally find tickets for concerts as well as other events.
Availability varies - but you're always smart to look. Discount tickets typically become available 2-3 weeks before the event date. Check Groupon now
---
Fenway Park Seating Maps
Fenway Park's official seating capacity is 35,692 for day games, and 36,108 for night games.
Seat arrangements vary based on the type of event. For example, here is the seat map for Boston Red Sox home games (note that seat prices vary by game and availability - prices may be higher or lower than those shown below):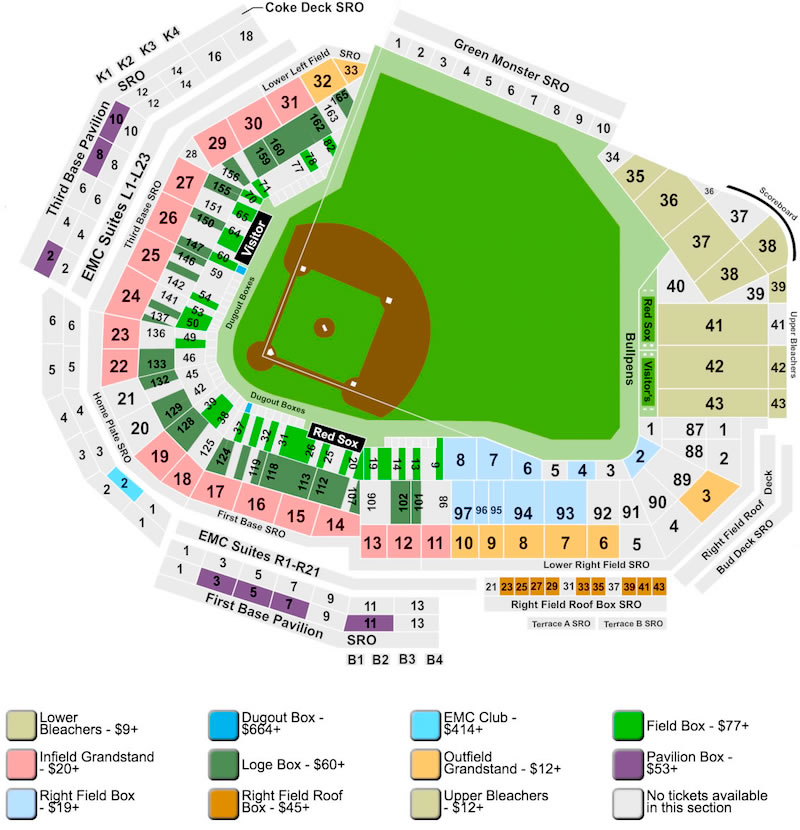 Fenway Park Seat Capacity Trivia
The biggest crowd ever to pack the park was 47,627 back on September 22, 1935, when the Red Sox played a doubleheader against the New York Yankees, although crowds nearly that large were typical during the early 1930s.
The huge crowds came to an end in 1942 after 492 people died less than a mile away when a horrific fire swept through the overcrowded Cocoanut Grove nightclub.
This tragedy led to the creation of more stringent fire codes in Boston and across the nation.
---
Where to Stay Near Fenway Park
If you're coming to a Red Sox game, spend the night or the weekend at one of the nearby hotels:
Verb Hotel, directly across the street from Fenway Park
Check out more hotels near Fenway Park
---
More to See & Do near Fenway Park
Want to see Fenway Park up close? Go on a Fenway Park Tour.
The area around Fenway is also home to many of the city's top sports bars - perfect for lunch or dinner before or after a game or concert.
House of Blues, one of Boston's top concert venues, is just across the street.
Directions to Fenway Park
Location: 4 Yawkey Way, in Boston's Fenway neighborhood
Nearest T station: Green Line B or C/Kenmore (closest if going to Fenway Park from Downtown) or Green Line D/Fenway; Commuter Rail Worcester Line/Yawkey
Boston Red Sox - More to Know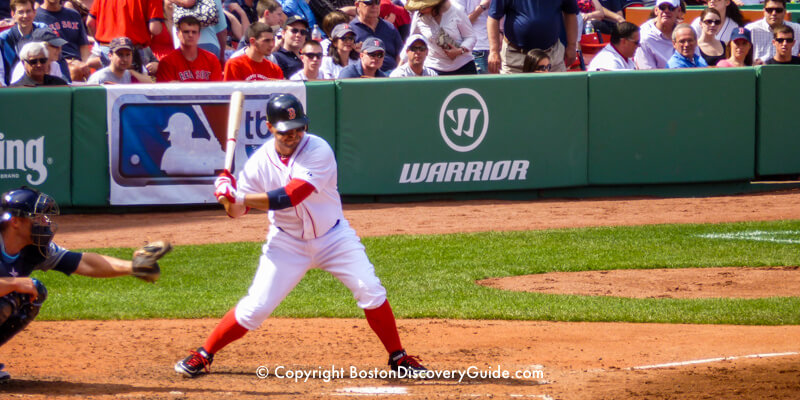 More about Sports in Boston

Need a Boston Hotel or Apartment?
Use this handy map from Booking.com to find the perfect place to stay. Just enter your dates to find what's available, see the best rates, and make your reservations.
---