Boston's famous Fenway Victory Gardens, located in a 7-acre plot at the north end of the Back Bay Fens, a large park designed in the 1900s by Frederick Law Olmsted as part of his "Emerald Necklace," a series of linked parks circling Boston.
The Victory Gardens date back to World War II when local residents grew vegetables in the plots to combat food shortages.
Today, flowers outnumber veggies, although you'll still see plenty of lettuce, luscious tomatoes, eggplants, strawberries, raspberries, and more as the growing season progresses.
During World War II, the Fenway Victory Gardens, along with 20 million other victory gardens across the country, produced almost 40% of the nation's vegetable and fruit supply.
Boston established 49 victory gardens across the city for this purpose, including large chunks of Boston Common and Copley Square.
The Fenway plot dates back to 1942, and is the only remaining World War II-era victory garden still in cultivation in its original location in the U.S. Not only has it survived, but it continues to flourish.
Local residents still tend the 500 or so plots, which typically measure about 15' by 25' - roughly the size of a large living room - although a few are even larger. Some gardens have been here for many decades, although new ones get created each year.
Top photo: Flowering trees line a public path through Boston's Victory Gardens; in the background, almost totally hidden by the trees, is Prudential Tower, (c) Boston Discovery Guide
Boston Discovery Guide is a reader-supported publication. When you buy through our links, we may earn a commission at no additional cost for you. Learn more
---
What Do Boston's Victory Gardens Look Like?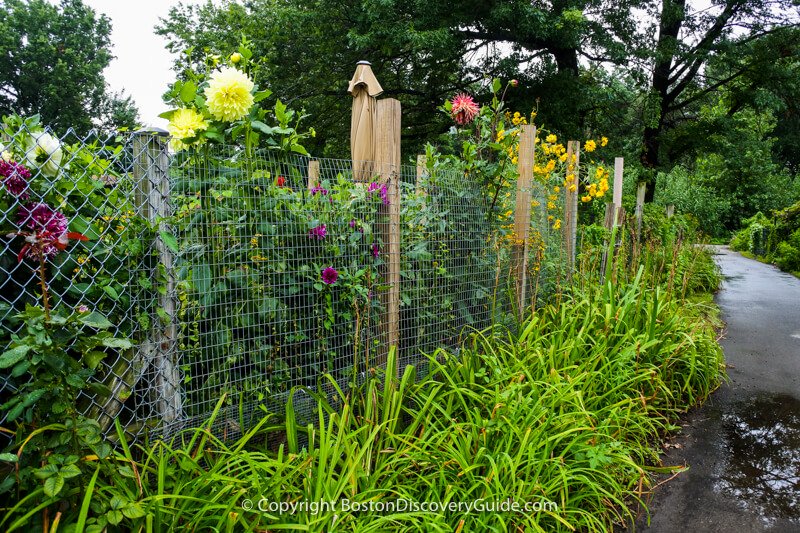 Although the Back Bay Fens park including the Victory Gardens is public, individual fenced plots are private, with locked gates to protect the gardening tools, lawn furniture, sculpture, and other items tucked away in them.
But thanks to a grid of paths, you can easily walk around the Victory Gardens and see each one - or all 500, if you're so inclined.
Wide paths divide the gardens into 4 large sections, with narrow lanes (sort of like alleys) giving access to interior gardens. Once you're in the interior, you'll forget you're in the city.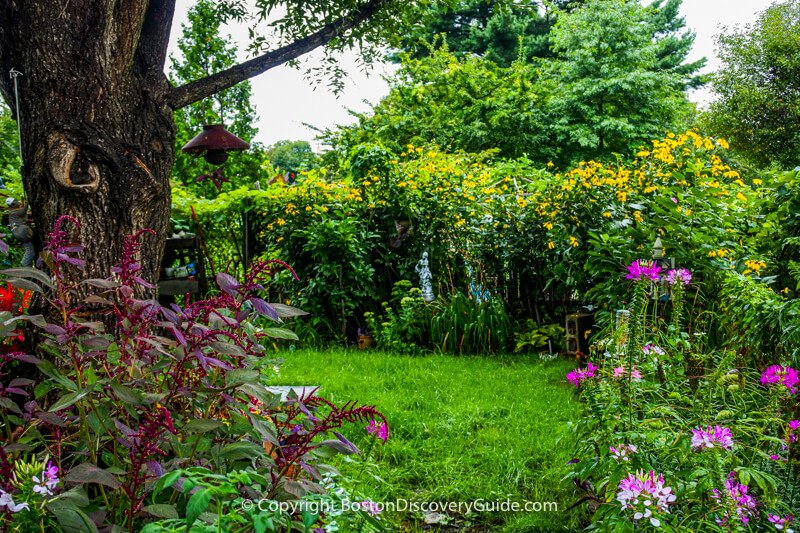 What makes a visit to the Fenway Victory Gardens special is that each space reflects the interests, aesthetic vision, and energy and skills of its caretaker.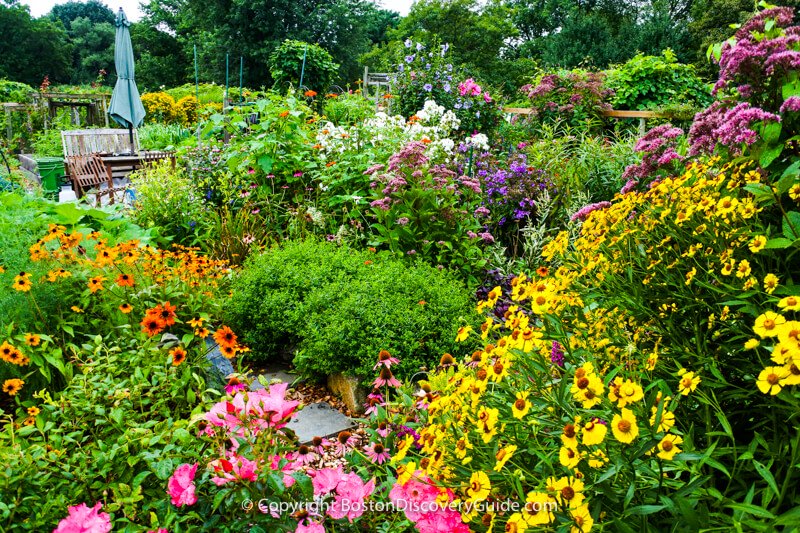 As you can see in the above photo, many gardens overflow with blooming annuals, perennials, and even veggies.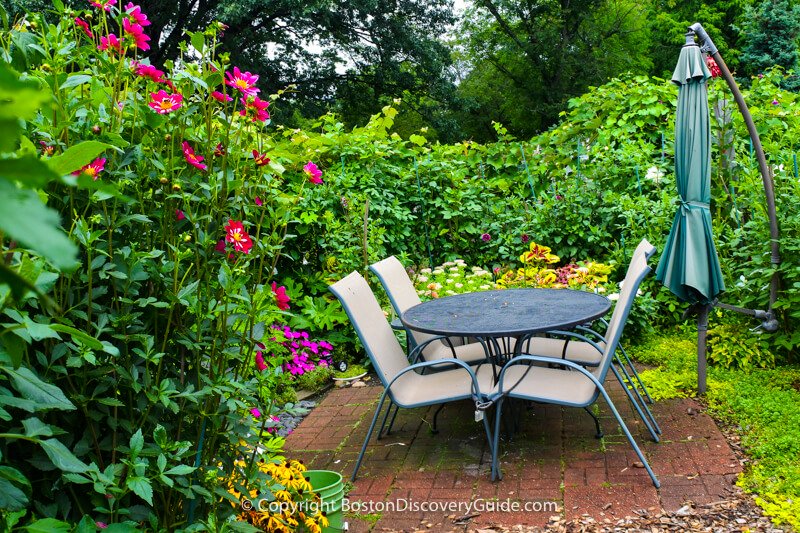 Other gardens focus on socialization, with seating, tables, and even grills.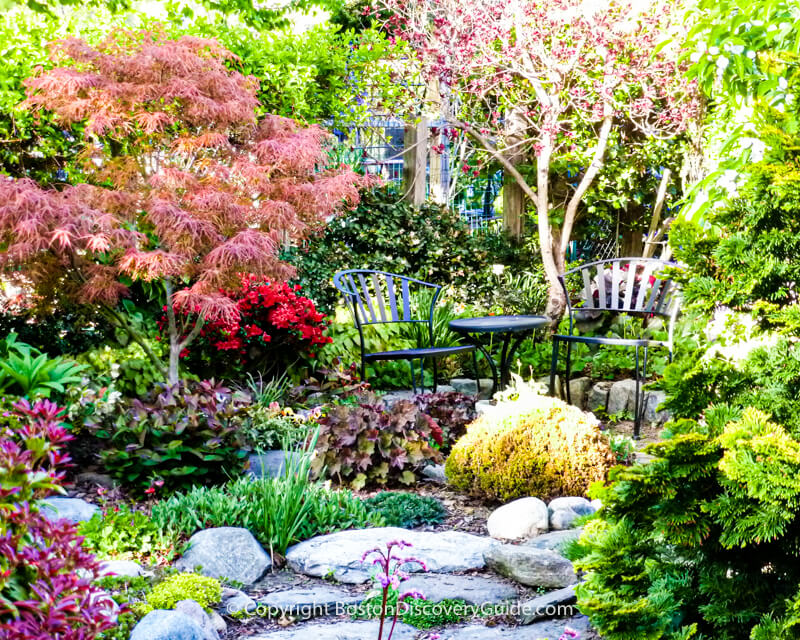 As you stroll around and peer into the individual enclosures, you can see small ponds, fountains, sculpture ranging from lovely to kitsch, welcoming benches and birdhouses, arbors and bowers, the occasional bee skep, and even a cluster of hives.
The process of discovery is half the fun of coming here.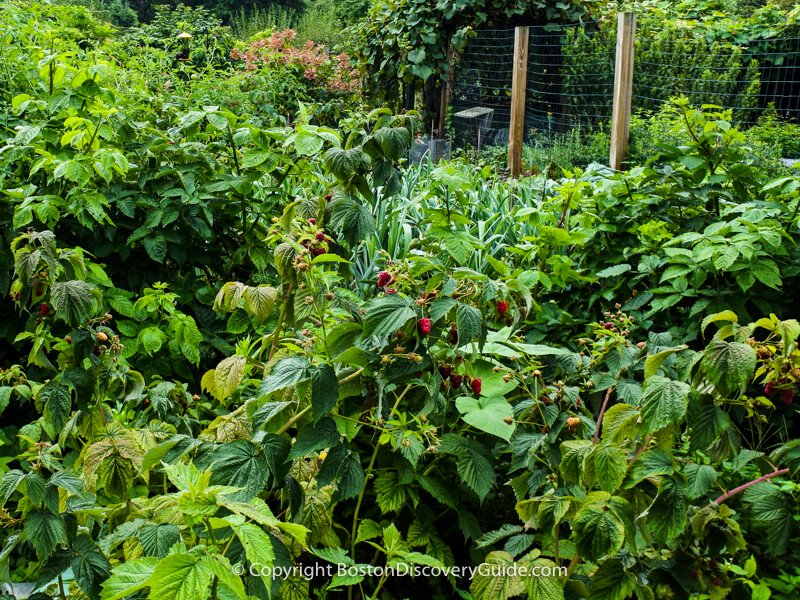 Even though most of the gardens no longer focus on producing food for the dinner table, some do.
And despite their small sizes and dense plantings, the veggie and fruit gardens are surprisingly productive.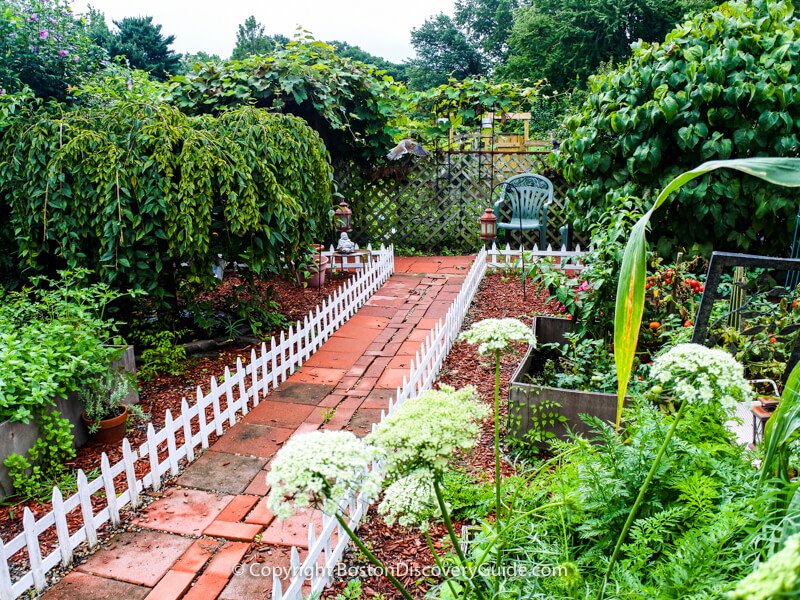 What is especially fascinating to see in the Victory Gardens is the wide variety of styles, plant choices, and design.
The Victory Gardens give you a glimpse into another world - or more accurately, 500 visions of paradise.
---
Victory Garden Tours: Open Gardens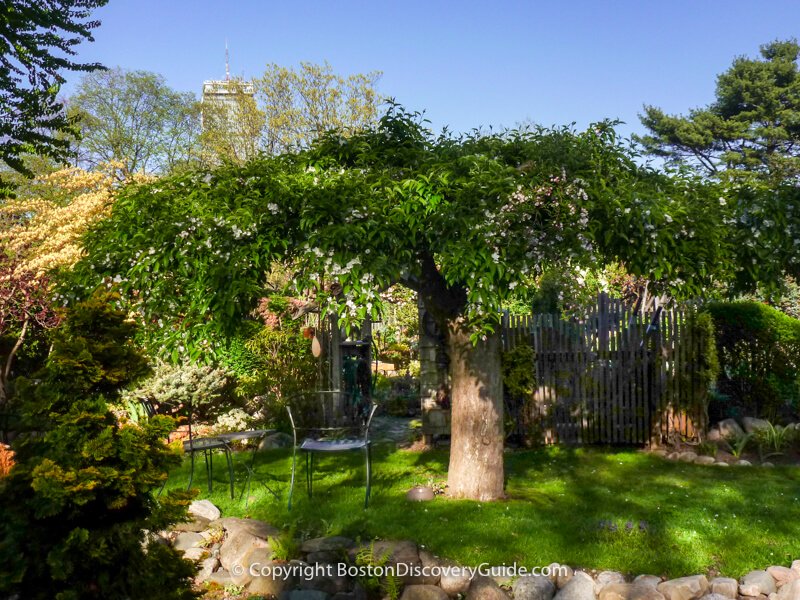 During most years, the Victory Gardens' gardeners host free "Open Gardens" on specific dates throughout the summer and early fall when they unlock their gates and invite you in for a visit.
Each event typically features a different section of the gardens. Not all gardeners in the featured section will be present with their gates open, but you'll find plenty to see.
Find out more about these garden tours at the Victory Gardens
---
Victory Gardens Essentials
Location: The Victory Gardens are part of Back Bay Fens (despite the name, that's in the Fenway neighborhood) and are surrounded by Boylston Street, Park Street, and Muddy River, which runs through the Fens. The gardens are only a block from Fenway Park.
Closest subway station: Green Line/Hynes Convention Center - about 2 blocks away
Open: All year
Best time to visit: May through October - peak months are June - September
What to avoid: The Victory Gardens back up to a marsh filled with reeds and water - be careful walking in this area because it can get very slippery.
More to see & do nearby: Fenway Park, Museum of Fine Arts, Isabella Stewart Gardner Museum, Kelleher Rose Garden (also in Back Bay Fens)
---
Map of Victory Gardens, Kelleher Rose Garden, & Back Bay Fens
This map shows the Back Bay Fens with the Victory Gardens and Kelleher Rose Gardens, plus nearby landmarks: Fenway Park, Museum of Fine Arts, and the nearby Hynes subway station:
---
Beyond the Victory Gardens: Kelleher Rose Gardens
If you're visiting the Victory Gardens, don't miss the stunningly beautiful Kelleher Rose Garden, also located in the Back Bay Fens.
This is one of Boston's "secret gardens" - hard to find if you don't know where to look, even though it's in plain sight just a couple of blocks from Fenway Park.
To get there from the Victory Gardens, go down Park Street - it's a 3-4 minute walk, and you'll see it on your right soon after you cross Agassiz Road - that's the narrow path with the picturesque stone bridge across Muddy River.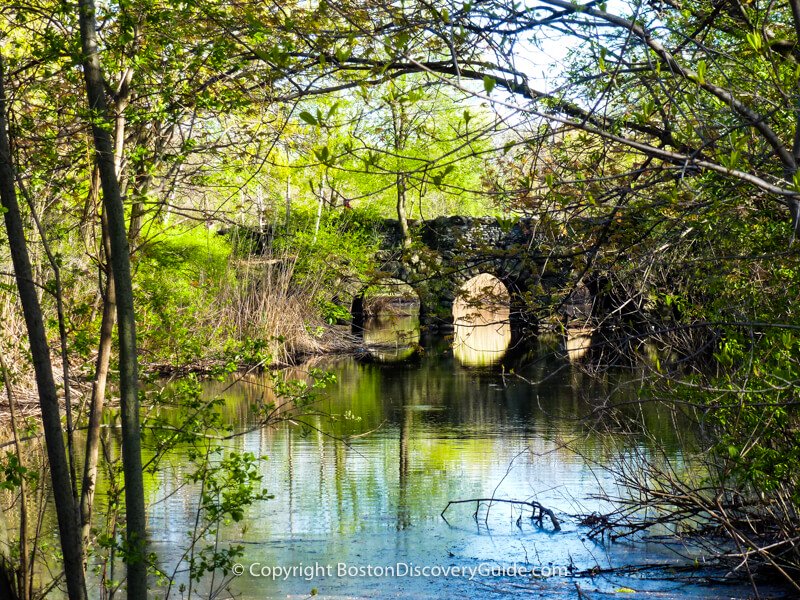 Once you walk past Agassiz Road, you'll pass a World War II memorial - just look for a large bronze angel (find out more about the memorial here).
After you pass the memorial, look for a nondescript circular wall. You can't really see the garden because it's hidden inside - although on a warm June day with a gentle breeze in the right direction, you will be able to smell it.
The main entrance is on the southwest corner. Free admission - so walk in.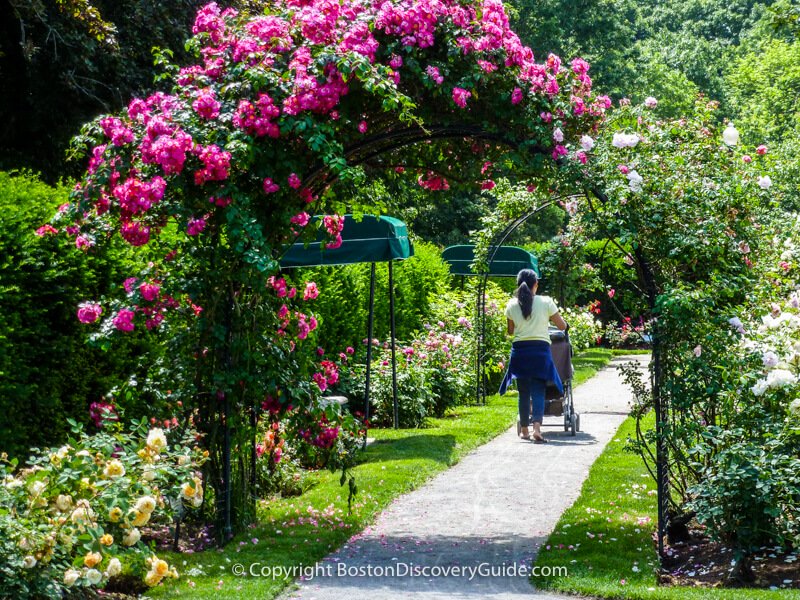 The roses begin blooming in May, reach perfection in June, and continue to produce some blooms until frost.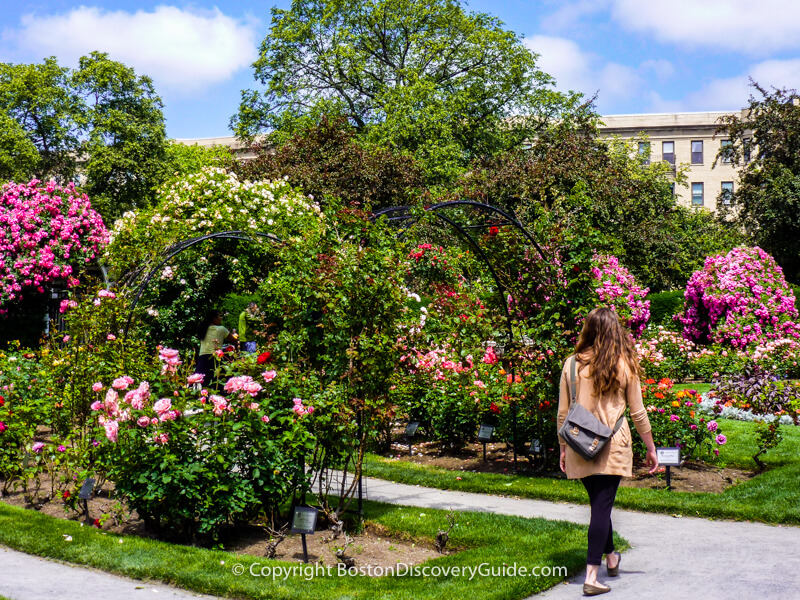 Although roses are believed to have been first planted in this spot, former boggy wetlands, in 1930 after a passion for rose gardens swept the country, the formal circular design you see today was created by landscape architect Arthur Shurcliff in 1931 and then expanded to include a rectangular section one side during the following year.
A reflecting pool and fountain surrounded by four cherubs mark the middle of the garden. Three concentric circular paths and four main paths radiating out from the center give you plenty of places to walk and admire the roses.
Formal boxwood hedges surround the garden.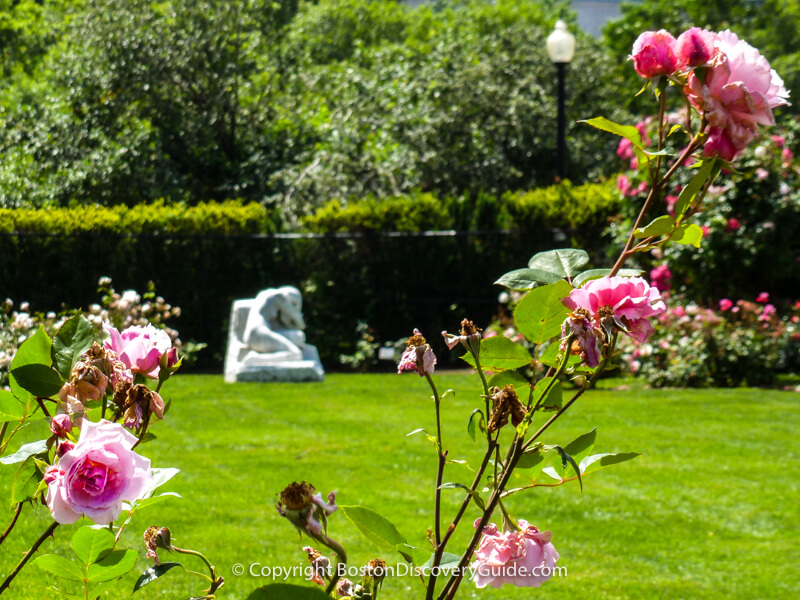 Kelleher Rose Garden (the name, bestowed in 1975, honors Boston Parks and Recreation Department's Superintendent of Horticulture, James P. Kelleher) contains more than 10 species and 200 varieties of roses, with about 1,500 plants in total.
Look for hybrid teas, grandifloras, historic roses from the 1930s (down at the end of the rectangular section, David Austin cultivators, climbing roses, miniatures, a large section of fragrant varieties in the circular area, "Justine Mee Liff" roses, shrub roses, and several sections of braided patterns mixing shades of pink, and white and pink selections.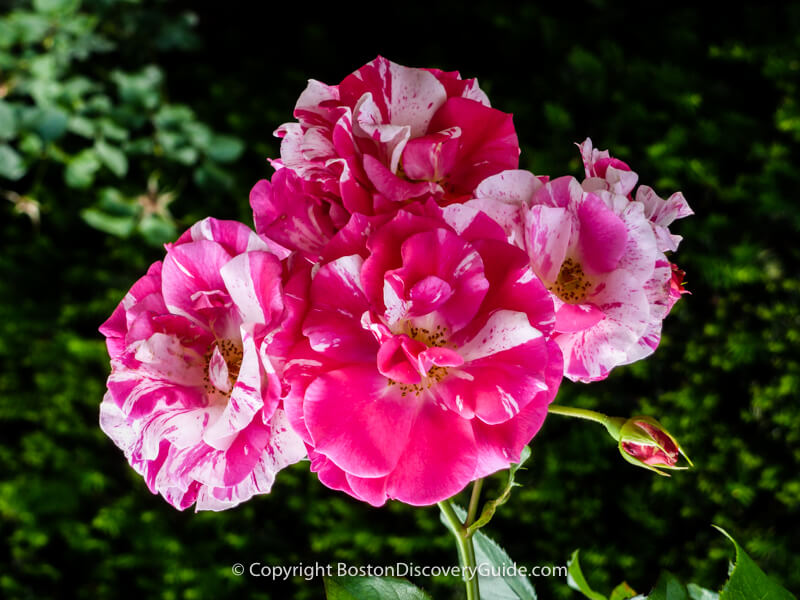 ---
When is the Best Time to Visit Kelleher Rose Garden?
Blooms for most of the rose varieties in the Kelleher Rose Garden reach their peak in June. A second burst of blooms happens in late September through October as temperatures cool.
But you'll see some varieties in bloom starting in May and a few blooming as late as early November.
---
More to See & Do in Boston
---
---
***y-nav-parks-main.shtml***