Looking for some fun Boston kids activities for the whole family to enjoy?
Boston offers lots of things to do for both kids and parents:
Fun outdoor kids activities, with suggestions for every season
Indoor destinations for rainy, snowy, and steamy days
Seasonal events that kids will enjoy
We've rounded up 50 popular top kids activities in Boston for you to choose from. Many are free, or offer discounts for children and families.
And as a bonus, many of these attractions are places you'd want to visit even if you're in Boston for an adults-only trip.
With 50 different kids activities, this is a long article! Use these Quick Links to find what you want faster:
Outdoor Kids Activities in Boston
Indoor Kids Activities in Boston
Seasonal Kids Activities in Boston
Top photo: Carousel on the Greenway near Faneuil Marketplace, (c) Boston Discovery Guide
Boston Discovery Guide is a reader-supported publication. When you buy through our links, we may earn a commission at no additional cost for you. Learn more
---
Top Outdoor Boston Activities for Kids
Everyone, young and old, will enjoy these family-friendly Boston outdoor activities:
1. See Boston on Wheels with Your Kids
Go on a guided bike tour of Boston, or create your own by renting bikes for as little as 2 hours.
Guide-led bike tours offer plenty of fun options for kids - and for parents, too.
If you're considering the DIY route, the Boston Esplanade is a safe, easy place for kids to ride, and you can pick up rental bikes near the Feidler Footbridge overpass.
Find more favorite Boston tours appealing to kids
---
2. Watch a Game with Your Kids!
Cheer for the Red Sox at Fenway Park, or for the Boston Celtics or Bruins at TD Garden.
You'll usually find tickets for lesser known Boston sports teams easier to get, less expensive - and sometimes the players will even autograph balls for kids.
---
3. Take Your Kids to See Fenway Park & the Red Sox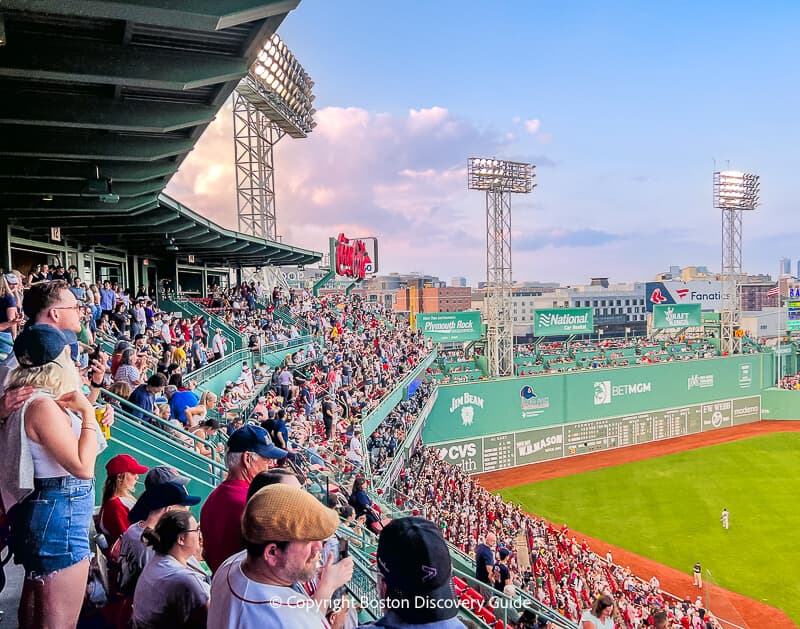 The Red Sox play their home games at Fenway Park from late March/early April through September/early October, and going to a game is a sure hit with most kids.
But even if you're not here during Red Sox season, you and your kids can get a fascinating behind-the scenes view of the famous ball park by going on a Fenway Park Tour.
Your guide will take you to different spots and regale you with interesting information about Fenway history, famous Red Sox players, and even current updates about the current team.
Red Sox Schedule & Tickets
Find the Red Sox home game schedule for each month at Fenway Park:
Enter DISCOVERY10 to save 10% on TicketLiquidator & TicketNetwork tickets. Good through 12/31/24.
Find All Red Sox Games & Concerts at Fenway Park
---
4. Tour Boston on Land & Water with Your Kids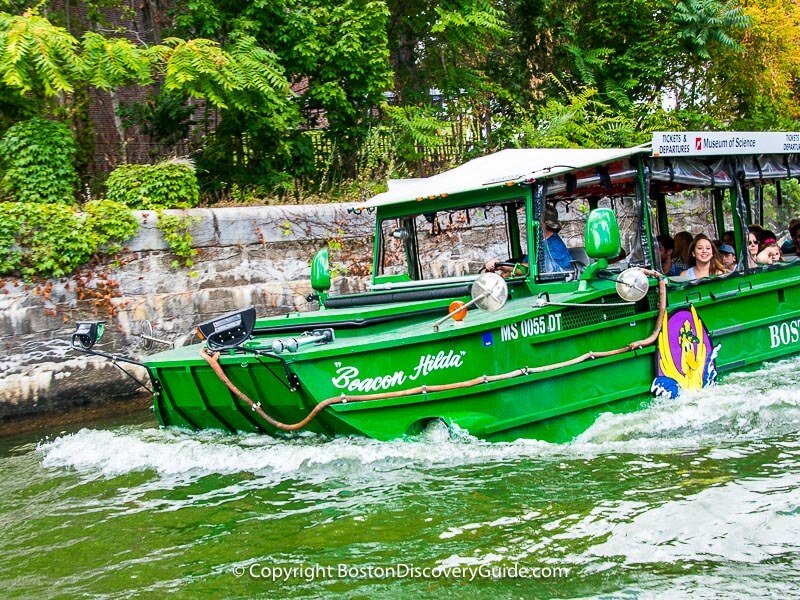 Start off your visit to Boston by going on a guided tour of the city in one of our famous Duck Boats. It's the best way to see the city plus the guides entertain you with funny stories about Boston history.
The huge World-War II-style amphibious vehicles offer lots of family fun as you roll past many historic sites on land.
But the fun really begins when you "splash down" in the Charles River!
Once you're fully on the river and depending on conditions, kids on board may even get the chance to steer the boat for awhile. Have your camera ready!
---
5. Take a Boston Trolley with Your Kids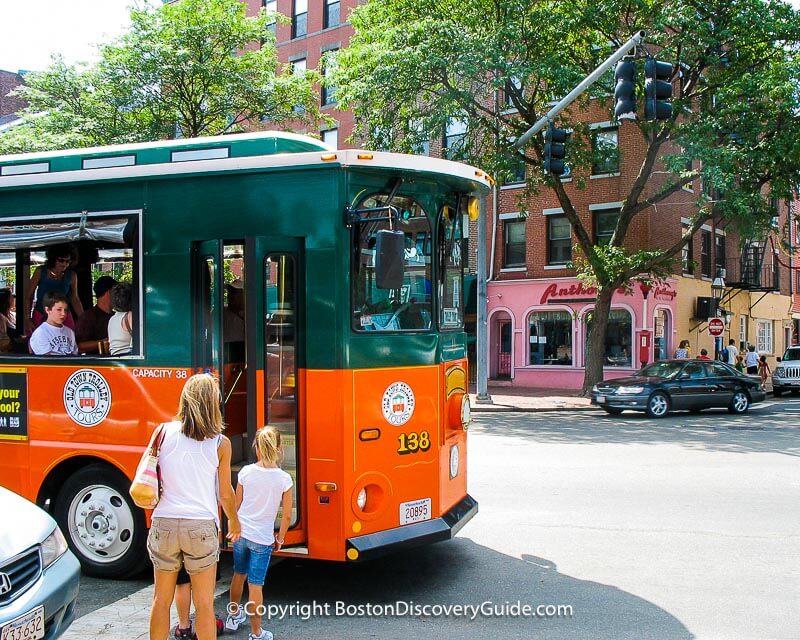 Another fun way for kids to tour Boston is on one of the colorful sightseeing tour trolleys.
The trolleys' routes take you through some of the most interesting historical and contemporary parts of Boston.
Younger kids simply enjoy getting on and off, while older kids and teens will be entertained by the driver's commentary. They may even learn something!
Find out more about Boston's Sightseeing Trolleys
---
More Ways to Tour Boston
---
6. Cruise the Harbor . . . on Codzilla
Ask any teen about which Boston Harbor cruise is the most fun, and you'll probably hear, "Codzilla"!
What is Codzilla? Let's just say it's locally known as the "Terror of Boston Harbor."
You'll enjoy it too ... if you love loud rock music, fast turns, and a certain amount of wetness from flying water - or even if you just enjoy seeing your teenager have a thrilling ride.
---
7. Sightsee on a Segway
Your teens may moan and groan about having to sightsee with the family - until you mention you'll be doing it on a Segway.
This is definitely one of the coolest ways to tour Boston, and you'll be surprised by how much you'll see.
Find out more about Segway tours
---
Boston Discount Cards for Kids
Compare Boston discount passes for savings on kids and adults admission to Fenway Park Tours, Duck Boat tours, Boston Harbor cruises, Museum of Science, and other top attractions, museums, tours, and cruises.
---
8. Ride a Horse (on a Carousel)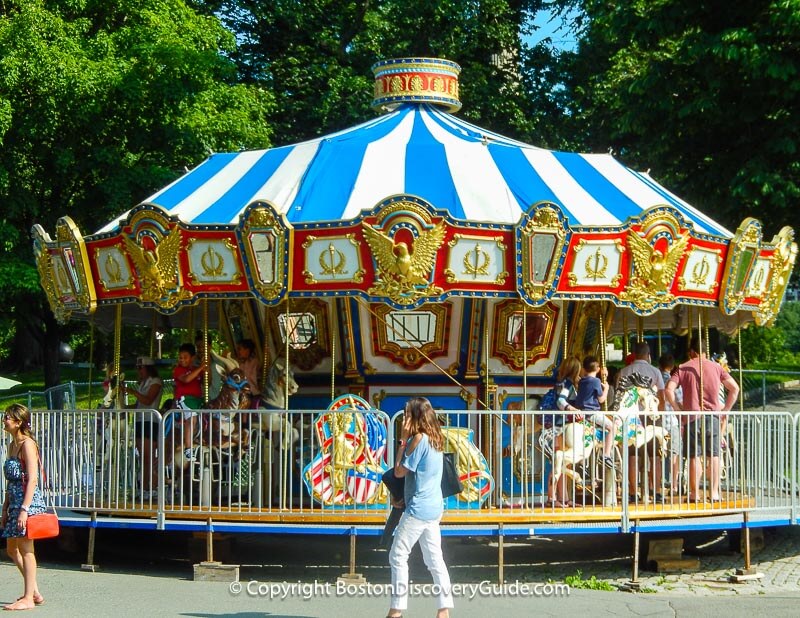 Pick your pony or sea creature and go for a ride on one of Boston's colorful carousels.
You'll find a unique Boston-themed beauty (photo at the top of this page) on the Rose Kennedy Greenway near Faneuil Marketplace, and another more traditional carousel on Boston Common.
Both carousels are seasonal - so check out opening dates for both: Boston Common Carousel | Greenway Carousel
---
9. Watch Disney on Ice - Fun for All Ages!
Disney on Ice presents two spectacular shows in Boston each year in December (and sometimes early January) and February during school vacation week.
With a talented cast of amazing performers, your whole family will be mesmerized as the dancers, skaters, and music bring all of your favorite Disney friends to life.
Tickets sell quickly, so get yours now!
See Disney on Ice Show Performance Schedule & Tickets
More about Disney on Ice in Boston
---
10. Picnic with Your Kids in a Boston Park
Stop by one of Boston's specialty food markets (DeLuca's on Newbury Street in Back Bay and Charles Street in Beacon Hill, any small grocery or bakery in the North End, the Food Hall in Quincy Market) and scoop up some goodies.
Head to one of Boston's many parks and green spaces - Boston Common, the Boston Esplanade, the Rose Kennedy Greenway, Christopher Columbus Park - and enjoy an impromptu picnic for one of the best Boston kids activities - and fun for the whole family.
---
11. Gaze at the Stars
On Friday nights between 8:30pm and 10pm, head up to the roof of the parking garage at Boston's Museum of Science, where you'll find the Gilliland Observatory and other star-struck gazers.
Knowledgeable museum personnel will help you use the computer-controlled, Celestron CGE 1100 Schmidt Cassegrain telescope during this free event.
Nearest T station: Green Line/Lechmere. Kids (and parents) also love visiting the museum itself - you can easily spend an entire day here. Free entrance to museum with Boston discount passes.
---
12. Take Your Kids on a Walk through History
Teens may enjoy exploring the entire length of Boston's 2.5 mile historic Freedom Trail. If your children are younger, everyone may be happier if you pick a short section.
An approach that works well for the whole family is to pick a site you think your kids will like, such as the USS Constitution, add a nearby site that you want to visit, such as Faneuil Marketplace (who said you can't shop while soaking up some history?).
Make everyone happy by stopping at Quincy Market or in a North End bakery for a treat.
---
13. Visit Faneuil Hall
Blend together history and shopping by visiting popular Faneuil Hall Marketplace on Boston's historic Freedom Trail.
Young kids love climbing around the base of the statue of Revolutionary War Patriot Samuel Adams, parents may long for a nice cold Sam Adams - and everyone loves exploring the shops.
Don't forget to stop by the Food Hall in Quincy Market for lunch - or try one of the many other excellent restaurants in the area.
---
14. Reflect on Freedom and Loss
The 6 glass towers of the Boston Holocaust Memorial, very close to Faneuil Hall, are dedicated to the memory of those who lost their lives in the Nazi concentration camps.
Kids about 10 years old and up will find walking along the black granite path connecting the towers and reading the memorial plaques to be a moving and educational experience.
---
15. Let Your Kids Reenact the Boston Tea Party
Every year on December 16th, costumed re-enactors portray Colonial Patriots and Loyalists as they recreate the famous Boston Tea Party, the Boston protest that sparked the Revolutionary War.
Your kids (and you) can watch the town debate leading up to the decision, and then join the procession to the Harbor to dump the tea.
---
16. Take Your Kids to a Free Outdoor Concert
During summer months, you'll find free outdoor concerts popping up all over the city. From late June through early August, Boston Harbor Hotel on Rowes Wharf features musical performances on Tuesday, Wednesday, and Thursday evenings.
The Institute of Contemporary Art hosts weekly evening concerts from late June through early September.
Weekday concerts starting around noon can be found on many days in the Prudential Center, Copley Square, and Post Office Square.
And then there are the biggest concerts of all, the annual Boston Pops Concerts and fireworks on the Esplanade.
---
17. Find More Free Hatch Shell Concerts & Festivals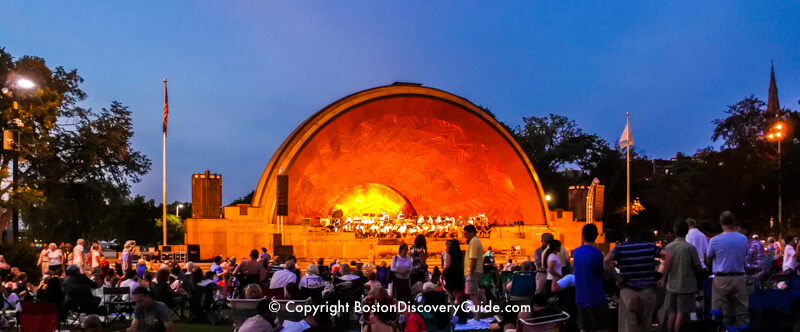 You can find free family-friendly concerts, festivals, and movies throughout the summer at the Hatch Shell, Boston's biggest outdoor stage located on the Boston Esplanade, just a short walk from downtown.
Families with kids flock to the Free Friday Flicks series during summer months.
Go to our complete guide to Hatch Shell events
---
18. Enjoy Free Theater Under the Stars
For a couple of weeks each summer, the Commonwealth Shakespeare Company delights delights audiences with its free Shakespeare on the Common productions.
Bring a blanket and a picnic, and enjoy these family-friendly productions under the stars on Boston Common. This is one of the top Boston kids activities - and fun for everyone.
---
19. Visit Boston during Winter Break with Your Teens & Find these Fun Things to Do
Visiting Boston during Winter Vacation Week with your teenagers, and want to ensure a fun trip?
These top 10 things to do with teens in Boston during the winter will please your offspring - and be fun for you!
---
20. Watch Your Kids Climb a Tree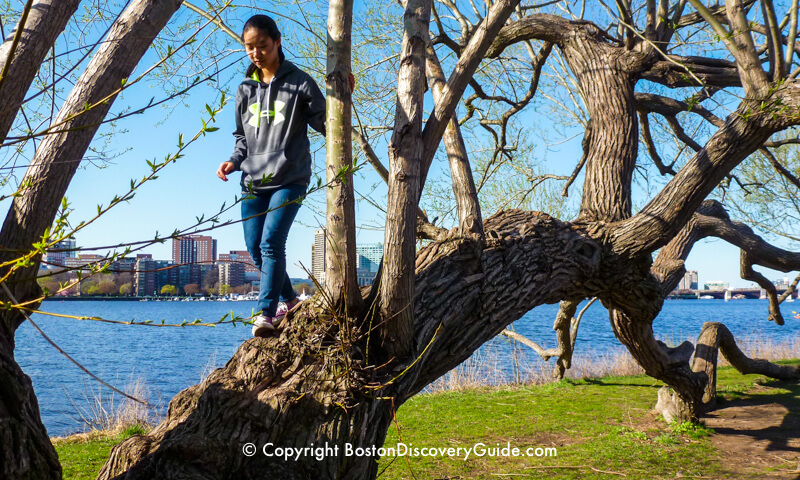 Without a doubt, you'll find the best climbing tree in Boston on the Esplanade, where older cherry trees with mostly horizontal branches reduce your chance of ending up in the emergency room.
You'll also find several excellent playgrounds on the Esplanade.
---
21. Take Your Kids or Teens on a Boston Campus Tour
If you have kids or teens who will be filling out college applications some day, it's never too soon to start touring prospective campuses.
With 50+ universities and colleges in Boston, Cambridge, and other nearby communities, you'll find plenty of interesting choices.
If you visit during the winter break, your future college student can get a taste of Boston's colder weather and decide if it's a "fit."
Book an informative student-led campus tour of Harvard University to see its famous buildings and landmarks, and get an informative and entertaining view of Harvard culture and student life.
You can also join a similar student-led tour of nearby MIT.
See our complete guide to colleges and universities
Find Out More about Campus Tours!
---
22. Hang Out in Harvard Square
Just a short ride on the Red Line from Boston takes you to Harvard Square, another world.
Laid-back but bustling, filled with bookstores and interesting shops, Harvard Square is the perfect place to spend a few hours exploring with your kids.
Walk around Harvard Yard, visit the Old Burying Ground (Mass Ave - Garden Street intersection) where Cato Stedman and Neptune Frost, African-American veterans of the Revolutionary War are buried, and stop by Burdick's (52 Brattle Street) for the best hot chocolate in Cambridge.
---
23. Hit the Slopes near Boston with Your Kids
During winter months, several Massachusetts ski areas within an hour's drive of Boston (plus other slightly farther away) offer downhill skiing, cross-country skiing, ski lessons, snowboarding, and more.
For even more suggestions, check our complete New England Ski Areas Guide.
---
24. Visit the Boston Harbor Islands
During summer months, ferries leave several times a day from Long Wharf for the Boston Harbor Islands.
Exploring historic Fort Warren, swimming on the beach at Spectacle Island, and examining life in tidal pools makes this one of everyone's favorite Boston kids activities.
---
25. Play on the Beach
Head to the beach at Castle Island and go for a treat at Sully's. Or visit some of the other Boston beaches accessible by public transportation.
Watch Free Movies at the Hatch Shell in July and August.
Head down to the Boston Esplanade by the Charles River for free Friday flicks at 8pm on Friday nights.
Kid-pleasing selections such as Kung Fu Panda and Star Wars make these family-friendly movies rank as a top Boston kids activity. Don't forget your blanket and bug spray.
---
26. Visit the Ducklings in the Public Garden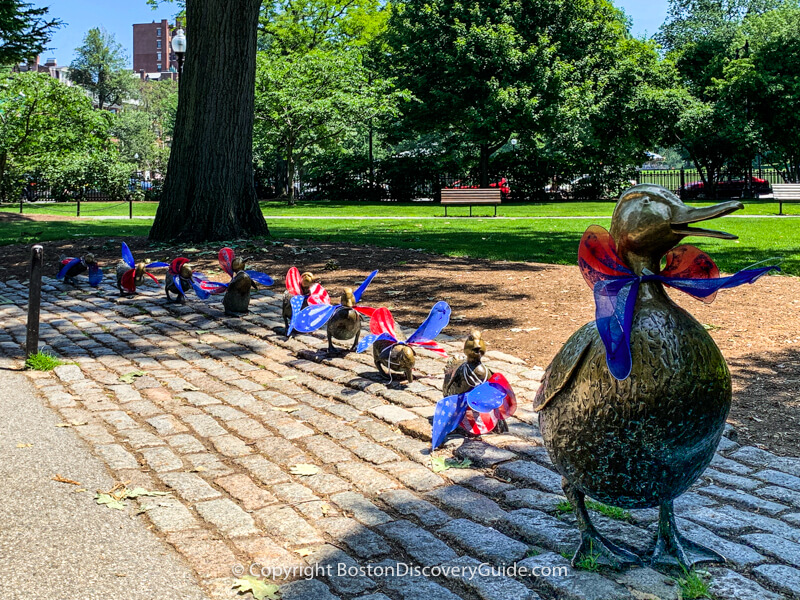 Every visit to Boston with kids should include the Make Way for Ducklings statues inspired by Robert McCloskey's classic book, Make Way for Ducklings.
Child-scale bronze statues by sculptor Nancy Schön feature Mrs. Mallard and her 8 offspring: Jack, Kack, Lack, Mack, Nack, Ouack, Pack, and Quack. Visit for free, and take lots of photos - priceless!
---
26. Ride on Boston's Swan Boats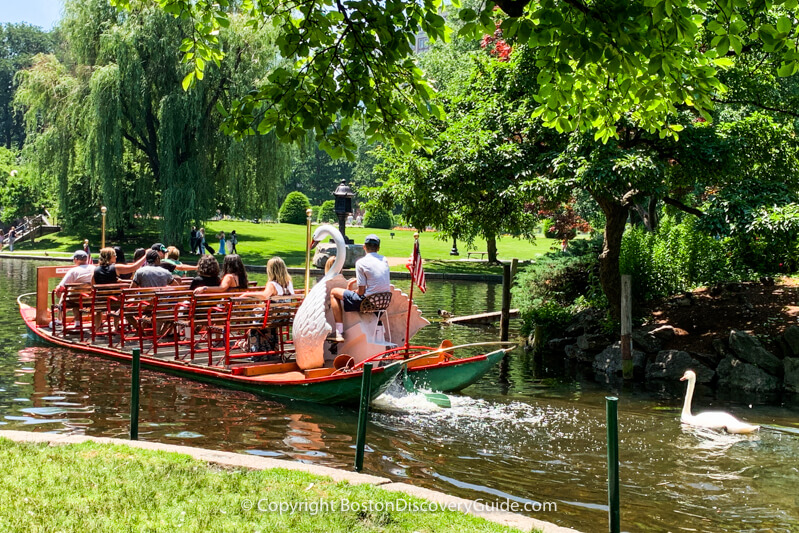 Both children and adults love the famed pedal-powered Swan Boats in the Lagoon in Boston's Public Garden.
You'll even ride past Duck Island where Mrs. Mallard brought her ducklings to keep them in a safe spot away from Boston traffic while they grew up.
Swan Boat tickets are so inexpensive that you can go for more than one ride and still have enough money left over for afternoon snacks at one of Beacon Hill's fantastic bakery-cafes.
---
27. Talk to the Animals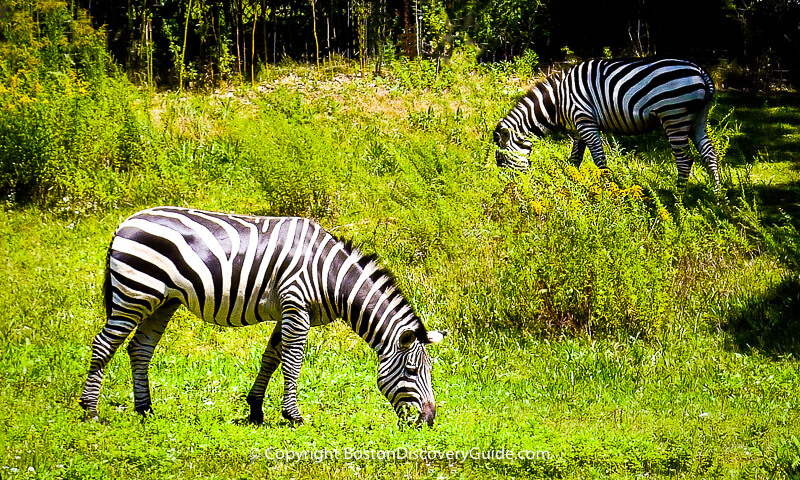 Not just for kids, Boston's Franklin Park Zoo offers a fascinating number of animals and environments to see and experience.
You can explore tropical rainforests, the Australian outback, and the African savannah and observe tigers, giraffes, lions, kangaroos, and many other animals, birds, and insects in recreations of their natural habitats.
Get your tickets online before you go.
---
28. Watch Seals Frolic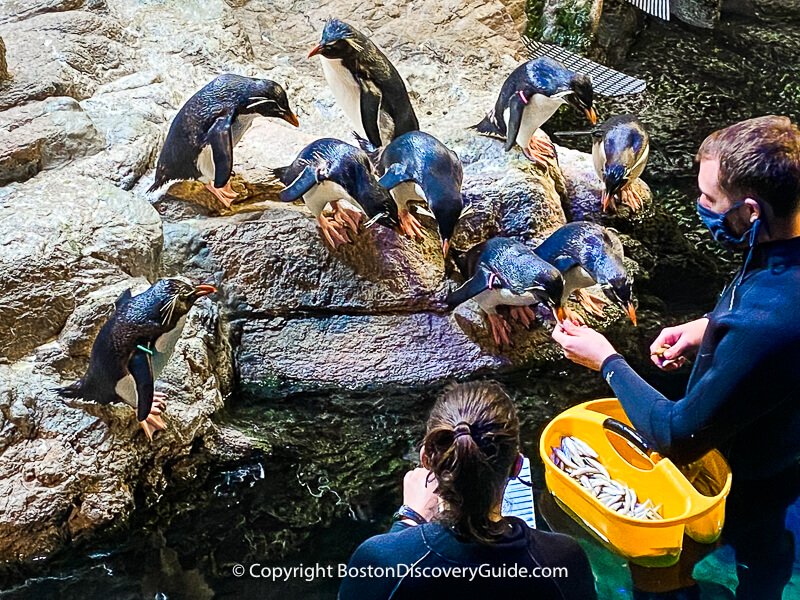 Stop by the outdoor habitat where seals live at the waterfront New England Aquarium.
The habitat is really a large, deep tank with rocky outcroppings that mimic the seals native New England coastal home. You can watch the seals play all year round. Best of all, watching the seals play is free.
Save time by getting Aquarium tickets online before you go (now required). If you're planning to visit more than one attraction, both the Go Boston card or Boston CityPASS offer big savings.
---
29. Find Out What Whales Eat
Learn about whales and other marine mammals from the naturalists on board Boston's popular whale watching cruises.
You'll also enjoy the scenery as your boat takes you to Stellwagen Bank marine sanctuary.
---
30. Twirl Around the Ice
Do your kids enjoy ice skating? Boston and nearby Cambridge have several great rinks where you can rent skates and take a spin on the ice for a nominal fee.
One of the most convenient is on Boston Common's Frog Pond. Some of the rinks also offer lessons. This is definitely a top Boston kids activity during the winter months.
---
31. Play Frisbee on the Common
Frisbees are small and light to pack . . . so slip one into your suitcase. Tossing a frisbee on Boston Common is one of the best Boston kids activities - and adults can have fun and get some exercise too.
The Rose Kennedy Greenway also offers lots of wide open areas perfect for frisbees, especially in the stretch near the North End.
---
32. Romp in Columbus Park
Located just north of the Boston Marriott Long Wharf Hotel, the jewel-like Columbus Park in the North End is a favorite with families.
Children love the playground area, and the open green spaces provide still another super frisbee location.
---
Top Indoor Boston Kids Activities
Don't let cold or rainy weather, summer heat and humidity, or even snow put a damper on your plans for family fun.
Check out these fun inside Boston kids activities, including some of the city's top museums.
You'll find a lot to do that's fun, even when the Boston weather is good.
---
33. Be Dazzled by Science at the Museum of Science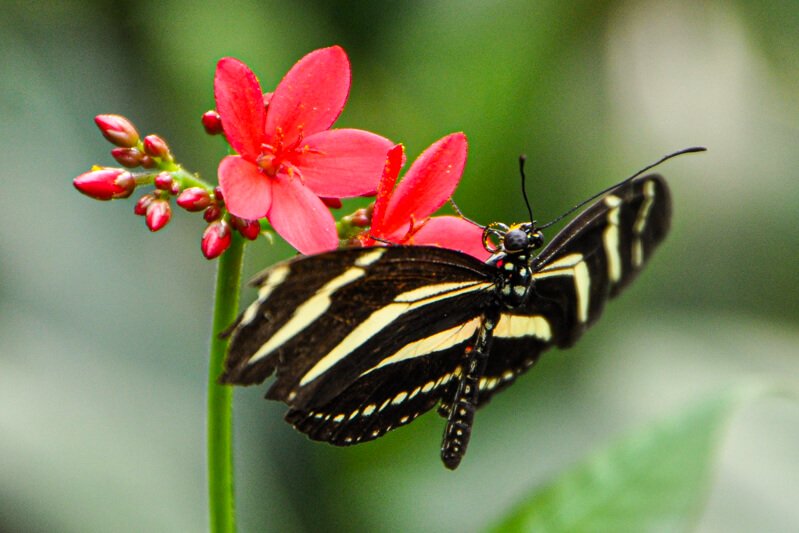 Special Exhibits
New England Climate Stories - Meet fascinating New England animals
All Aboard! Trains at Science Park - Visit miniature landscapes with fantasic model trains - through January 16
Gaia - View our planet in a new way through UK artist Luke Jerram's artwork with NASA images of Earth's surface
Mental Health: Mind Matters - Get insights into understanding mental health through this interactive exhibit
With fascinating permanent exhibits for all ages, there's always something to see, do, and learn. Here are just a few of the most popular: Engineering Design Workshop, Colossal Fossil: Triceratops Cliff, Cosmic Light, Dinosaurs, Arctic Adventure, Hall of Human Life, Live Animal Care Center, Mathematica, Exploring AI, Natural Mysteries, New England Habitats, Project Vaccine.
Where: Boston's Museum of Science
When: Daily, 9am-5pm; open until 9pm on Fridays
Admission: $29 general museum admission ($24 for kids; children under 3 free). Get free museum admission when you have a GoBoston Discount card or Boston CityPASS card.
Imax Theater and Planetarium: Additional fees apply
---
34. Share a Few Laughs with Your Kids
A few Boston comedy clubs offer family-friendly shows. Improv Boston (located near Central Square in Cambridge) routinely features numerous shows for all ages.
During the weeks leading up to Halloween, their Gorefest: A Boatload of Gore show is always a hit with older kids, teens, and families - pay attention to their warnings about how it's not for anyone who's squeamish, easily offended, or very young.
Improv Asylum in Boston's North End also typically offers some shows for ages 17 and up.
More about Boston comedy clubs
---
35. Interact with Art
ICA Boston usually offers at least a couple of family-oriented events each month.
Although the events vary quite a bit, they usually involve interaction with contemporary artists, the chance to create art, and perhaps dance performances, films, or hands-on graphic design.
Some are free for up to 2 adults per family with children 12 and under, while others require a fee or paid museum admission.
Use the GoBoston discount card for free admission.
---
36. Enjoy an Evening at the Theater
For Boston theater family fun, check out Blue Man Group, 3 bald blue-painted performers who perform a series of skits and funny pieces enjoyed by all ages.
Blue Man Group is a long-running family favorite at the Charles Playhouse in the Theatre District.
---
37. Show Your Kids Panoramic Views of Boston
Enjoy sweeping 360 degrees views of Boston and beyond from the free observation deck at Independence Wharf.
More about the Independence Wharf Observation Deck
---
38. Go to the Movies
Boston movie theaters are alive and well, and you'll find a wide range of choices - everything from first-run commercial movies to foreign, classic, and indie films.
Not all, of course, will be suitable for children, but you'll find many that are.
---
39. Explore and Learn
The Boston Children's Museum provides lots of different spaces and activities where children from about 3 - 10 can explore the world around them - and learn things while they're at it.
The spectacular South Boston waterfront location is just a short walk from South station.
Check out $1 Fridays. If you have the GoBoston discount card, you'll get free admission.
---
40. Immerse Yourself & Your Kids in Disney - 2023
Immersive Disney Animation Boston brings all your favorite Disney characters, stories, and music to life in a magical immersive experience with you at the center.
You'll visit La Casita with Mirabel from Encanto, watch Rafiki present Simba in the Lion King, take the journey of a lifetime with Aladdin and Jasmine in the Magic Carpets of Aladdin, hop on a train to Zootopia, enter the enchanted worlds of Peter Pan and Pinocchio, and so much more in this family-friendly, kid-pleasing innovative production.
The show lasts one hour and is currently playing at Boston's Lighthouse ArtSpace at The Saunders Castle, 130 Columbus Ave, now through August 13.
Book your tickets online in advance to get your preferred date/timeslot.
---
41. Go on a Dinasaur Safari with Your Kids
Dino Safari (54 South Market Street) takes you on a realistic, educational, and interactive walk-through safari where you'll circle the wortld, stopping at each of its 7 continents to get close-up looks at North America's T.Rex, Africa's giant amphibious Spinosaurus, and much more.
You'll dig up fossils, take part in interactive games, learn about the lastest research discoveries, and race a Raptor.
---
42. Explore the World of Kids Books (& Events)
The best free place in Boston to explore the world of children's books (as well as young adult titles and every other category you might imagine) is in the central branch of the Boston Public Library in Copley Square (700 Boylston Street) where light-filled open spaces, huge collections, and lots of activities provide a warm welcome to families.
Click the Events tab and then select the Central Library location on BPL's website to find kids activities.
The best children's bookstore section in the Boston area is in Cambridge at the Harvard Square Coop Bookstore.
Take the T's Red Line to Harvard Square station, go out the main exit, and the Coop will be practically in front of you. Walk through the Coop and go out the back exit to reach the separate Bookstore Building.
The Coop for Kids section is on the lower level. In addition to a huge book selection, Coop for Kids hosts story times twice each week and has a play area.
More information: 617-499-2000 or find online at https://store.thecoop.com/coop-kids
---
43. Bowl with Your Kids
Kings, located in Back Bay near the Hynes Center (50 Dalton Street) has a terrific bowling alley as well as lots of big screens with sports and a billiards room (pool tables).
After 6pm, this popular Boston sports bar is strictly 21+. But before then, you and your age 6 and older kids can enjoy lunch and a fun afternoon knocking down the pins.
---
44. Pay Tribute to your Favorite Athletes
The New England Sports Museum, located on Levels 5 and 6 at TD Garden, features knockout exhibits dedicated to the Red Sox, Patriots, Bruins, Revolution, and Celtics.
Museum visits take the form of hour-long guided tours which depart on the hour between 10am and 3pm daily.
To take a tour, check in at the Sports Museum Information Desk in the ProShop on Level 1 about 15-20 minutes before the tour starts.
Tours are limited to 18 visitors, and tickets are reasonably priced, with free entrance for kids 6 and under as well as active duty military families (with military ID), and reduced prices for kids 7-18.
Based on events at the Garden, tours may sometimes be cancelled so check at 617-624-1234 or on the Museum's website before going.
---
45. Check Out the Dinosaur Bones
Harvard's Natural History Museum, located in Cambridge, will thrill your budding scientists as they explore the exhibits on animals, plants, and minerals.
Everyone marvels at the famed glass flowers made by the father and son team of Leopold and Rudolph Blaschka.
Free admission with a GoBoston discount card.
---
46. Examine Some Mummies
One of the most popular Boston kids activities is visiting the Egyptian rooms in Boston's Museum of Fine Arts on Huntington Ave where their world-class collection of mummies is on display.
You'll also see lots of other terrific exhibits - but what kids always remember years later are the mummies.
Free with most Boston discount cards.
---
Seasonal Events for Family Fun
If your travel dates to Boston are flexible, consider timing your visit to coincide with one of these fun dfamily-friendly events:
47. See History Come Alive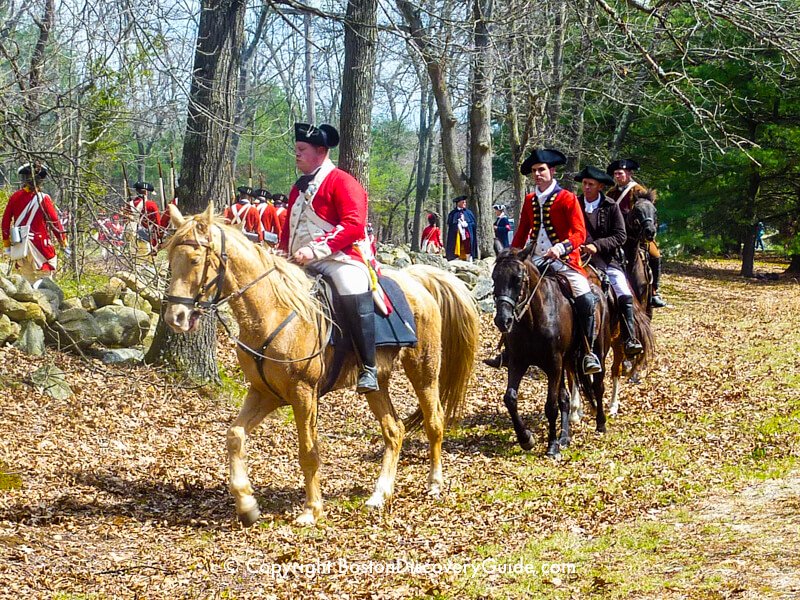 Watch Paul Revere and William Dawes race by on horseback during their famous midnight ride to warn Colonists that the British are coming, see local Minutemen and Militias gather on town greens, and smell the gunpowder from muskets as the first shots of the American Revolution are fired.
Every April in Boston, Lexington, and Concord, reenactments of these key events in American history take place on Patriots Day as part of our local tradition of remembering the heroic people and events that shaped our country's history.
Check the Patriot's Day schedule for more details.
---
48. Indulge Your Kids (& You) at Scooper Bowl

Kids and grown-ups alike love Scooper Bowl, a 3-day all-you-can-eat ice cream and cancer fundraising event in June.
Proceeds are donated to Boston's Jimmy Fund to support cancer research and treatments at world-renowned Dana-Farber Cancer Institute - so eat all the delicious ice cream you want without guilt.
---
49. Watch Fireworks on July 4th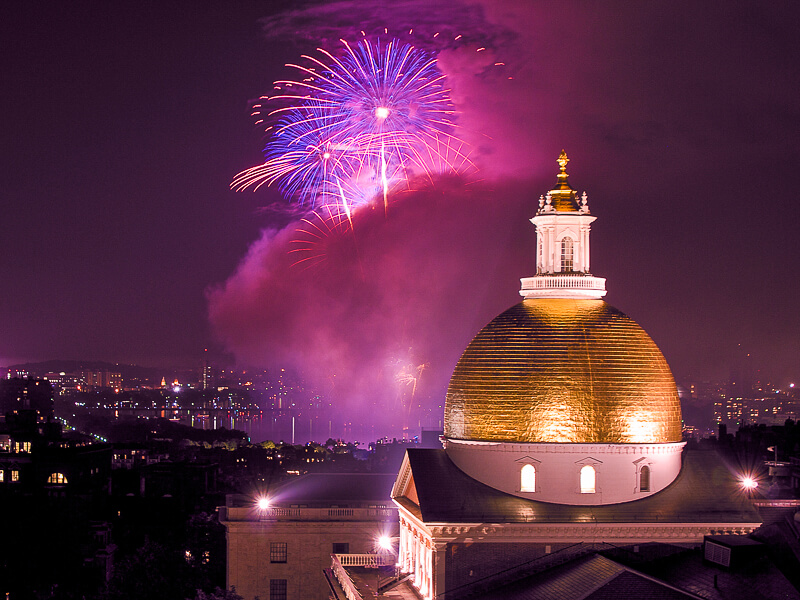 Boston's huge July 4th celebration actually starts a few days before the big event with HarborFest, an almost week-long commemoration of the fight for American Independence. Many sites along the Freedom Trail feature special events and activities especially focused on kids.
On the Fourth itself, the evening kicks off with the famous Boston Pops concert and entertainment, and ends with fireworks over the Charles River. Stake out your spot on the Esplanade or Cambridge side of the river, bring a picnic dinner, and relax with your family as you enjoy this epic Boston summer event.
More about Boston's July 4th festivities, concert, and fireworks
---
50. Celebrate New Year's Eve at Family-Friendly First Night Festivities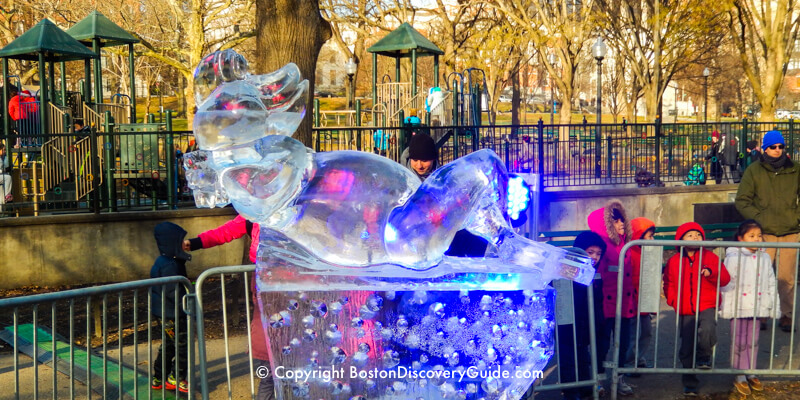 Boston's gala First Night celebration lasts from noon to midnight on New Year's Eve, with numerous activities, shows, ice sculptures, and other events sure to appeal to kids, teens, and adults.
Come for just a few hours or stay the day - fireworks take place at 7pm and 12 midnight, and all official First Night events are free.
Find out more about Boston's First Night
---
More Articles about Fun Things to Do with Kids in Boston
---
Need a Boston Hotel or Apartment?
Use this handy map from Booking.com to find the perfect place to stay. Just enter your dates to find what's available, see the best rates, and make your reservations.