Scooper Bowl, Boston's hugely popular ice cream and cancer research fundraising event, raises money for the Jimmy Fund, the fundraising arm of Dana-Farber Cancer Institute.
2022 marks the 38th year of this important event, one of the favorite activities for kids in Boston, and equally loved by adults.
Normally, for 3 days in early June, you head over to City Hall Plaza in the Government Center area of Boston, and enjoy scoops or indulge in the all-you-can-eat pass.
Live music from Boston-based DJs and bands, games, and other fun activities keep the event lively!
Bonus: Scoop @ Night 21+ on Thursday night (5pm-8pm) for unlimited ice cream, music, and games, plus two adult beverage tickets (bring your ID!)
Enjoy the ice cream - and the knowledge that you're supporting important cancer research programs.
Check our June calendar for exact dates/times for Scooper Bowl
Top Photo: Scooper Bowl fans enjoying ice cream on City Hall Plaza
---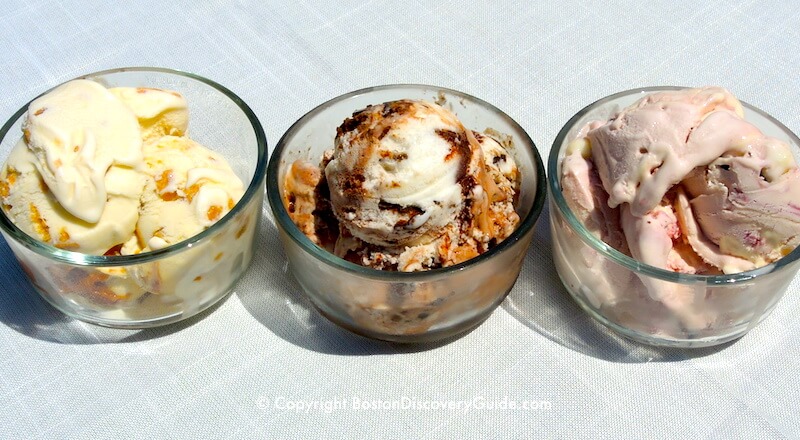 You even get to vote on your favorite flavors.
To give you an idea of what to expect (and to whet your appetite), here are a few of the over 50 flavors of ice cream, frozen yogurt, and sorbet (including nut-free, gluten-free, and dairy-free options) on offer in a typical year:
Hood's Limited Edition Purple Panda
Baskin-Robbins Boston Cream Pie
Ben & Jerry's Gimme Smore
Breyers Mint Chip
Haagen Dazs' Chocolate Salted Fuddge Truffle Non-Dairy
Lactaid's Mocha Almond Chip (lactose-free)
Edy's Dulce
Baskin-Robbins Cannoli Be with You
Vice Cream's Bourgon Mash
Beckon Ice Cream's Lactose-Free Sea Salt Chocolate Chip (Thursday night only)
Yasso's Chocolate Peanut Butter Chip
Friendly's Rockin' Poppin Cotton Candy
Breyer's Oreo Cookies & Cream
Rosev Dairy Foods Twisted Sea Turtle
Scooper Bowl got off to a modest start back in 1983 when 4 local ice cream companies scooped up all-you-can-eat ice cream for tourists and locals during a 6-hour stretch on Boston Common to raise money for Boston's world-renowned Dana-Farber Cancer Institute to use for life-saving cancer research and treatment. That first year brought $1,000 to Dana Farber's Jimmy Fund.
From that modest beginning, the ice cream / fund-raising gala has expanded into an annual 3-day event involving 20 tons of ice cream generously donated by top ice cream companies, including Baskin-Robbins, Beckon Ice Cream (formerly Minus the Moo), Ben & Jerry's, Blake's Ice Cream, Bryers, Edy's, Friendly's, Haagen Dazs, Hood, Lactaid, Rosev Dairy Foods, Vice Cream, and Yasso.
Each ice cream company sets up serving stations, supplies, and cooling equipment inside large white tents.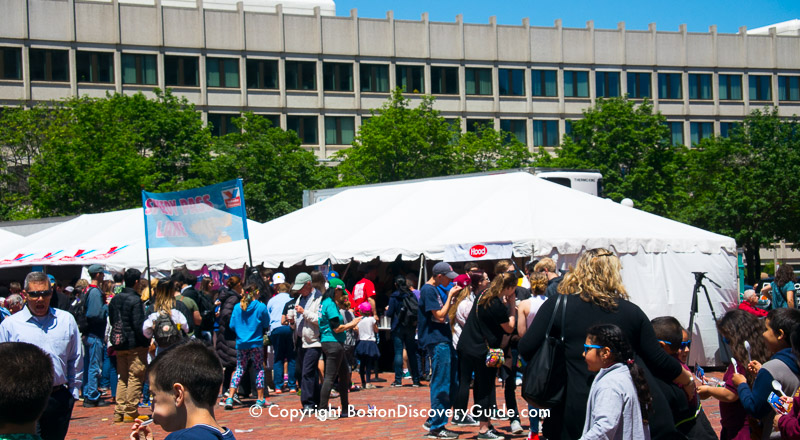 As many as 40,000 ice cream fans show up including many from across the country, making Scooper Bowl the nation's largest all-you-can-eat ice cream event.
More important, this sweet event has raised almost $7 million to date for Dana-Farber.
So if you're planning to visit Boston in June, mark your calendar with the Scooper Bowl dates - usually Tuesday, Wednesday, and Thursday during the first week in June, but check the Boston Events Calendar for June to get the exact dates.
Come join this festive event, which marks the unofficial beginning of summer in Boston. You'll enjoy the ice cream - and you'll get the satisfaction of knowing that you've made a small but important contribution to the live-saving cancer research and treatment at Dana-Farber.
And remember to vote for your favorite flavor!
Essentials: Scooper Bowl
Location: Boston City Hall Plaza
Closest T station: Blue and Green Line/Government Center
Advance Ticket Purchase information: Scooper Bowl website

---
Want to Stay near Scooper Bowl?
Check out these top hotels near Boston's City Hall Plaza, located in Boston's historic center near Faneuil Marketplace and the Waterfront:
If you're coming to an event at or near City Hall Plaza, spend stay in a nearby hotel, such as the chic and trendy Ames Hotel: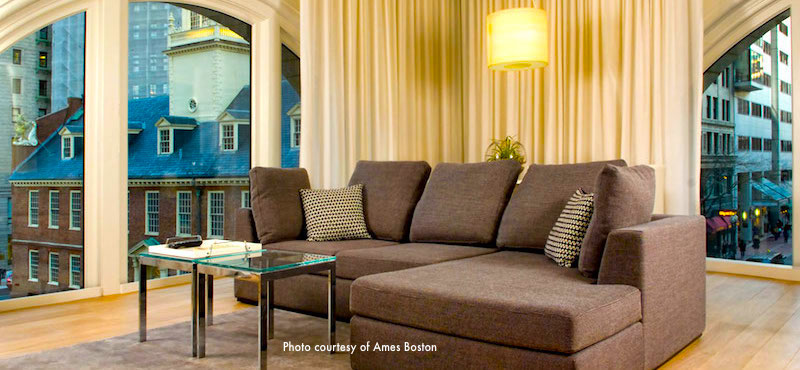 More top hotels near City Hall Plaza:
Check out more hotels near City Hall Plaza
---
More to Do in Boston
---
More Articles about Fun Things to Do in Boston in the Summer
---
Need a Boston Hotel or Apartment?
Use this handy map from Booking.com to find the perfect place to stay. Just enter your dates to find what's available, see the best rates, and make your reservations.