Scooper Bowl, Boston's hugely popular ice cream and cancer research fundraising event, raises money for the Jimmy Fund, the fundraising arm of Dana-Farber Cancer Institute.
2023 marks the 40th year of this important event, one of the favorite activities for kids in Boston, and equally loved by adults.
Although this event has taken place at City Hall Plaza during recent years, this year it moves to a new location: Patriot Place, the lively dining, entertainment, and shopping plaza next to Gillette Stadium in Foxborough.
Music from Boston-based DJs and bands, games, and other fun activities keep the event lively!
Bonus: Scoop at Night 21+ on Friday night (5pm-8pm) for unlimited ice cream, music, and games, plus two adult beverage tickets (bring your ID!)
Enjoy the ice cream - and the knowledge that you're supporting important cancer research programs.
Check our June calendar for exact dates/times for Scooper Bowl
Top Photo: Scooper Bowl fans enjoying ice cream on City Hall Plaza
---
What to Expect during the Scooper Bowl Ice Cream Festival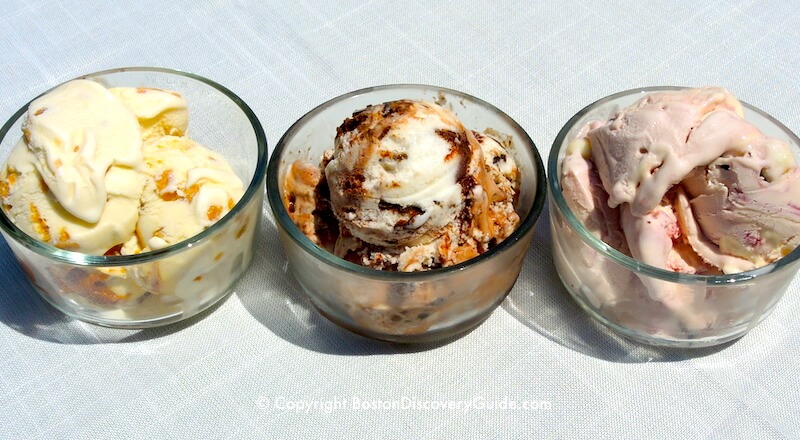 What you should expect at Scooper Bowl?
Ice cream! Lots and lots of it. Plus a crowd of hungry ice cream lovers.
You'll find plenty of choice. Last year, 44 flavors of ice cream, frozen yogurt, and sorbet (including nut-free, gluten-free, and dairy-free options) were on offer.
To give you an idea of what to expect (and to whet your appetite), here are just a few of the ice cream makers and flavors from previous years:
Hood's Limited Edition Purple Panda
Baskin-Robbins Boston Cream Pie
Ben & Jerry's Gimme S'more
Breyers Mint Chip
Haagen Dazs' Chocolate Salted Fuddge Truffle Non-Dairy
Lactaid's Mocha Almond Chip (lactose-free)
Edy's Dulce
Baskin-Robbins Cannoli Be with You
Vice Cream's Bourgon Mash
Beckon Ice Cream's Lactose-Free Sea Salt Chocolate Chip (Thursday night only)
Yasso's Chocolate Peanut Butter Chip
Friendly's Rockin' Poppin Cotton Candy
Breyer's Oreo Cookies & Cream
Rosev Dairy Foods Twisted Sea Turtle
What are some of the most unusual flavors ever served?
Lobster Ice Cream (a big hit, actually), certainly raised some eyebrows one year. Another unusual (and not so popular) flavor: Olive Oil.
---
How Did Scooper Bowl Get Started?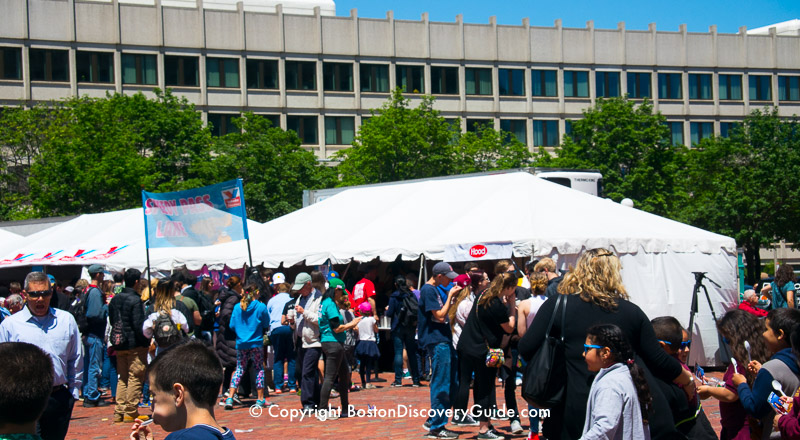 Scooper Bowl got off to a modest start back in 1983 when 4 local ice cream companies scooped up all-you-can-eat ice cream for tourists and locals during a 6-hour stretch on Boston Common to raise money for Boston's world-renowned Dana-Farber Cancer Institute.
By the time they sold out, it was clear that this fundraiser was a hit.
That first year brought $1,000 to Dana Farber's Jimmy Fund to use for life-saving cancer research and treatment.
From that modest beginning, the ice cream / fund-raising gala has expanded into an annual 2-day event involving 20+ tons of ice cream generously donated by top ice cream companies, including Baskin-Robbins, Beckon Ice Cream (formerly Minus the Moo), Ben & Jerry's, Blake's Ice Cream, Bryers, Edy's, Friendly's, Haagen Dazs, Hood, Lactaid, Rosev Dairy Foods, Vice Cream, and Yasso.
Each ice cream company sets up serving stations, supplies, and cooling equipment inside large white tents.
As many as 40,000 ice cream fans show up including many from across the country, making Scooper Bowl the nation's largest all-you-can-eat ice cream event.
More important, this sweet event has raised $7.3 million to date for Dana-Farber.
---
Is Scooper Bowl a "Rain or Shine" Event?
Yes, within reason. Thunderstorms with lightning would mean postponement due to public safety concerns.
But keep in mind, June in Boston can pose plenty of other weather challenges.
During a few years, Scooper Bowl has continued even on sweltering hot days where the heat melted the ice cream almost before it could be scooped into cups.
During other years, fans have showed up for their ice cream even on cold drizzly days.
After all, it's a fund raiser - and a sweet deal. The more you eat, the more you help support cancer research at Dana Farber.
So if you're planning to visit Boston in June, mark your calendar with the Scooper Bowl dates - usually Friday and Saturday during the first week in June, but check the Boston Events Calendar for June to get the exact dates.
Come join this festive event, which marks the unofficial beginning of summer in Boston. You'll enjoy the ice cream - and you'll get the satisfaction of knowing that you've made a small but important contribution to the live-saving cancer research and treatment at Dana-Farber.
And keep in mind that Patriot Place has plenty of terrific restaurants. So get there early, maybe have a small meal - but don't order dessert!
---
How Much Do Scooper Bowl Tickets Cost?
They're a bargain, especially considering how much their purchase does for cancer research. Plus, of course, you can eat as much as you want.
Adult (13 or older) tickets cost $20 for a single entry on either day of the event. A 2-entry pass is $30, letting you enter twice on the same day, or once each on Friday and Saturday.
Tickets for the 21+ Scoop at Night event are $35.
Additional options are also offered for children, groups of various sizes, and even a "Valvoline Instant Oil Change" pass where you get to cut the line.
Booking and credit card fees apply to all options.
You can also buy your tickets at the gate, but because of both capacity and ice cream limits, lines are usually long and move slowly - and you run the risk of the events selling out.
Check out all the options and get your tickets on the event's website.
---
Want to Stay near Scooper Bowl?
Check out these top hotels near Gillette Stadium:
Going to Gillette Stadium for a game or concert or to Patriot Place for shopping?
Stay in one of these convenient nearby hotels:
Check out more hotels near Gillette Stadium
---
More Fun Food Activities in Boston
In case you haven't guessed, Boston is a big foodie town. From lobster rolls to pastries in the North End to craft breweries, here are some ways to experience some of the best tastes in Boston:
---
More Articles about Fun Things to Do in Boston in the Summer
---
Need a Boston Hotel or Apartment?
Use this handy map from Booking.com to find the perfect place to stay. Just enter your dates to find what's available, see the best rates, and make your reservations.