Boston water taxis provide fast, convenient, fun, and affordable transportation across and around Boston Harbor.
Regular water taxi stops include Logan Airport, Flynn (Black Falcon) CruisePort Terminal, TD Garden, the New England Aquarium, Faneuil Hall Marketplace, the USS Constitution at the Charlestown Naval Yard, Boston Harbor Hotel, the World Trade Center, and many, many more locations.
If you are flying into Boston Logan Airport and staying in a hotel near the Downtown Waterfront, Seaport, Charlestown, or the North End, a water taxi will be the fastest way to get there. Hop on the free #66 shuttle to the water taxi dock from all airport terminals - just look for the signs.
Find out more about taking a water taxi from Logan Airport to Downtown Boston
Once you're on a water taxi, you'll typically reach your destination in 7-10 minutes, depending on the location - and you can't beat the city skyline views!
Boston's two on-call water taxi services operate year-round. All boats are covered during cold weather, heated, and provide comfortable seating. Their aluminum hulls can even break through ice.
Both taxi fleets service provide excellent service to almost identical destinations and charge similar fares. But, there are a few key differences to consider when you decide which one to call - so keep reading to see comparisons.
Top photo: Water taxi crossing Boston Harbor
Boston Discovery Guide Tip
Want to travel between two points on or near Boston's waterfront?
For example, maybe you want to go from CruisePort to Logan Airport, from the Children's Museum to Faneuil Hall Marketplace, or from the Boston Harbor Hotel to a Celtics or Bruins game at TD Garden?
A water taxi will almost always be your fastest transportation option.
Which Water Taxi Companies Offer Service in Boston Harbor?
You can choose from two Boston water taxi companies: Rowes Wharf Water Transport and Boston Harbor Cruises.
Both will take you to almost all locations along the waterfront and offer similar pricing structures - but each has special deals and pricing for particular destinations or ticket packages.
Because of Boston's compact size, this normally doesn't matter - unless you're staying at the Boston Harbor Hotel or Long Wharf Marriott and want to roll your suitcase as short a distance as possible.
Rowes Wharf Water Transport: Best Logan Airport / CruisePort / Luggage Storage Deals
Rowes Wharf Water Transport charges $12 for the 7-minute trip from Boston Logan Airport to Inner Harbor locations (basically, Downtown, the North End, Seaport, East Boston where the airport is located), and offers a round-trip ticket for $20.
Luggage storage and 1-way fare to or from the airport is $20. Round trip (with luggage storage) is $28.
You can get 2-day passes ($25 individual; $50 family with 2 adults and up to 3 children). These are a terrific deal, especially if you're staying at one of the Boston Logan hotels.
As a special benefit, Rowes Wharf water taxi passengers with round-trip tickets can store bags for free during the day in Rowes Wharf Transport's locked storage room at their ticket office next to the Boston Harbor Hotel.
One-way passengers can also store bags here for the day for $8/person.
Water Taxi Cruise Ship Passenger Special: Flynn CruisePort Terminal - Boston Logan Airport
Are you arriving on a cruise ship at the CruisePort early in the day, flying out of Boston Logan later, and want to spend the time in between sightseeing? And storing your luggage somewhere?
The easiest and also the cheapest way to accomplish all this is to take advantage of Rowes Wharf Water Taxi's Cruise Ship Special.
For $30/person, a Rowes Wharf water taxi will pick you up at the Cruise Terminal, take you to Rowes Wharf just a few minutes away, store your luggage for free in their locked storage room while you explore the city, and then take you over to the airport for your flight home.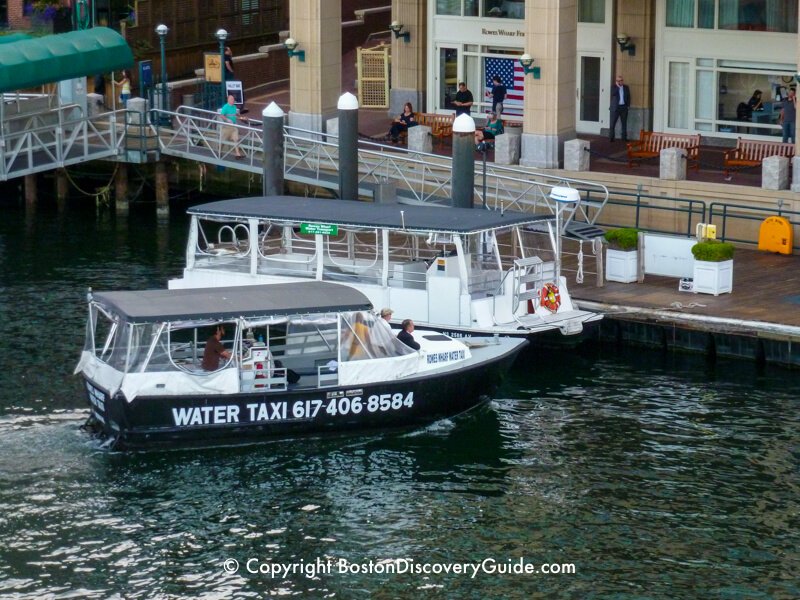 If you've just arrived at Logan for a cruise departing later in the day, the Cruise Ship Special also works in reverse: the taxi picks you up at the airport, takes you to Rowes Wharf to store your luggage while you explore Boston, and then transports you to CruisePort in time for your departure.
To arrange for this service, call their office at 617-261-6620, or the water taxi captain at 617-406-8584.
Without luggage storage, fares to the Cruise Terminal and Charlestown locations are $15 one way, and $25 round trip.
Map Showing Rowes Wharf Water Transport Stops and Routes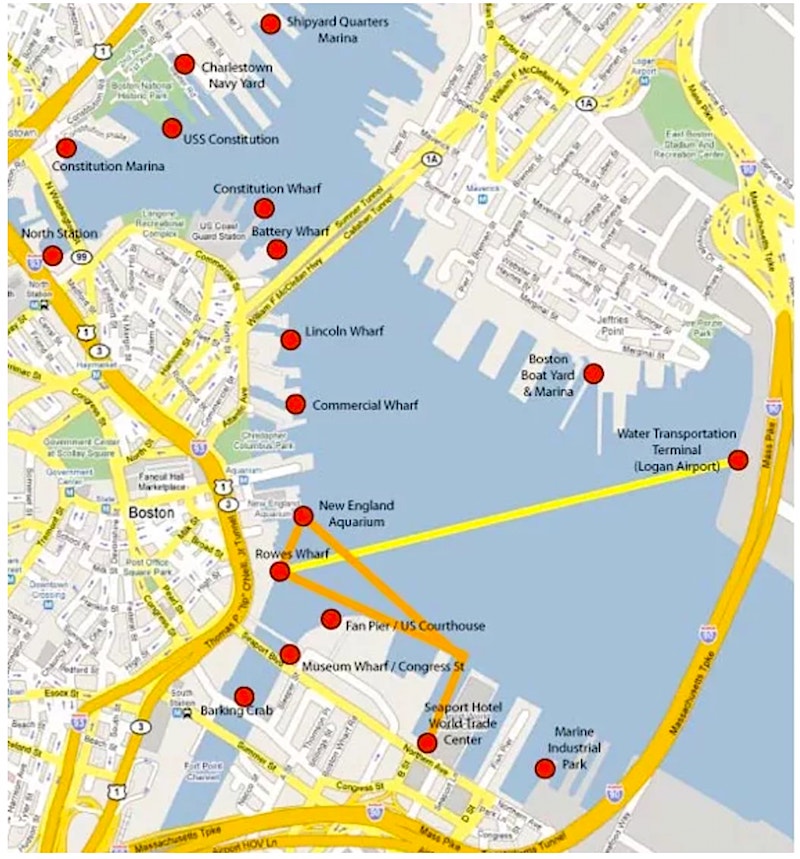 ---
Boston Harbor Cruises Water Taxi: Best Logan Airport / CruisePort / Luggage Storage Deals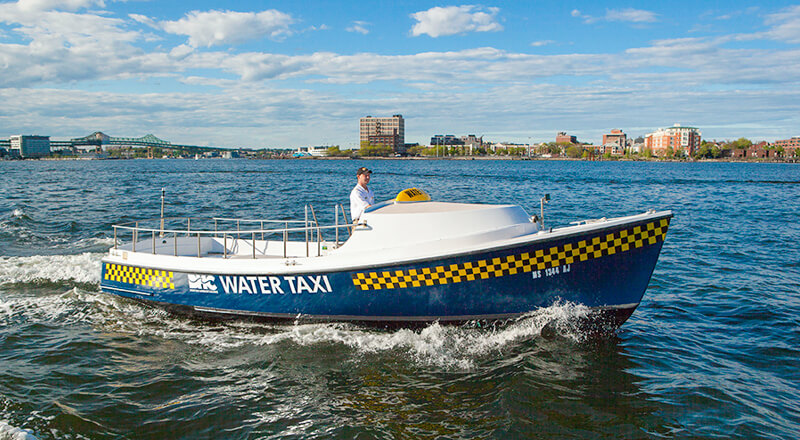 Boston Harbor Cruises charges $15 each way for all stops on the Massport map, except for the CruisePort Pier (where cruise boats dock), which is $18.
Tickets for children (3-11) are $3, and those under 3 ride free with a paying adult.
BHC offers a 10-ride pass for $120, which gives you a hefty savings if you're staying at one of the Boston Logan Airport hotels. You can use it for up to 2 passengers at a time.
If you have a same-day ticket for another BHC ferry or cruise excursion, you'll get a reduced rate of $12 for a single-ride trip.
If you need service to a location not shown on the map, call them at 617-227-4320 to find out the fare and availability.
Map Showing Boston Harbor Cruises Water Taxi Stops and Routes
How to Get Water Taxi Service
Water taxis are an ON CALL service - so in most cases, if you want to ride on one, you need to call to request pickup.
However - if you are arriving at Boston Logan Airport, the process can be slightly different.
Hop on a free #66 Shuttle Bus outside your terminal and take it to Boston Logan Dock. Once you arrive at the dock, the Dispatcher will call on your behalf.
Typically, a water taxi will arrive at the dock within 5-10 minutes. But if you want faster service, you can call the company you want to use as soon as you get on the shuttle.
More about water taxi service from the airport
Rowes Wharf Water Taxi Contact Information
Days/hours of operation: 365 days/year
Call for service: 617-406-8584.
Ticket office location: Rowes Wharf, behind the Boston Harbor Hotel
For more information: website
Extra benefit: Rowes Wharf Water Taxi will store your luggage for you for free in their locked storage room when you use their Water Taxi service to and from Logan Airport

Boston Harbor Cruises Contact Information
Days/hours of operation: 365 days/year; Monday-Saturday, 6:30am - 10pm; Sunday 6:30am - 8pm
Call for service: 617-227-4320
Ticket office location: Long Wharf, next to the Long Wharf Marriott and across from the Aquarium
For more information and complete list of destinations: website
Extra benefit: Boston Harbor Cruises offers lots of other fun excursions to enjoy during your trip:
More about Water Taxi Destinations
Water taxis stop at more than 20. destinations around Boston Harbor.
You'll see signs at each location showing you where to board.
Remember, the water taxis are an ON CALL service - so if you want to ride on one, you need to call to request pickup. The only exception to this is at Boston Logan Dock, where the Dispatcher will call on your behalf.
Water Taxi Stops and Nearby Attractions
Logan Airport - East Boston, Hyatt Harborside, Hilton Boston Logan Airport, Embassy Suites at Logan Airport
Lopresti Park - Lombardi Memorial Park, East Boston
Boston Ship Yard & Marina - East Boston
East Pier - East Boston
Boston's Cruise Terminal - South Boston Waterfront, EDIC dock with boat to Thompson Island, Boston Design Center
Liberty Wharf -Leader Bank Pavilion, South Boston Waterfront
Seaport Hotel & World Trade Center - South Boston Waterfront, Boston Convention and Exhibition Center, Westin Boston Waterfront Hotel, Seaport Hotel, Renaissance Boston Waterfront Hotel - Spirit of Boston cruises, Institute of Contemporary Art
Pier 4 - South Boston Waterfront - Atlantic Beer Garden, Ocean Prime, Whiskey Priest)
Fan Pier - Babbo Pizzeria, Empire, Strega Waterfront
Barking Crab - Barking Crab Restaurant, Envoy Hotel
Moakley Courthouse - Daily Catch Restaurant
Children's Wharf - Children's Museum
Griffin's Wharf - InterContinental Hotel, Tea Party Ships & Museum; closest stop to South Station, Downtown Crossing, Langham Hotel
Rowes Wharf - Downtown Boston, Boston Harbor Hotel, Downtown Financial District, Odyssey Cruises
Central Wharf - New England Aquarium, Rose Kennedy Greenway
Long Wharf - Marriott Long Wharf Hotel, Faneuil Hall Marketplace, Boston Harbor Cruises, Provincetown Connection, Waterboat Marina
Yacht Haven Marina - North End
Sargeants Wharf - Boston Sailing Center, North End
Commercial Wharf - North End
Lincoln Wharf - North End
Burroughs Wharf - North End
Battery Wharf - Battery Wharf Hotel, North End
Constitution Wharf - U.S. Coast Guard Station
Lovejoy Wharf - North Station, TD Garden
Tudor Wharf - Residence Inn Marriott, Constitution Marina
Charlestown Navy Yard/Pier 4 - Charlestown Navy Yard, USS Constitution, Flagship Wharf
Pier 6 - Pier 6 Restaurant
Pier 8 - Charlestown Marina
Menino Park - Spaulding Hospital
JFK Library (Dorchester)
Need a Boston Hotel or Apartment?
Use this handy map from Booking.com to find the perfect place to stay. Just enter your dates to find what's available, see the best rates, and make your reservations.
Fun Things to See & Do in Boston
Related Transportation & Sightseeing Articles