Boston water taxis provide fast, convenient, fun, and affordable transportation across and around Boston Harbor.
Regular water taxi stops include Logan Airport, Flynn (Black Falcon) CruisePort Terminal, TD Garden, the New England Aquarium, Faneuil Hall Marketplace, the USS Constitution at the Charlestown Naval Yard, Boston Harbor Hotel, the World Trade Center, and many, many more locations.
If you are flying into Boston Logan Airport and staying in a hotel near the Downtown Waterfront, Seaport, Charlestown, or the North End, a water taxi will be the fastest way to get there. Hop on the free #66 shuttle to the water taxi dock from all airport terminals - just look for the signs.
Find out more about taking a water taxi from Logan Airport to Downtown Boston
Once you're on a water taxi, you'll typically reach your destination in about 10-12 minutes, depending on the location - and you can't beat the city skyline views!
Boston's water taxi services operate year-round. All boats are covered and fully enclosed during cold weather, heated, and provide comfortable seating. Their aluminum hulls can even break through ice.
Although at times Boston has had two water taxi fleets, at the current time only one of them is providing service. Fortunately, it is an excellent choice, with a long tradition of providing fast, safe service around the Inner Harbor.
Top photo: Water taxi crossing Boston Harbor, (c) copyright Boston Discovery Guide
Boston Discovery Guide is a reader-supported publication. When you buy through our links, we may earn a commission at no additional cost for you. Learn more
---
Boston Discovery Guide Tip
Want to travel between two points on or near Boston's waterfront?
For example, maybe you want to go from CruisePort to Logan Airport, from the Children's Museum to Faneuil Hall Marketplace, or from the Boston Harbor Hotel to a Celtics or Bruins game at TD Garden?
A water taxi will almost always be your fastest transportation option.
---
Which Water Taxi Companies Offer Service in Boston Harbor?
Right now, only one water taxi company, Boston Water Taxi (formerly called Rowes Wharf Water Transport), provides service for Boston Logan Airport, Cruiseport, and numerous other locations Inner Harbor locations, plus it offers an additional option benefit: 1-day luggage storage in a secure locked room next to its Rowes Wharf ticket office.
It also offers a couple of interesting special deals and pricing for particular destinations or ticket packages as well as a couple of other options, including a water taxi-skyplane service to New York.
For now, we're leaving some basic information about the other water taxi service, formerly called Boston Harbor Cruises and now renamed Boston Water Bus Service, at the end of the article in case they resume water taxi operations. But for now, Boston Water Taxi rules the Harbor, and you'll be pleased by what they offer.
---
Boston Water Taxi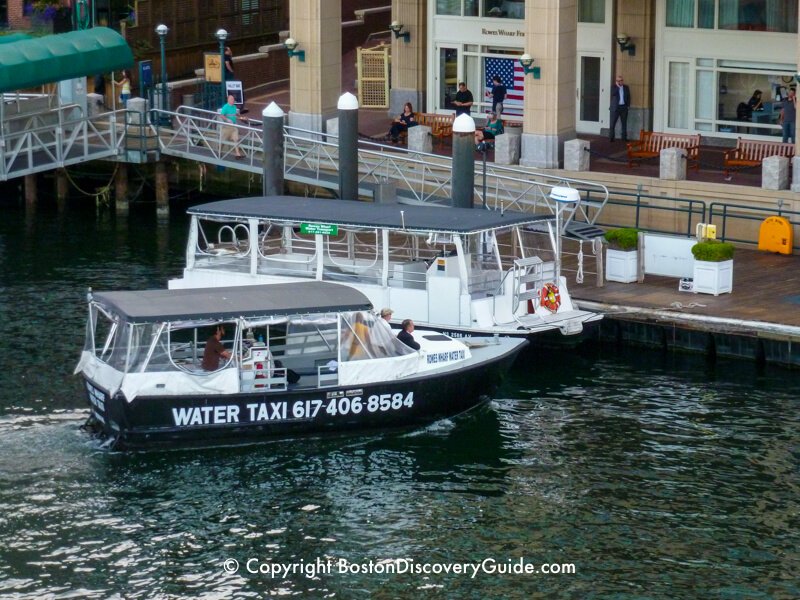 Boston Water Taxi offers a variety of options: Water taxi service to many locations around Boston's Innter Harbor, a convenient luggage storage next to their ticket office on Rowes Wharf, and a "Cruise Ship Special" just for cruise passengers.
They also offer a few extra experiences you might not expect: a 40-passenger vessel for large parties that you can also charter for special events and even parties, a fun "Cruise the Harbor with Boston Water Taxi opportunity, and a water taxi/seaplane service that can get you to downtown Manhattan in New York City in 50% or less time than other transportation options.
Unless otherwise noted in the following descriptions of each service, you can book your tickets and make pickup reservations online on Boston Water Taxi's website - click on the Buy Tickets Link.
Here are more details and rates for Boston Water Taxi's services:
Boston Water Taxi Rates to Inner Harbor Locations
Boston Water Taxi charges $20 per person for a 1-way trip from Boston Logan Airport to Inner Harbor locations (Downtown, the North End, Seaport, East Boston where the airport is located). The 1-way fare with same-day luggage storage in their secure, locked facility at Rowes Wharf is $30. (You'll find all the details about storing your bags in the next section)
A round-trip ticket to Inner Harbor locations is $30 per person, and $45 per person with same-day luggage storage.
You can buy a 10-ride pass which gives you a discounted fare for each ride. These can be used by a single rider, or by multiple riders at the same time, so a good choice when you're traveling with others. If you're staying at one of the Boston Logan hotels, perhaps for a conference or to take advantage of the sometimes-cheaper rates, 10-ride pass saves you some money if you want to make multiple trips across the Harbor to Downtown Boston and other areas such as Seaport and the North End.
Secure Luggage Storage at Rowes Wharf for Boston Taxi Passsengers
What sets Boston Water Taxi apart is its onsite secure, locked luggage storage room next to its ticket office, available only to its ferry passengers.
You can use the storage with either a 1-way or round-trip ferry ticket. However, no overnight storage is available.
Therefore, if you purchase a round-trip with the storage option, you must use both parts of your round trip ticket on the same day, and pick up your stored luggage at the end of the day.
Having such convenient luggage storage next to Rowes Wharf is an ideal option if you have a 1-day layover at Boston Logan Airport. You can take the water taxi across the Harbor and store your bags at Rowes Wharf, explore Boston for the day bag-free, and then pick up your bags right before boarding the taxi back across the water to the airport in time to catch your evening flight.
Boston Water Taxi Cruise Ship Special: Flynn CruisePort Terminal to Boston Logan Airport Plus Luggage Storage
Are you arriving on a cruise ship at Boston's CruisePort early in the day, flying out of Boston Logan International Airport later, and want to spend the time in between sightseeing? And storing your luggage somewhere?
The easiest and also the cheapest way to accomplish all this is to take advantage of Rowes Wharf Water Taxi's Cruise Ship Special.
For $50/person, a Rowes Wharf water taxi will pick you up at the Cruise Terminal, take you to Rowes Wharf just a few minutes away where you can store your luggage for free in their locked storage room while you explore the city, and then take you over to the airport for your flight home.
If you want to book this service, be sure to read the warning on their website (click on "Buy Tickets") about possible difficulties caused by tides for anyone with mobility issues.
Boston Water Taxi's Largest Vessel - Ideal for Large Groups (& Parties)
In addition to its regular water taxis, Boston Water Taxi also has a 40-passenger vessel that's available for charter if you need transportation for a large group or want a fun site for a special company, family, or friends event. Its high-end sound system and great lighting transform it into a perfect party boat venue as you cruise around the harbor.
To find out more about chartering this large vessel, the Rip Rider, call Boston Water Taxi's Concierge at 617-261-6620.
Cruise the Harbor for Fun with Boston Water Taxi
This fun and unique "30-Minute Harbor Experience" cruise lets you come along as a passenger on an Boston Water Taxi vessel for 30 minutes as they pick up other and drop off other passengers - fantastic way to see Boston Harbor!
Find all the details about how to buy your ticket online on their website, and then on the day you choose to cruise, call them at 617-406-8584 to let them know where you want to be picked up.
Boston Water Taxi & Seaplane Service to New York City
What's the fastest way to travel between Boston and Manhattan? Let Boston Water Taxi's service with Tailwind Air Seaplane whisk you between Fan Pier in Boston's Seaport District to East 23rd Street in Manhattan, NYC in half the time, or even less, than other transportation services. Get all the details
Map Showing Boston Water Taxi Stops
This map shows the locations of Boston Water Taxi's pick-up and drop-off locations around Boston's Inner Harbor.
Pleas be aware that water taxi stop locations occasionally change. When you call the water taxi pick up number (617-406-8584), the Captain will let you know if any changes have occurred.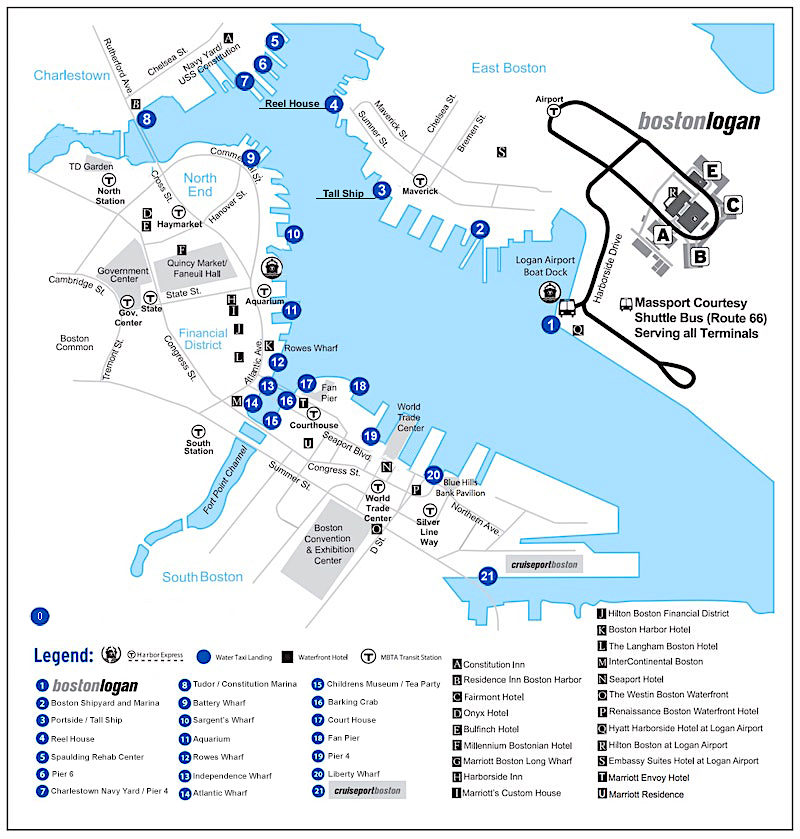 ---
Boston Water Bus Service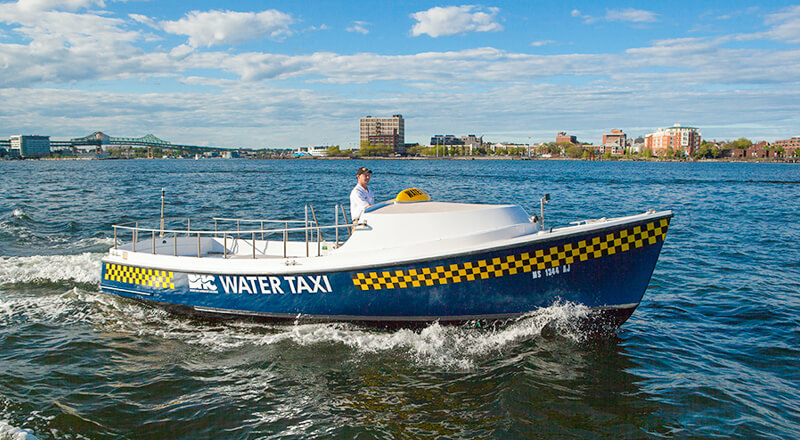 Boston Water Bus Service, formerly Boston Harbor Cruises, does not appear to currently be operating as a water taxi. They were once locally owned, but are now part of City Experiences by Hornblower, which operates larger cruises in several locations in the US, Canada, and UK.
The Odyssey and Spirit of Boston, known for their lunch and dinner cruises, are part of their local fleet. In addition, they operate ferry services in and beyond Boston Harbor, including the Provincetown Fast Ferry, Codzilla, the Salem ferry, and the Boston Harbor Island ferries to Georges Island, Peddocks Island, and other destinations.
Their website implies that they may resume their Boston Inner Harbor runs as a scheduled shuttle between Long Wharf, Seaport, Logan Airport, and (weekends only) other East Boston locations. So stay tuned for updates!
---
How to Get Water Taxi Service
Boston Water Taxi lets you buy your tickets online, plus take advantage of their on-call service.
However - if you are arriving at Boston Logan Airport, the process can be slightly different.
Hop on a free #66 Shuttle Bus outside your terminal and take it to Boston Logan Dock. Once you arrive at the dock, the Dispatcher will call on your behalf.
Typically, a water taxi will arrive at the dock within 5-10 minutes. But if you want faster service, you can call the company you want to use as soon as you get on the shuttle.
More about water taxi service from the airport
Boston Water Taxi Contact Information
Days/hours of operation: 365 days/year
Call for service: 617-406-8584
Ticket office location: Rowes Wharf, behind the Boston Harbor Hotel
For more information: website
Extra benefit: Rowes Wharf Water Taxi will store your luggage for you for free in their locked storage room when you use their Water Taxi service to and from Logan Airport

---
Water Taxi Stops and Nearby Attractions
Logan Airport - East Boston, Hyatt Harborside, Hilton Boston Logan Airport, Embassy Suites at Logan Airport
Lopresti Park - Lombardi Memorial Park, East Boston
Boston Ship Yard & Marina - East Boston
East Pier - East Boston
Boston's Cruise Terminal - South Boston Waterfront, EDIC dock with boat to Thompson Island, Boston Design Center
Liberty Wharf -Leader Bank Pavilion, South Boston Waterfront
Seaport Hotel & World Trade Center - South Boston Waterfront, Boston Convention and Exhibition Center, Westin Boston Waterfront Hotel, Seaport Hotel, Renaissance Boston Waterfront Hotel - Spirit of Boston cruises, Institute of Contemporary Art
Pier 4 - South Boston Waterfront - Atlantic Beer Garden, Ocean Prime, Whiskey Priest)
Fan Pier - Babbo Pizzeria, Empire, Strega Waterfront
Barking Crab - Barking Crab Restaurant, Envoy Hotel
Moakley Courthouse - Daily Catch Restaurant
Children's Wharf - Children's Museum
Griffin's Wharf - InterContinental Hotel, Tea Party Ships & Museum; closest stop to South Station, Downtown Crossing, Langham Hotel
Rowes Wharf - Downtown Boston, Boston Harbor Hotel, Downtown Financial District, Odyssey Cruises
Central Wharf - New England Aquarium, Rose Kennedy Greenway
Long Wharf - Marriott Long Wharf Hotel, Faneuil Hall Marketplace, Boston Harbor Cruises, Provincetown Connection, Waterboat Marina
Yacht Haven Marina - North End
Sargeants Wharf - Boston Sailing Center, North End
Commercial Wharf - North End
Lincoln Wharf - North End
Burroughs Wharf - North End
Battery Wharf - Battery Wharf Hotel, North End
Constitution Wharf - U.S. Coast Guard Station
Lovejoy Wharf - North Station, TD Garden
Tudor Wharf - Residence Inn Marriott, Constitution Marina
Charlestown Navy Yard/Pier 4 - Charlestown Navy Yard, USS Constitution, Flagship Wharf
Pier 6 - Pier 6 Restaurant
Pier 8 - Charlestown Marina
Menino Park - Spaulding Hospital
JFK Library (Dorchester)
Need a Boston Hotel or Apartment?
Use this handy map from Booking.com to find the perfect place to stay. Just enter your dates to find what's available, see the best rates, and make your reservations.
---
Fun Things to See & Do in Boston
Related Transportation & Sightseeing Articles