If you're a fan of the clam shacks found in most areas along the New England coast, you'll want to head straight to the Barking Crab.
You'll find the best clam shack dining in Boston under red and yellow striped tent.
Never mind that this favorite local restaurant has "Crab" in its name rather than "Clam."
Clams, crabs, shrimp, mussels, calimari, and scallops, and other seafood take center stage here - but whole lobsters steal the show.
Other specialties include the New England clam chowder, crabcakes, and fried oysters.
To experience a taste of the "real" coastal New England, at least along the "South Coast" area of the western Cape and eastern Rhode Island, order the addictively good stuffed clams known as "stuffies" made with chouriço and sweet Portugese bread.
Best of all, Barking Crab's convenient location on Fort Point Channel at the edge of the South Boston Waterfront puts it just steps away from Downtown Boston - so you get a shore dining experience without leaving town.
Lobster, clams, chowder, and shrimp are just a few of the yummy treats that await you.
Top photo: Barking Crab seafood shack overlooking Fort Point Channel, (c) Boston Discovery Guide
Boston Discovery Guide is a reader-supported publication. When you buy through our links, we may earn a commission at no additional cost for you. Learn more
---
Clam Shack Dining at the Barking Crab
If you're not from New England, you may be wondering, "What exactly is a clam shack?"
Traditional clam and lobster shacks dot the New England coast.
Traditionally, they were less-than-permanent wooden buildings - "shacks" truly describes them - that contain cooking and refrigeration facilities, sometimes as basic as just a deep-fat fryer and a few ice chests.
Modern-day "shacks" tend to be sturdier, similar to the Barking Crab.
A clam or lobster shack usually has a window where you place your order and pay, and some picnic tables and benches where you can sit and eat. Clam and lobster shacks serve whatever catch the fishermen bring in that morning, and once it's gone, there's no more until tomorrow.
Fortunately for you when you're dining at the Barking Crab, the menu reliably offers local favorites and the kitchen is unlikely to run out of food.
What will you find on the menu? Typical New England coastal treats - clams (of course), lobster, mussels, scallops, shrimp (especially up in Maine), cod, flounder, and perhaps squid (calamari).
If the clam shack is slightly fancier, you may also find chowder, steamers (smaller clams), clam rolls, lobster rolls, stuffies (clamshells filled with chopped clams mixed with seasoned breadcrumbs), and corn on the cob and French fries made from produce grown in nearby fields.
And that's the type of coastal cuisine that you'll find (except for stuffies) at the Barking Crab, along with a few additional choices to round out of menu.
Best of all, the Barking Crab even feels like a clam shack. The shared picnic tables and water views provide the perfect setting for the seafood.
Ordering lobster? You'll be given a rock to crack it open, just as though you were at a rustic clam shack along the coast.
In fact, you'll probably forget that you're dining in Boston unless you happen to look at the city skyline.
---
5 Tips for Enjoying the Barking Crab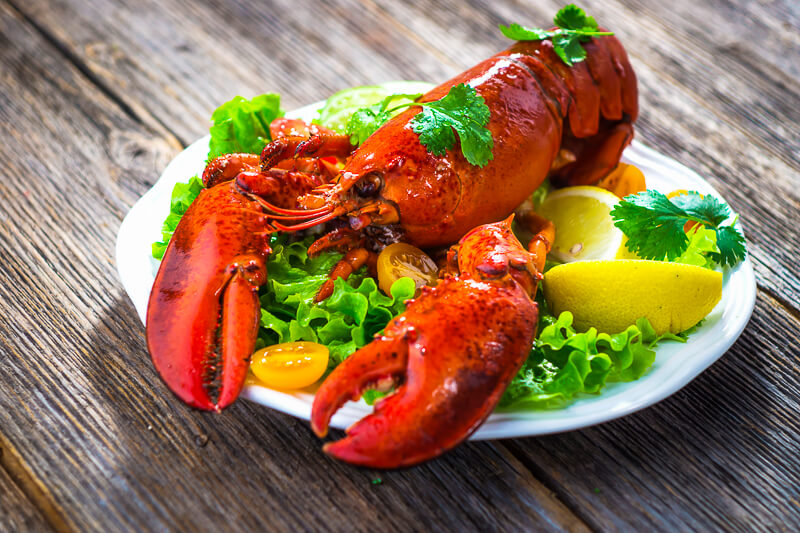 Here are our top 5 tips for enjoying the Barking Crab:
Be ready to have fun and a great meal in a very casual crab shack atmosphere. If sitting at a picnic table with strangers under a tent and cracking open a lobster claw with a rock aren't your cup of tea, you probably won't be happy at Barking Crab. Try Jasper White's Summer Shack near Prudential Center in Back Bay for clam shack food in a more traditional (although still fun) restaurant setting.
The Barking Crab can get very crowded and noisy. If you prefer more sedate dining, your best bet is to come for a late lunch or an early dinner - and be prepared to come back another time if you encounter long lines and/or large crowds. On the other hand, if you're with a bunch of friends or perhaps even your rather noisy kids (describing my own, of course), this is a place where you can kick back and have a good time without being glared at.
Sample some of the wonderful offerings from local breweries on tap. Add a bowl of chowder and you have a perfect lunch.
When your check comes, remember that you're in a seafood restaurant occupying a prime waterfront location and offering live music in Boston, not an actual clam shack on the remote Maine coast. Your bill is going to reflect that. Prices are in line with other Boston seafood restaurants, especially when you consider the location and music. And let's face it, seafood restaurants are pricey. That's because the seafood is fresh, and can't be kept longer than a day.
Relax, order another drink, enjoy your meal, and have a great time at the Barking Crab!
---
Brew & Tunes at the Barking Crab
Unlike most actual clam shacks, the Barking Crab offers an outstanding beer list featuring local and New England breweries - including plenty of selections from nearby Harpoon Brewery.
Another difference is the live music, performed by local groups several nights a week, usually starting at 7-8pm. Once you finish your meal, give up your place at the table to waiting diners, and saunter over to the water's edge, gaze up toward the stars (being in the city, you can't actually see them, so use your imagination), and enjoy the music and perhaps another beverage.
---
Directions to the Barking Crab
Address: 88 Sleeper Street, Fort Point neighborhood near Seaport Boulevard
Closest T station: Red Line/South Station
Meals served: Lunch, dinner
For more information: 617-426-2722
---
Want a Taste of Boston Food at Home?
Try our recipes for these New England shore favorites - super easy!
---
Explore Boston through Food
---
More Articles about Dining in Boston