Exciting events normally fill the Boston Events Calendar for April, 2021 - Patriots' Day reenactments, the Boston Marathon, Red Sox opening day, and more! Will the Covid-19 pandemic subside enough so that they can happen? No one knows yet. At this point, please use the information in this article to see what might happen in Boston in April, but check back for updates closer to event dates.
The 125th Boston Marathon, normally an April highlight, is not scheduled due to the pandemic although it may happen in the fall.
Patriots' Day commemorates the start of the American Revolution with numerous reenactments, parades, and celebrations. This local tradition honors those who paved the way for freedom from British rule almost 250 years ago.
With warmer weather finally here, restaurants set up their outdoor seating for al fresco dining.
Check out all our top recommendations for fun things to do in Boston in April - and start planning your visit now!
Top photo: Boston Marathon runners approaching Heartbreak Hill
Find more fun things to do in Boston during April
Patriot's Day Re-Enactments, Parades, and Events - 2021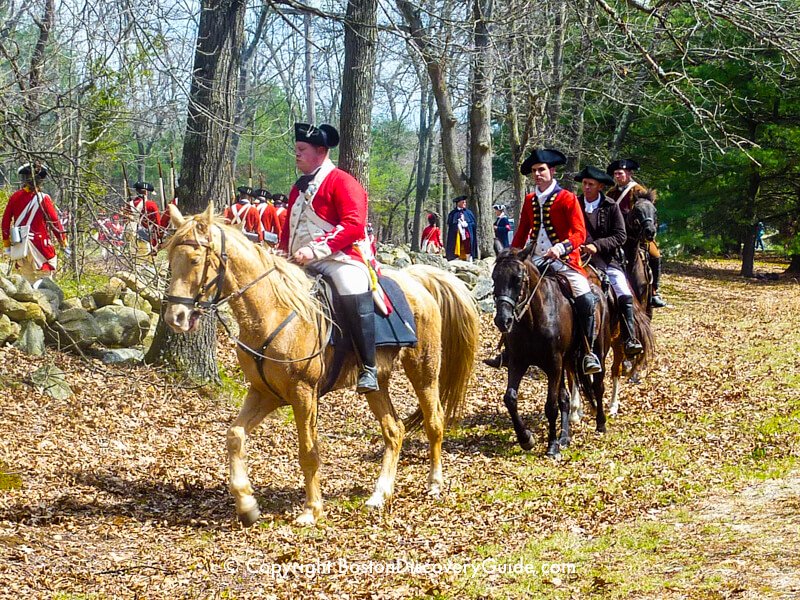 Celebrated annually on the third Monday in April (a Massachusetts State holiday), Patriot's Day (April 19, 2021) commemorates events and battles in Lexington, Lincoln, Concord, and present-day Arlington (once called Menotomy) that marked the beginning of the Revolutionary War.
When: Most Patriots Day events take place from Saturday, April 17 - Monday, April 19, with more events throughout April

Get the complete schedule for dozens of Patriots' Day events
Where: Boston's North End, Lexington, Concord, other locations
Cost: Almost all are free

More about Patriots' Day reenactments
Plan a day trip to Old North Bridge and other historic sites in Concord, MA
---
Fun Sightseeing Tours of Boston
More: Sightseeing Tours | Tours for Teens | Kids & Family Tours
The Boston Marathon - 2021 - TBD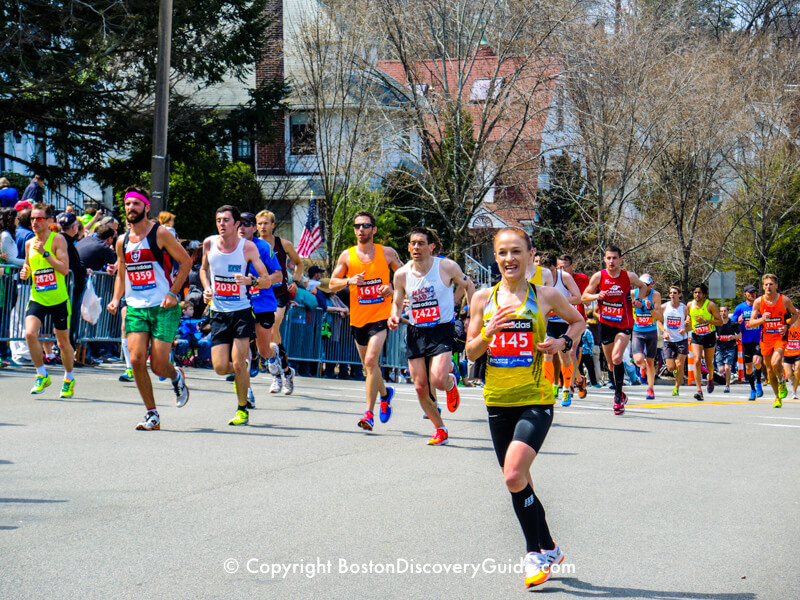 Boston Marathon runners not far from Heartbreak Hill
The Boston Marathon - one of the city's biggest events of the year, and also known as the "Patriots Day Race" - features about 31,500 elite runners from around the world competing in a route made difficult by rolling terrain and features such as "Heartbreak Hill." 
Although the winners complete the course in just over 2 hours, many participants are still running hours later.  You can watch from anywhere along the route.
If you attend the traditional Boston Red Sox home game at Fenway Park scheduled for Marathon Day, you'll be part of the crowd streaming into Kenmore Square just as the runners arrive at the finish line on Boylston Street. 
More about the Boston Marathon
Hotels close to the Boston Marathon route
Best places to watch along the Marathon route
Cambridge Science Festival
Immerse yourself in fun science adventures for 10 days in the kids-and-adults-friendly Cambridge Science Fest at multiple Boston and Cambridge locations. A robot zoo, scavenger hunts, urban cycling workshops, bacterial "forests," virtual reality - these are just a few of the things you can explore. Find the complete schedule on the Science Fest's website. Most events are free.
April 2021 Boston Red Sox Schedule - Opening Day & Home Games at Fenway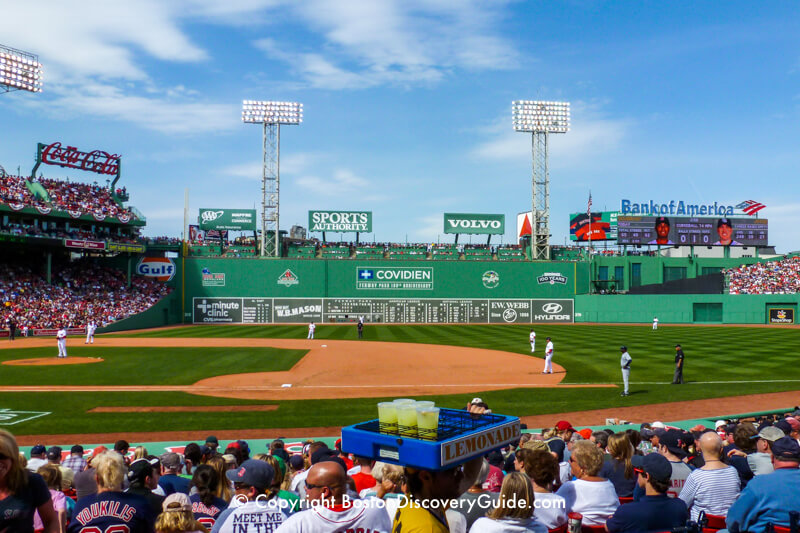 The Red Sox play their home field season opener at Fenway Park in early April each year.
This year, their home opening game at Fenway is against the Baltimore Orioles on April 1.
Then, based on tradition, the Red Sox normally play a home game on Patriots Day and the game ends just in time for fans to watch Boston Marathon runners rush past Fenway Park on their way to the finish line - but that won't happen in 2021 due to postponement of the Marathon until October.
Red Sox Home Game Schedule for Fenway Park & Tickets - 2021
Red Sox May Home & Away April Schedule 2021
Hotels near Fenway Park
Park: Garages & lots near Fenway Park
Celebrate: Best sports bars near Fenway Park
Find out about other Boston sports
Best Boston Harbor Cruises during April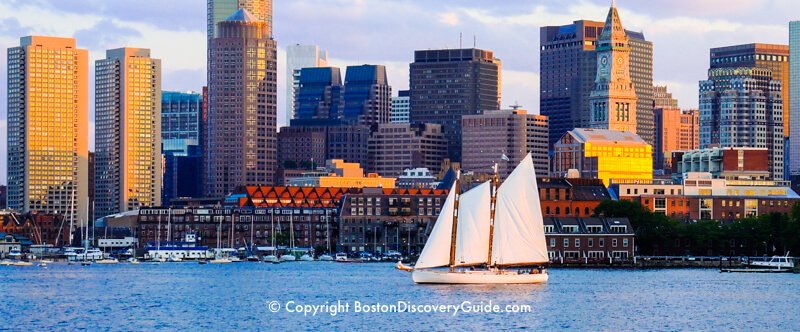 Tour Boston by boat - the best way to see the city!   Check out these fun sightseeing, music, and entertainment Boston Harbor cruises on the Yacht Northern Lights and Schooner Adirondack III:
Plan Ahead for 2021:
Boston Concerts & Shows - April
Top April Concerts in Boston
Top April shows include Fleetwood Mac and Cher at TD Garden, Amanda Palmer at the Orpheum Theatre, Billy Idol & Steve Stevens @ Lynn Memorial Auditorium, and famed violinist Itzhak Perlman at Boston Symphony Hall.
Schedules & Tickets:
TicketNetwork Discount Code - Enter TNTIX to get $10 off orders of $300+

More Concerts & Shows for April
Boston Concerts & Shows throughout the Year
Boston Theater & Shows for April

Top April Shows in Boston
Schedules & Tickets
TicketNetwork Discount Code - Enter TNTIX to get $10 off orders of $300+

More Boston Theater District Shows
Where to have dinner in Boston's Theatre District
---
Top Hotels near Boston's Theatre District
Enjoy your Boston performance or show experience to the fullest when you stay in one of the nearby Theatre District hotels, such as the hip and glamorous Revere Hotel: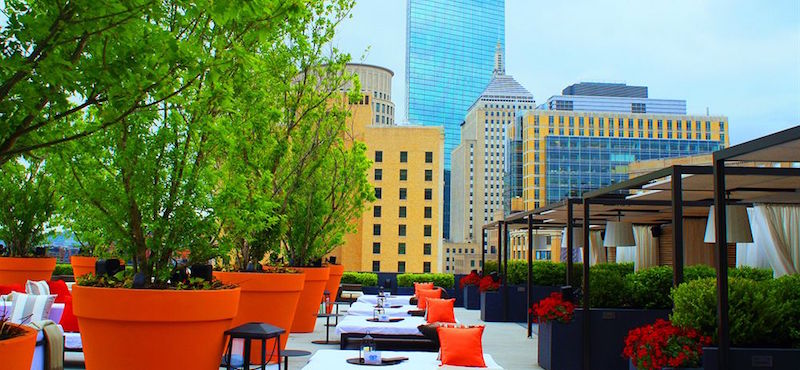 More top Theatre District hotels:
Check out more hotels in Boston's Theatre District
Whale Watching Cruise Tickets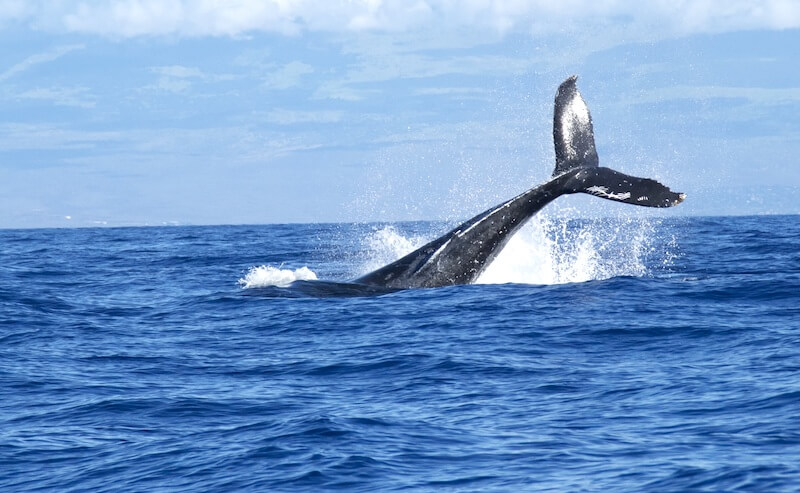 Join one of the exciting 3-hour Whale Watching Cruises departing from the convenient Downtown Boston Waterfront, and experience the thrill of spotting whales off the coast of Boston.
You'll see these magnificent creatures close-up from the deck of your ship, probably spot Humpback and Finback whales, and see White Sided Dolphins frolicking in the waters.
These cruises sell out quickly, especially during the most popular months, but booking online is easy. Don't miss this iconic Boston experience!
Rock & Roll Rumble
Twenty four mostly-local bands will play at Rock & Roll Rumble held at Once in Somerville during the first three weekends in April, carrying on an annual tradition dating back to 1979 at the legendary Rat in Kenmore Square. Tickets are cheap - $10 online in advance, $15 at the door.
Popular bands that have played here through the years include Dresden Dolls, Morphine, The Lemonheads, The Gravel Pit, and Letters to Cleo. All bands are paid and the best win prizes - but even more important, it's your chance to hear the top bands of tomorrow. Check the event's website for dates, times, lineups, and directions.
Bruins April 2021 Schedule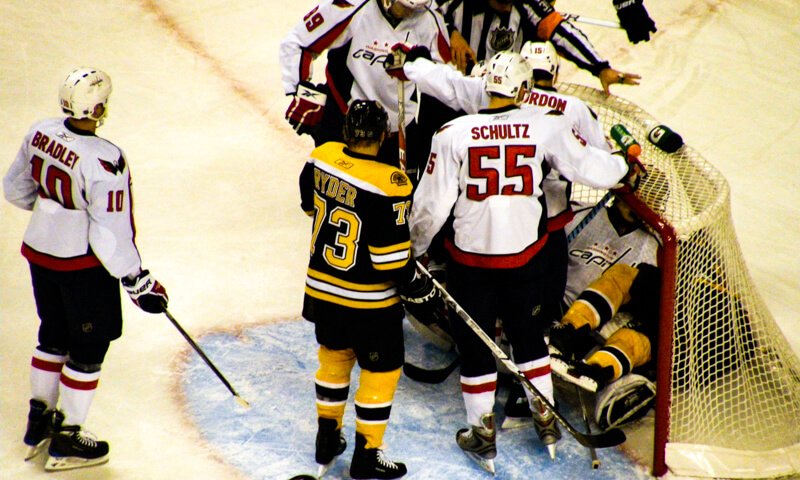 Get your Boston Bruins tickets for April home games at TD Garden before the regular season wraps up.
The Garden's convenient location next to North Station and close to Faneuil Marketplace makes it super-easy to get to.
Don't miss the chance to see Boston's hockey team, winner of 6 Stanley Cup championships!
TicketNetwork Discount Code - Enter TNTIX to get $10 off orders of $300+

Park: Garages near TD Garden
Celebrate: Best sports bars and clubs near TD Garden
More about TD Garden: Schedule, directions, best ticket prices
---
Hotels near TD Garden
Coming to an event at the Garden? Spend the night or the weekend at a nearby hotels, such as the glamorous Onyx (shown in photo), part of the Kimpton hotel family: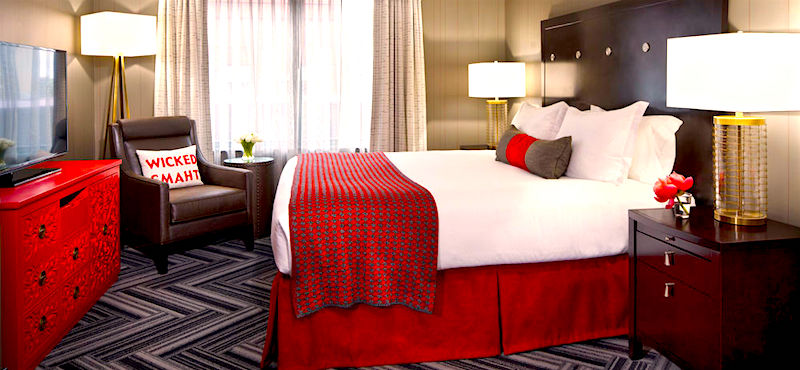 More top hotels near the Garden:
More about TD Garden: Schedule, directions, best ticket prices
Celtics Regular Season - 2021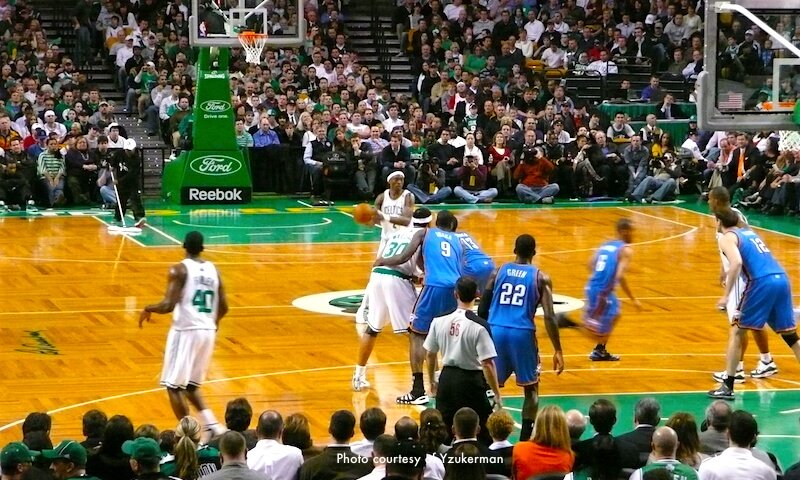 The Celtics continue play their regular season home games of the season at the Garden. Will they head into the NBA Eastern Conference First Round this year? Too soon to tell, but stay tuned.
Check Boston Celtics tickets:
TicketNetwork Discount Code - Enter TNTIX to get $10 off orders of $300+

Find more Celtics tickets for April
More about TD Garden: Schedule, directions, best ticket prices
More Ways to Enjoy Boston's Food Culture
What to See in Boston's Museums - April
MFA Boston - Current & Up-Coming Shows
Women Take the Floor - Female artists' visions & voices - Through May 3, 2021
Writing the Future: Basquiat and the Hip-Hop Generation - See the transition from urban street art to museum walls - Through May 16, 2021
Black Histories, Black Futures - Teen curators take over - Through June 20, 2021
Collecting Stories: The Invention of Folk Art - February 6 - January 9, 2022
Paper Stories, Layered Dreams: The Art fo Ekua Holmes - Distinctive vision and commitment to Black imagery by a Roxbury artist/book illustrator - February 27 - Oct 17, 2021
Museum (and show) admission: $25 adults; free entrance with Boston Discount Cards (GoBoston card and Boston CityPASS). Free admission on Wednesdays after 4pm, Martin Luther King Jr. Day, Lunar New Year Celebration Day, Memorial Day, Labor Day, & Indigenous Peoples' Day; also on Feb 5, 2021.
Institute of Contemporary Art/Boston - Current & Future Shows
i'm yours: Encounters with Art in Our Times - New acquisitions and iconic works - Through May 23, 2021
Beyond Infinity: Contemporary Art after Kusama - Her pioneering ideas and artistic vision - Through July 18, 2021
Eva LeWitt - Huge colorful hanging wall sculpture made from coated mesh fabric - Jan 16, 2021 - Oct 23, 2022
Admission: $15 adults; free entrance with GoBoston card and Boston CityPASS. Closed on Mondays. Free admission on Martin Luther King Jr. Day, Presidents' Day, Memorial Day, Labor Day, & Indigenous Peoples' Day.
New England Auto Show - 2021
Postponed from January:
The enormous New England Auto Show (April 14-18) at the Boston Convention & Exhibition Center, 415 Summer Street, South Boston Waterfront) is by far the biggest in New England, and showcases all the newest models for basically every domestic and imported brand. If you're planning to buy a new vehicle in the coming year, want to compare models and features, chat with dealers and factory reps, or just want to keep up with the newest models and technology, you owe it to yourself to go!
Tickets: $17 adults, $7 kids ages 6-12 (under 6 free), with $1 of each ticket sold donated to local charities
Check the New England Auto Show's website for more info
Boston International Film Festival
The Boston International Film Festival brings together the best local and international independent and experimental films in this annual festival. "Eclectic" barely begins to described the wide-ranging scope of the films you'll see here - everything from documentaries to avant-garde surrealism.
Tickets are sold for "sessions," typically including a longer film bundled with several shorter films on a similar topic or theme.
When: April 16-21
Where:
- Regal Cinemas Fenway Stadium, 201 Brookline Ave; Green Line/D: Fenway
- Kendall Square Cinema, 355 Binney Street, Cambridge; Red Line: Kendall
- Cambridge College, 500 Rutherford Ave; Orange Line: Community College
- Bunker Hill Community College, 250 Rutherford Ave; Orange Line: Community College
- Old South Church, 645 Boylston Street; Green Line: Copley
Nearest T station: Green Line/Park
Tickets: $12 for most session with all-session and VIP passes also available
More information: BIFI Website
More Boston and Cambridge movie theaters
Featured New Hotel for April: Hyatt Centric Faneuil Hall in Boston's Financial District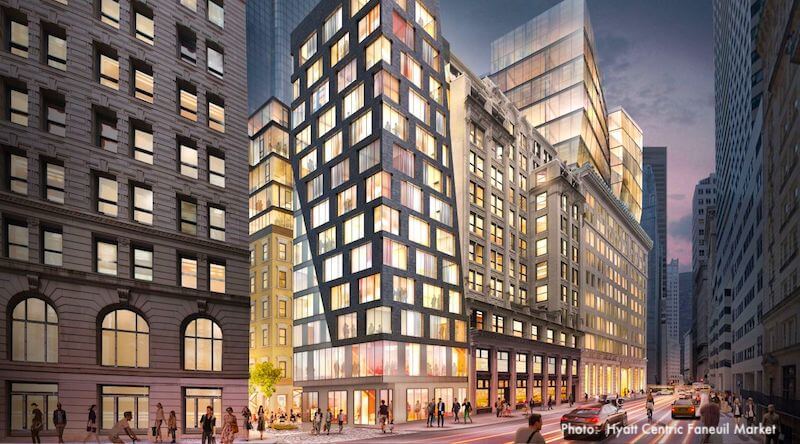 68 Devonshire Street, Boston's Downtown Financial District
A superb Financial District location close to Faneuil Marketplace, top visitor sites such as the historic Freedom Trail, and the Waterfront, Hyatt Centric Faneuil Market is ideally situated for both business and leisure travelers. You're about 8-10 minutes on foot from TD Garden, plus several nearby T (subway) stations put the rest of the city within easy reach - and now that balmy April weather has arrived, you'll love how many attractions are within a quick walk from the Hyatt Centric.
The 163 guestrooms and suites offer free wifi, smart TVs, bluetooth speakers, robes and slippers, and all the other amenities you'd expect in a high-end hotel. Dine onsite at Bar Mercato and enjoy its small plates and relaxed ambiance, or eat at any of the other excellent choices nearby.
Find low rates & make your reservations
Check out other hotels near Faneuil Marketplace
USEA Artists in Their Studios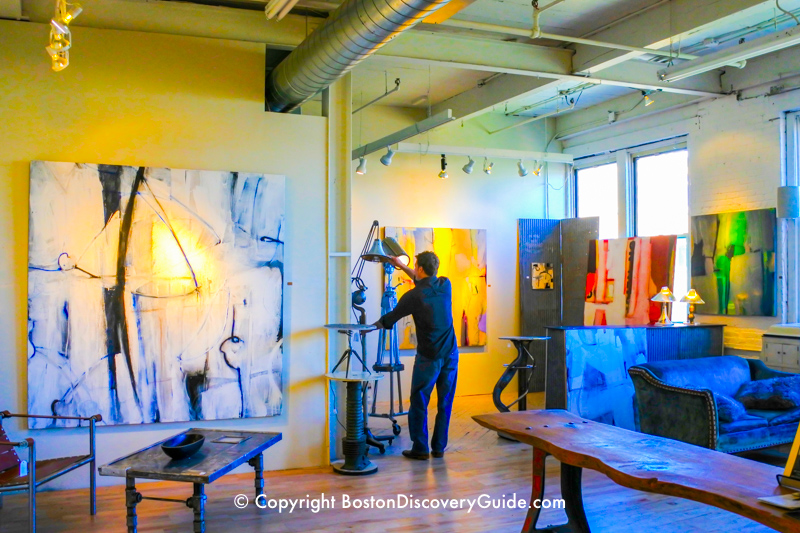 When: Sunday, April 12, 11am-5pm
Where: Boston's South End; Open studios are at 46 Waltham Street, 35 Wareham Street, 49 Wareham Street, 59 Wareham Street, 450 Harrison Ave and the Artist Studio Building at BCA, 551 Tremont Street.
Cost: Free (unless you buy art)
Nearest T station: Orange Line/Back Bay
USEA Artists in Their Studios lets you meet the USEA artists and get behind-the-scenes tours of their studios on this self-guided tour of the South End neighborhood.
What to look for: Everything, including photography, painting, printmaking, mixed-media, sculpture, jewelry, illustration, and more.
Getting around: Pick up a free map at the information tables at Boston Center for the Arts (551 Tremont Street) and at 450 Harrison Ave.
Independent Film Festival Boston
When: April 22 - 29
Where: Primarily at the Somerville Theatre, Brattle Theatre, and Coolidge Corner Theatre
Tickets: Buy season passes (partially tax deductible) or individual tickets - see IFF's website for pricing.
More information: IFF Boston Website
The Independent Film Festival Boston spans 8 days, and promises to be bigger and better than ever, with familiar names plus many new ones. IFF Boston showcases independent film makers from around the world working outside of the Hollywood system, and the lineup offers plenty of interesting features, shorts, and documentaries. Lots of panels and parties let you can talk with the filmmakers and ask them questions. Boston film fanatics rate this festival as one of the best.
Find more Boston film festivals
John Hancock Sports and Fitness Expo
The huge (and free) John Hancock Sports and Fitness Expo and Number Pick-Up takes place in the Seaport World Trade Center (200 Seaport Ave) prior to the race during Marathon Weekend - April 18-20 - and if you love running, you couldn't ask for a better reason to arrive a few days early before the race.
Runner's World magazine calls this event the "best runner's expo in the country" and the 100,000 enthusiasts in attendance can attest to that.
In addition to the popular Runners Seminar Series, you can visit exhibits by 200 of the running industry's top companies - and of course you can buy every piece of running gear on your bucket list.
Race participants pick up their bib number here as well.
More info: www.baa.org
Closest T station: Silver Line SL1/Seaport WTC; take the Red Line to South Station, and change to the SL1 bus on the Silver Line
Run of the Charles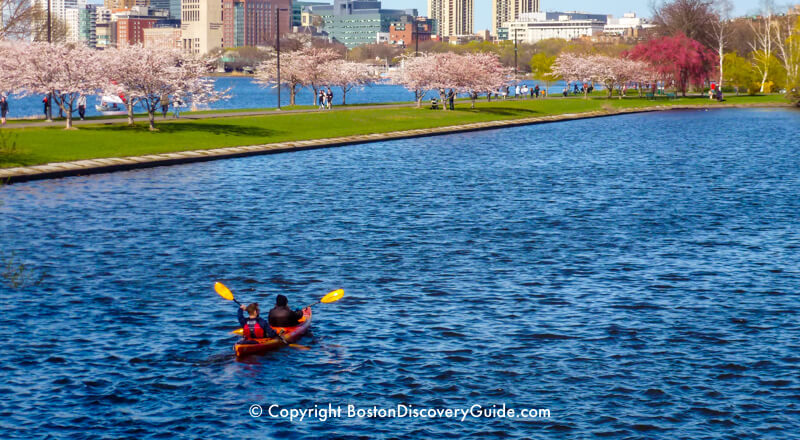 Run of the Charles, New England's largest canoe and kayak race, takes place on the last Sunday in April - perfect way to spend a Saturday afternoon if you're a spectactor, or enjoy a day on the river if you're a paddler. About 1,500 racers and spectators participate each year.
Don't miss the River Festival beginning at 11:30 at the finish line with live music, a taco truck, raffles, a beer garden, and vendors!
When: Sunday, April 26
Time: Races start around 10am, depending on the race length (3 to 14 miles). Watch from Boston or Cambridge
Where: Charles River
Cost: Free for spectactors

Find out more about Run of the Charles
2 Easy Ways to Save BIG in Boston on Tours, Cruises, Admissions
Best way to save in Boston. Save up to 50% when you take a Boston Harbor cruise or Duck Boat tour, visit Plimouth Plantation, the New England Aquarium, Museum of Science, Museum of Fine Arts, Fenway Park Tour, and more. Compare to find out which one is best for you
Easter Egg Hunt at Faneuil Market
On Saturday, April 12 at 11:30am (to be confirmed for 2021), head over to Faneuil Hall Marketplace for a special 2-hour Easter Egg Scavenger Hunt. Pick up your basket and clue sheet in the Upper Rotunda in Quincy Market to figure out which businesses are hiding eggs, and then visit the businesses to receive one egg. This event is free - but you must register (preferably in advance so you don't have to wait in line) because supplies and places are limited: www.faneuilhallmarketplace.com/
More about Faneuil Marketplace
SoWa First Fridays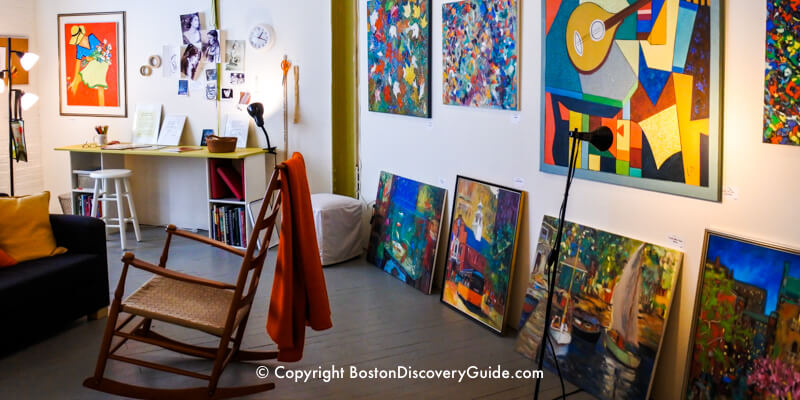 On April 3 as well as on other SoWa First Fridays in Boston's art-filled South End, over 60 galleries south of Washington Street and at the Artist's Guild at 450 Harrison Ave, and nearby businesses and restaurants open their doors from 5pm to 9pm to give you a chance to experience the vibrant South End arts community.
Start at 450 Harrison, and just follow the gallery lights and signs as you stroll around the neighborhood. Wrap up your evening at one of the South End's renowned restaurants.
Boston LGBT Film Festival at ICA Boston
When: April 2 - 12
Closest T station: Green Line E/Museum
Cost: To be announced for 2021
More information: Wicked Queer website
ICA Boston hosts the 36th annual LGBT Film Festival, showcasing an eclectic selection of LGBT cinema from around the world. Films screen this year at four venues: Institute of Contemporary Art in Seaport, the Bright Family Screening Room at the Paramount Theatre, Brattle Theatre in Harvard Square, and the Museum of Fine Arts in Boston's Fenway neighborhood.
The Swan Boats Return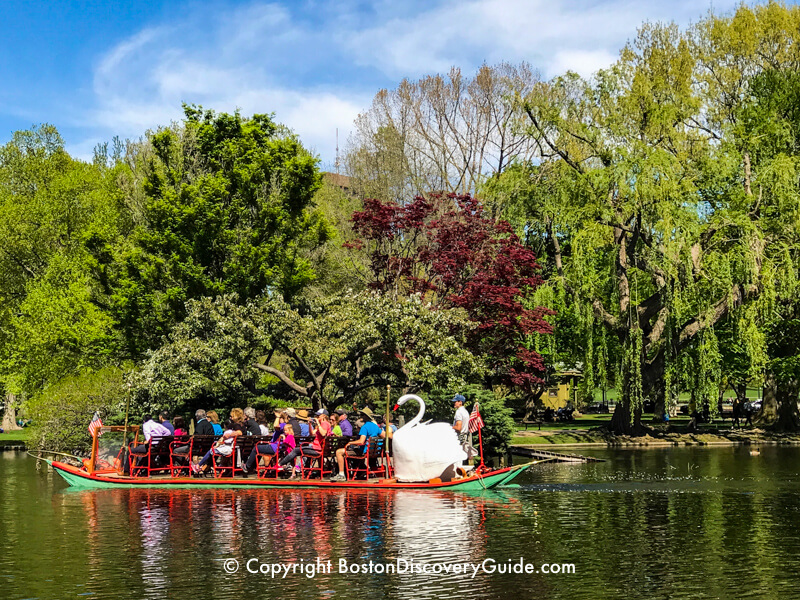 When: Saturday, April 18; 10am-4pm through June 21; 10am-5pm June 21 through Labor Day, Sept )
Where: Boston's Public Garden
Cost: $4 adults; $2.50 children 2 - 15 years; under 2 years free
More information: Boston Swan Boats
In a sure sign that spring has arrived, the pedal-powered Swan Boats return to the Lagoon in Boston's Public Garden every April on the Saturday before Patriots Day.
Welcome spring and enjoy the pale green hints of spring foliage as your boat glides around the shallow pond for the blissful 12-15-minute ride. Soon, the Public Garden's resident real swans will also return.
While you're in the Public Garden, walk over to see the famous Make Way for Ducklings statues.
Anime Boston
Anime Boston - the largest anime convention in New England - returns to the Hynes Convention Center and Sheraton Boston Hotel (find rates & reviews) on April 10-12 with music, films, cosplay, and star guests including Japanese rock band Girlfriend, m-flo, Brittany Lauda, Matt Shipman, and voice actor Zach Aquilar plus lots of exhibits, artists, and special presentations. More information
Museum of Science Exhibits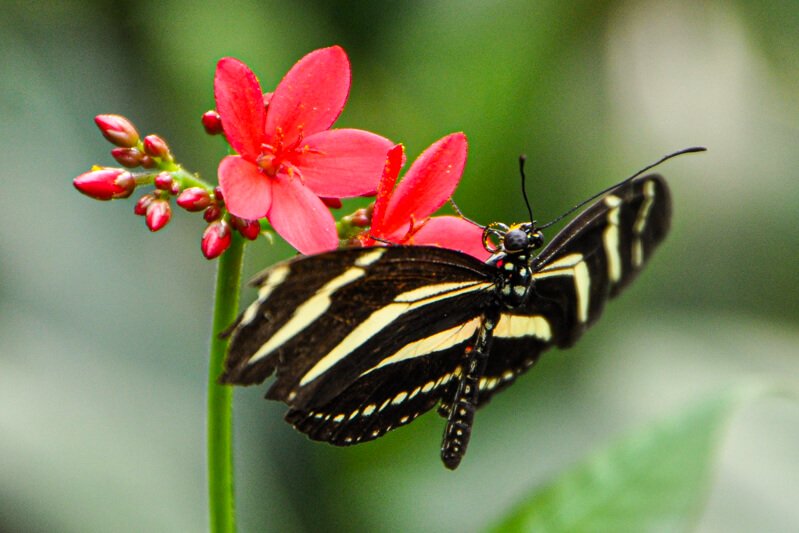 MOS at Home:
Sounds of the Arctic - Hear marine mammals using hydrophone recordings from different Arctic locations to learn who swims there
Daily Live Stream - Museum educators share fun livestreamed presentations for the entire family
Permanent Exhibits (when the museum reopens)
With 29 fascinating permanent exhibits for all ages, there's always something to see, do, and learn. Here are just a few of the most popular: Butterfly Garden (extra fee), Colossal Fossil: Triceratops Cliff, Cosmic Light, Dinosaurs, Hall of Human Life, Live Animal Care Center, Mathematica, Nanotechnology, Natural Mysteries, New England Habitats, The Light House - plus 17 more!
Where: Boston's Museum of Science
When: Daily, 9am-5pm; open until 9pm on Fridays; occasional special closings occur
Admission: $29 general museum admission ($24 for kids). Buy online to skip the line. Get free museum admission when you have a GoBoston Discount card or Boston CityPASS card.
Imax Theater and Planetarium: Additional fees apply
Boston Common Carousel Opens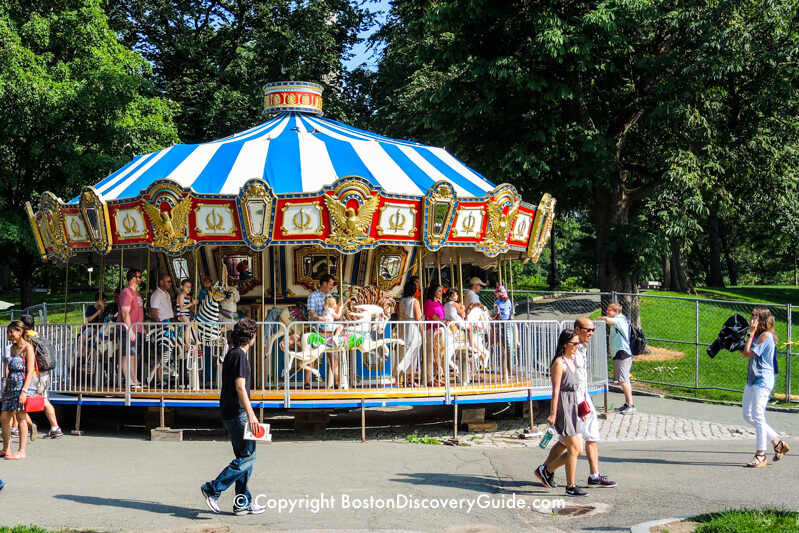 When: Saturday, April 11 (tentative - look for an update soon!) - Hours are Sunday - Thursday, 10am-6pm, Friday and Saturday, 10am-8pm
Where: Boston Common
Cost: $3 (adults can ride next to their child free of charge)

The colorful Boston Common carousel across from Beacon Street provides plenty of entertainment for the younger set from April through October.
Check out Boston's other carousel located on the Rose Kennedy Greenway.
Japan Festival Boston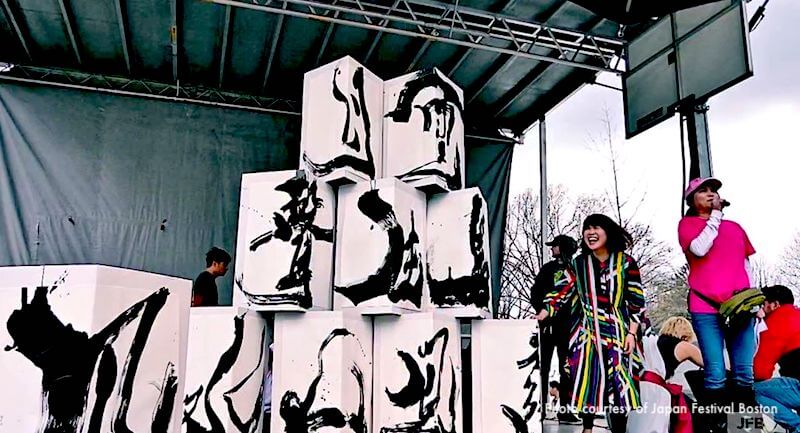 This year's Japan Festival takes place on Saturday, April 27 and Sunday, April 26 (11am-5pm) on Boston Common.
The festival celebrates Japanese culture in Boston with performances on two stages, Japanese athletes and singers, cosplay contest, workshops, food vendors, raffles, silent auctions, and 100+ booths with food, arts, and crafts.
Look for the traditional Japanese portable shrines, including children's versions, brought to the site by volunteeers in the spirit of Japanese festivals.
This has grown into a huge event, with 60,000 attendees last year and probably more this year.
Nearest T station: Red & Green Lines: Park Street
Art in Bloom at Museum of Fine Arts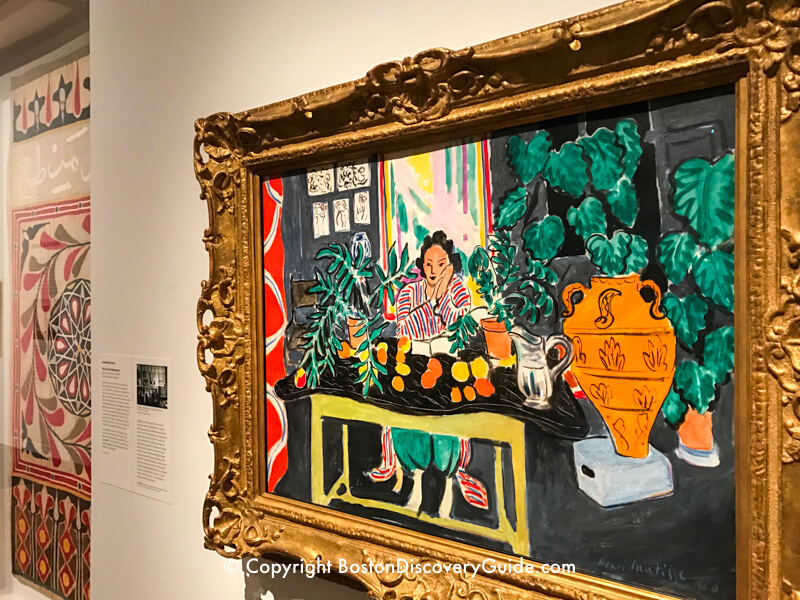 When: April 22-27, 10am-5pm
Where: Museum of Fine Arts, Boston's Fenway neighborhood
Closest T station: Green Line/Museum
Cost: Tours and most special events are free with the cost of museum admission, while the teas and a few other events require tickets - check the MFA website for details.

Art in Bloom at MFA welcomes the arrival of spring in Boston with floral arrangements inspired by works of art throughout the museum, flower arranging demonstrations, outdoor walking tours, and informal dining among European paintings at the Art in Bloom Café.
And of course, the timing of MFA's event is perfect: outside the museum, magnolia and cherry trees have burst into bloom all over Boston. Celebrate this special time of the year by visiting Art in Bloom - and then walk around the city and enjoy all the flowers.
More places in Boston to enjoy gorgeous spring flowers
Boston Hotels with Outdoor Swimming Pools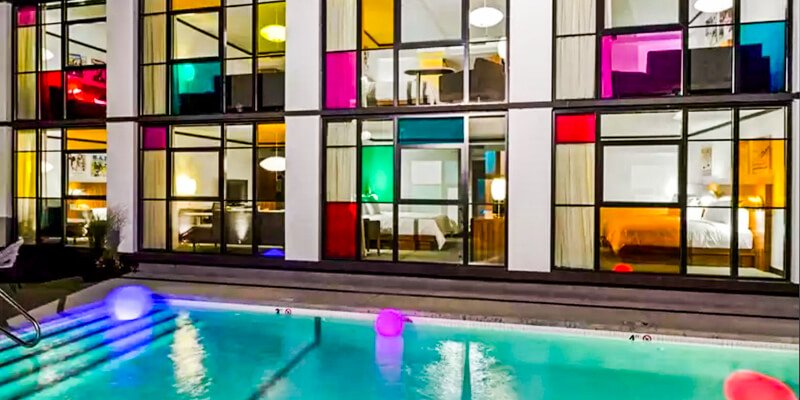 Street Performers at Faneuil Marketplace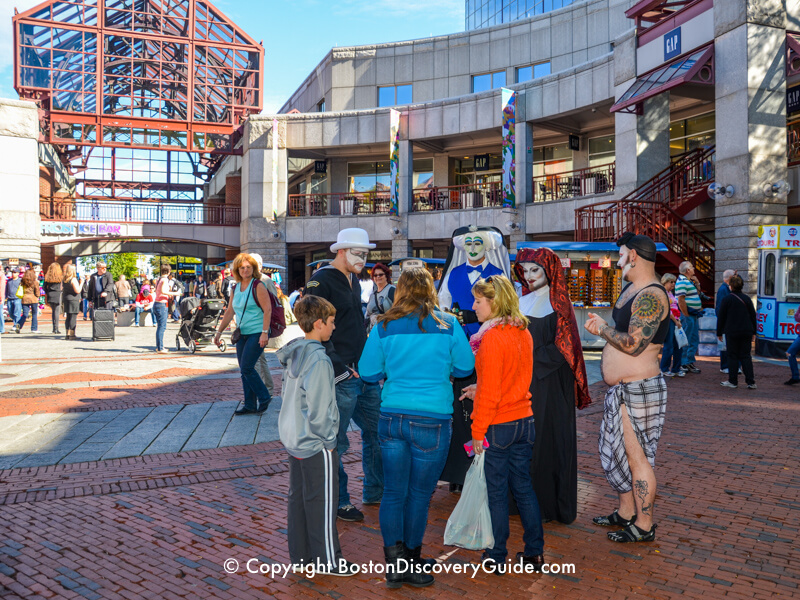 Although Faneuil Marketplace's famous street performers entertain fans throughout the year, the return of balmier weather during April make this the perfect month to catch a show. Performances take place throughout the day (with most between about 11am-4pm) and vary daily, but you can usually expect to see stunts, musical acts, magicians, and acrobats doing balance routines.
Taste of the North End
Taste of the North End on Friday, April 24, 7pm-11pm gives you a great chance to sample special dishes from over 45 North End restaurants, bakeries, and distributors in this annual tasting event.
This is also the North End's biggest fundraiser - proceeds benefit the North End Waterfront Health Center, as well as other neighborhood charities for children and seniors.
The list of participating restaurants is too long to name . . . but just to whet your appetite, look for treats from Carmelina's, Castle Island Brewing Co, Mamma Maria, Bricco, Taranta, Artu, Lucca, Massimino, Neptune Oyster, and Modern Pastry, as well as liquid refreshments from a number of neighborhood wine importers.
With panoramic waterfront views to enjoy from the Steriti Rink, this is sure to be a spectacular evening.
Interested in staying in the North End? Check rates at Bricco Suites, in the heart of the neighborhood, and the waterfront Yacht Haven Inn and Battery Wharf Hotel
Where: Steriti Memorial Ice Rink, 561 Commercial Street, Boston's North End
Tickets: $99 (plus service fee) - purchase in advance for $79 before April 20
Nearest T: Orange and Green Lines/North Station
More info: https://www.northendboston.com
More Things to Do in Boston in April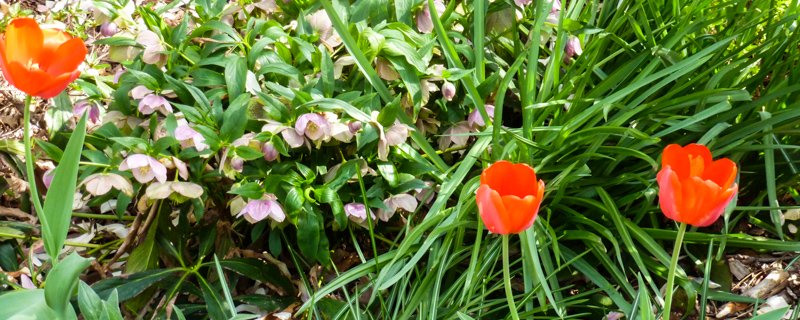 More Ways to Experience Boston in April
Boston bursts into bloom in April, making it the perfect time to explore the city! These fun trolley tours, bus tours, and special destinations let you enjoy Boston at its best!
Continuing during April
Boston Events Each Month
January | February | March | April | May | June | July | August | September | October | November | December | Year at a Glance
Find a Hotel for Your Boston Visit
Enter your dates to see available hotels and rates: