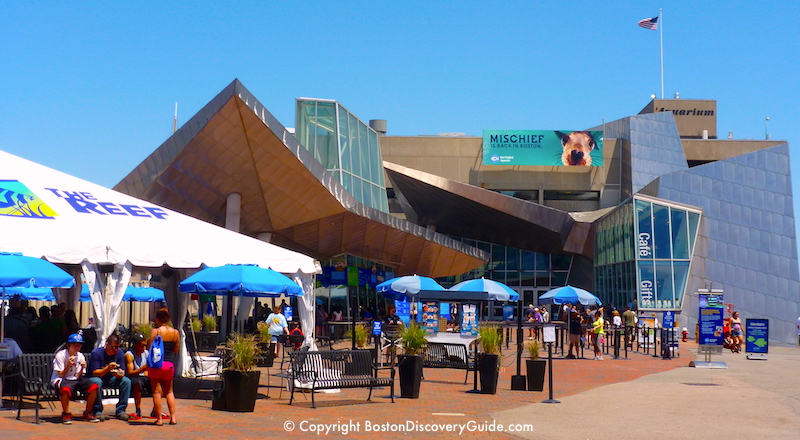 The New England Aquarium on Boston's downtown waterfront immerses you in another world where you can experience a giant coral reef and its colorful tropical fish, laugh at playful penguins, and can even meet and greet seals and sea lions on behind-the-scenes tours.
The Aquarium's interactive exhibits, such as the tidal pool touch tank, appeal to visitors of all ages.
With thousands of fish and marine animals to observe in many different habitats and environments, you can easily spend an entire day here, especially if you take in a couple of films at the giant IMAX theater next to the Aquarium.
And to extend your adventure, you can join one of the Aquarium's whale watching excursions to Stellwagen Bank Sanctuary, just beyond Boston Harbor.
Top Exhibits at the Aquarium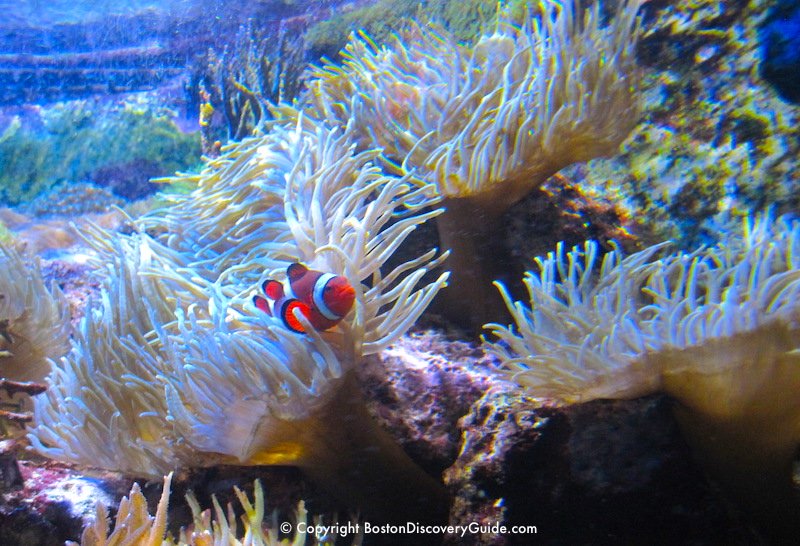 The stunning 4-story high, 40-foot wide Giant Ocean Tank steals the show. Filled with a giant coral reef reaching up almost to the top plus more than 1,000 Caribbean fish and other marine animals, it will mesmerize you with its beauty, and then fascinate you with all the activity going on at the reef's different layers.
You'll see different types of turtles, stingrays, barracuda, moray eels, and brilliantly colored tropical fish.
Be sure to look for Myrtle, the giant green sea turtle who has lived at the Aquarium since 1970, delighting generations of visitors.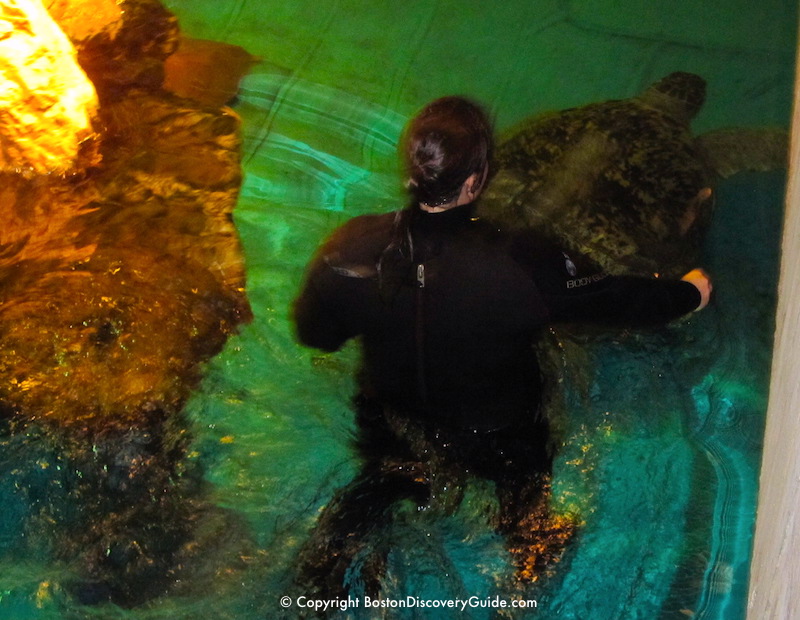 But the coral reef and its inhabitants are only the beginning.
At any given time, the Aquarium offers at least a dozen major exhibit areas. For example, the Amazon Rainforest exhibit give you six different views into the land and water habits making up this complex ecosystem. You'll see hundreds of live plants and animals such as piranhas, poisonous frogs, and electric eels, plus life-like replicas of the giant rainforest itself.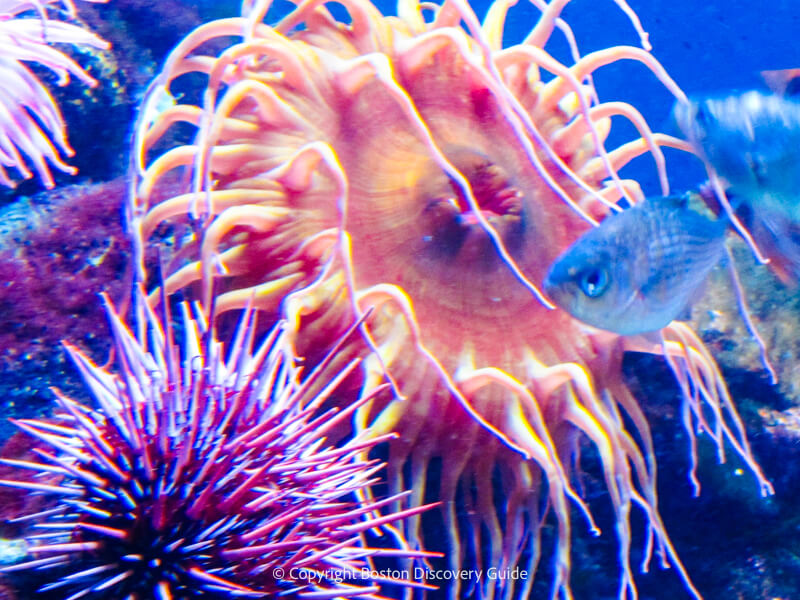 The seadragon exhibit takes you to a huge Australian reef dominated by seaweeds, corals, and boulders, all within a 2,000-gallon tank. Stunningly beautiful seadragons flit in and out, along with about 25 other species of fishes and invertebrates. The seadragons change colors and shapes to camouflage themselves - so challenge yourself to see how many you can find!
Behind the Aquarium, you'll discover one of the most popular exhibits: frolicking California sea lions and northern fur seals from West Coast Pacific Ocean waters. You'll see them sunning themselves, leaping through the air into the water, and playing with each other.
But this is just the beginning - there's a Gulf of Maine exhibit, a shark and ray touch tank, a Pacific Northwest habitat, and more, all with their own marine animals and plants.
How much time should you plan to spend at the Aquarium? Probably two hours is the minimum . . . but you could easily spend an entire day there, perhaps with a break for lunch and a film or two at the IMAX theater next door.
New England Aquarium Tickets, Discounts, & Savings
As one of the top attractions in Boston, the New England Aquarium attracts large crowds throughout most of the year. Ticket lines can get very long, especially on weekends, holidays, school vacation breaks, and summer. Getting your tickets in advance can save you a lot of standing-in-line time.
There are several options for getting your Aquarium tickets in advance, and all let you go straight to the head of the line.*
Plan to visit other Boston attractions? The best deal for you may be a Boston discount card that gives you free admission to specific attractions. Here are two choices:
Boston CityPASS card - 4 top attractions, including the Aquarium; valid for 9 consecutive days, with savings up to 45%
GoBoston Card - 40+ attractions, including the Aquarium; choose a 1, 2, 3, 5, or 7 consecutive day card and save up to 55%
If the Aquarium is your only destination, get a ticket just for the Aquarium.
If you plan to visit often, especially if you want to bring guests, an annual membership can save you money. Costs vary based on the membership level - but if you plan to visit at least twice in one year and bring a guest each time, even the base level membership will save you a few dollars, and savings rise as your visits increase. Details are on the Aquarium's website: www.neaq.org/support/membership/
* Please note - there may be a separate security line that everyone must pass through.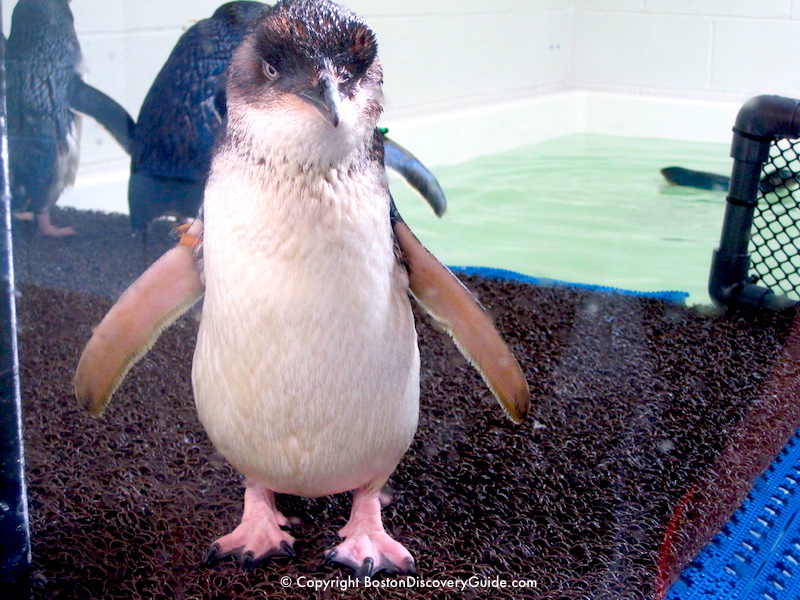 Kids' Favorites at the New England Aquarium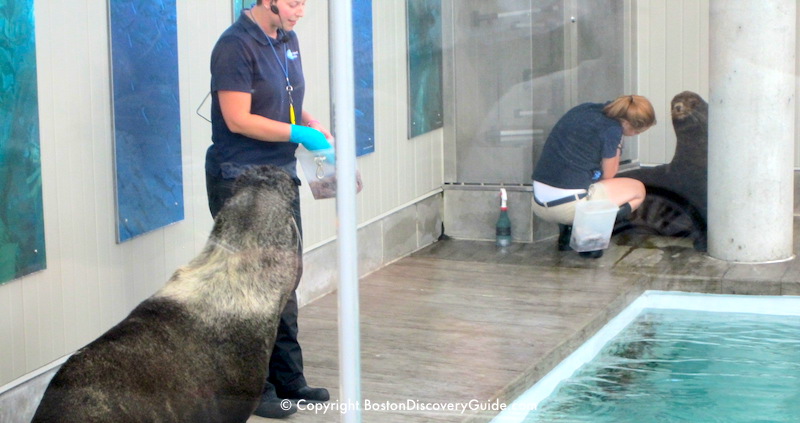 Although the New England Aquarium, as one of Boston's most family-friendly attractions, designs all of its exhibits to appeal to kids and adults alike, there are several in particular that you'll want to be sure to explore if you are visiting with children or teens:
Tidal pool touch tank - This re-creation of an actual tidal pool gives you the unforgettable experience of stroking a starfish, holding a hermit crab, and running your fingers through the sand and water
Penguins - You'll watch in fascination as the Aquarium's colony of 80+ penguins play in the water and on land. Challenge your kids to identify all the different penguin species!
Jelly Fish - Kids love seeing the Aquarium's collection of mysterious sea jellies change shapes and colors as they float around their huge tank, sharing the space with brightly-colored tropical fish
More to Do near the Aquarium
Whale Watch Cruises - Departing from the Aquarium's dock, these comfortable 3-hour cruises take you on an exciting adventure to Stellwagen Bank, home to whales, seals, fish, and marine birds - a favorite with kids and adults alike! Tickets for Boston Whale Watch cruises
Harbor Cruises - Lots of fun cruises depart from nearby docks. Whether you want sightseeing cruises, a fancy lunch or dinner cruise, the chance to experience a tall ship, or a thrilling dash around the Harbor on Codzilla, you'll find plenty of choices!
Freedom Trail - Boston's favorite walk through history! It's close to the Aquarium (walking over to it should take you about one minute), and you can walk toward the North End (see Paul Revere's House) and Charlestown (visit the USS Constitution) or back toward Boston Common, passing historic graveyards and museums along the way. More about touring the Freedom Trail
Simon's IMAX Theatre - Located next to the Aquarium, New England's biggest screen lets you feel immersed in nature. Films usually last about 45 minutes, and you can buy tickets at the theater or the Aquarium.
---
Boston Harbor Sightseeing Cruises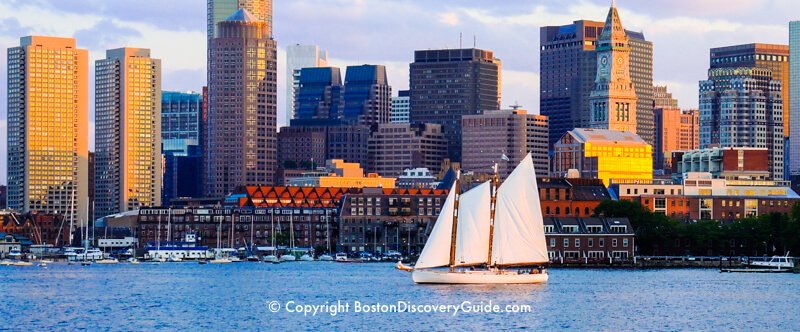 Tour Boston by boat - the best way to see the city!   Check out these fun sightseeing, music, and entertainment Boston Harbor cruises on the Yacht Northern Lights and Schooner Adirondack III:
Northern Lights Cruises:
Adirondack III Sailing Cruises:
Where to Stay near New England Aquarium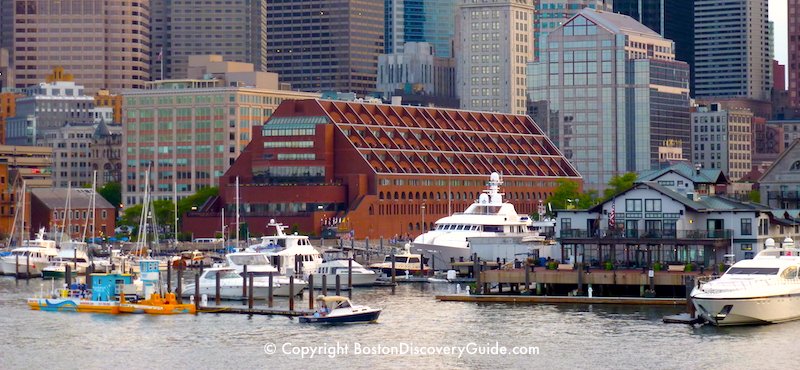 All of these hotels are close to the New England Aquarium, with rates ranging from affordable to luxury:
Map of Hotels near New England Aquarium
Where to Eat near the Aquarium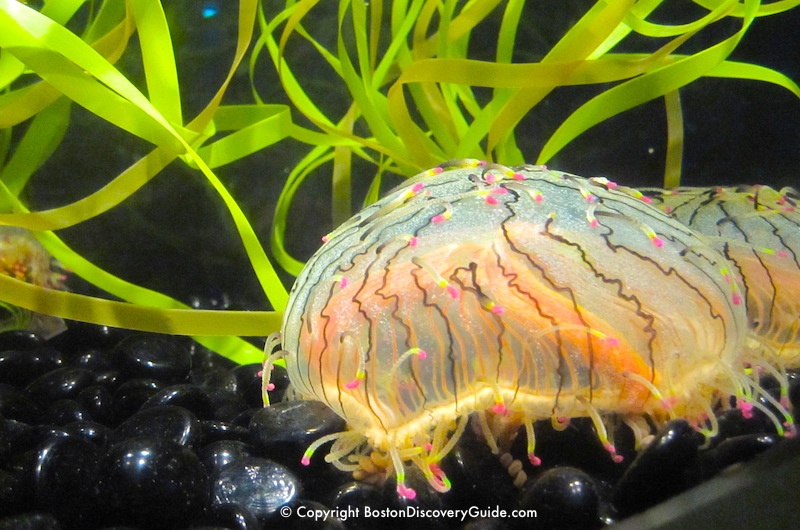 Although you can get burgers, other casual fare, and drinks from a cafe inside the Aquarium, why not explore some of the other terrific places to eat nearby?
The Aquarium stamps your hand when you enter which allows you to leave and return at any time on the day of your visit.
Here are some suggestions about where to eat near the Aquarium:
Faneuil Marketplace - Just on the other side of the Greenway across from the Aquarium - about a 3-minute walk. Head to the historic Food Court in Quincy Hall for tasty takeout choices, or into any of the restaurants throughout the Marketplace. If you're visiting Boston, the replica of Cheers can be a lot of fun.
Boston's North End - Walk up the Greenway and turn right on Hanover Street (perhaps a 5-minute walk), where you'll find a huge array of mouth-watering Italian bakery/cafes and restaurants. Try Neapolitan brick-oven pizza at Quattro (264 Hanover Street), cannoli at Mike's Pastry (300 Hanover Street), or any of the pastas at Bricco (241 Hanover Street).
Historic Taverns - Just to the north of Faneuil Marketplace are several of Boston's oldest drinking and dining establishments: the Green Dragon, Bell in Hand Tavern, and Union Oyster House. Enjoy a burger, clam chowder, or a lobster roll; who knows, you may be sitting in the same spot where the Sons of Liberty plotted their tea party ...
Boston Public Market - Stroll across the Greenway to Boston Public Market (100 Hanover Street, by Haymarket T Station) and buy gourmet treats from all the onsite vendors. Eat at the tables there, bring your food back to the Aquarium and find a table on their plaza, or best of all, enjoy a picnic on the Greenway - bring your own blanket, or sit at one of the many tables.
Starbucks - The nearest Starbucks to Aquarium is on the ground floor of the Marriott Long Wharf.
Boston Insider Tip: Christopher Columbus Park near the Aquarium
Visiting the New England Aquarium with young children? If they need a break, let them run around the grassy slopes of Christopher Columbus Park, or play on the climbing structures in the enclosed kids playground. To find the park, walk through the Boston Marriott Long Wharf's ground floor and go out the door next to Starbucks. That's Christopher Columbus Park in front of you. To find the small enclosed playground (sort of a Boston Insider's secret, as it's not very visible), walk along the waterfront toward the North End until you reach the low circular wall of the Massachusetts Beirut Memorial on your left. The playground is tucked away under the trees next to it.
Getting to the New England Aquarium
Address: 1 Central Wharf on Boston's Downtown Waterfront (across from the Marriott Long Wharf Hotel)
Closest Subway Station: Blue Line/Aquarium
Parking: Boston Harbor Garage - but can be pricey. Find out more - plus other suggestions for parking near the New England Aquarium