Boston movie theaters feature everything from first run movies to indie films, foreign language movies to art movies, and lots in between.
In addition to Boston's large number of traditional movie theaters, museums and universities provide additional venues for film buffs.
You'll even find second run movies (and save on lower tickets prices!), science, nature, and avant-garde cutting edge experimental films in movie theaters in Boston.
And let's face it - since we can all watch movies, if we choose, on our phones or our home screens, theaters have to provide something special in order to compete - and Boston's movie theaters deliver.
Boston's thriving movie theaters succeed by providing something extra - cool ambiance, super-comfy reclining seats, huge screens, premium sound, wine and beer at your seats, and even popcorn flavors created by top local chefs - so you'll find more to enjoy than just the chance to see a film.
Our guide also includes theaters near Boston such as Brookline, Cambridge, and Somerville - all easy to get to by T (Boston's subway).
Article Contents:
Top photo: New England Aquarium; Copyright (c) Boston Discovery Guide
Boston Discovery Guide is a reader-supported publication. When you buy through our links, we may earn a commission at no additional cost for you. Learn more
---
First-Run Movie Theaters in Boston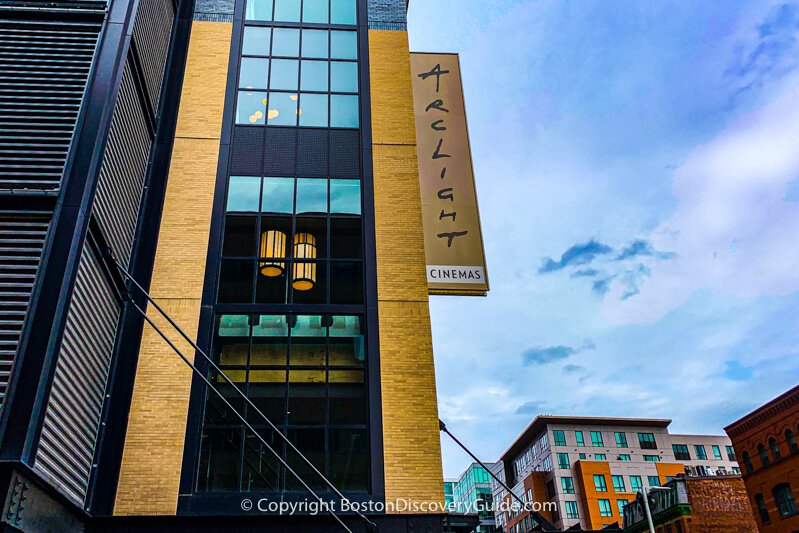 ShowPlace ICON Theatre Seaport
With gourmet popcorn flavors designed by Boston's top chefs, craft beers, and specialty sodas - oh, and reclining heated seats with swivel tables - the ShowPlace ICON at Seaport has raised the bar for all Boston-area movie theaters. And that's even without considering the immersive audio and wall-to-wall 4K laser-projection screens, making it one of the most technologically advanced movie theaters in the country. The theater becomes 18+ after 8pm.
Bonus: Prices vary with showtime and format but are generally only slightly higher than at other area theaters - a small enough premium to pay for this level of movie-viewing luxury. Before or after the movie, enjoy nearby Seaport restaurants overlooking the harbor.
60 Seaport Blvd | Silver Line (SL1, SL2, SL3): Courthouse Station | Showtimes & tickets
---
ArcLight Cinema
Located next to TD Garden in the Hub on Causway complex, ArcLight Cinema offers an interesting mix of new-release blockbuster, specialty, and retrospective films in a black box auditorium designed to give you the best possible viewing experience.
Look for a mix of reclining and non-reclining seats, an advertising-free policy, a limited number of trailers, and no late seating.
The onsite cafe, coffee bar, and full bar offer quality food and drink - although you're surrounded by lots of other options in Hub on Causeway as well as all the other sports bars in the neighborhood.
Parking at North Station is expensive, no surprise - so either seek out other options or take the T.
Bonus: Check out the theater's annual membership program - you get a couple of free tickets worth more than the annual fee, plus cafe and coffee bar discounts, and a few other perks.
60 Causeway Street | North Station: Orange and Green Lines, plus north-bound commuter train lines (Fitchburg, Haverhill, Lowell, Newburyport/Rockport) | 1-323-615-2550 | Showtimes & tickets
AMC Loews Boston Common 19
The huge AMC Loews Boston Common movie theater complex features 19 screens showing mostly first run films. Occupying a prime location across Tremont Street from Boston Common and next to the Ritz-Carlton Hotel, the cinema's convenient location makes getting to it easy.
Bonus: Go to dinner, coffee, or drinks before or after your show at the nearby Theatre District restaurants along Washington Street, or at some of the fun places to dine in Chinatown, just a block or two away.
175 Tremont Street | Red and Green Lines: Park Street Station | (888) 262-4386 | Showtimes & tickets
---
Regal Fenway Stadium 13 & RPX
You'll find mostly first-run commercial movies at the 13-screen Regal Fenway Stadium theater, a favorite with students from Boston University and other nearby colleges and universities, as well as professionals living nearby in Fenway and Back Bay.
Bonus: Premium sound and screens. Before your movie, go for dinner at a Fenway restaurant; after, check out the Fenway nightlife.
201 Brookline Ave | Green Line/D: Fenway | (617) 424-6111 | www.regmovies.com
---
More Fun Things to Do in Boston
---
Specialty Movie Theaters in Boston
Mugar Omni Theater @ Boston Museum of Science
Experience immersion theater as the world's largest film format is projected onto a five-story-tall IMAX® Dome screen and a state of the art audio system surrounds you with sound. The Mugar Omni Theater, located at Boston's Museum of Science, features science, nature, and exploration films.
Bonus: Combine a film at the Mugar Omni IMAX Theater with a visit to the Museum of Science; when you have a Boston discount card, you get free admission to the Museum.
1 Science Park, Boston's West End | Green Line/Lechmere Station | (617) 723-2500 | www.amctheatres.com
---
Simons IMAX Theatre @ New England Aquarium
As you recline back in your seat and view the slightly curved, enormous 65' x 85' screen at the Simons IMAX next to New England Aquarium you'll almost feel like you're underwater with the sea creatures that star in most of the films that this theater features.
Bonus: Save when you get a combo ticket for New England Aquarium admission and an IMAX movie. During the summer, join a whale watching cruise to get a close up look at whales, dolphins, and other marine life.
175 Tremont Street | Red and Green Lines:Park Street Station | Showtimes & tickets
---
Movie Theaters in Cambridge, Somerville, & Brookline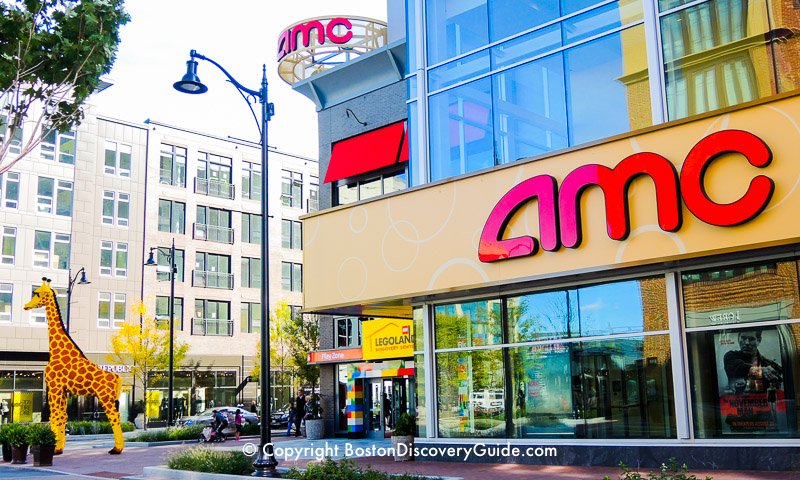 Assembly Row AMC (Somerville)
With plush leather seats (including some that recline), private 2-seat "pods" perfect for snuggling along the sides, and immersive IMAX and 3D options, Assembly Row AMC offers a premium experience and first-run movies.
Bonus: You'll find lots popular brand (Banana Republic, J Crew, Nike, etc) factory outlet stores in Assembly Row, plus plenty of fun restaurants and bars. Take the T (Orange Line), or drive and park in the garage next to the theater.
Assembly Row, Somerville | www.amctheatres.com | Orange Line/Assembly | 617-440-4192
---
Coolidge Corner Theatre (Brookline)
One of the best indie movie theaters in the area, and a favorite of many local residents. Originally built as a church in 1906 and reborn as an Art Deco movie palace in 1933, this venerable Boston-area theater almost succumbed to competition from huge suburban multiplex cinemas in the late 1980s.
After strong community support pulled it back from the brink in 1989, it became a non-for-profit theater and maintains its strong following by screening an interesting mix of foreign language, indie, art, popular, independent, local, and first-run films. A popular children's series and many movie-related events round out the offerings.
Bonus: You'll find lots of excellent restaurants near the theater on H arvard Street, and around the corner on Beacon Street.
290 Harvard Street, Coolidge Corner, Brookline | www.coolidge.org | Green Line C/Coolidge Corner |-617-734-2500
Brattle Theatre (Cambridge)
Specializes in classic, indie, foreign, and art films, including occasional first run movies in these categories. Especially interesting are their repertory programs showcasing the work of a particular director, genre, or actor.
Occasional live music performances and special readings/book signings by authors are well-worth checking out.
Warning: you may swear that the seating hasn't been updated since 1953 when movies started being shown here - best to just think of it as part of the ambiance.
Bonus: Stop by Burdick's (52 Brattle Street) for their superb hot chocolate.
40 Brattle Street | Red Line/Harvard Station | 617-876-6837 | Showtimes & tickets
---
Landmark's Kendall Square Cinema (Cambridge)
The 9-screen Kendall Square Cinema wins hoards of loyal fans with its well-curated mix of foreign language, restored classics, independent, limited release, and documentary films, plus Boston premiers, film festivals, and special screenings that you're unlikely to see elsewhere. Generally considered once of the best theaters in the Boston/Cambridge area.
Beer, wine, and relatively healthy snacks available.
Bonus: High quality screens, slanted seating areas with comfortable reclining seats (so no blocked views due to folks sitting in front of you).
1 Kendall Square (355 Binney Street, between MIT and Central Square), Kendall Square, Cambridge | Red Line/Kendall-MIT | 617-499-1966 | Showtimes & tickets
---
Somerville Theatre (Somerville)
Somerville Theatre is a former live theater that's been converted to a movie theater but still stages live theater, performances, and concerts when films aren't showing. Sound interesting? It can be very interesting . . . just ask those who caught U2's latest unannounced performance here. Somerville Theatre is also the site of the 10-day long Boston Sci-Fi Film Festival each February.
Look for a mix of first and second run commercial movies plus art, cult, and indie films in hip Davis Square, Somerville. The Somerville Theatre also hosts interesting live productions and shows, as well as film festivals.
Somerville Theatre serves beer and wine (the first in the Boston area to do so), good eats such as Richardson ice cream, and even allows you to bring in outside food.
The theater is just steps from the T station, as well all the other cool Davis Square restaurants and bars - Redbones BBQ, Diva, Johnny D's, and much, much more. This could easily become your favorite spot to catch a flick in the Boston area.
Bonus: After the show, as a bonus, you can drop by the Museum of Bad Art, located in the basement. Another bonus: movie tickets are reasonably priced.
55 Davis Square, Davis Square, Somerville | Red Line/Davis | 617-625-5700 | Showtimes & tickets
---
More Places to See Movies In & Near Boston
Boston Public Library
The Boston Public Library periodically shows movies, and they're usually family-friendly - and free.
In addition to movie listings, be sure to check out the Library's concerts, lectures, and children's activities. Sometimes movies are shown as part of a lecture. Plus, the older part of the library has museum-quality art, and the light-filled new section offers comfy seating and several fun cafes/coffee bars - there's a lot to love here! Admission to the library is always free.
700 Boylston Street, Copley Square | Green Line/Copley | 617-536-5400 | www.bpl.org
---
French Library (Alliance Francaise of Boston)
If you speak (or understand) French, you'll want to see if their events schedule includes movies.
Periodically, they feature a Cine-Club (or similar event) for children every Saturday.
53 Marlborough Street, Back Bay | Green Line/Copley | 617-912-0400 | www.frenchlib.org
---
Harvard Film Archive (Cambridge)
You can watch films from the Harvard Film Archive in Harvard's 200-seat Carpenter Center theater on Friday, Saturday, Sunday, and Monday nights year-round. Selections are chosen from the 14,000 film (and growing) archive, and typically cover a wide range of genres and countries.
Carpenter Center is becoming a film-viewing venue of choice as the archive grows. Cinema tickets go on sale 45 minutes before the show.
Carpenter Center for the Visual Arts, 24 Quincy Street, Cambridge | Red Line/Harvard | 617-495-4700 | hcl.harvard.edu/hfa
---
Museum of Fine Arts
The MFA's almost continuous offering of films includes foreign films, classics, independent films, local films, and avant-garde experimental films. A number of annual film festivals, Boston premiers, exhibit-related films, and presentations by film producers and directors round out the ample offerings.
You'll normally find lots to choose from here, and the selections are often things that you won't see elsewhere - so if you like the genre's that MFA shows, they're definitely worth checking out.
465 Huntington Ave, Fenway | Green Line E/Museum | 617-267-9300 | www.mfa.org
---
ICA Boston
ICA Boston typically shows lots of films - sometimes in combination with art, sometimes as special presentations, and often as part of their popular social events.
If you're interested in contemporary, independent, and art films - and perhaps a cool place to meet others with similar interests - ICA Boston is a good place to check.
100 Northern Ave, South Boston Waterfront | Red Line/South Station; take Silver Line Waterfront to Courthouse and walk approximately 1 block east (away from the city) | 617-478-3103 | www.icaboston.org
---
More Articles about Entertainment & Deals
---