Haymarket:  Boston's Historic Market
Haymarket, Boston's centuries-old outdoor market, offers you the best deals in the city on a huge selection fresh produce.
Located close to the Freedom Trail in the historic heart of Boston, Haymarket and the small brick-and-mortar food shops lining Blackstone Avenue form a vibrant market district along with Faneuil Hall Marketplace and Boston Public Market.
Although sellers of fresh produce have clustered in the current-day Haymarket location since around 1830, merchants of various sorts started congregating in the general vicinity (probably closer to Faneuil Marketplace) as early as the 1600s.
At the edge of Haymarket, you'll find the elegant Bostonian Boston Hotel, around the corner you can enjoy some of Boston's most historic pubs and restaurants, and just to the east is the Rose Kennedy Greenway, site of seasonal farmers' markets.
Of course, since Boston is quite compact, you're also surrounded by present-day skyscrapers, traffic, and trendy shops - but if you want to get a taste of "old" Boston plus the biggest produce bargains in town, Haymarket is the perfect place to begin your explorations.
Haymarket's Hours: When is Haymarket Open?
Before you rush over to Haymarket to load up on fruits and veggies, you should note Haymarket's hours:
Open only on Fridays and Saturdays, all year except for Christmas Day (December 25) and New Year Day (January 1); most of the small brick-and-mortar grocers located in the Blackstone building are also open on weekdays.
No "official" hours - Open from dawn to dusk
In reality, most vendors arrive and set up around 6am, and stay until around 6pm - sometimes later on Fridays during the summer
If the weather is unusually bad (such as drenching rain with thunder and lightening, a howling nor'easter, pelting sleet, or a blizzard) AND if customers thin out, the vendors usually pack up earlier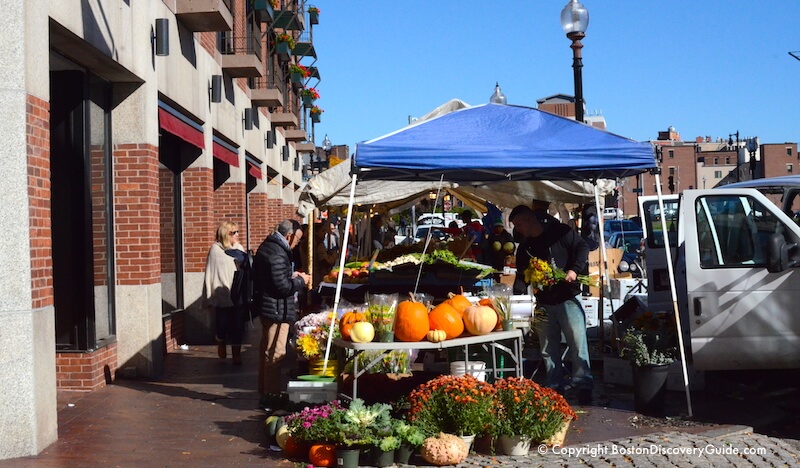 More Essentials - Haymarket Location & Logistics
Location: Blackstone Street (one of Boston's oldest), and along North Street between Clinton Street and Blackstone, and Hanover Street between Blackstone and Union Street. Look for a sea of tents and awning, and (usually) rather large crowds
Cheap Parking: Parcel 7 Garage - enter on Sudbury Street - possibly the cheapest garage parking in Boston when you get a Haymarket vendor to validate your ticket - and when the garage has space available. With validation, you pay $1 for 2 hours parking, and usually $3 for 3 hours (check the signs - no clue why it sometimes varies!). Not all Haymarket vendors validate. If a vendor says, with a totally serious face, "Sure - that will be $5 for the validation" - just laugh - it's a joke. Do be aware, though - if you park longer than 2-3 hours, regular rates apply to all the hours you were there - and that can get expensive!
Closest subway station: Green and Orange Lines/Haymarket.
How Haymarket got its name: Back in the 1830s, farmers arrived here with wagons full of hay to sell for feeding horses as well as for stuffing mattresses - and even though Irish immigrants soon began selling produce a couple of decades later, the original name stuck.
How much you will save at Haymarket: Normally, you will pay about 3 or 4 times as much for the same produce in the supermarket - so savings are huge. Then after about 3pm on Saturday afternoon, everything that's still unsold gets marked down even more!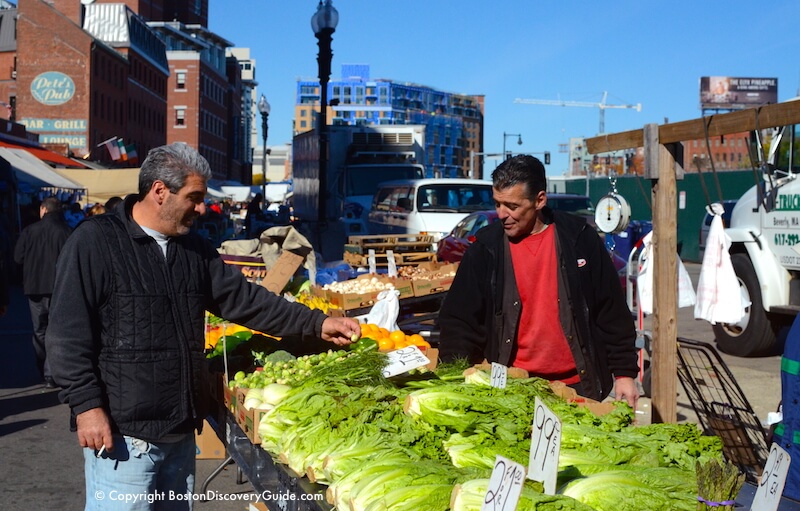 Haymarket vendors sell huge varieties of fruits and vegetables at rock-bottom prices from open wooden stands and pushcarts, usually covered with tents and awnings.
Specialty grocers selling cheese, fish, eggs, sausages, Halal meats, live chickens, spices, and other goodies from small shops can be found in the shops - some at basement level and some just above street level - along Blackstone Street.
Join the crowds of eager buyers searching for the best food deals in Boston - and get set for fun and bargains!
Other Boston Attractions near Haymarket
More Attractions near Haymarket:
North End - Boston's most Italian neighborhood, with wonderful restaurants
Rose Kennedy Greenway - Check out the fun Food Trucks!
TD Garden: Home to the Boston Bruins, Boston Celtics, and some great concerts!
Historic Boston Pubs - Where to reward yourself after shopping at Haymarket
Union Oyster House - Historic restaurant with super-fresh seafood and a great oyster bar
Boston Public Market - Locally grown, locally produced food and specialty items such as organic veggies, artisinal breads and cheeses, grass-fed beef and lamb, top-grade fish, handcrafted bowls and platters, wines from New England vineyards
Haymarket Vendors & Shoppers
About half of the Haymarket vendors are from Boston's Italian North End, just across the Greenway from the Market. Some of the fruit and vegetable stands have been operated by the same families for several generations.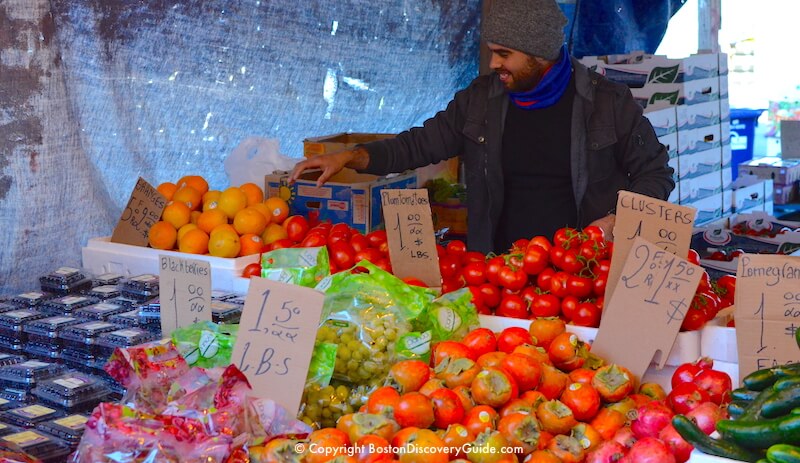 Relative newcomers from about 20 other countries in Asia, North Africa, and the Caribbean run other stands, extending the rich variety of produce that you'll find here.
Customers represent diverse groups as well.
A long time favorite of immigrants and frugal Yankees, Haymarket draws thrifty deal-seekers from all over the city and surrounding suburbs, restaurateurs, and bargain-seeking graduate students.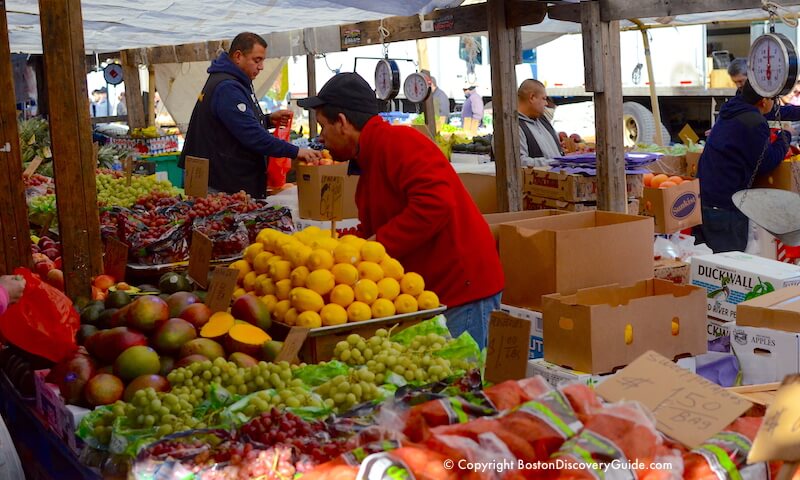 All of us crowd around the tented stalls, snapping up bargains and thrilled by the cheap prices.
And of course it doesn't hurt that Haymarket is right in the middle of one of Boston's most interesting and historical areas.
Is Haymarket a Tourist Attraction?
Not intentionally, although tourists enjoy it if they happen to discover it.
Despite Haymarket's location right around the corner from Quincy Market and other Boston historic sites along the Freedom Trail, relatively few non-locals intentionally come here unless they want to take photos and perhaps buy a carton of perfectly ripe raspberries for $1.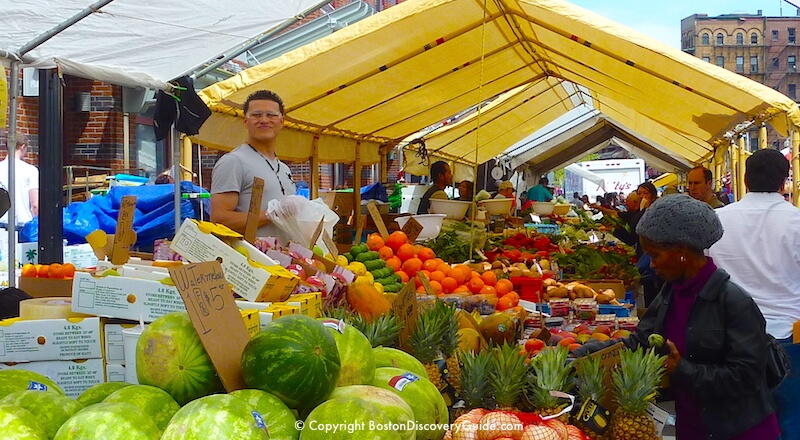 However, the tourists who do discover this historic marketplace seem thrilled to have discovered this lively, colorful bazaar slightly off the usual tourist path.
And they should be.
Haymarket is one of Boston's special places . . . a link with the distant past, but still going strong today. If you love exploring local street markets when you travel, Haymarket is too good to miss!
How Can Haymarket Prices Be So Cheap?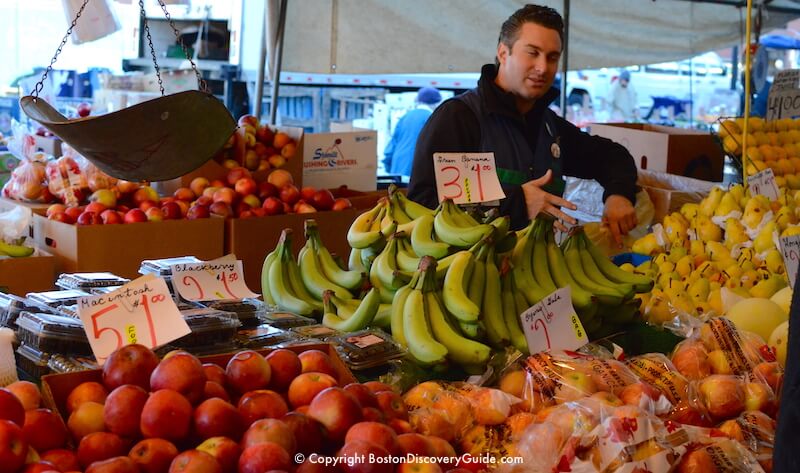 How can Haymarket's produce be so cheap?
Actually, the reason is pretty simple. Vendors typically buy their goods from Boston's wholesale markets in Chelsea across the Charles River on Thursday and Friday nights. They pay very low prices because the wholesalers need to clear out their warehouses to make way for new shipments arriving during the weekend.
Yes, much of the Haymarket produce is what the wholesalers didn't sell to the city's supermarkets during the week. This means that it is usually ripe. You'll probably want to eat it immediately or within 2-3 days after buying it.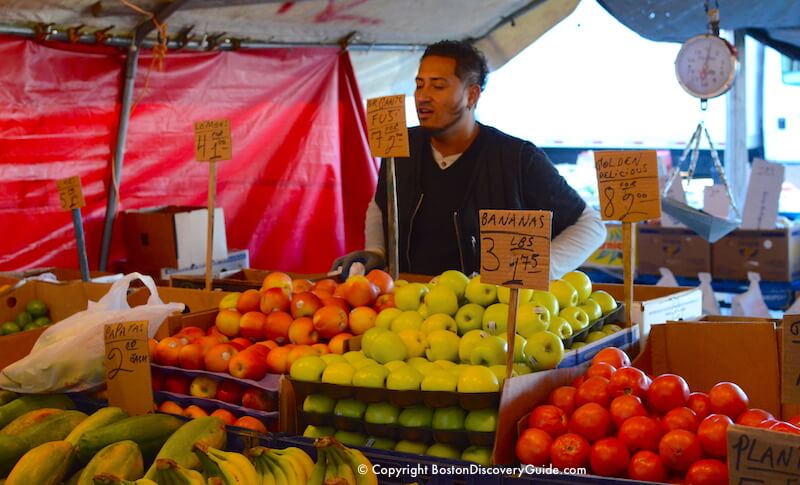 If you want the freshest fruits and vegetables picked just hours earlier, don't come to Haymarket. Boston has some wonderful farmers markets - but Haymarket is emphatically not a farmers market.
And for the most part, the produce is what you'd find in a supermarket - not necessarily local, not fresh off the vine, and probably not organic (although occasionally, it's all of these things).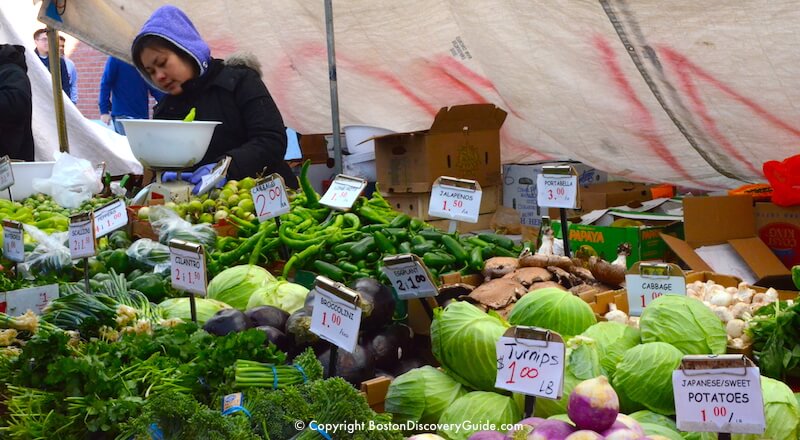 If, however, you've enjoyed shopping at outdoor markets in Europe, Asia, Africa, or South America, you'll enjoy the experience of shopping at Haymarket, Boston's closest equivalent.
Shop carefully, and you can usually find prime produce at almost unbelievable prices.
Competition is fairly fierce here - there are lots of vendors and lots of picky buyers - so the quality tends to be high ... sometimes higher than you'd find in your local supermarket.
So if you don't mind occasional imperfections and limit yourself to buying only what you can eat, preserve, or share with friends and neighbors within a day or two or three, you'll save considerable money.
Boston Insider : 10 Tips for Enjoying Haymarket
People tend to love Haymarket - but if you're encountering it for the first time, it can seem slightly overwhelming.

So here are my 10 top tips for having a great Haymarket experience while snapping up bargains at this interesting Boston historic site:

1. Buy only what you can consume or preserve within a day or two - three at the most. Remember, most of what's there has been sitting in a warehouse for a week. Make sauce out of tomatoes, jam from the strawberries, and give some peaches to your neighbors. Better yet, invite all your friends over for a huge feast and consume everything the night you buy it. Send everyone home with a few leftovers.

2. If freshness matters most to you, shop early rather than late, and on Friday instead of Saturday. If price is most important, do the reverse. Near closing time on Saturday (in other words, right before dusk), you can bargain with good results.

3. Stroll through the market to see which items are the best value. Lemons that cost $1 for 12 may not be the same quality as those that are 6 for $1. Or they may be. Or maybe you can live with a couple of squishy ones if you get a fantastic price. Shop carefully. Buy according to your values and needs. If one bad lemon will make you crazy, spend a few extra pennies for higher quality or bigger sizes. If you don't demand perfection - go for the savings!

4. Many vendors like to bag the produce for you. You can show them which items you want, but don't touch the produce. Some shoppers get offended by this restriction. Personally, I'm glad to know that dozens of other fingers haven't been prodding the pears I'm buying.

You hear stories about vendors pulling out inferior produce from the back and sneaking it into your bag when you're not looking. I've never had that happen to me or seen it happening to anyone else - but if you're concerned, just keep an eye on what's going into your bag.

5. Joke and banter with the vendors if you want, but don't try to engage them in long conversations about green farming in Peru or the globalization of bananas. These guys work hard and time is money to them.

6. Bring plenty of $1 bills and quarters so that the vendors don't have to make change. And bring your own reusable bags.

7. Say "please" and "thank you." Smile. Be nice. Have fun. In other words, act in a way that would make your mom proud.

8. Explore the small shops in the basement of the building on Blackstone Street next to the market. You'll see amazing prices.

The fish (only available in non-summer months) is fresh from the nearby piers.

Be sure to check out the cheese shop (the smoked gouda is addictive, and you can also usually find imported French cheeses perfect for raclette) and the Halal market also.

Seafood at the Halal Store on Blackstone Street

9. If you're visiting Boston for just a short time and don't want to buy anything, stop by anyway. It's a Boston experience.

Take some photos, and enjoy the people-watching.

10. Be flexible - you never know what you may spot! And be philosophical - if you buy 8 mangos for a dollar and you discover later that 2 have mushy spots, you still snagged a great bargain. Especially since the $3 mangos in the supermarket are always too green to eat for a week.

Susan
Publisher, Boston Discovery Guide, and huge Haymarket fan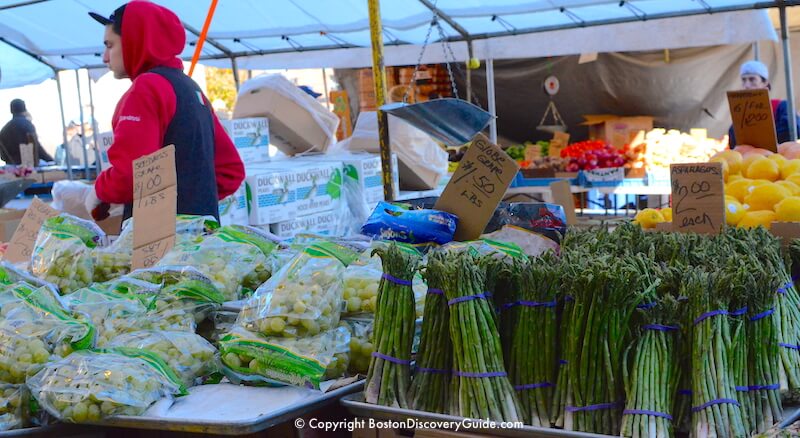 Haymarket - And Its Place in Boston's Historic Market District
Part of the reason for building nearby Faneuil Hall Marketplace back in 1742 was to provide an open marketplace where vendors and customers could congregate in Dock Square, then a bustling waterfront area (later land-building efforts pushed the edge of the Harbor farther to the east).
By the time the current Haymarket location became popular in the 1830s, this area of Boston attracted numerous merchants and was a thriving commercial center.
But then, during the second half of the 19th century, Boston's ill-advised elevated Central Artery highway towered over Haymarket on the east, casting perpetual shadows and spewing noise and pollution.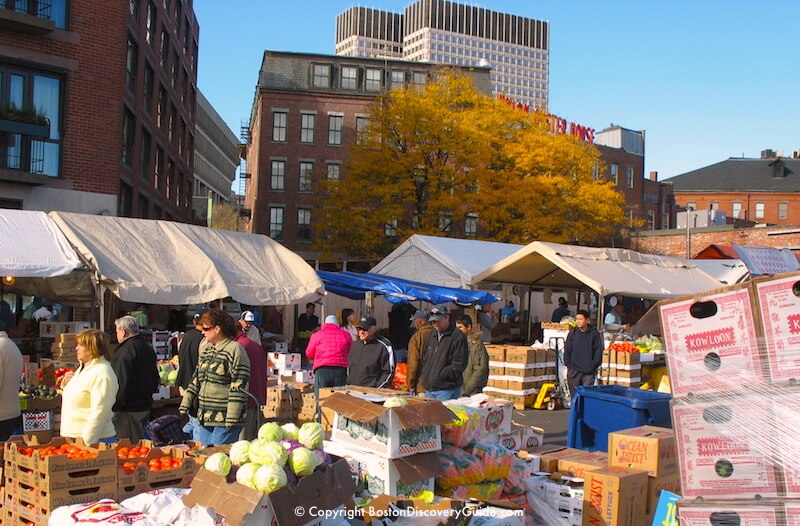 By the 1990s, Haymarket appeared to be on the verge of extinction due to the impact of the 16-year Big Dig project to sink the Central Artery below ground. Haymarket shrank to just a sliver of its former size as oppressive piles of construction rubble surrounded it.
Some vendors, understandably, acted surly and hostile. Customers stayed away.
Worst of all, the produce didn't always look too good.
But all of that has changed.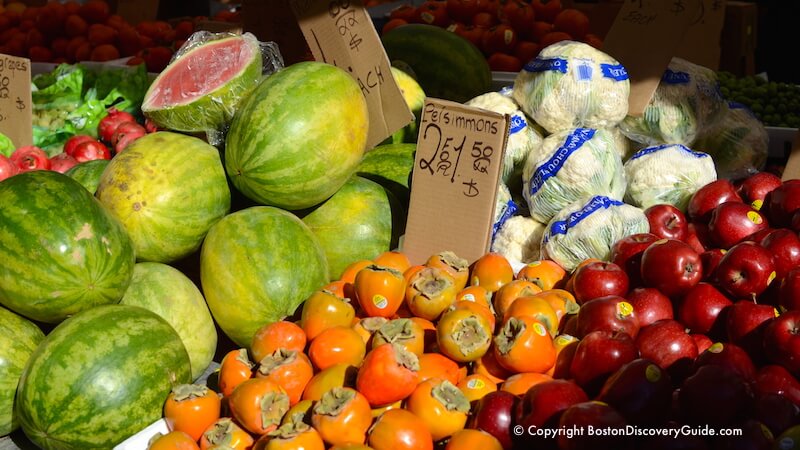 Fortunately, a 200-member Haymarket Pushcart Association formed in the 1980s to work with the city on issues such as space and garbage removal. During the darkest days of the Big Dig, the Association fought to keep the market alive. They succeeded, and introduced improvements. You can check out their Facebook page here.
Now that the Big Dig has faded to just a memory, the beautiful new Rose Kennedy Greenway reunites the North End with the rest of the city, and Boston Public Market has opened next door, crowds of shoppers have returned. Haymarket, Boston's historic marketplace, flourishes again.
Prices are still rock-bottom. But Haymarket feels mellower.
Haymarket vendors, long known for their colorful language when customers prod the produce or take too long to make up their minds, have become family-friendly.
Now, they'll smile when they give you your bag, saying "Here you go, sweetheart" - and sometimes throw in an extra lemon or eggplant.
Squished produce no longer piles up behind the stalls.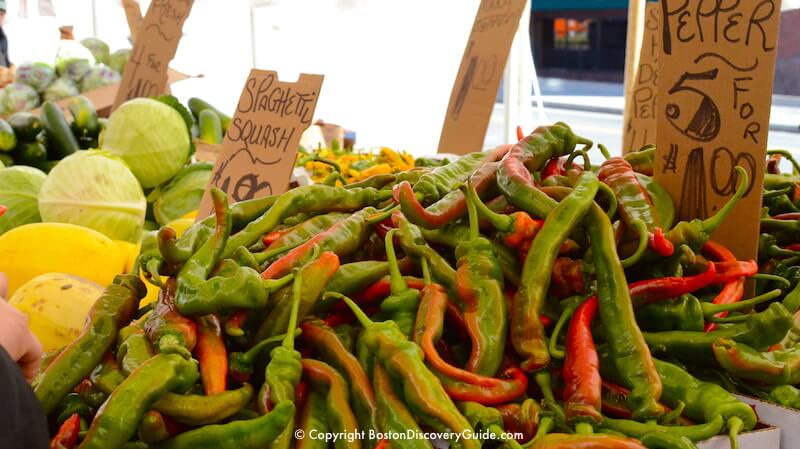 The posh Bostonian Boston Hotel next door and the bucolic Greenway across the street also make the neighborhood feel trendier and more up-market.
Fortunately, Haymarket still retains its down-market charm and cheap prices.
There's a lot to love about Haymarket - the sights, the vendors' banter, the centuries of history and tradition,
Crowds of buyers pack the streets containing Haymarkets stalls as they survey the strings of garlic, the golden mangoes, the glistening fresh fish. Strangers chat with each other. Children play. The vendors flirt.
And of course, everyone loves the bargains.
Long live Haymarket!