Home > Boston Hotels >
Bostonian Boston Hotel
5 Reasons Why the Bostonian Boston is the Best Boston Hotel Near Faneuil Hall Marketplace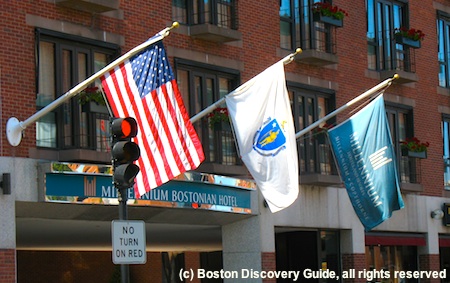 Bostonian Boston Hotel entrance on North Street, Boston
The Bostonian Boston Hotel, located in the heart of Historic Downtown Boston next to Faneuil Hall Marketplace, offers visitors exceptional value in one of the most expensive parts of the city.
But that's just one reason why the Millennium is the best Boston hotel near Faneuil Hall Marketplace.
Find out the other reasons to stay at the Millennium, especially if you're interested in easy access to New England Aquarium, TD Garden, Quincy Market, the North End, and other nearby Boston attractions.
Located in the city's Blackstone Block, a small remnant of 17th century and early 18th century Boston, the Millennium provides luxurious accommodations near Boston Harbor and the waterfront at attractive rates.
5 Reasons Why the Bostonian Boston Hotel
Gives You Exceptional Value
1. You get luxurious accommodations at non-luxury prices
Frette linens, pillow-top beds, in-room fireplaces in some rooms, marble bathrooms, rain shower heads, balconies (most rooms) - these luxury touches place the Bostonian Boston near the top of the luxury amenities pecking order.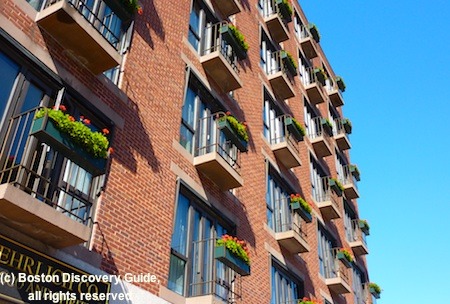 Bostonian Boston Hotel's balcony rooms overlook Faneuil Hall Marketplace
You'll also enjoy robes, high-definition 40 inch TVs, high speed Internet access, and umbrellas (no need to pack your own!)
The Millennium's nicely decorated 201 rooms and suites offer you understated elegance. As a bonus, rooms here are larger than in most other downtown Boston hotels, probably because the hotel dates back only to the 1980s rather than a century or so earlier.
The gorgeous red and black lobby feels more like a living room, with plush seating, a cozy gas fireplace, and book-filled shelves.
Yet rates here usually fall into an affordable range far below what you'll find for Boston's top luxury hotels.
Exterior view of Bostonian Boston Hotel, plus a room view overlooking Faneuil Marketplace
2. The Millennium's location can't be beat!
Located in Historic Downtown Boston, the Millennium occupies an almost perfect location, right in the middle of Boston's top attractions.
Walk across the street, and you're in Faneuil Hall Marketplace, where you can enjoy top shopping at national and local stores, dine and drink outdoors during warm months, watch free performances on weekends, be dazzled by the huge Christmas tree and holiday decorations in late November and December, and ice skate in January and February.
Stroll over to the New England Aquarium on the Waterfront, saunter over to the North End for an espresso, explore the Freedom Trail, or walk over to TD Garden (about 8 minutes on foot) to watch the Bruins or Celtics play or enjoy a family-oriented circus performance or Disney on Ice.
Step outside the hotel on a Friday or Saturday, and experience Haymarket, Boston's colorful, centuries old outdoor produce market.
But don't worry about noise or congestion. The Millennium's circular design provides an enclosed courtyard and sheltered entrance. Step inside, and you'll feel secluded in a calm oasis - even though Boston's most exciting areas are just outside.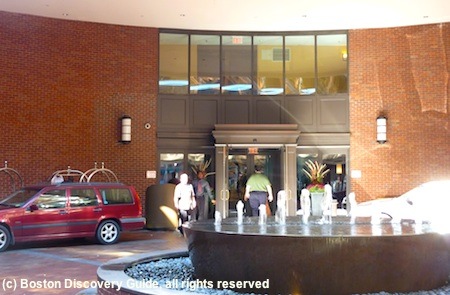 Gorgeous fountain in the secluded courtyard entrance to Bostonian Boston Hotel
3. No need to spend money on car rental and parking
Because of the Bostonian Boston Hotel's central location, you won't need a car. Due to the high parking rates in this part of the city (about $45/day at the hotel), you won't want one.
You can easily walk to all the top attractions near the hotel. For those farther away, take the T (Boston's subway) from a station a block away from the hotel, or take a cab.
Getting to the hotel from the airport is easy, assuming your luggage has wheels and you don't mind a 5-minute walk. Take a water taxi to Long Wharf, walk across the Rose Kennedy Greenway, and you're at the hotel.
Driving to Boston? See my suggestions about how to avoid bringing your car into the city.
4. Lots of free entertainment nearby
Sure, you can spend lots of money on tickets to Bruins games, shows in the nearby Theatre District, and cruises around Boston Harbor - and you probably will want to do some of those things, because they're part of what makes Boston special and fun.
But you can also find plenty of free things (and almost free) to do nearby that may become some of your best memories of your trip to Boston.
Stop by Faneuil Market on almost every weekend, and you'll see talented "street performers" entertaining enthusiastic spectators throughout the marketplace complex.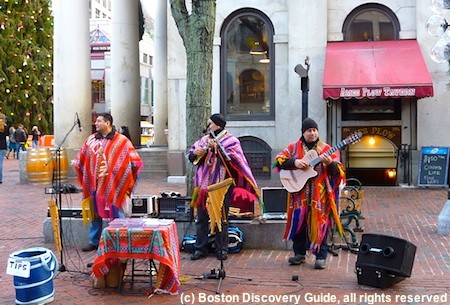 Street performers playing Peruvian music in Faneuil Marketplace across from Millennium Hotel
If you're traveling with children, enjoy a game of frisbee on the Rose Kennedy Greenway. During warm weather, let your kids cool off in the huge splash fountain, or ride the carousel.
Walk over to the North End (about 5 minutes walk) on summer weekends and join in the feasts and festivals for patron saints.
During the winter, check out the concert schedule for King's Chapel.
5. Millennium's North 26 Restaurant is a Boston "hidden gem"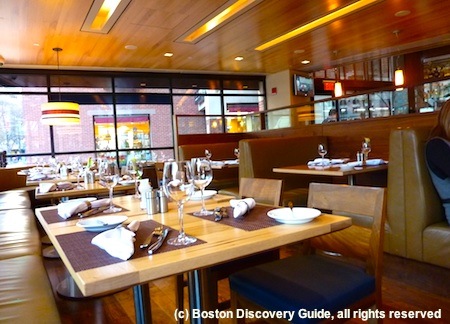 Boston travel guides showcase high-profile hotel restaurants such as Omni Parker House Hotel (Parker's, creator of Boston Cream Pie and Parker House rolls) and Boston Harbor Hotel (Meritage, host for the acclaimed Boston Wine Festival).
However, unless you live here, you may not know about North 26. Consistently excellent and innovative cuisine served up here places it squarely in the "Boston insider secret" category.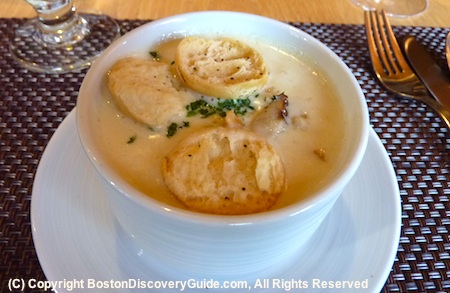 North 26 has been one of my own favorite restaurants in this part of Boston for quite awhile, partly because it makes some of the best clam chowder in Boston, full of tender chunks of clam, perfectly cooked potatoes, and flavorful bits of smoked ham rather than the traditional bacon.
You can sit in the casual area with booths and tables next to the bar looking out across to Faneuil Marketplace, or the more formal dining room at the back.
Of course, the historic downtown area where the Bostonian is located is loaded with excellent places to dine, and you should try some of them - but don't miss the chance to dine in North 26 and enjoy the best some of Boston's best cuisine without having to leave your hotel.


More to Know about the Millennium Hotel Boston
Look for special First Night packages on New Year's Eve
On-site at the Bostonian Boston Hotel:
Stay fit - Small on-site gym; access to Boston Sports Club nearby
Indulge - AVEDA Spa
Pool - No
Pets - No
More about the Millennium's Neighborhood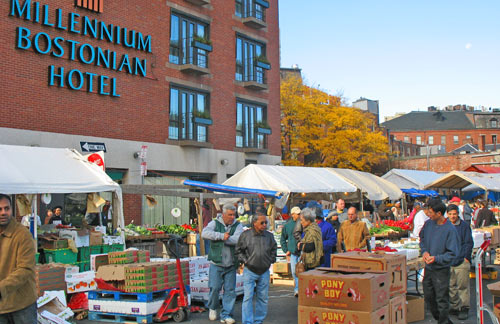 Colorful Haymarket vendors near Bostonian Boston Hotel
Interesting historical trivia about the Millennium:
Narrow lanes surrounding the Bostonian Boston still follow the original Colonial street patterns, and nearby mellow red brick buildings are among the oldest in Boston
Benjamin Franklin worked near this neighborhood in his father's chandlery shop when he was a boy
Some of Boston's historic pubs are right around the corner, in case you want to explore more Boston history
More nearby hotels to consider . . .
Check out other Historic Downtown Boston Hotels


Boston Discovery Guide > Hotels > Bostonian Boston Hotel